Oktoberfest is an annual festival that originated in Munich, Germany, meant to bring thousands of people together to enjoy traditional German cuisine, German beer, and dancing to some favorite folksongs. This tradition is continued in New Orleans by the Deutsches Haus, a nonprofit organization that is committed to helping and supporting German immigrants who move to New Orleans. The organization assists by providing meals, housing, help finding employment, and assistance in locating friends or family in the United States. Unfortunately, due to the COVID-19 pandemic, Oktoberfest has been canceled. But that doesn't mean that you have to miss out on the chance to celebrate this unique holiday. We have provided a list of places serving German cuisine for you to try. Whether you're new to German food, looking for an excuse to eat something you know and love, or wanting to commemorate Oktoberfest with traditional cuisine, try one of these options below.
Deutsches Haus
Deutsches Haus will be open the whole month of October, seven days a week, for all to come by and try their Gemütlichkeit—a German word used to convey the idea of warmth and friendliness. The Haus will feature items such as a bratwurst on a pretzel bun with sauerkraut or caramelized onions, as well as warm pretzels. One of the main items on the regular menu is the flammkuchen, which is a German variation of pizza with a creamy white sauce. Wednesday through Sunday, the Haus will also have a special menu, with dinner and side dishes, for $14. The dinner plates include options such as German meatloaf or a sausage plate, and side options are sauerkraut, red cabbage, and German potato salad.
The Haus will also have some new seasonal Oktoberfest beers for you to enjoy with your meal, including German beers from brewers Stinger, Dinkel Acker, Sapten, and Hacker Pschorr. Other featured Oktoberfest beers come from the U.S.-German collaboration of Sierra Nevada and Bitburger.
Deutsches Haus is taking major precautions to keep all customers safe. Masks will always be required, unless you are eating or drinking; credit cards only will be accepted; and there will be a crowd manager to assure rules are being followed. 1700 Moss St., (504) 522-8014, deutscheshaus.org
Middendorf's
The Middendorf's locations in Manchac and Slidell will be holding their very own Oktoberfest, with German food, music, and fun. For six weeks, from October 7 until November 13, you can visit your nearest Middendorf's for different German lunch and dinner plates each week, as well as appetizers, desserts, and, of course, German beer.
Middendorf's in Manchac will be celebrating the occasion every Wednesday and Thursday, while the Middendorf's in Slidell will be celebrating every Friday. Dine with Middendorf's all six weeks and earn a prize at the end of Oktoberfest. Grab a card the first week, and be sure to get it punched every week, then turn it in on the last week for your prize. Middendorf encourages customers to dress up for the festivities. The regular Middendorf's menu is also available on Oktoberfest days. Middendorf's is a seafood restaurant that has been in Manchac since 1934, and the newest owners started the Oktoberfest ritual in 2008. Chef Pfeifer prepares the authentic German food himself. Check out their website for the full six-week menu. 30160 Hwy. 51 S., Akers (Manchac), (985) 386-6666 ; 1951 Oak Harbor Blvd., Slidell, (985) 771-7777 ; middendorfsrestaurant.com
Bratz Y'all Bistro
Tucked away in the Bywater neighborhood is another German restaurant: Bratz Y'all Bistro. Chef Sven Vorkauf opened it in 2012 when he moved to New Orleans from his hometown of Berlin, Germany. Along with him, he brought 20 years of culinary experience, allowing him to create his own special menu with bold flavors and creative ideas. The restaurant is named after the bratwurst sausage, and Chef Sven always has top-quality options of this delicacy, as well as many ways to enjoy it. Some of Chef Sven's most popular bratwurst sandwiches are the Barvarian, the Berlinier, the Nuernberger, and the King Brat.

This bistro also has some great German beer options to try with your meal. Bratz Y'all had been featured at many music festivals around New Orleans and the surrounding areas. All ingredients are cooked and prepared fresh daily. Be sure to come hungry, as these dishes are huge. Sit outside on their lovely patio while enjoying your meal. 617 Piety St., (504) 301-3222, bratzyall.com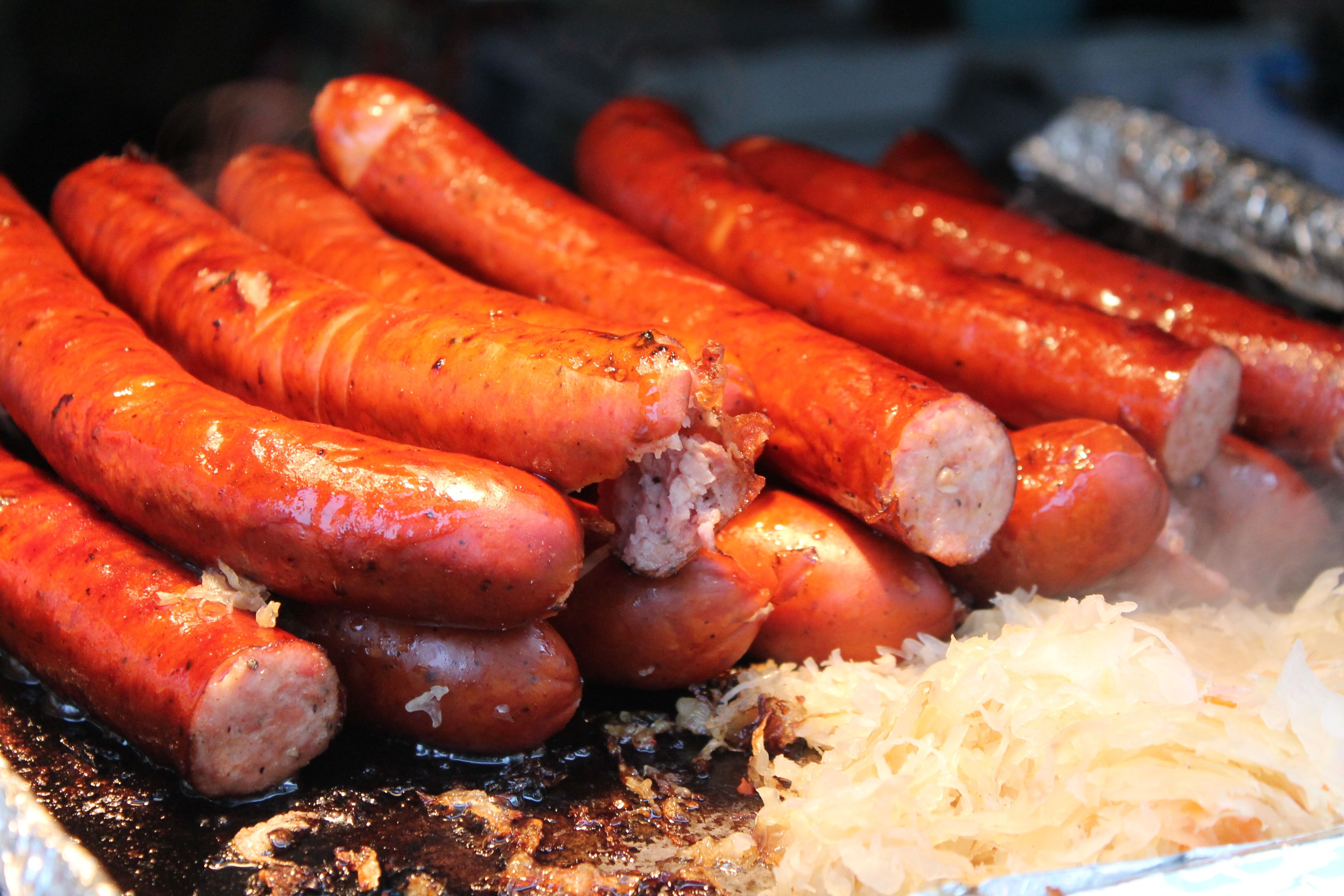 Luke
Luke in New Orleans is a brasserie that features many different types of cuisine on the menu, ranging from Creole to German and French dishes. Chef Erick Loos IV highlights local vendors and farmers market ingredients in all his dishes. Since Luke opened in 2007, they have been noticed by many publications as a superb restaurant choice in New Orleans. Luke is back in business since the pandemic that made them and many others close, open daily from 11 a.m. until 9 p.m. The team is taking precautions for all dine-in customers, to make sure that everyone has a safe and enjoyable meal. Luke is also offering takeout and delivery.

A popular German dish that is perfect for celebrating Oktoberfest is the bone-in pork schnitzel. This restaurant also has many other options for you to try. 333 St. Charles Ave., (504) 378-2840, lukeneworleans.com
Dat Dog
The hot dog was first created in Germany as many as 500 years ago, and today, one of the most fun and tasty ways to get a hot dog would be from Dat Dog. This popular chain has so many ways to dress up your "dog." Starting in New Orleans in 2011 as a traditional hot dog stand, Dat Dog has grown into a large and popular chain. They offer a variety of gourmet sausages, all-beef hot dogs, and award-winning french fries, as well as great spirits and local craft beers, all in a bright and colorful environment. You can create your own hot dogs by choosing your sausage then your toppings, or you can pick from the many house specials. Dat Dog has eight different sausages to pick from, including a crawfish sausage, and so many possible toppings to put on your dog. The menu also features many options for dressed fries or tots. There is no better way to celebrate Oktoberfest than designing your own hot dog. Multiple Locations, www.datdog.com