New Orleans has some interesting weather. Some days are just so hot and humid that you can't stand to be outside for long. Some days are so bitterly cold that even people from northern climates get chilly. Then there are those days when the weather is just perfect: not too hot, not too cold, sunny with a light breeze. Those are the days that you just have to drop everything and get outside in the fresh air!
It is highly recommended that you enjoy these perfect weather days at an upscale local bar or restaurant with a patio. You can fill your belly while feeling yourself unwind and enjoy the day. These are the best restaurants to dine in the fresh air. Let us guide you to the most lovely patios in New Orleans.
Where To Eat Outside In New Orleans
1.
Broussard's Restaurant & Courtyard
819 Conti St. (504) 581-3866, broussards.com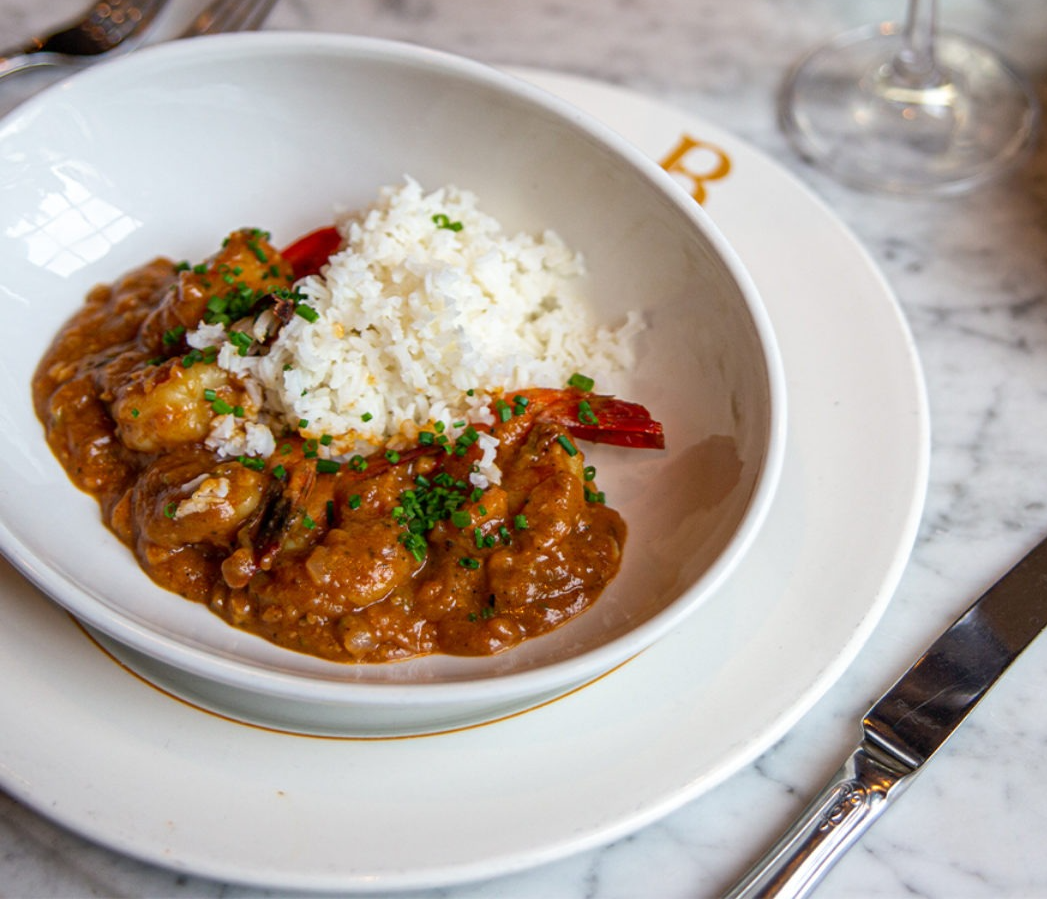 Broussard's is a New Orleans institution that resides in the French Quarter, but is far enough away from the bacchanalian chaos to feel highly sophisticated. Broussard's feels like someone's very old mansion, and all of the dining rooms have their own character. The courtyard is spectacular; it feels like you've been transported back in time with cobblestone under your feet and trees all around you.
Check out their website to see if the kitchen is cooking up any specials during your visit. Broussard's could be preparing a special prix fixe dinner that night that you won't want to miss out on. Ordering an a la carte classic like Pompano Pontchartrain is never a bad idea though.
2.

N7
1117 Montegut St. n7nola.com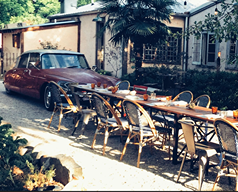 There's nothing quite like N7. It's a modern French bistro in the Bywater neighborhood, but it has a noticeable touch of Japanese cuisine. The building that houses the innovative restaurant was once a carriage stable turned into a tire shop. Now it's a charming eatery with indoor seating and exquisite, garden-like outdoor seating.
N7's menu is focused on French cuisine with contemporary twists. Though the offerings can change from time to time, you are likely to find dishes like Sake-Cured Salmon Tartine, Five Spice Duck Breast, and Fish of the Day.
3.

Tito's Ceviche & Pisco
5015 Magazine St. (504) 267-7612, titoscevichepisco.com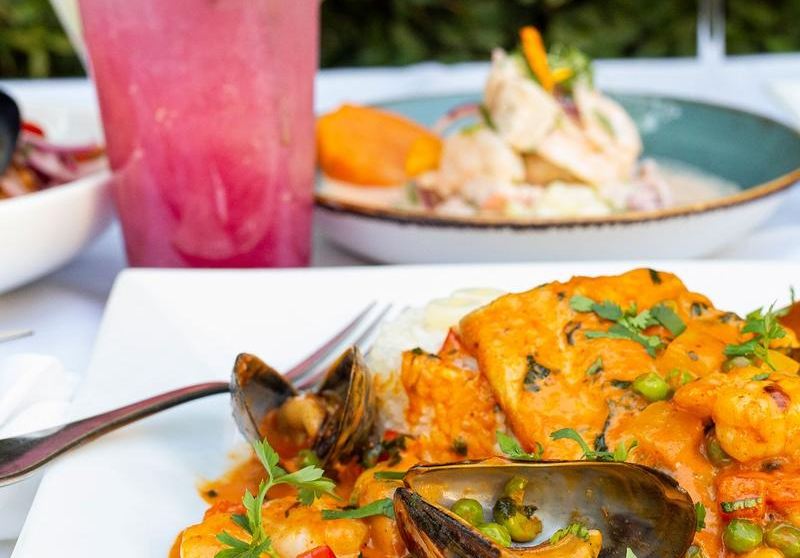 This pretty Peruvian restaurant on Magazine Street is a great stop for very fresh fish and refreshing pisco drinks. You can opt to sit in the small dining room inside, and Tito's offers some outdoor seating in front of the restaurant and on the quieter side of the building which is lined with green plants.
Obviously, the ceviche and tiraditos plates are the most popular here. The Ceviche de Barrio is Gulf shrimp and fish, with aji Amarillo, sweet potato, choclo, and onions. You can enjoy Tito's at lunch time, dinner time, and during one of the best happy hours in New Orleans (3 p.m. to 6 p.m. Monday through Friday). There's even a Sunday brunch from 10:30 a.m. to 3 p.m.
4.

The Country Club
634 Louisa St. (504) 945-0742, thecountryclubneworleans.com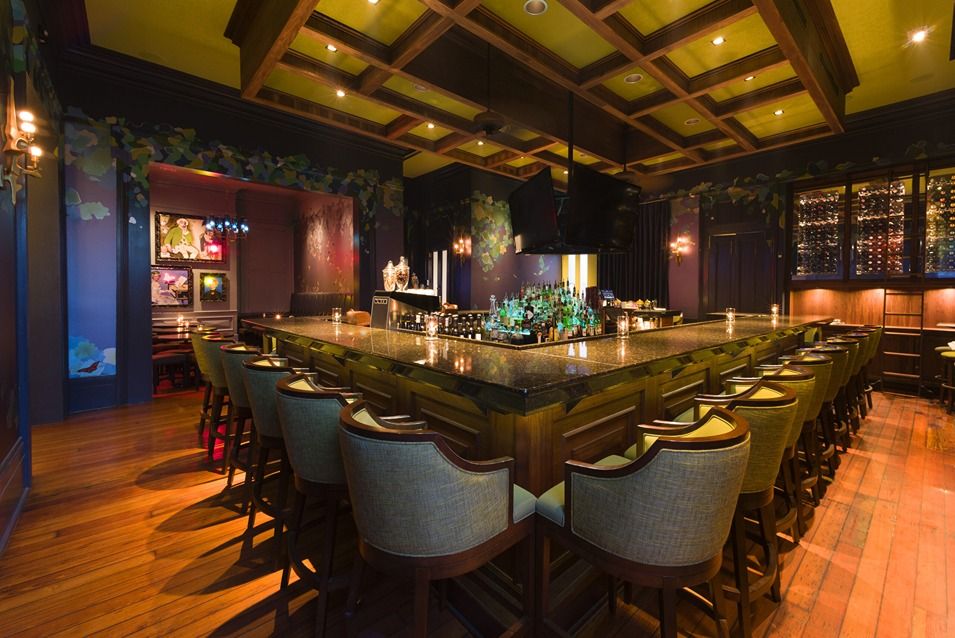 You don't have to be a member to enjoy this country club. The Country Club in the Bywater is well-known for their large pool that locals love to dip into when the weather is hot. The restaurant and bar are becoming ever more popular thanks to the excellent food and special events like drag brunch. The pool bar is always called one of the best patio bars in New Orleans.
You are more than welcome to dine either in one of the gorgeous parlor rooms, on the veranda, or next to the glimmering pool. Choose from the small plates like Crab Beignets, Sticky Sesame Cauliflower or Truffle Mac-N-Cheese or go for a large plate like a Grilled Chicken Sandwich or Saffron Mussels.
5.

Side Car Patio & Oyster Bar
1114 Constance St. (504) 381-5079, sidecarnola.com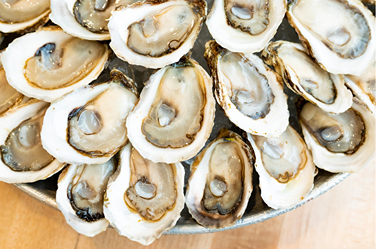 Side Car is a popular spot to get oysters when you're in the Warehouse District. This newer restaurant is right next to the Rusty Nail Bar well-known to locals. They love to bounce back and forth between the two businesses for their night's entertainment. Side Car's pretty patio is strung with lights and outfitted with umbrellas to make for a cute patio setting.
At Side Car, you'll be tempted to get all of the raw oysters you can, and they are categorized by where they are sourced from. The Raw Bar has oysters from the Gulf of Mexico, the West Coast, and the East Coast. Those in the know get the Baller Selection that has all the kinds of oysters that they carry.
6.

Copper Vine
1001 Poydras St. (504) 208-9535, coppervine.com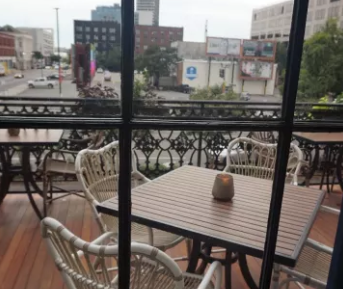 Whether you want to have some elevated food and drinks before the big game or you're just hanging out in the CBD, Copper Vine is an elegant respite in this more corporate part of town. Despite the high-rise buildings on every side of you, Copper Vine's patio is line with green, viney plants that keep the concrete jungle out. It's often called one of the best outdoor dining spots in the city.
Serving lunch, brunch, and dinner, Copper Vine has a fantastic menu and contemporary décor. The Wagyu Burger and Cornflake-Fried Chicken Sandwich are great for lunch, but you'll want to have something like Short Rib Ragu & Pappardelle or Bourbon-Glazed Pork Chop for dinner.
7.

Saba
5757 Magazine St. (504) 324-7770, eatwithsaba.com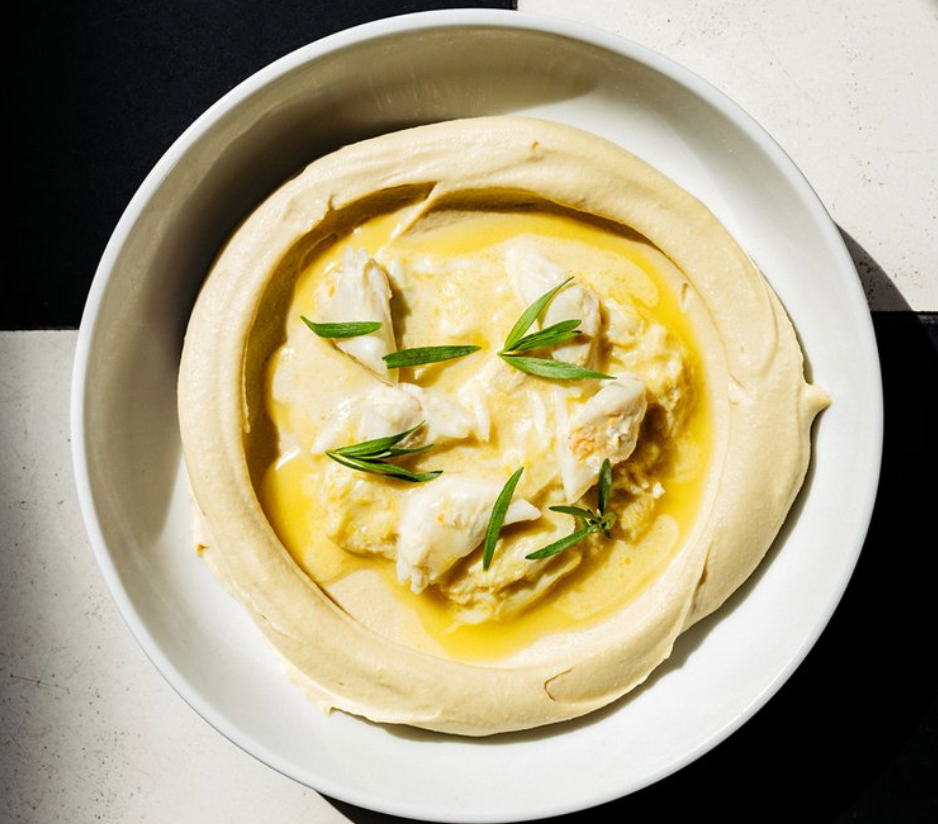 Under the helm of Chef Alon Shaya, Saba is located in a beautiful Uptown building that looks more like a home than a traditional restaurant. Chef Shaya wants all of his guests to feel like they're dining with family; the name of the restaurant translates to "grandfather" in Hebrew. Like at any family dinner, some people will prefer to dine outside on the street-side patio or inside in the dining room.
Saba's menu is full of Middle Eastern fare. To start, there are numerous types of hummus: Louisiana Blue Crab, Spicy Lamb Ragu, Mushroom, Classic Tahini, etc. The entrees are a mix of Middle Eastern and Louisianian. Charred Cabbage, Whole Roasted Fish, and Grilled Louisiana Shrimp are popular menu items.
8.

Shaya
4213 Magazine St. (504) 891-4213, shayarestaurant.com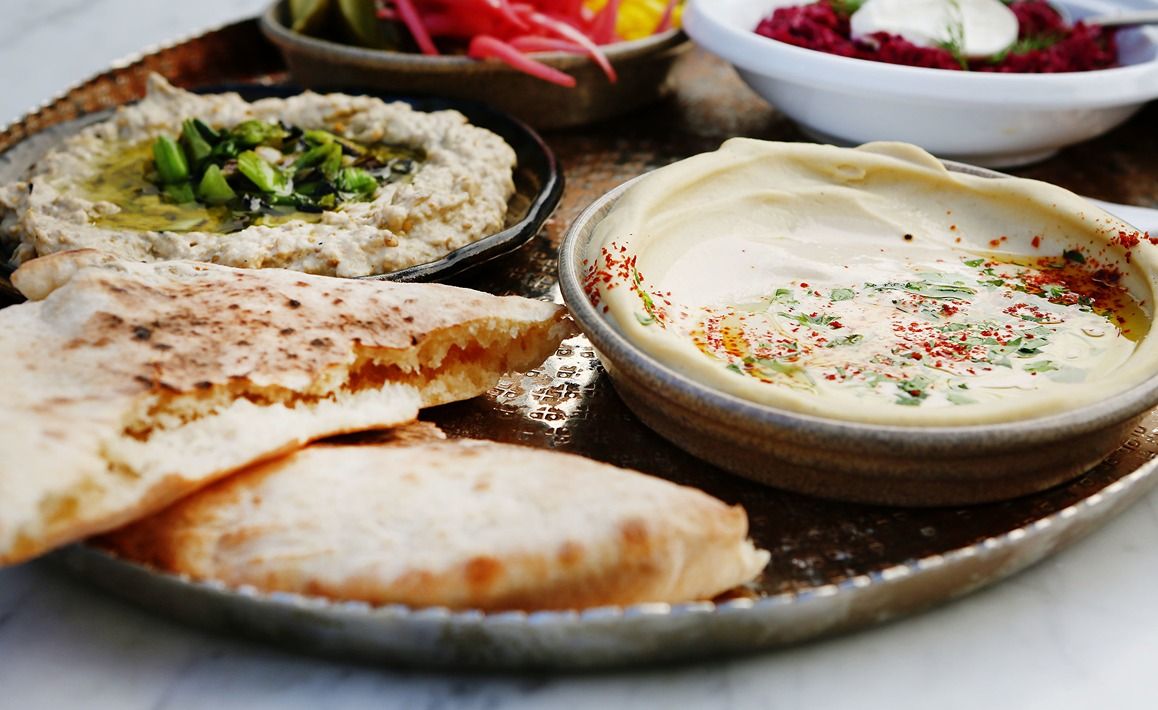 Shaya has proven itself to be a new New Orleans classic. People come back here on a regular basis because they adore the small, but always tasty, menu offerings. Most of Shaya's diners stay inside, but the small patio is a wonderful place to be. It's quiet because it is surrounded by lovely white brick walls that keep the sound of cars traveling down Magazine Street out.
Israeli cuisine meets southern food at Shaya, and some dishes get an extra helping of flavor when they go into the wood-fired oven. The Slow-Cooked Lamb with date molasses, whipped feta cheese, pecans, and tabbouleh is a crowd favorite. Try the Gulf Shrimp Kebab for a totally new take on locally-sourced shrimp.
9.

Apolline
4729 Magazine St. (504) 894-8881, apollinerestaurant.com
Apolline is a cozy little Uptown cottage that has sunlight flooding in during the day and warms up with romantic dim lighting at night. If you prefer dining in the open air, check out the patio in the back which is removed enough from Magazine Street to feel like you're in an old friend's backyard.
The contemporary southern food menu will delight you with dishes like Veal Sweetbread, Cold-Smoked Beelers Pork Chop, and Jambalaya Dumplings. You'll certainly want to indulge in a little seasonal sorbet at the end of your savory meal.
10. Dat Dog
Multiple Locations, datdog.com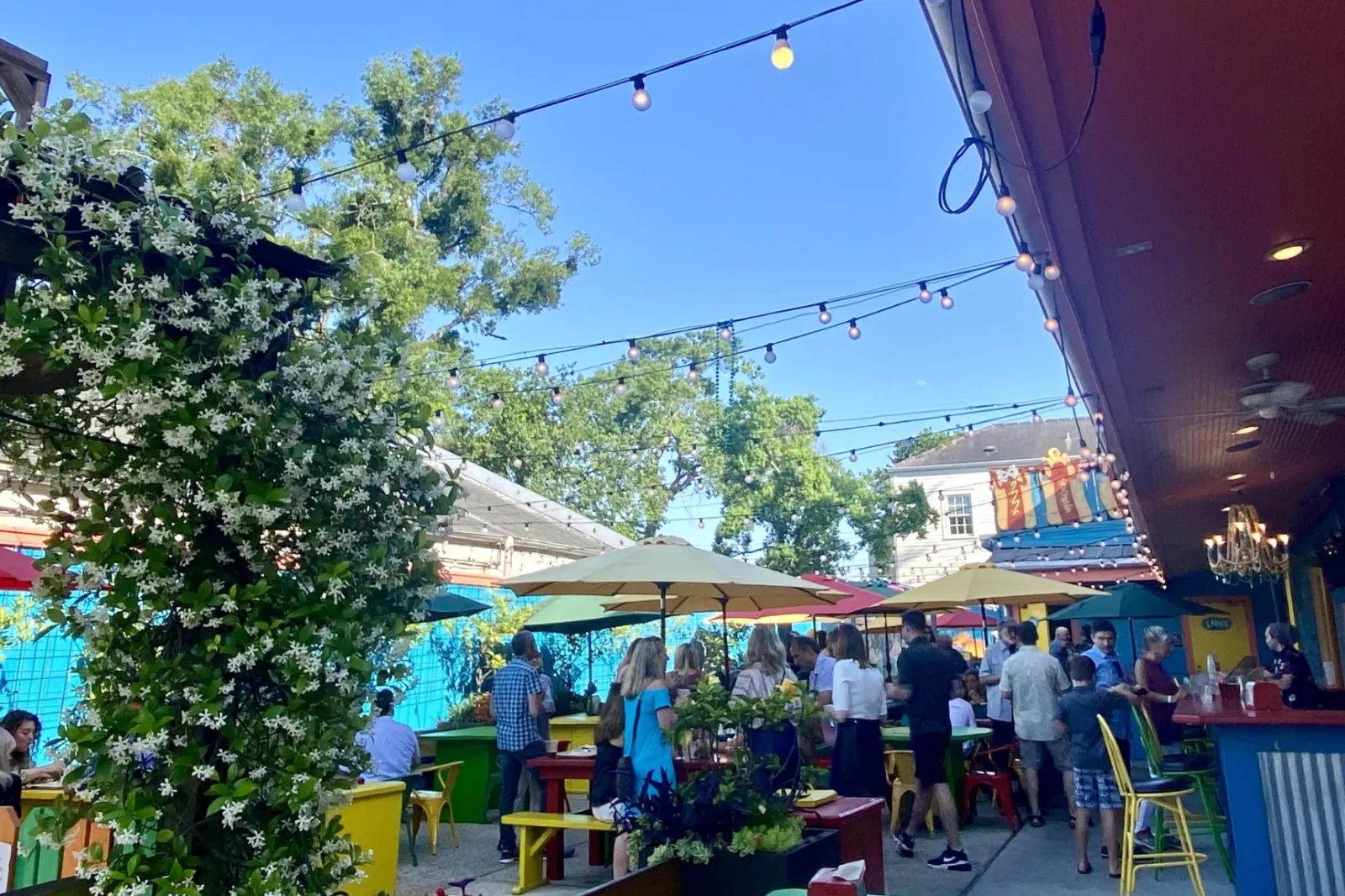 Dat Dog has long held the title of Nola's favorite hot dogs, but their stunning patio also makes for a great night out! With lights strung across the top and the restaurant's quirky and colorful design continuing outside, you'll have a fantastic ambiance to catch up with friends, go on a date, or just grab a hot dog whenever you're craving one.
Make sure to check out their website for updates on their seasonal dogs-- practically every holiday will give you a new and fun creation from the Dat Dog chefs! You'll want to go there every night!
The Prettiest Outdoor Dining Spots In New Orleans
Even if it's not the best weather on record, you are still welcome to enjoy these beautiful New Orleans restaurant patios. Many of them have umbrellas, shade, fans, and heaters to keep their customers comfortable in any kind of weather. You really don't want to miss out on the best outdoor dining experience for anything.
Is there a restaurant with a patio that is not mentioned here? Let us know what we're missing out on, and we'll check it out!