The rich culinary tapestry of New Orleans cuisine finds its roots in the area's historical ties, embracing Creole, Cajun, and soul food practices, while highlighting a pronounced focus on locally sourced seafood. Additional influences span French, Spanish, African, and Native American culinary traditions. The dishes directly mirror the heritage of their creators, evolving into a tangible fusion of culinary and cultural portrayal.
Many popular dishes were, in fact, invented in New Orleans and surrounding areas. For example, poboys, muffalettas, oysters Rockefeller and Bienville, and banana fosters all originate from New Orleans and were made in direct response to natural resources. In New Orleans, cuisine symbolizes maximizing the potential of what's at hand.
Where to Eat in New Orleans
Hottest Restaurants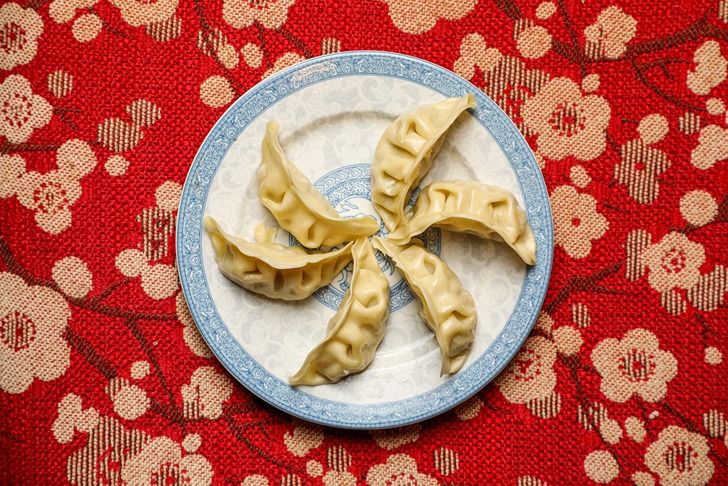 Embark on a culinary adventure as you discover the hottest restaurants, where innovation meets tradition in every bite. These dining establishments merge Cajun and Creole flavors with a contemporary approach. Prepare to be amazed by renowned chefs and locally soured ingredients. Some of these new restaurants in the city are sure to become local favorites with unique spins on their traditional cuisines.
They range from the second opening of a Metairie family establishment to brand new startups in the French Quarter. The Lee family of Metairie's Royal China opens Miss Shirley's Chinese Restaurant on Magazine Street. You can enjoy dim-sum, Chinese-American staples, and Cantonese specialities for lunch or dinner. Deep in the French Quarter, you can try Fives Bar, a raw bar offering oysters, caviar, beef tartare, and more. If you're wanting a fresh new taste of home, head to Chapter IV, a new Creole restaurant opened by the grandson of Late Chef Leah Chase, Dook Chase. Both classically trained and home trained by his grandmother, Dook Chase brings a modern twist to classic Creole dishes to his restaurant in downtown New Orleans. You will surely have a culinary experience that pleases all your senses at Chapter IV.
For more casual dining, try Rock N Taco and Tequila Bar for delicious margaritas and mouth watering tacos. The atmosphere is fun and lively-perfect for a night out with good food, drinks, and company. If you're feeling adventurous and want to broaden your palate, try Dakar Nola, the new West African restaurant on Magazine. They serve Senegalese food with a contemporary twist and offer a pescatarian menu that makes the connection between Senegambia and New Orleans. With beautiful plating, comfortable seating, and delicious tastings, Dakar Nola will soon rise from hottest restaurants to essential restaurants.
Essential Restaurants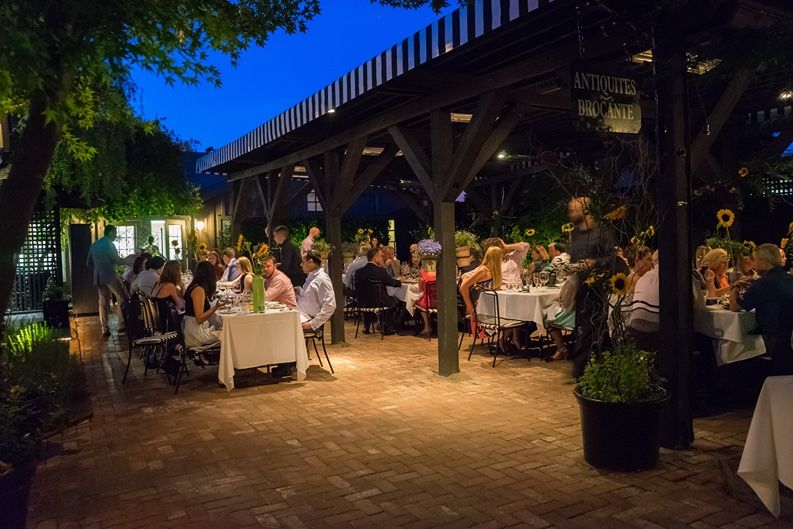 Whether you're visiting New Orleans for the first time, or you're wanting to explore more of your own city, you have to experience a few of the essential restaruants to the Big Easy. From Southern staples to creative takes on American classics, the essential restaurants take you all over the city. There are cafeteria style lunches at Mother's where you'll feel right at home with Southern classics filling their breakfast, lunch, and dinner menus. There's both casual dining and fine dining at Houmas House with your pick at either Dixie Cafe, The Carriage House, or Latil's Landing Restaurant in the Manor House, all situated on the historic plantation estates.
Once the weather turns a little kinder, you should find yourself at Evangeline in the French Quarter where you can dine in their outdoor courtyard and enjoy authentic New Orleans cuisine with Cajun classics. Before crossing the bridge in Metairie, locals love to grab lunch at Chef Ron's Gumbo Stop. Don't let its unassuming venue fool you, they're Mumbo Gumbo is filled to the top with seafood and sausage. Mandina's is a classic New Orleans restaurant and has been a pink-painted staple in Mid-City since 1932. This family owned and operated seafood joint serves delicious, comforting Creole Italian dishes that make it an essential restaurant for all newcomers and locals to try. Their gulf fish almandine adds the perfect amount of nutty sweetness to a gulf coast classic.
Bars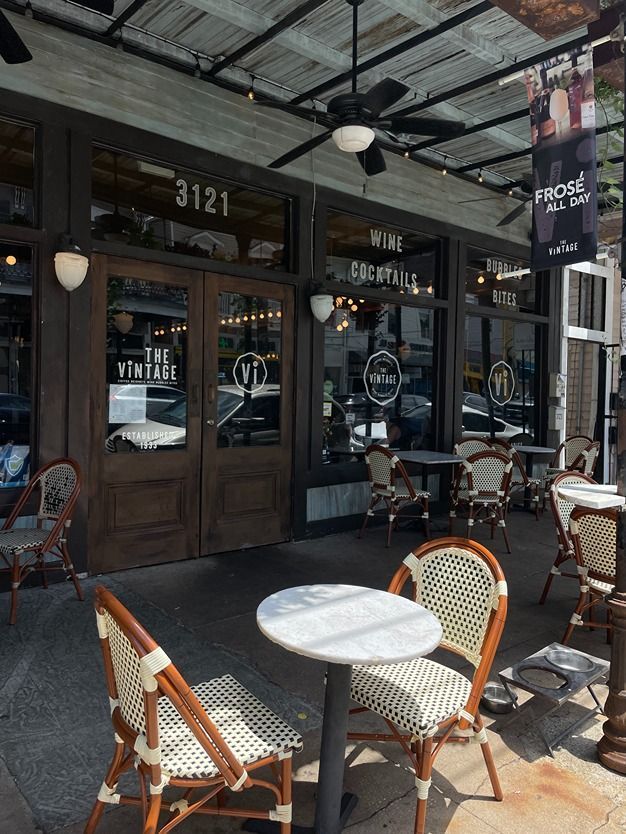 Explore the vibrant pulse of New Orleans through its finest bars, where each venue offers a unique blend of atmosphere, history, and libations. From iconic jazz lounges to hidden speakeasies, the city's bar scene caters to a wide array of tastes. Experience timeless cocktails or dive into the world of craft beers and innovative concoctions. No matter the experience you are seeking, New Orleans' best bars promise an authentic taste of the city. If your thirsty for happy hour deals, wine and dine at A Tavola in the Lakeside Shopping Center. Uptown bar The Vintage is a Parisian escape from the bustling bar scene in downtown New Orleans. Its chic atmosphere and seasonal cocktails will make your stroll on Magazine worth it.
From classy to casual, NOLA has a varity of bar scenes for everyone. If you're feeling like a pool game with some friends or a solo triumph on the pinball machine, try the new Emporium Arcade Bar in the Marigny. It's perfect for date nights, parties, or large groups with a wide selection of games, craft beers, and cocktails. Head towards the Warehouse District for Italian dining at the Alto Rooftop Bar at the Ace Hotel. Sit by the pool and overlook the city while sipping on your choice of beer, wine, cocktail, or bucket. Everyone needs to get some anger out once in awhile, and theres no better place to do that than axe throwing at Stumpy's Hatchet House. Revel in this cathartic experience and bring your date or bachelor party to this downtown bar. They have a full bar with your favorite snacks and beers.
Breakfast and Brunch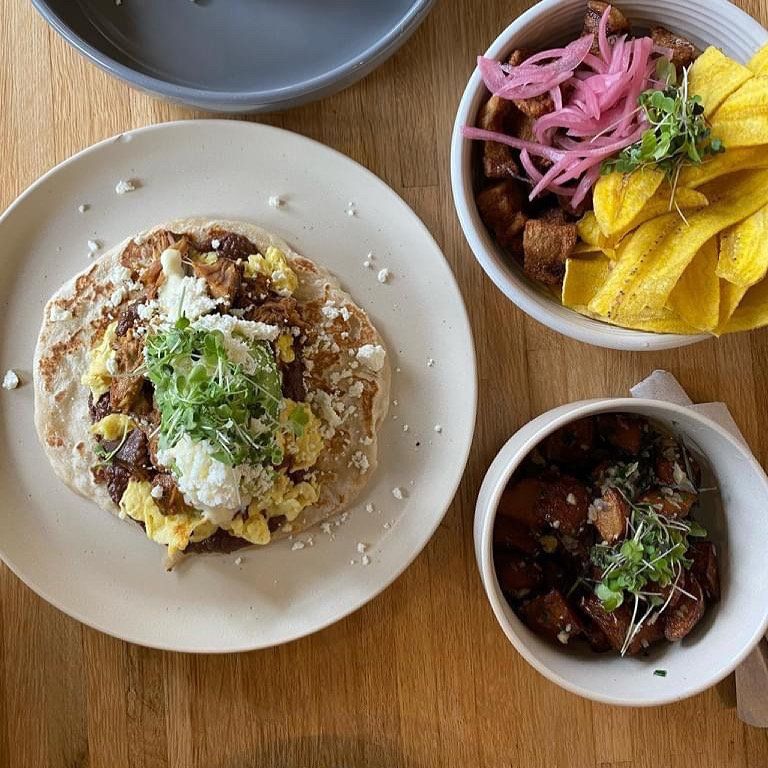 You can't get far in New Orleans without running into a breakfast restaurant. Southerners know how to do breakfast, and here in the Big Easy, we know how to do it best. Try Lil Dizzy's on Esplanade Avenue for a Creole classic breakfast and lunch. This small café is known for their laid-back atmosphere and daily specials.
Needing more of a pep in your step, try the Cajun breakfast at Jimmy J's Café. They have a funky, colorful venue that's sure to wake you right up. Take a break from the Southern staples and opt for a Honduran breakfast at Alma Café. Here, you'll be eating comfort food made beautiful on your plate. Locate any of their restaurants in the city and dig into the pancakes at Daisy Dukes. They serve traditional breakfast favorites all day along with lunch and dinner options. It's a casual spot for breakfast that most locals find themselves in almost every other morning. Heading towards Girod St. is Luzianne Café with New Orleans breakfast classics served in the same building where Luzianne Coffee was first roasted in 1909. Locals love the delicious Morning Joy biscuit sandwich.




Vegetarian and Vegan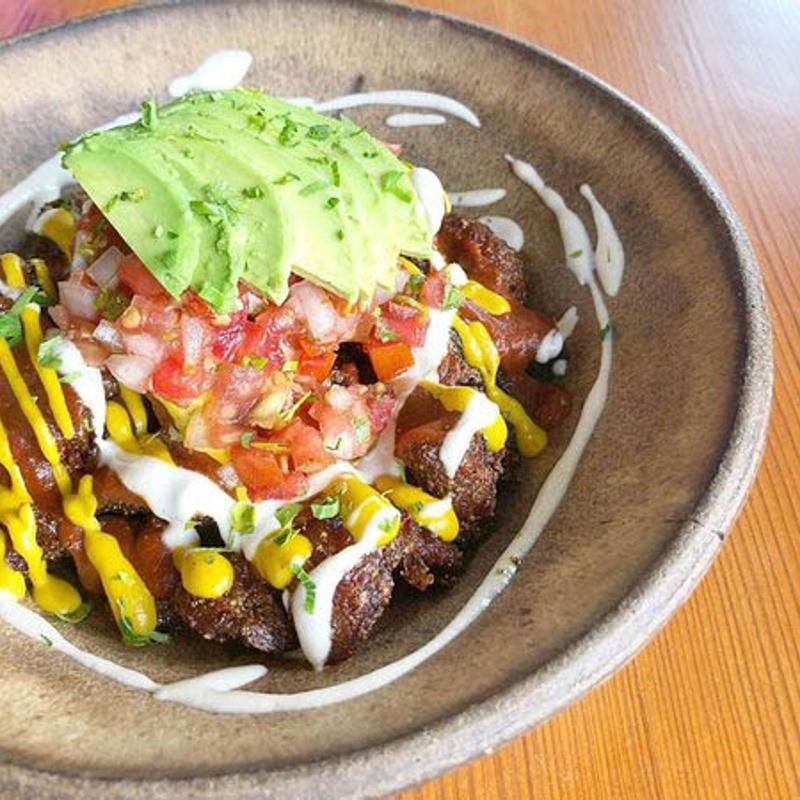 Vegetarian and Vegan restaurants in NOLA do not skimp on flavor. Don't pass up these green conscious spots next tme you get together for brunch because they offer everyone a taste they'll love. downtown New Orleans has several seafood joints, but Carmo is one with an extensive array of vegan and vegetarian dishes with influences from Southeast Asia, West Africa, South America, and the Caribbean. Watch in awe as your skilled chefs transform the freshest ingredients into mouthwatering creations, within the open kitchen.
The sweet and spicy flavors of Asia are the perfect intros into vegetarian cooking. At Thai'd Up, you'll explore the flavors of Thailand's vibrant street culinary scene, reimagined with a plant-based touch that caters to both your taste buds and your values. The menu is affordably priced and brimming with a plethora of options. Stop by for lunch or dinner and discover why many consider Thai'd Up to be the premier venue for Thai food in New Orleans. Delight in a fresh vegan breakfast or lunch at both Bearcat Café locations. Choose from local favorites like the vegan tofu quesadillas stuffed with mushrooms, caramelized onions, cashew queso, and avocado or the crispy vegan breakfast potatoes with tofu scramble and black bean sausage.
If you're craving authentic Israeli street food with a contemporary plant-based twist, Tal's Hummus is an excellent option. With a menu offering a wide variety of vegan sides, salads, and entrees, you are sure to find something unique that aligns with your dietary preferences. Another unique option for vegan and vegetarian cuisine is 1000 Figs. It is a small Middle Eastern inspired restaurant with an emphasis on vegetable-based dishes. They offer a variety of tempting choices like the falafel platter, kale and cabbage salad, or the spiced lentil soup.
Creole Food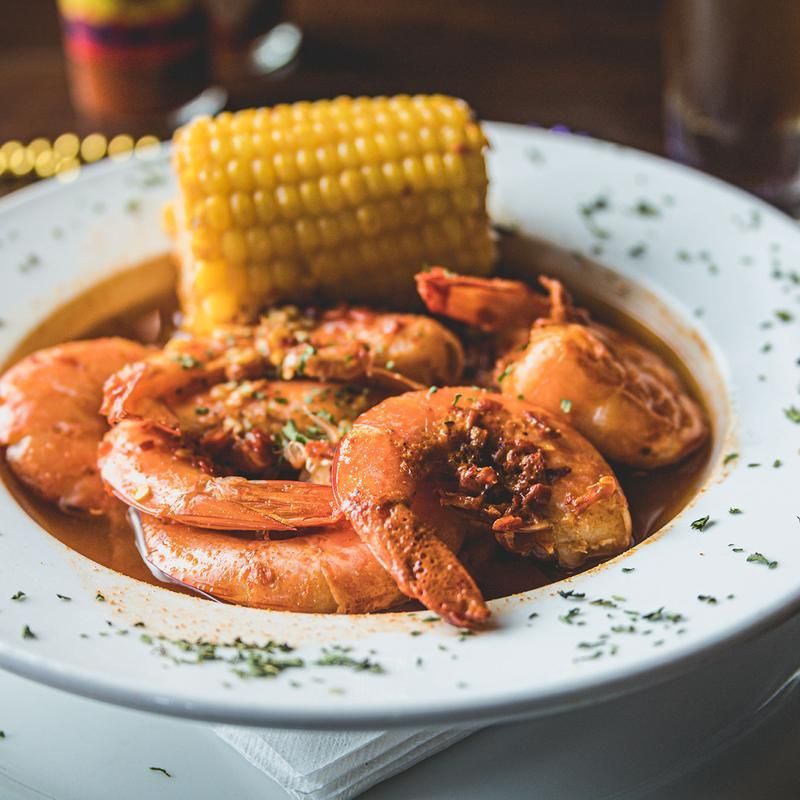 There is a plethora of Creole restaurants in New Orleans because of the blend of French, Spanish, and Caribbean cultures. Its roots run deep in our culinary history and traditions, and that's why you'll see so many Creole restaurants in the city. They bring you authentic New Orleans food, and they never let you leave hungry. Neyow's Creole Café serves Creole classics like crab claws, crawfish balls, BBQ shrimp, file' gumbo, and a fried seafood platter in a cozy atmosphere. Check out their daily menu specials and consider treating yourself at this beloved local spot in New Orleans. Located in the oldest building on Canal Street, Creole House Restaurant & Oyster Bar is famous for their seafood platters and authentic Creole cuisine. Here you can enjoy a New Orleans breakfast like shrimp and grits complimented by a variety of breakfast cocktails from 8 a.m. to 12 p.m.
As one of the first African American dining establishments in the United States, Dooky Chase's Restaurant has become internationally famous for their Creole classics. If you're visiting New Orleans, Dooky Chase's is an essential destination. You can stop by for lunch between Tuesday and Friday or peruse the expanded dinner menu on Friday and Saturday. Enjoy all day breakfast and an assortment of libations in a homey environment at Nonno's Cajun Cuisine & Pastries. This location also offers two vegan poboys. If you're looking for a laid-back establishment with Cajun and Creole options, Nonno's Cajun Cuisine & Pastries is sure to impress any New Orleans food enthusiast. New Orleans Creole Cookery is the quintessential New Orleans' dining experience. Enjoy Cajun and Creole fare while listening to live jazz on the courtyard patio.
Poboys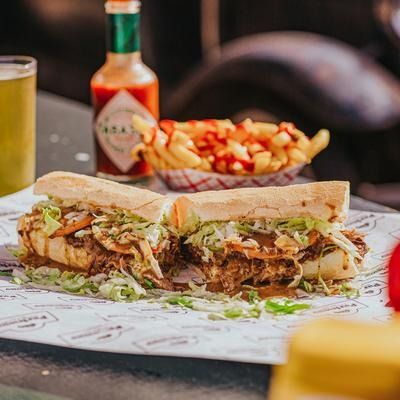 Poboys are a classic New Orelans sandwhich that every vistor has to try when they find themselves in the Big Easy. If you're not sure what kind of poboy you're in the mood for, you can select from over 45 varieties at NOLA PoBoys. With cold and hot options and sizes ranging from a bun to a twelve inch, you are sure to find an option that delights at this low-key eatery. Specialty options include the Da Yat Fried Shrimp (smothered in Gumbo), Who Dat Fried Shrimp (smothered in bisque), Surf and Turf with shrimp and DaBris pot roast, Muffulettas, as well as the Grilled Shrimp and Veggie Poboy.
Head to the French Quarter and stop at Royal House Oyster Bar for a one-of-a-kind oyster poboy. Between the Oyster Poboy and the Crispy Fried Oyster BLT Poboy, you won't be disappointed with their fresh seafood. From the classic shrimp, roast beef, catfish and hot sausage to specialty options like soft shell crab and couchon de lait, you can find your all and more at Parkway Bakery and Tavern. If you can't decide on one, be sure to check out their rotating daily specials of half and half poboys. They even make an ice cream sandwich poboy with your choice of vanilla, chocolate, or creole cream cheese ice cream sandwiched in a chocolate cookie and dipped in milk chocolate. At Short Stop Poboys, guests can build their own poboy from scratch. First, choose your bread: French, wheat French, hamburger bun, or white slice. You then choose from over twenty meat or seafood options, with the specialties being Fried Shrimp and Roast Beef. Finally, you'll dress it to your standards. At Killer Poboys, enjoy a poboy infused with a contemporary Vietnamese twist. Asian-inspired sandwich delicacies include the Pecan Butter and Jelly, Whiskey Grilled Cheese, and Roasted Sweet Potato, to name a few. If you're looking for vegetarian options, consider the Thai BBQ Tofu or Roasted Cauliflower Sandwich.
New Orleans' Food neighborhoods
French Quarter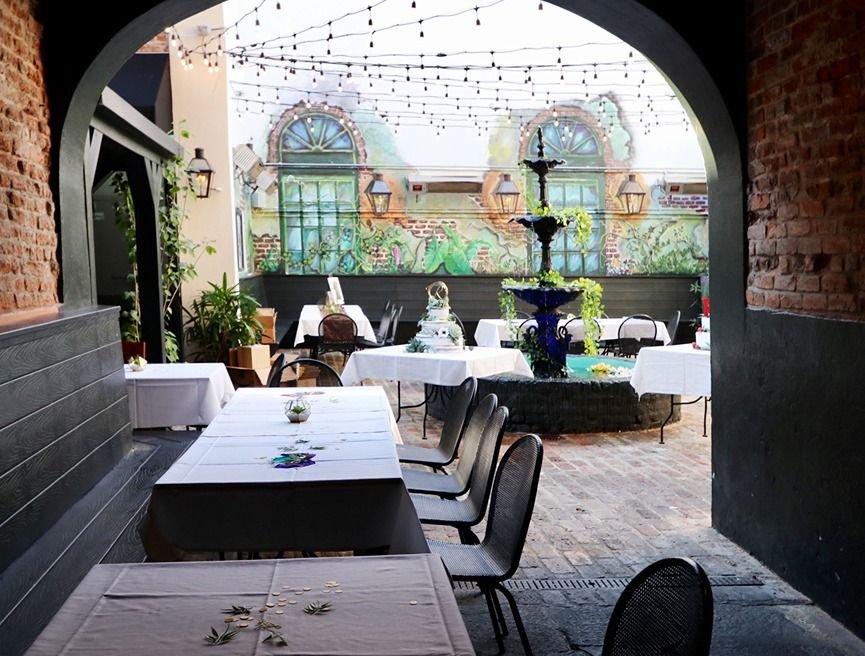 The French Quarter is a hotspot for restaurants and bars diving into the culinary history of New Orleans. There are places like Cafe Amelie and New Orleans Creole Cookery that serve classic Louisiana dishes with modern spins making each eatery unique. For daily live music, southern dining, and lively settings, try House of Blues or the Garage. The Garage is particularly special for its underground location in a historic 1930s building. Find the best daiquiris and fried chicken at Voodoo Chicken and Daiquiris or find wine paired meals at Orleans Grapevine Wine Bar and Bistro.
If you need some grub after a late night of partying in the Quarter, order the Hang Ova Burger and listen to some jukebox tunes over at the Jimani. In the late morning, the French Quarter is filled with brunch lovers as they head to Jimmy J's Cafe for a Cochon Panini and mimosa to start the day off right. To wind down the night, many locals find themselves sitting in the courtyards of Evangeline or the Crescent City Brewhouse enjoying classic New Orleans staples, jazz music, and beer.

CBD/Warehouse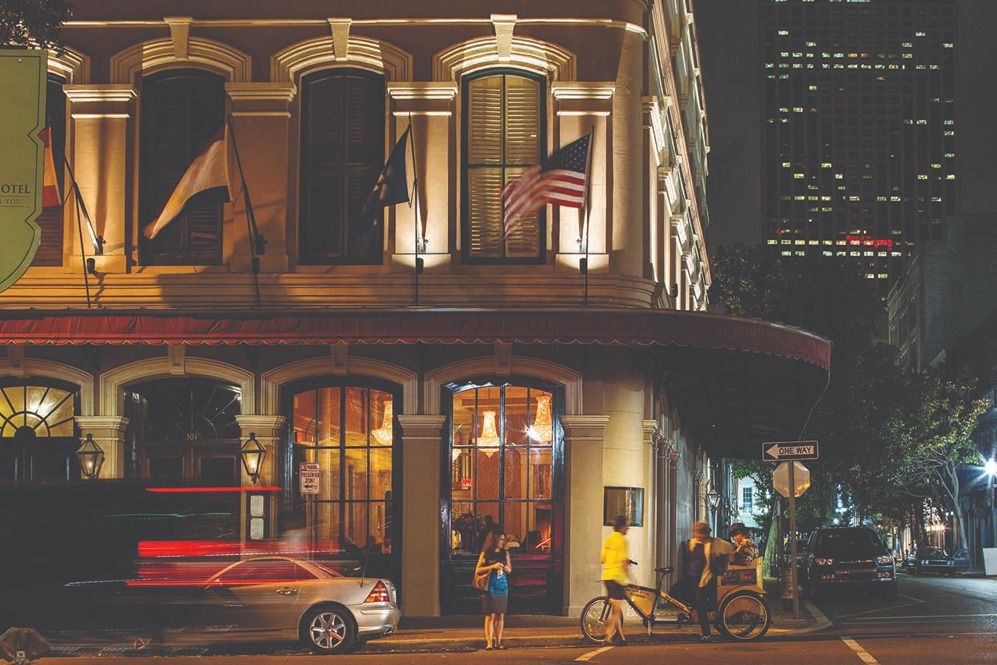 New Orleans Central Business District is filled with restaurants galore below the towering buildings and shadow of the Superdome. If you're staying at a hotel in the Warehouse District or if you're wanting that guest experience, try the Alto Rooftop Bar at the Ace Hotel on Carondelet or Cafe Normandie in the Higgins Hotel near the WWII Museum. For Italian food, head downtown to Josephine Estelle where they specialize in Italian-Southern fusion and offer pasta making classes for you and your group. Domenica serves authentic Italian dishes with great pizza, pasta, and wine.
Finding a restaurant that serves seafood is no struggle in New Orleans, and it's made easy when you're in the CBD. King Brasserie and Bar and Legacy Kitchen's Tacklebox in the Renaissance Pere Marquette Hotel offer you fresh seafood and raw bars for every oyster loving customer. Luke is another Creole infused raw bar that serves freshly caught and delivered daily oysters. You can find Louisiana cooking almost everywhere in New Orleans, but when you're downtown, you can find it at Annunciation where they celebrate cajun culinary traditions or you can find it at Restaurant August where their main focus is on fresh Louisiana ingredients. New Orleans accommodates all dietary restrictions, and one of the best vegan and vegetarian restaurants in the city is Carmo on Julia Street. They serve vibrant dishes with bold flavors from Southeast Asia, West Africa, South America, and the Caribbean.
Uptown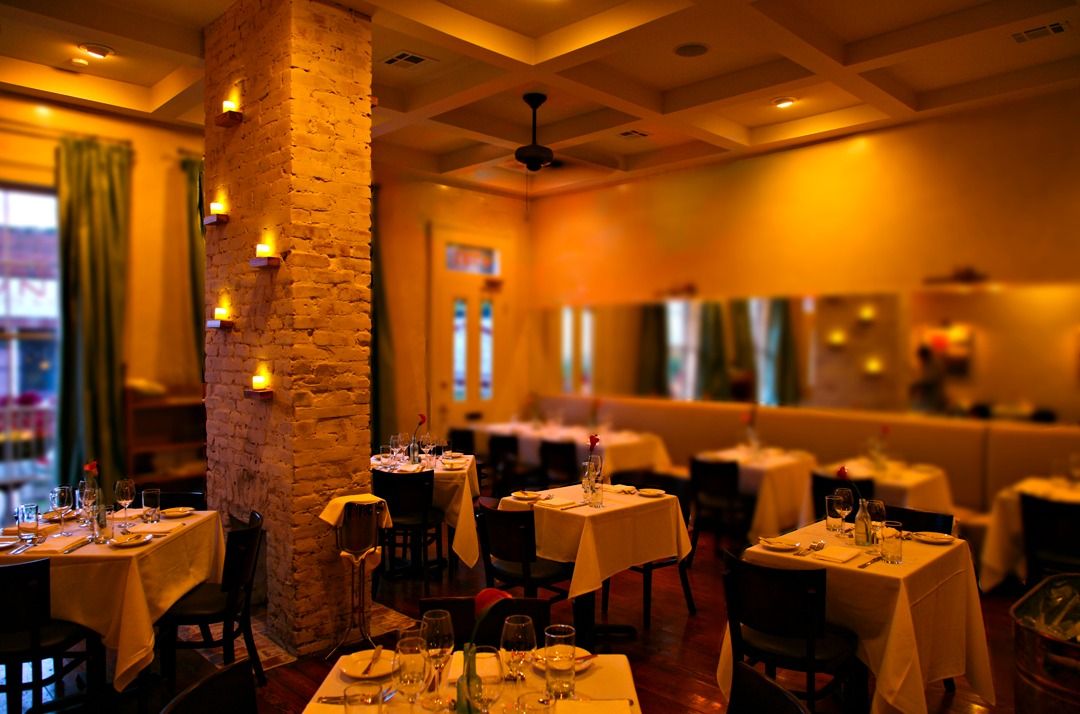 Uptown New Orleans, tucked away in the large and lively oaks, has great restaurants that both locals and tourists love to visit regularly. For Middle Eastern flavors, try the rosemary lamb chops at Lebanon's Cafe or treat yourself to sophisticated dining at Shaya where you can enjoy Israeli dishes in a James Beard Award-winning restaurant. Head to Apolline for traditional Louisiana cooking or try Please-U-Restaurant on St. Charles for casual dining during their weekly seafood Fridays.
If you find yourself on a night out in Uptown and craving some light night grub, check out Le Bon Temps Roule where you can drink the city's best bloody mary, play billiards, and listen to live music with your friends. Tracey's Original Irish Channel Bar is another bar with a wide selection of beers, cocktails, poboys, and more. The Vintage is a unique cafe on Magazine that serves fancy beignets unique from the traditional beignets you find at Cafe Du Monde. For some New American meals, make a reservation at Coquette where you can enjoy upscale dining in the neighborhood's two-story restaurant on Magazine. Bistro Daisy's is a quaint restaurant in a yellow cottage that makes you feel right at home with Southern ingredients. If you find yourself craving tacos on a Tuesday, try the Mexican cuisine at Mr. Tequila Bar and Grill on Freret for simple, sleek dining.
Marigny/Bywater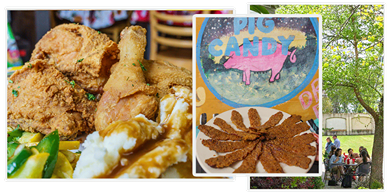 The Marigny in New Orleans is packed with neighborhood classics. There's always a cozy place for you and your group to enjoy by the water. For Caribbean-Creole food, head to Bamboula's where they host regular live music. On the second floor of their music club is Tapas e Vinos where they serve meals with paired wines and savory beignets for all crawfish lovers. Buffa's is another neighborhood bar that has fun, live, local music and delicious, specialty sandwiches.
For Italian-French cuisine, head to the Country Club for upscale dining and handcrafted cocktails. If you're still thirsty, try the specialty cocktails at JusTini's and share a few of their small plates with your group. Elizabeth's has weekday lunch and brunch with all of your favorite southern breakfast classics with funky art decor and a laid back setting. To satisfy that pasta craving, try Paladar 511 for their Italian cooking and incredible wines in a sleek setting in the Bywater. Locals find their seafood and surf 'n' turf at Jack Dempsey's. This family-owned eatery serves big platters with the best fried seafood in a casual dining room. Melba's is a prime spot for poboys, and Alma Cafe is everyone's favorite trendy Honduran restaurant. Marigny simply wouldn't be tasty without these restaurants.
Mid-City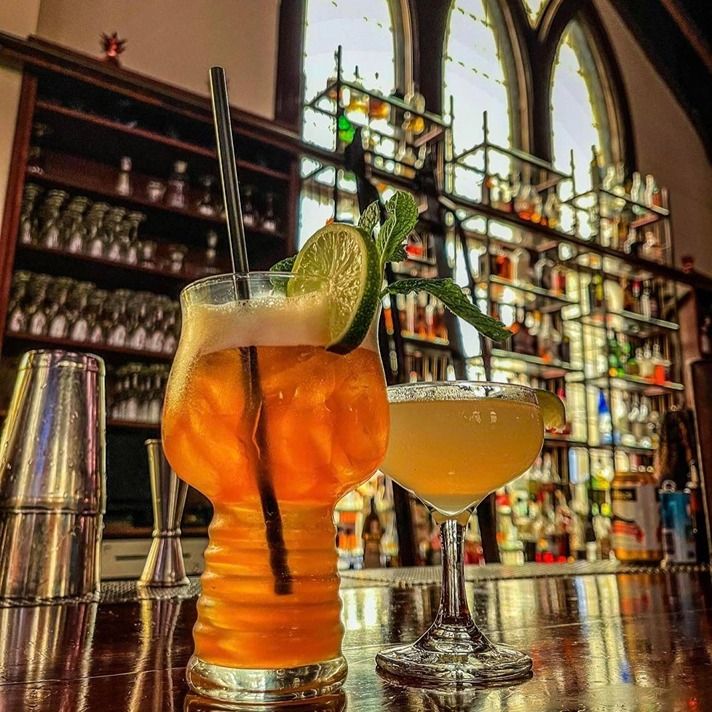 Over in Mid-city, there are plenty of restaurants and bars to keep you busy and keep you full. For a quick bite to eat, arcade games, and delicious burgers, try Bub's NOLA on Bank St. Crescent City Steakhouse serves your steak to perfection, and Blue Oaks BBQ brings you tasty and tangy barbeque with all the favorite BBQ sides. For Italian food, try the Creole-Italian meals at Liuzza's Restaurant and Bar, a neighborhood landmark.
Enjoy a unique dining experience at Vessel NOLA where you can eat American fare and drink craft-cocktails in a refurbished historic church. Revel Cafe & Bar serves creative American eats with casual seating at the bar. Head to Katie's on Iberville or Mr. Ed's Oyster Bar & Fish House for great seafood and drinks. Mandina's is another classic spot for seafood and various Creole-Italian menu items that you have to try when you're in Mid-city. If you're needing a sushi fix, Mikimoto's is one of NOLA's best restaurants to get sushi, and they have special rolls with a Louisisna flare.
A New Orleans Glossary of Terms
Roux
A mixture of flour and fat used to thicken the base of dishes like gumbo.
Gumbo
A stew, typically made with either seafood or chicken and sausage, over a bed of rice.
Snowball
Also known as a snow cone or shaved ice with flavored syrup.
Poboy
A sandwich traditionally made with French bread, a choice of meat or seafood, and topped with lettuce, tomatoes, pickles and mayonnaise.
Fully Dressed
A poboy with lettuce, tomatoes, pickles, and mayonnaise.
King Cake
A sweet bread dusted in colored sugar with a plastic baby hidden inside, eaten during the Mardi Gras season.
Praline "Praw' leen"
A brown sugar pecan-filled candy.
Culinary Delights Await in the Heart of New Orleans
There's always something special to eat wherever you find yourself in the Big Easy. New Orleans has a unique culinary history, fusing flavors from different cuisines to create that distinct flavor profile we all know and love. NOLA is one big, tasty melting pot of cultures and cuisines from around the world, and they're all represented here in the restaurant world.