Here in the Big Easy, it's easy enough to walk down the street and find a picture-perfect joint to get some good spirits with good company. There are lots of places to get delicious cocktails in New Orleans. But where do you go to find an upscale bar in New Orleans with a swanky atmosphere?
The Best Upscale Bars in New Orleans
If you're on the hunt for our favorite upscale bars in New Orleans, here are our top 10 picks to get some swanky spirits in an elegant space.
1. Bar Marilou
544 Carondelet Street, (504) 814-7711, barmarilou.com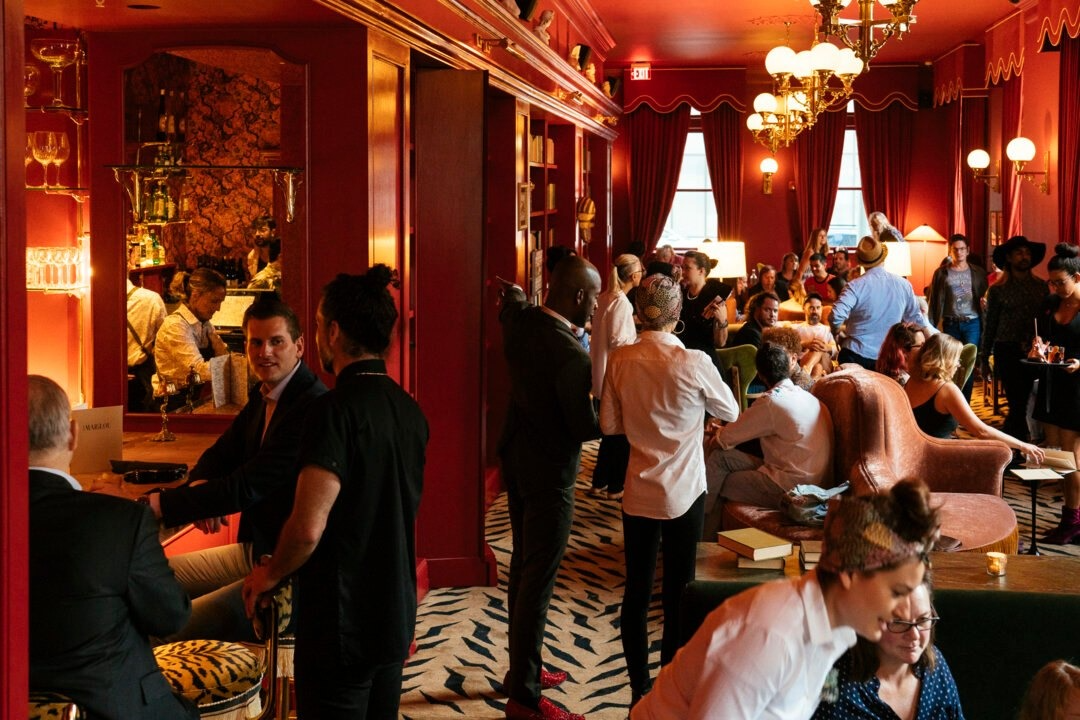 Believe it or not, booking a flight from MSY to Charles de Gaulle Airport is probably the most expensive way to be transported to Paris from the city of New Orleans, especially with Bar Marilou sitting right in our very own backyard.
As the love child of hotel Maison de la Luz and Parisian group Quixotic Projects, Bar Marilou is an ode to French culture, complete with eccentric décor and curiosities, unique handcrafted cocktails, and a carefree spirit that aligns all too well with the Parisian way of life. Here, it's not too hard to sit back, relax, and enjoy the upscale atmosphere with drinks to match.

2. Cure
4905 Freret St., (504) 302-2357, curenola.com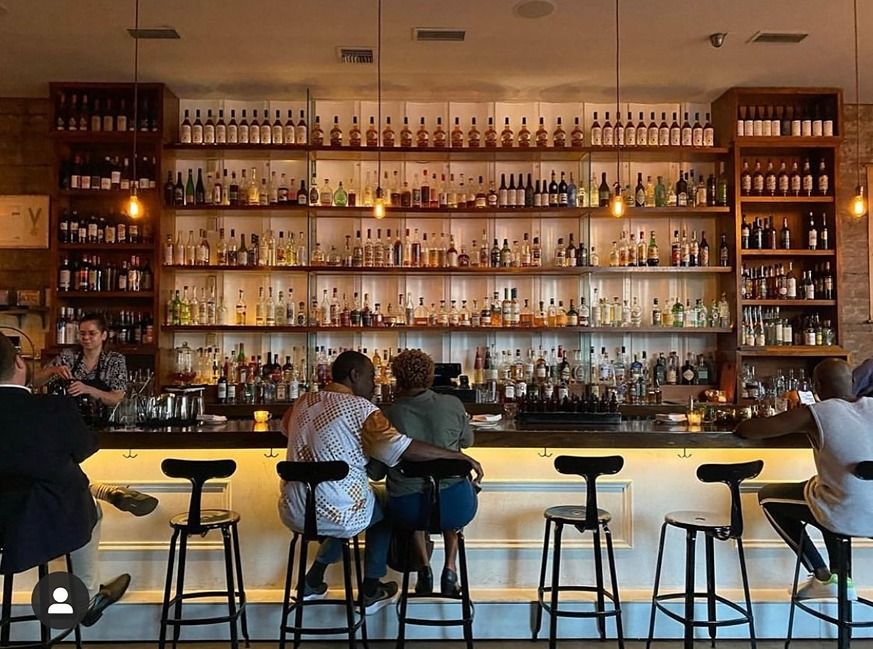 As the widely credited pioneer of the craft cocktail scene of the Crescent City, Cure makes for an easy pick for our top ten upscale bars. Located Uptown, this little neighborhood bar has made a bigger splash on the national - rather than local - scene.
Cure has made Food & Wine's list for "Best Bars in the U.S.," as well as Esquire's choices for "America's Best Bars," and has received the coveted James Beard Award for "Outstanding Bar Program." All this recognition is unsurprising when considering Cure's sleek atmosphere - both at the bar and in the courtyard - in combination with their innovative (and delicious) cocktails.
3. Monkey Hill
6100 Magazine St., www.facebook.com/monkeyhillbar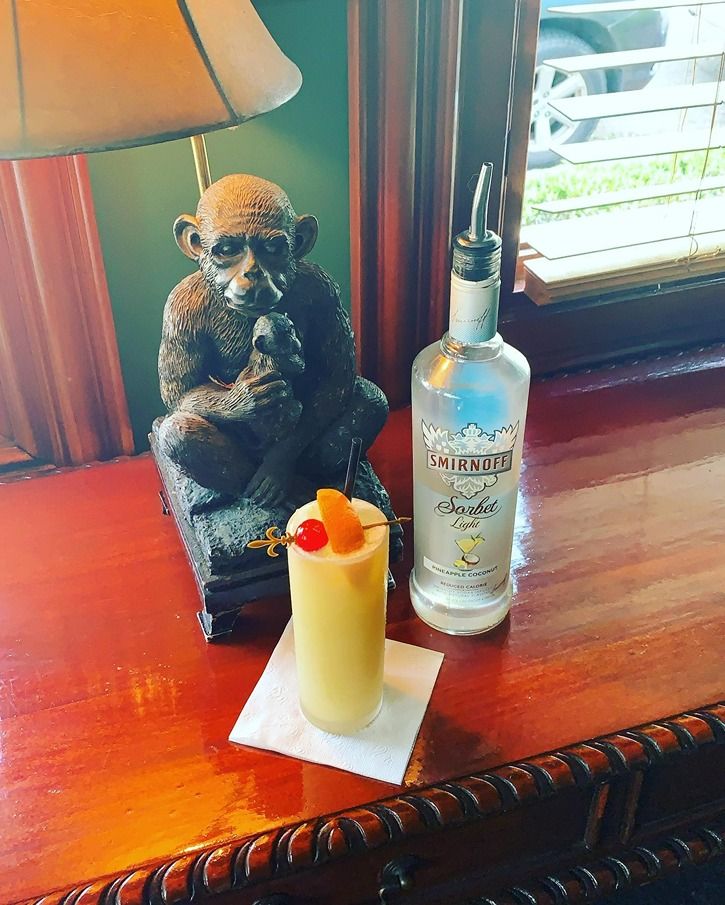 Monkey Hill is a comfortable setting to grab bottled beers, cocktails, and bar bites. With sofas and TV's, you're guaranteed to feel right at home. The perfectly made cocktails, along with their charming lights and decorations make for a perfect, romantic night out.
Monkey Hill hosts many special events, promos, and celebrations that you can keep up to date with through their facebook. Events include sports games on their giant screen, live music performances, after parties for all things New Orleans, Sunday Funday, and even charity events. Monkey Hill is even dog friendly—so you can enjoy this bar with all of your loved ones.

4. Arnaud's French 75
813 Bienville St., (504) 523-5433, arnaudsrestaurant.com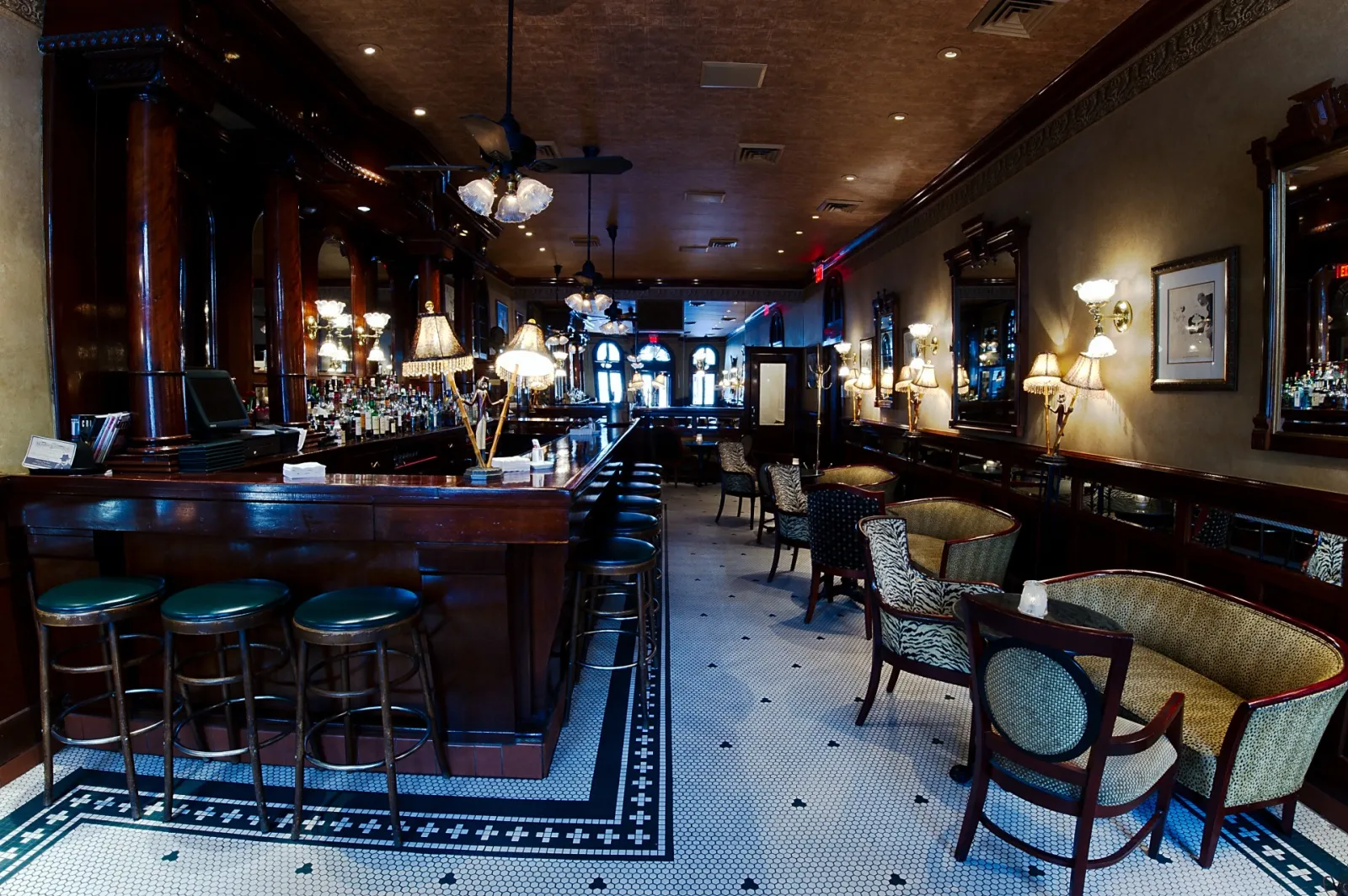 With a bar that was custom built back in the 1800s, Arnaud's French 75 is an upscale joint with a rich history and classy character. Part of a larger establishment created at the turn of the century, this bar is dripping in French and New Orleans inspired culture and has a true dedication to quality spirits and ingredients paired together to create beautifully elegant cocktails.
It's really no surprise that French 75 has been named one of the "Top 5 Bars in the U.S." by Esquire Magazine.
5. The Carousel Bar & Lounge
214 Royal St., (504) 523-3341, hotelmonteleone.com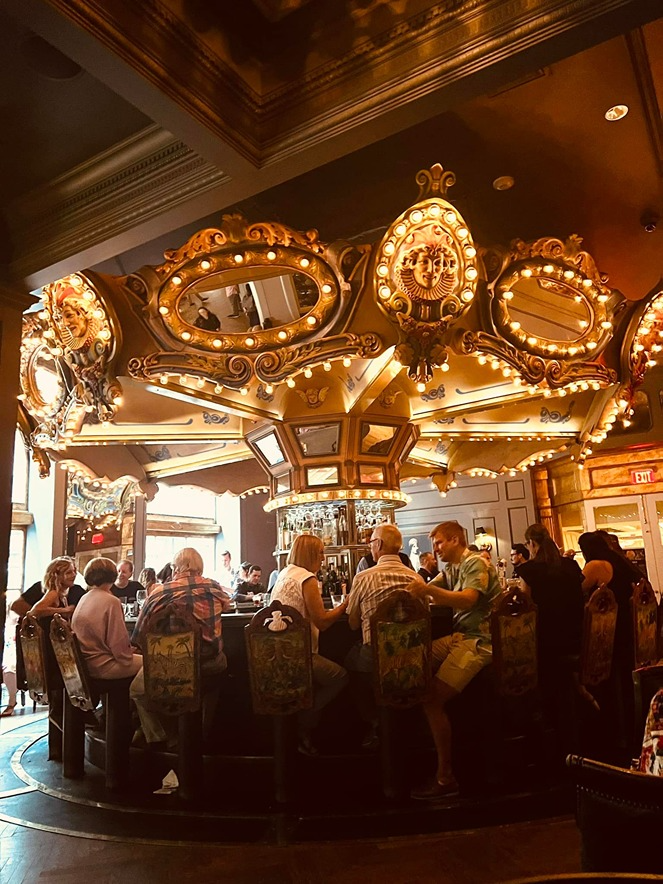 At the Carousel Bar & Lounge, guests are invited to take a spin where the whimsicality of a decades old tradition meets spirited modernity. This 25-seat rotating bar offers a healthy list of signature cocktails in a circus like atmosphere, that's all grown up and includes live music.
Named one of Vogue's Top 20 Bars around the world, this more adult take on a nostalgic merry-go-round is an experience you can't miss.
6. Effervescence
1036 N. Rampart St., (504) 509-7644, nolabubbles.com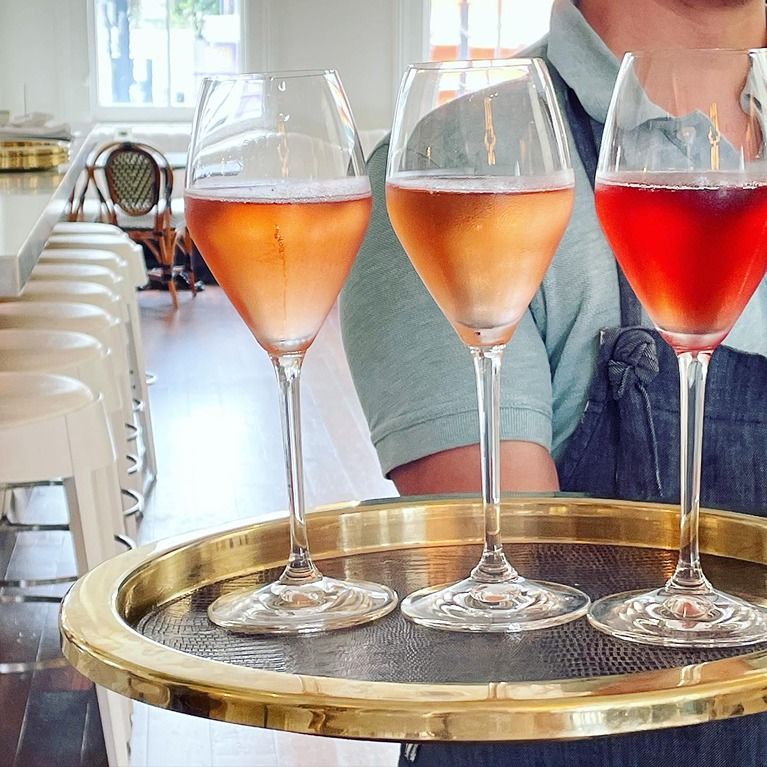 Just situated on the edge of the French Quarter, Effervescence is where modern chicness meets the celebration of a bubbly champaign.
With a vast, curated list of sparkling wines from around the world at every price point, more cocktails and drinks to choose from at the bar, and a green courtyard for some fresh air, Effervescence really has something for everybody. Housed in a Victorian cottage dating back to the 1890s, this elegant sparkling wine lounge is a wonderful spot to sit back and celebrate the day to day.
7. The Sazerac Bar
130 Roosevelt Way, (504) 648-1200, therooseveltneworleans.com

Sazerac, as they say, may just be the world's oldest mixed drink, and with a name like The Sazerac Bar, it's no surprise that this upscale lounge is a true nod to a rich, rich history.
With bars made of African walnut and walls covered by the work of Paul Ninas, stepping into The Sazerac Bar is like taking a trip back in time to classic, old school New Orleans. Hidden in the heart of The Roosevelt Hotel, The Sazerac Bar has been a spot for easy company, drinks, and conversation for decades, and they won't be stopping anytime soon.
8. Hot Tin
2031 St. Charles Ave., (504) 323-1500, hottinbar.com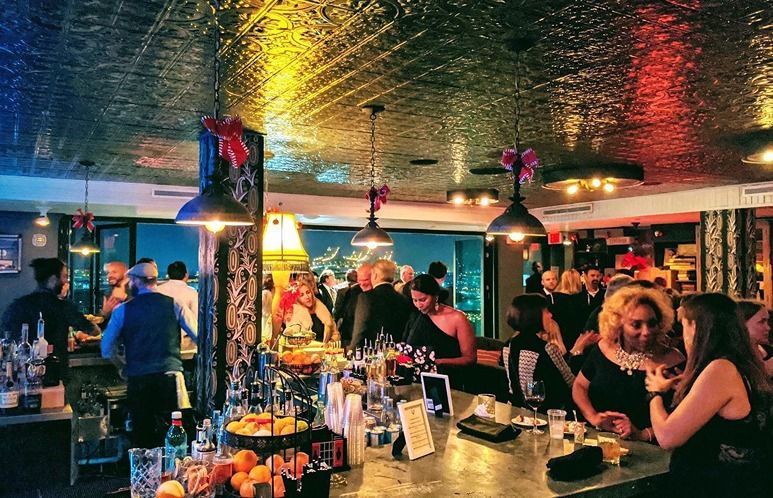 Sitting on the roof of the Ponchartrain Hotel, Hot Tin is high on our list of the best upscale bars of the Big Easy. With an intimate atmosphere and 270-degree view of the New Orleans' Downtown skyline and the Mississippi River, Hot Tin is an absolute breath of fresh air, where you can enjoy fun seasonal specialty cocktails or get your fix of the classics.
The interior takes inspiration from a 1940s' artist space, complete with an emporium of curiosities from a unique past.
9. Jewel of the South
1026 St. Louis St., (504) 265-8816, jewelnola.com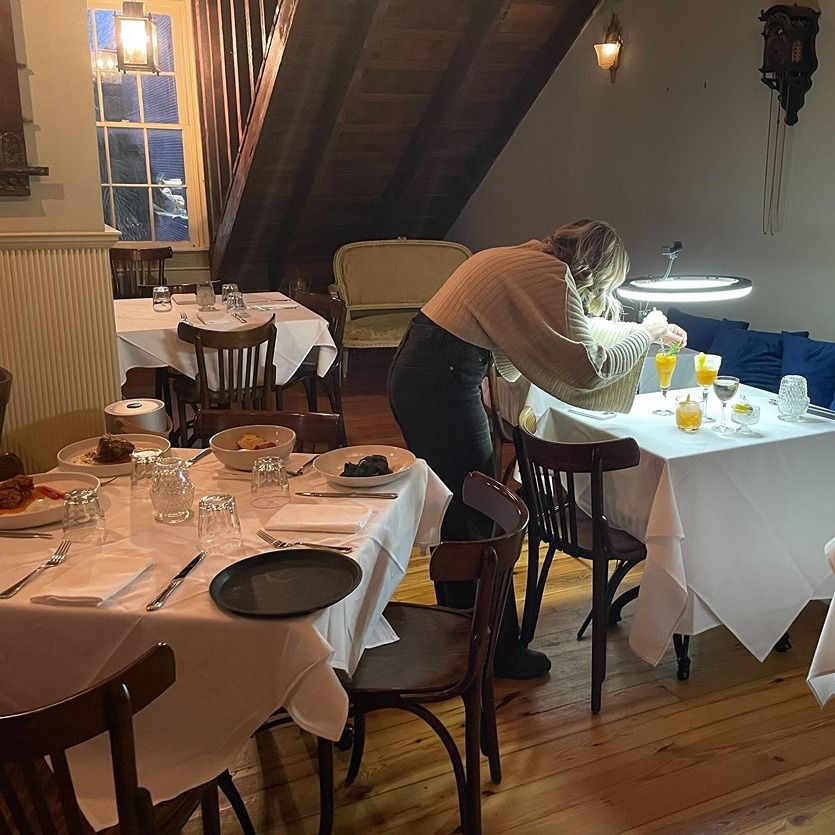 With a passion for hospitality, Jewel of the South is an easy choice for one of the top ten upscale bars in New Orleans. Complete with old brick walls and blue painted shutters, Jewel of the South is an ode to southern architecture and a true hidden gem.
The cocktails flaunt a perfect pairing of seasonal flavors and ingredients with mastered techniques and a dedication to history and tradition, all in all making for an easy evening with good company in a swanky space.
10. Hermes Bar at Antoine's
713 St. Louis St., (504) 581-4422, antoines.com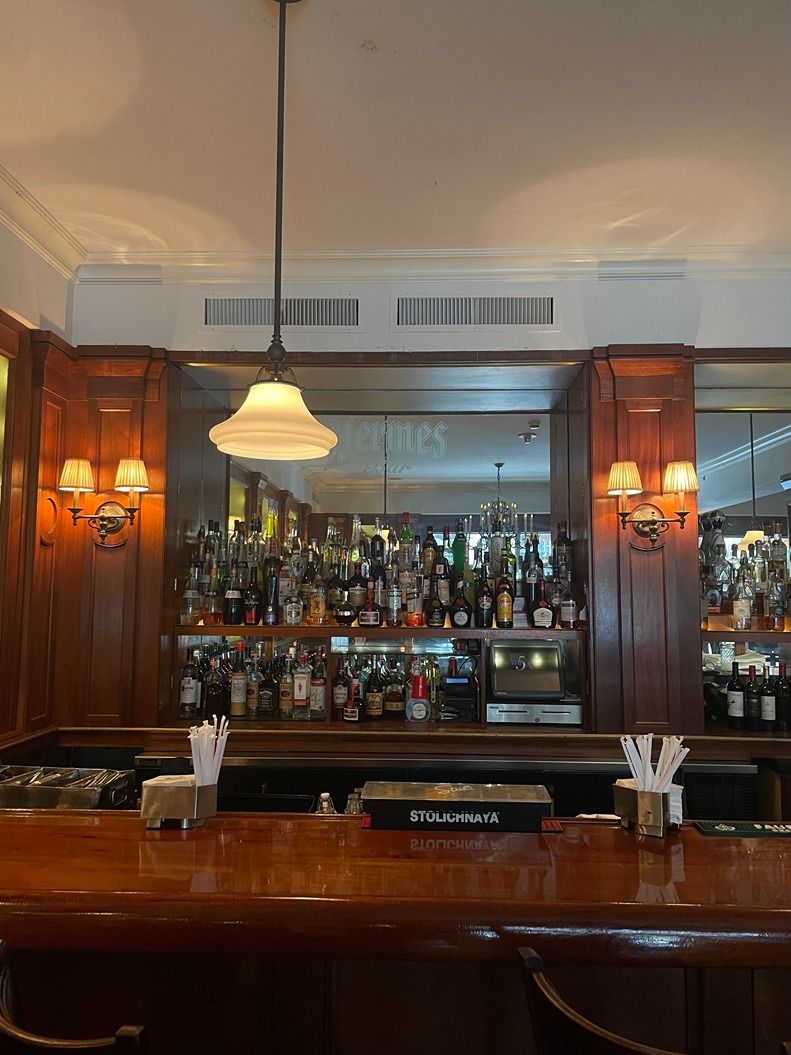 Part of the United States' oldest family run restaurant, Antoine's, Hermes Bar keeps close to home with a true dedication to the history and traditions of the Crescent City.
Serving up classic New Orleans cocktails, alongside a selection of wine and beer, Hermes Bar is a vision to behold with a classic wood topped bar and tables, along with iconic checkerboard flooring. The welcoming atmosphere makes for a great spot to relax with good spirits and camaraderie while also enjoying the upscale character.

New Orleans' Upscale Bars to Enjoy
This list will get you started on some of our favorite NOLA upscale spots to stop in and sip a martini in your fancy clothes. When going to bars like these, it's better to experience them with other people. Consider any of these fantastic bars for a Valentine's date with your significant other, a friends' trip on the town, or even a treat for your parents on Mother's/Father's Day. Put visiting upscale bars on your Nola Must-Do List.
Each of these places offer elegant settings with some of the most delicious cocktails you'll have in the entire city. Cheers!