New Classic Cocktails for Tales of the Cocktail
If you're anything like me and accept your love of New Orleans cocktails as a second religion, then obviously you're familiar with Big Easy classics such as Arnaud's French 75, Pat O'Brien's Hurricane, Carousel Bar's Vieux Carre, Jewel of the South's Brandy Crusta, and of course, the legendary Sazerac born at the appropriately named, Sazerac Bar.
However, if you only knew of the possibilities that lie beyond the bar, you'd see that these delicacies barely scratch the surface of the drinking world as they're only small members of the vast cocktail family. Here are a few of their attractive cousins at this boozy family reunion.
New Orleans Cocktails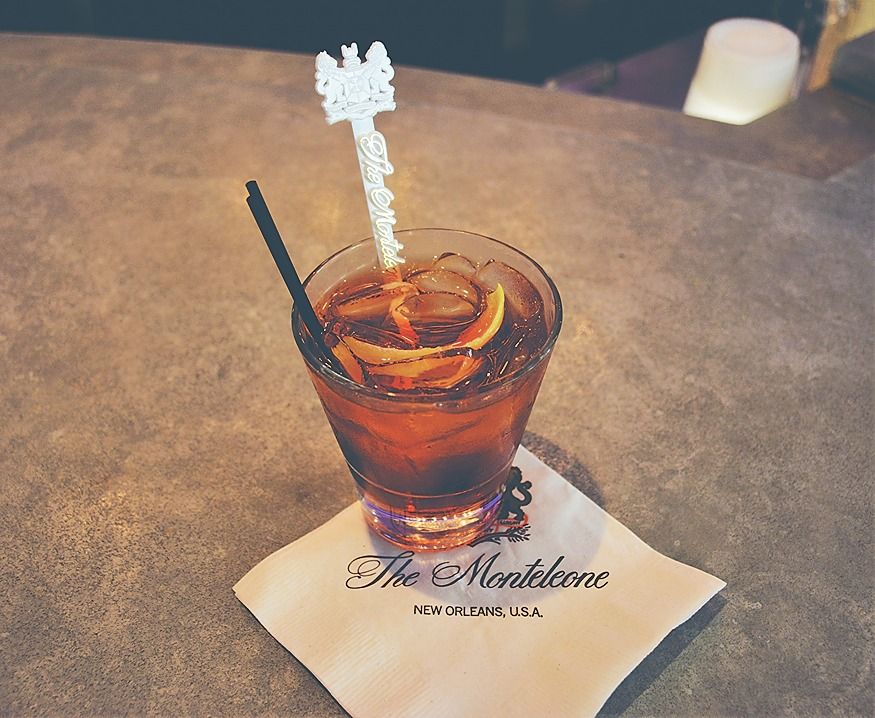 First off, if you're an experienced cognac or whiskey locally, then no doubt you've tasted the famous Sazerac. However, if you're looking for a light spin on this Nola classic, then you can find one of my favorites, the Taylor Bird Sazerac at So Bou's, a bougie spot specializing in medicinal cocktails located at 310 Chartres St. This mix is concocted with a split down the middle between brandy and rye, a few dashes of Peychaud's, and flavored with cane syrup for a sweet taste minus the absinthe. It makes for a delicious, but respectful, heir to the Sazerac name.
On the other hand, if you're keen on something a bit bubblier with a citrus squeeze, you already know of the French 75, a popular cocktail for those Sunday brunches with Mom and the girlfriends. But if you're willing to expand your horizons, then perhaps you'll step outside the box and over to the 21st Amendment Bar at 725 Iberville St. to get your hands on The Frenchy. This fine drink comes with all the same tasty ingredients as her sister cocktail except with strawberry vodka instead of gin. Stop on by and sip on one while watching a classy jazz show, as old '50s films play behind the bar at this atmospheric dive.
It's a sin to discuss New Orleans drinks without mentioning the Hurricane, but as there are just too many spots around town with their own versions to recommend, here's a bit of cultural drink wisdom. Chris, a knowledgeable bartender, divulged that this classic is much more than a drink—it is a misunderstanding. "Oftentimes patrons go to Pat O'Brien's for a Hurricane and complain that the drink they got is no Hurricane, when indeed it's the one and only," Chris imparts. "If you've been around the Quarter then you've seen some beverage which donned the Hurricane name, but this misleads folks to believe that that's what a Hurricane is. So, by the time they get over here and try ours, they [complain] about the difference, because what they initially had, really ain't no Hurricane." The moral of this story is to enjoy this drink responsibly, but "responsibly" means remembering who did it first, and who does it the best.
New New Orleans Cocktails
If you still want to explore some more, then Port of Call's (838 Esplanade Ave) Monsoon, formerly known as Pirate's Last Stand is the closest runner-up to the Hurricane you'll find, and is a surefire way to forget your own name.
It gets tricky to find variations of some of these New Orleans staples, because they themselves are spins of classics. Fancy that. For example, if you've got a more refined palette, then you've probably tasted the smoky warmth of the Vieux Carré, which is French for old quarter (the original name for the French Quarter). Though you know it by name, you may not know that the Vieux Carré exists on its own as the love-child between the Manhattan and the Old Fashioned, with all the same flavors of cognac or rye, sweet vermouth, but with Peychaud's bitters instead of Angostura and a light touch of Benedictine D.O.M., for a sweet aftertaste. You're sure to find this fella in its rightful home at Hotel Monteleone's Carousel Bar at 214 Royal Street, but if you're looking for another type of spin with this drink, check out the Rendezvous Carre served at Jewel of the South at 1026 St. Lewis St. made with coco tea brown butter-washed whiskey and brandy, vermouth di Torino Cocchi, and Jager spice—a perfect after dinner complement.
If Jewel of the South sounds familiar, that might be because you know it properly as the home of the esteemed Brandy Crusta, the IBA Official Cocktail made of brandy, maraschino, curaçao, lemon juice, sugar syrup, and Angostura Bitters, invented by Joseph Santini, which funnily enough is regarded as a precursor to the Side-Car. But if you're looking to step it up a notch, try Jewel's own creation, the Upper Crusta, with Grand Marnier, Cointreau, maraschino, and Angostura bitters. Fair warning, though, be prepared to drop a pretty penny on this one.
Let the Good Times Roll
The list goes on and on with other New Orleans favorites: the Ramos gin fizz, brandy milk punch, and Roffignac. While you're exploring what endless boozy possibilities await, keep letting the good times roll. Cheers!