Just like ribs, crawfish, and hamburgers, chicken wings are highly satisfying. There's something about eating with your hands that feels so right, and we won't judge you for licking your fingers. The best part about saucey chicken wings is that you often get to choose between flavors making for one highly customizable meal. From sweet to sour to blazing hot, there's no end to the flavor options.
These local restaurants may not be the only ones in New Orleans serving chicken wings, but they are quite possibly the best. Get ready to chicken out for chicken wings.
Where to Get Wings in New Orleans
1. Hooters
Multiple Locations, hootersoflouisiana.com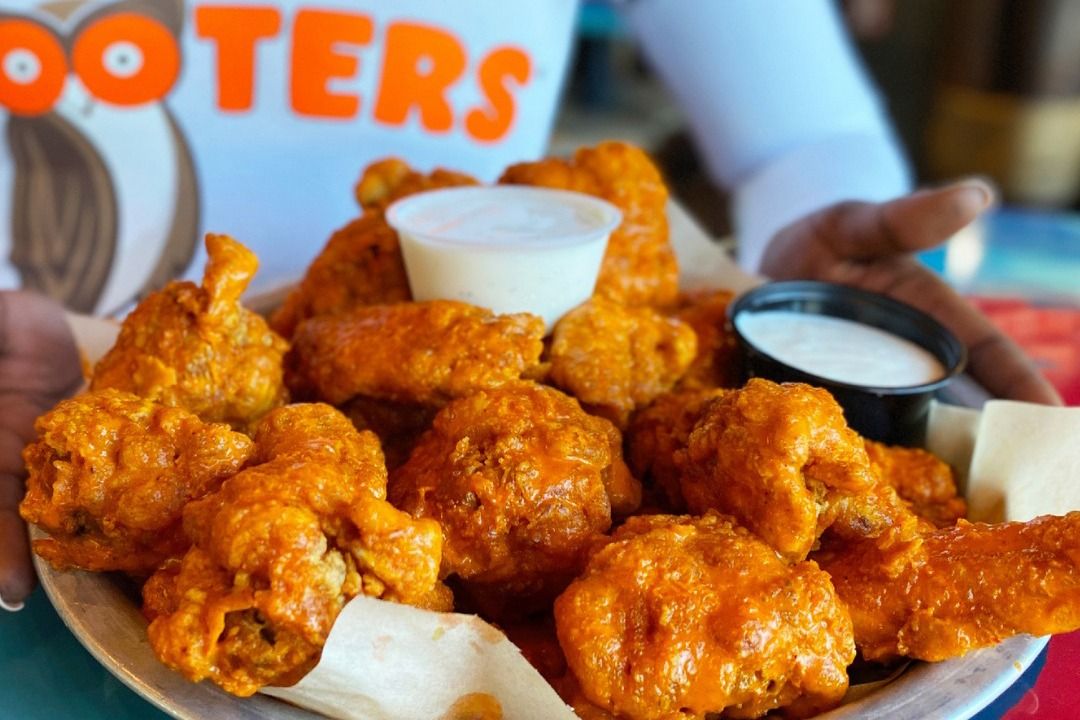 Yes, it's a chain restaurant, but there's a reason that the New Orleans area Hooters stay busy. Stop by the Gretna location (2781 Belle Chasse HWY) or the Metairie location (4748 Veterans Memorial Blvd.) for a big plate of wings in your favorite style. There's the famous Hooters original style, naked, boneless, smoked, and the awesome Daytona Beach style (naked and tossed in Daytona Beach sauce then seared). If you come out on Wednesday, you can enjoy discount wings for Wingsday.
Hooters also has a big menu of burgers, sandwiches, tenders, teasers, salads, and seafood. The Snow Crab Legs are great for dinner. The menu describes the crab legs as, "This is how Hooters does upscale."
2.

Bayou Hot Wings
6221 S Claiborne Ave. (504) 865-9464, bayouhotwings.com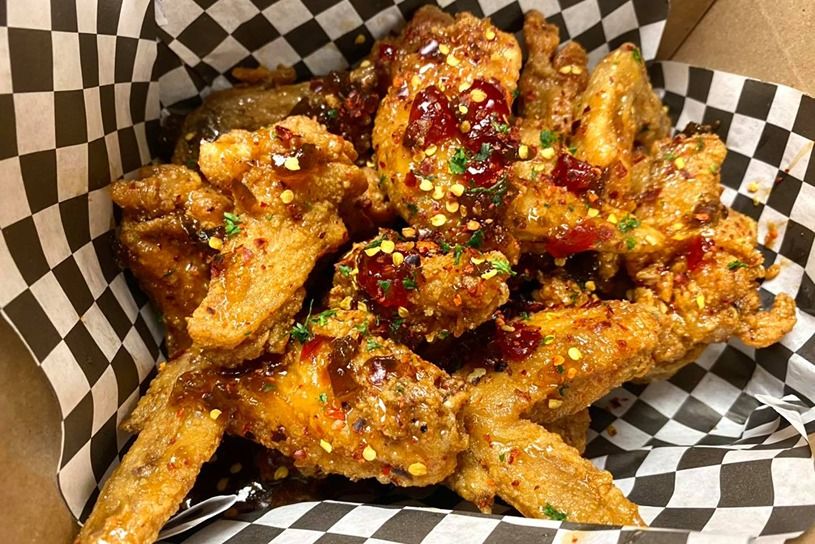 Bayou Hot Wings doesn't let their sauce carry the wing. It all starts with a 24-hour brining process that imbues the meat with flavor first. The wings are lightly-battered and sauced with your choice of one of the 14 sauces that range from sweet to off-the-charts hot. Pair those with one of the four dips and you've got a flavor overload.
If you don't prefer wings, Bayou Hot Wings also offers Bayou Tenders, Gulf Shrimp, Gator Bites, and even Frog Legs any of which come with one sauce for dipping or coating. One of the many sandwiches are great to get for on-the-go. Try the Western Chipotle BBQ or the Fried Chicken Breast Sandwich. Bayou Hot Wings even has an extreme food challenge if you think you can handle the heat.
3.

Chicken & Watermelon
3400 S Claiborne Ave. (504) 896-4596, facebook.com/ChickenandWatermelon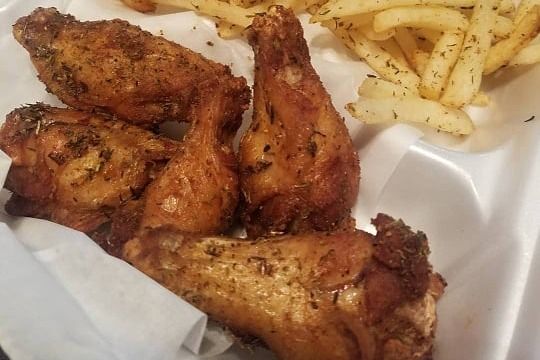 At Chicken & Watermelon, you can get 5 wings, 10 wings, 15 wings, and up to 100 wings if you're really hungry. After selecting how many wings you want, you just need to let them know which of the 24 sauces you want to toss them in. The Get Ya Mind Right is a very hot sauce, and the Yaka-Mein is something that you'll only find in New Orleans.
If those saucy wings just aren't enough for you, you can pair them with a side like the steaming hot Boudin Balls, Jalapeno Bombers, or one of the specialty fries. Try the 0017 Fries that are covered in Cajun Creole sauce and topped with parmesan cheese.
4.

Nola's Wings And Things
7906 Earhart Blvd. (504) 435-8117, facebook.com/nolaswingsandthings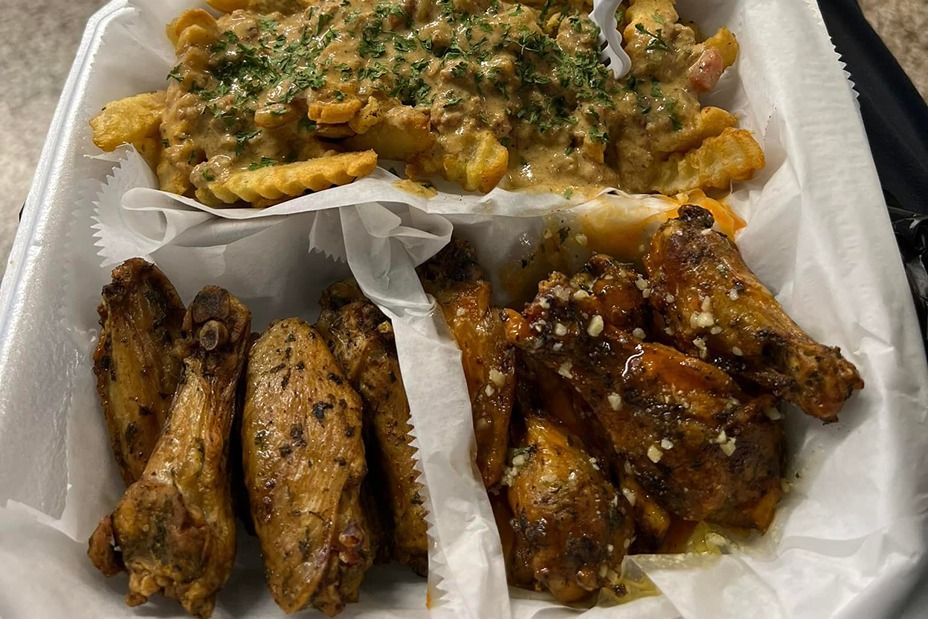 This restaurant has a lot more than wings although the wings are reason enough to try it out. The wings come with at least one of the 21 sauces. The Spicy Parmesan is great for someone who wants a little heat but a lot of flavor. The Grilled Nuggets are great for those who go boneless, but the Nola's Love entrée plates are just irresistible.
The Angus Steak Plate is USDA Choice angus beef. You can also get that angus steak on the Surf and Turf Plate along with 4 jumbo shrimp. The Grilled Bone-In Pork Chops are a patron favorite, it goes well with Nola's Homemade Gumbo (beef sausage, chicken thigh, and shrimp).
5.

We Dat's Chicken and Shrimp
Multiple Locations, wedats.com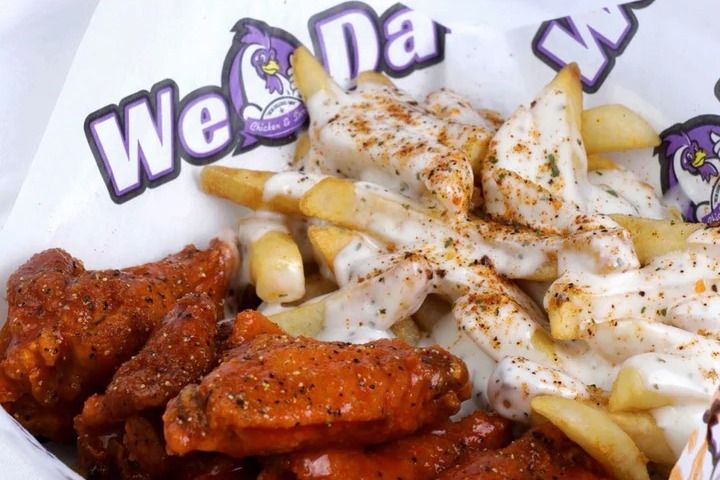 We Dat's offers wings, fries, catfish, shrimp, and specialty drinks like Ghetto Punch at each of their three locations: on Canal Street (1407 Canal St.) and at two locations on the Westbank (4905 Westbank Expy., 9818 Lake Forest Blvd.). Stop by for a plate of piping hot chicken wings smothered in the house specialty Wuzzam Buffalo Sauce.
For those not in the mood for wings, you may like the Fully Loaded Shrimp Wrap or Fried Catfish Plate. If you can't get enough of these flavors, you can buy some shakers of seasoning or the Wuzzam Buffalo Wing Sauce to take home.
6.

J's Creole Wings
1700 N Claiborne Ave. (504) 309-9444, jscreolewings.com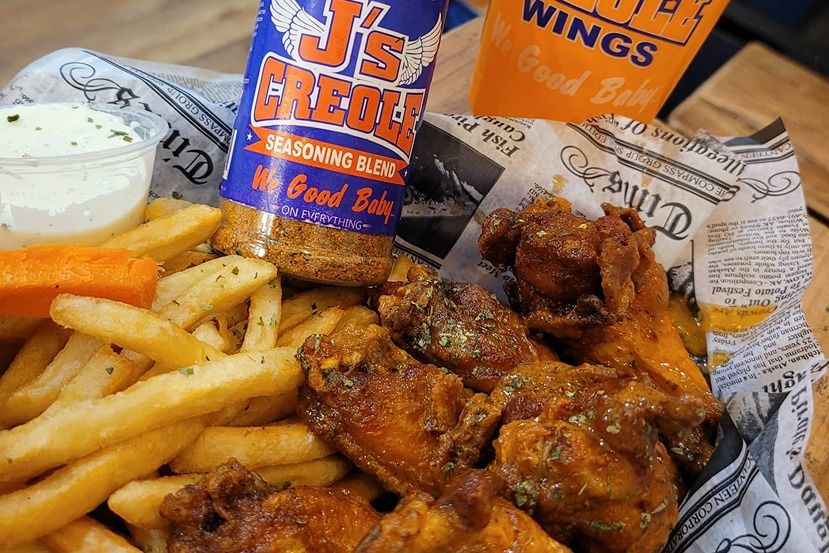 J's Creole Wings has a small menu because they know exactly what you want. Just choose how many wings you want, if you want them to be boneless or not, then select your sauce or sauces from the list of 9 sauces. The Island Jerk is inspired by Caribbean flavors, and the Sriracha Lemon Pepper is something altogether different.
Also at J's, you'll find a seriously big selection of fries and fried okra available in many ways. Who wouldn't want to try some Garlic Rosemary Parmesan Fries? The Creole Rub Fried Okra is something that you can't get anywhere else.
7.

Wing Snack Express
Multiple Locations, wingsnackexpress.com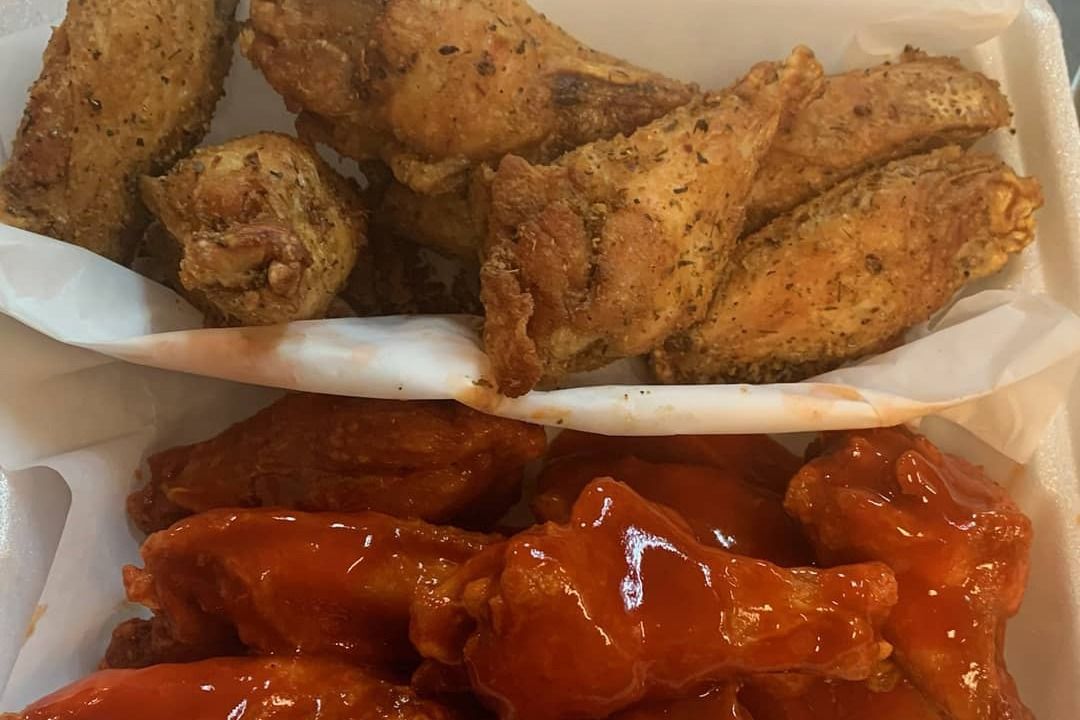 Pop into Wing Snack Express at the Algiers location (3570 Holiday Dr.) and Kenner location (2009 Williams Blvd.) for a flavor rush. The wings come in flat or drumette, and they are coated in a dry or wet rub to your liking. The dry rubs include flavors like Mesquite, Roasted Garlic, and Zesty Jalapeno, and the wet rubs include Arizona, Sweet Pepper, and Spicy BBQ just to name a few.
While there are other entrees like chicken tenders and fried fish, the French fry selection is intriguing. You've got options like New House Ranch Fries, Mesquite Fries, and Cajun Fries among other options. The Bananas Foster Cheesecake is a must have for dessert.
8.

Who Dat Wings & More
Multiple Locations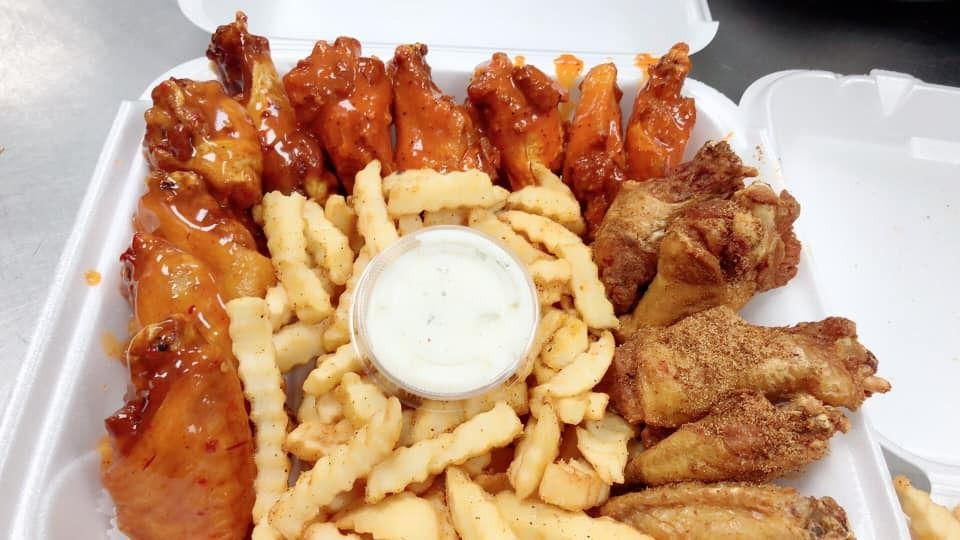 Everyone loves saying Who Dat, and you'll sing it when you get some wings from one of Who Dat Wing's three locations: Mid-City location (7838 Earhart Blvd.), Bywater location (1611 Franklin Ave.), and New Orleans East location (5741 Crowder Blvd.). There are nearly 30 sauces and nearly 10 dry rubs to choose from. It's like you could eat here daily for a season and never get the same thing.
The More items on the menu include fried seafood, tenders, salads, and sides. The regulars love the Crazy Fries to go along with their wings. Just some of the other sides include Falafel, Spicy Meat Pie, Fried Mushrooms, and Sweet Corn.
9.

Bourrée Cajun Smokehouse
1510 S Carrollton Ave. (504) 510-4040, bourreenola.com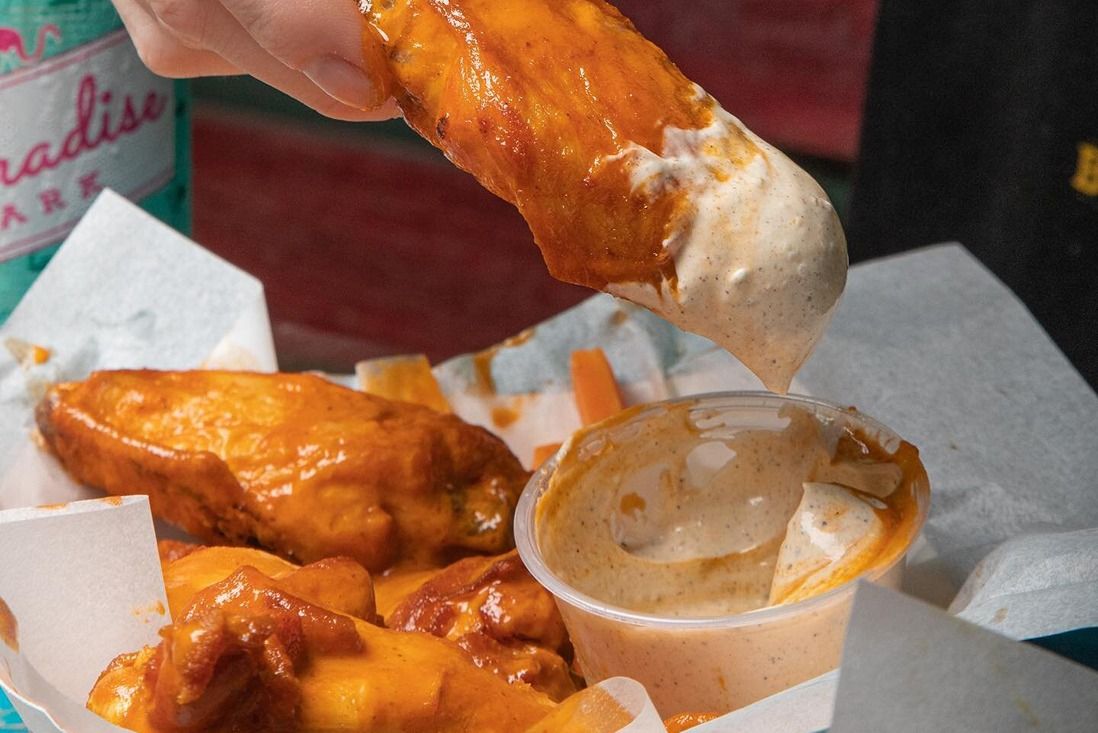 Bourree proudly specializes in house-smoked wings and icy cold daiquiris. It's a combination made in heaven. The wings can be sauced with your choice or Jerk, Spicy Buffalo, Sweet Mango BBQ, Smoked & Seasoned, or Kimchi & Lemongrass. The bonus is that vegetarians can sub the chicken for cauliflower.
Bourree isn't content with delicious wings though. The menu boasts several sandwiches and other heavy appetizers. The Boudin Grilled Cheese is slathered with seasonal mustard and pepper jelly. The Pulled Pork Nachos have cheese, tomato jam, peppers, onions, and cumin crema.
10.

Blue Oak BBQ
900 N Carrollton Ave. (504) 822-2583, blueoakbbq.com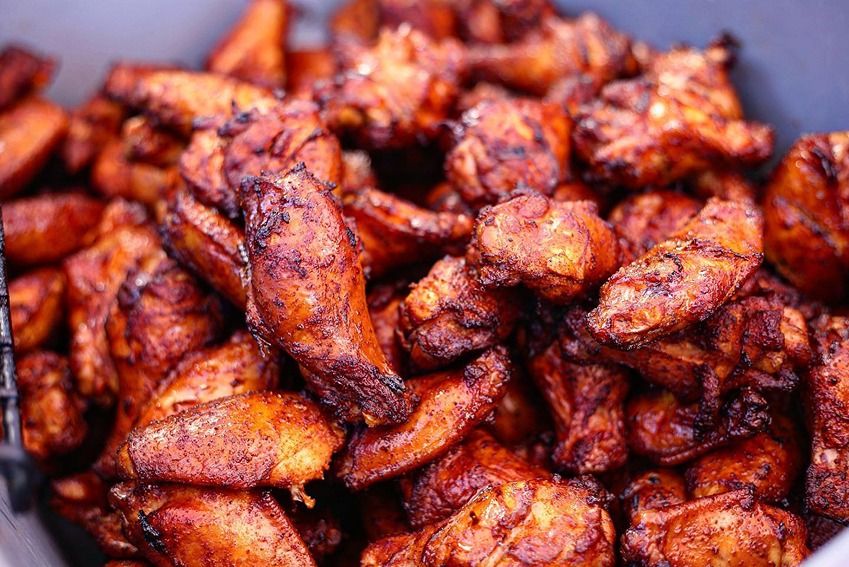 New Orleans is usually not talked about in terms of barbecue, but that just means it's our best kept secret. New Orleans has a long history with barbecue that continues to this day through our smoking hot barbecue restaurants. Blue Oak BBQ sits on Carrollton Avenue not far from City Park, and you'll often see patrons happily dining out on the pretty patio.
Among the typical barbecued meats like pulled pork and beef brisket, you'll find smoked wings available as a plate, a snack, or a la carte. The wings are available in one of these fiery flavors: rooster, buffalo inferno, spicy jerk bbq, kung pao, or Sichuan. House ranch is provided to cool your tongue.
The Best Chicken Wings in New Orleans
These chicken wings are ready to take over your palate with extreme flavor! Do you like to go hot and smokey? Or do you prefer buffalo wings that are tangy and exciting? Whatever you get this time around means that you can try something totally different next time.
Who makes the best chicken wings in New Orleans? Let us know where you like to go!