Coffee has an interesting history in New Orleans. Since this is a port city, New Orleans started getting shipments of green coffee beans from South America and the Caribbean in the early 1800s. At one point, New Orleans was the second largest importer of coffee in the nation. This tradition is thriving today. There's a coffee shop or café in every part of town. The locals like to have their coffee with a little dash of chicory or a hot cafe au lait.
Though are locally-born chain coffee shops are wonderful, the following coffee shops and cafes are more than just good coffee. Stop by for a cup of joe and a croissant any day.
The Cutest Cafes in New Orleans
1. The Vintage
3121 Magazine St. (504) 324-7144, thevintagenola.com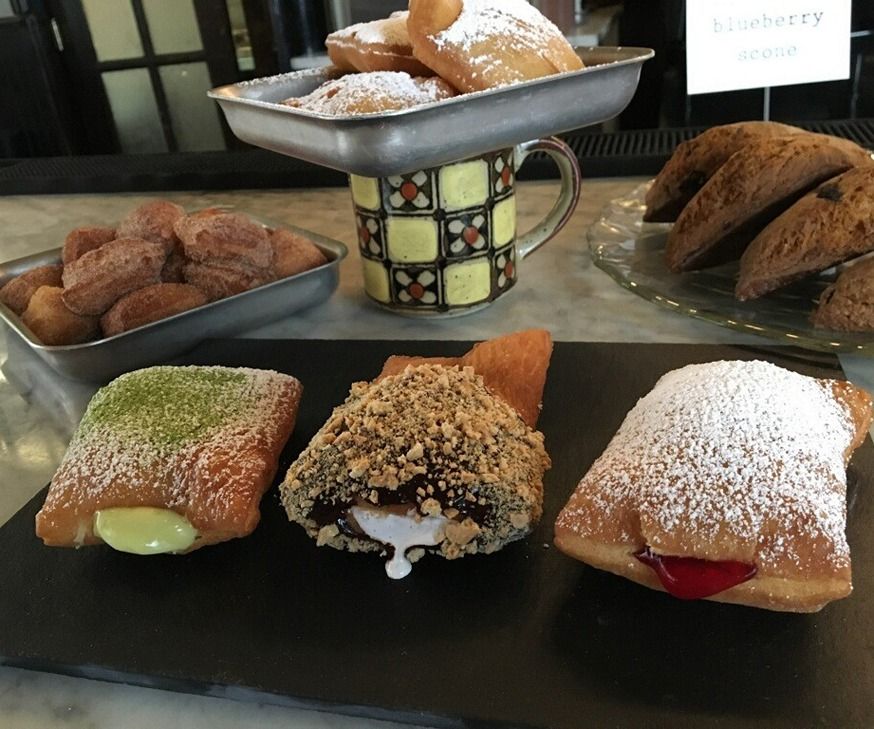 Beignets, bubbles, bites. That's how The Vintage Restaurant describes its offerings. The lovely Magazine Street café and eatery is open on weekdays from 7 a.m. to 9 p.m. and weekends from 8 a.m. to 10 p.m. Beignets and pastries are served all day, so you don't have to worry about waking up early to indulge in hot, pillowy beignets and steaming espresso.
If you're in the mood for something more satiating, check out the Bites and Provisions section of the menu. There is a range of delights from healthy to decadent. The Zoodle Bowl is a base of zucchini noodles with tomato and asparagus tossed in a Paleo pesto. The AT2's Cheese Fries are served with two small beers.
2. Bearcat Cafe
Multiple Locations, https://bearcatcafe.com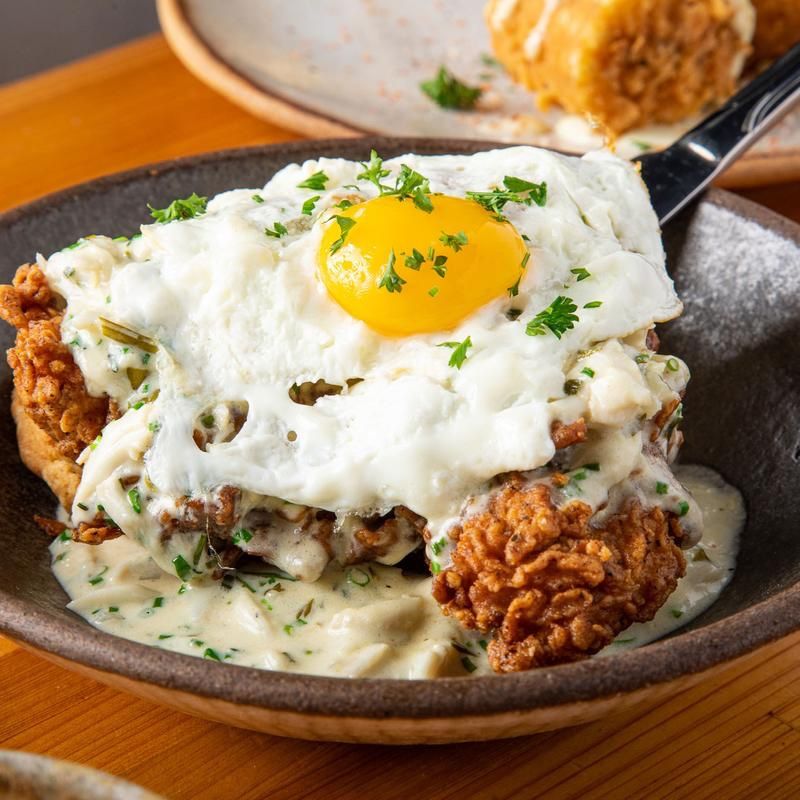 Bearcat Cafe serves up the best breakfast, coffees, and bloody's in their CBD and Uptown locations. The menu is divided into two sections: Good cat, for those who want to lean towards the healthier side, and Bad cat, for those who want to really indulge in some good comfort food brunch.
The scallop and grits, breakfast club, and crab scramble are all to die for. Yet, their biscuits are the star of the show with Cajun Gravy biscuit, cat daddy biscuit, and Couyon daddy biscuit all piled high with fried goodness and flavor. Bearcat also serves excellent vegan and paleo options.
3.

Caffe! Caffe!
Multiple Locations, caffecaffe.com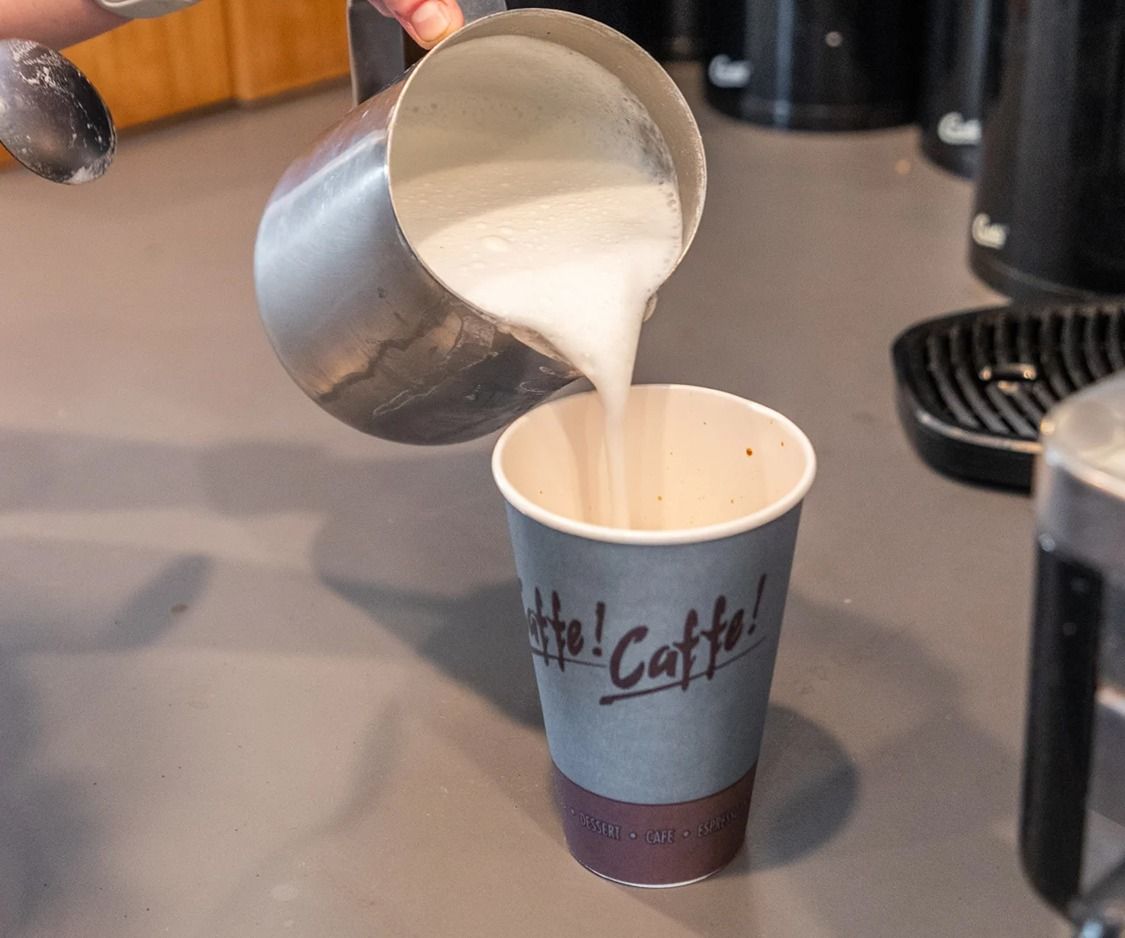 Caffe! Caffe! is so nice that they named it twice. Both of Caffe! Caffe!'s two locations are located in Metairie. Those who usually don't cross the parish line to go into Jefferson Parish will want to take the drive to see why the dishes here have won awards since the brand was created in 1992.
The salads are showstoppers. The Grilled Chicken Salad is packed with sliced grilled chicken breast, carrots, tomatoes, sprouts, and mixed greens. If that's not filling enough for you, pair it with a sandwich or wrap. The Shrimp Salad Sandwich is a blend of shrimp, mayo, celery, and green onions served on a toasted croissant.
4.
Satsuma Café
3218 Dauphine St. (504) 304-5962, satsumacafe.com
Satusuma Café resides in the heart of the Bywater neighborhood and provides simple, yet exquisite breakfast and lunch from 8 a.m. to 3 p.m. daily. You'll want to start off with a nice hot or iced coffee or get your vitamins with a fresh-squeezed house-made juice. The Lavender Lemonade is divine.
The dishes here range from meat-centric to totally vegan. Meat-eaters will like the Ham Melt for lunch: balsamic red onions, tomato, basil, provolone, and ham griddled on sourdough or wheat bread. Veggie-lovers will want the Vegan Tofu Scramble for breakfast: tofu is scrambled with chipotle-roasted sweet potatoes and poblanos on black beans.
5. Envie Espresso Bar & Cafe
1241 Decatur St. (504) 524-3689, cafeenvie.com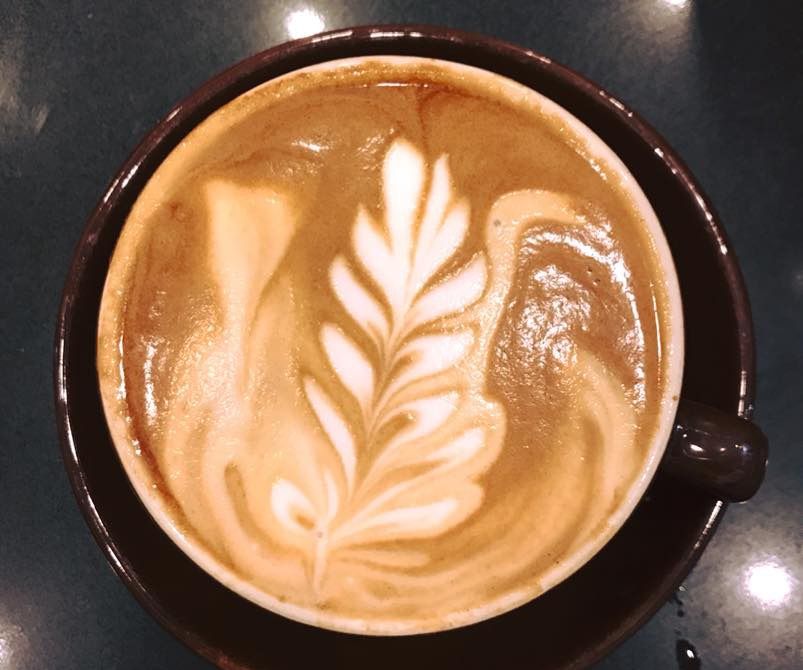 Envie is a fun place to get some coffee and people watch in the French Quarter. Located on a busy intersection in on lower Decatur Street, you can take your perfect cup of coffee and pastry and have a seat by a window or one of the café tables on the sidewalk and watch the world go by.
If you want to stay a while, try out one of the breakfast or lunch specialties. The Eggs Envie is brie, ham, and omelette-style eggs served inside a fresh croissant with hash browns. The Wake Up! Burger is 8 oz of fresh angus beef, sharp cheddar, tomato, arugula, and pickles. Envie has a full bar so you can also get an adult beverage while you're at it.
6.

Café du Monde
Multiple Locations, shop.cafedumonde.com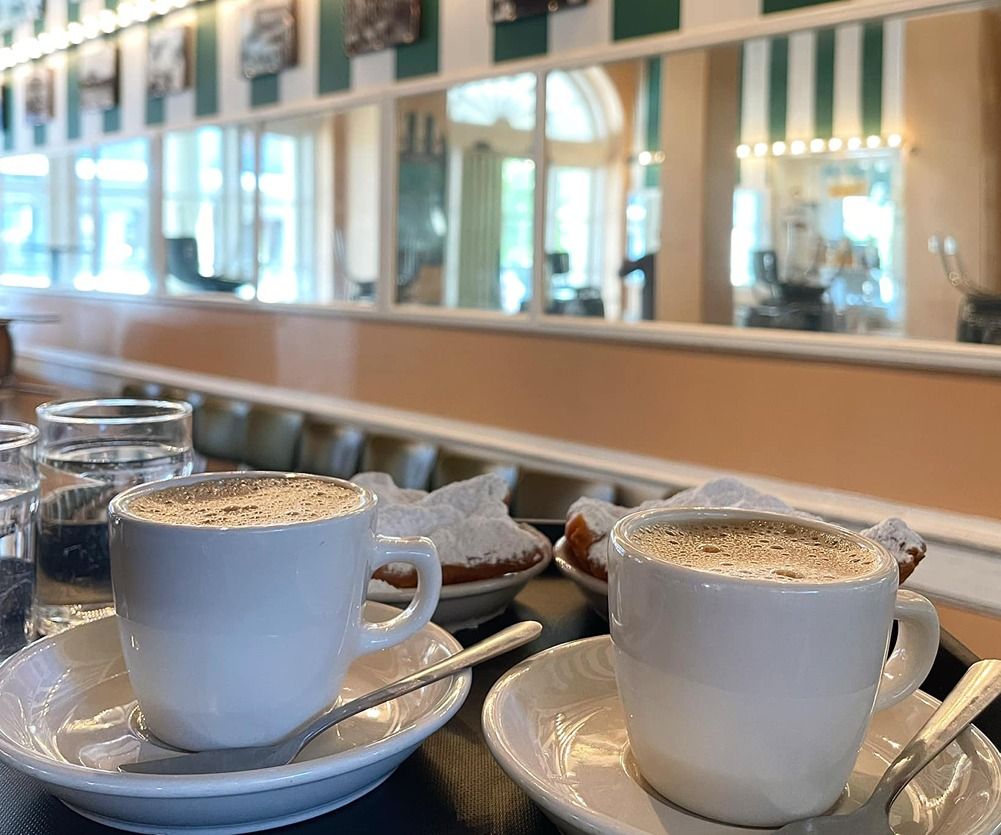 The menu at the long-running beignet shop Café Du Monde is very simple. Your drink options are Café Au Lait (hot, iced, or frozen) or black coffee and how many orders of freshly-fried beignets you want. Remember not to breathe out while taking a bite, especially if you're wearing black clothes.
Be prepared to have a long wait if you want to get a delicious beignet from Café Du Monde in the French Quarter. Visitors will line up down the block to get a taste of beignets at the flagship location. If you want to skip that line, you can visit Café du Monde in City Park, in the Riverwalk mall, in Gretna, and in Metairie.


7.

Who Dat Coffee Café
2401 Burgundy St. (504) 872-0360, facebook.com/whodatcoffeecafe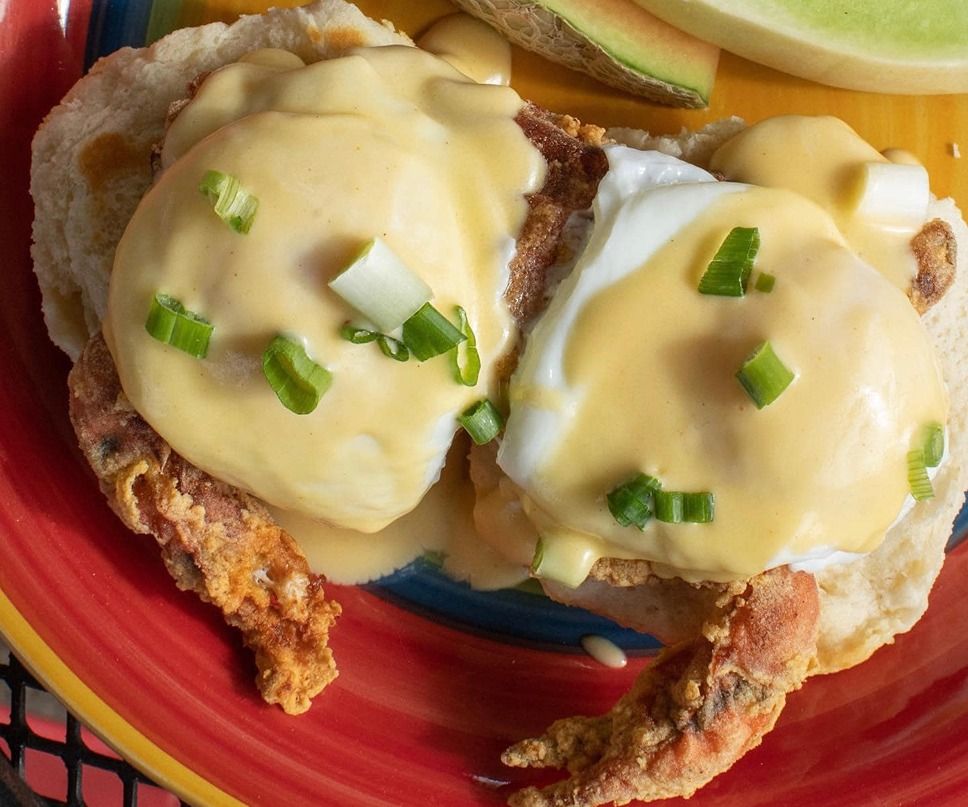 This bright and homey Marigny coffee shop and café is just what you need to get you going in the morning. The breakfast, lunch, and brunch plates are so good that you may come back for every meal of the day. A popular breakfast dish is the Not Yo mama's Corn Cakes: two grilled corn cakes covered in a creamy egg sauce, topped with cheese, bacon bits, and green onions.
For lunch, you'll want to sink your teeth into one of the many signature sandwiches. The Vieux Reuben includes corned beef, Swiss cheese, succulent sauerkraut, and remoulade sauce on toasted rye. You can pair that with a soup of the day or Spinach Salad and energizing coffee for a full meal.
8.

Petit Clouet Café
3100 Royal St. facebook.com/petiteclouet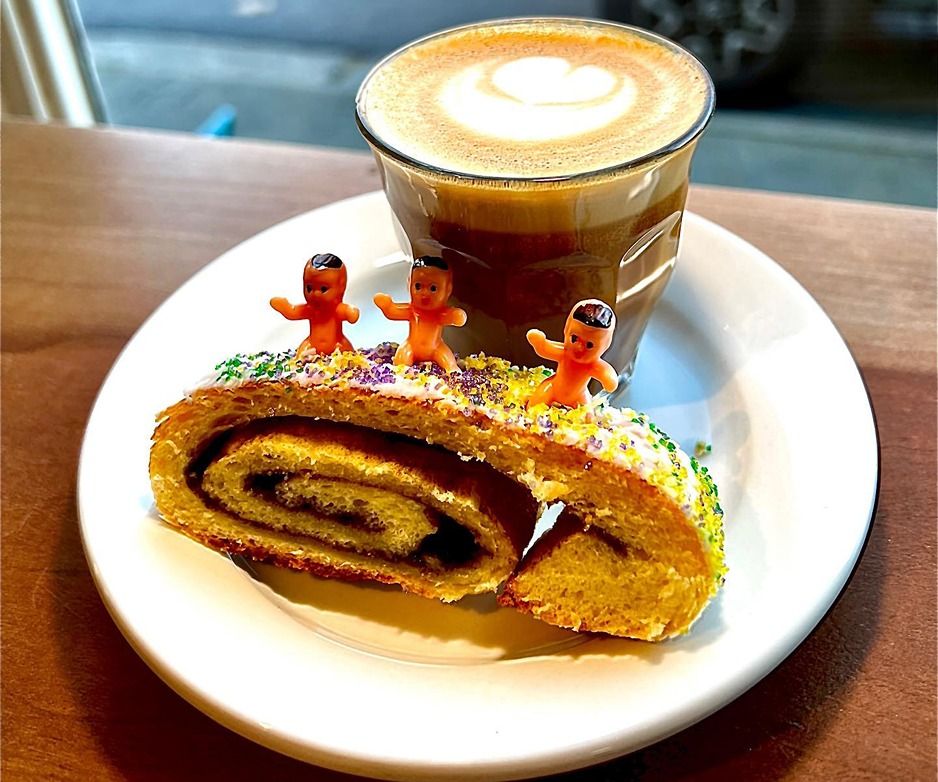 It's hard to miss Petit Clouet when your going down Royal Street in the Bywater. This bright yellow corner coffee shop will be bustling with patrons who are getting their morning caffeine fix or spending time sipping coffee and catching up with each other. This humble café was made for lounging and reflecting.
You'll find all of the typical coffee shop favorites like drip coffee, iced coffee, and espresso drinks. The tea can get a little creative. Try Smith's Exceptional Iced Chai to change things up. Or let the baristas decide the course of your experience with the Special Iced Coffee du Jour. Don't forget to grab a pastry to round out the meal.
9.

The Orange Couch
2339 Royal St. 504-267-7327, theorangecouchcoffee.com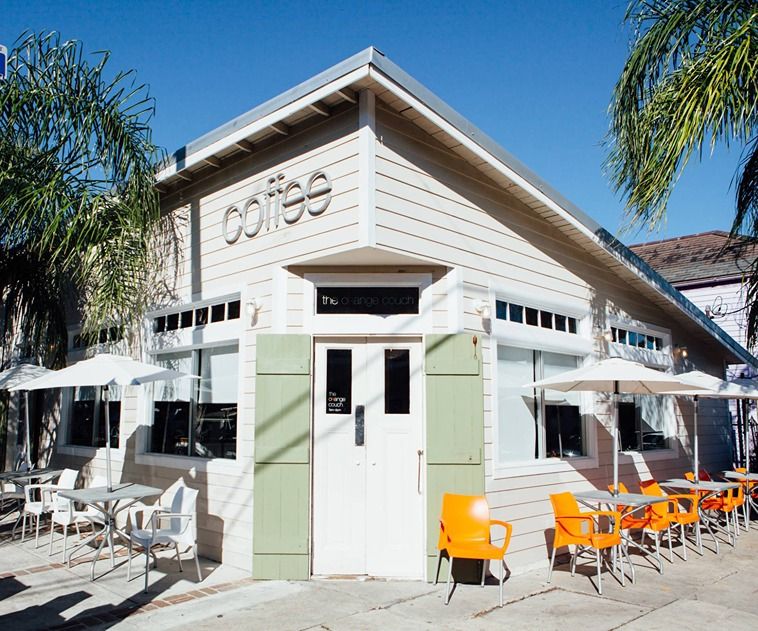 Just down the street from Petit Clouet, you'll come across The Orange Couch. This isn't a vintage furniture store; it's a contemporary, laid-back coffee house that is open from 7 a.m. to 6 p.m. every day of the week. Most patrons like to get their drinks to go, but others like to take up a chair or sit upon the couch and take their time enjoying their day here.
The Orange Couch has quite an array of pastries and small plates for such a little coffee shop. After you see the bagels, croissants, muffins, and scones, you'll see the empanadas available in buffalo wings, cheeseburger, and chickpea curry varieties. The Handpie Turnover flavors can change, so you've got to stop by to see what's available that day.
10.

Backatown Coffee Parlour
301 Basin St. (504) 372-4442, backatownnola.com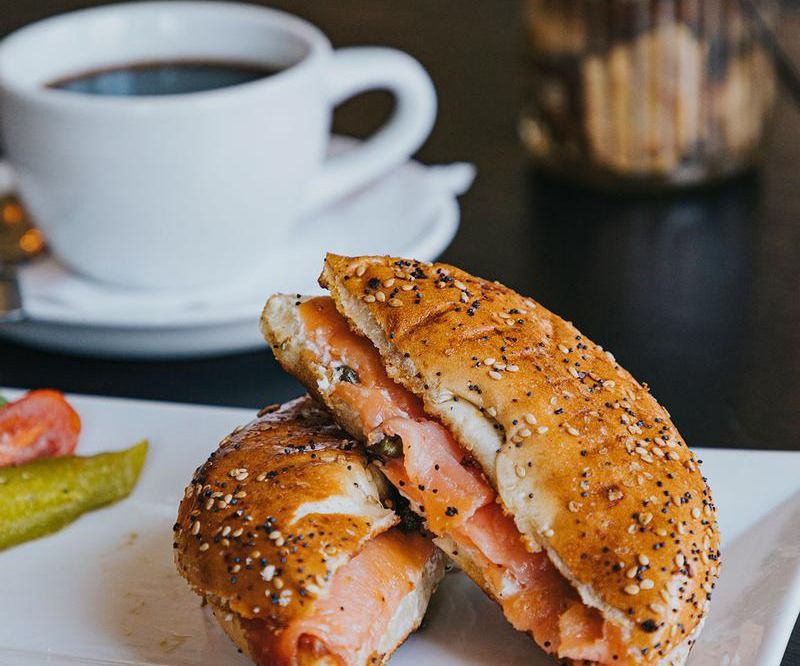 Backatown is so named because it sits on Basin Street which was the back of the city many, many years ago. Backatown Coffee strives to cultivate a sense of camaraderie at the local coffee shop to talk with your neighbors as the sweet sounds of jazz drift through the coffee-scented air.
You are invited to have your steaming cup of coffee with something sweet or savory to eat. The Salmon and Capers bagel or the vegan Rose Pistachio Donut are excellent choices for breakfast time. When lunch rolls around, you'll want to have a Raspberry Grilled Cheese (provolone, cheddar, and pepperjack cheese topped with raspberry preserves) and a hot cup of Tomato Basil Soup.
Cafes With Lunch In New Orleans
For two hundred years, the port of New Orleans allowed the coffee trade to thrive. It may seem like this city is all about the nightlife. But with coffee this good and cafes so welcoming, you'll want to wake up extra early to experience them. The city can look very beautiful in the morning light.
What's your favorite café in all of New Orleans? Let us know where we should get a cup of joe!