History of a NOLA Staple
One of the great pleasures of living in New Orleans is the abundance of cafés and eateries which serve the state of Louisiana's official donut (est. 1986)—our beloved, fried beignet.
Whether you're local or not, you can't help but love them. Crispy on the outside, with that airy, pastry interior, they're smothered in as much powdered sugar as you can possibly handle. It's a recipe for bliss that is celebrated each September at Beignet Fest, located, as always, in City Park. While you're chowing down on all the traditional, jazzed-up, or even savory beignets that are offered, there's no better way to appreciate these culinary wonders than to immerse yourself in the history of this four-cornered, steam-risen pastry—one that has traversed empires to become synonymous with our own French Market.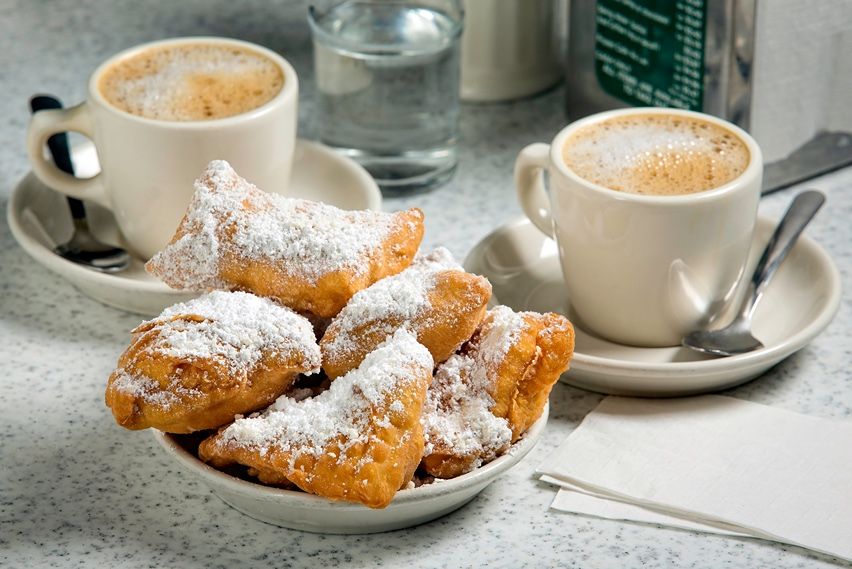 From the Old World to the New
To trace the origins of the beignet, one must first recognize that this word is more or less French for fritter. That's right, we can thank the long-departed French Acadian settlers of the 17th century for bringing with them this shockingly simple recipe of a deep-fried, yeasted pastry, that many believe originated as far back as the Roman Empire. It's not hard to acknowledge that fried dough has been around for ages—just ask the Spanish who have a similar pastry called the sopapilla. The only differences are that theirs are triangular, and they are doused in honey upon serving. The Islamic domain can also take a fair amount of credit for this concoction because of the parallels in preparation of the fried dough that was used in Andalusia in the 16th century, which then made its way to the shores of France and their choux pastry cuisine.
In modern times, when most locals (and especially tourists) think of delicious beignets, the first place that comes to mind is the world-famous Café du Monde. From its humble beginnings as a small coffee and chicory stand on Decatur Street in 1862, founder Fred Koeniger eventually decided that the fancy, French café au lait (i.e., coffee with milk) he peddled would be best served by introducing a comparably, innovative food item to accompany it. Hence, their version of the beignet was born, and a love affair began between New Orleanians and powdered sugar-diabetes be damned. Ownership of the establishment changed hands to New Orleans entrepreneur Hubert Fernandez in 1942, where it grew into the iconic brand it is today, boasting ten area locations, with their flagship café at 800 Decatur Street operating 24 hours a day, 7 days a week, except for Christmas Day.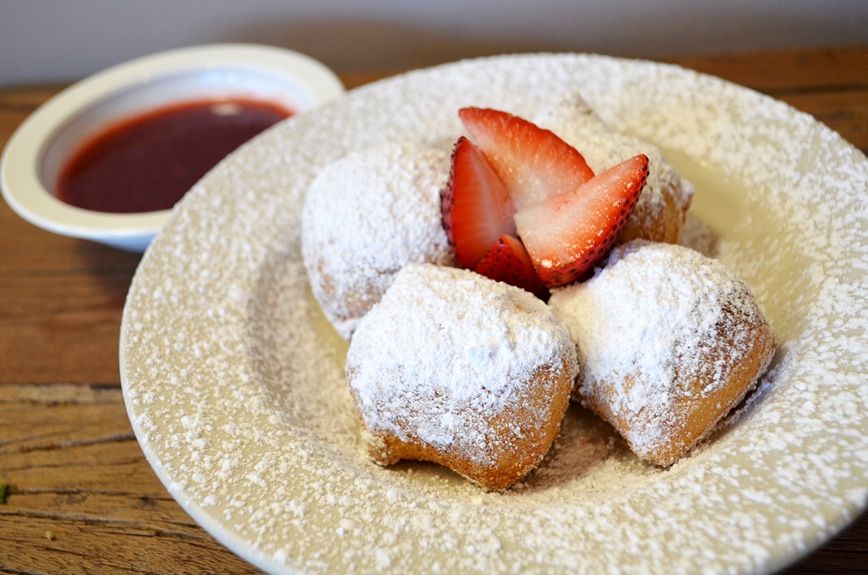 While everyone undoubtedly loves and appreciates this great grandaddy of the French Market, it is proven that healthy competition benefits the consumer. So I would be remiss not to mention the historically number two establishment of New Orleans beignets, Morning Call. Established in 1870 by Joseph Jurisch, this rival coffee stand grew into an equally popular French Market landmark as well, before rent and redevelopment issues forced them to leave for Metairie in 1974. They returned to New Orleans in 2012, only for an ugly legal dispute with their landlords at City Park to result in them being replaced in 2019 by Café du Monde. New Orleans' favorite nomadic beignet establishment has most recently found a home at 5101 Canal Blvd., where you know you'll be served a unique café au lait, which is derived from their signature, French drip method of coffee making. Never fear, the beignets over here are as delicious as they've ever been, especially if you grab a seat at one of their patio tables and apply even more powdered sugar, courtesy of a do-it-yourself dispenser.
Naturally, these two legendary establishments aren't the only places to get your beignet fix. Café Beignet has been around since 1990, is a Royal Street staple, and boasts three other locations in the city. These folks are so focused on carrying the torch for our favorite pastry that they were the first establishment to even include the word "beignet" in its name. Believe it or not, the items in question were referred to as simply "doughnuts" before a local rebranding in 1958. It seems that everyone involved was just happy that they didn't have to refer to it as such anymore or explain why it hadn't a hole in its delectable center. The wonderful, unique situation regarding the beignet is that you don't have to venture very far in the city to obtain that unmistakable "order of three," plus it can forever be appreciated and enjoyed by locals and tourists alike.
Perfect with a Cup of Coffee
No matter where you find yourself enjoying them now and into the future, think about the diverse cultures responsible for this sweet treat's introduction into New Orleans culinary lore, as well as the visionary local merchants who turned it into the celebrated coffeeshop fare that it is today. Whether you prefer to partake in these confectioner's sugary delights for breakfast, brunch, dessert, or as part of a trusty nightcap with a café au lait, any time is the right time for beignets. Just be mindful of black clothing, and pray you don't have to sneeze.