Thursday, September 29 was a musical and love-filled evening, as ADL (the South Central chapter of the Anti-Defamation League) presented their Concert Against Hate at the New Orleans Jazz Market.
Balloons from Powdered Wig Balloons in a rainbow of primary colors lined the step-and-repeat, and there was food from Krispy Krunchy Chicken, which offered macaroni and cheese and mashed potatoes, as well as Bonfire Events & Catering, which presented a Creole Tomato sandwich, Apple and Brie Canape, Penne Pasta salad, and the best eggplant appetizer I've ever had--their Eggplant Caponata Tartine. A variety of wine and cocktails were on hand, including champagne, and the themed drink, a "pom pom" ( vodka, pom juice, lime juice, and cointreau). Lee Michaels Fine Jewelry donated many fabulous items for the Present-Pick table, and everyone was extremely excited about their winnings! There were fabulous silent auction items including artwork from Ashley Longshore from the Kohlmeyer Estate, High Tea at Windsor Court, a Fulton Alley Bowling Experience, a signed Chrissy Teigen cookbook, and many bid-worthy items donated by the Pelicans Organization. Pre-ceremony music was offered by Roccadile, and post-ceremony guests rocked out to the musical stylings of Louisiana favorite Sweet Crude, who played several of the crowd's favorites in the gorgeous Jazz Market venue.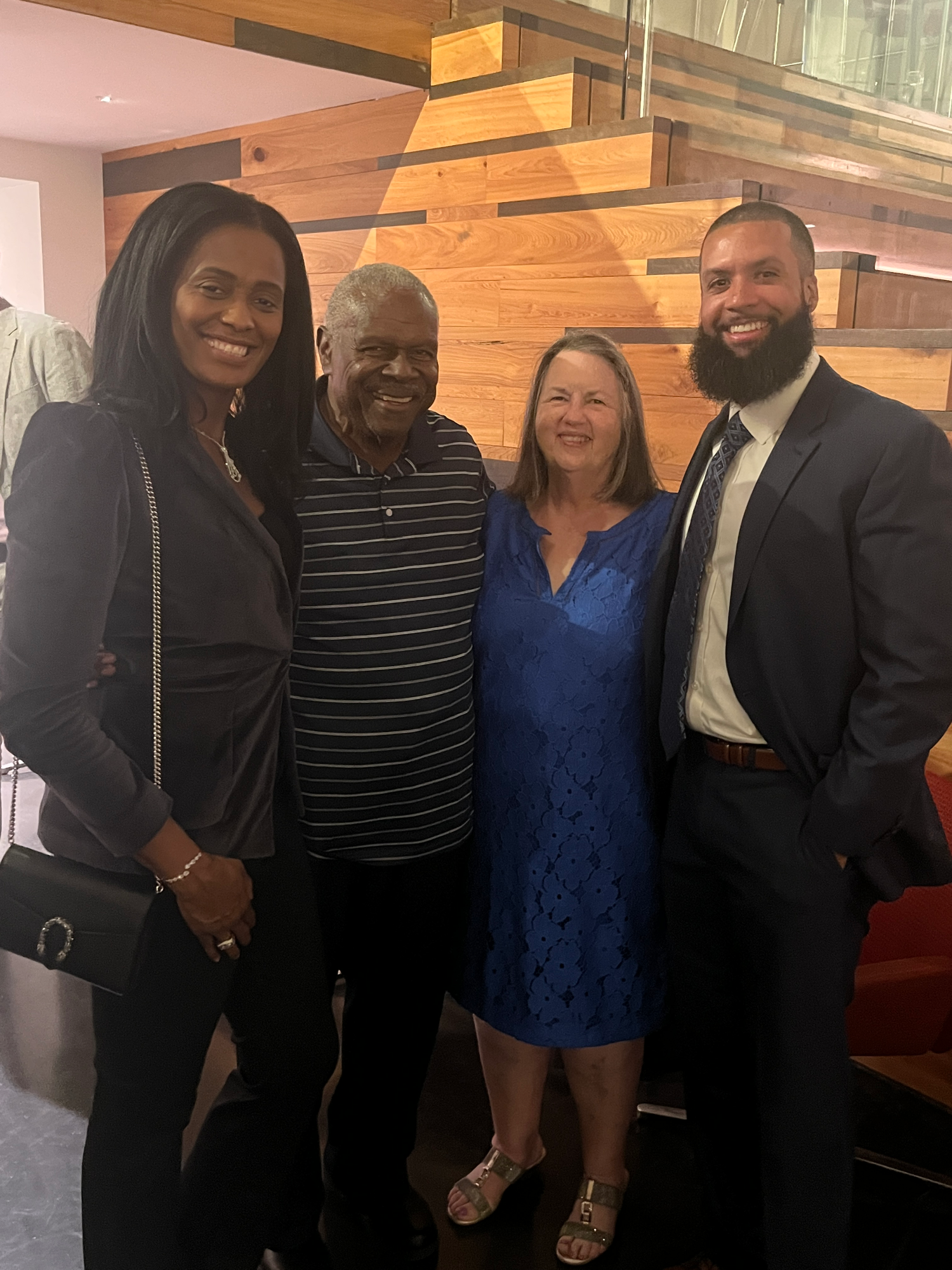 The highlight of the evening was obviously the awards ceremony, with the presenters being co-chairs Allison Kupperman and Brittany Wolf-Freedman, who did an incredible job. This annual event has been postponed for two years due to the pandemic, but is back again, and serves two primary purposes - to fundraise for ADL's mission combating antisemitism, racism, extremism, and all forms of hate and bigotry., and to honor individuals with selfless impacts that have made our community a better and more fair place for all of it's members, regardless of race, religion, gender, sexual orientation, or socioeconomic status.
This year's honorees were legendary Basketball Hall of Famer Swin Cash, and Criminal Justice advocate Will Snowden, both community leaders in the fight against hate, extremism, and intolerance. Many members of the community were interviewed on both Snowden and Cash's behalf, and they all had similar sentiments: "they deserve every award, all of the awards" for these amazing individuals. Snowden, who by the way is also a concert-level cellist, treated us to a musical performance on his cello before taking the stage to speak to the crowd, who were captivated by every single word.
Snowden, who started his career as a public defender, is currently the Louisiana Director of the Vera Institute of Justice, an organization that hopes to end racism that pervades the justice system. Snowden calls this the "legal system" because "it's not worthy of the name 'justice' until it becomes 'just.'" He's also the founder of the Juror Project, because as a public defender, he noticed that there was not adequate minority representation on local juries. This organization strives to improve diversity on juror panels while getting jurors excited about performing their civic duty. Snowden's made a great deal of change already, including playing a critical role in the Unanimous Jury coalition that helped forever change Louisiana's constitution in 2018. On top of all of that, he volunteers his time to speak to the youth within our community. He recognized his parents, wife, and all of the people in his path who have served as a "gardener" helping to cultivate the seeds instilled within him from a young age. He encouraged all of us to become gardeners as well, and by the end of his speech my guest and I were ready to jump out of our chairs and do something.
Swin Cash, former WNBA superstar and recent inductee into the NBA Hall of Fame, is so much more than an athlete. She was instrumental in securing the Smoothie King Center as an early voting location in 2020, thus giving all people of New Orleans an opportunity to safely exercise their right to vote at the height of the pandemic. She is the founder of Cash Building Blocks, an urban development company that renovates and offers affordable homes for low-income families, as well as the Cash for Kids Charity. In her free time Swin works with the NBA as a global ambassador for social responsibility, and NBA Cares. Her speech was also extremely inspirational and brought tears to many in the crowd- the message was simple- use your platform for good, those who have been given a great life have also been given a great amount of responsibility, and finally- to protect everyone's children with the care and fearlessness in which we would protect our own children.
This was an extremely well-organized event honoring two well-deserving individuals, and raised over $100,000 against hatred. What could possibly be less hated than that?