We can hear wedding bells and sense the nerves of hundreds of brides in the New Orleans area but have just the type of news that they may need - the top bridal salons in the New Orleans area! Each shop has been carefully selected and reviewed to give any soon to be bride a taste of what New Orleans has to offer for her special vision in her wedding dress. Each boutique has a lot of designers, giving any woman a chance to find her perfect style, no matter how unique.
Top New Orleans' Bridal Shops
From lace to color and all the way down to in-house alterations, some of these shops have everything a bride-to-be may need when it comes to her dream dress. They many not solve the venue or catering problem but stopping by will definitely be the fix to all attire worries while on a planning your wedding on a budget for the big day.
1. Town & Country
1514 St. Charles Ave., (504) 523-7027, https://www.townandcountrybridal.com/realexperience/storysets/town-country-brides
Located in Uptown, New Orleans, Town & Country is an oasis for brides who can choose from bold silhouettes to simple, clean-lined dresses. They also offer professional stylists a beautiful setting and try to guarantee that each bride feels like they are personally tended to. This well-known nest for brides has both sophistication and intimacy for a salon. Their gowns range from bohemian chic, vintage-inspired, and beachy all a part of the mix. Each designer in this shop's inventory has been carefully chosen from the best across the United States and Europe.
Town & Country has been in the Garden District since the 1930s providing brides, bridesmaids, flower girls, and debutantes with dresses and great experiences. At Town and Country, each bride is given her own viewing area with a pedestal and seats for loved ones. The owner, Mandy Wienhusen, prides herself in offering good quality dresses and hopes for everyone who comes to Town and Country to feel cared for and prioritized. Whether your wedding is in two years or two months, coming to Town ad Country will surely make any bride ecstatic for their special day!
2. The Bridal Boutique by MaeMe
3331 Severn Ave. #102, (504) 266-2771, https://maemebridal.com/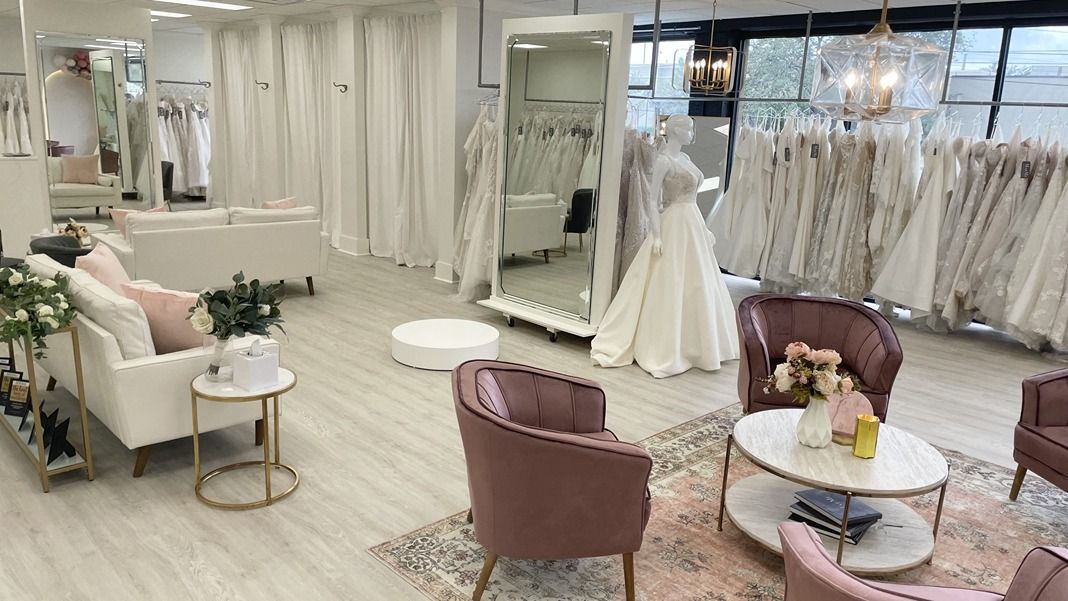 The Bridal Boutique by MaeMe is a luxurious and elegant experience that every bride should have the joy of feeling before their special day. Founded in 2010 by Melissa Estess, a newly wed bride who had a mediocre experience finding her own dress, she wanted to ensure that no other bride in the New Orleans area felt the same. According to their website Estess had set out to create what is now known as the best rated bridal salon in New Orleans, praised for their service, selection, and inclusivity. The Bridal Boutique by MaeMe offers nearly 400 wedding dresses in boutique and 100 wedding dresses in sizes 18-34 for almost any look you could wish for.
The boutique is committed to serving all brides that enter with not only quality gowns but with support, courage and a sense of love for what they do aswell. The beautiful business has been so successful that they are fortunate and pride themselves in their donation campaign, MaeMe Gives Back, which helps support and fund several charities that share a similar mission as their business. They reach out to organizations that mainly support foster children and families, rescue women and children from human trafficking, feed the hungry and so much more. So for any brides from New Orleans that want to make an impact in their community, call the Bridal Boutique by MaeMe to make a difference while finding the perfect dress!
3. Wedding Belles
3632 Magazine St., (504) 891-1005, https://www.weddingbellesnola.com/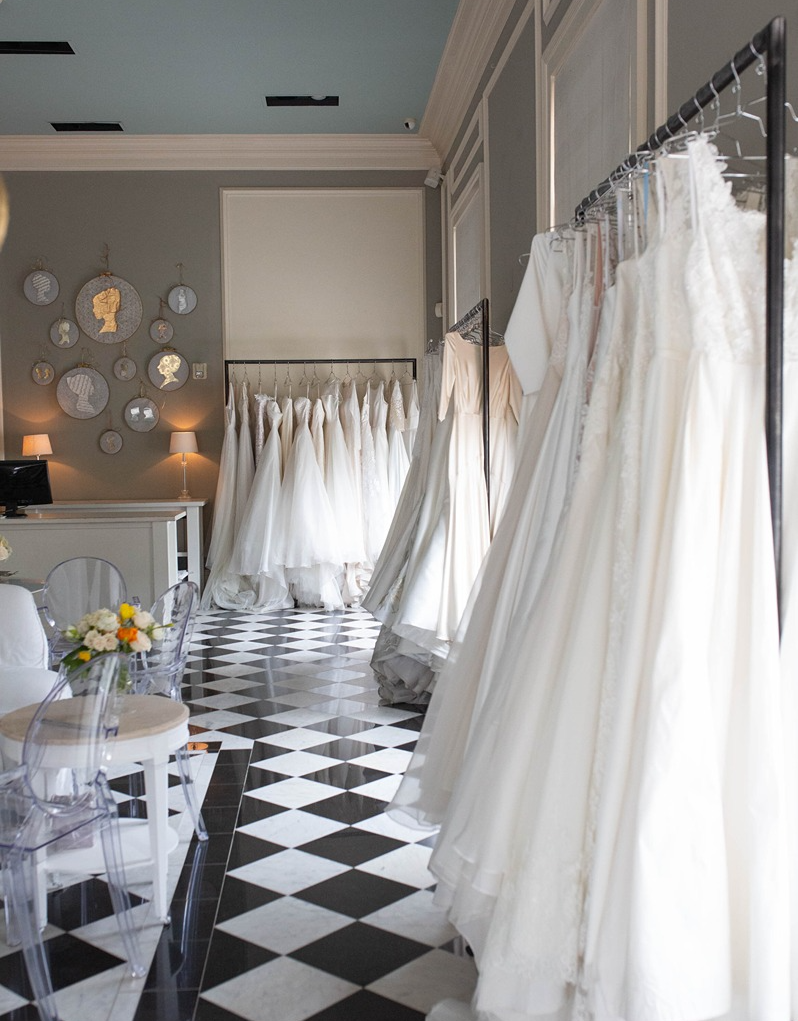 If you are a bride who is chic, glamorous, and classy then Wedding Belles is the place for you! Founded in 2004, the luxury bridal salon has all things unique and timeless to offer. With hundreds of dresses to offer all they need you to do and tell them your style. Each collection of designers has created any style that may be sought out, from jazz-age glamour, garden party whimsy, and cathedral classic and tailored to hopeless romantic, sleek and sexy modern - they are sure to have it all for the up to date brides looking for modern with a traditional twist.
Each appointment booked is sure to be an hour and a half of sheer bliss for any bride on the hunt as they surface through all the designers Wedding Belles has to offer. Brides are asked to bring a small party of four to their first appointment and will be guided by stylists on duty with everything from color to fabric. This boutique even has a process for choosing bridesmaids dresses after you have said yes to the dress. They encourage each bride to choose alongside a few loved ones and their stylists what design they would like for their bridesmaids but take care of everything else once they choose. Wedding Belles contacts each one of your chosen few to set them up with their sizes, payments and the order procedure for shipping. If a bride is looking for a chic look with southern hospitality, this salon is sure to fit.
4. Unbridaled
1810 Magazine Street, (504) 233-9029, https://www.unbridaled.com/
Serving brides in Austin, Houston and New Orleans, Unbridaled has managed to produce both classic and modern styles for brides of all ages. This salon encourages every bride to come as they are even if she is known for not wanting to be the traditional cinderella, they can help find the perfect fit, fashion and size wise. With a unique take to the bridal industry Unbridaled was created in 2005 in South Austin. They have refreshing take on designers as they support well known and independent, up and coming ones. This settle factor has landed them with dresses from all over that other salons have yet to discover, giving the business a unique upper hand in appealing to brides and having an extensive selection with all kinds of different fabrics and styles.
They help customers to choose from hundreds of styles till they narrow down exactly what her eye is looking for. The company also offers trunk show events in each city for designers to show up and show out with the best dresses they offer. These dates can be found on Unbridaled's website with links to each designer's individual site. However, whether simple and sweet or elegant and glamorous Unbridaled is sure to charm any bride coming to any of their three locations for her special match.
5. Bliss Bridal
3624 Magazine Street, (504) 592-7507, https://www.beablissbride.com/new-orleans
Bliss Bridal salon is the one stop shop that every bride needs for before her big day. This salon offers a variety of styles that they are sure to have every bride saying yes! Their selection ranges from dresses with bunches of tulle for an enchanted look to slim and sleek at all three of their locations in New Orleans,LA, Fairhope, AL and Hattiesburg, MS. They guarantee great service and are passionate about making your experience as a bride all about love. Appointments are recommended and each party is accommodate with a stylist to help make the bride's vision of her dress come to life.
The boutique also offers affordable services and products, selling gowns as low as $800 and no higher than $4000. They take joy in knowing they were apart of each bride's special process while staying within her budget. This shopping experience also doe not have to stop there as they have just about everything a wedding party would need to check off of the list. From jewelry to groom's suits to alterations and gown preservatives, it can all be done in-house!
6. Vanda Bridal & Alterations
710 Dublin St., (504) 314-6377, https://www.facebook.com/people/Vanda-Couture
Vanda Bridal & Alterations is next up on the list with several long and white floral designed dressed to choose from. This salon supports hundred of brides in the New Orleans area with their charm and service. Many brides may be indecisive and at this salon there is no need to worry because there is something just right for every bride that will help her choose by the end of her appointment. Any bride who is looking for something that will take their breath away can stop in for color, measurements and more.
The boutique also is well known for their personal attention given to their customers. Each bride is greeted with a smile and help as soon as she steps foot into Vanda Bridal & Alterations. The customer service is one of the finest in the South and has been reported to have no flaws. Additionally any dresses that are bought can be immediately altered by the staff at the boutique to accommodate the customers. Try this spot for an antique feel and classy look.
7. Gwen's Bridal Boutique
3580 Holiday Dr., (504) 362-0023, https://www.facebook.com/GwensBridalNewOrleans/
Gwen's Bridal Boutique is not like the rest, providing the locals of NOLA with any type of dress they may need for all formal and elegant celebrations. Wedding are the small boutiques specialty as there are a multitude of color and styles for any bride interested in this shop. From zulu balls, to galas, and more Gwen's Bridal Boutique can help you find a dress that makes you feel like the most special bride in town.
The store gives customers a very homely feel as they are shown their way around to any kind of dress they may be searching for. The environment is for brides that want a more recluse and personal experience with their family and do not require much hand on hand guidance from workers like some prefer with stylists. This boutique is sure to offer all girls and women any fashion they prefer for their debutante or their big debut as a new wife!
8. Pedram Couture Atelier
333 Canal St., (504) 920-9944, https://www.pedramcouture.com
For those brides struggling to find carefully constructed classic and elegant dresses Pedram Couture Atelier may be just the spot for you. Created by Pedram Pasha Taheri, an Iran native, this boutique is one of the most popular bridal hits on the list for everyone in New Orleans. Frustrated with the current fashion climate's definition of the word "couture" Taheri created a collection that focuses on it's true meaning - meticulous constuction and attention to detail. Their dresses have also been featured on multiple runways in fashion shows.
The owner and designer of Pedram Couture Atelier has three separate categories in his growing collection of couture: bridal, evening wear and ready-to-wear. Their latest addition is ready-to-wear offering still a stunning amount of orderly beads and attentive hand work sewn together to create immaculate embellishments for every gown. The shop also offers links and articles on their website written about different subjects on the multiple kindle of dresses they offer. the If any bride is looking for a design that has been personally thought of and created to ensure a contemporary look on the traditional that seems to never change enough for the modern bride, they are sure to find something out of the rising couture empire created at Pedram Couture Atelier.
9. Yvonne LaFleur Boutique
8131 Hampson St., (504) 866 - 9666, https://yvonnelafleur.com/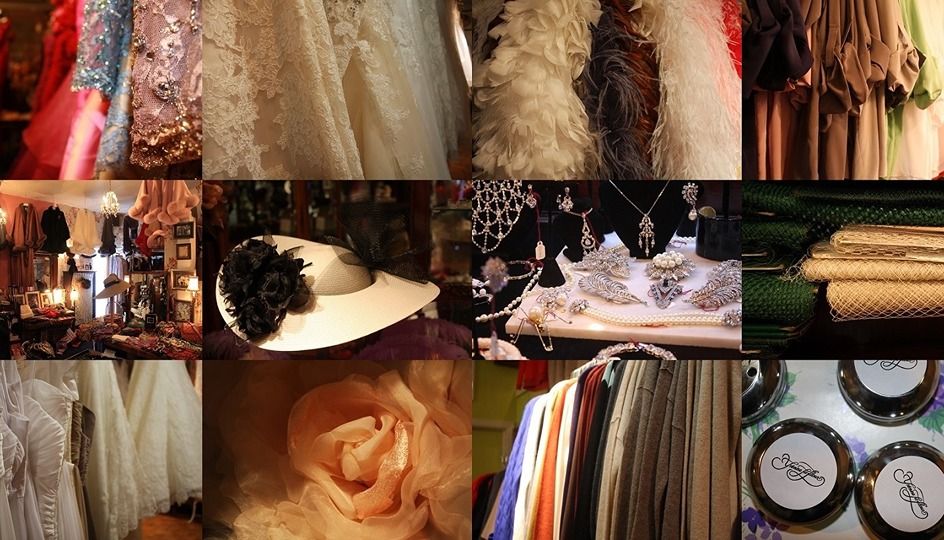 Yvonne LaFleur boutique was created and named after its owner and founder, who moved to New Orleans from San Francisco when she was only four. With a passion for sewing at a young age, she has created beautiful gowns for brides for over twenty years. The talented designer has worked at every retail store on Canal and realized her dream was to make women look good and feel even better for their big days.
LaFleur enrolled at LSU in merchandising in 1965 and went on to open this location as her first store at the age of 22. Initially, the boutique sold everything from custom-tailored jeans to hats. Since then, she has focused on draping the women of New Orleans in the finest tailored dresses for weddings, balls, pageants, and professional meetings. Yvonne LaFleur boutique has become internationally known for her Private Collections of veiling and stunning flowers from France, silk ribbons from Switzerland, antique feathers from Germany, and other refined accessories from around the world.
10. Dark Garden Corsetry and Couture
3528 Magazine St., (504) 417-9751, https://www.darkgarden.com/
For those brides who may not want to go the traditional route at all with a simple dress, NOLA has Dark Garden Corsetry and Couture is well known for their elegant and sensuous corsets. They can be worn for any occasion and range in versatility for anything a bride could want. They offer custom,standard fit, bespoke, underbust, overbust and so much more at both the New Orleans and San Francisco location.
These ensembles can be matched with an elegant skirt for a bride or clasp and tightened on top of her dress for a tight waistline look. The shop also offers custom fabrics and designs for a special day of any kind. Sizes are wide in range and listed on their website along with self-lacing instructions and styling guides for any customers interested. Dark Garden Corsetry and Couture makes it very obvious that they only care for the individual's style and anything they ask for bride or not, will be created.
Best Wedding Dresses in the New Orleans Area
Wedding day can be many things for different brides but one thing that is a shared opinion by every fiancè is that she wants to look beautiful and every place on this list can help with that. It does not matter if a bride is looking for a fancy experience or a simple one, they have it.
This is your sign to grab the bridesmaids and spend a day in NOLA dress shopping with rest breaks down magazine street ofcourse for an additional look at the different restaurants and clothing stores we have to offer.