When locals think of places to get traditional New Orleans cuisine, they think of renowned places including Dooky Chase's Restaurant, Willie Mae's Scotch House, and Lil Dizzy's Café. What makes these Crescent City staples even more special is that they are located in Tremé, recognized as the oldest African-American neighborhood in the United States.

Trailblazers In Tremé
"Black Creole folks built Tremé," founder of Lil Dizzy's Café Wayne Baquet Sr. says. "It's the oldest Black neighborhood. My family grew up in it. My dad, grandfather, and all the Baquet people grew up in Tremé. I'm 76 years-old now, and I've seen many changes over the years. It is a special neighborhood to live in and be a part of."
Many Black-owned restaurants in Tremé have survived Hurricane Katrina, segregation, and gentrification. These resilient restaurant owners are a testament to the strength and diligence of the New Orleans Black community as a whole.
"There has been an unbelievable turnaround," Baquet says. "When I first opened Lil Dizzy's, it was like being a pioneer to open up a restaurant in a neighborhood that had been run down for so long, but you could see change was coming."
Get to know these six historic and up-and-coming Black owned restaurants in the Tremé neighborhood.
1. Lil Dizzy's Caf

é

1500 Esplanade Avenue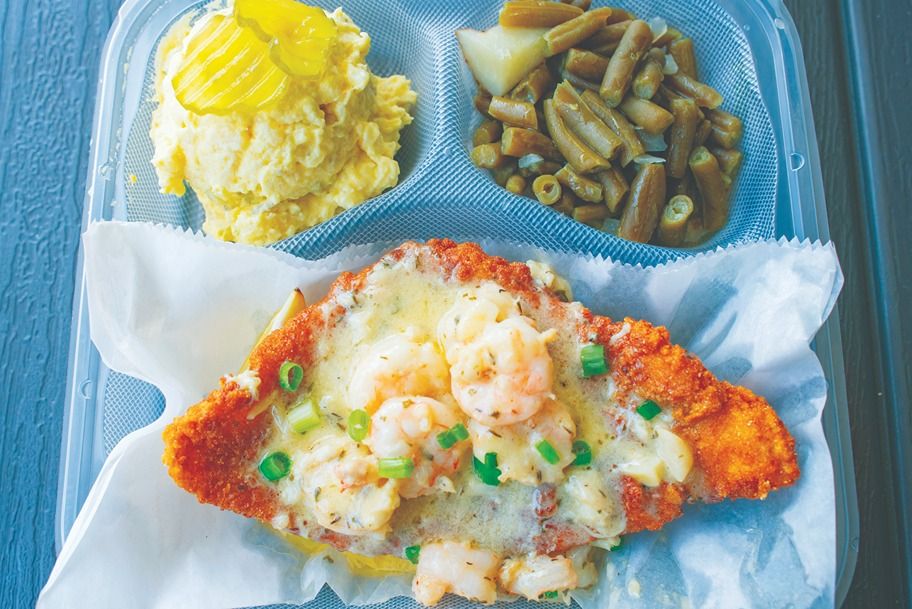 True New Orleaniens know where to go for an authentic Creole soul food lunch. Lil Dizzy's Café is a historic New Orleans staple in the Tremé neighborhood that has been open since 2004. People travel near and far to get their hands on some of the restaurant's famous fried chicken, red beans, gumbo, and hot sausage.
Walking inside of Lil Dizzy's Café feels like stopping by your Southern grandma's kitchen. The staff is friendly and welcoming, the walls are decorated with photos, paintings, and memorabilia that pay homage to Baquet lineage, and the food tastes like real home cooking.
In addition to their popular fried chicken and gumbo, the Baquet family restaurant also serves po-boys, seafood platters including shrimp and catfish, bread pudding, and homestyle sides such as mac and cheese, collard greens, potato salad, dirty rice, green beans, candied yams, and fries.
2. Fritai
1535 Basin Street
You can't talk about New Orleans cuisine without highlighting Caribbean faire. Fritai, a Haitian Street food restaurant in Tremé created by Chef Charly Pierre, serves tasty lunch and dinner that blends Creole and Haitian flavor.
The lunch menu includes Southern dishes such as po-boys, baked crab mac and cheese, multiple flavors of chicken wings, and roasted chicken wraps. It also includes Haitian influenced meals including an oxtail sub, akra (spiced root vegetable fritters), and griyo (fried pork) served with rice and beans, fried green plantains, spicy relish, and Creole sauce.
The dinner menu is also bursting with flavor. It features the Fritai sandwich, which is chicken, pork, or vegan mushroom tofu sandwiched in between two fried plantains and topped with avocado, mango sauce, and spicy relish. The sandwich comes with a side of plantain chips and dip. For dinner, customers can also get a whole roasted fish, Creole chicken, shrimp Kreyol (creole shrimp), and multiple vegan options.
3. Addis NOLA
2514 Bayou Road
This Black family-owned restaurant gives you a taste of the Motherland with traditional Ethiopian cuisine and culture. The vibrant restaurant feels like an East African getaway. Large
woven lamp shades hang from the ceiling, tall tropical plants and bright yellow chair cushions splash color throughout the space. The side of the restaurant is lined with booths that have a tucked-away Ethiopian hut vibe. Above the red booths is a thatched roof made from dry vegetation. Each booth section is complete with African art showcased on the wall. It is a space unlike any other in New Orleans.
Take your tastebuds on an adventure with Addis NOLA's distinctive menu. Customers can eat family-style with large shared plates such as the vegan bayenetu (taste of everything), alemayehu (the world), endi endi (oh my goodness), and siga bayenetu.
Vegan bayenetu includes a variety of veggies, sweet potato wot (stew), mushroom tibs (sauteed mushrooms), Ethiopian salad, and shiro (chickpea stew).
The restaurant also serves small plates such as Ethiopian jollof, salad, sambusa (lentil or beef hand pies), and sweet amaze chicken legs. Addis NOLA's drinks are just as special as their food. Customers can taste Ethiopian honey wine and experience a traditional Ethiopian coffee ceremony.
4. Dooky Chase's Restaurant
2301 Orleans Avenue
What do Beyonce, Jay-Z, Barack Obama, George W. Bush, Ray Charles, James Baldwin, and Jesse Jackson all have in common? They have all dined at Dooky Chase's Restaurant. This Black-owned restaurant known for its Creole cuisine has been in business since 1941.
Over the years, it has become a hub for politicians, musicians, and Black artists to eat, discuss civil rights issues, and gather over fulfilling Creole cuisine. Tuesday through Friday, the restaurant is open for lunch. Dinner is served on Fridays and Saturdays only.
The menu includes Southern must-haves such as red beans and rice, fried chicken, fried shrimp, a seafood platter, po-boys, jambalaya, gumbo, and praline bread pudding. It also serves crab cake, Dooky's toast, which comes with an assortment of bread and a trio of spreads, crab soup, braised duck, and ribeye steak.
5. Sweet Soulfood
1023 N. Broad Street
Get your soulfood fix without the meat at this Black-owned and vegan-friendly restaurant in Tremé. Created by Chetwan Smith and run alongside her husband Anthony Smith, the local restaurant feels welcoming, down-to-earth, and community-driven. Sweet Soulfood has different specials daily.
Its rotating menu includes sweet heat cauliflower, barbecue cauliflower, fried cauliflower, cashew mac and cheese, jambalaya, okra gumbo, collard greens, sweet potatoes, bread pudding, eggplant lasagna, veggie fried rice, Creole curry, potato salad, loaded potatoes, stuffed bell peppers, chickpea cakes, shepherd's pie, and fried mushrooms.
Make sure to check Sweet Soulfood's Instagram and website to find out what specials they have for the day.
6. I-tal Garden
Located at 810 North Claiborne Avenue
Vegans can indulge, too. This Black family-owned plant-based restaurant makes being vegetarian and vegan fun. The husband and wife duo opened their vegan restaurant to provide more plant-based food options in New Orleans.
On the menu are avocado fries, crabless crab cakes, Cajun pasta, cauliflower wings, filet mushroom burgers, "kick strips" made with portobello mushrooms, Cajun oyster bites made with oyster mushroom fried with chickpea batter, plant-based gumbo, raw tacos, vegan mac and cheese, jackfruit ribs, grilled brussel sprouts, and rosemary potatoes.
Breakfast options include avocado toast, fresh fruit parfait, a pancake platter, breakfast sandwiches made with vegan sausage and cheesy scrambled chickpeas, and a breakfast plate with grits, chickpea scramble, and vegan sausage.
Restaurants in Tremé New Orleans
Black-owned restaurants are the heart and soul of New Orleans.

Special mention: Willie Mae's Scotch House is a New Orleans classic Black-owned restaurant. Its New Orleans location is temporarily closed due to a fire that damaged the building in April 2023.