Good news: September 26 is National Pancake Day! But wait—pancake-lovers, rejoice! September 26 is actually the second National Pancake Day of the year. Yes, this syrupy holiday is also celebrated annually on February 25 as well, because you can never have too many pancakes. Get your second celebratory stack by choosing from the wide variety of pancakes offered by restaurants in New Orleans, with options ranging from classic buttermilk to banana pancakes to cupcake pancakes. There is no shortage of breakfast or brunch places in New Orleans to choose from to properly celebrate this most magnificent (second) day of pancakes. Refer to the list below for some of the best pancake spots around.
Top Ten Places to Enjoy Pancake Day
1. The Ruby Slipper
Multiple locations, https://www.rubybrunch.com/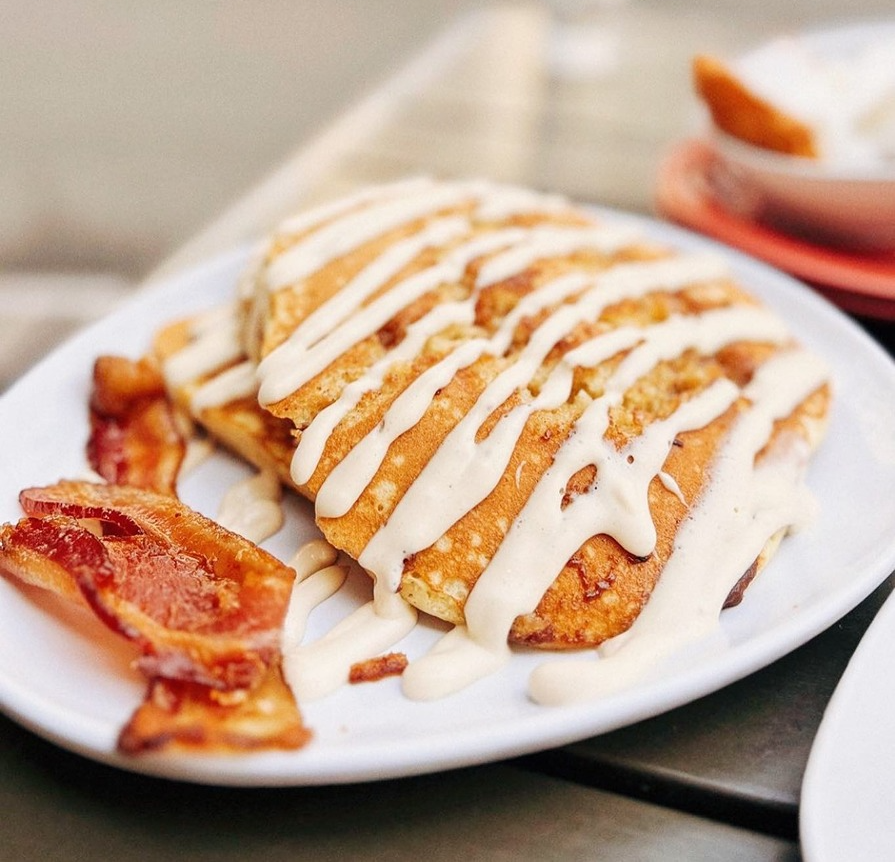 The Ruby Slipper opened in Mid-City in May 2008, and after its overwhelming success, opened other locations in the Marigny, CBD, French Quarter, Metairie, and Uptown—and even spread to other states, including Florida and Alabama. They offer a wide range of pancakes, such as classic buttermilk for $10, banana pecan for $11, bacon praline for $12, and cinnamon swirl for $12. Some of their locations are still temporarily closed now, so click here to view the addresses, hours, phone numbers, and opening status for each of their restaurants.
2. Monty's Cafe
801 Decatur St., (504) 525-4478, montysonthesquare.com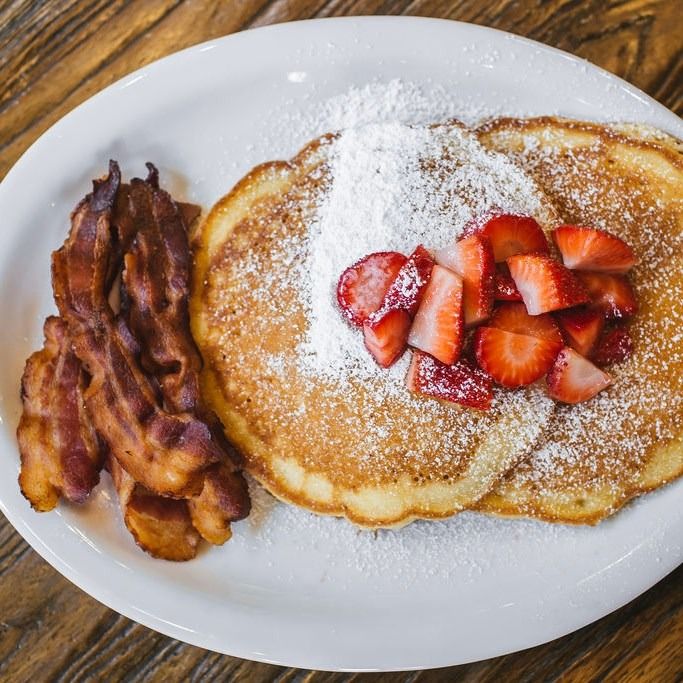 Monty's is located on Jackson Square and presents classic breakfast and brunch foods with a New Orleans twist. They offer sweet cream pancakes, which come with a choice of bacon, sausage, or ham, for $13, and traditional pancakes on the kids' menu for $7. Monty's also offers other delicious items, such as beignet fries and king cake beignets, each for $9, which just might be the next best thing to pancakes. Monty's truly captures the New Orleans culture and spirit in their cuisine.
3. Bearcat

Cafe
Multiple locations
, bearcatcafe.com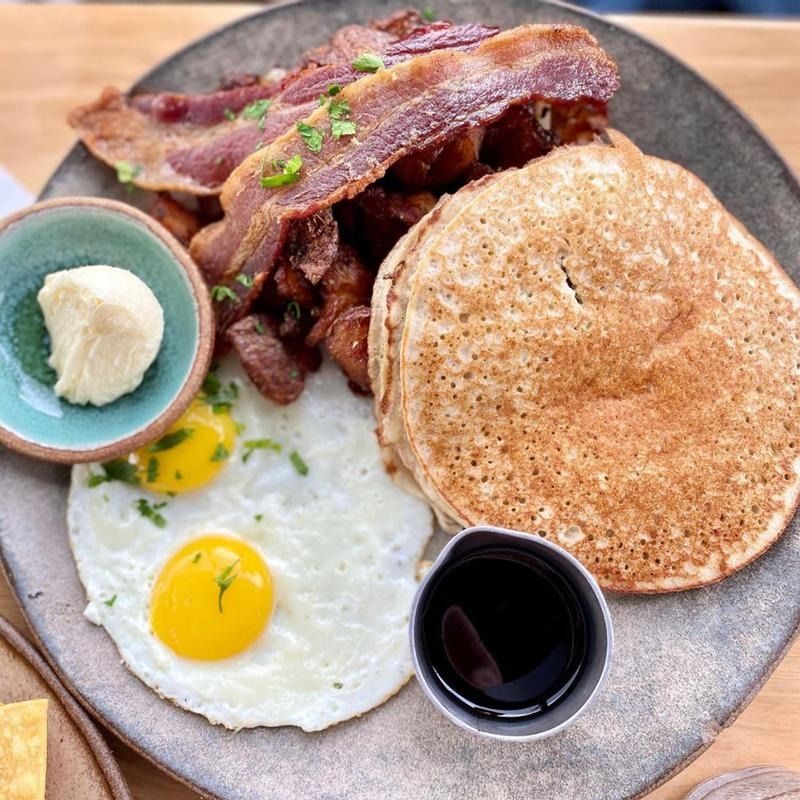 Bearcat Cafe offers a divided menu, with a "Good Cat" section for lighter and healthier dishes and a "Bad Cat" section for more guilty-pleasure options. Indulge your inner naughty kitty with their Bananas Foster pancakes with vanilla cream for $12; their short stack, which comes with two small pancakes with cultured butter, for $6; or their vegan pancakes with blueberries for $14. Or choose from any number of other delicious dishes, including vegetarian, vegan, paleo, or gluten-free selections that can accommodate customers of all diets. Bearcat Cafe has a dish perfect for you, especially on National Pancake Day.
4. Another Broken Egg Cafe
2917 Magazine St. (504) 301-2771,

https://www.anotherbrokenegg.com/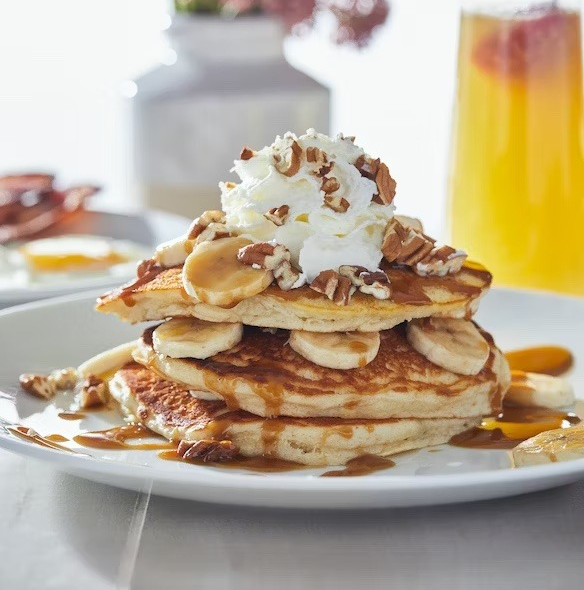 Another Broken Egg Cafe is the perfect spot to indulge in some deliciously sweet pancake options. All of their cuisine is southern-inspired, and they feature craft-cocktails and even a spiked cold-brew. Dig into rich pancake options like the Bourbon Street Pancakes, served with bananas, pecans, rum-butter sauce drizzle and whipped cream for $14.49. Or stick to the classics with their stack of buttermilk pancakes for $13.79. They even cater to specific dietary restrictions, so even those who are gluten-free can enjoy a pancake stack on National Pancake Day.
5. Cafe Fleur de Lis
307 Chartres St. (504) 529-9641,

https://cafefleurdelis.com/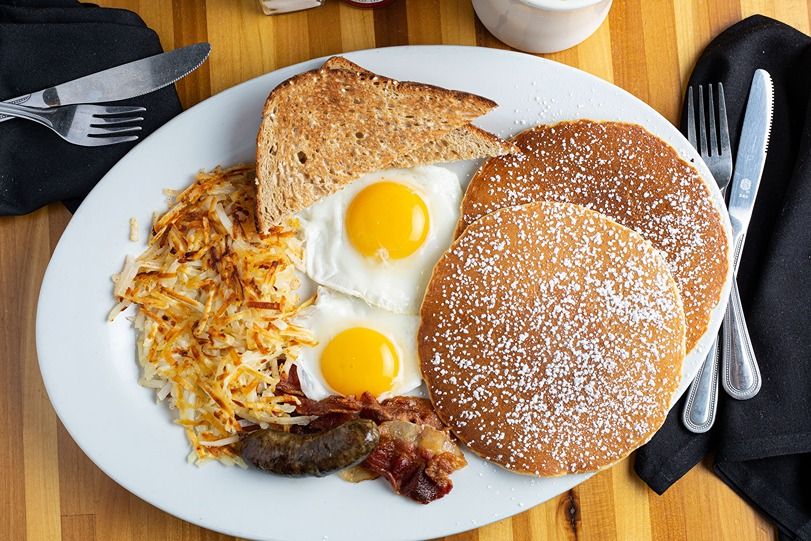 Café Fleur de Lis is located in the French Quarter, and serves up Southern-style breakfast foods on their patio. Enjoy a short stack on one of their classic New Orleans Breakfast plates, or order them by themselves. Whether you want to enjoy pancakes as a side dish to an egg-based breakfast, or give their Sweet Cream Pancakes (that have the option of adding strawberry, banana, pecan, or chocolate chips) the spotlight — Café Fleur de Lis has you covered.
6. Betsey's Pancake House
2542 Canal St. (504) 822-0213,

https://betsys-pancake-house.business.site/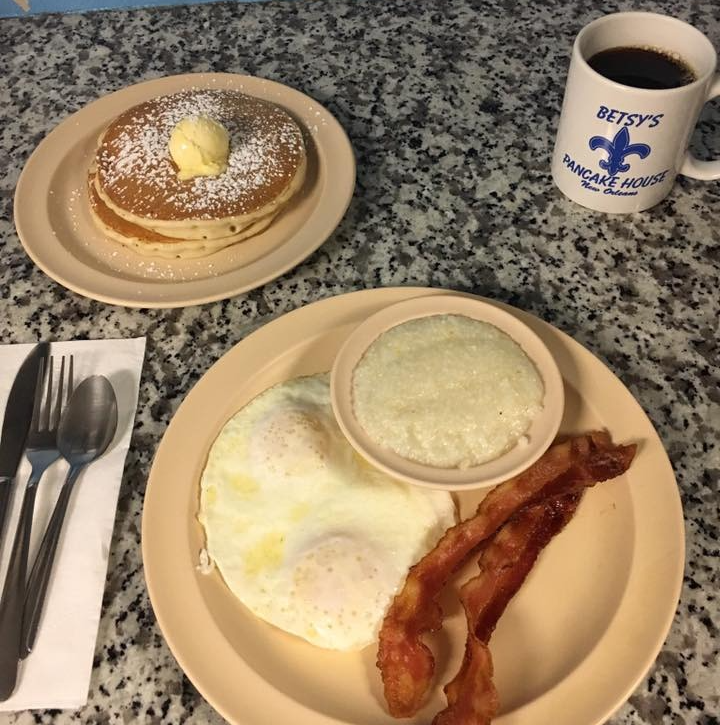 Betsy's Pancake House is a casual diner on Canal St that has been family-owned and managed since 1986. Their pancake options are extensive, with classic flavors such as chocolate chip and blueberry, all the way to more unconventional options like their pigs in a blanket pancake. Order a stack of one flavor or mix and match different ones. They have plenty of options for sides if you want a little something extra to enjoy with your pancakes.
7. Slim Goodies Diner
3322 Magazine St. (504) 891-3447, https://www.slimgoodiesdiner.com/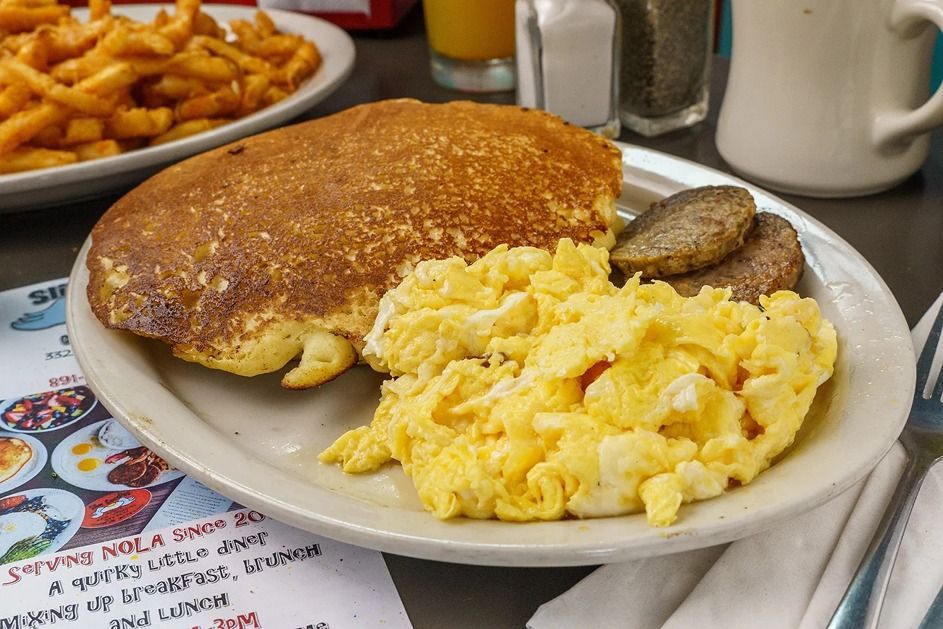 Slim Goodies is an amazing diner serving breakfast and lunch on Magazine St, with no reservations required. It is perfect for everyone, whether you want to dine in or order online. They pride themselves on serving gluten-free and vegetarian options, so they are inclusive of many different dietary restrictions. Enjoy their stack of cakes for $8.50 or their Sweet Stack of sweet potato pancakes for $15. They are open every single day of the week, only closing their doors on Mardi Gras and Christmas, so head on down for your National Pancake Day celebrations.
8. Stanley of New Orleans
547 St Ann St. (504) 587-0093,

https://stanleyrestaurant.com/

Stanley of New Orleans serves up elevated, modern Louisiana cuisine right on Jackson Square in downtown New Orleans. Enjoy your pancakes with a beautiful view of the St. Louis Cathedral. Their pancakes are served with vanilla ice cream and an option to add on bananas, toasted walnuts, and/or blueberries. Pair them with a homemade milkshake if you really feel like celebrating. This upscale spot is a great place to people watch with the people walking around the French Quarter, paired with some decadent pancakes.
9. Please-U-Restaurant
1751 St Charles Ave. (504) 525-9131,

https://www.pleaseunola.com/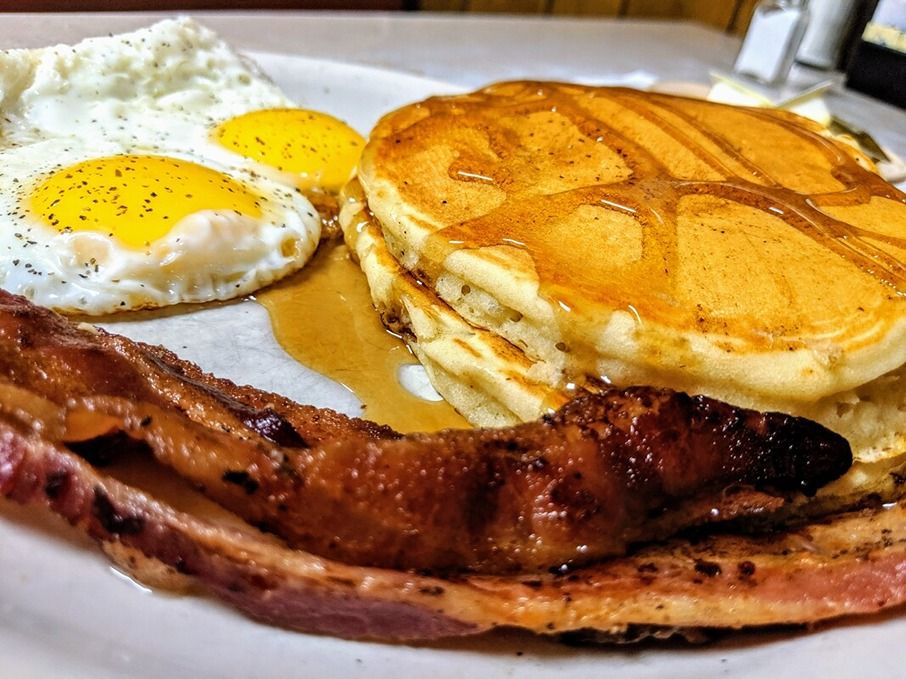 Please-U-Restaurant is a local New Orleans spot that has been serving the community since 1946. They do traditional diner-style fare with a Louisiana twist. With their all day breakfast, you won't have to contain your pancake celebrations to the morning hours. Sit at the counter or in a booth and devour your pancakes in stacks of two or three, with two eggs and a choice of bacon, sausage or ham. So get a taste of New Orleans and Louisiana classics at Please-U and taste just how good pancakes can be.
10. iHop
Multiple locations,
ihop.com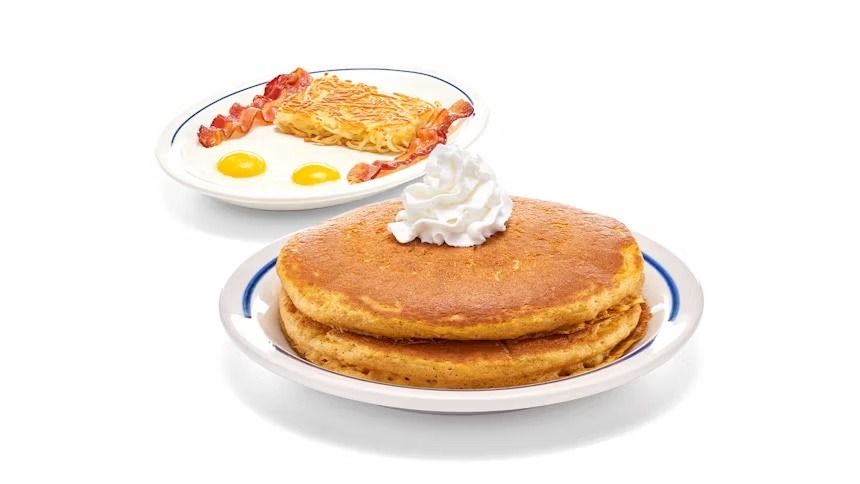 What list of pancakes would be complete without this go-to spot? iHop offers a wide variety of pancakes, such as cupcake pancakes, strawberry banana pancakes, chocolate chocolate chip pancakes, cheesecake pancakes, and so much more. And don't let your dietary restrictions keep you from indulging—they even offer "gluten-friendly" pancakes! Click
here
to see the full menu. There are also full meals with pancakes, such as the Breakfast Sampler, which includes two eggs; a choice between two bacon strips, two sausage links, and two pieces of ham; hash browns; and two pancakes—all for just $9.99. Check your nearest iHop to view the address, hours, and phone number.
Best Spots to Enjoy Pancakes on National Pancake Day
So wherever you decide to enjoy a huge stack of pancakes this day, be sure to add lots of maple syrup and enjoy! Not that you can't have pancakes every day...but today is the perfect excuse. Try one of these spots and go to to town!