There's something about a diner that's so comforting. It's an American dining tradition; you walk up to the counter or grab a booth and get a big, hot breakfast that really gets you warmed up and ready for the day. There are so many diners in New Orleans, several of which are decades old. It can be hard to choose which one to go to, but you know that you will be greeted with warm smiles from the staff and food beyond compare.
Whether you're an early morning riser who likes to eat a big breakfast right when the diner opens at 7 a.m. or you like to sleep in and grab your first meal of the day in the afternoon, these diners have got your order hot and ready to go.
The Best Diners To Eat At In New Orleans
1.

Slim Goodie's Diner
3322 Magazine St. (504) 891-3447, slimgoodiesdiner.com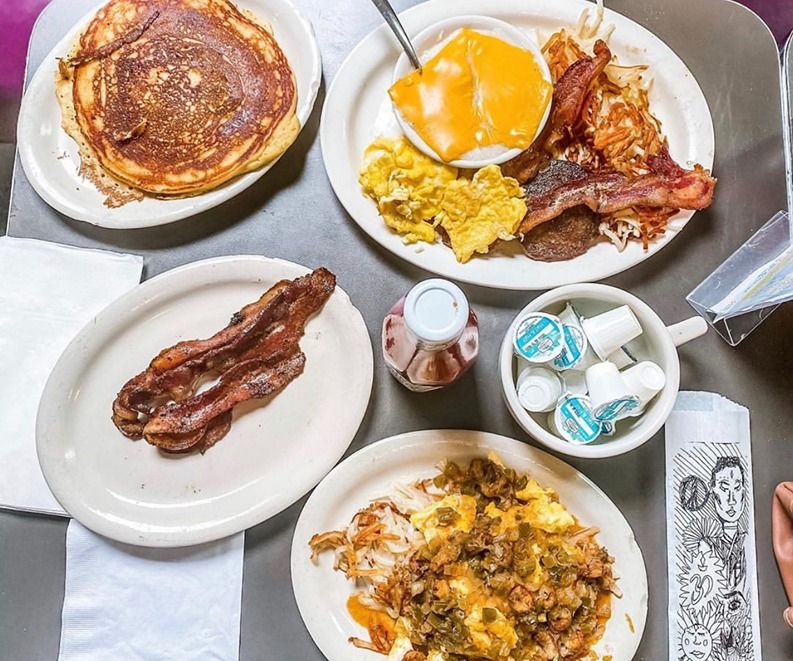 It's not unusual to see a line outside of Slim Goodie's on many days of the week. It's a top spot for locals to grab breakfast especially on weekend mornings. The popular diner is open every day of the week from 7 a.m. to 3 p.m. Plan to go between the breakfast and lunch rush if you want to avoid the busiest times.
Slim Goodie's is the home of the Slammer. The Orleans Slammer… Not OPP is a "hurricane of hash browns" with Slims Chili, two strips of bacon, two eggs, and melted cheddar cheese. This dish is marketed as a hangover chase extraordinaire. There are plenty of omelettes, waffles, and pancakes for the less adventurous
.
2.

Camellia Grill
626 S Carrollton Ave. (504) 309-2679, camelliagrillnola.com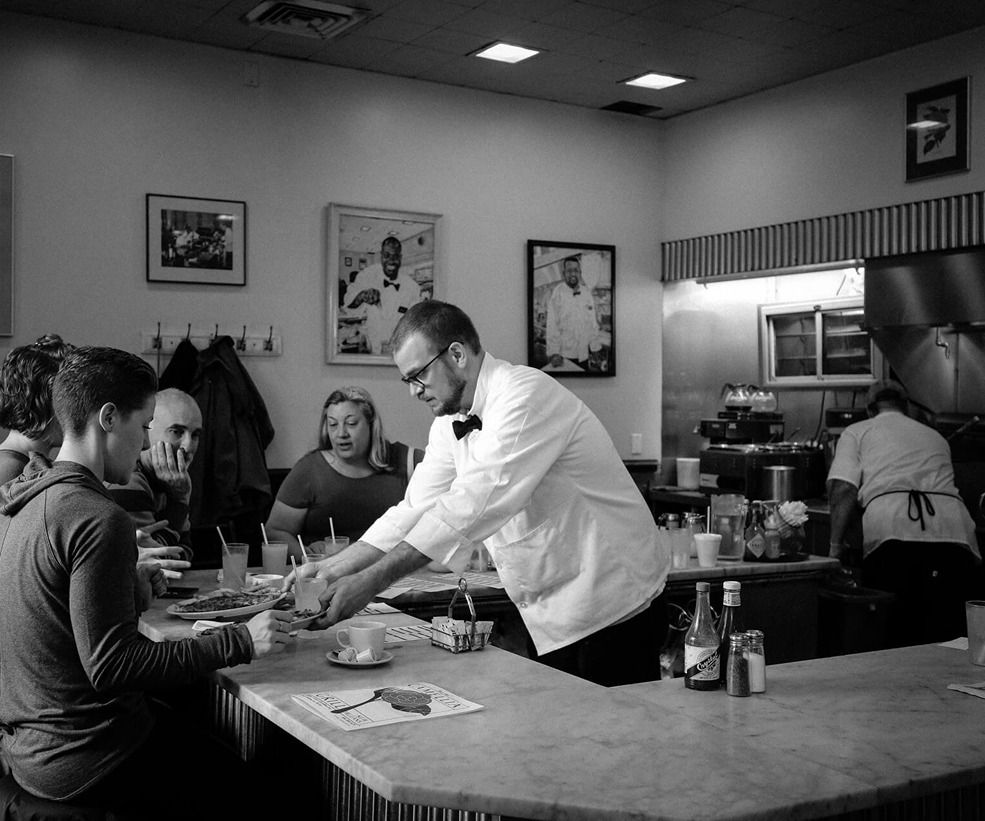 This iconic diner was first opened in 1946, and it was known as the place where you sit at the counter and watch your food be made by the friendly staff, usually with lots of butter. Hurricane Katrina shuttered Camellia Grill for several months, but the regulars just couldn't bear to go on without it. Camellia Grill finally reopened and still attracts crowds of people every morning.
The menu consists of typical diner fare like eggs, waffles, omelettes, and burgers. The dinner plates are something special. Daniella's Chicken Strips are served with two sides. You can complete your plate of Red Beans and Rice with a hot sausage patty, chicken breast, catfish, or porkchop.
3. Molly's Rise and Shine
2368 Magazine St. (504) 302-1896, mollysriseandshine.com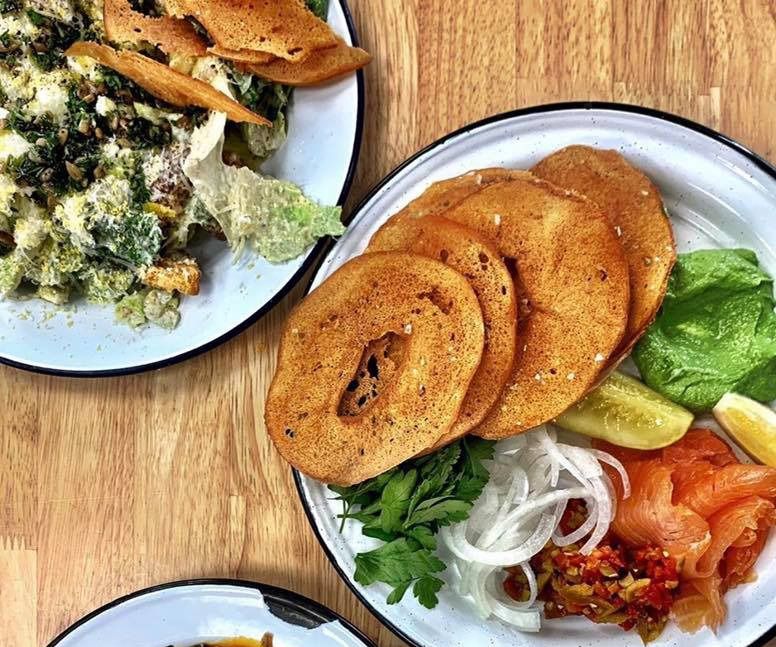 Molly's Rise and Shine is closed on Tuesdays, but from Wednesday through Monday from 8 a.m. to 2 p.m., you are welcome to stop by this charming Uptown restaurant for good eats. The first thing you'll see on the menu is the Solid Gold Hits For The Table section which has delicacies like Deviled Eggs Tostada and Roasted Carrot Yogurt.
Continuing Further, you come across specialty bagels, biscuits, and muffins, All-American sides, and the Stuff For People That Like Vegetables section with a Sweet Potato Burrito and Scotty's Collard Greens and Grits. Turn to the Big League Breakfast section for more traditional fare. Check out the Have It Y'all's Way for sure.
3.

Clover Grill
900 Bourbon St. (504) 598-1010, clovergrill.com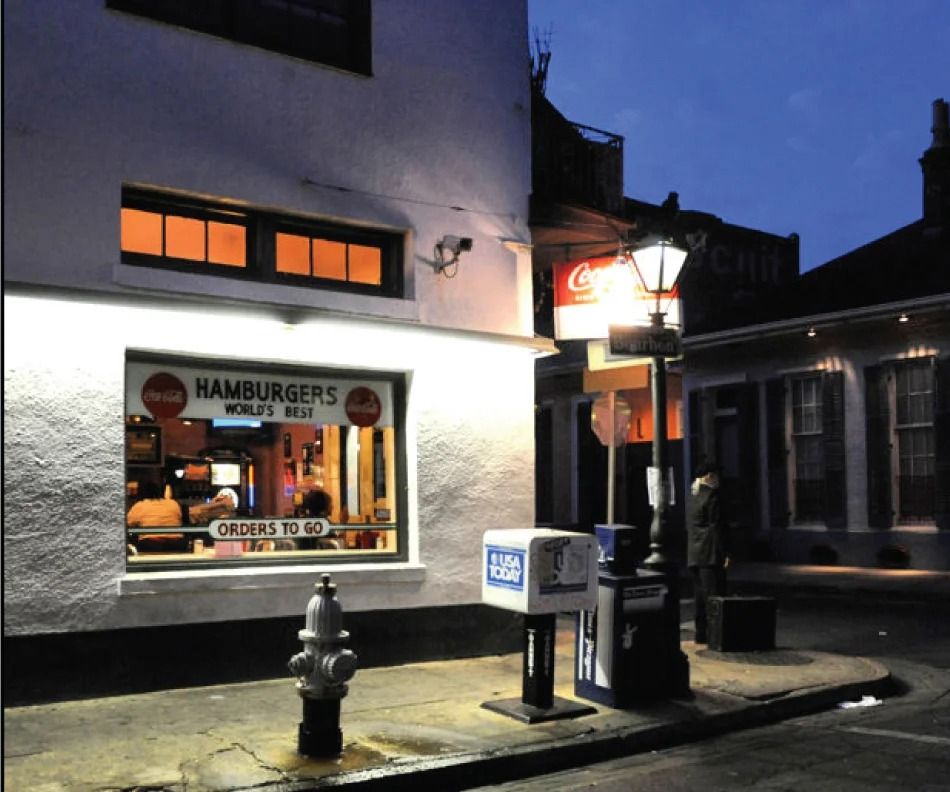 This Bourbon Street diner is open 24 hours a day. Clover Grill needs to have round the clock hours because they mostly serve Bourbon Street revelers as well as the service industry workers who serve the revelers. This little diner is known for quick service and simple eats that are perfect for filling you up so that you can get back out to the party.
The Build Your Own Omelette and Build Your Own Burger are popular so that you can get exactly what you want. The 24 Hour Break plate is an easy choice with two eggs made any way served with toast, butter, and jelly, and the Breakfast Burger is great for those who can't decide between breakfast and lunch.
4.

Please-U-Restaurant
1751 St Charles Ave. (504) 525-9131, pleaseunola.com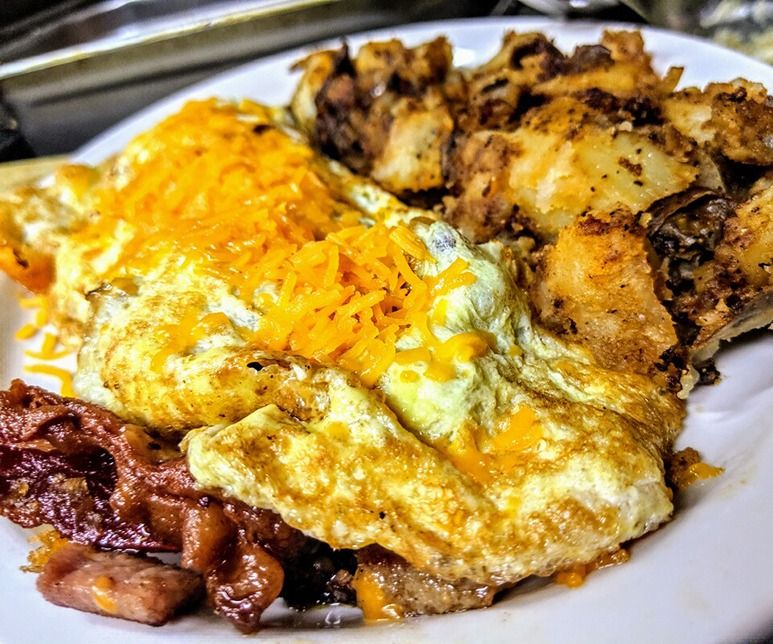 The Please-U-Restaurant may not be extremely well known, but it has outlasted many other New Orleans restaurants due to its down-home good food and friendly service. Located in a busy stretch of St. Charles Avenue, the Please-U is ready to serve you between 7 a.m. and 3 p.m. Monday through Saturday.
There is an extensive omelette menu, and each of them is served with hash browns or grits and toast or biscuit. Just some of the omelettes available are Greek, Gulf Shrimp, Oyster, Western, Ham & Mushroom, Mexican, and the signature Please-U (ham, bacon, sausage, and cheddar cheese).
5.

Surrey's Café & Juice Bar
1418 Magazine St. (504) 524-3828, surreysnola.com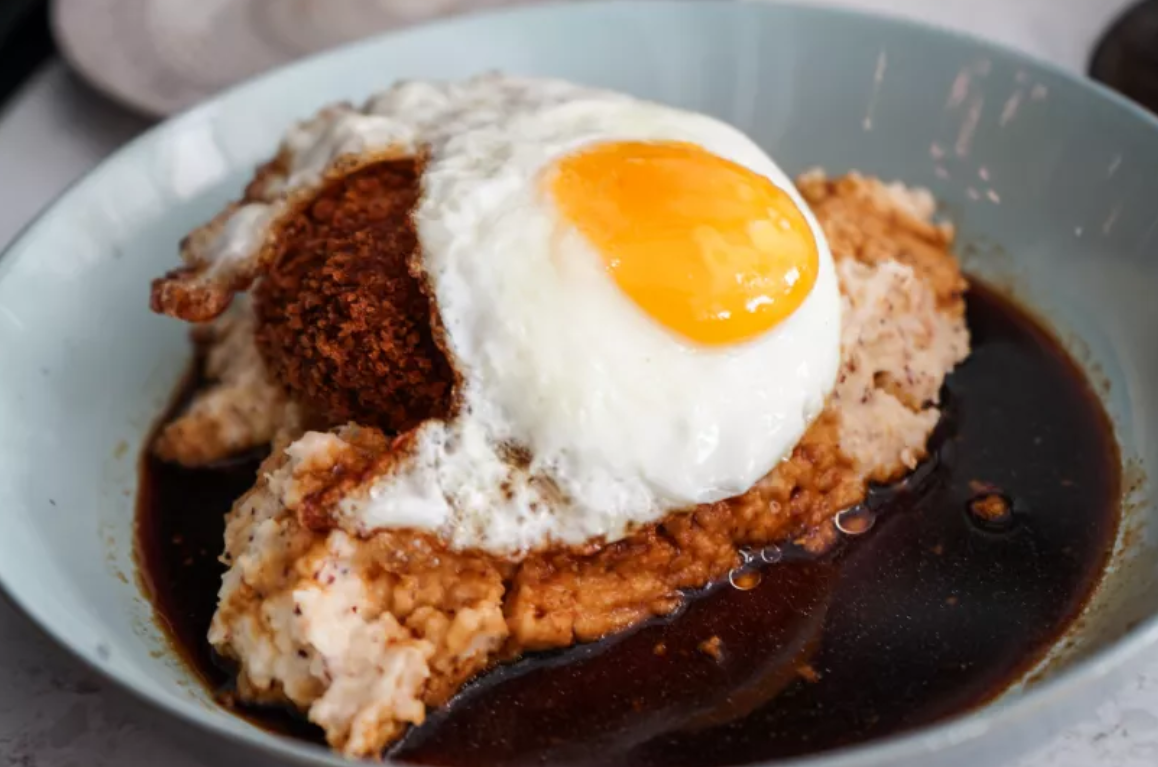 Walking into Surrey's somehow feels like your walking into a little breakfast nook somewhere on the coast. It has a laid back beachy vibe that is so relaxing that it really puts you in a great mood for the rest of the day. Located on Magazine Street, this unassuming café serves breakfast and lunch favorites from Thursday through Monday from 8 a.m. to 3 p.m.
Breakfast dishes are big here. You may want to look at the Breakfast Burrito which is a warm tomato-basil wrap stuffed with bacon, onion, tomato, poblano pepper, and cheddar tossed with eggs. For vegans, the Tofu Breakfast Platter is soy and ginger marinated tofu with peppers, mushrooms, and onions.
6.

Ted's Frostop
3100 Calhoun St. (504) 861-3615, tedsfrostop.com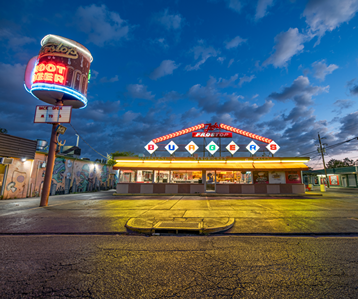 You can't miss Ted's Frostop when you pass by it on Claiborne Avenue. The nostalgic neon signs and huge mug of root beer harken back to a different time. They open the door at 7 a.m. sharp for the people who make it a daily ritual to have coffee and breakfast here. Breakfast is not served all day, so you better get here before the kitchen turns to lunch items.
The Early Bird Special includes eggs, bacon, grits, and pancakes. Those looking for something more unconventional for breakfast would love the Roast Beef & Grits, Eggs, & Biscuit. The lunch menu isn't big, but the poboys, Lot-O-Burger, and daily specials are all you really need to have a great lunch. The onion rings are some of the best in the city.
8.

Streetcar Café
312 St Charles Ave. (504) 218-7256, streetcarcafe.com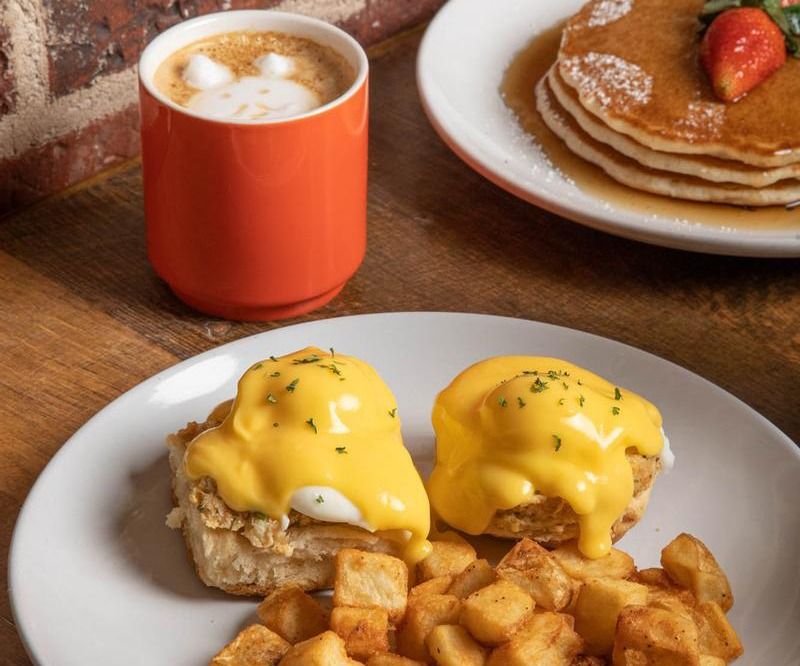 Whether you just hopped off the streetcar on the corner of St. Charles Avenue or you're just walking by, the Streetcar Café has something for you. From 7 a.m. to 10 p.m. every day of the week, you can enjoy a filling breakfast, healthy lunch, or decadent dinner. You can also just stop by for drinks after work or as a night cap.
The NOLA Classics breakfast dishes are delicious. Crab Cake Benedict is a twist on the traditional dish with grilled crab cakes served over a buttermilk biscuit, topped with two poached eggs, and finished with Hollandaise sauce.
9.

Dot's Diner
Multiple Locations, dotsdiner.com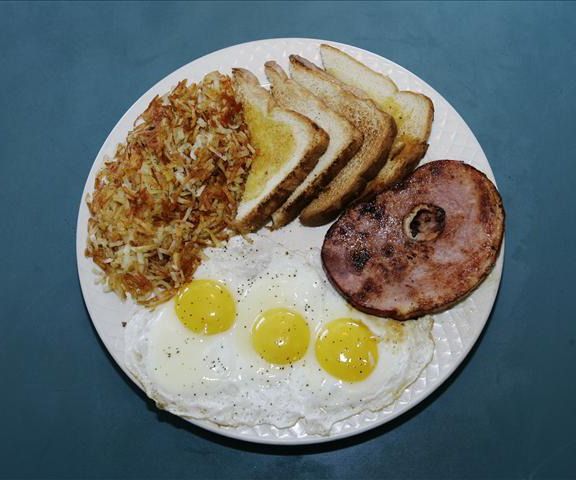 You've heard the commercials before. "I'm not your mama, but you're always at home at Dot's Diner!" That's because each of Dot's four locations makes great food, good conversation, and family-oriented settings a priority. The diners are decorated with nostalgia, so it's just as pleasing to the eye as it is to the stomach.
Dot's makes big portions only, so you best come prepared to eat a big meal (or take some of it home for tomorrow). The Big Breakfast Platters like the Lumberjack Platter and All American Platter are in high demand, but the Around the Clock Specials can be enjoyed any time.
10.

Tic-Toc Café
3205 36th St. (504) 834-6272, facebook.com/TicTocCafeMetairie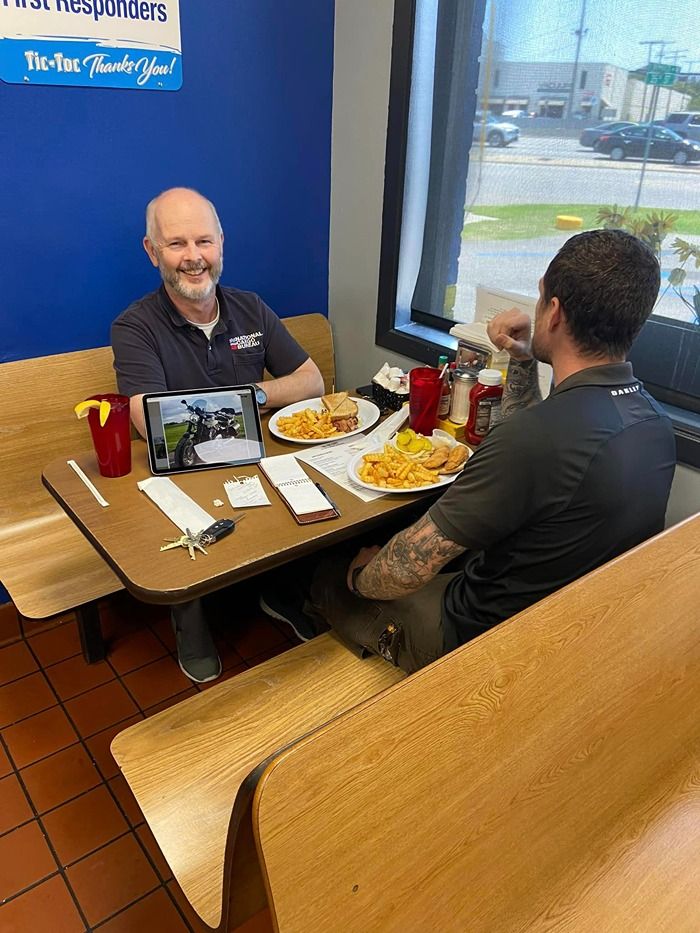 Despite its name, there is no time limit on dining at the Tic-Toc Café. That's because the little diner in Metairie right off of I10 is open 24/7. You are welcome to stop by for counter or booth dining at its finest. And breakfast is always served. Try the Good Start with two eggs, grits or hash browns, and toast or the Steak and Eggs with an 8 0z ribeye, two eggs, grits or hash browns, and toast.
For lunch or dinner (or whenever you want), try out the classic diner favorites like Liver and Onions, Chicken Fried Steak, or a Patty Melt. This is probably one of the only places where you can order an old school Peanut Butter and Jelly Sandwich. Nothing compares to getting a slice of apple pie at the end of your meal, best enjoyed with a hot cop of coffee!
Diners To Go To In NOLA
These old-school American diners aren't just the place to go for a good meal. You can really feel a sense of community here. Sitting at the counter is great for getting into conversations with the staff and fellow diners. It's kind of like a meal and a show all in one.
What is your favorite New Orleans diner to get breakfast at? Let us know where we should go next!