NOLA Gets Its Just Desserts
Everyone knows that New Orleans is the city for some of the best eateries and culturally-rich cuisines (take creole food, for example) in the world, but what's a good meal without an even better dessert? Luckily, not only is the Big Easy filled with dessert shops and iconic ice-cold treats to satisfy your sweet tooth, but it's filled with unique spots to satisfy other senses as well.
Whether it's getting the chance to bite into a piece of history, getting to experience a wowing table presentation, or having the option to mix some booze into your dessert, NOLA has many spots that offer sweets with an extra treat.
Historic Treats
Roman Candy Man, Varying Locations

Sold in chocolate, strawberry, and vanilla flavors, Roman chewing candy has been a 4-generation family recipe loved by locals since the early 1900s. As if the delicious taffy isn't enough of a treat, there's something pretty special about purchasing candy from a carriage wagon that was built in 1915. With the wagon stationed in different locations depending on the day and time of year, being able to spot it is an additional treat in itself. You can usually catch it at major festivals, near Audubon Park on Saint Charles Avenue or within the Audubon Zoo.
Hansen's Sno Bliz, 4801 Tchoupitoulas St.
Hansen's Sno Bliz was founded in 1939 by Mary and Ernest Hansen, and the spirit is still kept alive by their granddaughter, Ashley Hansen. They are known for their unique, homemade artificial flavor-free syrups, and customers can experience the one-of-a-kind, melt-on-your tongue ice, made from the same 80+ year-old sno-bliz machine original to the shop. Expect a worth-the-wait line out the door, but once inside, enjoy passing time by looking at shops' walls, collaged with newspaper article clippings and hundreds of photos of smiling happy customers holding varying sno-bliz flavors from years past.
Boozy Treats
Sweet & Boozy, 4525 Freret St.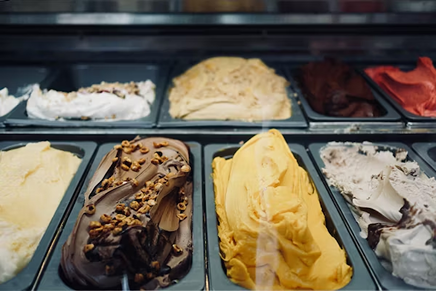 Sweet & Boozy is a Black-owned ice cream shop that serves up delicious frozen concoctions. Here, you have the option of classic ice cream flavors without alcohol, such as butter pecan, cookies and cream, strawberry cheesecake, or you can order a treat with a little kick, with alcohol-infused flavors including Baileys Luck of the Irish, chocolate caramel cognac, the Big Lebowski White Russian, and more.
Bakery Bar NOLA, 1179 Annunciation St.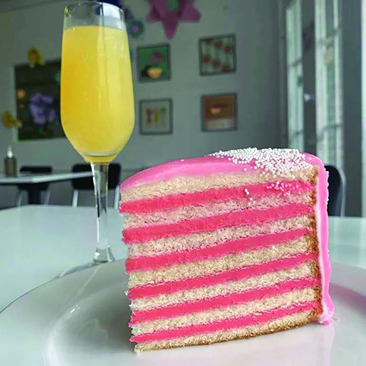 Bakery Bar has many scrumptious goods on the menu, but a favorite is their doberge cake slices. Doberge is a rich, moist, layered, buttermilk cake that originated here in New Orleans. They also offer mini versions of this treat called "dobites" (three layers of cake separated by two layers of pudding with a poured fondant). Pair a pastry with one of their dessert cocktails, like the "Big Bertha Alexander" (a brandy milkshake with chocolate, hazelnut, and whipped cream).
Customizable Treats
Crêpes à la Cart, 1039 Broadway St.

Crêpes à la Cart is a quaint shop on Tulane's campus that features a two-top stove burner behind clear windows, where customers can see their treats made. The menu offers many sweet combinations, but the best part is being able to choose from their ingredients to build your own. Try opting for the butter and sugar crêpe with nutella, strawberry, coconut, pecans, and whipped cream.
Drink Beauty NOLA, 3424 Magazine St.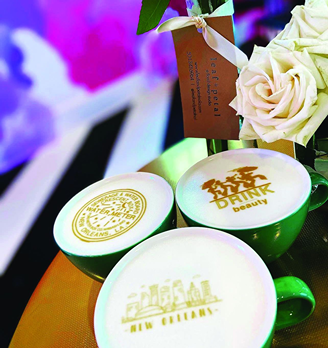 Drink Beauty NOLA is a hybrid coffee and beauty bar that serves colorful, trendy drinks that "taste good and make you feel better." Not only are these drinks deliciously unique, but with the free downloadable app Ripples, you can also print any image you'd like on top of your beverage for no additional charge.
Treats with an Instagrammable Pour
Drip Affogato Bar NOLA, 703 Carondelet St.

Affogato is an Italian dessert made of two heavens combined in one. It usually features scoop(s) of creamy gelato topped and drowned with a shot of espresso. At Drip Affogato, a funky, cozy shop with bright flowers, tropical plants, and abstract/pop art, you can enjoy unique, homemade gelato creations that vary weekly and by season.
Jack Rose, 2031 St Charles Ave.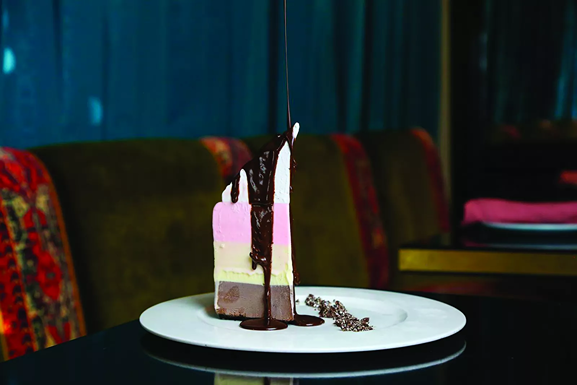 When the Pontchartrain Hotel was opened in 1927, one of the most iconic dishes was the Mile High Pie, an ice cream pie consisting of tall layers of vanilla, chocolate, and peppermint ice cream, topped with meringue. It remains the signature dish of the restaurant, now Jack Rose, and if the Mile High Pie isn't delicious enough, it also comes with a melted chocolate finish to be poured on top.
Treats with Flare
Brennan's, 417 Royal St.

Banana Foster is a classic NOLA delicacy that was born at Brennan's in 1951, and remains one of their most popular dishes. Not only is the butter-sauteed, banana, and cinnamon dessert a flavorful mouth-explosion, but even more exciting is the table-side presentation. The rum and banana liquor is set on fire right in front of you.
Meril, 424 Girod St.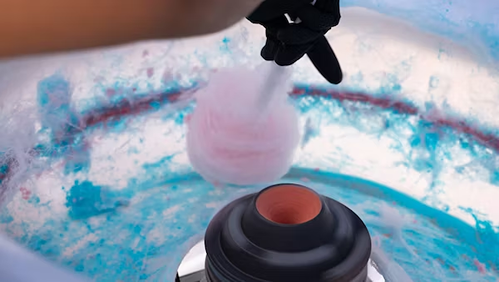 Cotton candy was originally called "fairy floss" until New Orleanian Joseph Lascaux created a machine in 1921 that expedited the candy-making process and patented the name "cotton candy." On your next birthday, visit Meril's. Not only do they celebrate you with a fluffy cotton candy treat, but it's served with an exciting sparkler, letting the whole restaurant know that it's your big day.
Treat Yourself to NOLA's Best Sweets
Whether you're craving a history lesson or eager to watch confectioners at work, these dessert shops will bring you more than just a sweet treat. New Orleans' culinary history is rich with innovative dishes and iconic sandwiches, but such uniqueness is also reflected in the city's tastiest treats. Enjoy the sweet life with New Orleans' most creative and traditional treats.