New Orleans' love for authentic, flavorful, rich Mexican food runs deep. Though we do love celebrating Cinco de Mayo and Day of the Dead each year or taking part in festivals like Top Taco, Mexican food can be found year-round at the fabulous Mexican restaurants around town. From truly traditional to fun and contemporary, these local restaurants will not disappoint when you're craving great Mexican food.

These restaurants have the most craveable Mexican/Latin food in town. You'll want to save room for a big glass of margarita before you dive into the food.
Best Places for Mexican Food in New Orleans
1.

El Gato Negro
Multiple Locations, elgatonegronola.com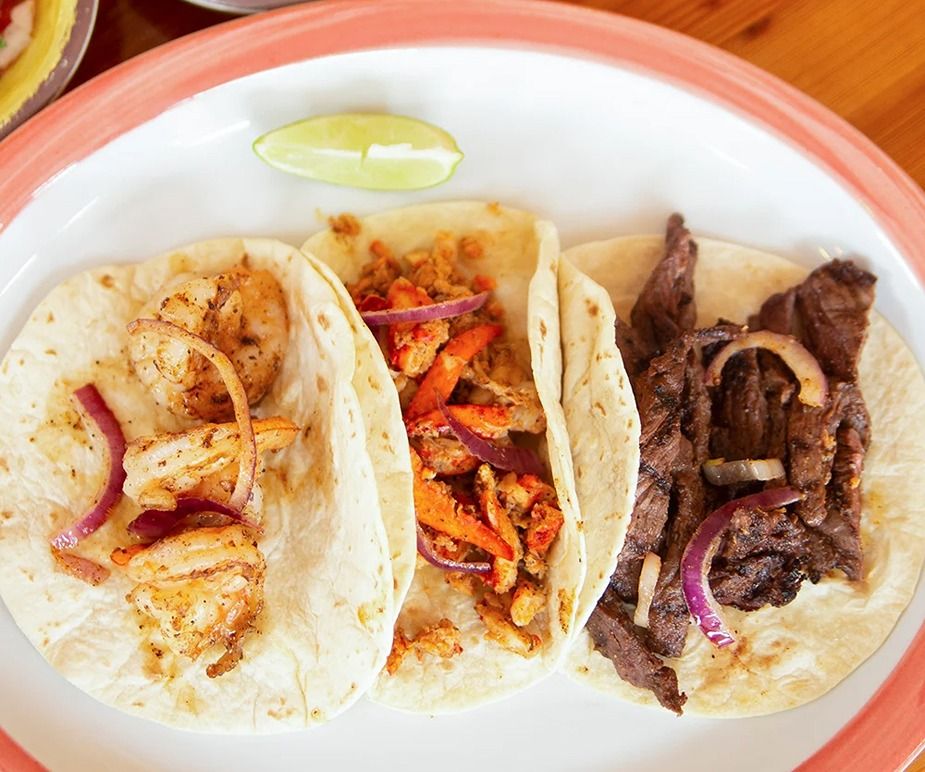 El Gato Negro is well known by both locals and tourists due in part to the places that the three locations are situated. Locals and service industry workers frequent the French Quarter location (81 French Market Pl.) for lunch and early dinner. NOLA locals love the picturesque Lakeview location (300 Harrison Ave.). Westbank dwellers go to the restaurant in historic Gretna (301 Huey P. Long Ave.).
While the menus can vary between locations, you are sure to have plates-ful of delicious Mexican fare. Fajitas, tacos, and quesadillas are all available, but the traditional dishes are unique to El Gato Negro. The El Burrito Con Mole is a blend of chicken, corn, onion, rice, beans, and queso in a tortilla and smothered in chocolatey Mole Poblano sauce.
2. Felipe's Mexican Taqueria
Multiple Locations, felipestaqueria.com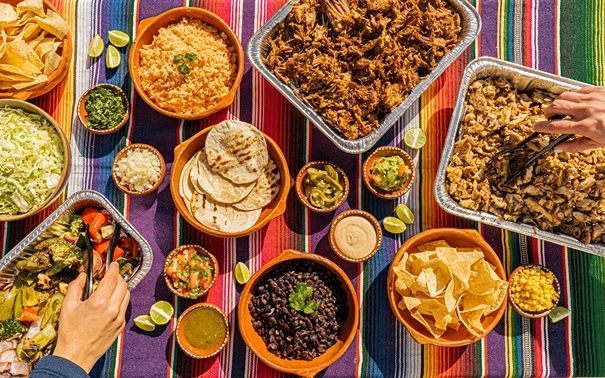 Felipe's is one of the hottest Mexican restaurants in town, and it was necessary to make multiple eateries around the city to feed all of their fans. Each location offers you the option of building your own taco, burrito, or nachos, so you know exactly what you're getting.
If you prefer letting the chef lead the way, try out one of the signature options. The Baja-Style Tacos have fried shrimp, pico, cabbage, and made-in-house Baja Sauce. The Mexico City Tacos feature al pastor, cilantro, onion, and made-in-house Guacamolillo Sauce. When you're done crafting your perfect meal, walk over to the bar and try one of their excellent margaritas.
3.

Juan's Flying Burrito
Multiple Locations, juansflyingburrito.com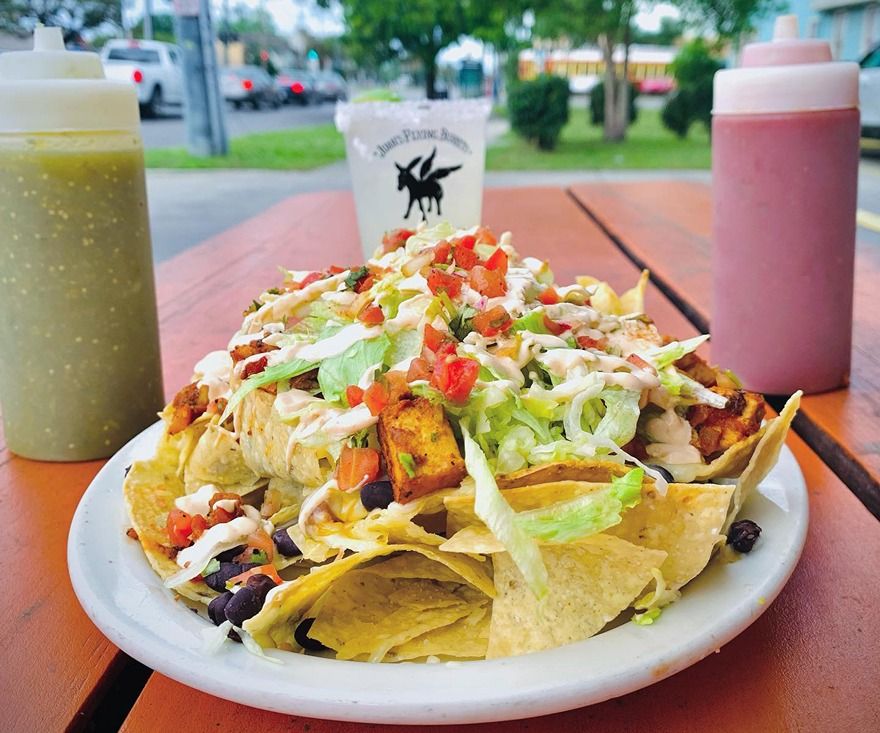 Juan's was once known as the rock n' roll Mexican joint on a bustling corner on 2018 Magazine Street. That original location has expanded outward to three more locations that are all hopping with activity for lunch and dinner. Check out the Mid-City location (4724 S. Carrollton Ave.), CBD location (515 Baronne St.), or the new Uptown location (8140 Oak St.) to get your flying burrito fix.
Those who don't want too much starch will love the burrito bowls and big salads. The signature burritos can be made "wet" by being smothered in red chile sauce, cheddar-jack cheese, sour cream, and pickled jalapenos. Try the Mojado, Veggie Punk, Gutter Punk, or Jerk Chicken Burrito when you visit their NOLA locations.
4.

Carreta's Grill
Multiple Locations, carretasgrill.com

You'll have to cross into Jefferson Parish to enjoy Caretta's Grill, and it is totally worth it. There are two southshore locations of Carreta's: Metairie (2320 Veterans Memorial Blvd.) and Harahan (1821 Hickory Ave.). The restaurants can get very busy for lunch due to their excellent lunch specials at great prices, but the dinner service is well-priced too.
The specialty menu items come in big portions, so be prepared to take some home. Try the Tacos Carretas with 4 taqueria-style tacos (your choice of carnitas, steal, grilled chicken, pastor, or chorizo) served with black beans and a chile tareado.
5.

Panchita's Mexican Criolla Cuisine
1434 S Carrollton Ave. (504) 281-4127, facebook.com/PanchitasMexicanCuisine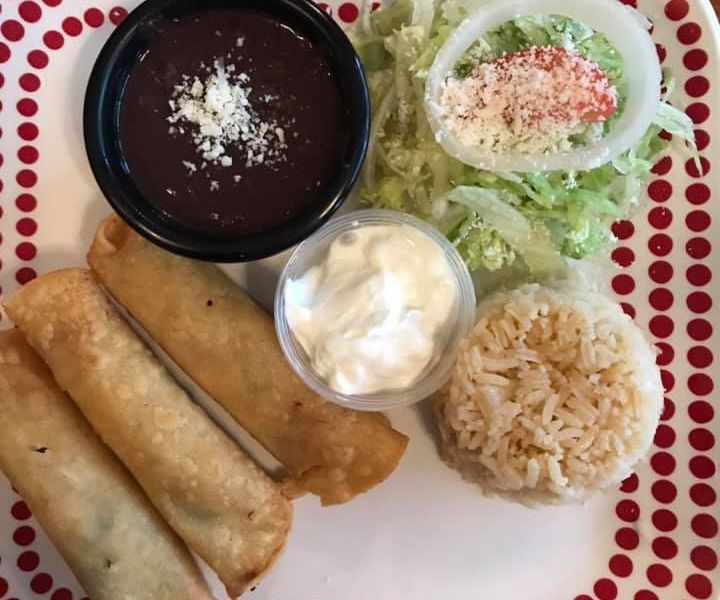 You have got to check out the taco salads at Panchita's! They are served inside an impressive fried tortilla bowl and can have grilled chicken, fish, or shrimp on a big bed of lettuce and veggies.
Those who prefer all the meat will want to look at the Molcajete, a sizzling bowl of steak, chicken, shrimp, bacon, onion, and melted cheese which is served with rice, beans, pico de gallo, and homemade tortillas. Panchita's is open daily from 11 a.m. to 8:30 p.m. so you can certainly find time to pay them a visit.
6.

La Carreta
1814 Magazine St. (504) 304-7063, carretarestaurant.com/locations/magazine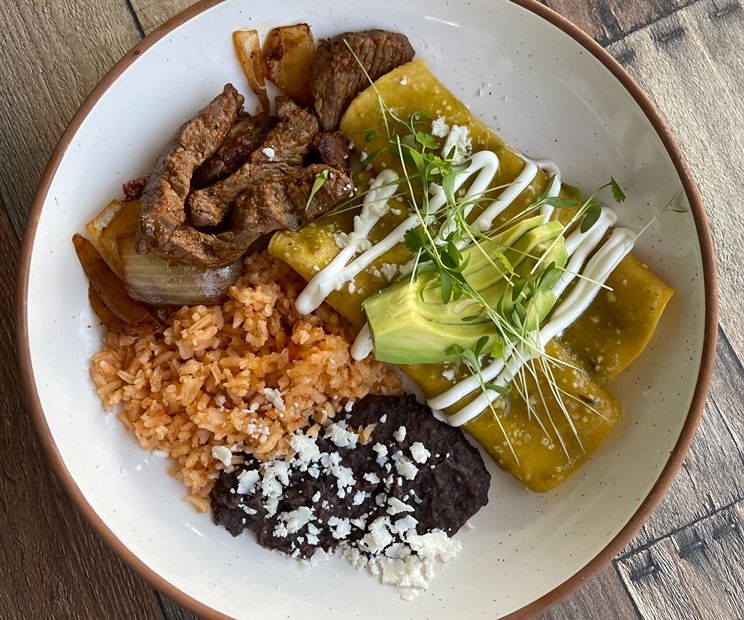 Not to be confused with Carreta's Grill, La Carreta has several locations across southern Louisiana, but there is only one location in New Orleans. Head to 1814 Magazine St. to indulge in some authentic Mexican food with contemporary twists for lunch, dinner, and happy hour. In fact, happy hour runs all day on Thursdays (and from 3 p.m. to 6 p.m. other days of the week).
While the entire menu is enticing, the weekly specials should not be ignored. There are fajita specials on Monday, taco specials on Tuesday, discount drinks on Wednesday, $7 Palomas on Friday, and brunch on the weekends. There's really never a bad to visit La Carreta.
7.

El Pavo Real
4401 S Broad Ave. (504) 266-2022, elpavorealnola.com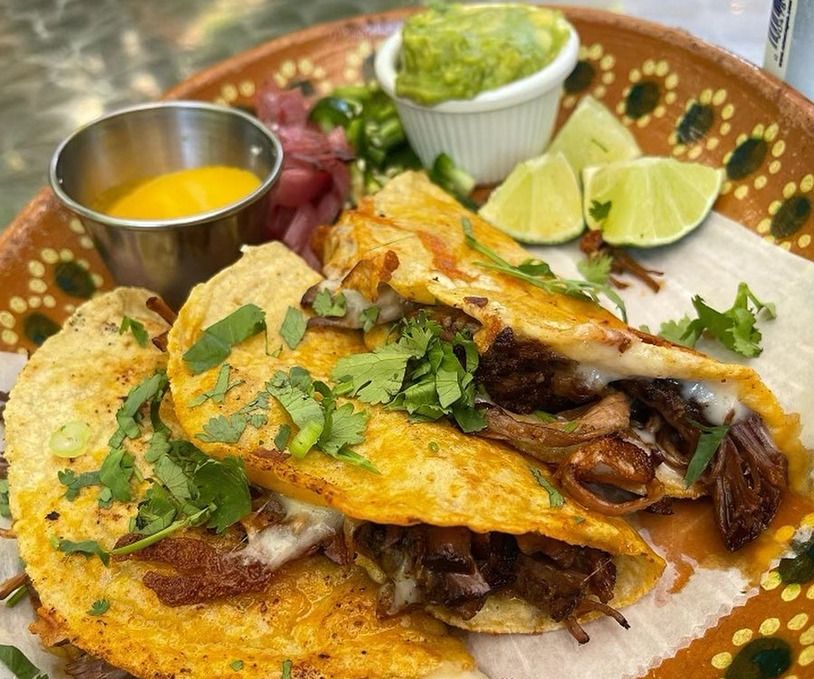 At the intersection of Broad Ave. and Napoleon Ave., you'll find El Pavo Real in an unassuming building. But this little eatery is very popular with 20-somethings because of the great prices. The happy hour from 3:30 p.m. to 5:30 p.m. is great; 2-for-1 beer, wine, and well drinks is a deal you can't pass up.
Beyond beverages, the food is perfectly priced. Those in the know love the Crab & Avocado Quesadilla that comes with a side salad. The tacos come in pairs of two: Chicken Tinga, Pescado Frito, Steak, Al Pastor, Veggie, and Shrimp. You are welcome to stop by early on weekdays between 9 a.m. and 11 a.m. for Breakfast Tacos.
8.

Taqueria Guerrero Mexico Inc
208 N Carrollton Ave. (504) 484-6959
Tucked between Angela Brocato's and Red Door Bar, you'll find Taqueria Guerrero. This brightly-painted restaurant serves some of the most authentic Mexican food from a huge menu. Everyone in your party will find something that they love on this menu.
A lot of people love to start off with a soup like the Beef Soup or Seafood Soup. The entrees consist of specialties like fajitas, shrimp served several ways, and other heaping plates. The Mole Poblano is served with big portions of rice, beans, tomato salad, and corn tortillas. The burrito comes with your choice of meat and cilantro, queso, rice, beans, onion, and cheese.
9.

Vals
4632 Freret St. (504) 666-2397, valsnola.com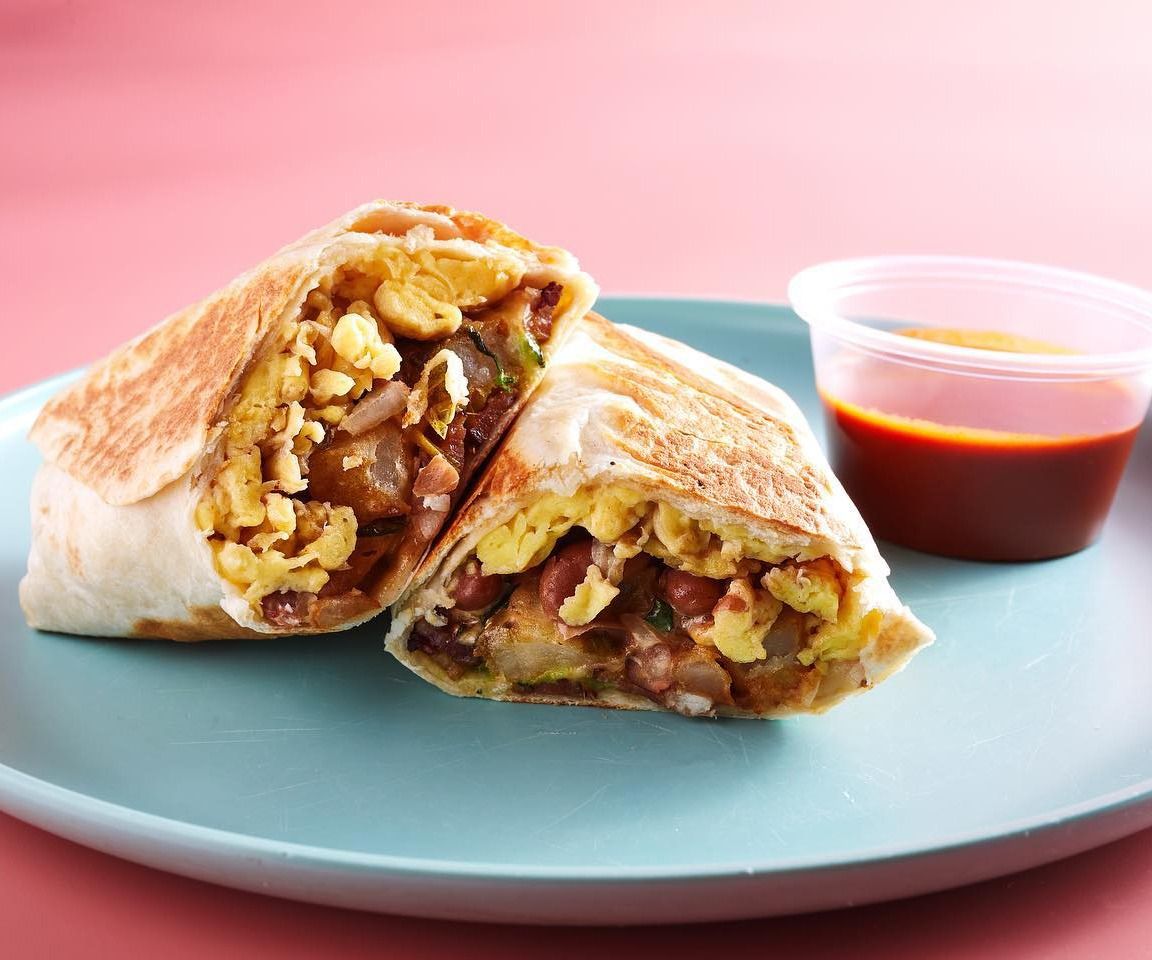 If you're hanging out on Freret Street, take a stroll over to Vals. This former service station-turned- gorgeous contemporary Mexican restaurant features a large, friendly patio perfect for outdoor dining on nice days. The food menu is humorously divided into Not Tacos and Tacos. And the drink menu is divided into Not Margaritas and Margaritas. It makes choosing your items a little bit easier.
For Not Tacos, check out the Quesabirria (braised brisket, Chihuahua cheese, and consommé). The Tacos have flavors including Crispy Beef Belly, Chicken in Green Mole, Fried Fish, and Sweet Potato. Wash it down with a Vals Margarita which is organic blanco tequila, orange liqueur, lime, and salt.
10.

Johnny Sanchez
930 Poydras St. (504) 304-6615, johnnysancheznola.com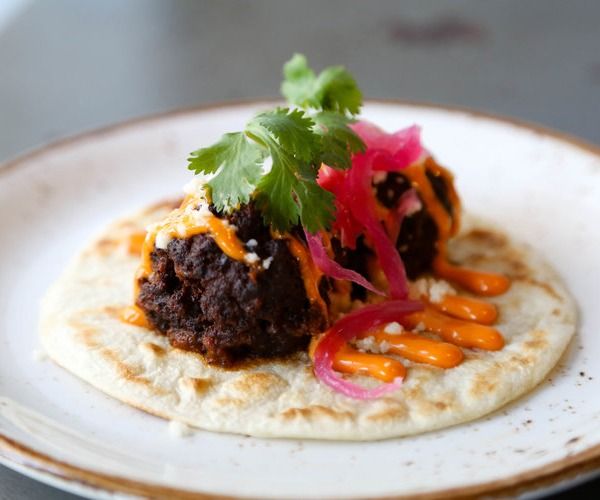 Johnny Sanchez was a rule-breaker when it opened in 2014. It brings in a crowd of CBD workers, tourists, and native foodies on a regular basis. The menu is heavy on typical Mexican fare like quesadillas, burritos, fajitas, and tacos with your choice of meat (or not), but there are also some surprise signature dishes that you can't find anywhere else.
The Adios Cheeseburger is a popular item that consists of two smashed patties, American cheese, red onion, pickles, jalapeno, and chili garlic sauce. It is served with adobo fries and queso dipping sauce. There's also a Crispy Chicken Sandwich topped with jalapeno slaw.
Where to Get Authentic Mexican Food in New Orleans
From overstuffed burritos to crunchy tacos to towering margaritas, these Mexican restaurants in New Orleans are sure to satisfy, and it's a great way to get to know the Hispanic culture of New Orleans. As a bonus: some of these restaurants have margarita towers that you have got to check out if you're dining with a crew. The tower has a tap so that you can fill your glass as much as you'd like.
Did we miss the best Central American food in New Orleans? Let us know where to go next!