New Orleans has plenty of local baked goods from king cake at Carnival to the city's distinctive styles of French bread and bread pudding. But in recent years, bagels, a type of bread product not typically associated with Louisiana, have been increasingly available and increasingly desired. More than just rolls with holes or some kind of alternative donuts, bagels are a distinctive item all their own, typically boiled then baked and can be plain, savory, or sweet. And while local bagel vendors uniformly say the most popular topping option is "everything," each offers some uncommon flavors and varieties to keep bagel shopping more exciting than just buying packaged bread in the supermarket. Here are a few places around New Orleans where you can grab them.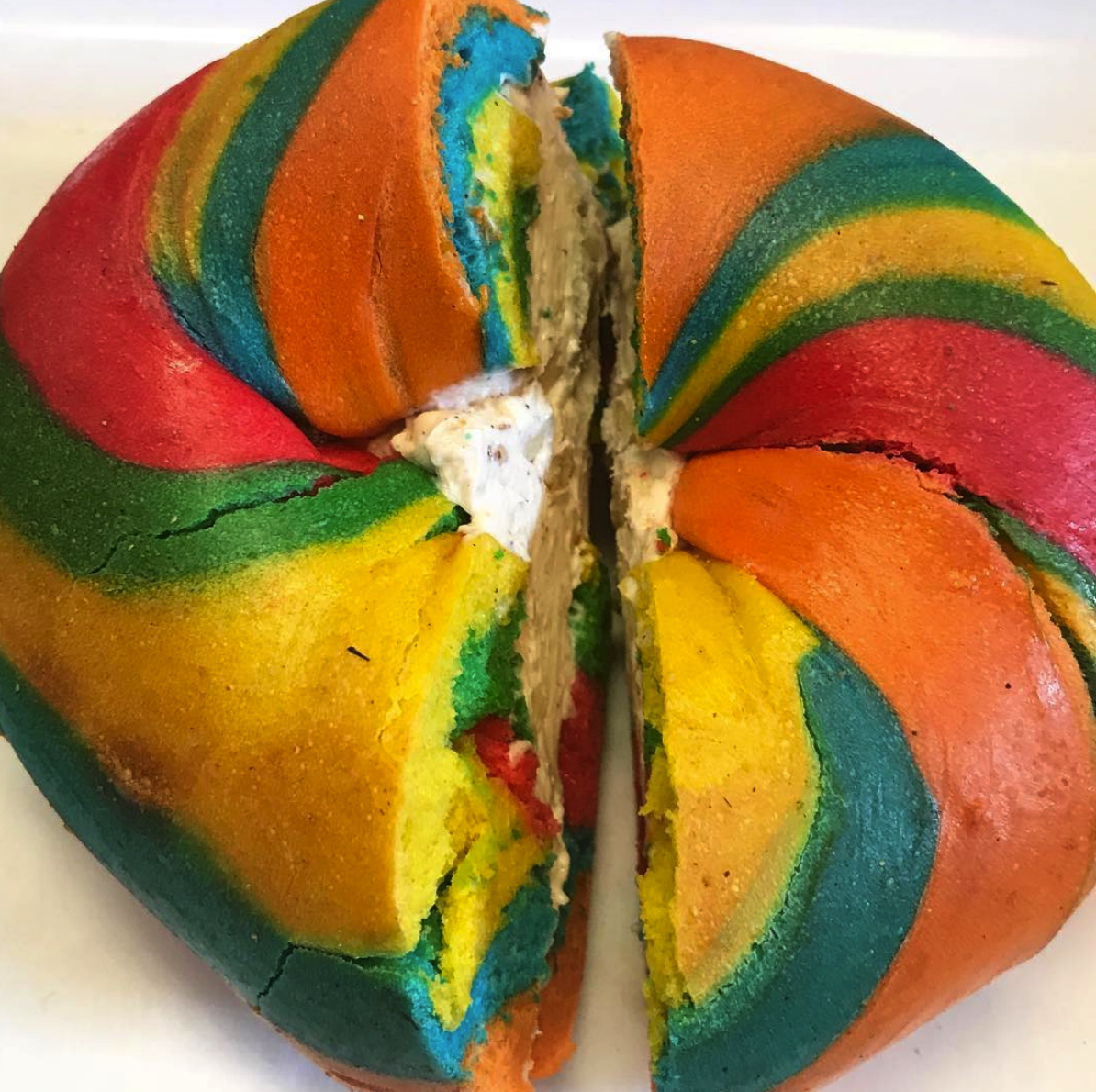 Small Mart | 2700 Chartres St., 504-766-8740
Formerly a tiny convenience store in the French Quarter, Small Mart has become a restaurant in its own right in the Marigny, beloved for its array of vegetarian options and its rigorous safety protocols during the coronavirus pandemic. Along with curries and other dishes, Small Mart offers bagels that are boiled and partially baked in New York, where the water is often said to give them a distinctive flavor, then finished on arrival. Options include everything from sesame and pumpernickel to egg. The restaurant also has a variety of bagel sandwiches available like the traditional New Yorker, with cream cheese, salmon, tomato, red onion, and capers, and a vegan option, with avocado, vinaigrette, chili sauce, and an assortment of other options. Many enjoy pairing their bagel sandwiches with a Dr. Brown's soft drink, often the company's distinctive celery flavor, or a coconut water.

Hell Bent Bagels at New Orleans Trap Kitchen | 1043 Poland Ave, 504-435-5983
A newcomer to the New Orleans baked good world, Hell Bent Bagels was formed during the pandemic when bagels seemed hard to come by and now offers delivery or pickup orders at the New Orleans Trap Kitchen, a commissary kitchen in the Bywater. The offers range from the ordinary, like everything and poppy seed, to more distinctive varieties, like a delicious jalapeño cheddar bagel. Watch Hell Bent's Facebook and Instagram pages to see when more unusual varieties pop up, including rainbow bagels and distinctive spreads like bananas foster, espresso, chocolate. Orders can also be placed through Hell Bent Bagel's social media.
Stein's Market and Deli | 2207 Magazine St., 504-527-0771
This normally bustling Uptown deli offers a variety of bagels from Davidovich Bakery in New York including garlic, everything, cinnamon raisin, egg, and even a gluten free option. Cream cheese flavors include chive, jalapeño cheddar, garlic and onion, and honey nut. The bagels are available plain with butter, jam, cream cheese, or whitefish salad as you prefer, and you can get a variety of sandwiches made with them including a classic lox or ham, egg and cheese. New Jerseyites should take note that Taylor pork roll, the distinctive pork product favored in the Garden State, is also available for your bagel-topping pleasure.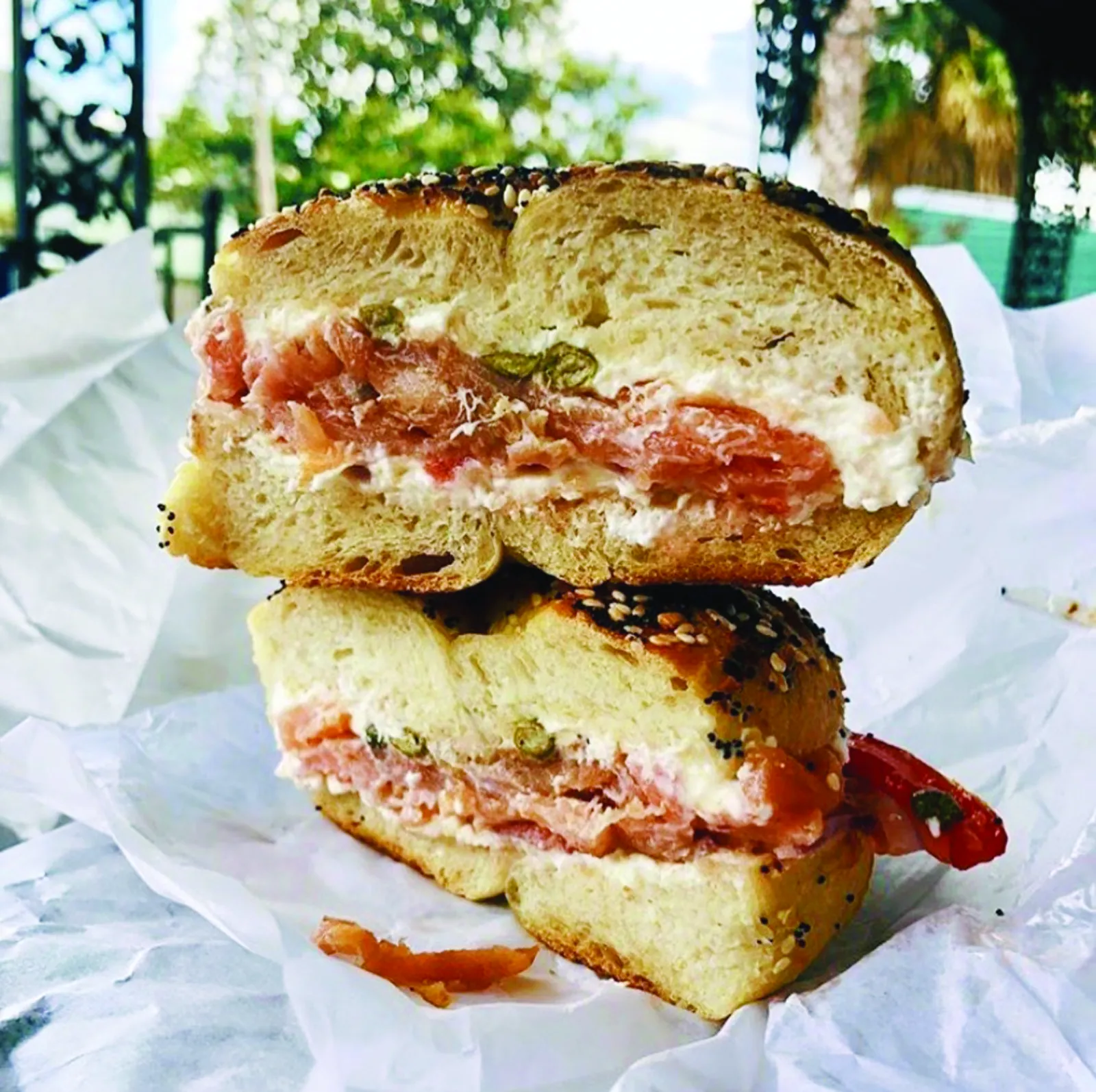 Humble Bagel | 4716 Freret St., 504-355-3535
Run by a husband and wife team from the East Coast, Humble Bagels on Freret Street offers traditional boiled-and-baked bagels made with just a handful of ingredients and a distinctively crisp crust. Traditional varieties like plain, everything, cinnamon raisin, and onion are available every day, while specials like cinnamon sugar, egg, and even chocolate chip are available throughout the week. Cream cheese and other spreads like peanut butter and hummus are on hand, as are breakfast-style sandwiches with your choice of ingredients such as egg, bacon, and tomatoes.
Laurel Street Bakery | 2701 S. Broad St., 504-897-0576
This Broadmoor bakery and coffee shop has become a prime destination in its neighborhood and beyond for its bagels. Made with sourdough starter and a mix of ingredients including honey and olive oil, bagel varieties available there include everything, sesame, garlic and onion, cinnamon raisin, and marble rye. Seasoned cream cheeses are also prepared in house, as well as options hard to find anywhere else like sun-dried tomato, olive pimento, bacon shallot, and date and honey. Grab a single bagel with cream cheese for breakfast or call ahead to place a larger order, with special bagel and cream cheese options available for bulk orders. Breakfast sandwiches with options like scrambled egg and various meat and veggie combinations are also available on bagels, as well as on toast or croissant.
Kosher Cajun New York Deli & Grocery | 3519 Severn Ave., Metairie; 504-888-2010
This New York-style Jewish delicatessen in Metairie brings bagels from J. J. Cassone Bakery in New York to Jefferson Parish. The bagels are available in six packs with varieties including plain, everything, onion, garlic, sesame, poppy, and pumpernickel. Bagel sandwiches are also available including a classic option with smoked salmon, lettuce, and tomato, as well as a smoked whitefish salad sandwich. If you're feeling extra hungry, pair your bagel or sandwich with a bowl of Kosher Cajun's delicious matzah ball soup.

Bywater Bakery | 3624 Dauphine St., 504-336-3336
Friday is bagel day at this often busy neighborhood spot in the Bywater. Bywater Bakery's typical bagel options include poppy, everything, jalapeno, green onion, asiago, and cinnamon raisin. If you would prefer a sandwich, options are available including bacon, egg, and cheese, as well as the traditional lox sandwich. Consider calling ahead to make sure your favorite bagel variety is available. Grab a coffee or tea to drink, or just an orange juice, while you're there.