Saturday, October 26
Carmine P. Filthy
12:00 p.m.-1:30 p.m., Le Plur Stages
Growing up in Miami, this DJ was immersed in 80s synth and a cacophony of early EDM. Boasting 20 years of experience, Carmine P. Filthy will be playing at Voodoo Fest. He hopes his music will make you dance the way he imagines it will. Whatever your fancy, check him out.
Hello Yello
12:45-1:30 p.m., South Course Stage
Hello Yello is a California-based rock band that has gained notoriety from working with artists like Clairo and Beabadoobie. Fader wrote a rave review of their track "Feel That Again," exclaiming its optimism and going on to praise the "small moments that kind of make you smile yourself" while listening.
Sun Seeker
12:45 p.m.-1:30 p.m., Wisner Stage
Sun Seeker has drawn applause for their unhurried breed of Cosmic American Music, and with BIDDEFORD (Third Man Records), their 2017 debut EP, the Nashville-based band more than affirmed their promise. They have played supporting acts to artists such as Rainbow Kitten Surprise, Peach Pit, The Districts, and Jessica Lea Mayfield.
Seratones
1:30 p.m.-2:30 p.m., Altar Stage
An unusual rock band, the Seratones bring the gritty indie folk rock scene to popular culture in a big way. They come from Shreveport, Louisiana, and as locals, they'll be coming home to their native state when the perform in New Orleans. Come check them out this weekend!
BRUTUS
2:30-3:30 p.m., South Course Stage
Brutus, hailing from Belgium, will be playing their hits: "War," "Sugar Dragon," "All Along," and others. Their latest album Nest was released in March of 2019 and is available to stream now. As luck would have it, they will be playing this at Voodoo fest this year.
Mattiel
2:30-3:30 p.m, Wisner Stage
Her new album, Satis Factory, features great tracks such as "Food for Thought" that are available now. If, however, you want to see her in person, she will be performing this year. This rising star from Atlanta will be sure to wow any viewer.
Elohim
4:30-5:20 p.m., Wisner Stage
A skilled producer, vocalist, songwriter, and classically-trained pianist, Elohim crafts intricately-produced songs that curiously explore the beauty of human connection and span styles across inventive electronic, indie alternative, and unabashed pop. In summary, what Elohim delivers is a stunning live show that will leave you wanting more.
Pink Sweat$
4:30-5:30 p.m., South Course Stage
Pink Sweat$ is an artist/songwriter/producer from Philadelphia whose music is rooted in R&B and Soul. His rapid rise has earned him recognition from the New York Times & Fader, ten entries in Spotify's US viral charts, and placement in Apple Music's A List R&B & Today's Hits lists.
Young the Giant
5:30 p.m.-6:30 p.m., Altar Stage
The energetic sound shivering from the L.A. quintet Young the Giant will have you bopping to beats with friends in the crowd, without even registering the introspection of the lyrics at hand. See if you can match the zippy moves of main-vocalist, Sameer Gadhia.
Medasin
5:45 p.m.-6:30 p.m., Le Plur Stage
This artist, hailing from Dallas, is known for his bass-heavy, yet occasionally smooth EDM. He's one of the hottest and up-and-coming artists in the music industry right now. Born Grant Wilson, the DJ will be showing up at Voodoo fest this year.
Japenese Breakfast
6:30-7:30 p.m., South Course Stage
Since the release of her debut studio album Psychopomp, Michelle Zauner (AKA Japanese Breakfast) has been revolutionizing the indie genre with her electrifying bedroom-pop sound. Zauner leaves her ethereal fingerprint on every project she touches and seeks to inspire other young Korean-Americans to embrace the duality of their heritage through her music.
Denzel Curry
6:30 p.m.-7:30 p.m., Wisner Stage
Denzel Curry's track "Ricky" is reminiscent of A$AP Rocky's "Goldie" in a very good way. Where Rocky is strange, however, Curry is harsh and ruthless. If you're looking for something to get you riled up Voodoo Fest weekend, Curry will deliver just that-and then some.
Jai Wolf
6:45 p.m.-7:45 p.m., Le Plur Stage
Known for his infectious indie-meets-electronic pop hits "Indian Summer" and "Lose My Mind," Jai Wolf is a melodic oasis amidst heavy bass drops and effects that populate the EDM scene. Jai Wolf is proving to be an essential fixture of the electronic music community.
The National
7:30 p.m.-9:30 p.m, Altar Stage
This melancholy and ruminative band displays its own quirky confidence in their folk-rock sensibility. Started in 1999, the band has its roots in Cincinnati. The band's sound and lyrics range from the pensive to humorous. The band's latest album, I Am Easy to Find, is available
The Glitch Mob
8:15 p.m.-9:15 p.m., Le Plur Stage
The Glitch Mob runs on the thin line between EDM and rock, treading on new and familiar territory all at once. Forged in the Los Angeles beat scene, the band achieved success with the use of technology at their concerts, to much fan excitement. See Without Eyes, the band's latest work, is available for purchase today.
Royal Teeth
8:15 p.m.-9:30 p.m., House of Blues
Her new album Hard Luck was released just this year. With hits like "Wild," "Heartbeat," and more, she'll be sure to entertain any viewer. Born in Lafayette, Louisiana, as a native to the state, she'll be sure to put on a good show for her hometown.
Clairo
8:30 p.m.-9:15 p.m, South Course Stage
Clairo, writer of the lo-fi hit Pretty Girl, is coming to Voodoo Fest at the perfect time, after releasing her debut full-length album, Immunity, this past August. At just 21 years old, this bedroom pop songstress is already signed to The Fader and has embarked on a stadium tour.
ZHU
8:30-9:30 p.m, Wisner Stage
Initially known only enigmatically as ZHU, Stephen Zhu debuted with the single, "Moves Like Ms. Jackson." The world has come to know him as a Grammy-winning artist, but at home he's just Stephen. He'll be at Voodoo this year to play hits such as "Faded" and "Automatic," among others.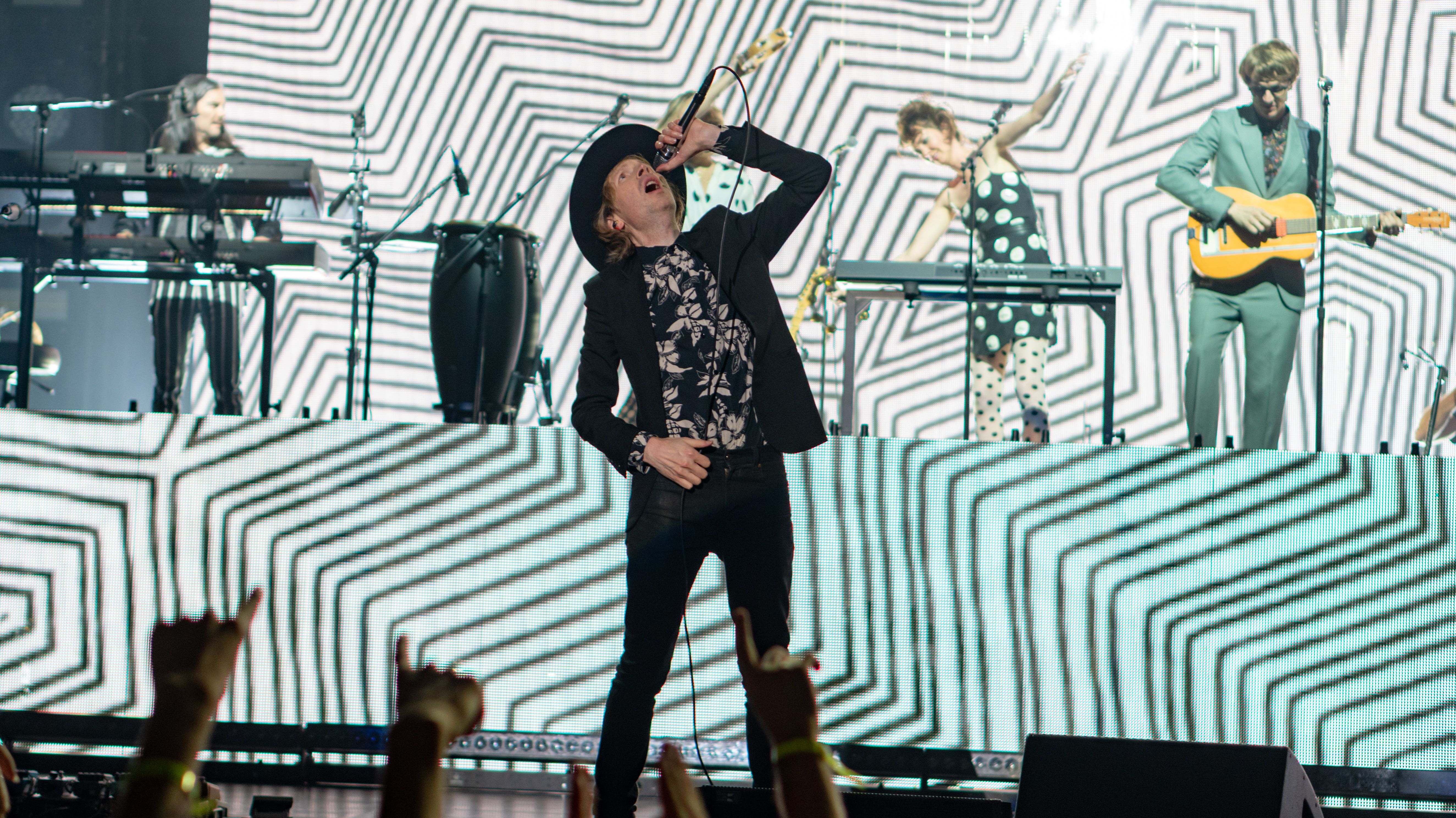 Beck
9:30 p.m., Altar Stage
Starting as a relatively young, unknown player, by 1994 Beck was a smashing success with the release of his single "Loser." Quickly becoming an alternative rock icon, he released his first album Mellow Gold in 1994 as well. He has consistently risen to star status over the course of his career.
Bassnectar
9:45-11:00 p.m., Le Plur Stage
This American electronic DJ started as Bassnectar, initially, just to me his skills as a DJ, remix songs, and produce for other artists. The DJ eventually decided to do it full time. In 2018 he released Reflective (Part 3), which is his latest album and is available now.