So, you're getting hitched and planning the ultimate destination bachelorette party? First off, congratulations! Secondly, the French Quarter in New Orleans should be at the top of the list for an unforgettable last hurrah getaway with your girls.
If you know anything about Mardi Gras, then you know the party never stops in the "Big Easy." The French Quarter, the city's most historical and infamous district, along the Mississippi River, is at the center of the action. The French Quarter is also the star of these 12 incredible restaurants, bars and entertainment ideas your bachelorette party won't want to miss.
Whether you and your girls want great eats, unique cocktails or a winning game of poker, we got you covered right here.
The Restaurants
Get ready to cash in your cheat days when you head to New Orleans. The Big Easy is home to some of the most delicious food in the country. It's the intersection of Cajun, Creole and soul food all cooked and served up with southern hospitality. Here are a few of our favorite restaurants in the French Quarter.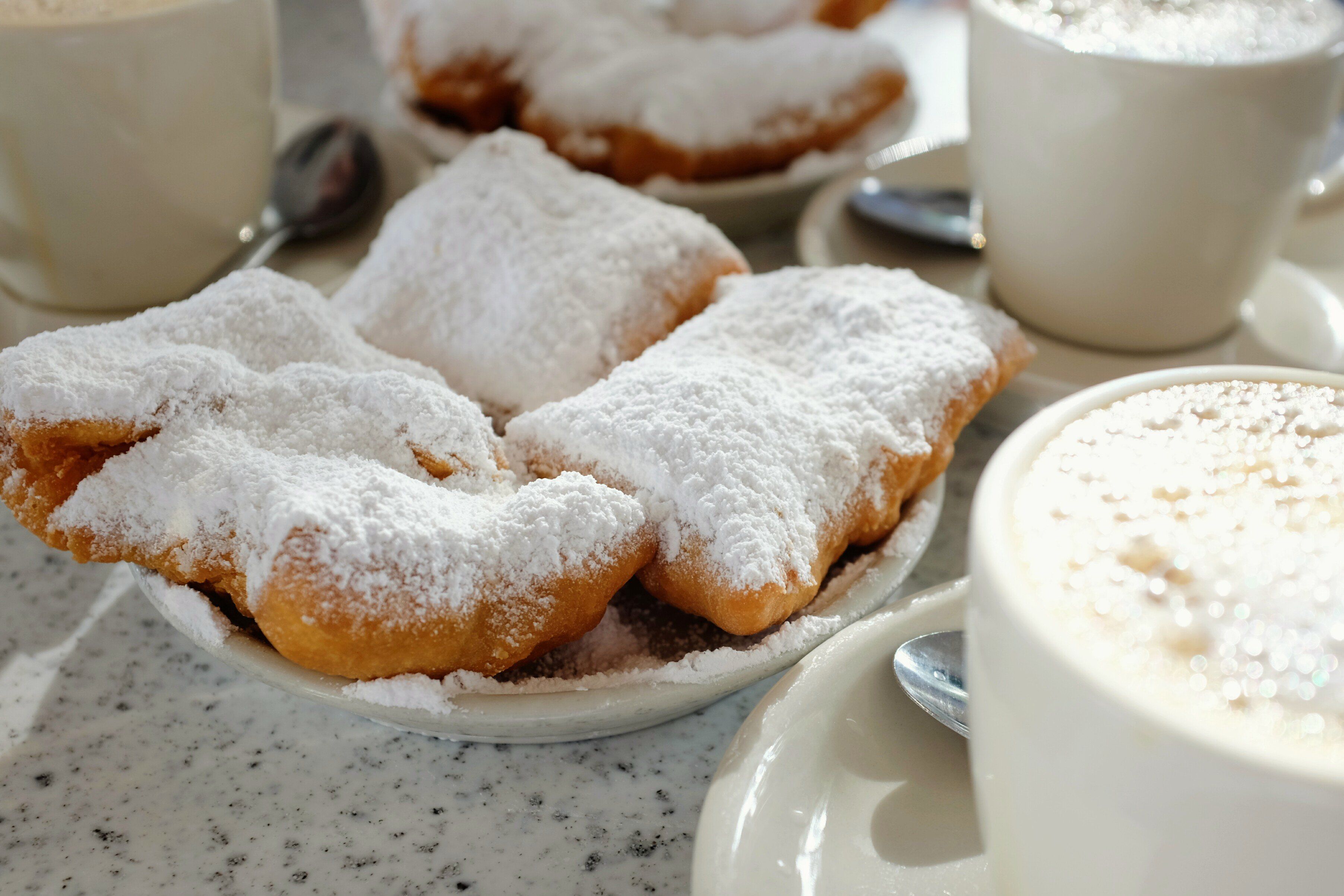 Photo Credit: Wikimedia / CC BY-SA 4.0
Café Du Monde
No trip to New Orleans is complete without a visit to Café Du Monde, a city hot spot boasting a huge open-air patio on Decatur Street across from Jackson Square. It's the place to come for beignets, a square French pastry covered in powdered sugar. They're like a bite-sized funnel cake but better. Pair an order of beignets with a café au lait for the perfect mid-morning recharge after a wild night.
Brennan's
Nestled a block from Bourbon Street on Royal Street is Brennan's, a posh-but-accessible New Orleans staple since 1946. Here, you'll find some of the best authentic Creole food and a hip dining ambiance. The brunch menu is delicious and don't forget to order Brennan's world-famous bananas foster for dessert.
Red Fish Grill
The seafood lovers in your bachelorette party will want to make a stop at Red Fish Grill. Located right in the heart of Bourbon Street, this award-winning eatery packs an in-house oyster bar, a variety of locally sourced Gulf catch and one of the city's only hickory wood-burning grills.
Three Muses
When a high-energy dinner of delectable gastropub fare, craft cocktails and live music is in order, get down to Three Muses on Frenchmen Street. We love their signature Mama's Little Helper - a refreshing frozen sangria infused with ginger and matcha tea.
The Bars
Let's face it: You and your gals are in New Orleans to party like rock stars before your big day. You're in the right place. Even Mick Jagger will be jealous of your group when you throw down at these fine party-hearty establishments.
Tropical Isle
As you start the evening, head to Tropical Isle on Bourbon Street for hand grenades to go. First created for the 1984 Louisiana World Exposition, a hand grenade is a melon cocktail served in a plastic yard glass container for optimal portability. They're a staple in the French Quarter where you can legally walk with an open container on Bourbon Street, and you'll see tons of revelers with hand grenades throughout the night.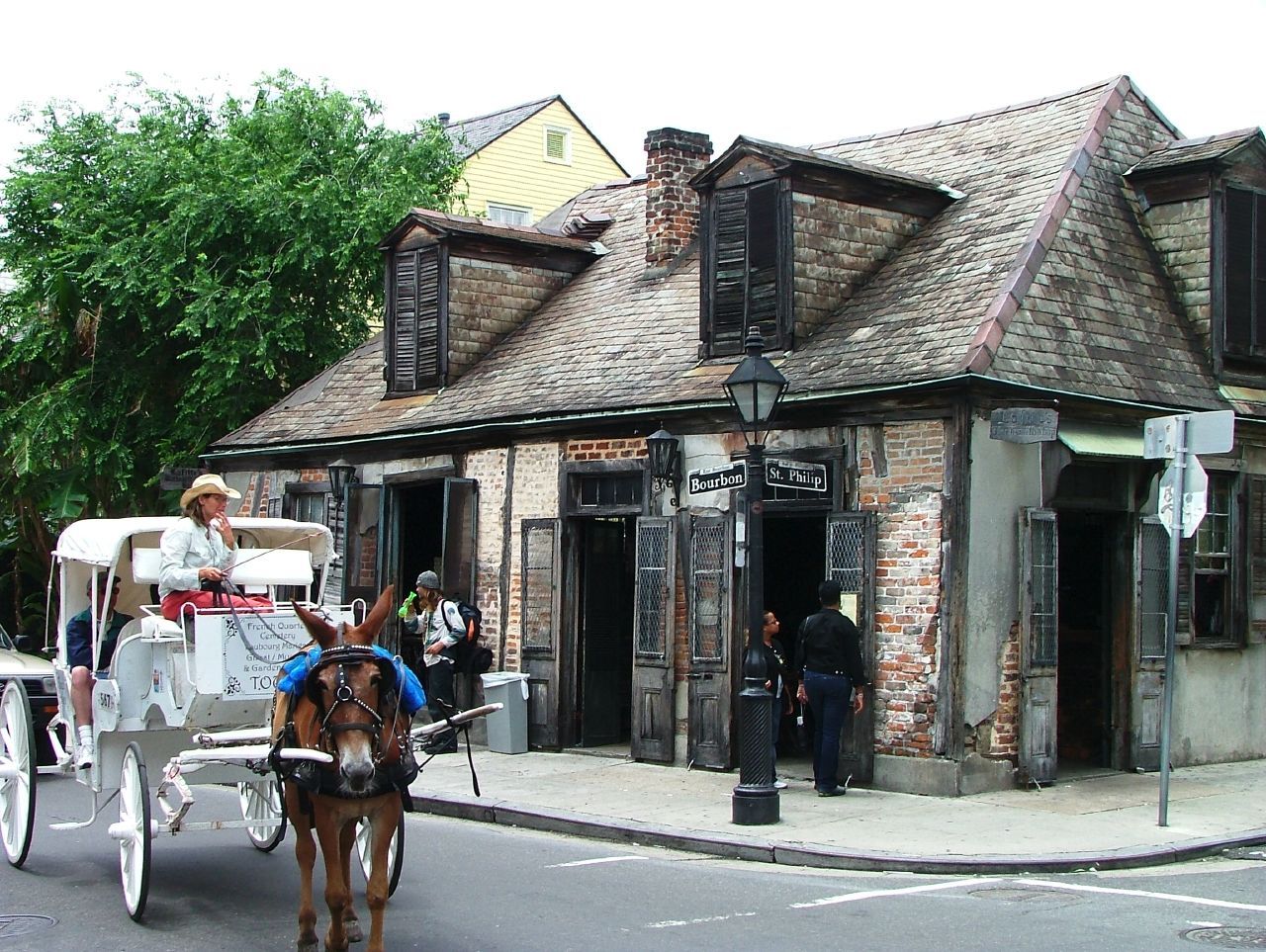 Photo Credit: Wikimedia / CC BY 2.0
Lafitte's Blacksmith Shop
A cool, rustic shed with an ambiance recalling a pirate ship, Lafitte's Blacksmith Shop on the corner of St. Philip Street and Bourbon Street goes back to the 1770s and is reportedly the oldest bar building in the U.S. The vibe here is super New Orleans - dark, mythical and a little spooky. When you want a break from the bright lights and large crowds, come here to enjoy a mellow cocktail and piano music by candlelight.
Cat's Meow
A rollicking karaoke bar with ample seating and two outdoor balconies overlooking Bourbon Street, the Cat's Meow is a super fun destination for drinks and sing-along debauchery. With a catalog of over 1,000 hits, your group is sure to find a karaoke favorite. They even videotape performances.

French Quarter partiers sing karaoke at the Cat's Meow. Source: Shiran De Silva
And if you need a little liquid courage before hitting the stage, the Cat's Meow offers a daily three-for-one happy hour until 8 p.m.
La Riviera Poolside Bar at Omni Royal Orleans Hotel
Many French Quarter bars have balconies, but a rooftop takes it to the next level. And that's what your group will love about the Omni Royal Orleans Hotel and its La Rivera Poolside Bar. Located on St. Louis Street, the La Riviera Poolside is a rooftop oasis on the hotel's seventh floor. Head here at dusk for daiquiris and wine while soaking in the spectacular views of the French Quarter and Mississippi River.
The Nightlife Entertainment
The French Quarter is a lot more than top-notch restaurants and bars. It's one of the most culturally lit places in the U.S., and there's a lot of great entertainment outside of the bar scene. Here are a few diverse options if your bachelorette party wants to take in a show, try a hand of Omaha Hi-Lo poker or get a good scare.
Preservation Hall
This iconic Bourbon Street live music venue goes back to 1961 with the mission to protect, preserve and perpetuate traditional New Orleans jazz music. Preservation Hall hosts several performances each day by a house band playing some of the best classic jazz on the planet. Even if your bride squad isn't fanatical about saxophone blaring be-boppers, this is a special place worth visiting because of its important mission in New Orleans culture.
Slot and Poker Casinos
Casinos are highly social places to see and to be. In other words, they're the perfect joint for bachelorette parties. New Orleans is home to five large casinos featuring exciting slots and favorite table games like blackjack, poker and roulette. But consider brushing up on your poker game strategy and slots approach before hitting the Texas Hold 'em table or spinning the reels for the leg up on the competition.
Late Night Ghost Tour
Remember sitting around the campfire and telling spooky ghost stories as a kid? The Late Night Ghost Tour through the French Quarter multiplies that scary by a thousand. Offered by Royal Carriages, this ghastly trip begins with a walk down dark, narrow alleyways, as your guide explains the paranormal history of the French Quarter. At the sound of an ominous bell at 10 p.m., a horse-drawn carriage whisks you away to some truly frightening local destinations.
Now, you have the lowdown on some of the top French Quarter dining, drinks and entertainment options. Time to call the girls and let them know New Orleans is a go!