The King Cake has been a Mardi Gras staple for some 300 years at this point and is particularly beloved in New Orleans. The cake is usually a hollow circle drizzled with a delectable glaze and topped with colored sugar, with a plastic baby Jesus hidden somewhere within, but crafty New Orleanians have come up with infinite variations on the basic theme. You may have gotten a king cake from most of these popular establishments already, but you may find some unexpected treasures as you read further. You may even be able just to get a single slice of king cake to enjoy all by yourself.
From the totally traditional to the rather unexpected, here are some of the best bakeries, restaurants, and stores in the New Orleans area to get your king cake this season.

Where New Orleans Locals Go To Get King Cake
Caluda's King Cake
1536 River Oaks Rd. W., Harahan
504-662-1192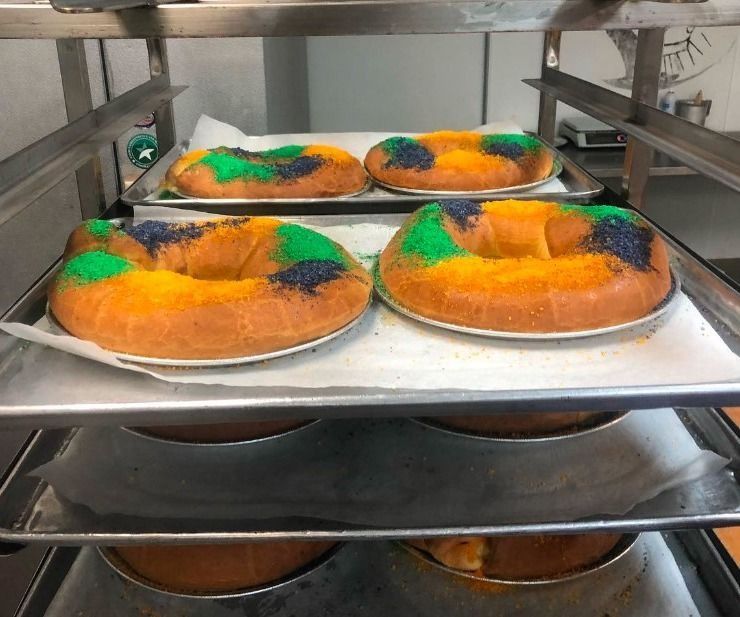 Caluda's king cakes are soft, decadent, and delicious, and come in such fun flavors as strawberry cream cheese and praline cream cheese, as well as classic cinnamon.
They even have a Saints king cake in case you want to celebrate our team's big win yesterday. Check Caluda's website for a different "Flavor of the Week" special, every week until Mardi Gras. Their chocolate chip cookie dough variety just might be one of the best things you've ever eaten.
Rouses Market
Various Locations
985-447-5998

rouses.com
This local marketplace offers a variety of king cakes to satisfy your sweet tooth. Their many options include strawberry cream cheese, plain cream cheese, Bavarian cream, praline, apple, or the traditional cinnamon king cake.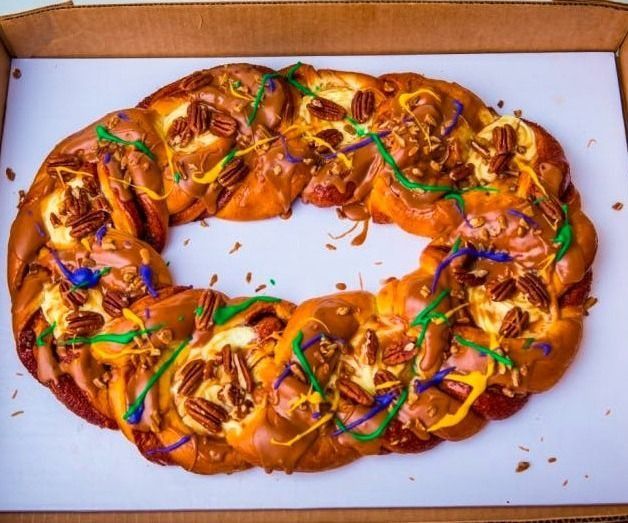 Antoine's Famous Cakes
1300 Stumpf Blvd, Gretna
504-368-6222

antoinesfamouscakes.com
Antoine's Famous Cakes is located on the Westbank and is known for their queen cakes. This cake is truly fit for a queen and stands out from the king cake by adding all the fillings (cherry, pineapple, cream cheese, apple, and lemon) in a single, larger-sized cake.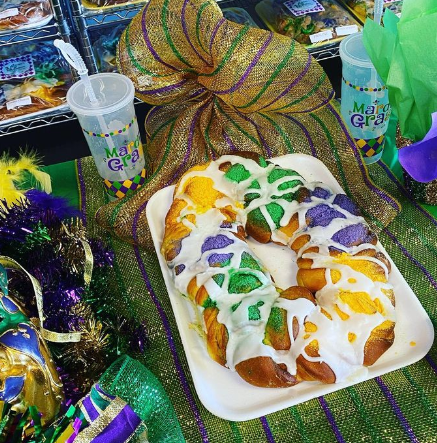 Adrian's Bakery
4710 Paris Ave.
504-875-4302
adrians-bakery.com
This small bakery provides some of the freshest cakes in the city, including both double- and single-filling options and a sugar-free version that's still decadent and delicious.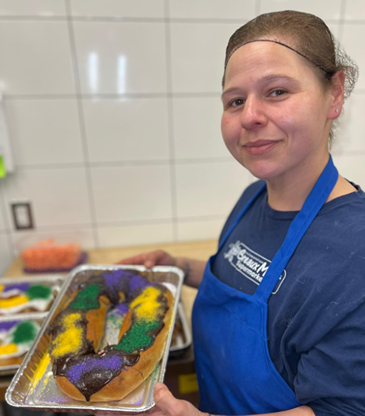 Breaux Mart
Various Locations
504-262-6017

breauxmart.com
This beloved local grocery chain is selling king cake at all five of its locations, including a unique "Mudslide" version with a delicious, one-of-a-kind filling.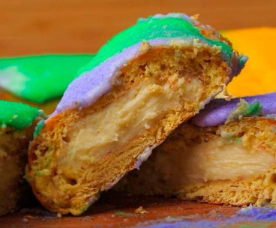 Gambino's
4821 Veterans Memorial Blvd, Metairie
(504) 885-7500

gambinos.com
This world-famous bakery specializes in delectable king cakes, and they offer a number of variations, including bite-sized king cake balls and double-filled options including blueberry/cream cheese and strawberry/Bavarian cream.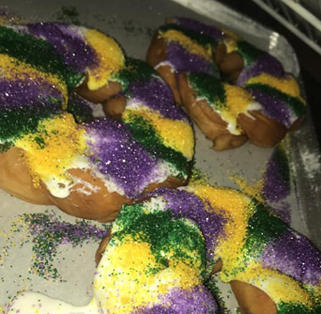 Blue Dot Donuts
4301 Canal St.
504-218-4866

bluedotdonuts.com
This donut spot was founded by three NOPD officers, offers 40 to 50 varieties daily, and takes pride in their maple bacon king cake, which you'll have to special order.
The Buttermilk Drop
1781 N. Dorgenois St.
504-252-4538

buttermilkdropbakery.squarespace.com
This place has unique donut holes and pastries, but they also do a killer king cake, stuffed with cream cheese, strawberry, or just about anything else you want.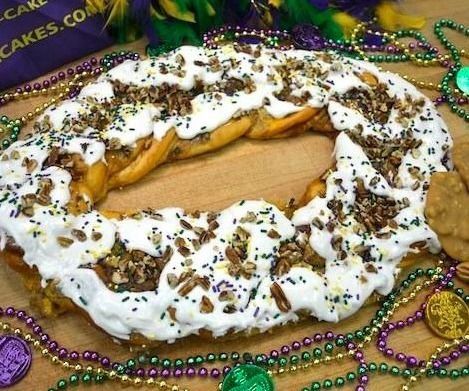 Manny Randazzo King Cakes
3515 N. Hullen Street, Metairie
504-456-1476

randazzokingcake.com
Manny Randazzo is a second-generation baker, and his family has been making king cakes since 1965. Their time-tested recipe has earned their praline pecan cake awards as the "King of the King Cakes," and this family business is open to shipping cakes on special occasions.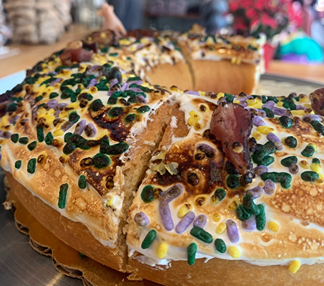 Cochon Butcher
930 Tchoupitoulas St.
504-488-2123

cochonbutcher.com
Cochon may be better known for their delicious meats, but they do sweets just as well. They offer a few sizes and flavors of cake, including cinnamon and strawberry, and substitute a plastic pig for the baby.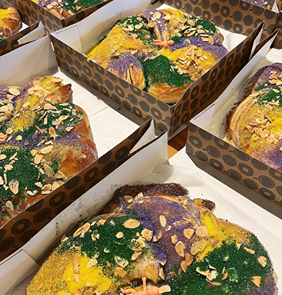 District: Donuts. Sliders. Brew
2209 Magazine St.
504-570-6945

donutsandsliders.com
District is the city's hippest and most bustling donut spot, and their king cake doesn't disappoint, with hand-mixed cream cheese icing and a vibrant color scheme.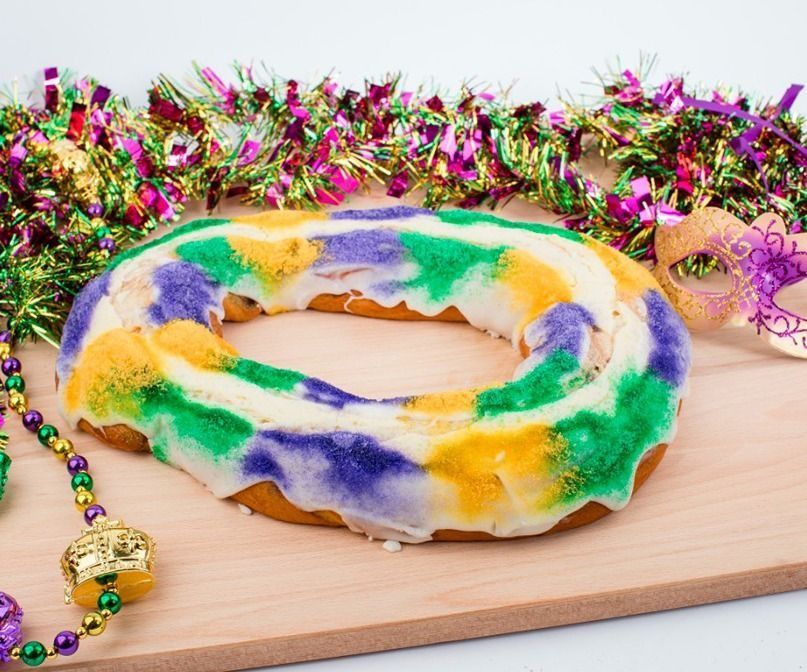 Haydel's Bakery
4037 Jefferson Hwy.
504-837-0190

This traditionalist king cake outlet uses lightly drizzled icing and a Danish recipe for their dough, and they'll ship you a package complete with a cake, beads, doubloons, and other Mardi Gras accouterments.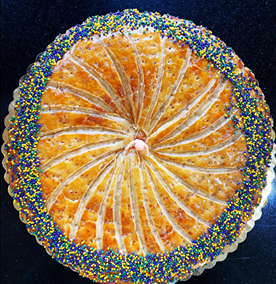 Maple Street Patisserie
7638 Maple Street
504-304-1526

cargocollective.com/maplestreetpatisserie
This bakery, run by master pastry chef Ziggy Cichowski, presents European takes on pastries, and their flaky, delicately crafted king cake is no exception.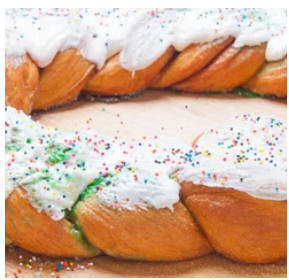 Nonna Randazzo's
22022 Marshall Road, Mandeville
985-898-2444
One of the Northshore's destinations for king cakes, Nonna's has three locations in Mandeville, Covington, and Chalmette, and offers a classic take on the classic cake.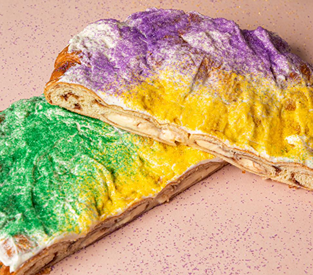 Dong Phuong's Bakeshop
14207 Chef Menteur Hwy.
504-254-0214

dpbakeshop.com
This bakery was one of the city's first Vietnamese bakeshops. Their signature king cake dough has a flaky crust with a soft and light center which results in a mouthwatering dessert.

Whole Foods Market
5600 Magazine St
(504) 899-9119

wholefoodsmarket.com
Whole Foods might not be the first place that comes to mind for authentic king cake, but their bakery is an underrated source of confections; try the version filled with Chantilly cream.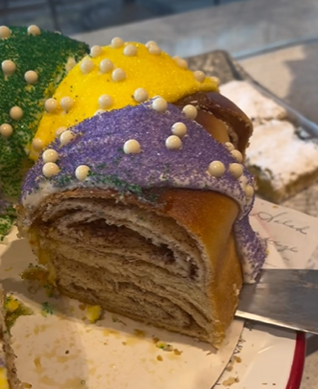 Willa Jean
611 O'Keefe Ave
504-509-7334

willajean.com
Willa Jean doesn't deliver, but it's worth trekking over to O'Keefe to grab one of their caramel crunch king cakes. Order your cake two days in advance, as they make them fresh to order You can also get just a slice for $5.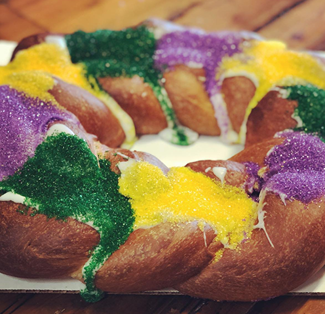 Tartine
7217 Perrier St.
504-866-4860

A great lunch spot in Uptown, Tartine also houses a killer bakery. Their king cake is a perfectly executed brioche with a delicious filling of brown sugar, cinnamon, and cream cheese.




Where To Get King Cakes This Mardi Gras Season
These places are at the top of the list when it comes to the best and freshest king cakes in town. And you may never even think about going to some of these places for king cake. It's best to check out the bakery or restaurant's social media and website if you're going there just for king cake. They may possibly sell out during the day. Like Al Johnson says, "It's Carnival Time! Everybody's having fun!"
Where does your favorite king cake come from? Let us know!
---