It's finally the time of year when you can indulge in some sweet, cinnamon-y king cake! The traditional New Orleans confection is supposed to be eaten only during carnival season from Twelfth Night to Mardi Gras Day, but that still doesn't stop some people from enjoying it all year long. The king cake wars are real, and it's hard to choose a favorite with all of the options available. These bakeries tend to be the top of the list when it comes to talking about who makes the best king cake.
The Best King Cakes NOLA Has To Offer
If you'd like to get a super fresh king cake straight from the bakery, these are the most popular spots in town to find one.
1.

Haydel's Bakery
4037 Jefferson Hwy (800) 442-1342, haydelsbakery.com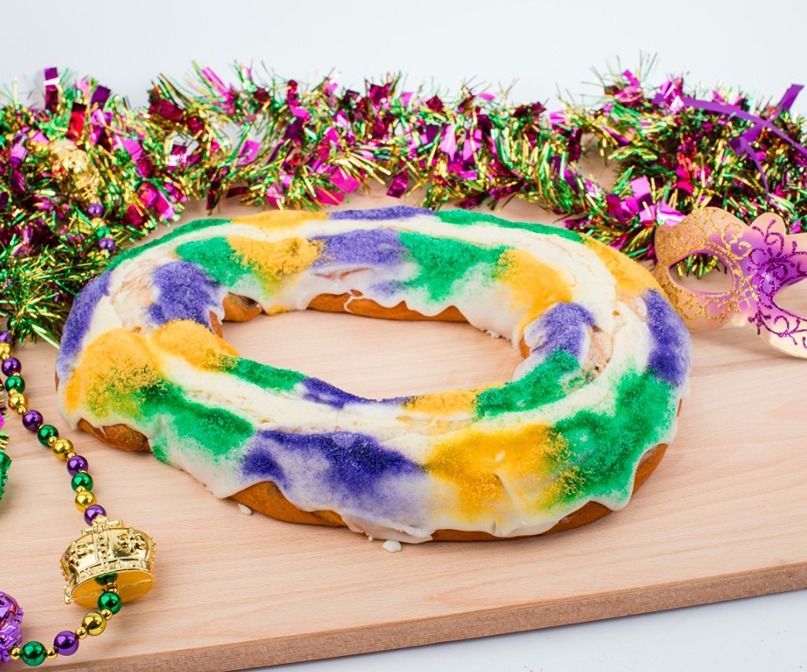 Starting on Twelfth Night, there will be a daily line outside of Haydel's Bakery in Old Jefferson. People swear that Haydel's is the ultimate traditional king cake even though they offer a wide variety of flavors. Haydel's begins their king cakes by making a Danish dough and hand-braiding it with cinnamon and sugar before baking it. It can be topped with icing, but you can choose to have no icing. In the past, the bakery has infused some of the king cakes with Jameson Whiskey and Kahlua!
If you want to have a little more excitement in your king cake, try one of the flavored fillings: praline pecan, cream cheese, strawberry cream cheese, German chocolate, and brownie chocolate chip. Another style is Da Parish King Cake: the king cake is baked with the sugar on top to make a really crispy crust.
2.

Dong Phuong Bakery
14207 Chef Menteur HWY. (504) 882-9878, dpbakery.com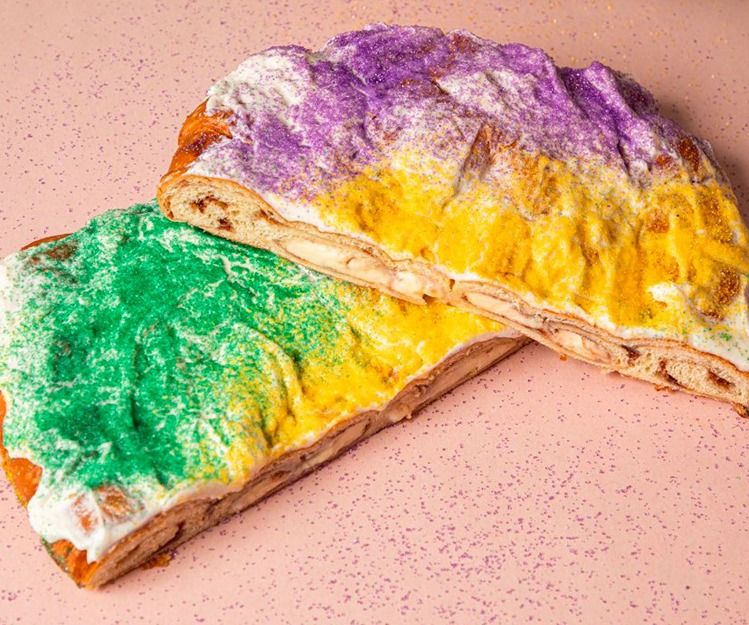 The line for Don Phuong king cakes got so long that the little New Orleans East Vietnamese bakery that they had to get their cakes shipped out to be picked up at other locations. The original cinnamon king cake is the most popular item, but Don Phuong also offers cream cheese, pecan, strawberry, almond, and, my favorite, coconut.
Just note that there is a limit of 5 king cakes for online orders and 3 king cakes for walk-in purchases. The bakery opens at 8 a.m., but they are likely to sell out of all king cakes for the day before noon.
3.

Manny Randazzo King Cakes
3515 N. Hullen St. (504) 456-1476, randazzokingcake.com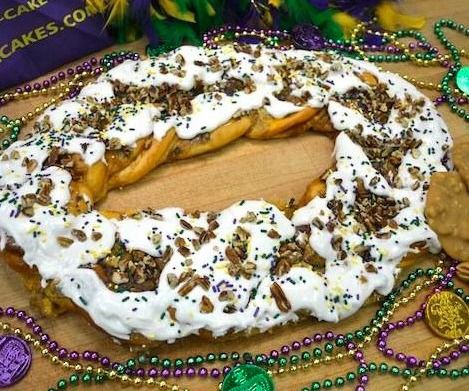 Manny Randazzo and his family had a traditional bakery for decades, but the king cakes were so popular that they decided to devote all their time to making them. The Christmas king cakes are sought after for holiday parties. But the real fun kicks off each January 3rd when they start serving Mardi Gras king cakes. The little Metairie bakery often has a line stretching from the counter down the sidewalk.
Randazzo's has traditional and cream cheese in various sizes, but the Royal King Cake is too good to pass up. It has one section each of strawberry, lemon, and apple filling so that you can get a sampling of excellent flavors all in one. You can really taste the entire history of king cakes with every bite of a Randazzo's king cake.
4. Debbie Does Doberge at Bakery Bar
1179 Annunciation St. (504) 210-8519, debbiedoesdoberge.com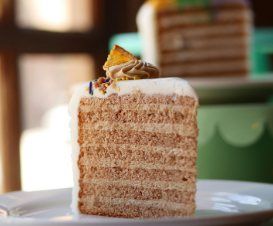 There's something so heavenly about a melt-in-your-mouth, painstakingly-crafted doberge cake. The delicate confection is made from thin layers of cake alternated with rich layers of pudding to make for an ooey-gooey sweet treat. Debbie Does Doberge proudly combined the traditional doberge cake with the seasonal king cake to create something entirely new. And you can pick one up at Bakery Bar by the cake or by the slice. Those not in NOLA can have one shipped nationally via Goldbelly.
Debbie Does Doberge has two tantalizing options for you. The Cream Cheese King Cake Doberge is seven layers of cinnamon cake holding six layers of cream cheese pudding which are then covered in cream cheese-poured fondant dusted in purple, green, and gold. The Café Brulot King Cake is an homage to the fiery Café Brulot ritual at locals restaurants: cinnamon cake is layered with Café Brulot pudding and then finished with cream cheese icing, coffee buttercream, dehydrated orange slices, and cinnamon cake crunch.

5.

Sucre
3025 Magazine St. (504) 571-5323, shopsucre.com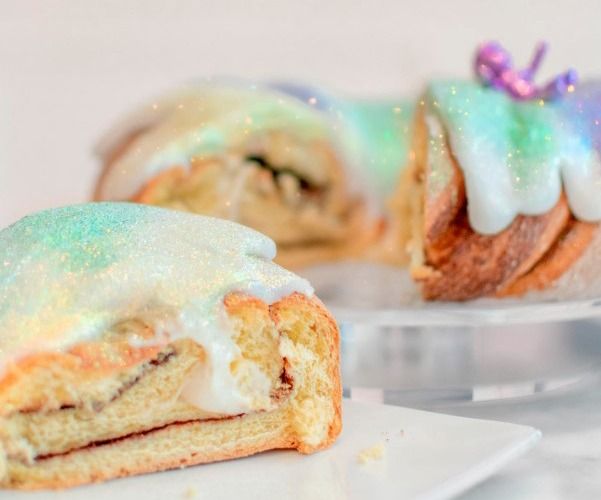 Sucre is a quaint confectionary located along busy Magazine Street, and they specialize in everything that can be made with sugar and edible glitter. For the carnival season, Sucre releases king cakes that have a slightly more cake-like bread topped with beautiful white icing and glittering colored sugar. It's one of the prettiest king cakes you will ever see, and they're always bakery-fresh.
Sucre is happy to share their king cakes and other confections with the entire country. They offer nationwide shipping so that you can send some Mardi Gras joy to your loved ones.
6.

Caluda's Bakery
1536 River Oaks Road West (504) 218-5655, kingcakeshop.com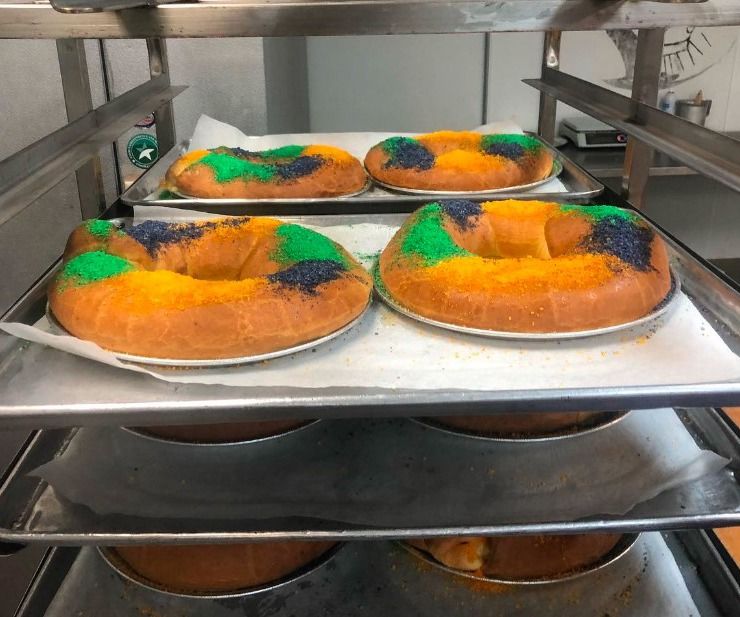 Caluda's is happy to feed your king cake fix year-round (even though some say you shouldn't eat king cake outside of carnival season). They can also ship king cakes across the country through their online ordering system. This Harahan-based bakery is headed by Chef John Caluda who is also known for the Crawfish Strudel dish found at area festivals. Clearly, he's open to making non-traditional food that people can't get anywhere else.
In addition to the traditional king cake, with or without icing, you can opt for a cream cheese-filled king cake or a delicious praline cream cheese-filled king cake. Have you ever had a strawberry-filled king cake? This might be the year!
7.

Joe Gambino's Bakery
4821 Veterans Memorial Blvd. (504) 885-7500, gambinos.com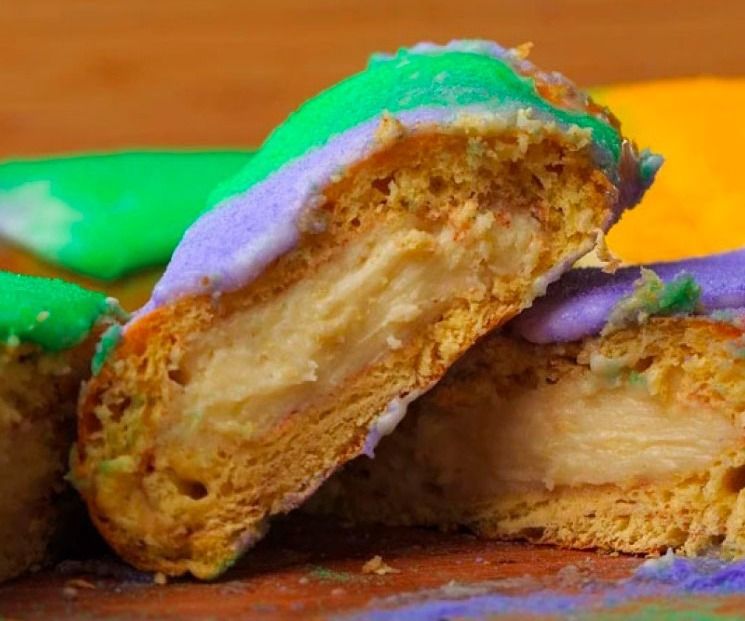 Joe Gambino's Bakery is the go-to luxury bakery for people wanting a classic doberge cake, especially the half-lemon/half-chocolate kind. But their king cakes also bring customers in when it's the right time of year. Gambino's happily serves king cake year round, however traditionalists will wait for carnival season.
Gambino's has a basic king cake, but you can choose to have no filling, one filling, or two fillings. Praline, strawberry, or chocolate goes great with cream cheese. The fig filling and almond wedding cake filling are show-stoppers!
8.

Gracious Bakery
Multiple Locations, graciousbakery.com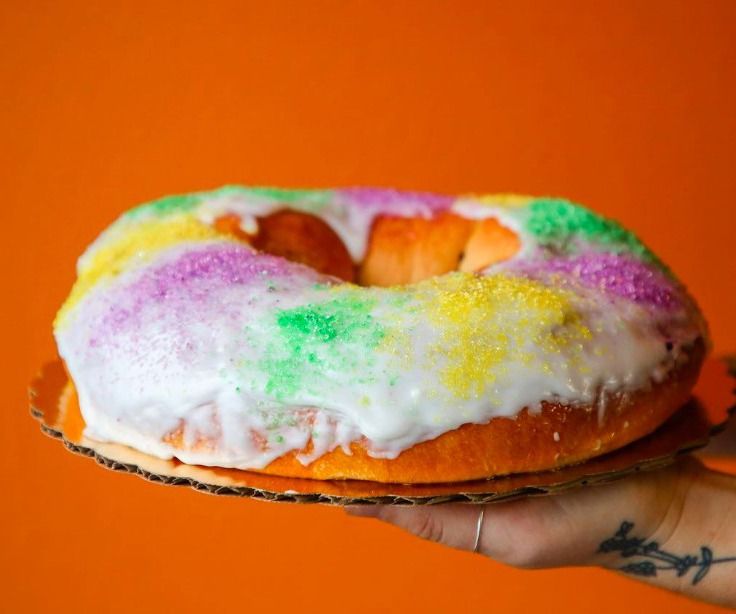 There are three locations of Gracious Bakery ready to serve you something truly unique: Uptown (4930 Prytania St.), Garden District (2854 St. Charles Ave.), and Mid-City (1000 Norman Francis Pkwy.). The locals love Gracious Bakery's king cakes, or should I say Galette des Rois, because these cakes are made in a very old style. A flakey puff pastry is filled with smooth almond cream. This special king cake comes with porcelain feve instead of a plastic baby.
If you want to reserve your king cake in advance (which is advised because they can sell out), you need to have your order in 48 hours before your pick up time.
9.

Antoine's Famous Cakes & Pastries
1300 Stumpf Blvd. (504) 368-6222, antoinesfamouscakes.com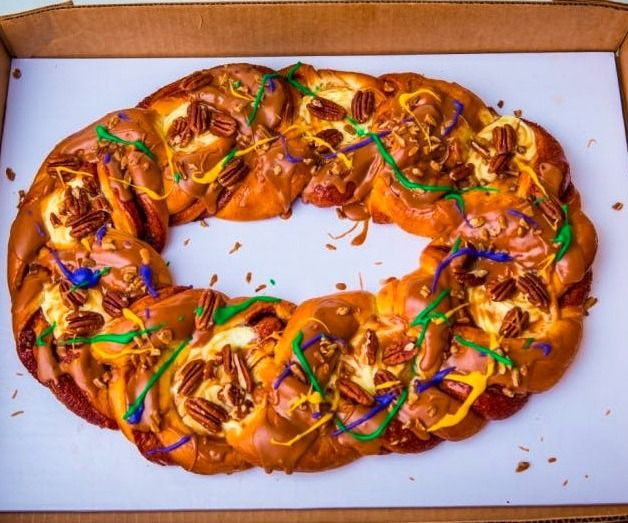 While there is a Metairie location, the Gretna location of Antoine's Famous Cakes is always packed during carnival, though the bakery can make their cakes year-round and ship them throughout the U.S. Antoine's didn't just get famous for their king cakes. They're well known for their queen cakes which are fit for royalty!
The signature Queen Cake has five flavors in one cake; each flavor has its own section. You can take a bite of apple, cream cheese, lemon, pineapple, or strawberry filling. Adventurous eaters like to stack the flavors for one very interesting mouthful.
10.

Bittersweet Confections
725 Magazine St. (504) 523-2626, bittersweetconfections.com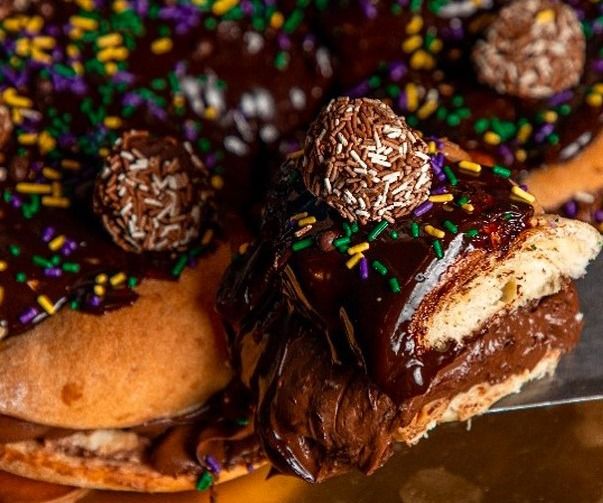 Bittersweet Confections is more than a bakery. They've got a full breakfast menu, a great lunch menu, and custom cakes for all occasions. When Mardi Gras rolls around, the king cakes are the most popular item. Bittersweet Confections is particularly proud of their chocolate king cake that has chocolate on the inside and chocolate icing on the outside.

If you don't like regular king cake, you can still enjoy the season with a typical cake that has been beautifully decorated with Mardi Gras colors. It will be so tasty that no one will lodge a complaint about it not being traditional.
11.

Hi-Do Bakery
439 Terry Pkwy. (504) 366-6555, facebook.com/hidobakery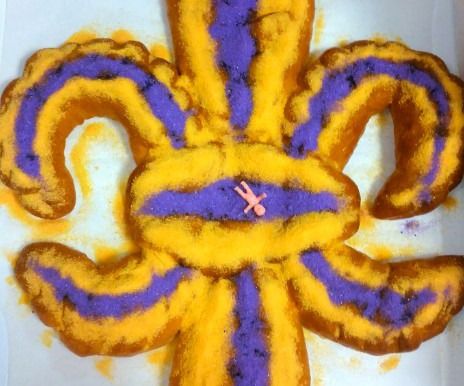 New Orleans natives will often say that Hi-Do Bakery's traditional king cake is reminiscent of McKenzie's king cakes. It's simple and sweet, and that's all you really need. Hi-Do Bakery has also been known to make single-serving croissant versions of their popular king cake. Those would be great for an office gift so that you can skip cutting one large cake into slices.
Maybe what makes Hi-Do's king cakes so good is that the founder Mr. Ha Do immigrated to the U.S. and eventually settled in New Orleans. He asked his customers exactly what they wanted, and he made his confections and pastries to their liking.
The Most Popular King Cake Bakeries in New Orleans
If you can't find your favorite king cake at one of these bakeries, then you may not be a big fan of king cake. There's a reason that these places are always packed during Mardi Gras; they love making king cakes, and they put their own spin on this local treat so that they can stand out among the crowd. They are all a part of the amazing history of king cakes and will be for years to come!
Did we miss the best king cake bakery in town? Let us know what it is and what's so good about their king cake.