King Cakes are a huge business. Even though they've been made for hundreds of years during carnival season, there's been a massive increase in king cake sales in recent years. Perhaps that's due to the amount of king cakes being shipped across the country and more people learning about them. Perhaps social media has made them more popular than ever. There have even been king cake cocktails and burgers! Whatever the cause, king cakes are king during January and February.
Since it has been increasingly difficult to buy a whole cake due to the increase in shipping them, a lot of people have been asking where they can just buy a single slice. The following bakeries and cafes are happy to give you a single serving of the best king cakes in New Orleans.
Places With Slices of King Cake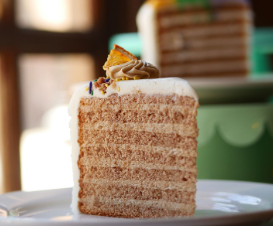 1.

Debbie Does Doberge
1179 Annunciation St. (504) 210-8519, debbiedoesdoberge.com
There's something so heavenly about a melt-in-your-mouth, painstakingly-crafted doberge cake. The delicate confection is made from thin layers of cake alternated with rich layers of pudding to make for an ooey-gooey sweet treat. Debbie Does Doberge proudly combined the traditional doberge cake with the seasonal king cake to create something entirely new. And you can pick one up at Bakery Bar or Debbie on the Levee in Kenner (2118 Reverend Richard Wilson Dr.) by the cake or by the slice.
Debbie Does Doberge has two tantalizing options for you. The Cream Cheese King Cake Doberge is seven layers of cinnamon cake holding six layers of cream cheese pudding which are then covered in cream cheese-poured fondant dusted in purple, green, and gold. The Café Brulot King Cake is an homage to the fiery Café Brulot ritual at locals restaurants: cinnamon cake is layered with Café Brulot pudding and then finished with cream cheese icing, coffee buttercream, dehydrated orange slices, and cinnamon cake crunch.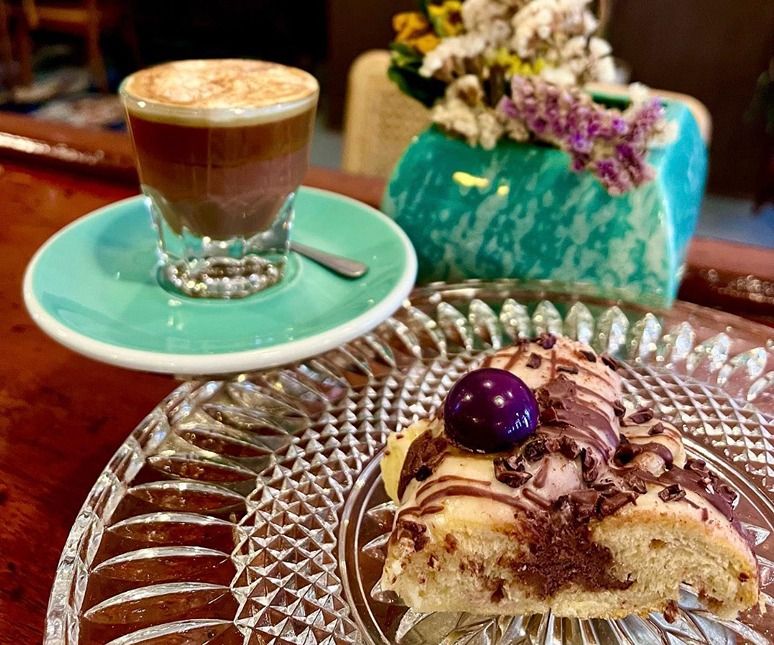 2.

Piety and Desire Chocolate
2032 Magazine St. (504) 799-1709, facebook.com/pietydesirechoc
Piety and Desire Chocolate made a name for making delicious little chocolate treats, but they've graduated into being a full-blown café. They proudly pioneered a special king cake called Da Krown that you can get by the slice at the café while you sip some hot coffee.
Da Krown is a creative king cake with earl grey tea and pink peppercorn dark chocolate ganache filling and local satsuma and orange blossom glaze. The top is then sprinkled with cocoa nib, pink peppercorn, bon bon beads, and candied kumquats. Piety and Desire does not ship their king cakes, so this little treat is a specialty made just for locals or anyone who will travel here just to get it.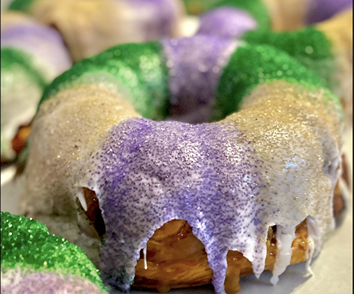 3.

Coffee Science
410 S Broad St. (504) 814-0878, coffeesciencetogo.com
Coffee Science is a cool coffee shop that has an emphasis on creating community through events, gourmet coffee, and pastries. This season, Coffee Science is selling three very delicious king cakes by the whole cake and by slices meant to be enjoyed over coffee drinks and conversation.
You have three choices for king cake flavors (and you really can't find these anywhere else): Venetian Cream, Chocolate Espresso, and completely unique Satsuma. All of the delicious king cakes are coated in a thin layer of glaze and dusted with purple, green, and gold sugar. The nice thing about these king cakes is there's not so much sugar on top that it takes away from the fantastic filling flavor.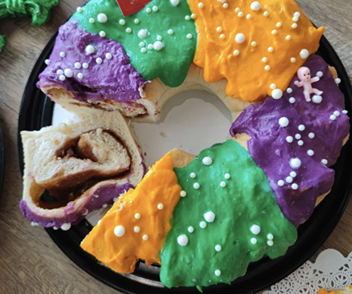 4.

Wishing Town Bakery and Café
Multiple Locations, wishingtown.com
Wishing Town started off in Metairie (3327 Severn Ave.), but they had to expand to a second location (802 Nashville Ave.) just to accommodate the mass amount of people who come here for lunch specials and to pick up pastries for parties and events. Though Wishing Town's king cakes are in high demand, slices are reserved on Friday, Saturday, and Sunday.
In addition to the traditional king cake, you can have yours filled with coconut, sweet red bean paste, or cinnamon and brown sugar. And for something totally different, The Char Siu King Cake is a brioche dough cake with teriyaki chicken filling and barbecue pork glaze.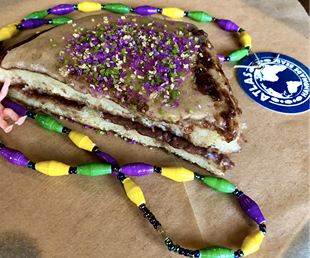 5.

Breads on Oak
8640 Oak St. (504) 324-8271, breadsonoak.com
Some years ago, Breads on Oak decided to totally go vegan with everything that they make. That's part of the reason that Breads on Oak's king cakes are in such high demand that they can sell out. The other part of the reason is that these king cakes are simply delicious and available by the slice when you go to the shop on Oak Street.
You can get a traditional non-filled king cake, but the flavored ones are just too good to pass up. Bavarian cream, cream cheese, strawberry cream cheese, and even a rich almond cream are your options for an amazing vegan king cake. When you order a whole king cake, an almond is hidden inside instead of a Mardi Gras plastic baby just to make things more natural.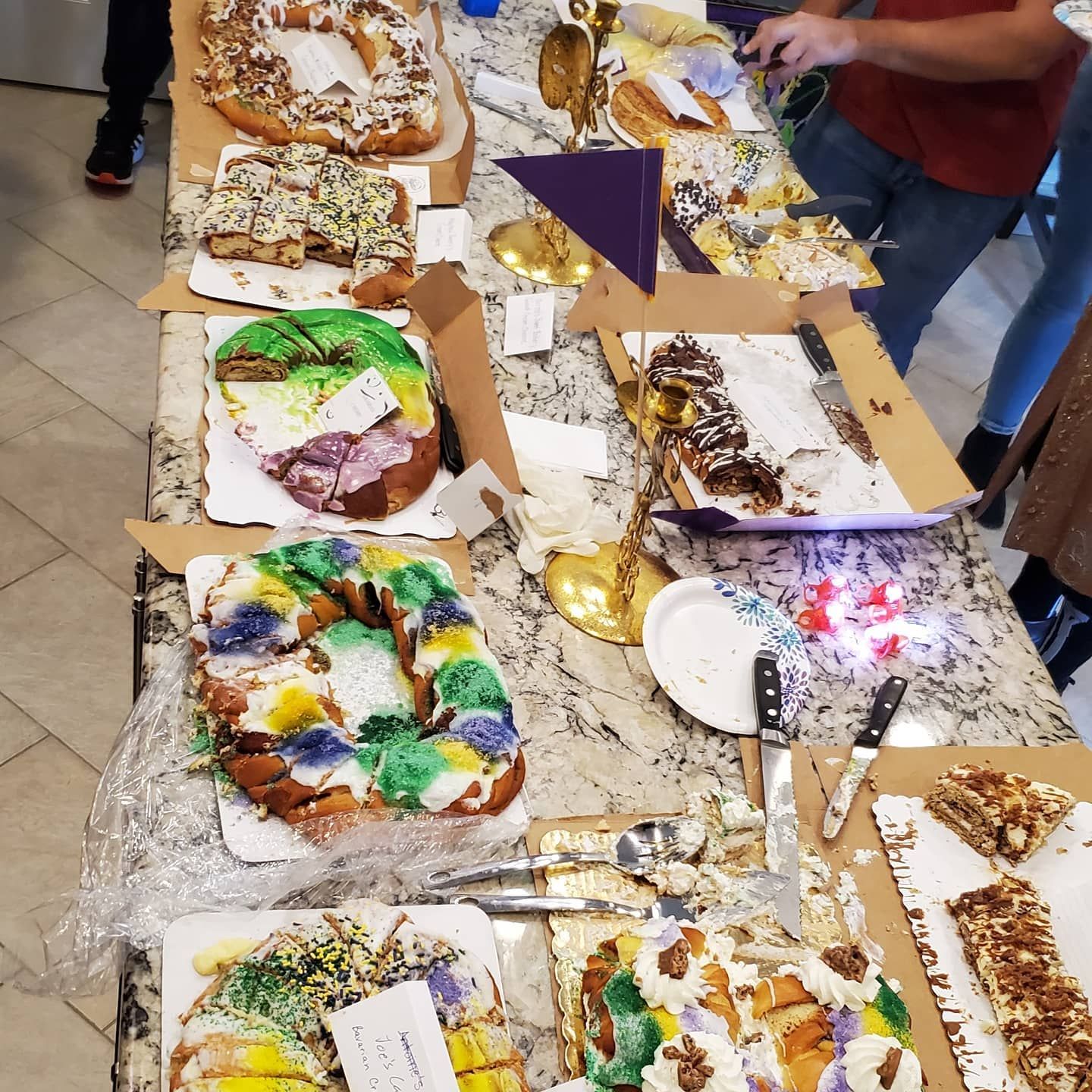 6.

Bywater Bakery
3624 Dauphine St. (504) 336-3336, bywaterbakery.com
Bywater Bakery does king cake a little bit differently. Instead of releasing one traditional king cake or even a few filled king cakes, they choose a different unique king cake to make each week. That way, you have to come back once a week to try all of their awesome flavors. They may even have some whole cakes when you arrive, but they are happy to serve it to you by the slice.
If you missed out on the Brownie Bomb and Bouille King Cakes, fret not! They've still got Apple, Lemon Cream, and Passionfruit coming out over the course of carnival season. Keep up with Bywater Bakery's social media to see what's currently in store.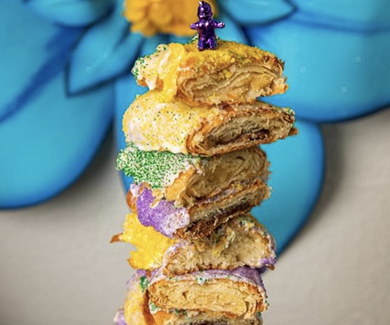 7.

The Sweet Life Bakery
516 Veterans Memorial Blvd. (504) 371-5153, sweetlifenola.com
The Sweet Life Bakery has more options that most other bakeries when it comes to fillings. In fact, they have over a dozen kinds. If you just want to try out some of these flavors, you can stop by the bakery and order a mini version which is just enough for one, or two if you have the ability to share this deliciousness.
Just some of the available fillings are apple ooey gooey, cherry, vanilla Bavarian cream, cake batter, bananas foster, chocolate almond, and strawberry ooey gooey. The Swirl is a blend of vanilla and chocolate Bavarian cream.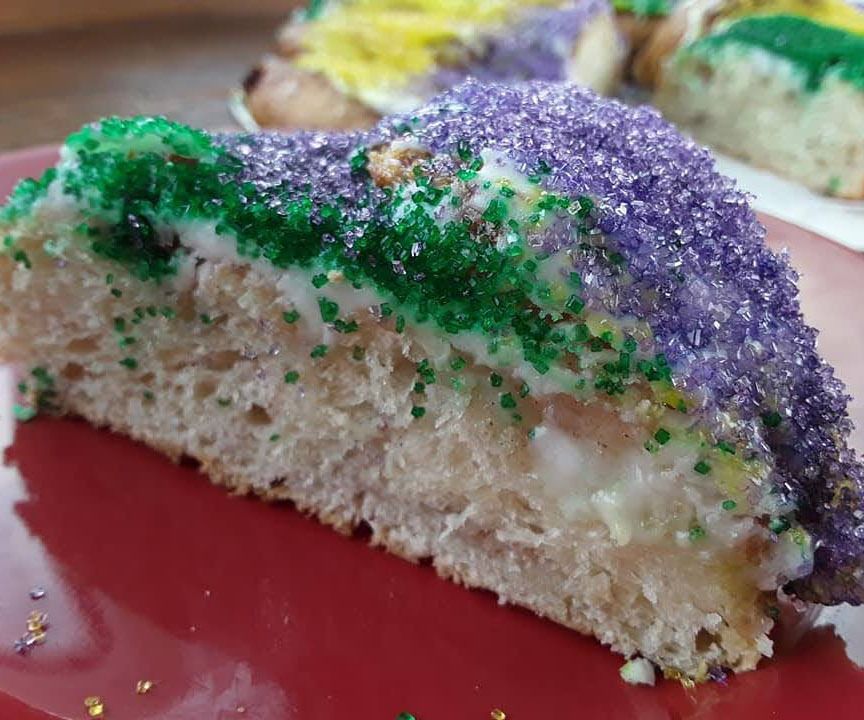 8.

Laurel Street Bakery
2701 S Broad St. (504) 897-0576, laurelstreetbakery.com
You've got to get up pretty early in the morning to catch a slice of king cake at the Laurel Street Bakery. Actually, the bakery is open until 1 p.m., but that's early in the morning to some people. Laurel Street bakery specializes in filled king cakes that are out of this world. It all starts with a dough that is a bit sweeter than traditional brioche, and then it gets wild from there.
The bakery's favorite king cake is Nutella filled, and they swear by it. Other fillings include praline, cream cheese, strawberry cream cheese, almond, and apple. Laurel Street Bakery strictly stops making king cakes on Mardi Gras Day, so you better get here fast if you want to try some.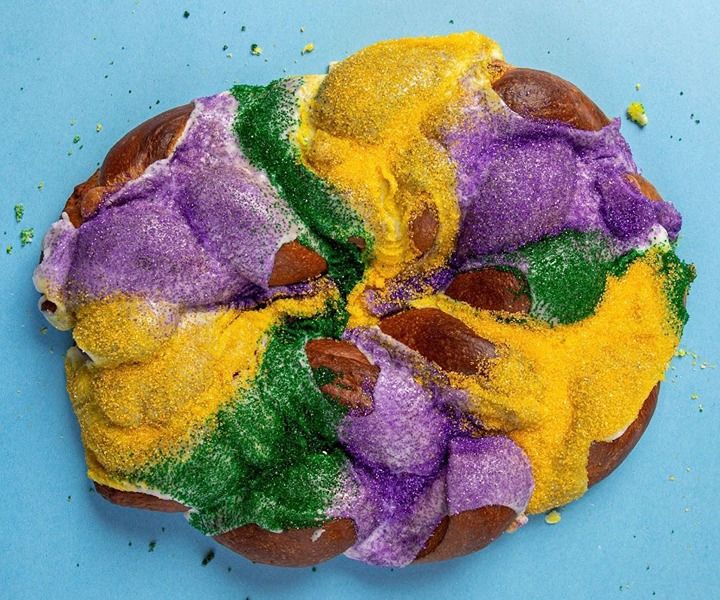 9.

Tartine
7217 Perrier St. (504) 866-4860, tartineneworleans.com
Tartine may only serve one style of traditional king cake, but it is so tasty that it can easily sell out. The hidden gem café serves breakfast, lunch, and coffee in the Black Pearl neighborhood, and they serve king cakes during carnival season that have turned into a hot commodity.
This king cake starts with a buttery brioche bread that is filled with cinnamon cream cheese and glazed with icing and sugar in purple, green, and gold. You'll have to stop by the café to grab a slice or pre-order a king cake to understand why this singular king cake has been racking up awards and causing a stir lately.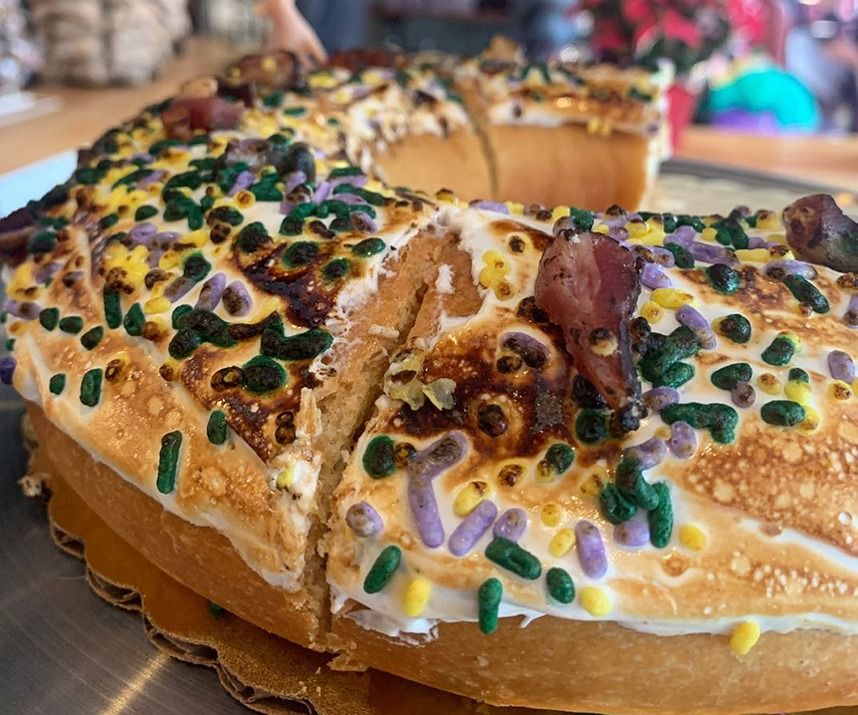 10.

Cochon Butcher
930 Tchoupitoulas St. (504) 588-7675, cochonbutcher.com
Upscale barbecue restaurant and meatery Cochon Butcher is selling slices of only one kind of king cake, and it's a hunka-hunka burnin' cake! You can get one slice of Elvis King Cake to go with your plate of meat. The Elvis King Cake is inspired by The King of Rock N' Roll's favorite food: a peanut butter and banana sandwich. This king cake has peanut butter and roasted banana filling and is topped with house-cured bacon.
If you can't help falling in love with the Elvis King Cake, you may be able to get a whole cake to share with your friends and family. Just don't be surprised if the cake has left the building for the day though. It's in high demand. Thank you, thank you very much.
Where to Get King Cake By The Slice In New Orleans
We hope that these bakeries make your list of places to go to get a single slice of king cake. Don't be disappointed if they're all sold out. King cakes are such a big business now that local businesses can hardly keep up with the demand.
What's the best king cake in New Orleans? Let us know what it is, and why's it's better than the rest.