Along a rural highway in Acadia Parish, just off the side of the road, sits a giant 30-foot replica of a guitar. It is hand-built out of wood, hand-painted, and, normally, this colossal guitar has a companion beside it: an enormous 10-foot-tall wooden accordion. The accordion, built to scale, is precisely eight times larger than an ordinary accordion, complete with buttons and bellows. Both of these instruments usually sit in front of the Mouton Music store in Crowley—a local shop where you can buy an accordion or a guitar, take a lesson, get various music supplies, or simply have a tour to learn about accordions or even see one being made.
However, the giant wooden accordion has fallen on disrepair—damaged by hurricanes, rain, and other typical Louisiana elements—and while the Mouton family works on restoring it and putting it back on display once again, they keep it hidden out back, behind the shop.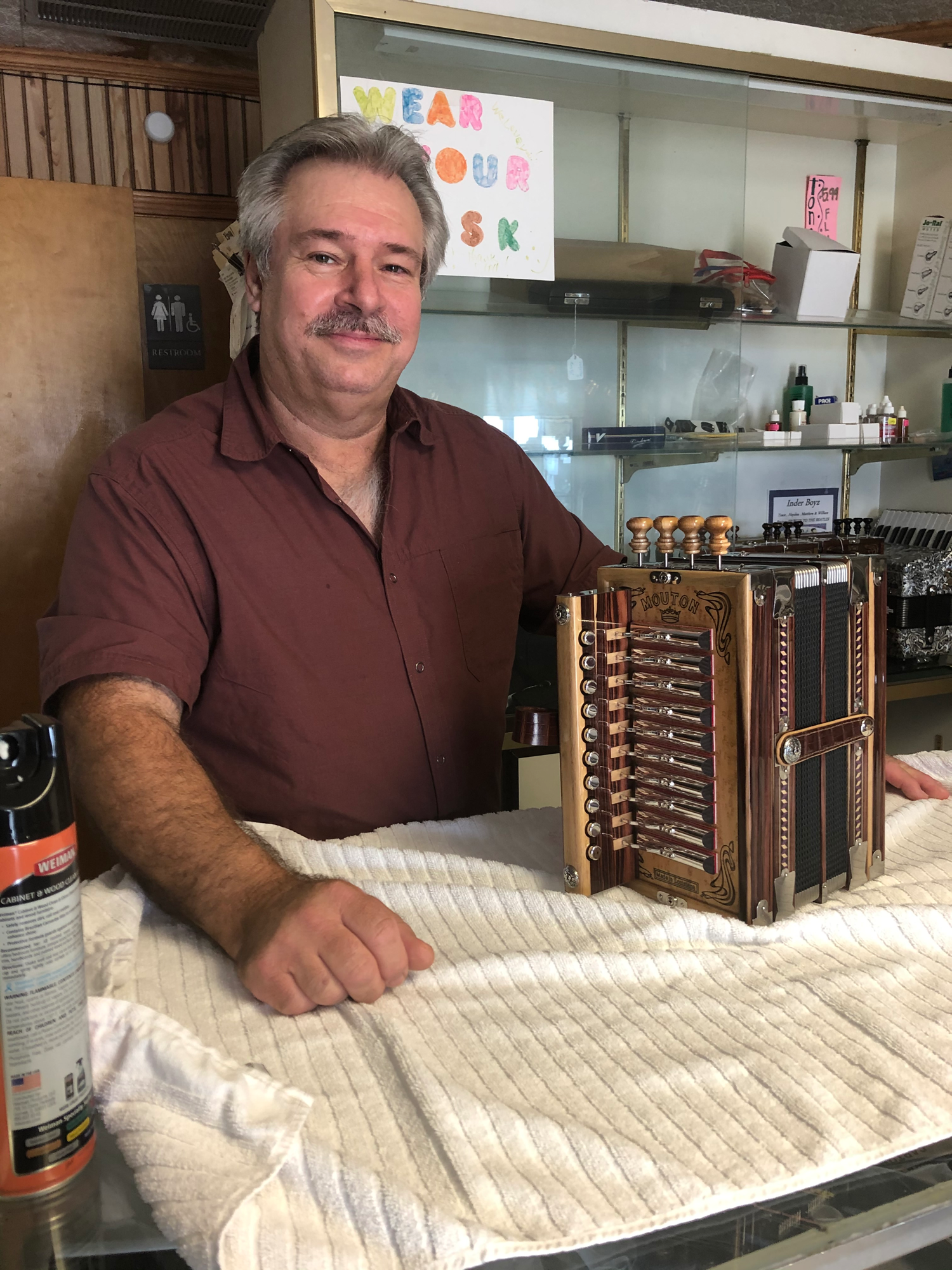 Greg Mouton—musician, accordion player and builder, music teacher, and owner of the store—explains that he was inspired to build these oversized replicas because of the roadside attractions along Route 66. This motivated him to build a roadside attraction of his very own. "You'd go vacationing, back when there was culture in this country, and there was a giant artifact in front of a lot of these places," he explains. "If you had a boot shop, you had a giant boot in front of it. And so that was what made me do it."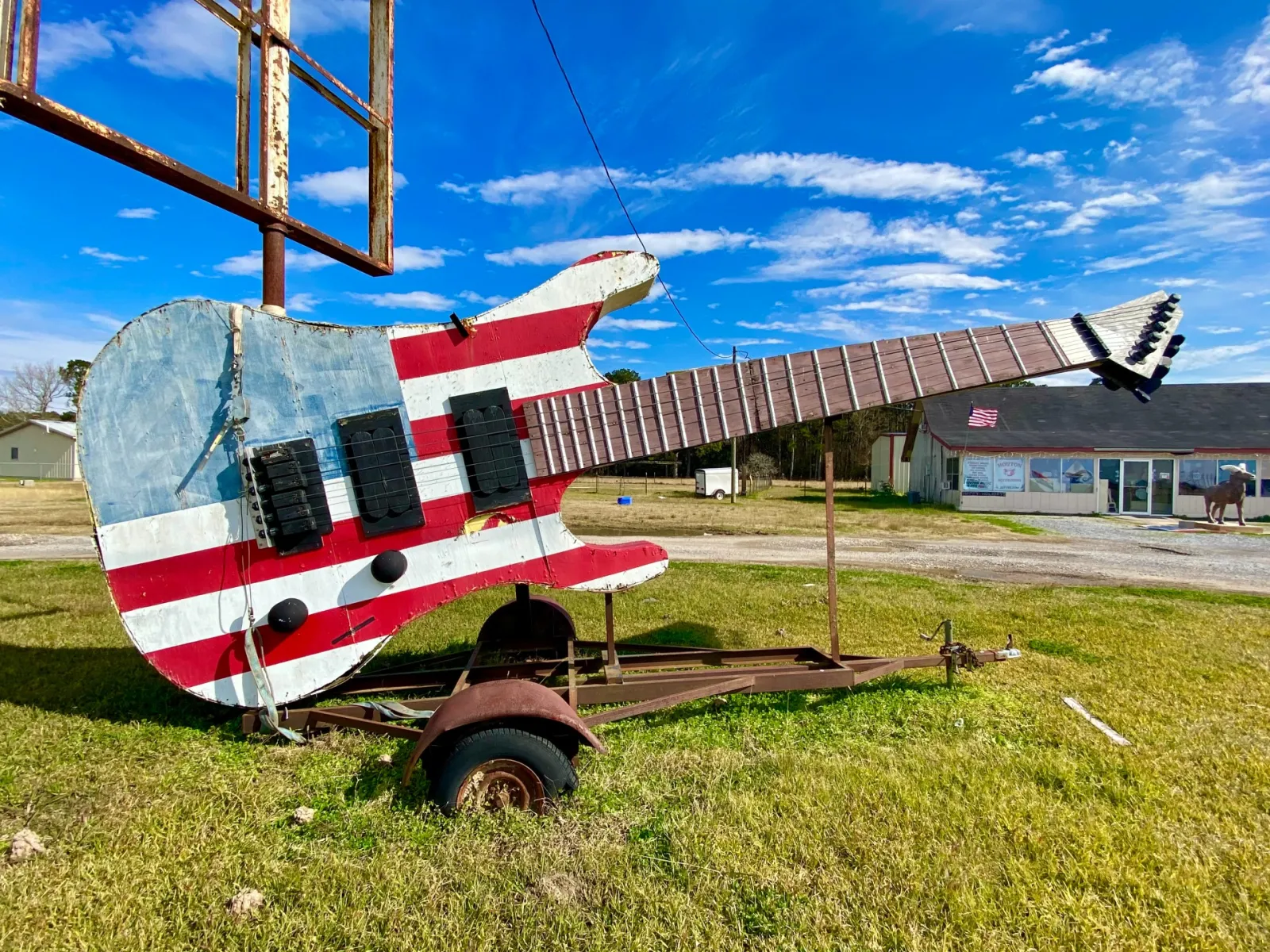 But Mouton didn't expect the giant accordion to be as much of a hit as it was. It was only meant to be a temporary installation, so it wasn't built to last—he didn't use pressure-treated wood, didn't weather-proof it.
"We built that, and we never thought it would be something that was going to be a permanent thing," he says. "But everyone loved this thing so much, and it got so much attention, that we decided we were going to make it a permanent fixture in front of the shop." Sometimes, the accordion would even travel—they would put it on a trailer and bring it downtown when playing a concert there or show it off on floats in certain parades.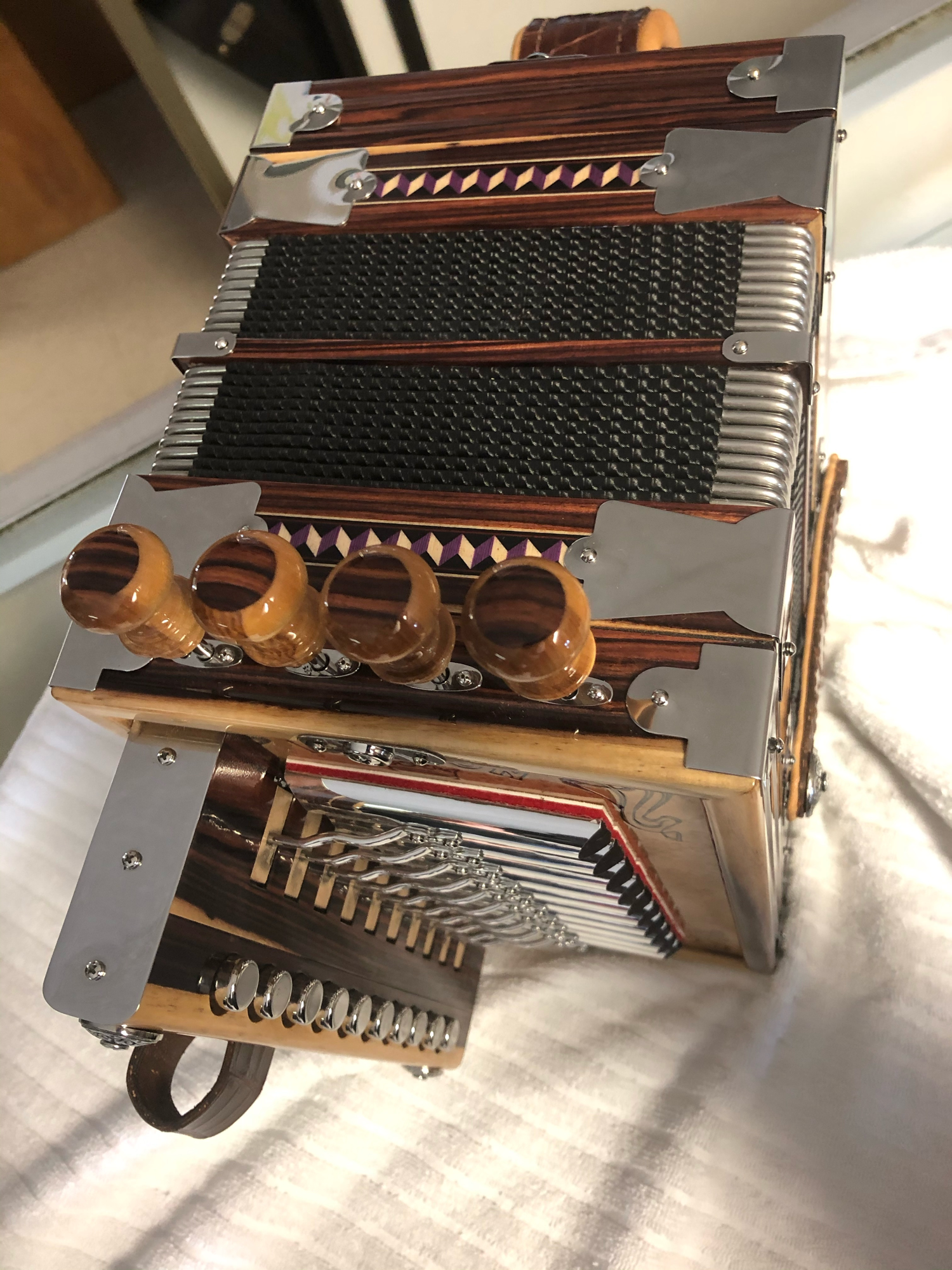 Mouton built the accordion in hopes of getting people to notice his shop, and it served that purposely fabulously, garnering recognition from everyone from music-lovers to road-trippers driving by—even appearing on Roadside America's website and multiple TV shows. This giant accordion has become more than just a novelty—it's now something of an iconic fixture, a landmark along the Crowley-Eunice Highway. And if you drive by now and see only the guitar standing there, all alone beside the road, you can take consolation in the fact that the accordion is being tended to, refurbished, and revamped, and it will be back as soon as possible.
Mouton comes from a musical family. His parents were a major dancing couple who frequented the dance halls. His dad played guitar and sang. His grandfather also played music. And his Uncle Lawrence, whom he calls "Uncle Shine," made accordions. In fact, it was Uncle Shine who built the first Mouton accordion in 1960, thus starting the family business, and who taught Greg everything that he knows. Therefore, accordions have been an important part of Mouton's life since he was very young.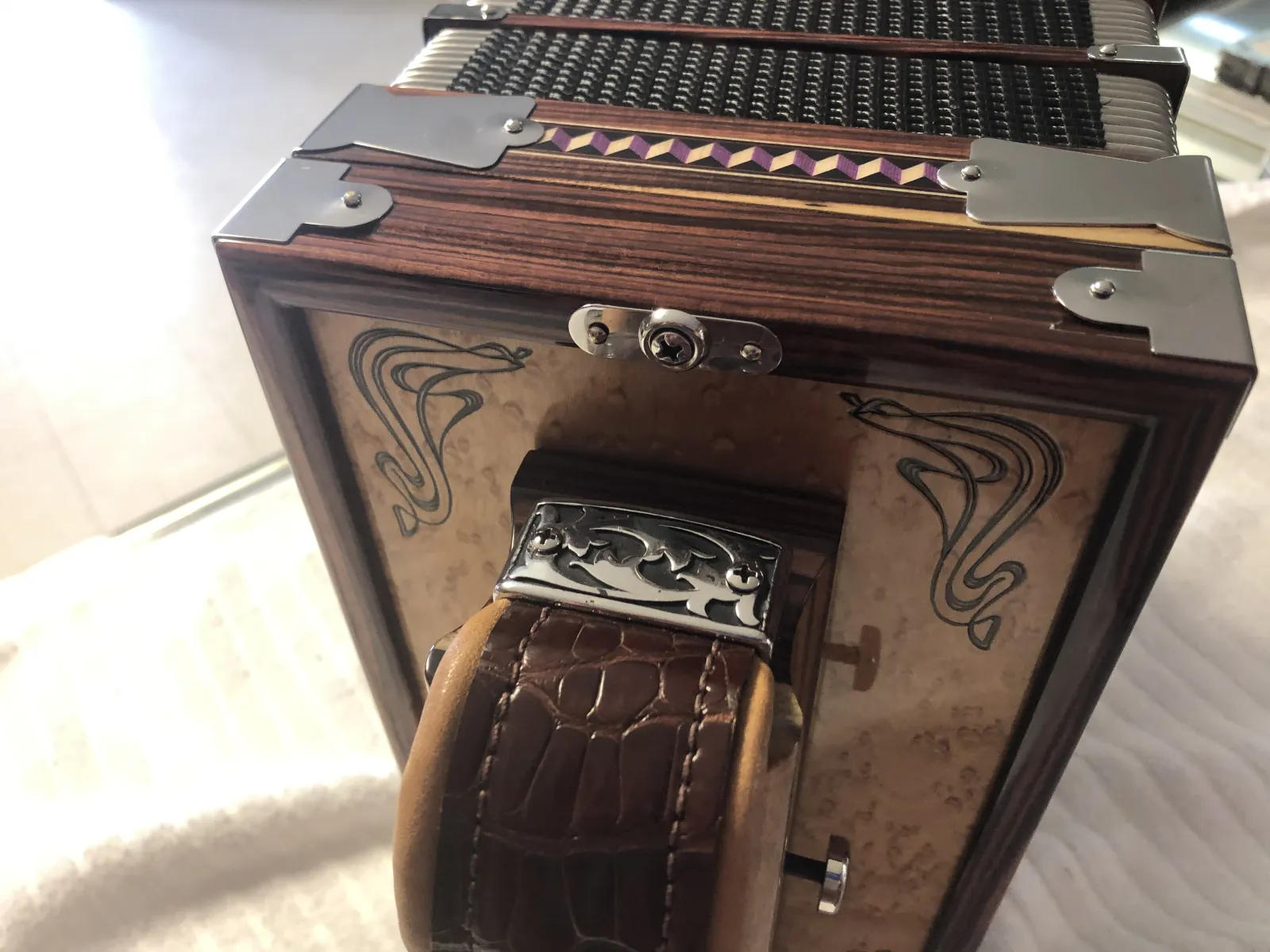 "I grew up with an accordion in our closet. It was my grandfather's. Then Uncle Shine made an accordion for my sister, for the family," he explains. "So, I played my first song [on the accordion] when I was a pretty young kid. I was probably no more than nine or 10ish. But we never had any professional lessons or anything like that."
Mouton explains that he always liked to build things and loved woodworking classes in school, and he and his dad did carpenter work. "I always made a lot of things and crafted a lot of things. I always was a builder of sorts," he explains. "I was always the type of person, even as a child, to make things, and I was good with my hands."
Therefore, he says, he slowly learned how to build and repair accordions from his uncle, and it felt natural to take over the accordion business when his Uncle Shine got sick from heart disease.
Today, Mouton Music is a successful music store that puts out a quality product, due to a long-standing tradition of fine craftmanship and attention to detail—such as stainless buttons instead of chrome, polished corners, and alligator- or lamb-skin straps. Mouton prides himself on producing accordions that set him apart from other companies.
"My goal is to make the best instruments that I can make," he says. "It's all custom-made. We make it here. So, we want somebody who gets one of our instruments to have it for a lifetime."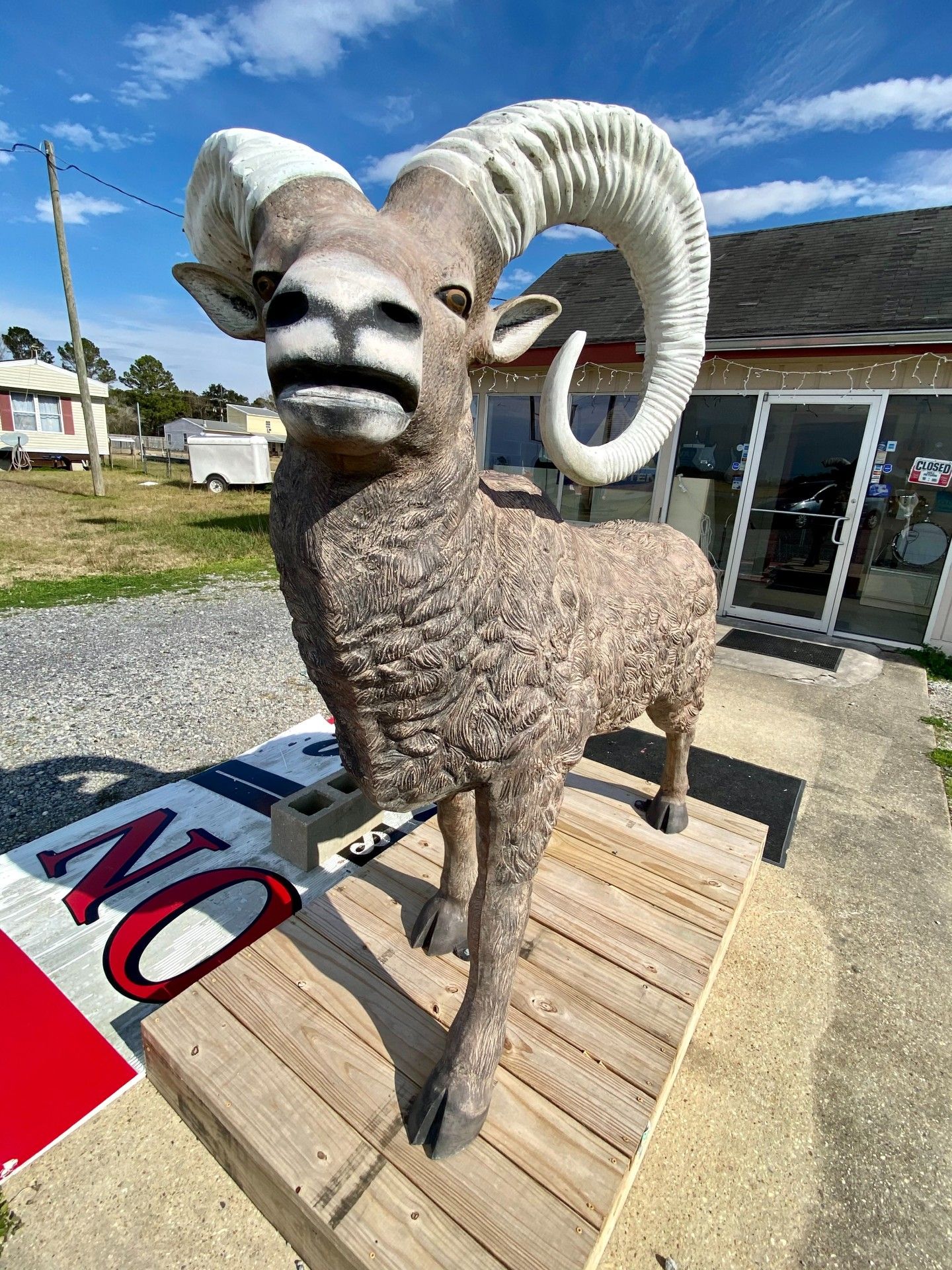 He also wants to bring accordions to the mainstream, to make the accordion accessible for both musicians and non-musicians alike. "What opportunities does a tourist have who would ever come and say, 'I want to see accordions bad, but I don't really want to buy one'?" he asks. "So, the only way you could get in [my uncle's] shop or most of these other guys is to be a customer. And I wanted to change that." Now, anyone who has an interest in the accordion is welcome to come by, get a guided tour of his accordion shop, learn about the instrument—maybe watch one being built. No purchase necessary. And, he adds, a lot of people in Louisiana and beyond have a strong affinity for the accordion.
"When they play [accordion music] at a festival, the crowds go crazy in there; the couples just get together," he says. "It's just a really touching kind of music that you can't really get anywhere close to without that Cajun accordion. And it's just touched everybody who lives here so much. And I think people outside of here want to be a part of it. They want something like that, that they can put their hands on and touch and see and have."
Mouton even insists that accordions are so popular that they've become something of a collector's item. Accordions sell for top price and sell quickly, and they continue to hold their value—or even increase in value.
"People just have an attachment to this instrument that I can't really explain," he adds. "I grew up with that accordion in the closet, in our house. My mom would never sell that accordion. It's part of what we had growing up. People probably learn one song, and they just keep [their accordion], because it says, 'I'm from Louisiana.'"
Have you always wanted to take up the accordion but didn't know if you hack it? The accordion can seem like a complicated instrument, and learning to play it often appears very daunting. But Mouton swears that it's not nearly as difficult as it seems. The secret is in being devoted enough to learn it.
"Most people can learn something on the accordion generally the first day. It can be easy or minimally difficult, but then it can be very difficult to get to where you can hear yourself the way you hear these players. That takes some practice," he says. "But I always tell people, what makes it doable or easy is the one you want to play. It's the passion. I think everybody can learn something on any instrument, but you've got to love that instrument and want to play it enough to where you're going to play with it every day to be able to get proficient in it."
When it comes to playing a musical instrument, he says, "You're better off being mediocre at one you love than being great at one you don't."
Like so many others involved with music, Mouton has been seriously affected by Covid—both as a musician and as a shop owner. Usually, he plays pedal steel guitar, bass guitar, saxophone, and Cajun accordion in various bands, but naturally, that all came to a standstill during Covid, when live music was on hiatus. "It hurt us tremendously because we were closed, number one, and then I wasn't able to play these shows we were playing several times a month," he explains.
Although things have been hard for the music industry for the past year, Mouton is optimistic that it's finally making a comeback. His store is open again. He and the other instructors are able to give in-person music lessons now, and he feels that musicians are ready and eager to play music again.
"Most of these musicians, they went home and just kind of got into de-motivation mode. There was no reason to play; they didn't feel like playing. Some of them had to sell a lot of their equipment," he says of the time during the pandemic. "So now, I'm seeing the motivation kind of coming up from being angry. They're fed up with this. They're getting frustrated. For a while, a lot of musicians in general may have kind of been like I was early on; they kind of just got discouraged. Now, I think this discouragement has turned into frustration, which is becoming a little bit motivating. They're ready to get back to playing music. They're ready. They're finding ways to do it."
In fact, Mouton heard that the Fender Guitar company has increased its business by 400 percent, due to online sales. Even during quarantine, people were turning to music at home.
Now, Mouton is encouraged. His business seems to be picking up, as are his live music gigs. At his music store, he gets calls regularly from people who want to book music lessons or buy guitar strings or other musical supplies.
"I think I'm seeing what I believe to be an uptick," he says. "We're optimistic. We really, really are. But I'm seeing that the phone calls are matching my optimism."
This is proof that you can't keep musicians down.
"We hope this summer, this spring, we're going to get some good weather. We're going to get this thing done," he says. "Going forward, we hope it's going to be a big turnaround for everything—the music business, the whole country. We're really hoping."