It's not uncommon to come across former or current New Orleans-area citizens when you're in Denver. A non-stop flight is only three hours and sometimes under $100 between the two cities, and there's plenty of excellent dining and nightlife to appeal to what NOLA people are accustomed to; not to mention it's nice to get a break from the heat and humidity. In fact, two Denver-borne restaurants are set to open in New Orleans right now which illustrates this southern and western city bond.
My first time experiencing Denver was an excursion of the senses: wonderful flavors, cool mountain air, a feast for the eyes, and music everywhere.



First Served
Upon arrival, I went straight to Ace Eat Serve for a filling meal. The downtown restaurant is housed in a cool industrial building that retains its mid-century modern facade but features contemporary amenities like a ping pong section and an open patio for al fresco dining. The lengthy drink menu consists of cocktails, mocktails, beer, and more, and I chose to have the Ace Radler beer cocktail. This drink looks like just a typical New Belgium Mountain Time beer but is made lighter with Ace Grapefruit Soda.
The bubbly drink paired well with the piping hot Mushroom Xiao dumplings that I started with. The jiggly steaming dumplings were plump with roasted Colorado mushrooms, black truffle, and miso broth. This rich fusion dish was the perfect match for my entree of Khao Soi Noodles: a colorful melange of mustard greens, crunchy chickpeas, chewy noodles, and my addition of crispy fried tofu swimming in a refreshing and somewhat spicy coconut curry broth. Though the night air was in the 70s, I still felt the desire to try the cooling dessert Pink Guava Hibiscus Sorbet scoop with a splashy Strawberry Daiquiri. What a perfect way to start this adventure!


What A Colorful World
Saturday morning brought me back downtown to the RiNo Art District to attend the Denver Graffiti Tour. This wasn't a simple walk around the block; this tour takes 2 hours and covers 20 blocks of colorful, impactful street art. Our knowledgeable guide Nick led us through the area to not only see various forms of local street art, but to learn about the artists who made them and their motivations. I appreciated that Nick did not shy away from addressing more difficult and controversial topics like gentrification and homelessness. In fact, he pointed out some buildings that illustrated how the neighborhoods looked for decades before the big push for revitalization occurred in 2015.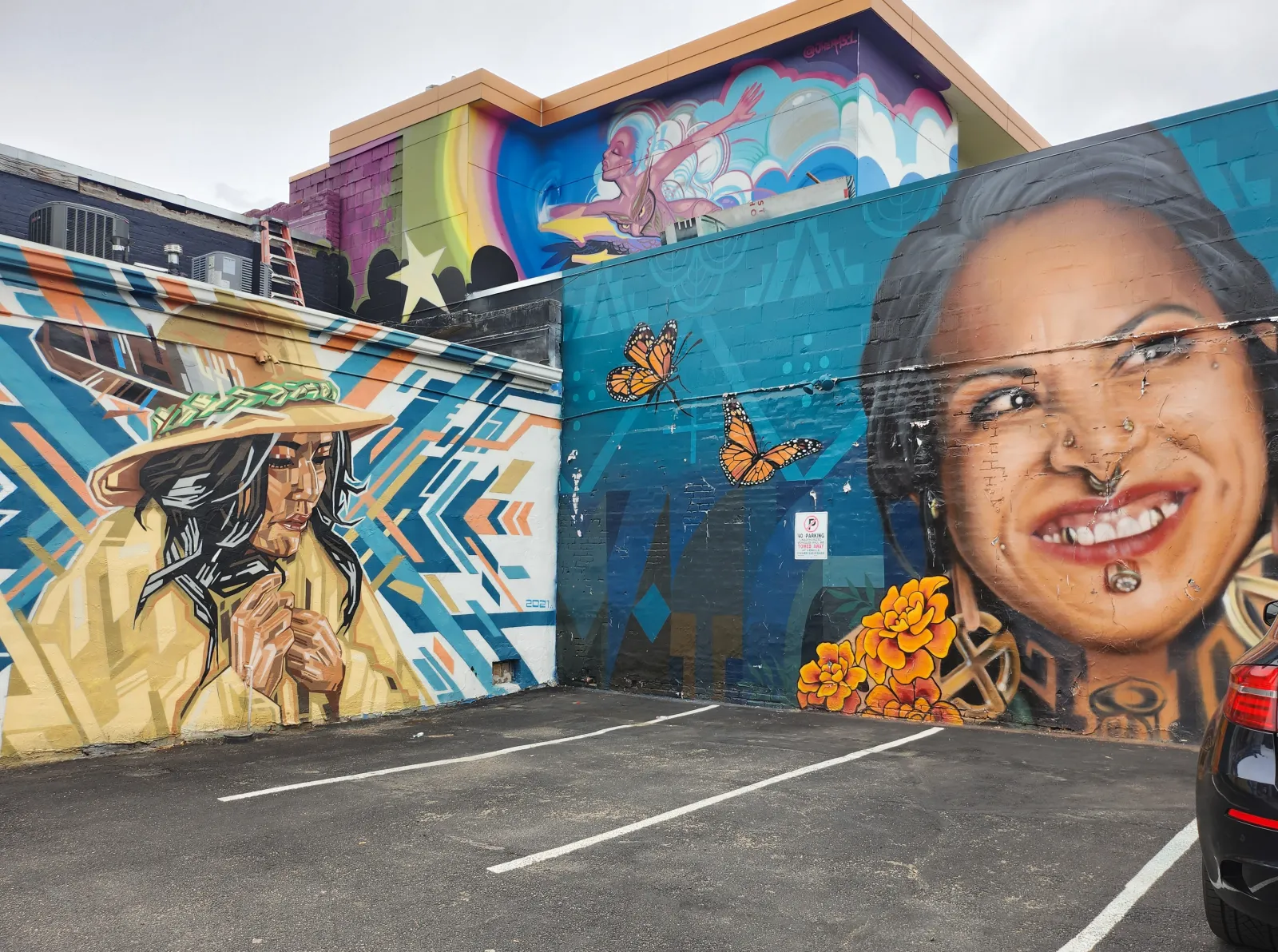 As Nick showed us art ranging from larger-than-life commissioned murals to tiny art pieces fashioned from refuse, he educated us about the artists, at least the ones who don't remain anonymous. We saw art by the late Alicia Cardenas, a victim of a horrific 2021 mass shooting. We also saw a gorgeous mural dedicated to her by fellow street artists Jodie Herrera, Jaime Molina, and Jher451.
When the tour came to an end, I went to the nearby Denver Central Market food hall for lunch. The hall was packed with hungry people who were choosing between pizza, burritos, and an array of meals. I opted for a big plate of Fish & Chips at Tammen's Fish Market because I knew it would be very filling, something that I needed for a long night of bar hopping. Indeed, the huge strips of steaming hot, freshly-fried fish and mountain of waffle fries were made even more tasty with a drizzle of vinegar and a dip in tartar sauce.
For the night's entertainment, I first went to Grandma's House, a brewery that looks exactly like all of our grandma's house. There were decades-old TVs with video game consoles plugged in, lots of VHS tapes, and Elvis memorabilia. One beer there (and some nostalgia-inducing photos) and it was off to Adrift a few blocks away. The unassuming tiki lounge is only noticeable by the carved wooden poles outside the door. You are instantly transported to a luxurious island bar upon entering; the light fixtures are real blown-up pufferfish and the tiki drinks are gorgeous. My friends and I decided to have at least one punch bowl drink to share. The server and an assistant bring out the tiki cocktail bowl then create a big fireball over it using a torch and some cinnamon. Though that drink really can't be topped, we continued on to TRVE Brewing nearby. As a metal music enthusiast, I'm required to indulge in all metal-friendly establishments. The small brewery features one long table meant for starting conversations about bands between customers, but those who don't know such bands will not be shunned. For the last stop, I was told to go to Forest Room 5 by several locals. Indeed, this bar is cool and photo-worthy. It is made to look like a fantastical forest with log seating and a flowing creek outside and a cabin feel inside. I was rather obsessed with the vintage phone booth that had a small screen playing retro video clips and the secret under-stairs door that led to a room with teddy bears stapled to the walls. No, I'm not making any of that up.


Tuking It To The Streets
I will admit (and warn you) that after a busy bar-hopping night like that, taking the Ultimate Urban Denver City eTuk Tour could be taxing if you opt for the before noon ride, but it will be absolutely worth it regardless. The eTuk is an electric tuk-tuk built in Denver. It's a six-seat, open-air car that allows you to see the sights in comfort. Occasionally, you can exit the vehicle to walk around some of the important sites on the tour.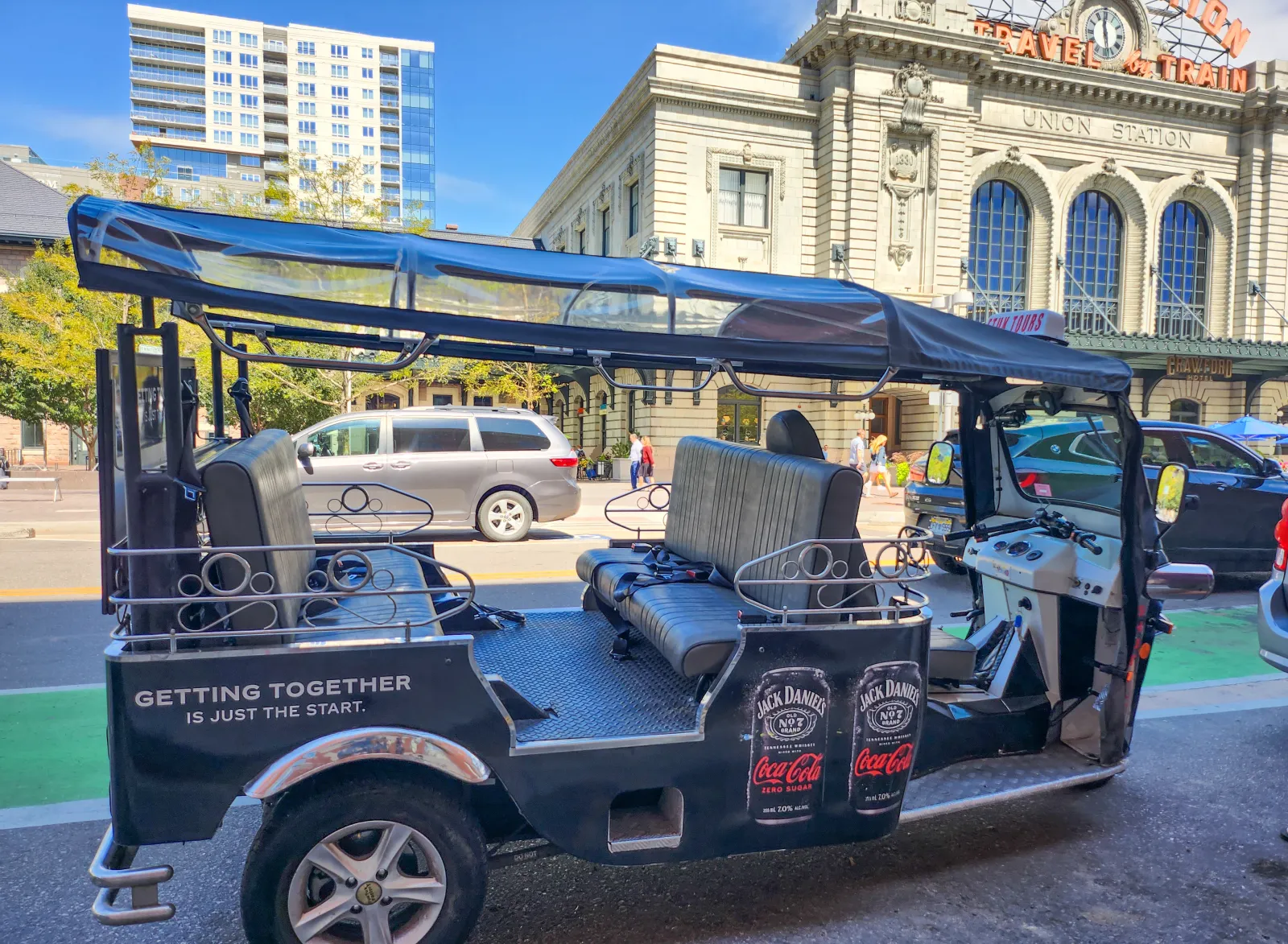 The guide showed me around so much of Denver for two hours explaining how and why the city was founded, how it grew, what happened during its more dormant periods, and how it continues to change. Like The Graffiti Tour, the guide did not shy away from discussing darker aspects of Denver's story like the Sand Creek Massacre and racism-driven incidents of violence and destruction.
Over the course of the thorough tour that takes you on concentric circles of the city beginning at the stately Denver Union Station, I was educated about how Denver was founded on the gold rush, then sustained on silver mining. The guide pointed out which buildings are from the Gilded Age (1870-1890) and survived periods of mass demolition or flooding. We drove through the Five Points where, he explained, black people settled during The Great Migration, unable to live in many other areas of Denver, and had a wonderful jazz scene. The likes of Billie Holiday, Nat King Cole, and Miles Davis performed here.
Larimer Square was one stop on the tour that well illustrated how Denver looked when it was first founded. The sun-drenched block featured several pretty buildings that were teeming with shoppers and diners. This was the city's very first block that housed the first city hall among other things. It's hard to believe seeing it now that it was nearly torn down until resident Dana Crawford, a public relations specialist, had her car break down by Larimer Square in the 1960s. At this point, the area was blighted and considered unsafe. However, Dana was helped by the residents, and she was inspired by their generosity and the historic, yet rundown buildings of the area. Though the Denver Urban Renewal Authority had planned to demolish a large swath of the area including Larimer Square, Dana formed the Larimer Square Associates to purchase and restore the block and other buildings to save them from destruction.
We drove around the State Capital building with a glittering gold dome and Civic Center Park, the Santa Fe Arts District, and more areas. We stopped at The Brown Palace to see the hotel's dazzling architecture that makes it a top choice for presidents and celebrities. Even The Beatles stayed here and have a suite named in their honor.
Being fascinated by glimpses into Denver's past, I very much enjoyed being able to walk around the Ninth Street Historic Park at Auraria Campus, a former residential block first founded in 1858 that was preserved to spare it from demolition. The small Victorian homes now house University offices, but each one features a plaque that explains who built it and when.
The eTuk Tour was such an amazing way to experience Denver because it put so much of the city into perspective while I could see it and walk in it as opposed to learning about it between the walls of a museum.
Mister Oso was on my list so that I could get a taste of what I can expect to eat when Mister Oso opens in Barcadia's former space. I went to the Wash Park location which sits nestled in a beautiful tree-lined neighborhood which makes it a perfect spot for families or young professionals to walk to for dinner. The space is refreshing and airy; large open windows allow the cool air to come through the plant-draped interior.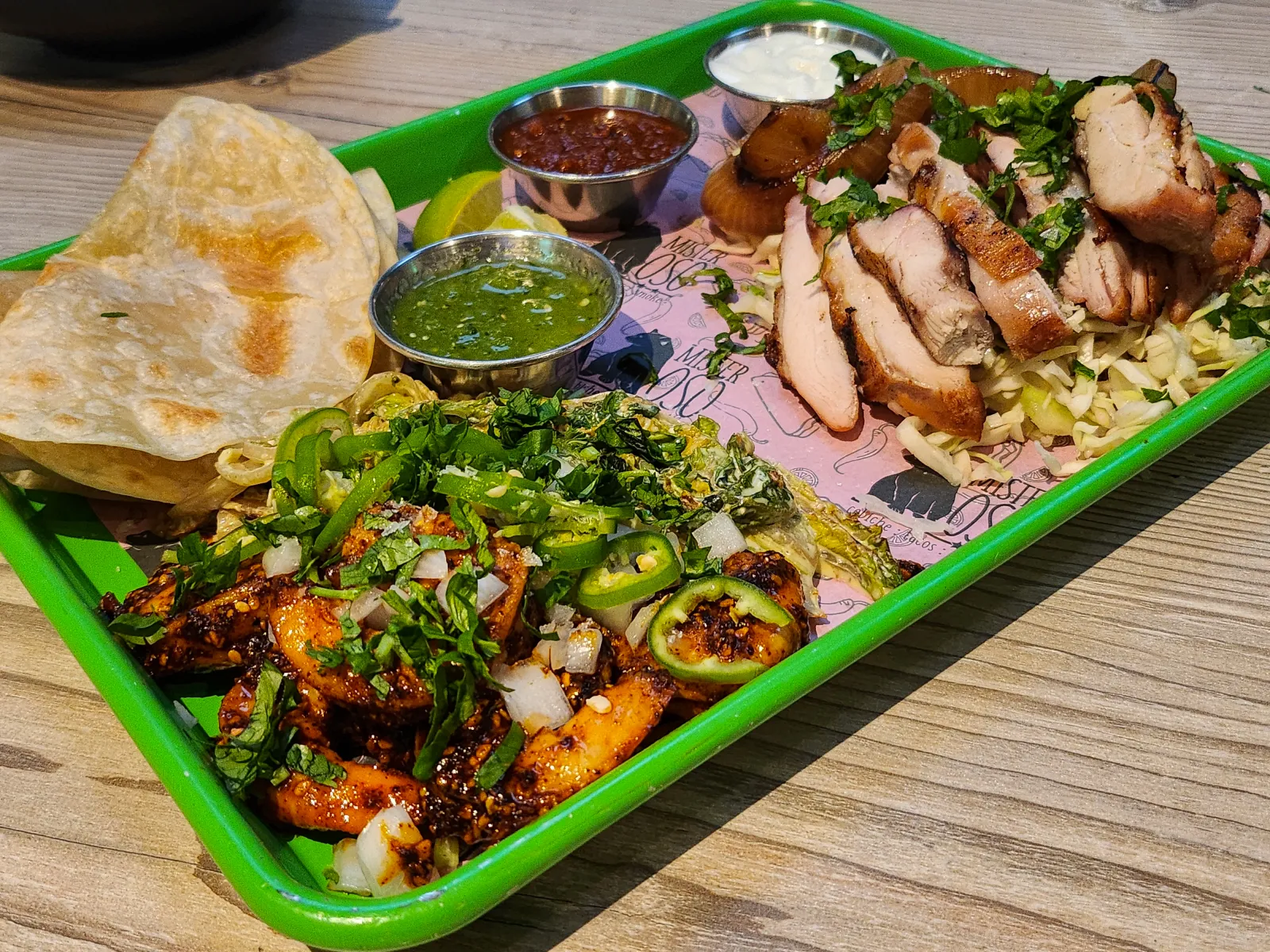 The fresh, floral vibe is seen throughout the menu. The Aguas Frescos are perfect to begin your meal for the purpose of palate cleansing. The fruity drinks are served in gummy bear glasses that are meant to be photographed. The P.O.G. Fresco is a blend of passionfruit, orange, guava, lemon, and topped with Topo Chico. Those who are a little more adventurous will love the Pina-Lime-Mint with cool mint, tangy lime, and juicy pineapple. While these drinks are made without spirits, you are more than welcome to add a little something to it.
The liquor offerings are dominated by tequila and mezcal which, of course, means excellent margaritas on the menu. The House Margarita is not to be overlooked. Based with Espolon Blanco, the natural flavor of the tequila is only enhanced by freshly-squeezed lime, agave, and a dash of orange liqueur. You can customize your marg by asking for it spicy or tropical or get it based with mezcal or Cointreau.
This bevy of beverages was well complemented by the exquisite Mexican-fusion dishes. The Happy Hour menu is the bomb for Gen X and Millennials because they'll notice some familiar food. Take the Frito Pie, for example. This junk food-turned-gourmet course is a mound of Fritos topped with a tantalizing mix of chorizo rojo, queso, refried beans, chile garlic crunch, and more. The Gordo Crunch is a take on a Taco Bell classic. These tacos have a hard-shell taco nestled within a soft-shell taco that are then filled with chorizo verde, lettuce, cheese, and a very special sauce that really adds a pop of unique flavor. These spicy, crunchy dishes were a contrast to the Tuna Tartare plate. Bite-size slices of fresh tuna swimming in a thick sesame oil sauce were topped with pickled onion, cilantro, and a pepper slice.
Tacos are the featured dish at Mister Oso, and there are plenty of meats to choose from. What's fun about these tacos is that the diner is obliged to assemble the taco, so that means you can have as little or as much of your favorite ingredients as you want. I selected the Pollo Bronco and Camarones tacos to try, but I still can't say which I liked more. The Pollo Bronco is thick, juicy slices of smoked chicken breast served with charred onions, jalapeno salsa, salted cabbage and crema. The Camarones is smoked and roasted shrimp with a delectable pumpkin seed salsa macha, grilled romaine, Caesar dressing, and salsa verde.
Two beautiful scoops of ice cream and warm, toasty churros appeared on the table as dusk turned into nighttime. It was futile to resist the Palisade Peach Ice Cream with juicy bits of peach that burst in the mouth, but I can't even begin to describe how surprisingly delicious the Quesa Fresca Ice Cream was. This treat is sweetened with a thick corn and caramel sauce with corn flake crumbles, and the ice cream definitely has a distinct corn flavor. There was something so comforting about it, like the flavors of fair desserts and Thanksgiving with each bite. It felt so decadent to take a big bite of steamy, soft churro then a spoonful of ice cream, and go back and forth between them. Mister Oso will be a very welcome addition to New Orleans' legendary culinary scene.


On Lookout Mountain
Monday was a lovely day to travel through the foothills of The Rocky Mountains to visit the final resting place of Buffalo Bill. Just outside of Denver when the land begins to shoot up into the air, The Buffalo Bill Museum and Grave not only offers stunning views of plainlands beyond the foothills and a glimpse at Rocky Mountain peaks, the museum tells the tale of how William Frederick Cody brought the thrills of the Wild West to the world.
Filled with personal items, authentic audio recordings, and stunning handmade costumes, The Buffalo Bill Museum recounts how the humble man went from an Army Scout and Pony Express rider to a world-famous showman who produced Buffalo Bill's Wild West show. Buffalo Bill was a pioneer of civil rights as he employed Native Americans and women. He helped to set up meetings between tribal leaders and politicians so that the concerns of the Native American tribes could be heard.
Though he wasn't as popular when he passed away in 1917, his burial on Lookout Mountain was very well attended. The Denver Post reported that more than 20,000 people traveled up the mountain for the service, and people still come in droves to pay their respects.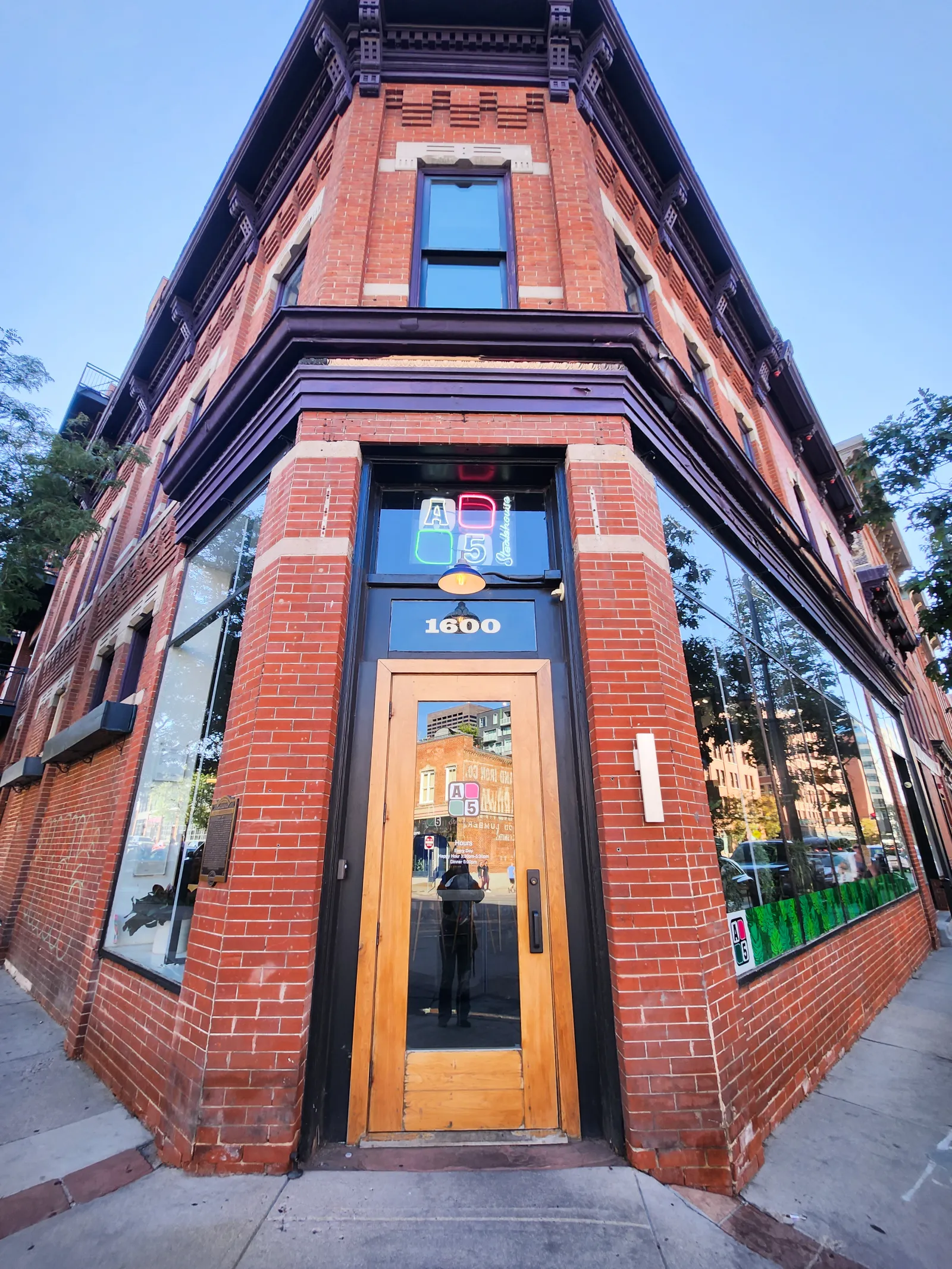 A5 Steakhouse is another restaurant hailing from Denver that is soon to settle in New Orleans. New Orleans is no stranger to steakhouses, but A5 is a contemporary approach to the traditional steak-centric restaurant with lots of natural light, tropical cocktails, and fusion food and steak sauce. A5 honors its western identity, however, with artwork of saddles and occasional taxidermied horns that blend with the palm frond decor.
I started my big dinner with delicious Oysters sourced from both the West and East Coast and the Beef Tartare Katsu Sando. I know that New Orleanians will appreciate beginning a meal at their own A5 with a sampling of fresh oysters. A little horseradish and dollop of cocktail sauce is all that you need for a taste of either side of the country.
The sandwich was eye-popping which may have been due to the quail egg that was seated in the center of the halved sandwich to resemble eyes. Upon first bite, the toasted Japanese Milk Bread has an awesome texture. It is soft, but has some springiness to it and holds its own against the large portion of chopped beef tenderloin, cornichon, aioli, and shallot. The meat mixture has a delightfully slight crunch to it from the mixed-in fresh veggies.
I wanted a stronger drink to go with these lighter-tasting starters, so the Mexican Firing Squad was perfect. The cocktail is normally based with tequila, but mine was made with hot, smoky mezcal. The concoction is completed with Cherry Apertivo, lime, and Angostura bitters. Despite its ingredients, this is a well balanced drink that can go with any dish.
My first entree was Seared Scallops because I feel that you can tell a lot about a restaurant by how they sear scallops. The scallops came from Maine and were indeed perfectly seared in order to have a bouncy inside and thin crispy crust on the outside. A5 sets this dish apart from the rest by finishing the scallops with an herbacious vinaigrette and full leaves of basil that give a shot of acid and freshness to the dish.
It was high time to try out A5's famous steak for which I selected the Tenderloin cut and House Chili Crunch sauce. My server recommended a glass of Bordeaux red blend that was rich and subtle, a great match for this spicy, exciting steak and sauce. A bite of steak quickly dipped in the hot Chili Crunch followed by a sip of wine was like a festival in the mouth. Watch out; it can be a little spicy even for the most heat-loving connoisseurs!
My plate also contained the restaurant's A5 Steak Sauce which is a thick blend of 18 ingredients to balance acid and umami. I particularly liked this sauce with the steamy hot fries because of the black pepper and tomato flavors the sauce provided.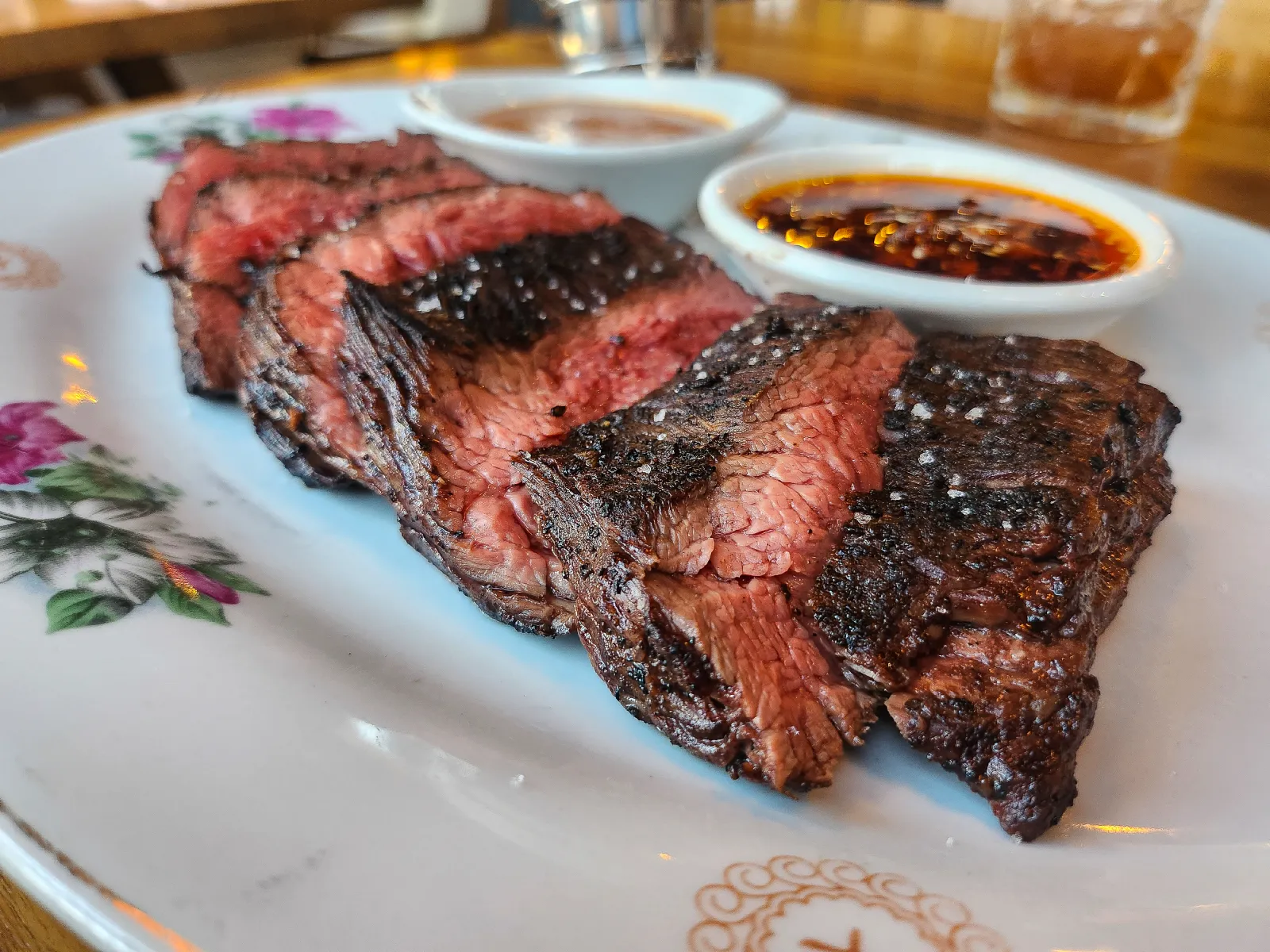 I felt like I could not eat one more bite of anything, that was until the Strawberry Shortcake came around. Not an ordinary shortcake, this irresistible confection was syrupy strawberries spilling out of a miso-infused flaky donut biscuit.
A5 offers its robust dinner menu and fun happy hour menu to a mix of after-work noshers and serious foodies alike. Lively conversation between tables and bar diners is inevitable whether it be about what food others ordered or where they're headed after dinner.


Museums and More
Tuesday was a museum day, a day I always look forward to when traveling. Luckily, many of Denver's best museums are located within walking distance of one another. I started out at the Molly Brown House Museum in the Capitol Hill neighborhood to experience not only the life and times of The Unsinkable Molly Brown but to get a sense of Denver's past. Originally built in the 1880s from the profits of silver mining, Margaret "Molly" Brown and her husband J.J. purchased the stately home in 1894. Everywhere you look in the home, there is opulence. The entryway features ornate gold-colored walls and ceilings, and the rooms are richly decorated. Fine art, jewelry, and dinnerware are on display. Molly threw extravagant parties when she was in town, and she would rent the house to wealthy friends when she was on yet another world adventure, like the one she took when she boarded RMS Titanic. Eventually, she turned her home into a boarding house which continued in the decades after her death in 1932. The home was saved and restored by Historic Denver Inc. in 1970.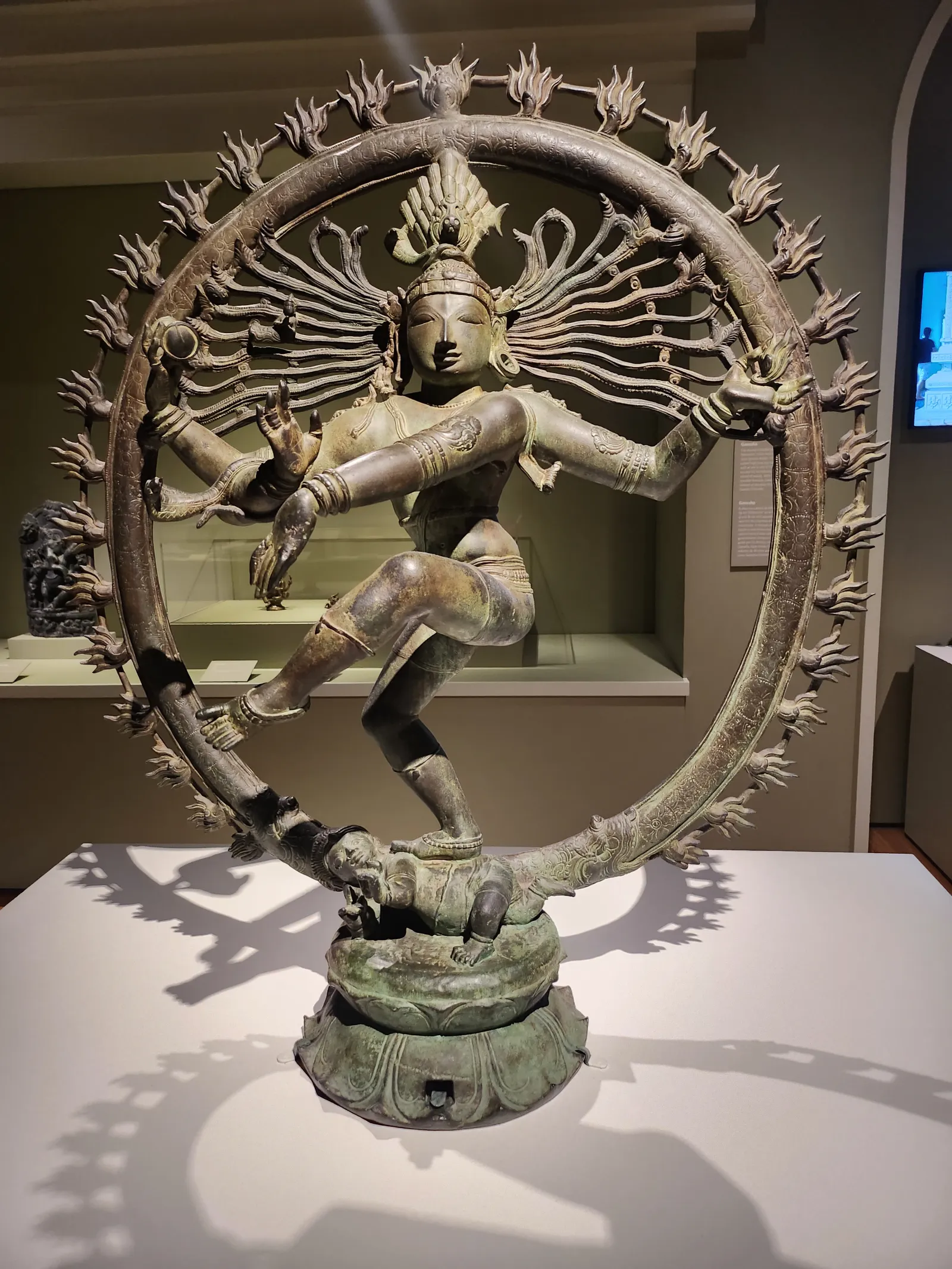 The History Colorado Center was the next museum on the agenda, and the building is massive. I suggest taking the elevator up the fourth floor and working your way down the exhibits to the ground floor. There are many exhibits, so you may need more time than you think for this museum. The foremost exhibit thoroughly examined the Sand Creek Massacre from the perspective of Cheyenne and Arapaho Tribal representatives. Winding through the exhibit, you are told about the events that led up to the bloody betrayal from a first-person perspective. The tales of brutality can be very painful or frightening to visitors, but the recounting of this history is important to tell.
Other exhibits at History Colorado Center focus on great and tragic, historical and current facets of the state's story. You can see what Denver's first buildings looked like in The Denver Diorama, learn about the importance of water conservation during drought, and enter into the ramshackle shelters built in Japanese internment camps. Denver A To Z is a fun exhibit with a different item for each letter of the alphabet. Z is for Zombies, but you'll have to visit to find out why.
I'm glad that I took the map handed to me at the Denver Art Museum; part of the gigantic museum system is a castle, and you have to walk over a bridge to get to it. There was so much to experience here that I could not even see all of it. Everyone will find something or several things that intrigue them. My intrigue was captured by the ancient artifacts in Arts of Asia and the towering totem poles in Northwest Coast and Alaska Native Art. Even more modern sections were interesting to peruse. The Architecture and Design area had a furniture series showcasing the likes of The Evolution of The Task Chair and more. There are so many museums, large and small, to see, but I had to conserve my time in order to make it to the most immersive experience of them all.


Meet Me At Convergence Station
One of Meow Wolf's four locations attracts visitors from near and far daily. Convergence Station is difficult to describe to someone who has no idea what it is, like all of the Meow Wolf installations. Entering into Convergence Station, you are thrust into a city block where you are allowed to roam into the salons, arcades, and other stores to search for clues. From urban streets to a living, breathing forest to a towering techocolor castle to a somewhat creepy pizza parlor, you explore different worlds and learn secrets about Pizza Pals Play Zone. Because of questions I've encountered, I'll say that, yes Meow Wolf can be enjoyed by children, but adults will more thoroughly appreciate the artistry, the storyline you are chasing, and the thrill of opening an unassuming door and finding yourself immersed in an entirely new landscape. My suggestion is to indulge in opening every drawer, yanking on every door, reading every document, and pushing all the buttons. You never know what's going to be revealed….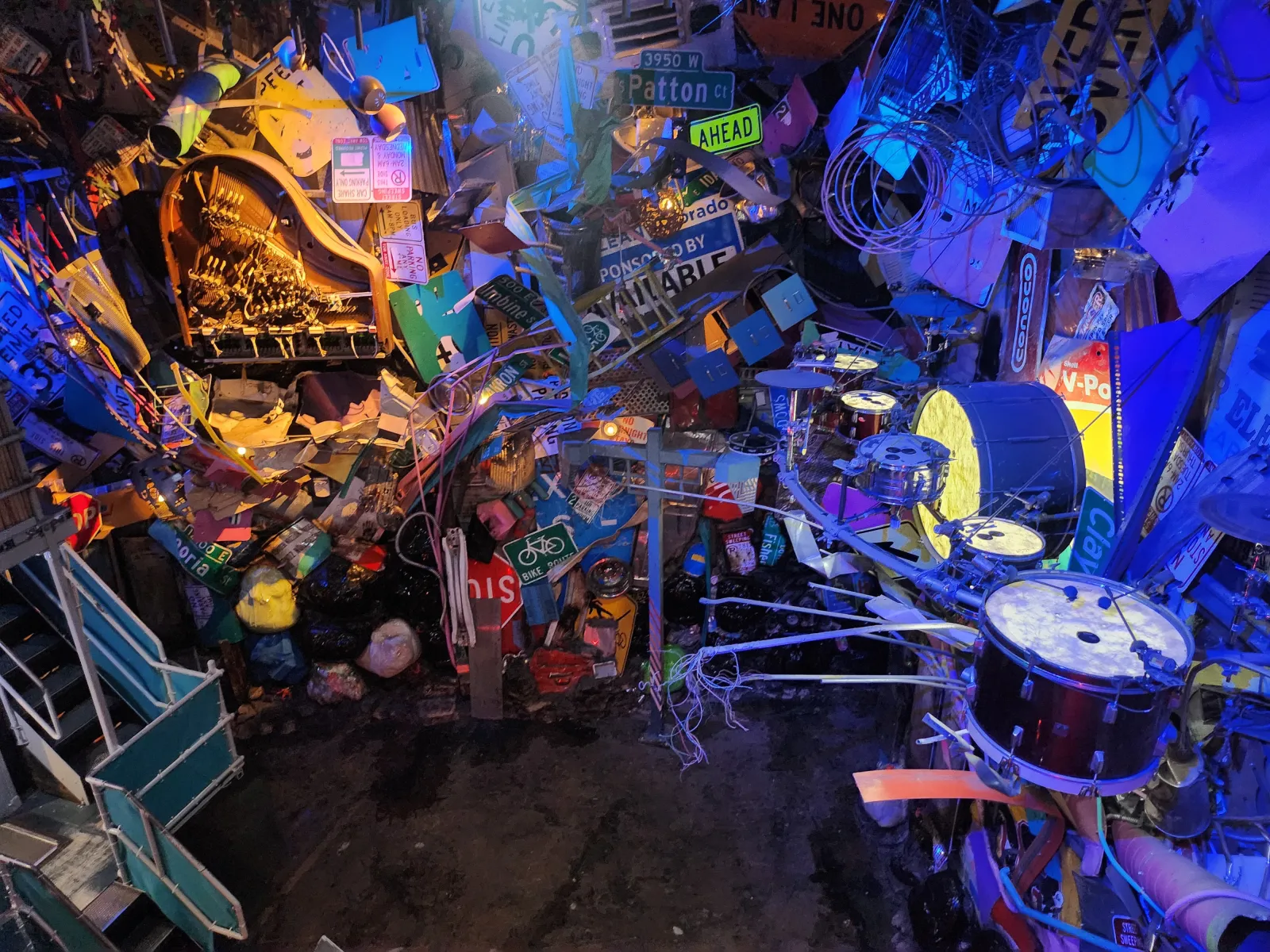 My time in Denver culminated in a lovely meal at Root Down which occurred at the most perfect time of day while the sun set into night so that I could see the surroundings in both light and dark. Root Down is housed in a cool space that was formerly an auto shop. The shop was vacant for years until Chef Justin Cucci bought it and transformed it into his restaurant. Many other furnishings in Root Down are reclaimed as well; part of the floor is a middle school gym floor, the bar is a bowling alley lane, and the light fixtures in one dining area are globes. The auto shop is remembered in photos on the wall and from the garage doors that allow one side of the restaurant to be open to the large patio. You can technically sit inside and fully feel like you're dining al fresco.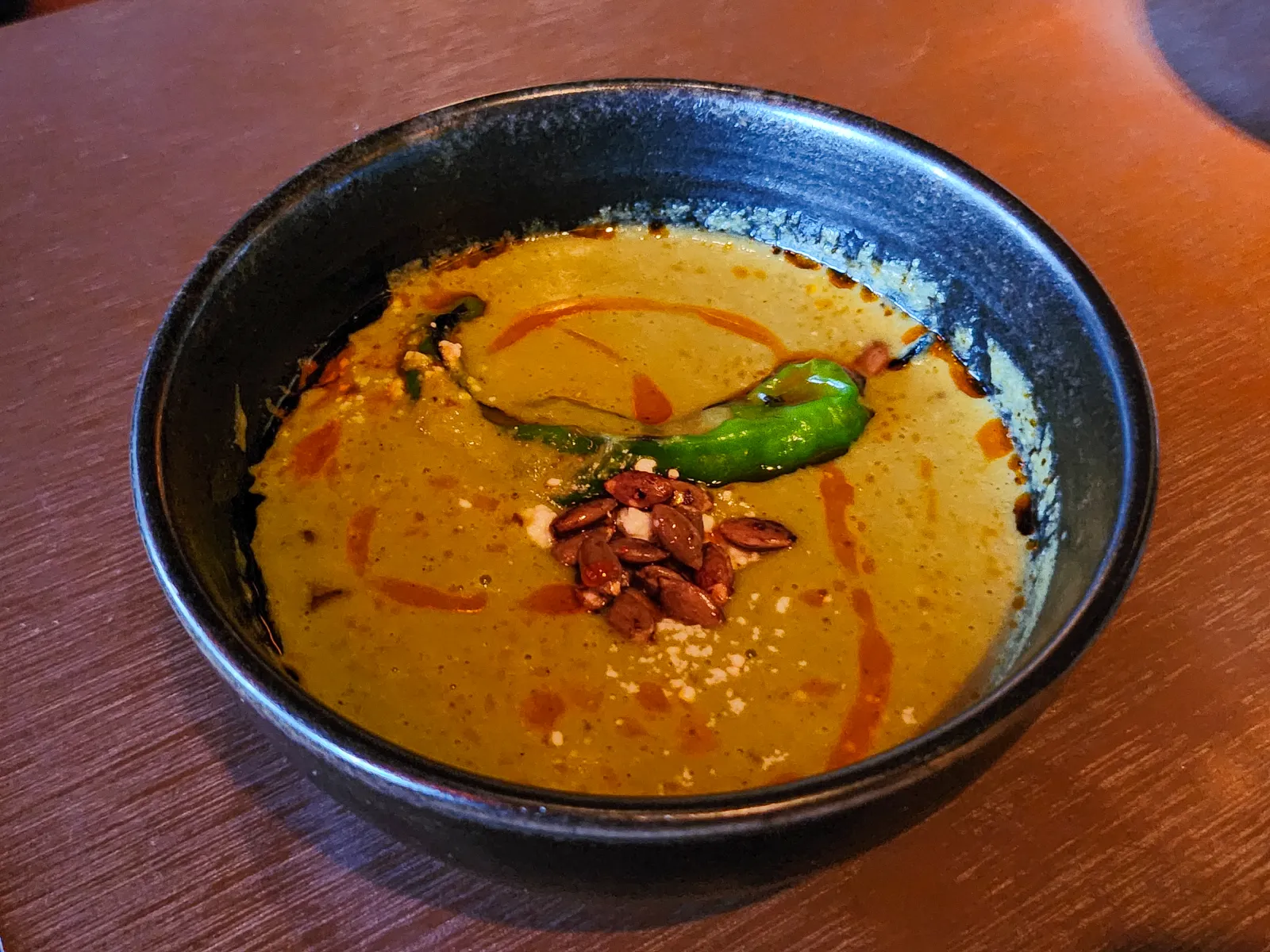 I opted to try a featured cocktail: The Chareau Sipper. This light, bubbly drink is Chareau, mint-infused gin, prosecco, and soda. The Chareau Sipper is a great palate cleanser for the extraordinarily rich foods to come.
I'm a soup girl for sure, and The Roasted Poblano Zucchini Soup immediately caught my eye. Honestly, this is one of the best soups I've ever had. It made me take a pause. The creamy, warm soup was rich and earthy and finished with excellent heat from addictive chili oil and shishito peppers that didn't overwhelm with spice but lingered on the back of the tongue. The Chevre Salad followed the theme of deep rich flavor rather than a typical light, crisp flavor. The depth came from charred tomato and endive drizzled in a healthy amount of dill vinaigrette. The salad was made a touch sweeter with a smearing of brown butter whipped goat cheese and pops of locally-loved Palisade Peaches.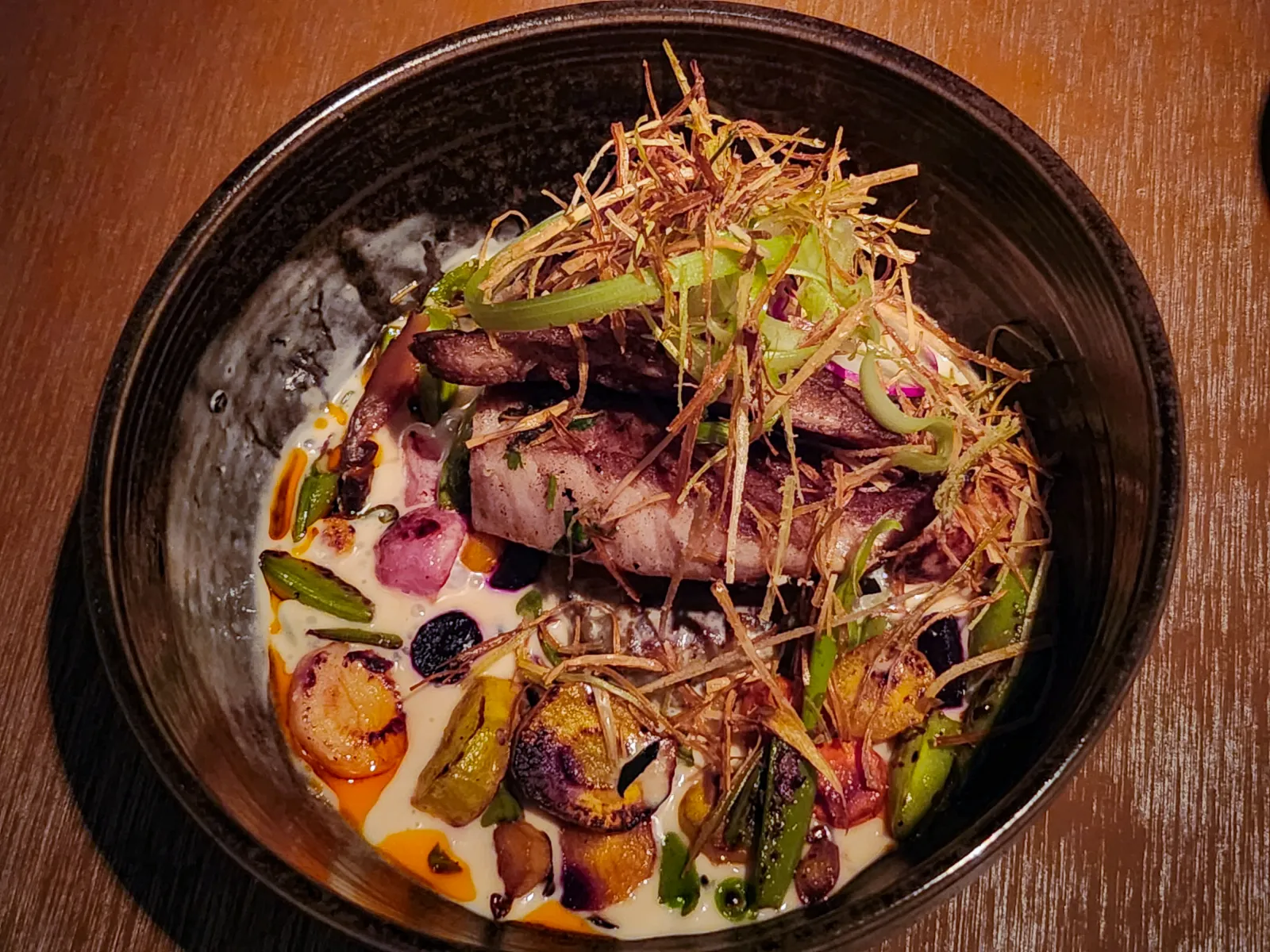 For the entree, I was tempted to try the Rockfish Tom Kha because I enjoy this Thai soup in general and because others have raved about the dish. It is certainly a feast for the eyes; a large piece of fish hovers just above the white broth that is dotted with colorful root vegetables and a drizzle of that amazing chili oil, and then topped with crispy scallion strings. The coconut broth is actually quite thick, and it sticks so well to the carrots, radish, and bamboo rice. The fish itself is mild in flavor like a scallop and is a wonderful vehicle for the hot chili oil and warm tropical broth. The crispy seared crust crunches in a satisfying manner.
Root Down's dessert menu has more offerings than the entree menu, and there was something that sounded too good to pass up. The Miso Caramel Custard has a flan-like texture that holds the dollops of sweet caramel like dishes on a table. Sitting at this table are large chunks of Palisade Peaches that explode with flavor on the tongue. A toasted oat crumble adds a fun crunch to the confection. My trip to Denver was complete with this exquisite meal.


A quick flight or scenic western roadtrip to Denver may be what you're looking for when the southern heat is on, or when you crave feeling snow under your shoes. You can refresh your body and soul with a breath of Rocky Mountain air, a sip of flavorful craft beer, and a bite of locally-sourced steak.