Beau Rivage brings Bello Nock's comedic daredevil show to the Gulf Coast
Bello Nock headlines a limited residency at MGM Resorts International's Beau Rivage with FUNAMBULA—a showcase of breath-taking, circus-level high jinx and aerobatics mixed in with tension relieving humor. This all-ages show performing in the towering hotel and casino along the Gulf lures audiences in need of a beach or a game of chance who also enjoy the suspense and wit this show delivers. FUNAfun for vacationing couples or families looking to share an entertainment experience between soaking in the sun and games of chance.
FUNAMBULA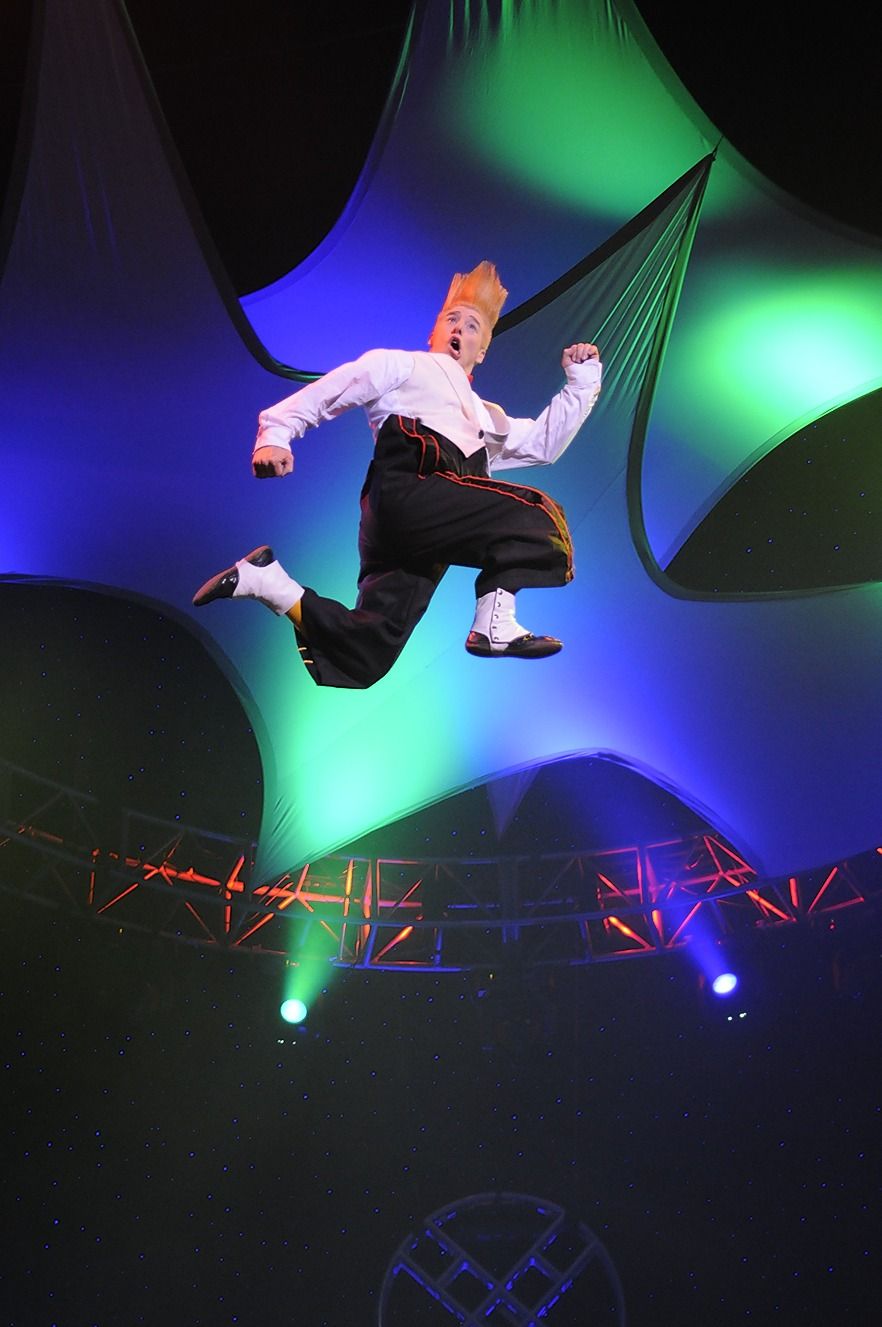 FUNAMBULA is a French word translating roughly to "tightrope walker." While there is some tightrope walking toward the end of the show—and tightrope bicycling on continually smaller bikes—most of the performances are on more slack ropes, stacked chairs, logs, cans, sticks, and even each other in cirque-style acts. Nock's international cast of world-class acrobats, aerialists, and performance artists ascend their art to unparalleled heights—literally. Bello Nock is the face of FUNAMBULA as the defacto emcee shaping the show with his charm, wit, silliness, and performance skills. With his signature broad smile and straight-up hair, Nock kicked the show into gear with no less than five colorful tuxedo costume changes for his role within a magical minute.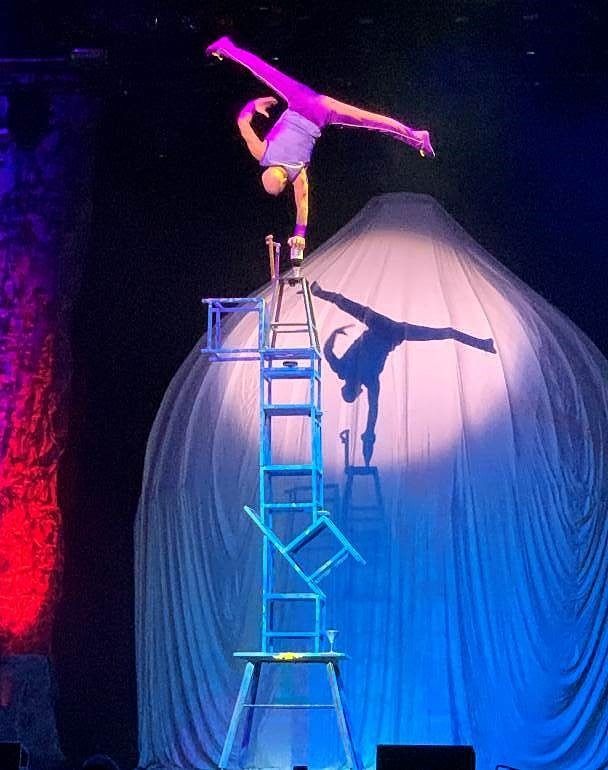 Audience participation in aspects of the show isn't encouraged--it's required, from the opening announcement for audience members to keep their phones on to take all sorts of pictures and videos to post to #funambula, through Nock bringing a woman onto the theatre-in-the-round stage to shoot a pop a red apple-like balloon with a balloon bow and imaginary arrow. The surprising and simple William Tell motif had the crowd roaring.

The Show

Without divulging too many spoiler alerts (beyond what's posted on social media by now), the showcase presented many feats of strength including a person hoisting a large log suspending two additional people for a spinning swing ride; several elegant aerialists flying 40+ feet above the ground (no nets), one act comprised of two young girls won thunderous applause when one, hanging from a silk with her arms, was suspending the other lying down with only her feet; jugglers, remarkable balancing acts—one of which included a woman standing on her hands and successfully shooting a bow an arrow into a bullseye with her feet.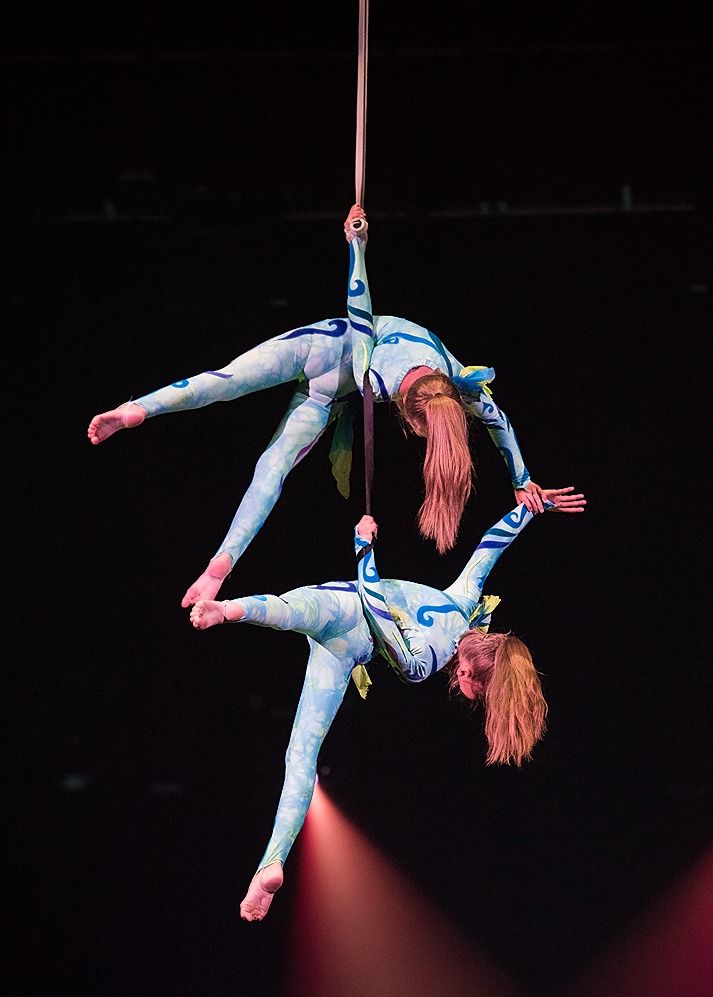 Humor and distraction were art forms in themselves. While the performance had audiences looking elsewhere, sets seemed magically change. Well-timed laughter came through fun interactions and performers pretending to be about to fall, then showed they had been in full control the entire time. But there are no nets (except to save a falling chair). And although harness technology is impressive, the well-hidden safety systems add to the excitement. Nock's teetering on a rotating pendulum many stories high leaves room for no harness es as he bobs in and out of the framework. The audience's thrill of anticipation that someone could fall at any moment seems very real.
Cage Match

The showstopper has three motorcycles roaring at high speeds in a spherical cage that seems much too small for three motorcycles roaring at high speeds in without crashing. Upping the ante, two women—the only two without helmets that actually might need protective head gear—are added to the cage and suspend themselves in the middle serenely posing while the motocross machine zoom around them—literally.

Thrilling Acts

Along with some of the FUNAMBULA acts apprearing on TV talent shows, many may have enjoyed Bello Nock's stunts and antics as a competing in America's Got Talent. Nock was also a finalist in Britain's Got Talent: The Champions. Locally, he made history in 2012 when he completed Mississippi's first-ever tightrope walk 360 feet high in the air atop Beau Rivage. Additionally, FUNAMBULA's emcee holds a Guinness World Record and was awarded the "Gold Clown"—the circus world's highest honor.

Nock sets the stage for some awe-inspiring moments. Although no words are spoken the entire showcase (except for a well-timed screech for "HELP!" form Nock in a very funny moment of fake panic), the performers use cirque and pantomime art forms to expert effect, easily conveying their interactions. Excitement and laughter are international languages, after all.
-------------------------

FUNAMBULA performances are 7 p.m. Monday-Thursday; 3 p.m. and 7 p.m. on Saturday and Sunday (no Friday performances) through June 23, with family four pack specials to help keep the fun affordable. Tickets are available for purchase at the Beau Rivage Box Office, by phone at 888.566.7469 or online at www.beaurivage.com.