Is there anything more satisfying than a steak? The juiciness, the savory flavor, the dripping butter all sizzling on an incredibly hot plate: it's irresistible. Though New Orleans has a reputation as a seafood-lovers paradise, especially delicious fried catfish and boiled crawfish in the spring, we take our steaks very seriously. There are many steak-centric restaurants around town, some of which have been operating for several decades. It can be a family tradition to go out for steaks at the legendary steak house down the street.
These local steakhouses have the best, freshest, perfectly-aged steaks in the entire city. This isn't your neighborhood bar's steak night, these are places that you go to for the best quality meat in town.
The Best Places to Get Steak in New Orleans
1.

Crescent City Steaks
1001 N Broad St. (504) 821-3271, crescentcitysteaks.com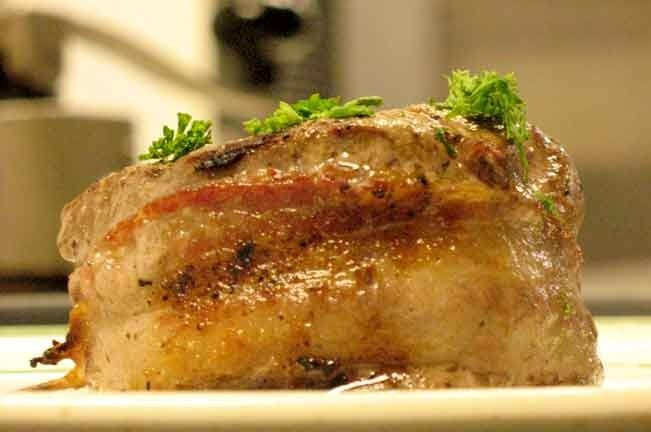 The iconic neon sign outside of Crescent City Steaks beckons you to come in and enjoy some satisfying cuts of meat. For nearly one hundred years, this steakhouse has garnered a reputation for serving perfectly-cooked USDA prime aged beef shipped from Chicago. These steaks arrive at your table sizzling in butter, something that Crescent City Steaks pioneered.
Select from cuts including, but not limited to, Rib Eye, Strip Sirloin, T-Bone, and Porterhouse for Two. The Chateaubriand Dinner For Two includes one 22 oz filet with steamed broccoli, sauteed asparagus, and Brabant potatoes. If you want a little less red meat, opt for the Surf And Turf: a bacon-wrapped 8 oz filet and a lobster tail.
2. Mr John's Steakhouse
2111 St Charles Ave. (504) 679-7697, mrjohnssteakhouse.com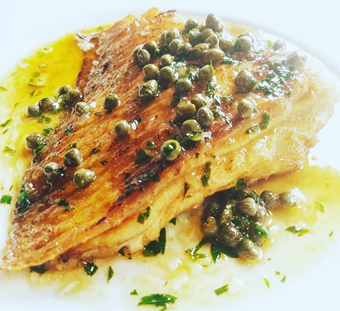 Mr. John's is a beloved steakhouse renowned for excellent cuts of USDA Prime steaks like Petite Filet, Cowboy Steak, New York Strip, and more. But that's not all that Mr. John's offers its diners. The Surf and Turf entrée is a 6 oz filet mignon with an equally large lobster tail that comes out sizzling hot. The Pan-Seared Half Roasted Chicken is a chicken breast with pulled dark meat confit with garlic mashed potatoes and asparagus.
Seafoodies may be tempted by the Shrimp & Lobster Pasta with Gulf shrimp and lobster tail in a white wine, butter, and lemon sauce. The Gulf Fish of the Day comes with sauteed vegetables and lump crabmeat in a lemon butter sauce.
3. Ruth's Chris Steakhouse
Various Locations, ruthschris.com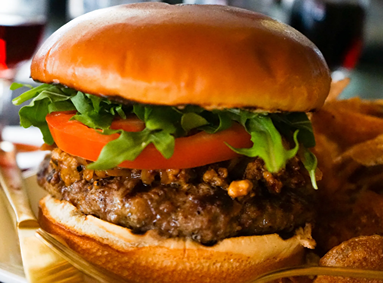 Ruth's Chris Steak House started out right here in New Orleans; single mom Ruth Fertel put all her money into buying a small restaurant called Chris Steak House in 1965. She had to relocate in 1976, and chose to rename the business Ruth's Chris Steak House. She grew her brand so quickly that there was a Ruth's Chris in Hawaii by the end of the 1980s.
Though there are nearly 150 restaurants under Ruth's Chris ownership in the world, you can enjoy these steaks in the city that they began In Metairie (3633 Veterans Blvd.) or inside Harrah's Casino (525 Fulton St). The local favorite is the Petite Filet & Shrimp that comes out on a 500 degree plate.
4.

Desi Vega's Steakhouse
628 St Charles Ave. (504) 523-7600, desivegasteaks.com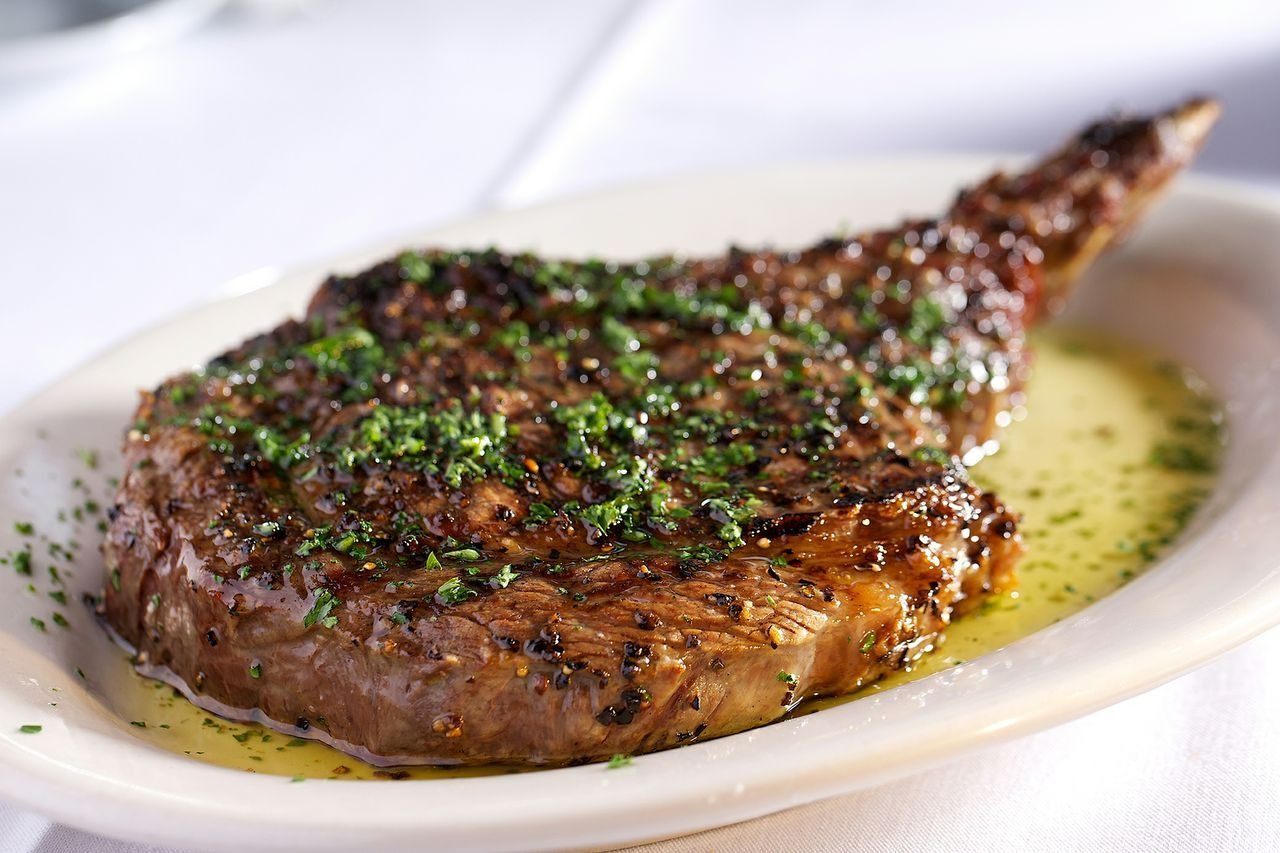 Desi Vega is synonymous with great steaks and more. Of Desi Vega's many restaurants, Desi Vega's Steakhouse focuses heavily on USDA Prime Beef Steaks aged for tenderness then cooked in a Montague broiler. The steaks are lightly seasoned with salt, pepper, and melted butter, just enough to bring out the flavors of the meat without overpowering it.
If you prefer your Bone-In Filet Mignon, Rib Eye, or Porterhouse for Two with a little something extra, try out one of the five steak complements: Au Poivre Sauce, Foie Gras Butter, Blue Cheese Crust, Oscar Topping (lump crabmeat), or Lobster Tail.
5.

The Steakhouse at Harrah's New Orleans
228 Poydras St. (504) 533-6111, caesars.com/harrahs-new-orleans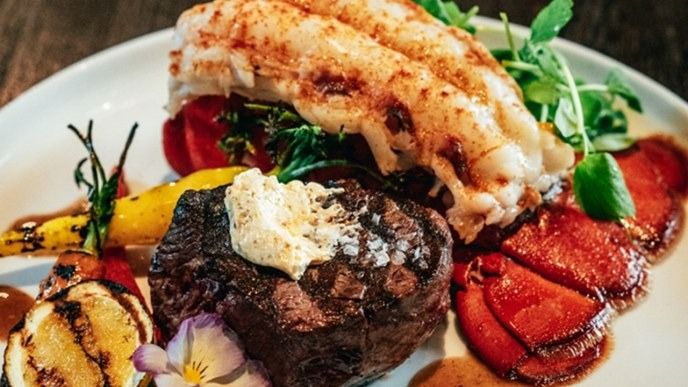 If you're playing the slots or gaming at the tables at Harrah's Casino, you'll want to take a break for steak at dinner time. The Steakhouse has several cuts that will satisfy your craving. The regular cuts like Filet Mignon, Rib Eye, and NY Strip are available as well as specialties like Caribbean Jerk Chicken, Gulf Fish Almandine, and Grilled Pork Chops.
These meats go great with one (or two) of the sides. The Steakhouse Mac + Cheese has bits of filet in the white cheddar mac. The Crab Risotto is made with locally-sourced Covey Rise Sweet Corn, poblano, and parmesan cheese.
6.

Dickie Brennan's Steakhouse
716 Iberville St. (504) 522-2467, dickiebrennanssteakhouse.com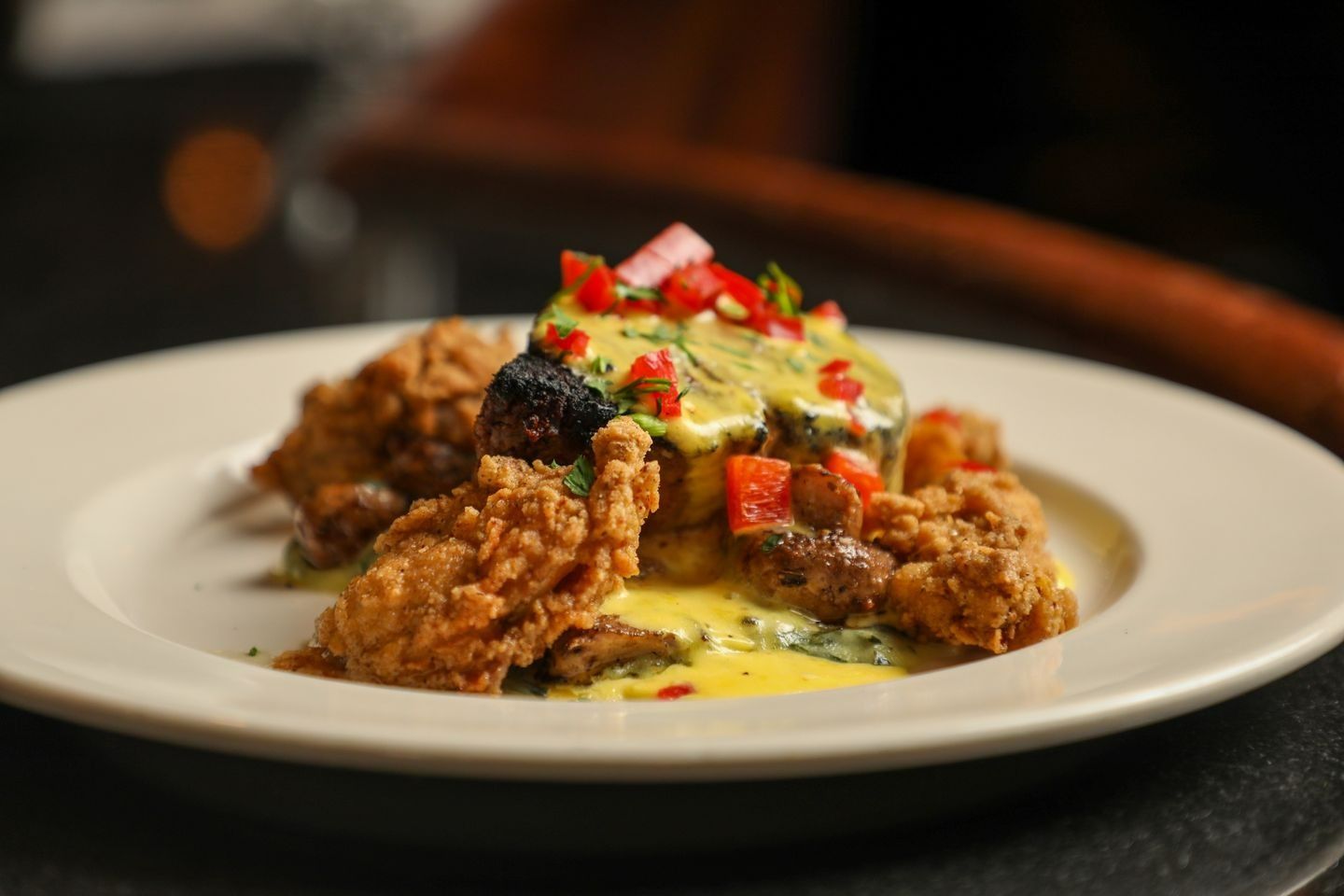 Though this steakhouse is steps away from boisterous Bourbon Street, it feels miles away once you enter. The classic, luxurious interior is the perfect setting for a gourmet meal featuring perfectly-cooked steak.
Filet Mignon (petite or large), a 16 oz Rib Eye, and the USDA Prime Strip are the stars of the show, but there's a special cut for couples. The Chateaubriand is a 20 oz tenderloin made to share and served with vegetables, a mushroom sauté, potatoes au gratin, and three house-made sauces. The sauces available are bearnaise, hollandaise, Irish whiskey pepper cream, Worcestershire, and Marchand de Vin.
7.

NOLA Steak
4132 Peters Rd. (855) 805-5596, boomtownneworleans.com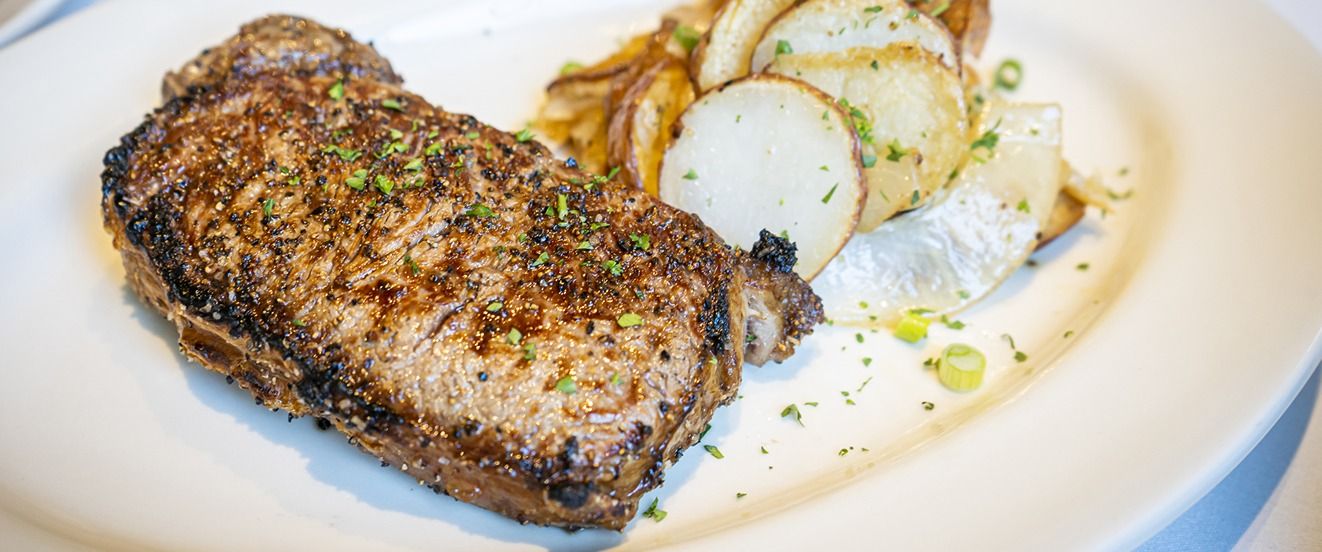 Gamblers who go down to Boomtown Casino will want to dine at the in-house restaurant NOLA Steak. The no-frills steak place is the go-to eatery for the casino regulars and high rollers. Bring your appetite because these cuts are huge. There's an 14 oz NOLA Strip, 16 oz Ribeye, and even an 18 oz Cowboy Steak! All are served with a baked potato, but you might not make it that far.
NOLA Steak is only open on Thursday, Friday, and Saturday nights from 5 p.m. to 9:30 p.m., so plan accordingly. You can catch a special brunch seating on Sundays from noon to 4 p.m., however! The Trinity Steak Tips with Maque Choux are a top seller.
8.

Charlie's Steakhouse
4510 Dryades St. (504) 895-9323, charliessteakhousenola.com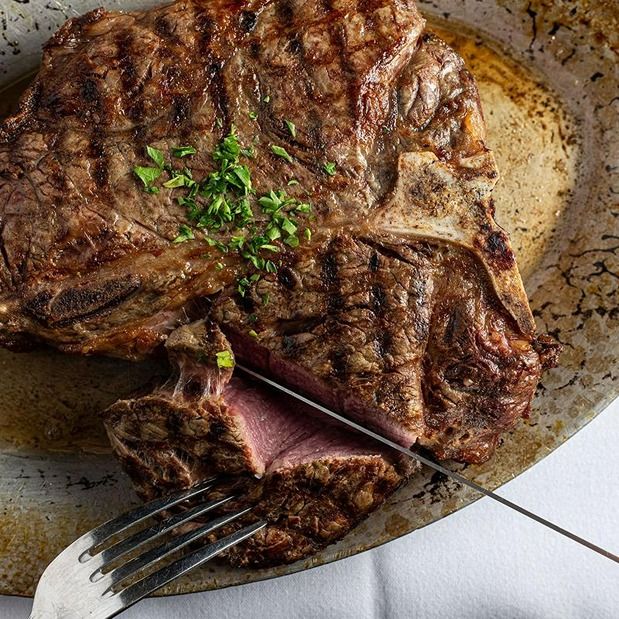 Charlie's is such a neighborhood restaurant that there is no menu. It's common for diners to just sit down and tell the server what cut they want and how to cook it. The steak will come out sizzling hot.
Even though there is no menu, Charlie's is happy to serve you cuts including Filet Mignon, Center Cut NY Strip, Ribeye, T-Bone, and even a Tuna Steak. Those in the know get The Charlie, a 32 oz T-Bone. Alongside your steak, you can get a couple of sides like Grilled Asparagus, Hand-Cut Wedge Steak French Fries, Crabmeat au Gratin, or the famous thin Onion Rings.
9.

Chophouse New Orleans
322 Magazine St. (504) 522-7902, chophousenola.com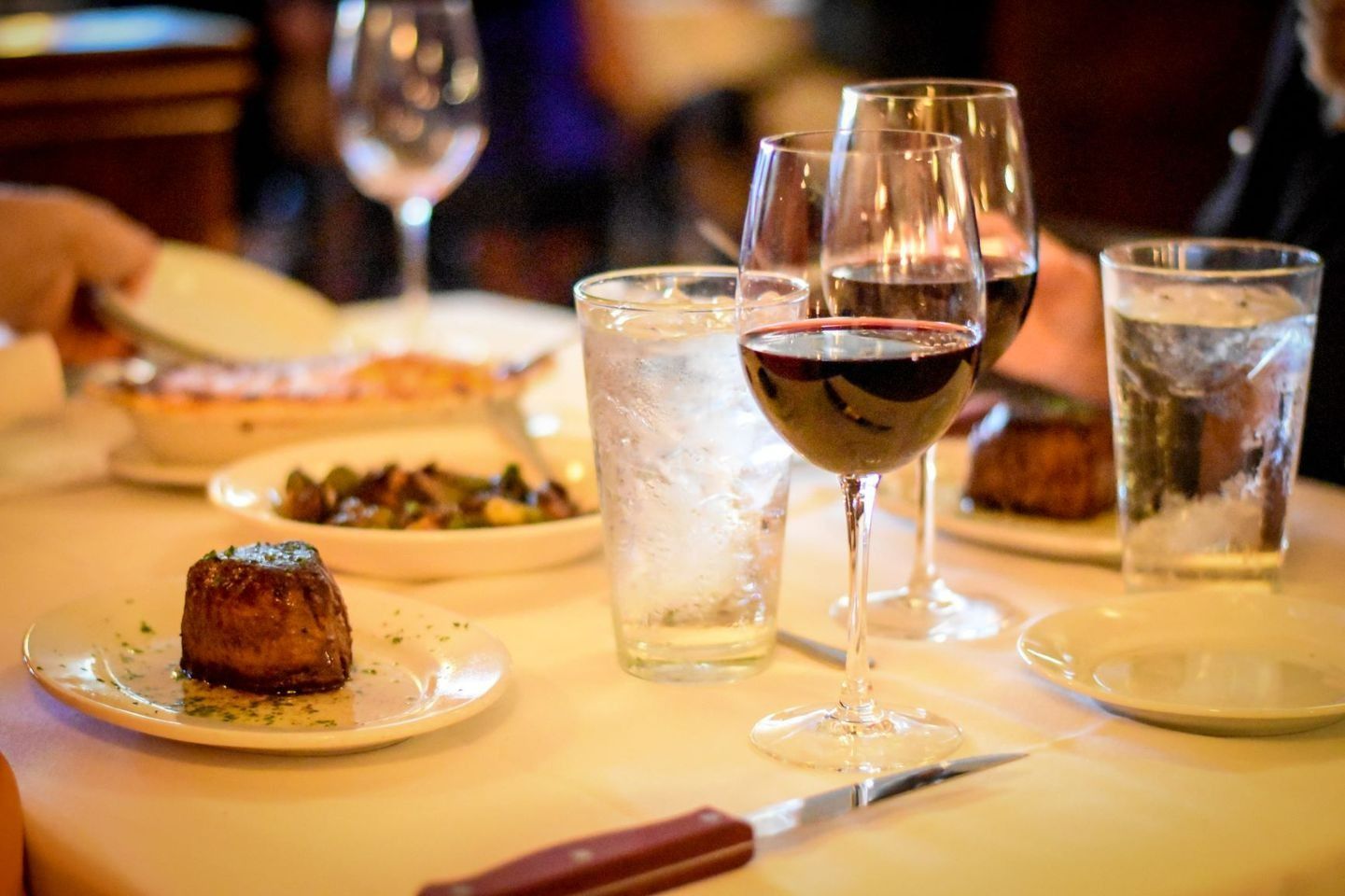 Chophouse is easy to find when you're in the CBD; the restaurant has an iconic red neon sign that can be seen from blocks away. Chophouse is great for steaks, but their menu also features lots of fresh seafood that may turn your eye away from the steak selections.
Chophouse ages their steaks for 28 days before preparing them "Pittsburgh-style" with a charred exterior. The Delmonico Steak, Filet Mignon, and NY Strip are top contenders, and you can get those steaks in giant portions if you prefer. The Porterhouse for Two comes in a 40 oz cut. Instead of that, you and your dinner mate may prefer the Broiled Giant Lobster Tails.
10.

La Boca Steakhouse
870 Tchoupitoulas St. (504) 525-8205, labocasteakhouse.com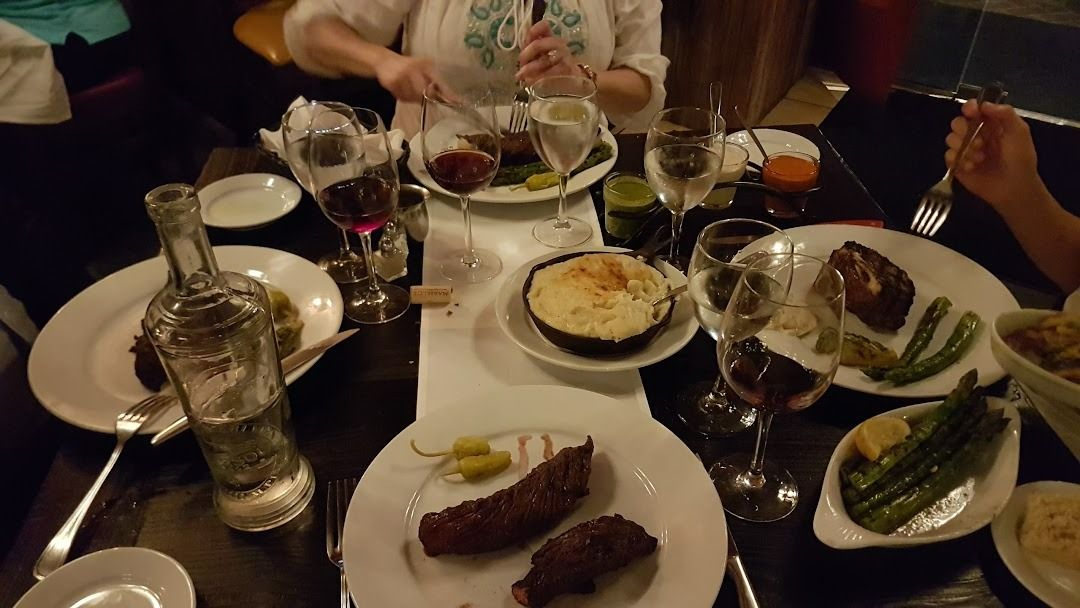 La Boca is the place to go to when you want a taste of Argentina. There are cuts of meat here that you can't find anywhere else and unique sides and appetizers to boot. The Vacio is a 12 oz American kobe flank steak of imperial wagyu beef. The Bife de Lomo is a 10 oz center cut filet mignon from grass-fed cattle.
Before your beef arrives, perhaps you'll be tempted by the Chorizo de la Casa, a house-made grilled pork sausage. The lovely Provoleta is a grilled Argentine cheese drizzled in olive oil and oregano. Your table will love a bite of the Empanadas de Calabaza (fried pie stuffed with squash, ricotta, and lemon).
Where to Get Steak in New Orleans
Did that whet your appetite? These savory steakhouses are top-notch for quality steaks in lively, upscale atmospheres. It's best not to have a big lunch before coming out; some of these steaks are massive and require several diners to finish.
What restaurant has the best steak you've ever had? Let us know where we can find it!