The Mississippi Gulf Coast has been an entertainment mecca for several decades, but it wasn't always a gambling-friendly place. The very first resort in the area Isle of Caprice opened in 1925 to incredible fanfare, but there was pushback about gambling from the local authorities and religious organizations. Slot machines and pinball machines were outlawed by the governor in 1938, and raids on businesses to seek out illegal gambling were frequent. The passing of the Mississippi Gaming Control Act of 1990 finally legalized off-shore, dock-side gambling. The history of gaming in Mississippi is truly fascinating.
Today, many cities of the Mississippi gulf coast allow gambling, and beautiful Vegas-style casinos and resorts have sprung up from the sand. Some of them even celebrate National Card Playing Day on December 28. If you haven't visited the coast in a while, now is the time to see what you've been missing.
The Most Thrilling Casinos on the Coast
1.
Silver Slipper Casino & Hotel
5000 S Beach Blvd, Bay St Louis, (228) 469-2777, silverslipper-ms.com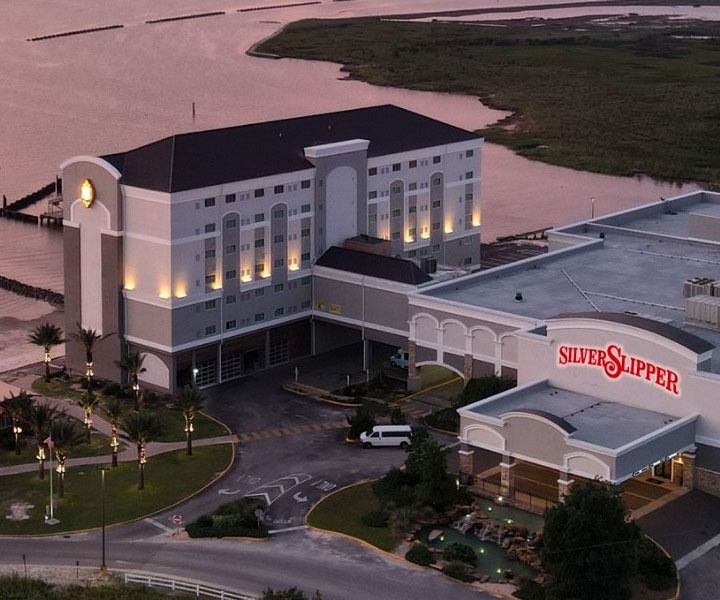 Though most casinos on the Mississippi coast are very family friendly, the Silver Slipper casino, hotel, pool and all restaurants are only open to those 21 years of age and older as of July 2022. The decision has come with a lot of praise for people who prefer to have an adult-only environment as so many casinos have changed to accommodate younger people in the past 20 years.
The Silver Slipper is well known for frequent giveaways of all kinds of things like home goods, kitchen items, and so much more. Come summer, the Beach Club is the place to swim and be seen.
2.
Scarlet Pearl Casino Resort
9380 Central Ave, D'Iberville, (888) 752-9772, scarletpearlcasino.com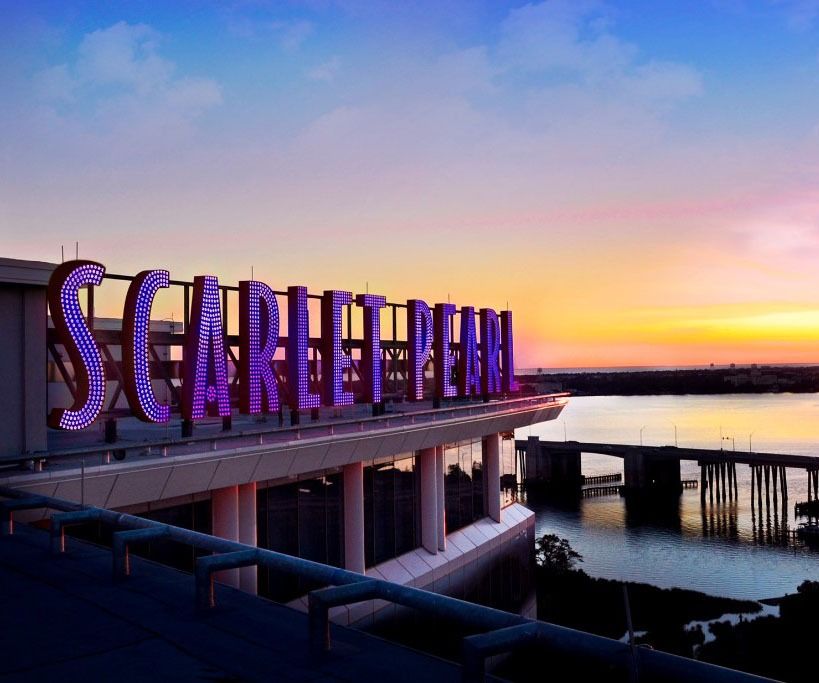 Scarlet Pearl sits just above the coast on the bay. The towering building offers amazing views of the calm bay as well as the gulf for those who stay on the top-most floors. There's plenty to see on the lower floors too: the Live Oak Café and Scarlet's Steaks & Seafood are as visually stunning as their fare is delicious.
In addition to tens of thousands of square feet of gaming floor, adventurous gamblers are welcome to enter The Orchid Room: a high-stakes, high-limit luxury gaming experience. You can even game while watching your own personal television.
3.
Hard Rock Hotel & Casino
777 Beach Blvd, Biloxi, (228) 374-7625, hrhcbiloxi.com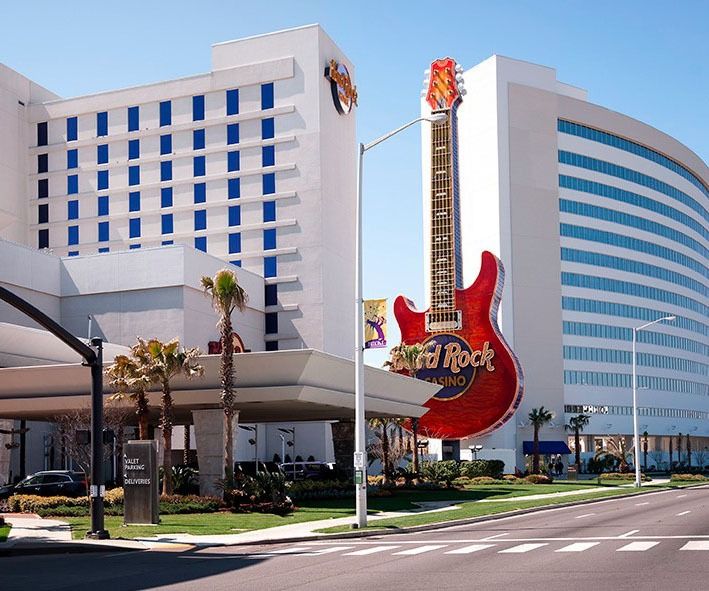 The Hard Rock is known the world over for their vast collection of music memorabilia, swanky settings, and generous hospitality. The Hard Rock Casino in Biloxi is no exception to the brand. In addition to having a large and exciting gaming floor, Hard Rock Live attracts huge name acts all the time.
When you're not playing the slots, get a drink at the Soundbar swim-up bar at the pool or get great eats at Half Shell Oyster House, Satisfaction Buffet, or the Hard Rock Café. You will definitely feel like the main act at this bustling, heart-pumping casino.
4. Beau Rivage Resort & Casino
875 Beach Blvd, Biloxi, (228) 386-7111, beaurivage.mgmresorts.com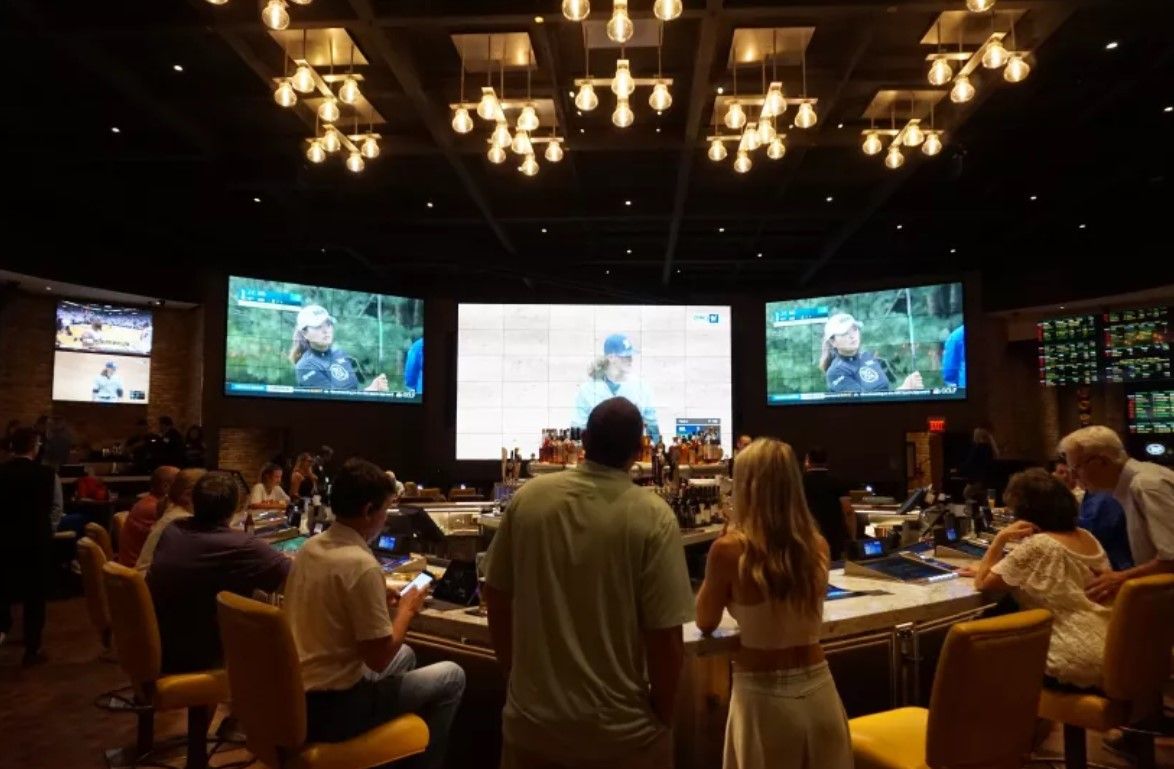 Standing like a glorious castle on the sands of the Gulf of Mexico, the Beau Rivage Resort & Casino never fails to impress in looks, dining, shopping, entertainment, and, of course, gaming. The Beau also has one of the best spas in America! The Beau's theater receives big name performers on a regular basis, but there will also be great bands playing in the Eight75 lounge.
Before you hit the extensive floor, have dinner at the steakhouse BR Prime, Pan-Asian fusion restaurant Jia, or Italian restaurant Stella. There are even more options than that to check out. You're really going to need a whole weekend to see it all.
5.
Margaritaville Resort & Family Entertainment Center
195 Beach Blvd, Biloxi, (228) 271-6377, margaritavilleresortbiloxi.com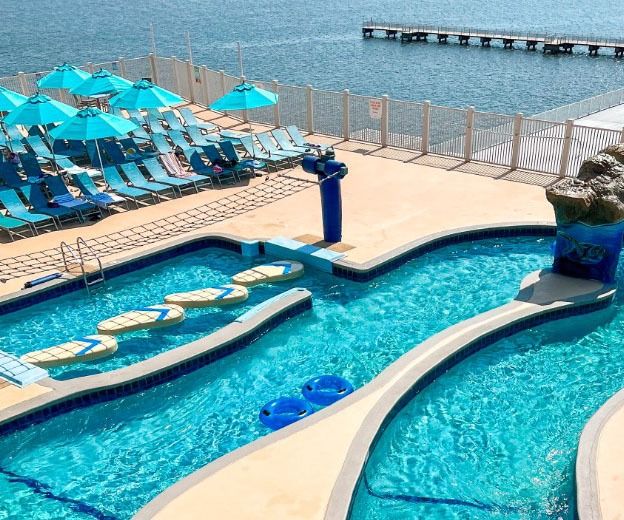 Margaritaville was made to get away from it all, even the casino. Margaritaville in Biloxi previously operated a casino, but now the resort caters mostly to families with children who can all have fun the huge arcade Escape.
The fun doesn't end at the arcade, though. The kids (of all ages) will love the 450-foot lazy river, waterslides, and waterpark on the roof with beautiful views of the gulf. And adults will really enjoy the swim-up bar that looks like a cave made for a mermaid. Don't forget the sunscreen; you'll be spending a lot of time in the sun.
6.
Treasure Bay Casino & Hotel
1980 Beach Blvd, Biloxi, (228) 385-6000, treasurebay.com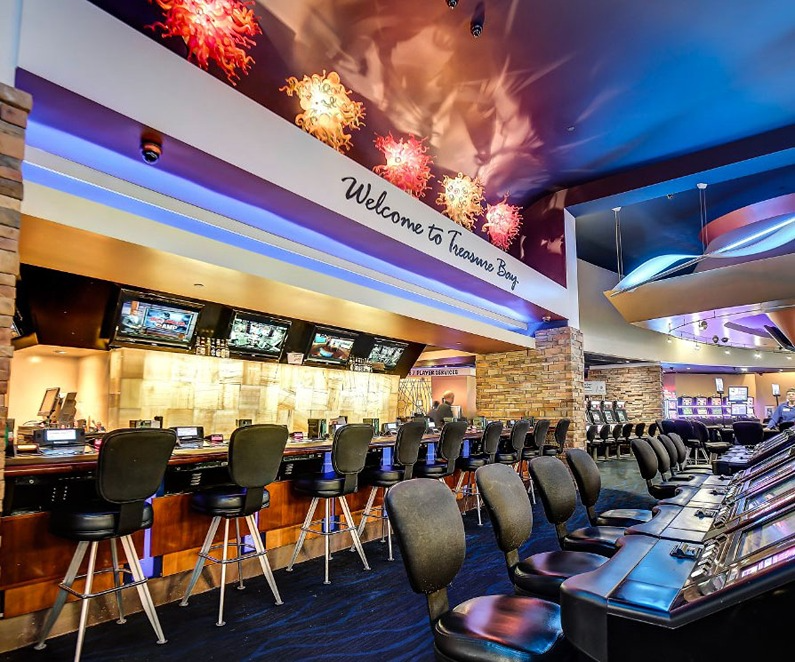 Gaming is the main focus at Treasure Bay; the slots and tables are where you can find a fortune if you're lucky. Sports Book is also at The Bay, and sports betters are always ready to place their bet on the line. When you're taking a break from the action, there are many ways to unwind and fulfill your other senses.
Infinity Buffet overlooks the glittering infinity pool terrace which has recently been renovated to include upgraded cabanas and more food options from Agua. The lovely lounge blu is the best place for an after-dinner drink in some comfy chairs while overlooking the gulf from the window. Treasure Bay is only open to adults aged 21 and over.
7.
Hollywood Casino
711 Hollywood Blvd, Bay St Louis, (228) 469-2100, hollywoodgulfcoast.com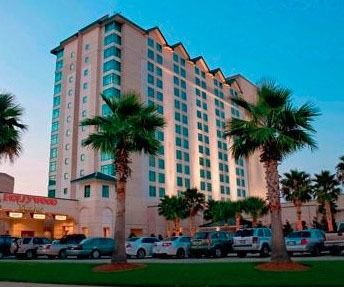 The Hollywood Casino makes their guests feel like stars on the floor and in their luxurious rooms. But they have the option of hosting you in the RV park or marina for those who prefer staying in their own space.
Hollywood Casino is located nearer to Old Town Bay St. Louis, and it is highly recommended that you take an afternoon to peruse the area at your leisure. You can also spend some time playing on the golf course designed by Arnold Palmer himself. The casino will be there for the late night fun.
8.
Island View Casino & Resort
3300 W Beach Blvd, Gulfport, (228) 314-2100, islandviewcasino.com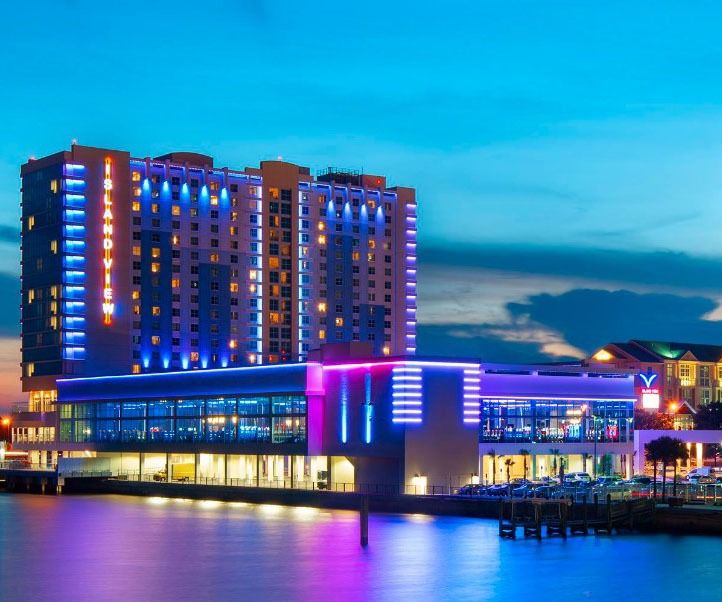 Island View stands out among the rest because it is smoke-free. It also has some incredible dining options like the Prime Cut, Carter Green Steakhouse, and Beach BLVD Steamer. It's the best mix of surf-and-turf on the coast.
Real players will get great deals when they sign up for the Player's Club. There are promotions happening constantly that you'll want to take advantage of. There are even promotions that will reward you based on your age!
9.
IP Casino & Resort
850 Bayview Ave, Biloxi, (228) 436-3000, ipbiloxi.com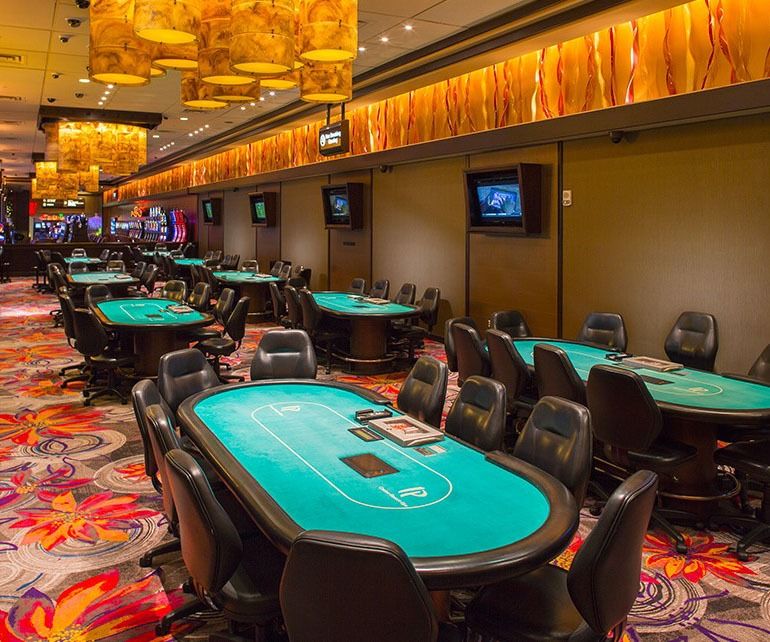 The IP is one of the top destinations on the Mississippi gulf coast for New Orleanians. The deals are so good that it makes everyone want to come back for more. The IP towers over the competition at 32 stories high, and they would love to host your furbabies in a dog-friendly room.
Put on your walking shoes for the casino floor; the IP boasts 70,000 square-feet of nothing but gaming. That's 1,200 slots, 48 table games, and even a non-smoking poker room. The immensely popular Sportsbook is also available here for sports betters.
10.
Golden Nugget
151 Beach Blvd, Biloxi, (228) 435-5400, goldennugget.com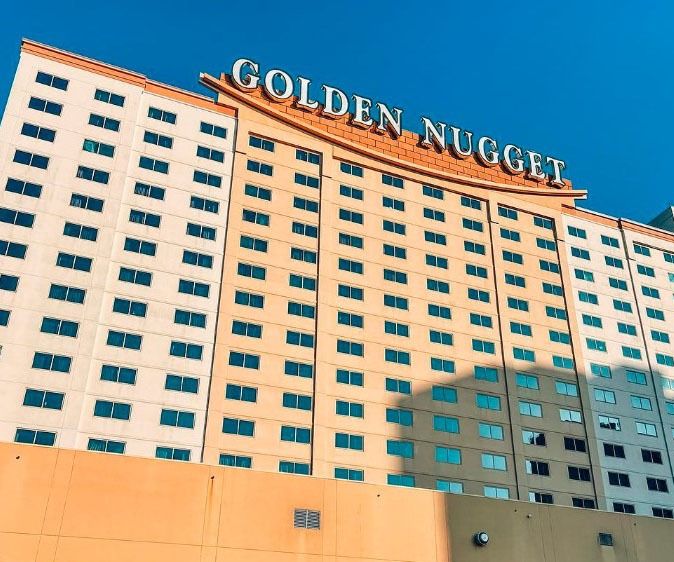 When the weather is hot, young adults love to mix and mingle at Golden Nugget's H2O Pool and Bar. The lounge areas, fire pits, and private cabanas are to die for, but it's the in-pool day beds that really get a lot of attention. They're perfect for taking selfies that cause envy.
In the evening before you hit the busy gaming floor, have dinner at one of the fine dining restaurants like Morton's The Steakhouse, Lillie's Asian Cuisine, or Bubba Gump Shrimp Co. You can unwind in the Rush Lounge until the early morning hours.
These Are The Most Exciting Casinos on The Gulf Coast
Don't have all your fun at one table! There's plenty of places to get your game on along the Mississippi coast, and you may want to make it a regular trip so that you can experience it all. Be sure to leave some time for dining, drinking, and entertainment. There's always something going on here on the gulf coast. Even pinball is legal again!
From gaming to golf to great food and more, it's easy to see why these Mississippi casinos are always full of people looking for a good time. Make your reservations in advance because these hotels are known to be booked solid.