If spending time stuck at home with an empty fridge has you dreaming of an authentic homemade Italian meal, you're in luck. Red Gravy has exactly what you need. Owned by New Jersey-native Roseann Melisi Rostoker, this Italian bistro has been showing the city of New Orleans what real Italian food is for the past decade. Like most restaurants in the city, Red Gravy has been forced to shut its doors due to coronavirus fears, but they will remain open on Wednesdays for locals to pick up orders of their Wednesday Family Meal.
Each Wednesday, the restaurant will be offering a new menu with classics and customer favorites. All orders will be available for pick-up at the restaurant, between 1 and 2 p.m., and at the owner's Uptown house between 4 and 6 p.m. The Red Gravy Facebook page also says that if you really need some Italian cooking on another day of the week, you can contact them to see if something can be arranged. You can reach out to Rostoker directly with questions or orders, and she says that they can do meatballs with any family meal. She's even willing to take special requests, whenever possible.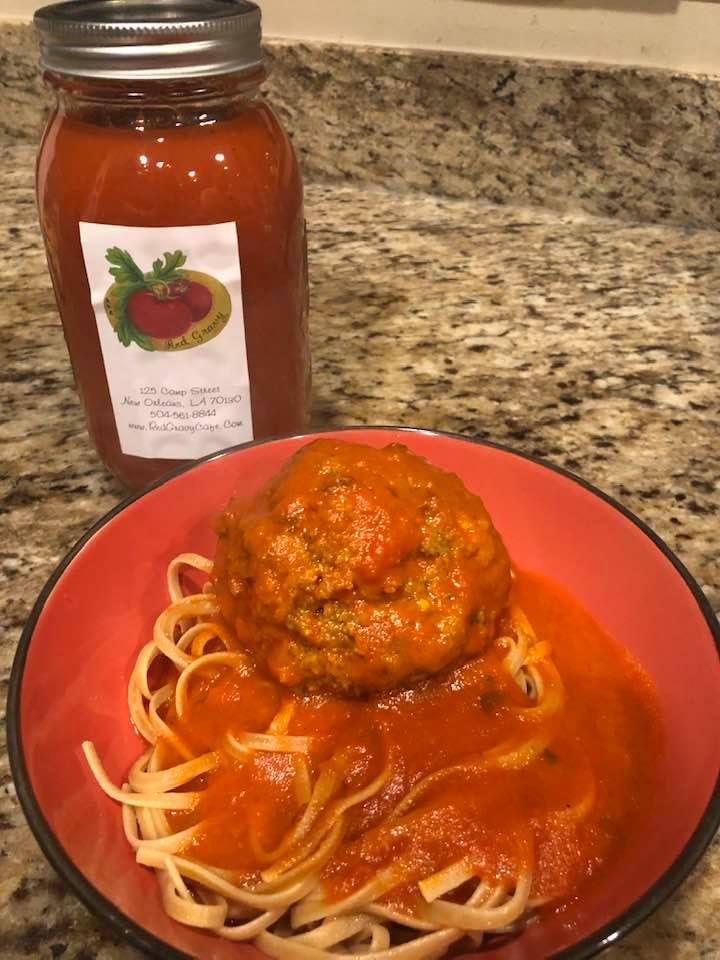 To give you an idea of what you'll get in one of these delicious family meals, here is a sample of some of the items they offer. The menu for next Wednesday should be posted on social media no later than the previous Monday:
·Grilled chicken breast with romesco sauce (roasted red peppers and other goodness; contains nuts) over farfalle pasta, side of garlic bread. For 2 people: $25; for 4 people: $45
·Italian sausage parmigiana with spaghetti and garlic bread. For 2 people: $22; for 4 people: $35.
·Fried chicken breast with biscuits and five-cheese mac and cheese, with maple butter syrup. For 2 people: $22; for 4 people: $35.
·Pasta Piselli: rigatoni with peas and bacon. Comes with garlic bread. For 2 people: $20; for 4 people: $32.
·Handmade cannoli: $3 each
·Meatballs: 2 for $10, comes with a bit of their famous namesake red gravy.

The restaurant will also continue to sell their famous delicious "red gravy" tomato sauce on nolacajun.com. To place an order for family meals, send a message on Facebook, call, or text.