Almost two months after temporarily closing their doors due to the pandemic, Tommy's Cuisine has reopened to offer diners curbside seven days a week. The rapidly expanding Creole Cuisine Restaurant Concepts purchased Tommy's almost four years ago, but original owner Tommy Andrade and his recipes remain. "While we are all trying to find normalcy at this time, it is our hope that coming together around the table for a family meal provides some sense of that and brings you closer as a family," said Marv Ammari, CEO of Creole Cuisine Restaurant Concepts.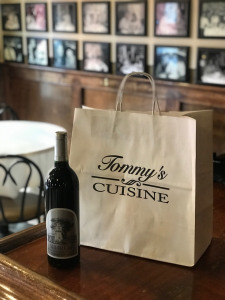 The menu currently offered for to-go orders has several appetizers, pizzas, salads, sandwiches and pasta. Dishes include chicken and andouille gumbo with popcorn rice, fried calamari with marinara and Crystal Hot Sauce aioli, roasted eggplant pizza, fried gulf shrimp sandwich on ciabatta bread, Shrimp Fra Divalo pasta and their classic tiramisu. Tommy's is also offering prix fixe family meals for four featuring baked lasagna, and spaghetti and meatballs. In addition, the neighborhood restaurant has a large selection of wines by the bottle, all priced at 50% off, plus ever to-go order of food gets 25% off.
Diners with a hankering for some classic, Creole Italian food can place their orders at Tommy's Cuisine by calling (504) 581-1103 for curbside pick-up seven days a week from 11:00am to 8:00pm.