Supporting the Rhythms of Tomorrow
The Roots of Music is holding the Support Your Roots Parade with the Marching Crusaders on November 28, also known as Giving Tuesday.
This fall fundraiser benefits The Roots of Music, whose mission is to empower New Orleans' youth through music theory and instrumental education to children aged 9-14 from low-income housing. The program also provides their students with hot meals and transportation five days a week, all year long, to reduce common barriers to participation. Support Your Roots supplies over 150 instruments, delivers over 30,400 nutritious meals, and over 1500 bus trips over the course of each year.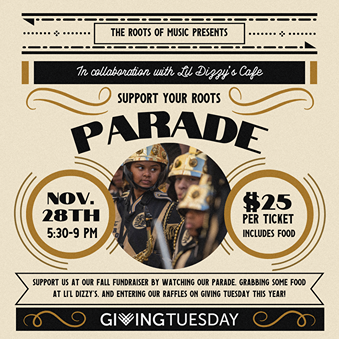 The Marching Crusaders program is comprised of musicians aged 9-12 playing a fleet of brass, woodwind, and percussion instruments. It is designed by the highest caliber music educators and has won the Arhoolie Award and The Adolf Busch Award.
The Marching Crusaders have appeared at the Rose Bowl Parade, North Sea Jazz Festival in Rotterdam, Curaçao North Sea Jazz Festival, Harvest Jazz and Blues Festival, and The French Jazz Sous Les Pommiers festival. They are also beloved locally for performances at local Mardi Gras parades, the New Orleans Jazz and Heritage Festival, Satchmo Summer Festival, and Essence Festival.
The Support Your Roots Parade will kick off at The Roots of Music's home base at 1020 N. Prieur and will stretch to Li'l Dizzy's Café at 1500 Esplanade Ave.
An after party at Li'l Dizzy's immediately follows, including a plate of food and a cash bar. Tickets are $25 and cover the cost of food, but make sure to bring cash for drinks. Li'l Dizzy's will also host a raffle benefiting the program.
Your Support Makes a Difference
The evening promises delicious food, incredible music, and meaningful connections. Follow the Support Your Roots Facebook page to stay tuned for the parade route.