African
Bennachin may be the only place in the world to feast on New Orleans-influenced cuisine from Cameroon and Gambia. Their dishes, bursting with flavor, have delighted carnivores and vegans alike since 1992. Their black-eye fritters are a favorite as famous as their ginger drink. Pair these with lentil soup or a plate of African jambalaya for a truly extraordinary meal. 1212 Royal St. | 522-1230 |bennachinrestaurant.com
American
Apolline is a sweet spot on Magazine Street, concocting modern versions of classic Louisiana cuisine. Try their Louisiana Cioppino, which combines Gulf seafood and alligator sausage in a sherry broth. Enjoy delectable small plates and drink specials during Happy Hour, wine specials on Wednesdays, and bottomless mimosas and Bloody Marys at brunch. 4729 Magazine St. | 894-8881 |apollinerestaurant.com
Bayou Hot Wings shows their culinary expertise with the care they put into each perfect wing-24 hours of seasoning and brining's worth! Don't miss out on their popular house-made sauces, like Bayou Sweet Heat and Bayou Hotboy, which also can be paired with shrimp, gator bites, or frog legs. The menu boasts offerings "On Da Bun" or with "Green Stuff," too. 6221 S. Claiborne Ave. | 662-9933 |bayouhotwings.com
The Country Club is known as an understated and sophisticated haunt, a reputation that is well-earned after 40 years of service. Just imagine luxuriating by the pool, sipping cocktails, and swimming the day away. Their various menus-brunch, lunch, dinner, poolside, small-plate, and dessert-all showcase expertly executed contemporary Creole cuisine. And rain means that it's Happy Hour all day! 634 Louisa St. | 945-0742 | thecountryclubneworleans.com
Cowbell is located in a former gas station, but serves gourmet eats. Order their "locally world-famous" grass-fed beef or vegetarian harvest burger-or a giant Grilled Chicken Arugula Salad. They also serve dishes to please all palates, including skirt steak, tacos, and grilled chicken or fish. With extras like The Love Brussel and homemade pies, Cowbell will have you returning soon for more. 8801 Oak St. | 866-4222 | cowbell-nola.com
Daisy Dukes is known for serving authentic New Orleans dishes-like boiled seafood, fried seafood platters, and po-boys-in a casual environment suitable for the whole family. And their Cajun Bloody Mary Mix is practically famous. Two of their five locations are 24/7, and you can order breakfast there throughout the day, too. Trouble choosing? The New Orleans Sampler gives you a taste of it all. Multiple Locations |daisydukesrestaurant.com
Fullblast Brunch is one of the freshest breakfast spots in Mid-City. Choose from a variety of breakfast and brunch options, all with Creole, Cajun, and Latin influences. Pair a mango mimosa with their traditional New Orleans Grillades & Grits or their signature Chicken Milanesa Benedict, served with pico de gallo over a black bean cake. 139 S. Cortez St. | 302-2800 | fullblastbrunch.com
Gattuso's Neighborhood Restaurantepitomizes the notion of a neighborhood eatery where you can get your drink on, too. Boasting a comprehensive appetizer menu and all kinds of mouthwatering burgers and sandwiches, they even find the time to dish out some impressive salads and seafood platters. 435 Huey P. Long Ave. | 368-1114 | gattusos.net
Gordon Biersch is a German-style brewhouse in the heart of New Orleans's downtown. They have an impressive variety of handcrafted beers on tap and a menu of eclectic American fare built specifically for pairing with their award-winning beers. They even have a gluten-sensitive menu. Grab a table on their Fulton Street patio for lunch or dinner. 200 Poydras St. | 522-2739 |gordonbiersch.com
Lakeview Harbor offers daily specials featuring classic New Orleans and homestyle cooking, such as paneed chicken with mac and cheese on Tuesdays, shrimp creole with cheese grits on Fridays, and baby back ribs with potato salad and baked beans on Wednesdays and Saturdays. But they are famous for their burgers, sliders, steaks, and loaded potatoes. And now, they even serve breakfast on the weekends. 8550 Pontchartrain Blvd. | 486-4887 |lakeviewharbor.us
Legacy Kitchen is a perfect place to dine for any occasion-a casual lunch, a cozy date night, or dinner with the whole family. Dinner on Friday and Saturday nights includes wine bottles at half price. Get your charbroiled oyster fix during their daily Happy Hour, when they serve up charbroiled oysters for just $1 each. Multiple locations | legacykitchen.com
Legacy Kitchen's Steak + Chop is elevating the foodscape of the Westbank with sophisticated cuisine served in a casual environment. Check out their weekly chalkboard specials, such as half-priced wine, $1 charbroiled oysters, and weekend dinner and lunch combos. Or sample from their upscale daily Happy Hour bar menu, with dishes like their Seared Tuna Stack and sides like their Fried Oyster Side Salad. 91 Westbank Expy. | Gretna | 565-7434 | legacykitchen.com
Liberty Cheesesteaks has brought the unmistakably divine taste of a true Philly Cheesesteak to New Orleans and has created with it an all-new companion piece: the colby and cheddar cheese-drenched Wiz sandwich. In a town known for its po-boys, Liberty has stepped up to the plate with their superior subs and hoagies. 5039 Freret St. | 875-4447 | libertycheesesteaks.com
Pokéworks swears by using the freshest ingredients and a policy of sustainability and environmental responsibility. Enjoy the flavors of Hawaii from the comfort of the mainland with "Poke Your Way." Pick from a bowl, burrito, or salad and then add a protein; mix-ins, like kale, cucumber, or mango; toppings, like avocado or sesame seeds; and one of their many specialty sauces. 3413 Veterans Memorial Blvd #119 | Metairie | 218-5352 | pokeworks.com
Spudly's Super Spuds is the only place in town specializing in overstuffed potatoes that please carnivores and vegans alike. Optional toppings include seafood, chicken, corned beef, veggies, and many more. They also serve Small Spuds and Spud Skins, as well as soups, salads, starters, and sides-along with burgers and specialty sandwiches, like the Italian Dream-for those who want to mix up their meals. 2609 Harvard Ave. | Metairie | 455-3250 |spudlys.com



The Steakhouse at Harrah's
crafts inspired dishes, from succulent ribeyes to snacks and seafood infused with the flavors of New Orleans. They've received a
Wine Spectator Magazine
Award of Excellence for their top-notch wine collection, and they offer a prix-fixe menu with wine pairings. Planning a special event? Then check out their three- and four-course private event menu.
4 Canal St. | 533-6111 | caesars.com/harrahs-new-orleans
Stein's Market & Deli is nestled in the Lower Garden District, but rivals the best delis in New York. Order a classic or specialty sandwich, made from their vast selection of cured meats and quality cheeses. Think bacon, egg, and cheese on house-made bread, a bagel with smoked salmon, a Reuben on marbled rye, or Brian's Vegetarian Panini. They have gluten-free options, too. 2207 Magazine St. | 527-0771 | steinsdeli.com
Willie Mae's Scotch House has been pleasing foodies in the historic Treme with their short and sweet menu for over 60 years. With accolades that include a James Beard Award and Travel Channel's distinction for Best Fried Chicken in America, this place is a must if you're in the market for unrivaled flavor. Be sure to try the cornbread and the white beans. 2401 St. Ann St. | 822-9503 |williemaesnola.com
WOW Café Doubletree features a vast menu with items like handhelds and New Orleans-inspired dishes, as well as a breakfast buffet and brunch classics. The Shanghai Shrimp Po'Boy has won Best in Fest at the Oak Street Po-Boy Festival. You may, of course, simply want to sample their wings in signature sauces that range from spicy to sweet and tangy. 300 Canal St. | 212-3250 |wowcafe.com/stores/double-tree-new-orleans


Asian
Bao & Noodle is an excellent option for lunch or dinner in the Marigny. Slurp down a bowl of authentic Chinese soup or tear into a steamed bun. Start with a small plate, like their scallion pancakes, and stay for an entrée, like the Dan Dan Noodle with Pork. The restaurant is not only vegetarian/vegan-friendly, but also BYOB, so everyone leaves happy. 2700 Chartres St. | 272-0004 |baoandnoodle.com
Five Happiness has received accolades from local diners as one of the best Chinese restaurants in town. If you're looking for a spicy kick, the Hunan Deluxe is a favorite. Don't forget the crab rangoons! It's also a great venue for large gatherings or to treat yourself to a generous, yet affordable lunch special. Five Happiness delivers to Uptown and Mid-City. 3605 S. Carrollton Ave. | 482-3935 | fivehappiness.com
Green Tea will feed you in a flash. Order take-out or dine-in from this eatery's menu, which features fantastic healthy options, soups, fried rice, noodles, and customizable dinner and lunch combos-all at an extremely reasonable price. They offer family dinner specials for two to nine people, and you can even reserve a private room for any special occasion. 3001 Napoleon Ave. | 899-8005 | greenteanola.com
Kyoto 2 in Elmwood is perfectly situated for a lunch break while shopping or for dinner before or after seeing a movie. Their extensive menu of Japenese-style soups, salads, noodles, and creative rolls is sure to please anyone. Not into fresh fish? Try the lightly seared beef tataki or one of the many other adventurous (and fully cooked) options available. 5608 Citrus Blvd. | Harahan | 818-0228 | facebook.com/Kyoto2Nola

Mikimoto has delivered New Orleans-infused Japanese favorites to locals for 20 years. Their rolls rep the entire city, from the Uptown roll (stuffed with seafood, asparagus, and cream cheese, then fried) to the Metairie roll (crab, tuna, and avocado with BBQ eel sauce). Spice things up with their Wasabi Mussels and end with something sweet, like their Banana Tempura. 3301 S. Carrollton Ave. | 488-1881 | mikimotosushi.com
Miyako is perfect for a night out with friends or family or even for an adventurous date. They serve dinner with a fiery show, as their hibachi chefs perform daring feats of culinary artistry-chopping, flipping, and masterfully preparing your entrees before your eyes. Miyako is great for other occasions, too, offering various hibachi lunch combos, sushi bar standards, and dessert. 1403 St. Charles Ave. | 410-9997 | miyakonola.com
Origami is particularly popular with Tulane and Loyola students., but is also a great spot for a business lunch, a tasteful date, or a night out with friends. Relax on their outdoor deck, get cozy in a booth, or sidle up to the bar. They have poke bowls, combo meals, and innovative rolls, like the Origami Roll featuring eel and tempura-fried banana. Their sake cocktail game is strong, too. 5130 Freret St. | 899-6532 | sushinola.com
Bars with Great Food
Backspace Bar & Kitchen offers a quick bite and quiet respite from the bustle of the French Quarter. Sip and nibble on some delicious offerings at this gastropub that pays homage to famed authors. Their drinks, like The Awakening, are quickly becoming classics. Get inspired with the likes of the Hemingway Cuban, boasting pulled pork, prosciutto, Swiss pickle, and grain mustard on French bread. 139 Chartres St. | 322-2245 | backspacenola.com
Buffa's Bar and Restaurant has livened up the Marigny for 90 years now, with daily offerings of performances by local musicians and some of the best food in town. Try exemplary classics like red beans and rice, creative half-pound burgers, and one-of-a-kind dishes like Carrot Croquettes. They're open 24/7, making it a perfect destination for any meal. Check out their Sunday jazz brunch. 1001 Esplanade Ave. | 949-0038 |buffasbar.com

Copper Vine Winepub has a selection of wine on tap, draft beers, and cocktails designed to please even the most discerning palate. Dine in this chicly restored historic landmark building or in the cute courtyard and enjoy life in the CBD, ordering from their unique fine-dining menu. Try the duck confit flatbread or the crabmeat deviled eggs. 1001 Poydras St. | 208-9535 | coppervinewine.com
The Jimani is a local hangout with amazing bar food, like nachos made special with the addition of chorizo or chicken sausage. Truly a sportsman's paradise-for those more into watching any game imaginable than participating in sports-the bar has 10 screens to watch, 100 beers to choose from, and an extensive menu to feast your senses on. 141 Chartres St. | 524-0493 | thejimani.com
The Library New Orleans is a newer addition to the Touro neighborhood. At this gastropub, you can chill out with your friends and take advantage of their free pool table, 32 varieties of draft beer, and balcony seating. Or, swing by for Sunday brunch and get a taste of unique menu items, like their duck sandwich or boudin Scotch balls. 3629 Prytania St.| 510-2527 | libraryneworleans.com
Mimi's in the Marigny is an understated neighborhood bar that has been voted Best Marigny Bar, Best Marigny/Bywater Restaurant, and Best Late-Night Eats in the Best of the Big Easy Awards. The menu features gourmet tapas for vegetarians and carnivores alike. Order the "Trust Me" cocktail or small plate or try the lamb chops or the ultimate shareable staple: a cheese board. You won't be disappointed. 2601 Royal St. | 872-9868 | mimismarigny.com

Ole Saint is open in the French Quarter for breakfast, lunch, and dinner. There are over 40 big-screen TVs and over 50 draft beers, so you can watch your team and have a local brew at this former New Orleans Saints player's watering hole. You'll find everything from game-day eats to Southern cuisine, like BBQ pork sliders and Louisiana shrimp and grits. 132 Royal St. | 309-4797 |olesaint.com

Orleans Grapevine is a casual fine-dining bistro offering French-Creole cuisine. Located just behind the St. Louis Cathedral, Orleans Grapevine is a great spot to visit in the Quarter. Choose from over 65 varieties of wine and champagne by the glass and 375 by the bottle. Stop by for Happy Hour between 4 p.m. and 6 p.m. or 10 p.m. and 12 a.m. daily, and you'll be treated to FREE BACON! 720 Orleans Ave. | 523-1930 | orleansgrapvine.com

Rivershack Tavern is a River Road joint dishing out local flavor that is not to be missed. With fun novelty bar stools and an exterior covered with vintage ads, this is about as funky as New Orleans gets. Their massive menu features apps, salads, "boigers," and more. Don't miss their Thursday-evening special of $2 tacos and $2 margaritas from 4 pm - 'til. 3449 River Rd. | 834-4938 |therivershacktavern.com

Shamrock Bar and Grill has got game-and some of the best late-night food and libations around. Challenge your friends to some air hockey, ping pong, or darts at the city's largest neighborhood bar. Refuel with a ribeye steak dinner, including mashed taters and salad. Games aren't your thing? The dance floor is open all night long, so you can get your groove on. 4133 S. Carrollton Ave. | 301-0938 | shamrockparty.com

Three Palms Bar and Grillis a fun neighborhood bar with a friendly staff and atmosphere and a Happy Hour you can count on. Stop by for tropical drinks, chicken wings, or $12 steak dinners. Check out their weekly specials, like free red beans and rice on Mondays between 11 a.m. and 2 p.m. and Wednesday Wings for $.50 a wing. 3813 Tulane Ave. | 459-4474 | 3palmsnola.com
Tracey's Irish Bar and Restaurant in the Irish Channel has been serving the community on St. Patty's Day and every day since 1949. Their 15 big screens and wide selection of tasty bar food and great local beers keep the crowds coming back. Try some alligator or crawfish sausage or another local delicacy, the french fry po-boy, drenched in roast beef debris gravy. 2604 Magazine St. | 897-5413 | traceysnola.com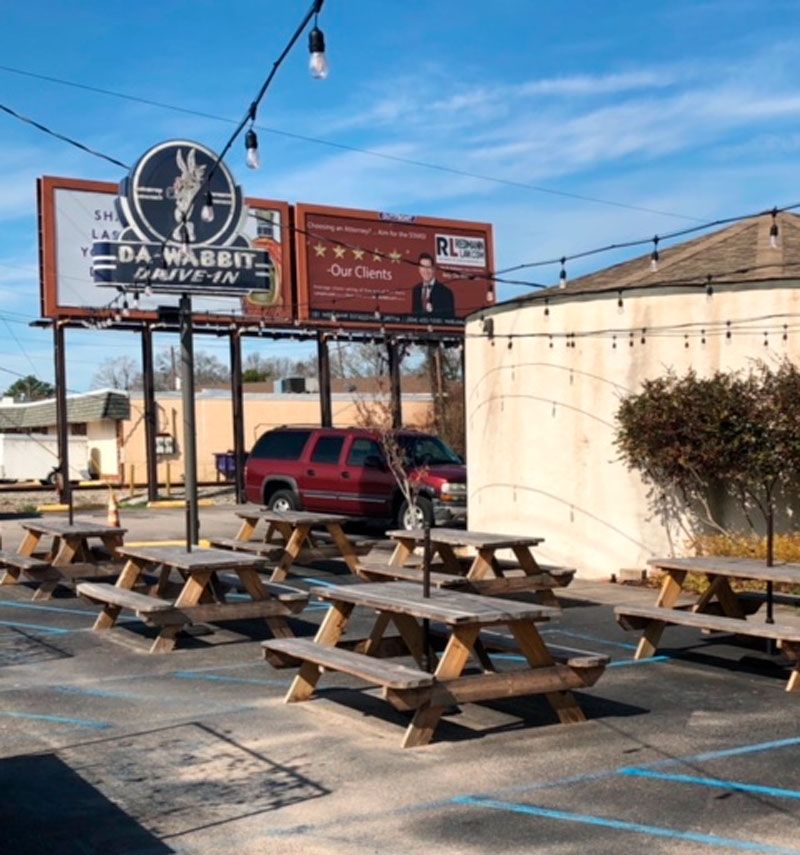 Café
Café 615 Home of Dawabbit doesn't skimp on the portions of great homestyle cooking. You'll also be surprised by the generously affordable prices. Offering oyster plates and daily lunch specials, such as red beans and rice, meatloaf, and catfish, Café615 was voted best restaurant on the Westbank-and their crispy fried chicken was voted among the best in New Orleans.615 Kepler St. | Gretna | 365-1225 |dawabbit.net
Café Amelie will have you rethinking café dining altogether. Located in the 150-year-old Princess of Monaco Courtyard and Carriage House, this place is perfect for a romantic meal in a scenic French Quarter courtyard. Their menu highlights local ingredients and offers gluten-free and vegetarian preparations. Try their beet salad, satsuma pepper-glazed Gulf shrimp, or chicken and andouille jambalaya pasta. 912 Royal St. | 412-8965 | cafeamelie.com
Cafe Beignet serves not only Cajun specialties, but also breakfast and some of the city's best chicory coffee and beignets. Stop by the Musical Legends Park at their Bourbon Street location for live local jazz beginning at 8 a.m., relax in their beautiful courtyard on Royal Street, or people-watch through their large French windows on Decatur Street. Multiple locations | cafebeignet.com
Café Navarre is a great casual option in Mid-City for breakfast, lunch, and weekend brunch. Decked out with skateboard decor amidst Jim Morrison and Jimi Hendrix artwork, this café is the perfect place for a po-boy. For a real treat, try their delicious Cuban sandwich, spinach artichoke panini, or jalapeno mozzarella burger. If you're up early, stop by for their Eggs Sardou. 800 Navarre Ave. | 483-8828 | cafenavarre.com
Caffe! Caffe! helps you start your morning off right. This coffee house stands apart from the rest with its extensive array of cakes and pies. Don't have a sweet tooth? Order from their extensive breakfast and lunch menus. Looking for a healthier option? This café offers soups, salads, and Eat Fit selections, like their avocado salad drizzled with homemade mango vinaigrette. Two Metairie Locations | caffecaffe.com
Carmo designs cross-cultural eats with a creative spin. Take your taste buds on an adventure through Central and South America, West Africa, Southeast Asia, and the Gulf South. Best of all, the menu is vegan- and vegetarian-friendly and offers fresh juices, ceviches, salads, and breads. The tiradito sashimi, rico, and broken noodle salad are standout menu items. 527 Julia St. | 875-4132 | cafecarmo.com
Compère Lapin provides patrons with a dining experience like no other-for lunch, dinner, or brunch. Chef Nina Compton crafts a menu this is inspired by her Caribbean heritage and blends indigenous ingredients with both French and Italian culinary expertise. Imagine spiced carrot soup and curried goat with sweet potato gnocchi or conch croquettes and confit duck leg. The drink menu is equally tasteful. 535 Tchoupitoulas St. | 599-2119 | comperelapin.com
Cru by Chef Marlon Alexander is a raw and bubbly bar in the Marigny, fusing classic American, New Orleans, and Italian influences. Sip a specialty cocktail and nibble on one of several varieties of caviar. Or keep it simple with a gourmet sandwich on brioche. They also offer sushi and vegan rolls and entrees. Cru's Saturday Burlesque and Sunday Drag Brunches include bottomless cocktail options. 535 Franklin Ave. | 266-2856 | crunola.com
Haydel's Bake Shop is a three-generation-strong local tradition. This satellite location of the famous Jefferson Highway bakery makes it even more convenient to discover why Haydel's is internationally known for their king cakes. Order a cup of frozen coffee along with your petit fours and turtles, Cajunnoli and Hubig's-style pies, and other unparalleled specialty baked goods. 3117 Magazine St.| 267-3165 | facebook.com/haydelsbakeshop

Jimmy J's Café is a small, funky café in the French Quarter that's big and bold when it comes to Southern flavor and hospitality. They've got everything from boozy breakfast drinks to specialy treats, like beignet sticks, and even house-made sausages, including poblano-banana pepper as well as blueberry molasses. They offer dine-in, take-out, and delivery from 7 a.m. to 3 p.m., daily. 115 Chartres St. | 309-9360 | jimmyjscafe.com
Petite Amelie offers locally sourced milk, juices, salads, and pastries, making it a great spot for a healthy breakfast or lunch. In a corner shop on Royal Street, this eatery has a rotating menu of fresh and fast gourmet cuisine sure to keep both visitors and locals satisfied. Try the panini waffle melt with Gruyère and ham or their show-stopping tomato soup. 900 Royal St. | 412-8065 | petiteamelienola.wordpress.com
Riccobono's Panola Street Café is a neighborhood go-to for a filling, homestyle breakfast. Wake up with a delicious iced coffee made with chocolate milk or skip right to the bellinis. Try the California Benedict, with avocado and tomatoes, or the Crawfish Sauté Three-Egg Omelette. Order a hand-pattied burger on a Ledenheimer French bun or one of their "Health Conscious" menu items. 7801 Panola St. | 314-1810 | panolastreetcafe.com
Sala is a stylish, yet comfy, family-friendly restaurant on the lakefront. Make it a regular stop for lunch or brunch or to wind down after work with a crafted cocktail in its lounge. Enjoy small, shareable plates, like Duck Empanadas and Herb Truffle Fries, or sip on wine paired with elegant entrees, such as Golden Fried Drum Almondine. 124 Lake Marina Ave. | 513-2670 |salanola.com
Surrey's Cafe & Juice Bar is a place with something for everyone. Known for its freshly squeezed organic juices, Surrey's also offers gluten-sensitive, vegan, and vegetarian options. Their New Orleanian and Latin-influenced cuisine is not to be missed, and the vibrant décor is as inviting as the meals. For brunch, try the Huevos Rancheros Deluxe or the Black Bean and Veggie Burger. 1418 & 4807 Magazine St. | surreysnola.com
The Vintage encourages their patrons to "sip, savor, and shine." This one-of-a-kind café on Magazine Street serves gourmet beignets, breakfast and small plates, sandwiches and charcuterie boards. Be sure to sample one of their exquisite flatbreads, like the Mushroom Swiss with truffle aioli and carmelized onions. Visit early for $6 Happy Hour specials or late-night for pairings with bubbles or ponies. 3121 Magazine St. | 324-7144 | thevintagenola.co
French

Café Degas is a lauded traditional Gallic French eatery located in a charming historic area once frequented by the restaurant's famed namesake. With its unbeatable romantic ambiance, this place has been voted one of the 15 best restaurants in the city. For something really special, try the Caille Rôtie-roasted quail over baby greens-or the homemade crawfish and mushroom ravioli. 3127 Esplanade Ave. | 945-5635 | cafedegas.com
Italian
Josephine Estelle is an upscale restaurant that combines Italian cooking with flavors of the American South. Run by James Beard nominees, this Italian osteria not only knows great pasta, but also has all your favorite dishes. Head on over to their soaring dining room with ornate decor for some homemade spaghetti or delectable soft-shell crab bathed in brown butter. Be sure to stay for the praline mousse. 600 Carondelet St. | 930-3070 |josephineestelle.com
Mellow Mushroom on Oak Street is a classic pizza parlor with a menu that is anything but usual. They have traditional and thin-crust specialty pizzas, like the Holy Shitake with black truffle oil. This is a necessary stop for any hungry patron in the Carrollton area, where you can build your own salad, swap out your mozzarella for vegan cheese, or feast on pizza that is deliciously gluten-free. 8227 Oak St. | 345-8229 | mellowmushroom.com
Mosca's Restaurant
serves some of the best Italian food in New Orleans, family-style and made to order-just like they have been doing for over 70 years. It's impossible to resist their Italian crab salad, heaping plates of spaghetti and meatballs, or their signature Shrimp Mosca. Pop open a bottle from their impressive wine menu and be sure to save room for some pineapple fluff!
4137 U.S. Highway 90 West | Westwego | 436-8950 | moscasrestaurant.com
Pascal's Manale is known not only for its Italian dishes, like Eggplant Dryades, but also for its Original Pascal's BBQ Shrimp, bathed in a spicy sauce. Now open for over 100 years, this establishment just does everything right. The eatery also has a tantalizing Happy Hour, Monday through Friday between 3 and 6 p.m., featuring half-priced raw oysters and select beverages. 1838 Napoleon Ave. | 895-4877 | pascalsmanale.com

Red Gravy makes homestyle masterpieces from recipes that have been passed down from generation to generation. Located just off Canal Street and in the heart of the city, this rustic Italian café makes it okay to have cannoli, spaghetti, meatballs, and gnocchi for breakfast, brunch, or lunch. For an authentic Italian treat, try their highly rated Sicilian egg pie or their delicious polpetta. 125 Camp St. | 561-8844 | redgravycafe.com

Tavolino is a neighborhood pizza joint offering both a family-friendly atmosphere, with a dining room up front and a side patio, as well as an adult-only vibe, with the lounge out back and an extensive menu of vino, "Tav Tails," and beer. Try their stuffed and fried "Ping" olives or a gourmet thin-crust 13-inch pie, like the Prosciutto Brie with arugula. 141 Delaronde St. | Algiers | 605-3365 | facebook.com/TavolinoLounge
Venezia has our mouths watering with a menu that never disappoints. Serving Mid-City for over 60 years, this Italian eatery has a classic and vegetarian-friendly menu, including everything from veal and spinach cannelloni to chicken marsala, fresh fish almondine, and muffalettas. Don't forget to check out the pizzas! The House Special is topped with pepperoni, sausage, mushrooms, onions, and artichoke hearts. 134 N. Carrollton Ave. | 488-7991 |venezianeworleans.net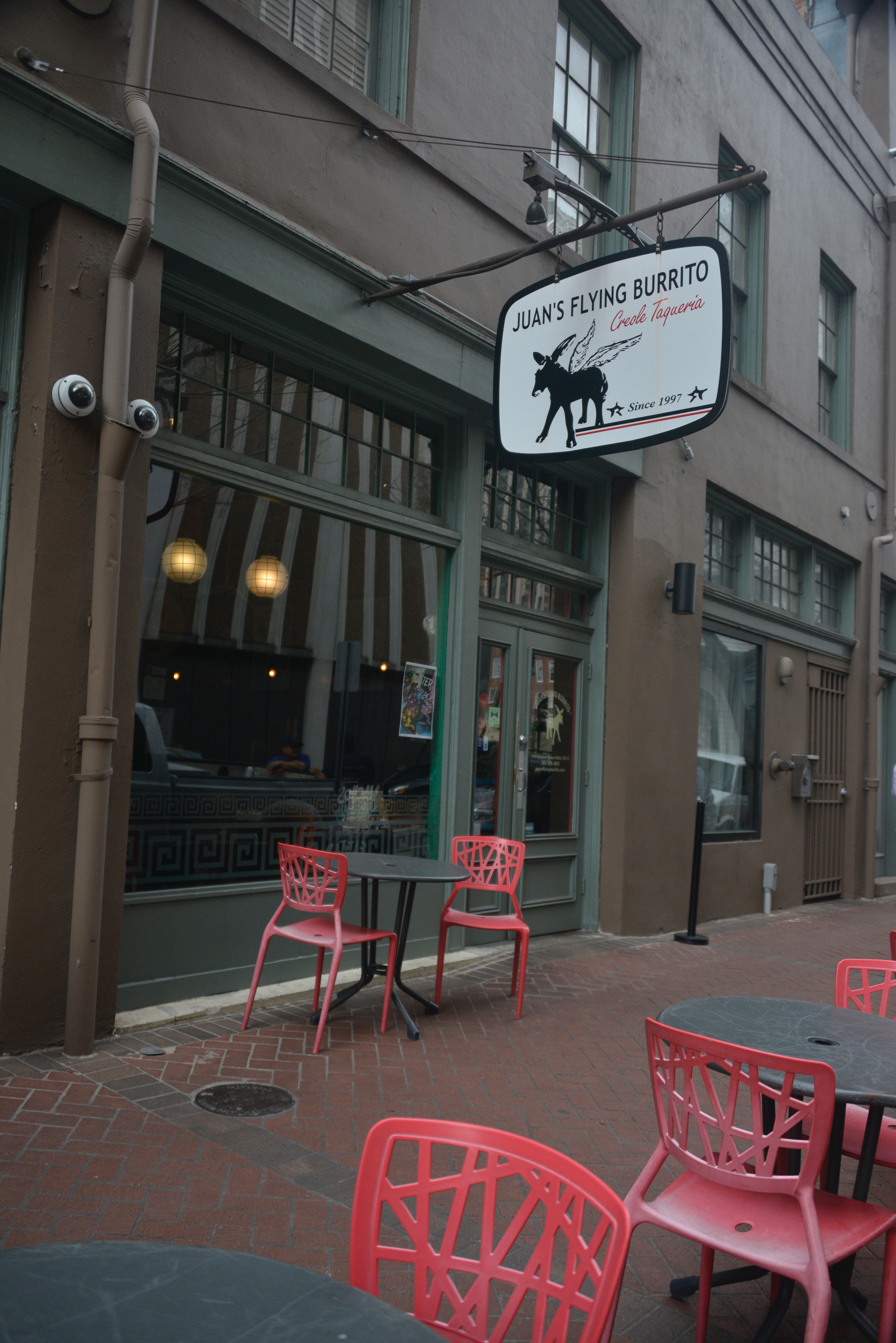 Mexican
Carreta's Grill has fed New Orleanians excellent Mexican food for 20 years. Visit for large portions of ceviche, classics like fajitas, and vegetarian options. Start with their delicious Mariachi Fries or skip to the Chile Ranchero, a poblano stuffed with queso fresco and wrapped in carne asada. Remember to save room for the tres leches-and don't forget about the margaritas, either! Multiple locations |carrettasgrillrestaurant.com
Juan's Flying Burrito is a hip neighborhood joint and the only place to get Creole-infused taqueria standards. Try The Luau quesadilla, featuring gulf shrimp, applewood bacon, and pineapple salsa, or the Louisiana Blackened Fish Tacos. Don't miss their vegetarian-friendly menu items, such as the Veggie Punk burrito or Wicked Garden fajitas. Their adult beverages, from margaritas and mojitos to boozy lemonade, are also terrific. Multiple locations | juansflyingburrito.com
NOLA Cantina is the right choice for relaxing on the patio while chowing down on gourmet tacos and other Central American fare. Located near Frenchmen Street, this cantina also has live music and salsa dancing. You'll want to sample all of their artfully crafted cocktails, such as La Diablo Margarita with jalapeno-infused tequila. Plan a Sunday visit for their burlesque brunch. 437 Esplanade Ave. | 266-2848 | nolacantina.com
Middle Eastern
Lebanon's Café promises plentiful portions of Middle Eastern food in a captivating setting under the canopy of oaks on Carrollton Avenue. Snack on savory hummus, grape leaves, and falafel and drink sweet Lebanese tea with pine nuts. Make sure to try their gyro plate with spiced lamb and beef, tomatoes, and onions, all cooked in delectable spices. 1500 S. Carrollton Ave. | 862-6200 | lebanonscafe.com

Pyramid's Cafe may look like a typical storefront diner, but what you'll find there are classic Mediterranean dips, salads, and entrees that all come with a side of hummus. Stop by for shawarma or kibby, which is spicy lamb, onions, and pinenuts, crusted with cracked wheat and ground beef and then deep-fried. Or have a special family feast: a whole lamb stuffed with chickpeas. 3149 Calhoun St. | 861-9602 | pyramidscafeonline.com
New Orleans Cuisine
Antoine's Restaurant is an iconic foodie destination that consistently delivers a classic French-Creole fine-dining experience. Plus, it is the oldest family-run restaurant in the country, having been established in 1840. Try their world-renowned Eggs Sardou; Pommes de Terre Soufflés, which are puffed potatoes; and Oysters Rockefeller, which Antoine's invented. Visit for a romantic dinner or make Sunday classy with their jazz brunch. 713 St. Louis St. | 581-4422 | antoines.com
Chef Ron's Gumbo Stop is a hidden gem of a mom-and-pop café. Chef Ron's legit Louisiana-style cooking (and vegetarian-friendly menu) will have you returning soon for more. The signature Mumbo Gumbo, Southern fried chicken, and crab cakes are standouts, but you may want to try the shrimp and mango salad. Enjoy a half po-boy and half-gumbo meal to sample their best. 2309 N. Causeway Blvd. | 835-2022 | gumbostop.com
The Columns Hotel holds the title of one of the top 100 bars in the country. With breakfast, brunch, and an award-winning Happy Hour, this establishment offers a memorable dining experience in a graceful historic mansion built in 1863. Try their seasonal charcuterie and cheese combination board in the Victorian dining room or front gallery with a view of beautiful Saint Charles Avenue. 3811 St. Charles Ave. | 899-9308 | thecolums.com
Coterie NOLA Restaurant & Oyster Barhas extensive breakfast, lunch, and dinner menus that warrant multiple visits. Here, you can munch on classic New Orleans and American dishes, such as blackened alligator, seafood specialties, beignets, fried pickles, salads, or burgers, in a casual environment. You may want to stop by during Happy Hour and feast on at their raw oysters for $9 a dozen. 135 Decatur St. | 529-8600 | coterienola.com
Crescent City Brewhouse,the French Quarter's only microbrewery, is an experience for all the senses. Enjoy live jazz music, local art, traditional Louisiana fare with a creative flair, and a monthly Special Brew. Take a beer flight on the balcony or in the courtyard of this singular bistro while snacking on small plates, sandwiches, and mains that pair with their premium beers.527 Decatur St. | 522-0571 | crescentictybrewhouse.com
Mandina'sknows just how to delight their customers-by serving them large portions of homestyle Creole food for eight decades. You may be in the mood for their Muffaletta on French Bread or one of their signature seafood platters like Soft-Shell Crab Meuniere. Just expect your stomach and palate to be satisfied with whatever comes out of this master kitchen. 3800 Canal St. | 482-9179 | mandinasrestaurant.com

Neyow's Creole Cafeserves authentic Creole cuisine that is "straight from their grandmother's recipes." Located in Mid-City, this elegant stop has charbroiled oysters you can't go wrong with. They've got a large selection of specials every day of the week, ranging from the shrimp creole to an eight-ounce ribeye. And if you're thirsty, try their Bow Wow punch, which features both light and dark rum. 3332 Bienville St. | 827-5474 | neyows.com

New Orleans Cajun Cookery proves that a shrimp po-boy can still be one of the best meals around. Located in the Warehouse District among some of the city's trendiest restaurants, the Cookery is keeping traditions alive with its versions of classics, like jambalaya and chicken and waffles. They have vegetarian options, too, as well as pizza topped with Cajun crawfish, gator sausage, or Nawlins shrimp. 719 S. Peters St. | 985-778-2529 | facebook.com/pages/category/Restaurant/New-Orleans-Cajun-Cookery-659728691032348/
New Orleans Creole Cookery has got great boozy beverages, like the Hurricane (drink the Category 5 at your own risk!), and a large selection of delicious NOLA-style food, like blackened redfish, gator bites, and gumbo. They've earned a reputation for excellent food and service and offer dining in their courtyard, bar, or dining room, making it a perfect place for a night out. 508 Toulouse St. | 524-9632 | neworleanscreolecookery.com
Public Service (NOPSI Hotel)lives up to their name by serving delectable dishes in the joyous atmosphere of live entertainment. With appetizers like Braised Pork Belly and Blue Crab Dip, their entrees aren't likely to disappoint. Bayou-Style Short Ribs are certainly a favorite, and if you only order one soup this year, make it the Lamb Stew Au Gratin, from a traditional Irish recipe. 311 Baronne St. | 962-6527 | publicservicenola.com
Short Stop Poboysmeans serious business when it comes to satisfying hungry customers. In fact, it's the only place around where you can get a king-sized 14-inch soft-shell crab po-boy. They also serve the usual sides and extras, like sweet potato and andouille soup, stuffed crab, and chicken fries. If you're still hungry, the peanut butter pie is to die for. 119 Transcontinental Dr. | Metairie | 885-4572 |shortstoppoboysno.com
Seafood
Briquette makes its home in an old molasses refinery, offering a refined taste of New Orleans. Start your night with the Crabcake Napoleon or the Spotlight Gumbo. Try one of their mouthwatering entrées, such as the Skinhead Salmon or the Snapper Pontchartrain, to taste the flavors of the city. Finish strong with the delectable Dark Chocolate Creme Brulee. 701 S. Peters St. | 302-7496 |briquette-nola.com
Felix's Restaurant & Oyster Bar is the "first name in oysters." They're sure to appease all mollusk-lovers, whether you like them raw or fried. Try the Oysters Bienville or the Buffalo Oysters. Not in the mood for oysters? Order a Bayou Platter, featuring red beans, jambalaya, and etouffee, to sample classic New Orleans traditions. End your meal with a delicious slice of Creole pecan pie. Multiple locations |felixs.com
Landry's Seafood, with a gluten-sensitive menu and vegetarian options, truly has something for everyone. Try one of their unique takes on classic seafood dishes, like the Blackened Redfish Etouffée or their Mahi Mahi topped with Firecracker Shrimp. For the grand finale, have a slice of praline cheesecake. If you're looking to give your meal a boost, check out their extensive wine menu. Multiple Locations | landrysseafood.com
Poseidon is open six days a week and until 2 a.m. on Fridays and Saturdays to serenade you with an eclectic fusion of Asian and New Orleans cuisines. Dig into their specialty rolls or entrees, like Malaysian Wide Rice Noodles, Poseidon Seafood Curry, or Walnut Chicken, or warm up your vocal chords with a fancy cocktail before you take advantage of one of Poseidon's karaoke rooms. 2100 St. Charles Ave. | 509-6675 | poseidonnola.com
Seaworthy is known for preparing sustainably harvested and wild-caught seafood, specifically oysters, with a global flair. Try oysters from the East Coast, West Coast, or Gulf Coast and pair them with the Squid Hushpuppies and a handcrafted cocktail, like Scarlet in the Library. Visit between 4 p.m. and 6 p.m. for Happy Hour-and don't miss out on the brunch! 630 Carondelet St. | 930-3071 | seaworthynola.com
TackleBox is the place to taste innovative takes on Southern cuisine and some of the best dishes found in New Orleans. Crafted cocktails, oysters, small plates, towering platters for sharing, and their $1 lunch beers are only a few highlights. Plus, they serve brunch with bottomless drinks and Happy Hour specials on oysters, wings, and drinks, every day. 817 Common St. | 475-6910 | legacykitchen.com
Tito's Ceviche and Pisco spices up your day with a variety of signature Peruvian dishes made with only the freshest ingredients. Take a trip into uncharted territories with offerings you won't find anywhere else. Choose from their assortment of ceviches, mixed seafood platters, and traditional plates, such as Seco de Cordero, a Canarian bean stew with lamb shank and cilantro sauce. 5015 Magazine St. | 267-7612 | titoscevichepisco.com
Vegetarian
Green Goddess is a quaint restaurant, romantically tucked into the Exchange Place pedestrian zone, dishing out unique Cajun classics with a Thai twist. They offer inventive gluten-free, vegan, and vegetarian options, like the tofu po-boy or the Veggie Cuban Luau. But they also cater to carnivores, offering dishes like Duck Off! and Chimichurri Brisket, for those feeling less green. 307 Exchange Pl. | 301-3347 | greengoddessrestaurant.com
Seed has designed a decidedly healthy menu for New Orleans foodies in a culture famous for its preference for anything and everything fried. Everyone is tantalized by their vegan soul food, including items such as their eggplant po-boy, Seed Gumbo, and even beignets. Try a drink off of Seed's fruitful juice, smoothie, and cocktail menu. 1330 Prytania St | 302-2599 |seedyourhealth.com