Louisianians are accustomed to driving out to the Mississippi, Alabama, and Florida Gulf Coasts to soak up some rays and dip their toes in the surf. While these beaches are always inviting, you may feel like this ritual just doesn't offer anything new for you after all these years. It may be time to head west to the beaches of Texas. One of your destinations should be Port Aransas, a fun and welcoming island community a day's drive from New Orleans.
I set out to Port Aransas on a solo trip and made the drive in less than ten hours. Going through the south Texas landscape is a treat for the eyes; the expansive rugged land allows you to see from horizon to horizon with only pockets of cattle and the occasional small town breaking up the sky. As you go along, the land starts becoming cut by water that becomes increasingly blue the further south you go.
Finally you arrive at the ferry that quickly takes you and your vehicle across the water to Port Aransas (at no charge). It's a strange feeling to float in your car, but it only takes a handful of minutes to get across. The moment you drive off of the ferry, you're in the cutest beach town where more people are walking around than driving, and that does include the numerous golf carts owned by the locals or rented to visitors.
I stayed at the Executive Keys Condominiums located steps from the beach on the western side of the city just far enough away from the downtown to enjoy a little quiet. The complex has several pastel-painted buildings around a pool and lush lawns where kids can play as much as they want. The welcoming staff handed over the keys (with an old-school motel keychain that I loved) and I headed up to my room. It was the perfect beach condo: clean, efficient, and tiled floor. While Port Aransas has some small hotels, rental homes and condos are everywhere, and I think that leads to a more laid-back residential feel rather than a high-energy, impersonal touristy feel.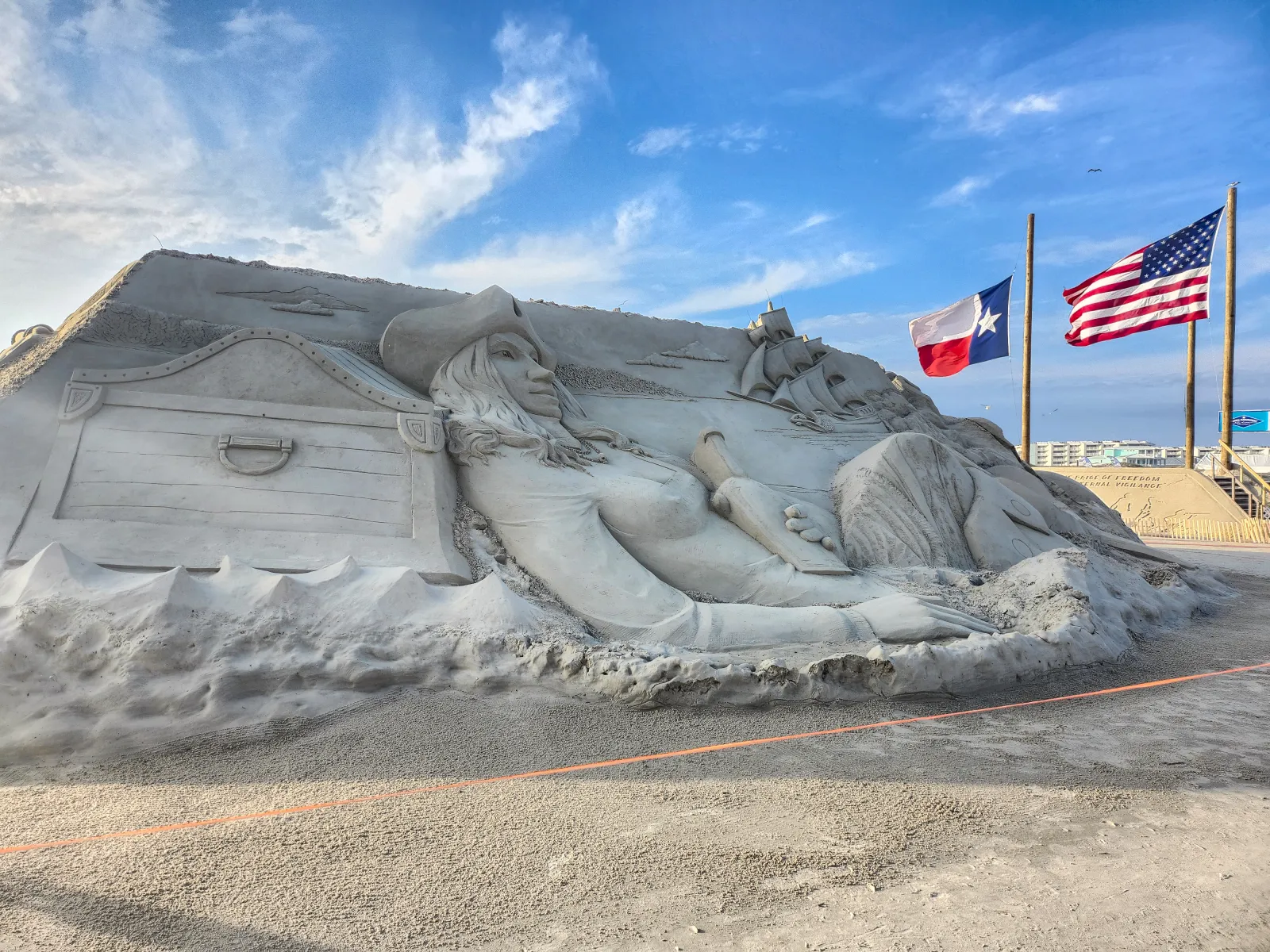 Welcome to Texas SandFest
I didn't spend much time here; I wanted to check out Texas SandFest right away. I walked to the street which immediately became sand. I couldn't really tell where the street ended and the sand began. Here, the sand is extremely fine, and it becomes so hard packed that you are welcome to drive on it. Having been on mostly fluffy white sand beaches, I was surprised at how easy this sand was to walk on because it was like a floor. It also didn't become hot during the hottest part of the day; it actually stayed cool! The Port Aransas beaches are a fantastic option for people with limited mobility because they can park on the beach and easily access the waterfront via the smooth, hard sand. This type of ultra-fine sand is also the perfect medium for making sand castles. That's why Port A is the home of Texas SandFest where artists can sculpt masterful art using only sand and water.
SandFest attracted artists from the world over and thousands of spectators who enjoyed slowly walking by the sandcastles watching as they slowly took shape right before their eyes. The revelers were also treated to lots of vendors, fantastic food, and so much live music each day. The VIP tent was a fun place to cool off, and I got to sip on several Texas-made spirits from Deep Eddy Vodka, Becker Vineyards, Porch Swing Wines, Vida Cana Rum, and Blasfemus Agave Spirit. I've been to so many festivals in my life, but it was so nice to experience a festival while having my feet on the sand and hearing the surf roar.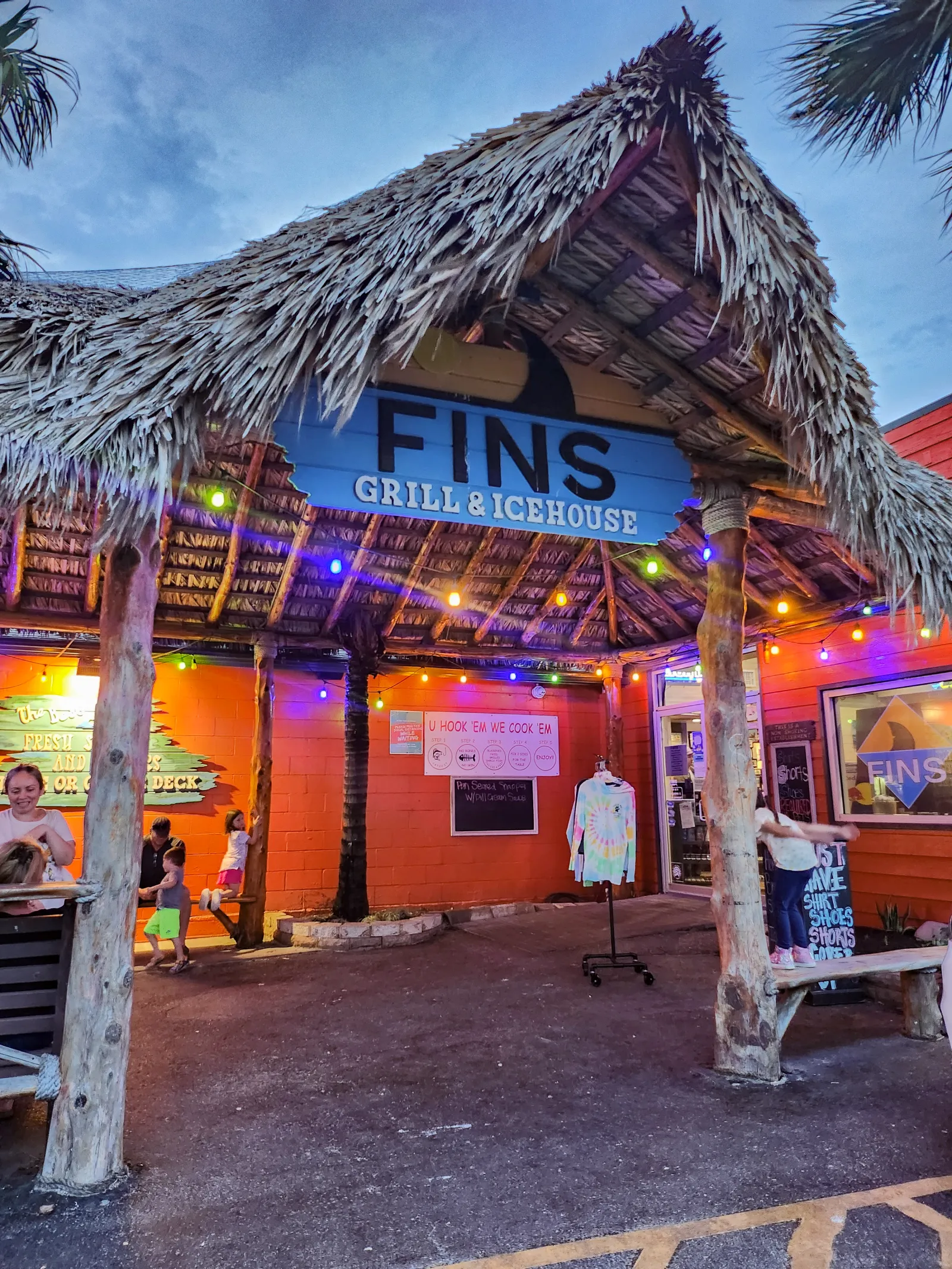 Just as the sun was setting over the first day of SandFest, I got dressed for dinner and drove over to FINS Grill & Icehouse, a cool eatery on the water. The fact that it reminded me of a certain Jimmy Buffet song only mildly influenced my decision to eat here. The weather was so nice I couldn't help drive to FINS with my car's top down, and I asked the staff if I could please sit at the outside patio overlooking the harbor. A real pirate ship was moored here!
While FINS has an extensive list of burgers, I wanted to stay in the seafood family. I started off with the Jalapeño Pomegranate Margarita that was sweet from the pomegranate liquor with just a hint of spice from the muddled jalapenos. I had the Grilled Gulf Fish for dinner that was truly amazing; it was seriously some of the best fish I've ever had. The large slab of fish was perfectly seasoned, incredibly juicy, and well-grilled. I complemented the fish with some good, old-fashioned fried okra and French fries, but the rice that the fish sat upon soaked up the fish juices and tasted incredible.
I had a nightcap at Lelo's Island Bar because I'm always on the lookout for tiki bars. The lively neighborhood bar had splashy colors that perfectly complemented the neon-colored drinks. My Blue Hawaii vodka and rum electric blue tiki drink was served in a cool glass tiki mug.
The Wildlife of Port Aransas
After a restful sleep at the Executive Keys, I set out for breakfast at Coffee Waves. A lot of people had this idea; it's a popular spot for breakfast for good reason. Coffee Waves is not exactly like the rest of the city. The counter service coffee shop has a more contemporary look and feel. I definitely needed a tall black coffee to prepare for the busy day, and I supplemented that with a hot and crispy Tomato Basil Panini that was pressed after I ordered it. Who says you can't have dessert for breakfast? Coffee Waves has a wide selection of gelato, and I couldn't resist trying a few flavors. I was able to get one scoop each of coconut, pana cotta, and Vanilla Coke Float; the latter was my favorite.
After a filling breakfast, I drove to the far eastern side of Port Aransas to do something so special. First, I stopped by the beach on this side where I finally drove my car onto the sand and watched the waves crash onto the sand and wash up so high on the beach. Some people even had campers set up on the beach for the day which seems like such a cool way to experience this city.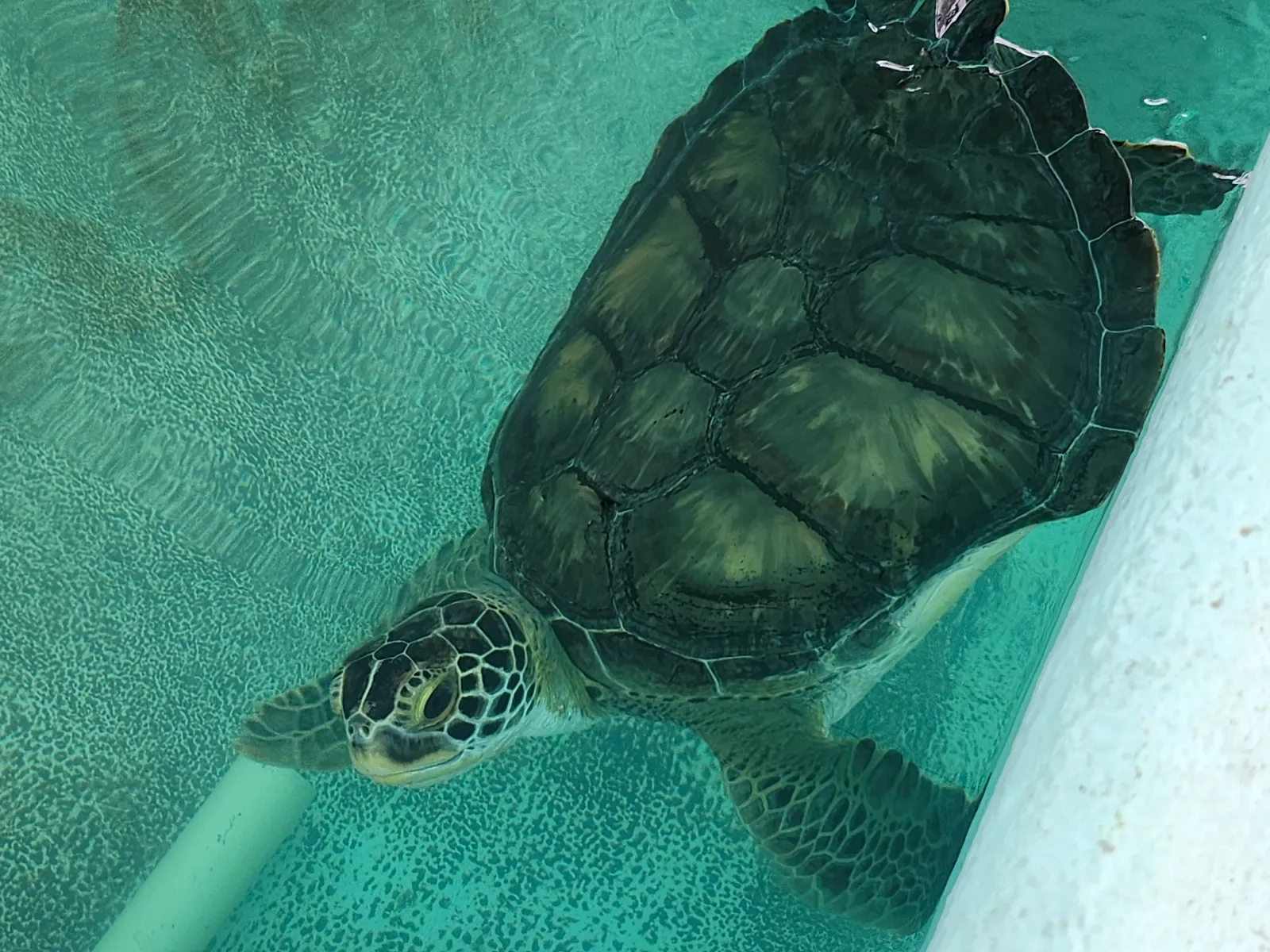 It was finally time to go to the Amos Rehabilitation Keep (ARK) where I attended a guided tour of the wild animal rehabilitation center. We were introduced to several birds and sea turtles of various species who arrived at ARK with an injury likely due to human behavior: ingesting discarded plastic, being bound in fishing lines, suffering injuries from fishing hooks, vehicles, and boats, etc. Many of the animals that we saw are permanent residents because their injuries make them unable for release, but it is part of ARK's mission to rehab and release animals as much as possible. ARK also helps to keep nesting turtles on Texas Gulf beaches safe from human interference and help their hatchlings make it into the water. Our tour was led by a volunteer, and the main bird cage and turtle habitats were being spruced up by a group of Scouts. It was wonderful to see these dedicated volunteers doing such great work for the local wildlife. ARK uses these tours to educate the public on the importance of environmental conservation for the health of the planet and its flora and fauna, and how people can make changes to ensure their activities aren't harming wildlife.
Without missing a beat, I went back to SandFest to see the continuing evolution of the giant sand sculptures. Unfortunately, some of the sculptors had experienced partial collapses overnight and had to start over. Part of the competition is fighting wind, high tide, and drying sand in order to create a masterpiece that will soon go back to its natural state. Still, faces, buildings, and mythical creatures started appearing from the sand slowly. While some spectators set up shop to watch their favorite artist all day, I liked seeing other parts of the festival in between watching the artists' progress so that each visit to the sandcastles would be more amazing than the last.
For dinner this night, I wanted to try Castaway's Seafood & Grill, and I had to sit outside to enjoy the breezy air, listen to the live musician nearby, and pet a friendly black cat. Castaway's is one of the restaurants in Port Aransas that will happily cook your catch, but I decided to let them do all the work for me instead. I definitely wanted to try the signature Castaway's Pineapple Jalapeno Margarita made with Dulce Vida Pineapple Jalapeno Tequila. It definitely had a spicy kick to it that necessitated breaks between sips to stop the tingling. My server said that I should try the Hushpuppies, and she was right. They were so interesting with some heat and flavor from the addition of jalapeno and green onion. Being on a Gulf fish kick, I chose the Grilled Tuna entrée cooked rare. It came out hot with a rife pilaf and grilled asparagus flanking the fish. The fish was so fresh tasting with a lemon pepper seasoning. Castaway's served this dish with suspended butter that was rich, yet delicate. As the sun set, I went back to Executive Keys because tomorrow would be full of adventure.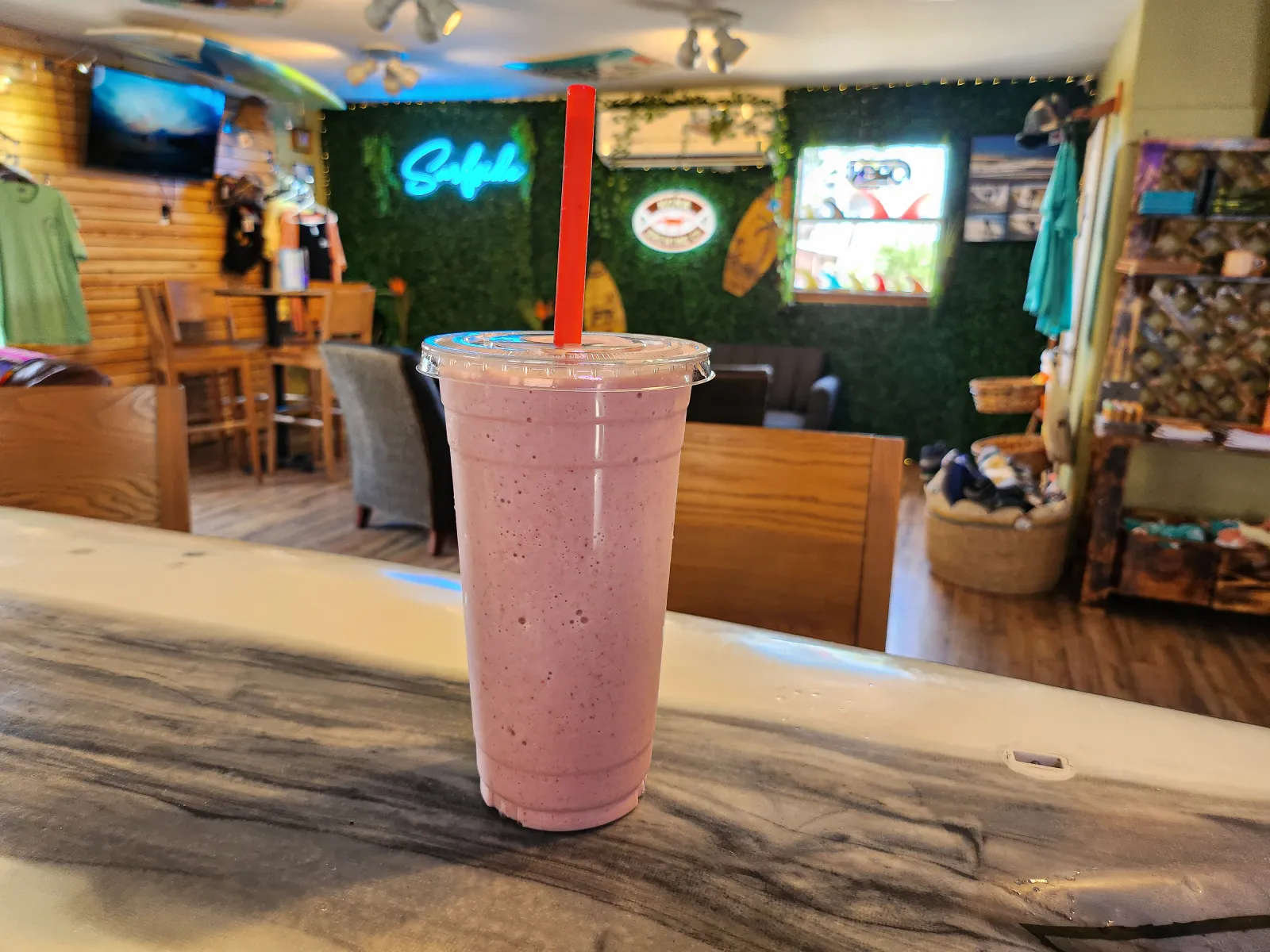 Barefoot in the Sand
My last day in Port A was marked by very high winds, but beautiful blue skies. I drove to Barefoot Beans Coffee Bar to start the day with a healthy pineapple and mango smoothie. This was such a cute place to sit down and enjoy some tea or coffee and chat with the friendly staff, but I only had a few minutes to spare before catching a boat.
I took the ferry at Fisherman's Wharf to San Jose Island, an uninhabited island that lets you experience a beach with no distractions. Some of the island's visitors were there to fish and others, including me, were there just to walk the deserted, quiet beach and appreciate the natural, rugged beauty of it all. The crashing waves travel so high up the beach because the sand is tightly-packed. There are so many shells to gaze at as the water ebbs and flows over the shore. The best part of being out here was being able to watch so many dolphins cresting above the water.
After getting back on the return ferry and driving back through Port Aransas, I headed to the far west side of Port A to the Palmilla Beach Resort which is a brand-new golf-centric luxury development. First, I stopped by Black Marlin Bar & Grill for brunch. The Avocado Toast Benedict with grilled tomato, avocado slices, eggs, and cucumber on baguettes really hit the spot.
I was able to find some friends to play a round of golf at Palmilla Beach Golf. The True Links course was designed by Arnold Palmer which sounded intimidating to me; I don't golf. But with only 12 holes to play and such gorgeous views, I figured I'd give it a shot. While I certainly didn't come in first in the group, it was such a fun and relaxing way to spend a Sunday. And we could not have asked for prettier weather.
Port Aransas is a little farther drive than most of the beaches that Louisiana residents typically go to for a getaway, and that's the beauty of it. You're not going to go to the same old places, run into the same people, and have the same view. Port A has the relaxing, warm, and welcoming vibe that you crave while being just far enough away to feel like you're somewhere entirely new.