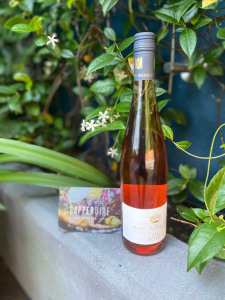 Moms everywhere are putting in some serious overtime these days. Many are adding full-time roles of teacher, cook, house cleaner and entertainment director on top of paid work they're doing from home. And let us not forget those "empty nest" mothers who are desperately missing their kids, but are staying secluded at home out of fear of infection. While we can't take mom out to brunch where servers are there to fulfill her every whim... and keep her Mimosa filled … there are ways we can keep her heart, and belly happy.

Compére Lapin

James Beard award-winning chef Nina Compton is celebrating moms this year with special Mother's Day Brunch Kits for two available at $65 for curbside or take out! Mother, and her special "other," will enjoy an assortment of house made pastries, Gulf shrimp cocktail, deviled eggs, smoked fish dip and granola. Tropical Mimosas and Bloody Marys are also on offer (sold separately) for those moms wanting a little something extra to unwind. Orders for the kit, and definitely the kaboodle, must be ordered 48 hours before the big day on Open Table.

Pro tip: Pick up the brunch, arrange everything on beautiful dishes and glassware, and try to do it without her knowledge. Surprise brunches never go wrong … and don't you dare let her do the dishes!

Copper Vine

If mom is the type who loves to wine down after a hard day, Copper Vine might be offering the "pickup" she needs on Mother's Day. The popular Poydras Street wine bar is featuring a Mother's Day Gift Set for $50 which includes a $25 gift certificate to Copper Vine, a bottle of rosé (or red or white, whatever mom prefers) and a small flower bouquet. Top it all off with their Mother's Day Brunch Special, only $45 for four, which includes fabulous foodstuffs from chefs Mike Brewer and Amy Mehrtens such as Baked Pain Perdu and French Toast with crème brulee custard and blueberries. Call (504) 208-9535 to place your curbside order.

Pro tip: If you can't spend Mother's Day with your mom, order brunch and drop it off on her doorstep, with the flowers placed prominently on top! Call her from the safety of your car and blow her a kiss when she opens the door.

Toups' Meatery
Moms are carnivores, too! Chef Isaac Toups and his wife Amanda have got great eats in store for New Orleans mothers that will feed the whole family! It is sure to be a feast with a whole roasted chicken with confit potatoes, peppers and onions ($28); sweet potato casserole ($15) spring pea salad with shallots and mint ($12); Lyonnaise Salad ($12); and a whole upside down pineapple cake ($30). To order, or for more information, please call (504) 252-4999. All Mother's Day orders must be placed by Thursday, May 7th at 9pm, so hurry to get yours in today!

Pro tip: Seat mom at the head of a well-set, candle-lit table and see to it she enjoys the first bite of every dish. Be sure to clear her plate (as well as your own) afterwards!

Red Gravy

Camp Street brunch spot Red Gravy will be open from 10:00am to 1:00pm this Mother's Day. In addition to an a la carte menu, owner Roseann Melisi Rostoker is featuring a special family-meal brunch which features a basket of raspberry white chocolate scones, a cheese and fruit board, roasted potatoes, your choice of a crawfish or bacon-Swiss quiche and, as lagniappe, a beautiful, fresh flower. Please pre-order via Messenger on their Facebook page or text Rostoker directly at (551) 404-5696.

Pro-tip: After brunch, offer to play her favorite game, watch her favorite movie or TV show. Be sure to refrain from any disparaging remarks regarding her tastes in entertainment!

Andrea's Restaurant & Catering

Over in Metairie just off the Causeway, Chef Andrea is offering a choice of Mother's Day feast fare from eggplant crab cakes and crawfish bisque to a full pan of lasagna or roast prime rib au jus. Don't forget to grab dessert and all of your favorites from Andrea's are available from Tiramisu to Cannoli, plus they're even offering a decadent slices of Mother's Day Chocolate Truffle Cake. Visit andreasrestaurant.com for more information or call (504) 834-8583 to place your order for curbside or delivery.

Pro tip: Sometimes the best thing you can do for your mom is give her some space. Moms need alone time too!