When Robert Haten began his employment at Mandina's Restaurant thirty years ago, he never expected his ascent to head chef of the nearly century-old, Mid-City landmark.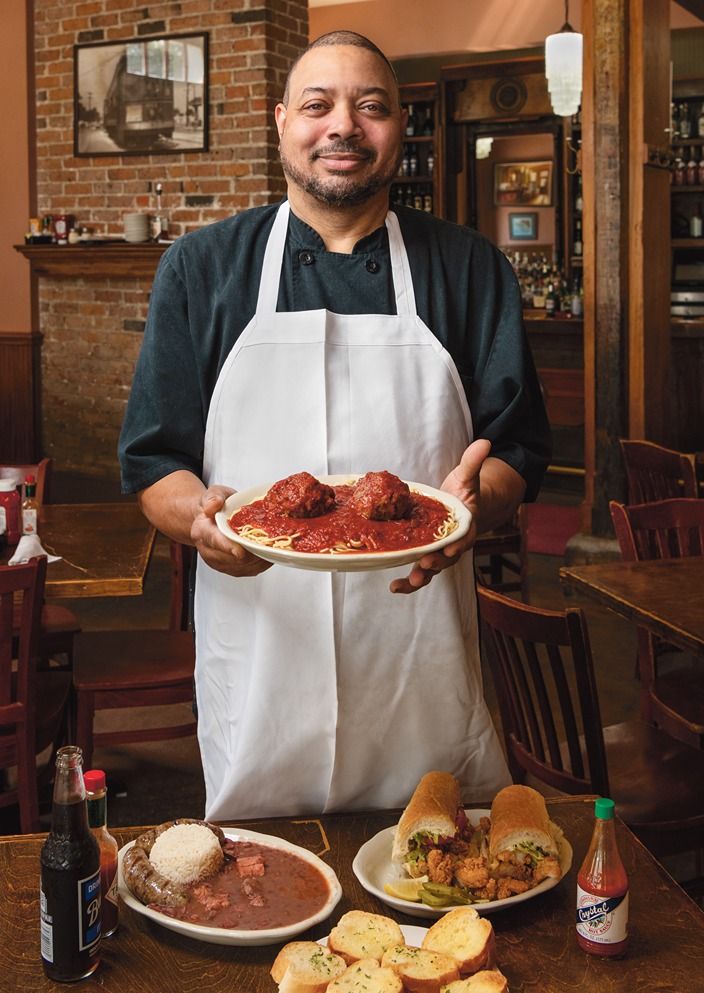 The pastel pink building on the corner of Canal Street and North Cortez was already a well-established, much-beloved neighborhood restaurant in Mid-City when Robert Haten walked in seeking a job over 30 years ago. He had been working as an overnight stocker at the Real Superstore on Airline Highway when it closed after being acquired by Schwegmann Giant Super Markets, Inc. At the unemployment office, a job placement service informed Haten of an opening at Mandina's Restaurant. "They sent me over there, and I've been there ever since," Haten laughed. "I would have never figured I'd be at this stage, and I can put my hand on the bible on that one."
Mandina's Restaurant started life as a grocery store when Sebastian Mandina moved to New Orleans from Palermo, Italy and opened it in 1898. Over the years, the grocery store evolved into a pool-hall, and it wasn't until 1932, when Sebastian's sons, Anthony and Frank, transformed the business into the restaurant we know today. After 90 years, the neighborhood eatery has remained in the family and is currently run by Cindy, a fourth generation Mandina and the great-granddaughter of Sebastian. "I'm very proud of the fact that I'm the fourth generation, and, hopefully, my sons will go into the fifth," Mandina said. "I mean, how many restaurants have that today? We're a dying breed."
When Haten walked in the door seeking employment, he was a complete novice when it came to cooking. "I couldn't boil water, and that's the easiest thing," Haten mused. "My grandmother is surprised I can even put up a pot." Beginning as a chef's assistant, Haten learned his way around the kitchen through his apprenticeship to Isadore Pilart, the head chef of Mandina's who already had a decade of work at the restaurant under his belt. Starting in food prep, Haten's education included working every station, moving to kitchen expediter, and then kitchen manager, all under Pilart's tutelage. "[Pilart] was one of those people from the old school," Haten said. "He believed you've got to feel the cooking, put your heart into it. If you don't want to cook it right, don't do it at all."
After over 35 years as Mandina's head chef, Pilart decided to hang up his toque, and he chose Haten to succeed him. "I was the one that he taught behind him, and I learned everything I know from him," stated Haten. After cooking together for over 20 years, the two still keep in touch. "I still talk to him every other week," he admitted. What he's learned is evident in the local seafood and Italian favorites served every day, from the fried soft-shell crab meuniere and shrimp remoulade to eggplant Parmesan and spaghetti.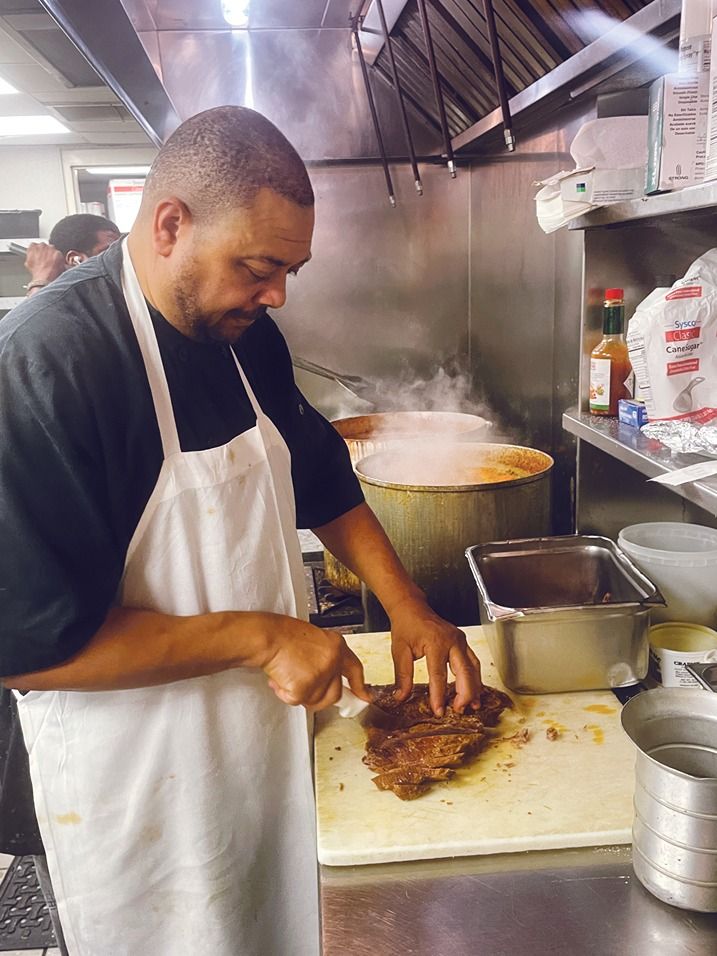 As both a friend and a mentor, Pilart passed on many gems of wisdom over the years, but one of the most important had nothing to do with cooking. "He said, 'If you want to invest in something, invest in a house,'" and he did. Haten took his hard-earned wages and purchased a place out in New Orleans East—a home for his wife Lavigne and daughter Robin. Though the home was completely lost in the levee failures of 2005, Haten returned from his "evacu-location" in Arlington, Texas and rebuilt it, including the addition of a few interior renovations along the way. "I'm glad I can now say I outright own that house," says Haten.
At home, Haten is also the head chef, a perk which benefits both family and friends, but he and his wife will often visit local restaurants to taste their take on local ingredients. "One of my top five is New Orleans Food & Spirits in Bucktown" Haten stated. "I love that restaurant." Though he enjoys trying different cuisines, everything from Italian foods to sushi, he's far more adventurous than his wife. "All she likes is seafood." Though he's one to talk—his favorite dish at Mandina's is grilled Gulf fish smothered in crawfish etouffee.
Though he loves cooking at Mandina's and couldn't imagine being in another profession, though owning a food truck is a distinct possibility, Haten's school life pointed him in a much different direction. During high school, his interest in drawing propelled him towards a program at the New Orleans Center for Creative Arts. "I can't say the last time I picked up a pencil, but I doodle all right." said Haten. "I doodle while I read cookbooks."