AFRICAN
Bennachin
With food originating from Gambia and Cameroon, Bennachin gives both New Orleanians and tourists a chance to experience authentic African food. Bennachin offers dishes accommodating to customers of all eating habits, ranging from carnivores to vegans.
They offer daily lunch specials, such as the mburu akara, which is black-eyed pea fritters and tomato stew on French bread, and the sorso wolengho ni mano, which is red beans and beef sausage slices served with rice.
They also offer a variety of soups, such as the sorso jambakero, which comes with vegetables, and the nsouki lappa, which is a beef-sausage and smoked-turkey gumbo.
The side orders offered at Bennachin include jama-jama (sauteed spinach), mandowa (steamed broccoli), and fu-fu (pounded cassava).
They also have seafood options, such as nyeo, which is a steamed tilapia fillet in ginger and garlic served with fried ripe plantains, sauteed spinach, and coconut rice.

4308 Magazine St., (504) 894-9797, insidenirvana.com
AMERICAN
Bayou Hot Wings
Chef Allen Nguyen, who has been in the restaurant business for 14+ years, graduated from the Delgado Culinary Apprenticeship at the top of his class and was the recipient of the Young Professional Award by the Academie de Gastronomie Brillat-Savarin.
Chef Kyle Makepeace, who entered the restaurant industry at age 15, has a plethora of experiences as a chef that range from working at Ralph's on the Park to travelling around Vancouver to cook for fine establishments.
Bayou Hot Wings serves tasty and homemade sides, such as house-made slaw, tater salad, fried pickles, and many more.
This restaurant's menu features wraps with a choice of a tomato, white, or wheat wrap. Their Hotboy Chicken Wrap is served with Hotboy sauce, blue cheese dressing, lettuce, tomatoes, and onions.
Aside from being a wing restaurant, they also offer burgers, such as the Bayou ½ lb Burger and the Western Chipotle BBQ with Bacon Burger, all served with fries on the side.
6221 S. Claiborne Ave., (504) 865-9464, bayouhotwings.com
Copper Vine Wine Pub
Kyle Brechtel founded Copper Vine because no other restaurant or bar in the area fulfilled his vision for a neighborhood spot where he would enjoy spending his time.

Copper Vine's building is on the National Register of Historic Places and was home to the restaurant Maylie's, which opened in 1876, nearly 150 years before Copper Vine. The original bar from Maylie's was restored and remains inside the restaurant.

Copper Vine offers 30 wines on tap and was the recipient of Wine Spectator's Award of Excellence for 2020.

The outdoor courtyard filled with greenery is a beautiful spot to enjoy their delicious appetizers, such as crab deviled eggs, black truffle fries, and a fig and goat cheese flatbread with fig preserves

Copper Vine has a Happy Hour Monday through Friday, from 2 p.m. to 6 p.m., and brunch on weekends.
1001 Poydras St., (504) 208-9535, coppervinewine.com
Daisy Dukes
Daisy Dukes provides a truly Southern experience, serving Cajun-based cuisine and providing customers the classic Southern hospitality that New Orleans is known for.

The French Quarter location, which is the first and original location, is open 7 a.m. to 2 p.m. and 6 p.m. until 10 p.m. on Friday, Saturday, and Sunday.

There are multiple locations all around the city, including one in Metairie, Kenner, and Mandeville, so you don't have to travel all the way to the Quarter to get a good meal.

Their breakfast menu, which is available all day, seven days a week, offers classic meals such as shrimp and grits. It also features special Cajun dishes, such as an alligator omelet, Cajun omelet, and seafood omelet.

Daisy Dukes always offers free refills on Bloody Marys with the purchase of a meal, so drink up!
Multiple locations, daisydukesrestaurant.com
The Duke
The Duke claims that its legend is in the food, and once you indulge in their mouthwatering burgers, pasta, or fried desserts, you'll see for yourself that everything you eat there really is memorable.

The Duke's appetizers will make your stomach growl. From fried pickles to fried mac and cheese to the Supreme Ruler Nachos, all of your cravings will be satisfied.

The eponymous The Duke burger is a menu highlight and is the most popular and craved burger from this restaurant.

A burger crucial to the morning after a wild night out is The Hangover, a burger patty served with scrambled eggs, bacon, and shredded cheddar cheese, all covered in gravy.

They offer a plethora of sweets that you don't want to miss, including their "Epic Ice Cream," fried Oreos, fried bread pudding, and Ice Cream Bubba.
2740 Severn Ave., Metairie, (504) 353-4227, thedukemetairie.com
Gattuso's
Gattuso's, a restaurant that has been serving the community for 20 years, creates a welcoming and lively atmosphere for your family

—

even your pet.

This restaurant's Happy Hour occurs Monday through Friday, from 2 p.m. to 6 p.m., with half-priced appetizers, $1.25 off all beers, and $2 off well liquors.

Gattuso's menu has a list of featured cocktails, including the Velvety Kiss Martini, the Pumpkin Spice White Russian, and the Blackberry Sage Margarita. Aside from these featured beverages, they also offer a wide range of other cocktails and beer.

For chips and dip, they have a delicious crawfish queso dip and their homemade guacamole. They also feature two soups: chicken and sausage gumbo and a soup of the day.

Gattuso's is located right next to the levee, so after your meal, you can go for a stroll and enjoy the view of New Orleans from afar.
435 Huey P. Long Ave., Gretna, (504) 368-1114, gattusos.net
Jimmy J's Café
Jimmy J's Café makes everything from scratch with the freshest ingredients, and their staff prides themselves on knowing how to cook and serve good food.

Jimmy J's offers weekly chef's specialties, with the goal of making their food as affordable as possible, so that their customers can enjoy carefully and thoughtfully made cuisine at excellent prices.

They serve breakfast all day!

They offer tasty items on a section of their menu entitled Jimmy J's Favorites, which includes their Eggs Lafitte, as well as the blackened pork chop, served on a bed of fries and garnished with arugula salad.

This restaurant has a wide variety of French toast, such as their Blueberry Brandy Glazed, Bananas Foster, Cap'n Crunch, and Cinnamon Spiced varieties.
115 Chartres St., (504) 309-9360, jimmyjscafe.com
Lakeview Harbor
You can build your own pizza at Lakeview Harbor by choosing the size, the meats, the cheeses, the veggies, and any speciality items, including artichokes, chicken, hot sausage, and shrimp.

They offer delectable steaks, such as a 10-ounce smoked prime rib with grilled asparagus and loaded potato croquettes, a 12-ounce ribeye with grilled asparagus and rosemary roasted new potatoes, and an 8-ounce filet mignon.

Lakeview Harbor has an expansive po-boy selection, including shrimp, oyster, catfish, and roast beef versions, all of which are served dressed with a side of fries.

Lakeview Harbor also offers delicious specialty items, such as their margarita chicken sandwich, Surf & Turf Burger, and pulled pork sandwich.

Their pasta dishes, all of which are served with your choice of either a side salad or a side Caesar salad, include shrimp scampi pasta, chicken alfredo, and seafood pasta.
8550 Pontchartrain Blvd., (504) 486-4887, lakeviewharbor.us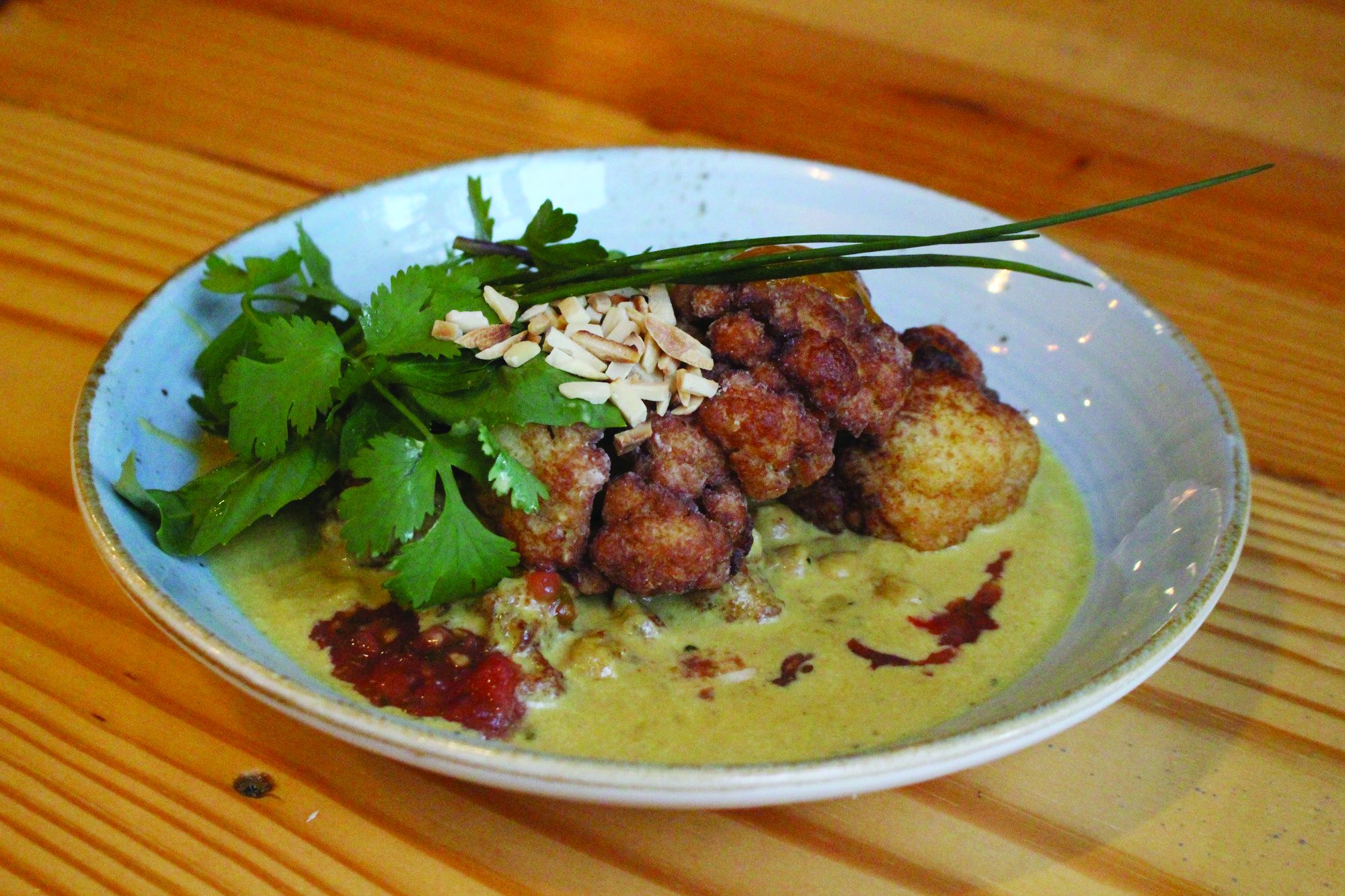 Misa
Tal Sharon, the owner of Tal's Hummus, also created this delicious restaurant and named it Misa, after Tal's Libyan grandmother.

Misa focuses on serving global cuisine with authentic Mediterranean influences, which goes wonderfully with their impressive wine list.

At this restaurant, there is patio seating with a mural of a fish on the wall. Customers can sit outside and have an intimate view of busy Magazine Street.

Their ravioli with pumpkin and garlic butter sauce is standout, especially for fall.

Their desserts, which are a perfect way to end an already-perfect meal, include a chocolate tart with fruit and sour cream, as well as fruit salad with tapioca and coconut.
4734 Magazine St., (504) 510-2791, misanola.com
Sala Restaurant
Sala Restaurant is owned by the Riccobono family, who also own Peppermill, Riccobono's Panola St. Café, and Café Navarre.

Their Happy Hour is from 4 p.m. to 6 p.m., from Tuesday to Friday, and includes $5 glasses of house wine, $6 classic cocktails and mixed well drinks, $7 crawfish beignets, and more.

Sala has a wide range of house specialty cocktails that never disappoint, such as the Whiskey Smash, strawberry mojito, and Diamante Margarita.

If you're craving something from the sea, Sala features Golden Fried Fish Almondine, with lemon butter sauce and toasted almonds and topped with crabmeat.

Sala also offers a brunch menu every Saturday and Sunday, from 10 a.m. to 2 p.m., with bottomless mimosas on Saturday!
124 Lake Marina Ave., (504) 513-2670, salanola.com
Spudly's Super Spuds
Spudley's originally opened in 1980 and only served baked potatoes; however, the menu has grown and been modified to now also offer soups, salads, burgers, and sandwiches.

One of their best menu items is the Super Duper Baked Potato, which is loaded with crabmeat, shrimp, and crawfish and is topped with cheese sauce, cheddar, and chives.

Spudley's offers delicious appetizers, such as fried mozzarella cheese sticks, chicken fingers, and fried mushrooms.

The Pizza Spud never disappoints and comes with sliced pepperoni, mozzarella, and chives.

Spudly's has 20 varieties of creatively topped "Super Spuds," with toppings that range from fried chicken breast and fajita-style chicken to meatballs and chipped beef to broccoli and cauliflower.
2609 Harvard Ave., Metairie, (504) 455-3250, spudlys.com
ASIAN
Green Tea
Green Tea prepares their dishes with vegetable oils and unsaturated fat, as they wish to provide healthy Chinese cuisine. They use local ingredients and are vegan-friendly.
Their pu pu platter, which serves two people, comes with two orders of spare ribs, two egg rolls, two chicken wings, two fried dumplings, two pieces of teriyaki chicken, two fried shrimp, and two crab rangoons.
They offer large portions of family meals, which can serve from two people to nine.
You can customize your meal with Green Tea's special combo plates, which are served all day and come with your choice of dish, a side (rice or lo mein), and an appetizer or soup.
If you love fortune cookies, this is a great place for you. They sell them in groups of four.
3001 Napoleon Ave., (504) 899-8005, greenteanola.com
Mikimoto
Mikimoto creates a modern and tidy atmosphere with dim lighting and modern decor, a perfect setting for a relaxing meal of sushi, edamame, baked yellowtail neck, or whatever else you're in the mood for.

This restaurant offers delicious Japanese soups that everyone loves, such as miso soup, clear soup, clam soup, and seafood soup, and the last two of these soups serve two.

Mikimoto has a drive-thru, so if you don't want to dine in, it's easy to get your favorite sushi roll, sushi box, or udon to go, without even having to park or get out of your car.

They offer their original Who Dat Popper, which consists of deep-fried jalapeños with snow crab, spicy salmon, and cream cheese.

To end your meal, Mikimoto has some delicious desserts, such as banana tempura, tempura cheesecake, and mochi, in green tea, red bean, vanilla, or mango flavors.
3301 S. Carrollton Ave., (504) 488-1881, mikimotosushi.com
MoPho
This restaurant was started by two waiters who were complaining that they had to drive to the Westbank to indulge in pho—until they decided to start their own restaurant.

MoPho features don't-miss daily specials, such as red beans and rice on Monday, hot chicken vindaloo on Tuesday, and smoky pork pho on Wednesday.

MoPho offers comfortable and shady outdoor seating, excellent customer service, and an exceptional cocktail menu.

They serve a wide range of dishes, from classic New Orleans shrimp and grits to beef pho to Burmese pork curry.

Their delicious appetizers, such as the crispy chicken bites, roasted butternut squash, and spicy sesame cucumbers, will make you and your taste buds happy.
514 City Park Ave., (504) 482-6845, mophonola.com
Tsunami
Tsunami has multiple locations: one in New Orleans, which opened in 2017; one in Lafayette, which opened in 1999; and one in Baton Rouge, which opened in 2005.

They feature an impressive array of sake to accompany their impressive cocktail list.

Tsunami offers daily deals (times vary, depending on the day). On Monday, they offer 25 percent off all rolls $9 and under, $0.99 select nigiri, and half off their Luscious Lemonfish, Smoked Salt Escolar, Yuzu Albacore, and Truffle Salmon.

This restaurant features a sushi roll called the Big Easy, which contains crawfish, snow crab, crab stick, crunchy shrimp, cucumber, and scallions; it is also soy-wrapped, panko-fried, and topped with crunchies, cilantro, and tsurai and sriracha sauces.

Always wanted to learn how to make your own sushi? Tsunami now offers home sushi kits.
601 Poydras St., (504) 608-3474, servingsushi.com
BARS WITH GREAT FOOD
5216 Table & Tap
Enjoy their daily Happy Hour is every day from 3 p.m. to 7 p.m., with half-priced wings, $2 domestic beers, and $4 well drinks.

At this restaurant, you can make sure that your burger is specific to your liking by building your own. Their juicy Angus burger can be topped with cheese, bacon, fried egg, avocado, smoked BBQ, lettuce, tomato, pickles, or jalapeños.

5216 Table & Tap's specialty burgers include the Southern Drawl, which is loaded up with a fried green tomato, pimento cheese, and bacon.

They offer a good selection of cocktails, such as the Ponchatoula Cooler, which has rum, champagne, and strawberry, or the Redheaded Stepson, which has whiskey, ginger, fresh sour, and cabernet.

Their appetizers will make you hungry immediately. Their avocado fritas, garlic parmesan fries, pork rings, and wings will make you want to plan a dinner here with your family tonight.
5216 Veterans Blvd., Metairie,
(504) 766-1417, 5216tableandtap.com
Fulton Alley
Fulton Alley isn't only a bar, it is also a bowling alley, so you can spend the evening here drinking and scoring spares.

Fulton Alley, which calls itself a "charming and luxurious gaming parlour" with a Prohibition-era vibe, aims to promote the companionship of playing games, especially bowling.

So that you can spend gameday in style, Fulton Alley offers private Saints watch parties, which include a private "pod" with a TV, three hours of bowling, and food and drinks served to you and your friends.

Bowling is even more fun with an order of their Loaded Baked Potato Tots, which are oversized tater tots complete with cheddar cheese, bacon, and green onions.

Fulton Alley offers flatbreads, sandwiches, burgers, salads, and bar food such as wings and Southwest eggrolls.
600 Fulton St., (504) 208-5569, fultonalley.com
Rivershack Tavern
Rivershack Tavern, which calls itself the most unusual bar in New Orleans, has fantastic dinner specials that include Steak Night on Tuesday, Rib Night on Wednesday, and $2 tacos and margaritas on Thursday.

The Rivershack Tavern's various incarnations have been as a former grocery store, a bar, a restaurant, a package liquor store, and a pharmacy.

Their famous "Bar Legs" bar stools showcase a wide array of people, including, most notably, the Golfer, the Cowboy, and the Shrimper.

The 100-year-old tavern became especially well-known once shingles were removed from the sides of the building to reveal vibrant and hand-painted advertisements from the 1940s.

Rivershack Tavern has an extensive selection of beers and a variety of foods, from po-boys to deli sandwiches to seafood to chicken to burgers.
3449 River Rd., Jefferson, (504) 834-4938, rivershacktavern.com
Rum and the Lash
Rum and the Lash is the restaurant inside of Mick's Irish Pub that offers delicious food to go with your beers.

This is a great place to get a basket of fries—either plain, with cheese, loaded, or with curry sauce.

Their noteworthy burger comes with two beef patties, dressed and with a side of spicy mayo, and they also offer a veggie burger with all the same fixings.

Even if you're here late at night, there's no bad time for a breakfast burrito, and Rum and the Lash has 'em—with bacon, egg, cheese, and sriracha.

Rum and the Lash has an ever-changing list of weekend specials and rotating menu items, which they announce on their Facebook page. Some of the more recent specials include a pork sandwich and a pimento cheese and collard melt.
4801 Bienville St., (504) 482-9113, rumandthelash.com
Stumpy's Hatchet House
Stumpy's Hatchet House provides customers a very unusual and fun experience: throwing a hatchet at a target! Employees offer you pointers on how to do it, so even axe-throwing newbies can play.

The idea of Stumpy's was conceived when two couples started throwing the axe that they had been using to chop firewood at makeshift targets and quickly realized how fun and bonding the experience was.

Stumpy's has a convenient location near the Superdome with plenty of safe off-street parking.

Stumpy's features a great selection of bar bites to snack on while hatchet-throwing; favorites include their delicious hot dogs and cheesy nachos.

Stumpy's is the first place to offer indoor axe-throwing in the entire country.
1200 Poydras St., (504) 577-2937, stumpyshh.com/neworleansla
CAFES
Bearcat Cafe
Bearcat Cafe focuses on serving high-quality dishes for breakfast and lunch, as well as sustainable coffees from Equator Coffee Co., loose-leaf teas, and house-made bottled beverages.

The menu is divided into two sections: the Good Cat section for lighter dishes and the Bad Cat Section for indulgent dishes. Vegetarian, vegan, paleo, and gluten-free choices are scattered throughout the two sections.

The Good Cat section has the Vegan Bearcat, a tofu scramble with black bean sausage, and the Mushroom Soft Scramble, served with oyster, beech, and chanterelle mushrooms.

The Bad Cat section has the Bearcat Breakfast, which comes with two eggs, crisp potatoes, and bacon or bison sausage, and the Crab Scramble, which comes with Louisiana blue crab, soft eggs, and potatoes.

Bearcat Cafe offers a whole selection of creative lattes, including chai latte, matcha latte, butterfly matcha latte, lavender honey latte, and more.
Multiple Locations, bearcatcafe.com
Caffe! Caffe!
Caffe! Caffe! opened in 1992 as a designated spot for social gatherings and tasty gourmet desserts, which are old family recipes with a twist.

The exclamation points in the name are there for excitement and emphasis, as Gerard and Lisa Beck, the owners, wanted the name of the café to emulate its essence and bustling atmosphere.

Caffe! Caffe! offers delicious breakfast meal options, such as the egg, cheese, and bacon (or sausage) wrap; the Breakfast Platter, which comes with scrambled eggs, bacon or sausage, and grits; and the Belt Sandwich, a BLT with scrambled eggs on sourdough.
The owners of this restaurant noticed how gourmet coffee businesses were picking up and decided to create one that would also offer creative desserts. They tweaked some of their family recipes, and voilà!

Caffe! Caffe! has locations in Metairie, one on Clearview Parkway and one on North Hullen Street, so you can find one close to you to enjoy their delicious food and beverages.
Multiple Locations, caffecaffe.com
Carmo
Dana and Christina Honn founded Carmo in 2010 to provide vegans, vegetarians, and omnivores healthy and delicious dishes at affordable prices. They utilize local ingredients and emulate flavors from across the world.

Carmo prepares fish in unique ways, such as shima sashimi, a Japanese way of preparing fish raw and flash-cured, and tiradito, a Peruvian version of shima sashimi with the addition of aji amarillo pepper sauce.

Carmo offers cooking classes with their chefs. Current class options are their Market Class, Tropical Foodways, Sushi/Sashimi, and A Deeper Look at New Orleans Cuisine.

Carmo is the only restaurant in Louisiana to be certified by SeafoodWatch, a program that focuses on seafood sustainability.

On the lunch menu, they offer a different daily featured vegetable curry each day, served with rice, house-made roti, and chutney. There is an option to add chicken, shrimp, or organic tofu.
527 Julia St., (504) 875-4132, cafecarmo.com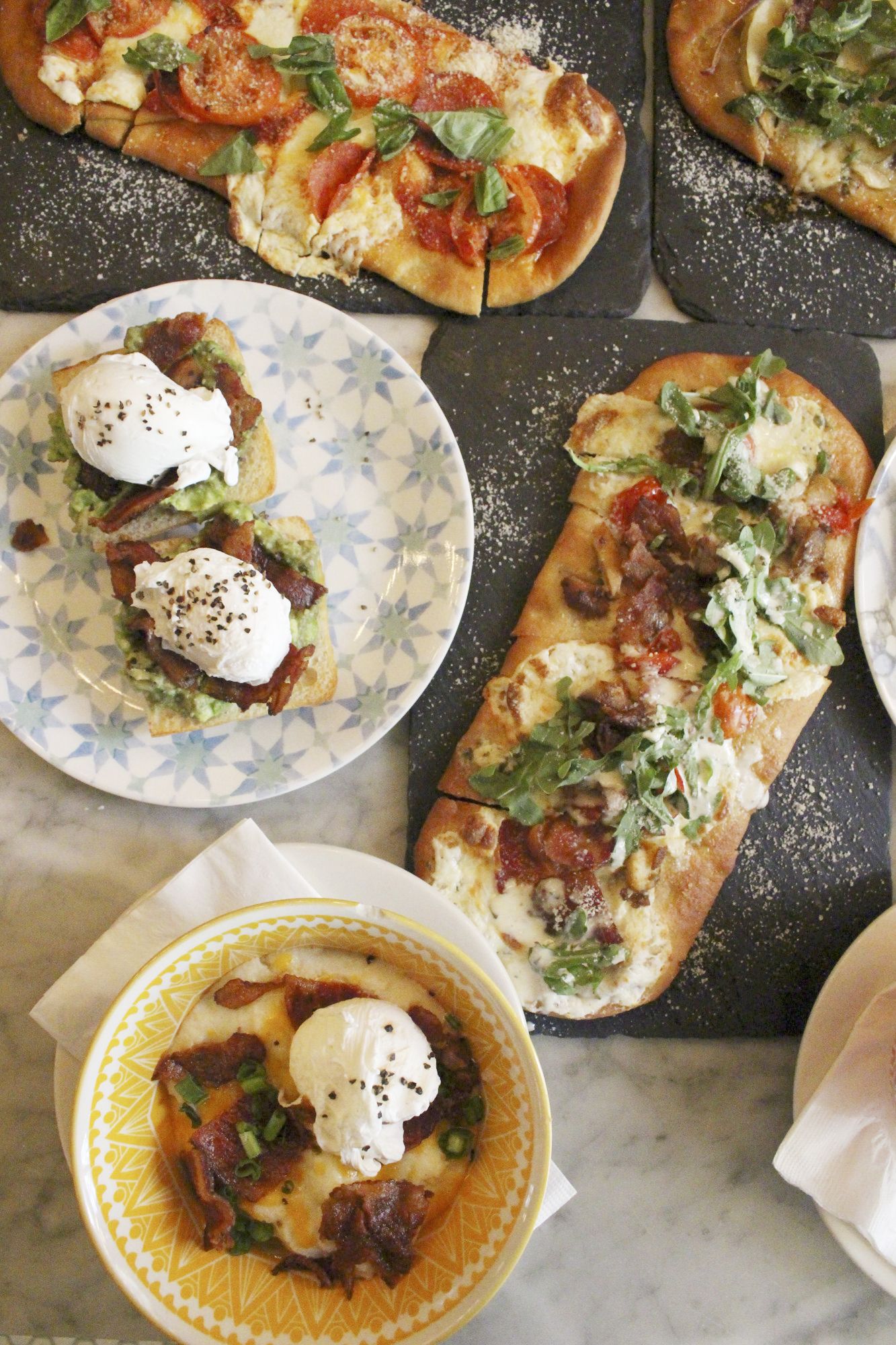 The Vintage
The Vintage features one of the most impressive sparkling wine menus in town, making it the perfect spot for a bubbly brunch any day of the week.

Their beignets and pastries are served all day, and they offer classic beignet bites, which are often raved about by customers.

The Vintage Breakfast is deliciously all-encompassing; it comes with grits, bacon, cheese, and a poached egg.

One of their most popular flatbreads is The Vintage, with marinara, pepperoni, mozzarella, and basil—a filling meal at an affordable price.

The Vintage also offers pressed sandwiches, a favorite being the Caprese with tomato, mozzarella, and basil.
3121 Magazine St., (504) 324-7144, thevintagenola.com
CARIBBEAN
NOLA Caye
NOLA Caye creates not only great food, but a great environment and atmosphere, where you can enjoy their Caribbean cuisine indoors or out.

Happy Hour is from Monday through Friday, from 3 p.m. to 6 p.m., when cocktails and wine are $6 and beer is $4.

Customers at NOLA Caye often recommend the house salad, which is deliciously filled with mangoes, pineapples, avocado, and tomatoes.

NOLA Caye offers beloved appetizers, such as the crispy chicken wings and jalapeno-queso dip.

Their brunch specials, offered Saturday and Sunday from 11 a.m. to 4 p.m., include the avocado toast with poached eggs and the NOLA Caye Breakfast, which comes with eggs, grits, bacon, potatoes, and an English muffin.
898 Baronne St., (504) 302-1302, nolacaye.com
INDIAN
Nirvana
Nirvana offers dairy-free vegetarian options. Customers often recommend the chana masala, yellow dal, and pakoras.

Craving carbs? There are at least eight different types of naan bread on the menu.

If you want something a little lighter, Nirvana offers delicious salads as well, such as the Empire Salad, which comes with tomato, cucumber, and carrots.

The customer service here gets very good reviews, since Nirvana's employees are knowledgeable and friendly.

They offer flavorsome chicken platters, such as the chicken pathia mild and the murgh sonya—chicken breast stuffed with lamb, nuts, and dried fruit.
4308 Magazine St., (504) 894-9797, insidenirvana.com
Taj Mahal
Taj Mahal was opened in 1982 and is proud to reserve the title of New Orleans's first Indian Restaurant.

Har G. Keswani was inspired to bring this restaurant and authentic Indian cuisine to New Orleans after travelling through curry houses in Europe.

The veggie cutlets, made from carrots, peas, and cauliflower, are popular with customers, as is the vegetarian platter for two, which comes with an assortment of samosas, papadum, and onion pakoras.

This restaurant aims to integrate the various and distinct cuisines of both Northern and Southern India.

Taj Mahal has a section of the menu devoted to vegetarian options, which include the mushroom masala, the gobi manchurian, and the alu saag.
923 Metairie Rd., Metairie, (504) 836-6859, tajnola.com


ITALIAN
Andrea's Restaurant
Chef Andrea Apuzzo, who was born and raised on the Isle of Capri in Italy, came to the United States in 1975 and opened his own restaurant, Andrea's, in 1985.

Chef Apuzzo has prepared meals for popular celebrities, such as Queen Elizabeth, Clint Eastwood, President Jimmy Carter, and others.

Andrea's offers delicious and affordable Italian dishes, such as their veal scaloppine parmigiana, which is white veal breaded and baked with eggplant, tomato sauce, and mozzarella cheese.

Andrea's Happy Hour at the Capri Blu Bar runs from 4 p.m. to 7 p.m., Monday through Friday, with $5 house wines and $3 house martinis.

They offer a delectable grilled filet of salmon fiorentina; this grilled salmon filet with white wine, sauteed spinach, and light lemon herb sauce will blow you away.
3100 19th St., Metairie, (504) 834-8583, andreasrestaurant.com
Elle-J's
This Lakeview restaurant combines authentic Italian and seafood entrees with experimental cocktails.

They serve a variety of pizzas, such as the margherita pizza, with fresh mozzarella and basil; the napoletana, with mozzarella, mushrooms, black olives, and anchovies; and the lasagna pizza, with pork and beef daube and ricotta, mozzarella, and Romano cheeses.

Need to feed the little ones? Part of their menu, entitled "For the Bambini," lists plates for the kids in the family, including chicken fingers, a mini pizza, spaghetti and meatballs, and macaroni and cheese.

Their Italian specialities are addictive and include classic spaghetti and meatballs, classic lasagna, eggplant parmesan, veal or chicken parmesan, and veal or chicken piccata.

Elle-J's has a great Happy Hour Tuesday through Saturday, from 3 p.m. to 9 p.m.
900 Harrison Ave., (504) 459-2262, ellejslakeview.com
Josephine Estelle
Josephine Estelle gets its name from the daughters of chefs Andy Ticer and Michael Hudman, who cook a rare combination of Italian and South American cuisines, sometimes using recipes from their maw maws.

This restaurant was the recipient of both a Diner's Choice Award 2020 and Wine Spectator's Award of Excellence 2020.

The restaurant serves a variety of food, from meatballs to pasta to steak. There is also a kid's menu available, ensuring an enjoyable experience for all members of the family.

Josephine Estelle offers a variety of meatballs, such as lamb meatballs, duck meatballs, and veal meatballs.

They offer a wonderful selection of pasta, such as their canestri, rigatoni, and tortellini. Other notable dishes include the flatiron steak, duck breast, and redfish.
600 Carondelet St., (504) 930-3070, josephineestelle.com
Mosca's
Provino Mosca immigrated to America from San Benedetto del Tronto, Italy, in 1913. He and his wife Lisa originally built Mosca's in Chicago Heights, Illinois.

Eventually, Mosca fell in love with the culture and seafood of New Orleans, after his daughter Mary married a fisherman here, and he decided that this city would be a perfect spot for his restaurant.

In 1999, Mosca's was the recipient of the James Beard Award in the America's Regional Classics category, a coveted and prestigious award.

On their website, Mosca's shares their classic and delicious recipes for customers to try making on their own. These easy-to-follow recipes include that of their Shrimp Mosca, and Chicken a La Grande.

This restaurant has an extensive wine list, with vintages from Tuscany to California to Oregon.
4137 US-90 West, Westwego, (504) 436-8950, moscasrestaurant.com
Nephew's Ristorante
Newphew's Ristorante creates genuine and authentic Italian Creole and Sicilian food, including an extensive selection of pastas, such as the Pasta Ascuitta, the Pasta Bordelaise, and the Pasta Vacca for two.

This restaurant was opened by Chef Frank Catalanotto, a former chef from Metairie's beloved former Italian restaurant Tony Angello's.

Nephew's is so-named because Catalanotto is the nephew of Tony Angello himself. Chef Catalanotto keeps the legacy of his family alive by using the recipes and business savvy that they passed down to him.

They offer a varied collection of entrees, ranging from veal parmigiana to grilled fresh salmon to braised rabbit to Mama's Eggplant.

If you want to go big, the "Dinner Menus" are combos that include soup, salad, seafood, and an entree. And the best way to end your meal is with a cannoli, ice box pie, or spumone for dessert.
4445 W. Metairie Ave., Metairie, (504) 533-9998, nephewsristorante.com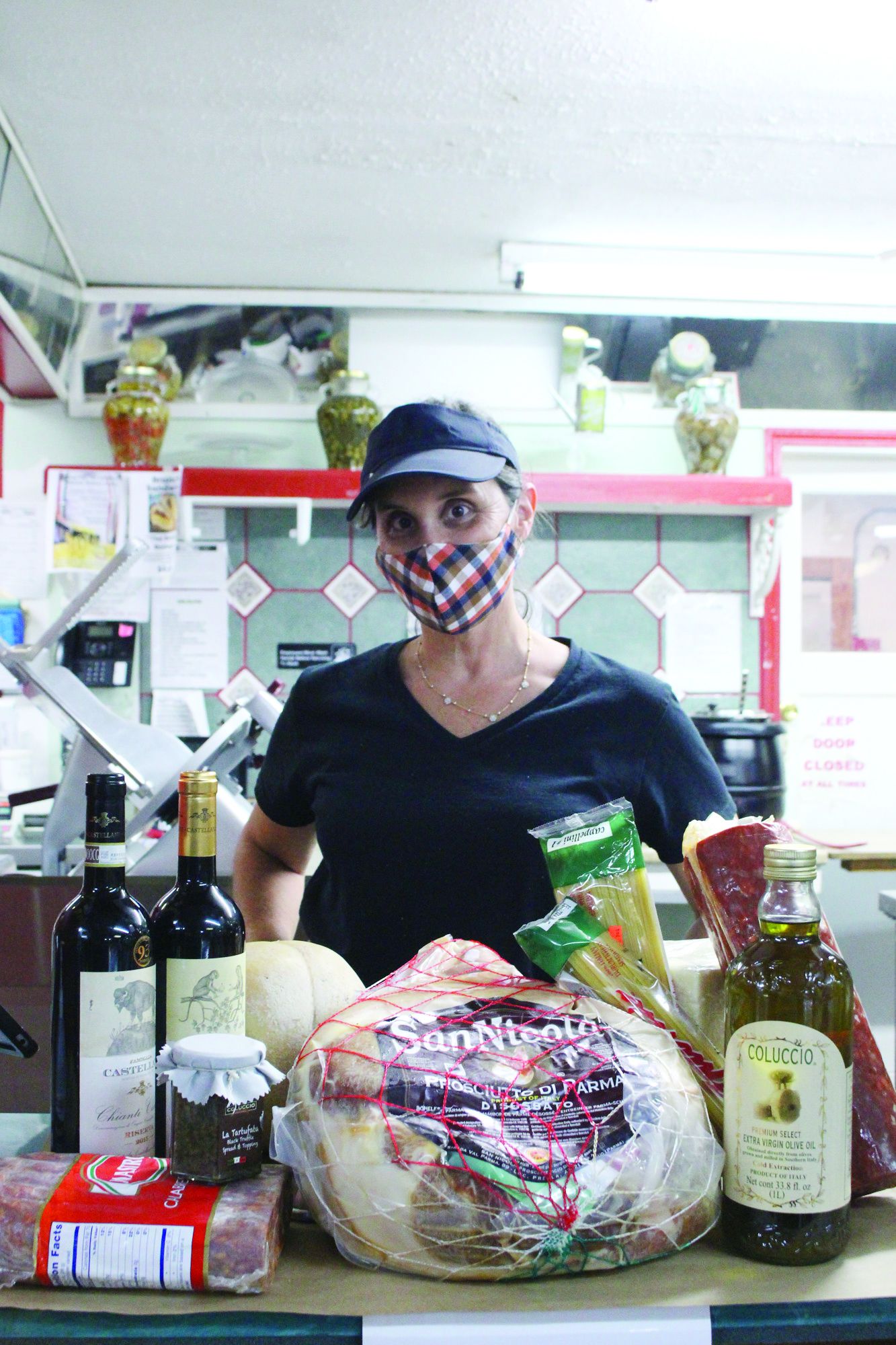 Nor-Joe Imports Co.
Nor-Joe Imports offers "cheese wheel pasta," made by putting hot pasta and cheese into a hollowed-out bowl. Making pasta this way is referred to as dalla forma and is a technique used in Italy.

The portions at Nor-Joe Imports are truly Italian, so expect a lot of food. Bring a group of friends or family to share a meal here.

They offer offers delicious entrees, such as the creamy carbonara pasta served with fresh garlic bread and a side salad.

You should save room for dessert, because they offer delicious cheesecake brownies that are to die for.

Check out Muffuletta Mondays, when you can purchase a quarter muffuletta, a bag of Zapp's, and a drink, all for one amazing price.
505 Frisco Ave., Metairie, (504) 833-9240, facebook.com/norjoeimport
Pascal's Manale
Pascal's Manale has been in New Orleans since 1913, serving delicious and authentic Creole and Italian dishes.

Pascal's Manale features multiple private rooms that are perfect for small gatherings with friends and family during the holiday season.

Their website offers the recipe for their beloved bread pudding, so you can try baking your favorite Pascal's dessert at home.

Pascal's Manale's biggest claim to fame is being the creators of the original BBQ shrimp, which is prepared in a spicy and tangy sauce.

Pascal's Manale also offers a wide variety of specialty cocktails, such as Pascal's Old Fashioned with Woodford Reserve and the French 75 with Hendrick's Gin.
1838 Napoleon Ave., (504) 895-4877, pascalsmanale.com
Red Gravy
Red Gravy, which has been listed in Open Table's Top 100 Best Brunches in America, is celebrating its 10th anniversary.

On the brunch menu, this restaurant features cannoli pancakes, which are thin pancakes with cannoli, pistachio, chocolate, and cream—you don't want to miss this Italian twist on brunch.

Red Gravy offers small plates on their dinner menu, such as zucchini fritters with lemon and roasted garlic and mussels fra diavolo, with tomato, wine, basil, and red pepper.

They slice salami to order, using their red flywheel slicer; you can be confident in the fact that your meat will be thinly sliced to provide maximum flavor.

Red Gravy will be serving their amazing Feast of the Seven Fishes holiday dinner on December 18, and this dinner is sure to get booked up quickly.
4206 Magazine St., (504) 561-8844, redgravycafe.com
Sofia Restaurant
Billy Blatty, owner of Sofia Restaurant, is a local New Orleanian who also owns Barcadia, Ohm Lounge, and the popular Japanese restaurant Nagomi.

This restaurant is an ode to Sophia Loren, one of Blatty's family friends, and is intended to encapsulate both her femininity and beauty.

Blatty commissioned David Gamble, a local artist whose style is similar to that of Andy Warhol, to paint a mural of Loren eating spaghetti.

Sofia was voted "Best New Restaurant" by the readers of Where Y'at Magazine in the Best of the Big Easy contest.

Brunch is offered Saturdays and Sundays, from 11 a.m. to 3 p.m., when you can indulge in traditional Italian dishes, handmade pasta, wood-fired pizza, or more classically brunchy dishes.
516 Julia St., (504) 322-3216, sofianola.com
Tavolino
Tavolino is a restaurant and lounge with a focus on exceeding its guests' expectations.

While the restaurant provides a warm fine-dining experience, the lounge creates an upbeat ambiance, perfect for cocktail hour with friends or a date.

If you're staying home, their to-go pizzas are a great way to end your day.

With a menu that focuses on Nouvelle cuisine-meets-homestyle cooking, guests are sure to experience the rich flavors and decadent roux that New Orleans is known for.

Their patio makes for a fun, relaxing meal with friends outdoors.
141 Delaronde Street., (504) 605-3365, facebook.com/tavolinolounge
Venezia Restaurant
This restaurant has been creating authentic Italian dishes and handmade pizza in their original stone oven since 1957.

With the goal of treating their guests like family, Venezia places an emphasis on customer service that is accommodating and friendly.

Take advantage of Venezia's 3-4-5 Deal, which features $3 domestic beers, $4 craft beers, and $5 glasses of wine.

While specializing in classic Italian cuisine, Venezia Restaurant offers a New Orleans flair with such dishes as their Fried Fish Almandine and delicious Muffaleta.


After visiting nearby City Park's Celebration in the Oaks, it's an excellent time to swing by Venezia for their unforgettable pizza or eggplant sticks.
134 N. Carrollton Ave., (504) 488-7991, venezianeworleans.net
MEXICAN
Carreta's Grill
Carreta's Grill has been serving authentic Mexican food since 1999. They pride themselves on making their customers feel at home and comfortable in their restaurant.

Their lunch menu, which is served Monday through Friday, from 11 a.m. to 2 p.m., offers affordable and delicious dishes, such as the Carreta's Special, which comes with a beef burrito, a chalupa, and a ground beef enchilada.

A new item on the lunch menu is Carreta's Classic Burger, an eight-ounce Angus patty on a brioche bun, dressed with Swiss cheese, lettuce, tomato, and onions and served with fries.

It's hard to resist their delicious desserts, which include flan, churros, fried ice cream, tres leches, and sopapillas.

They have locations in Metairie, Covington, Harahan, and Slidell, so you can find a location all around the city whenever you crave their homemade Mexican food.
Multiple locations, carretasgrillrestaurant.com
Chilangos Bar & Grill
Chilangos emphasizes the fact that their food is not Tex-Mex cuisine, which is conventionally misunderstood as being Mexican food; instead, they describe their dishes as having a blend of Mesoamerican, European, and Spanish influences.

On Tuesdays, Chilangos offers $1 tequila shots and $1 street tacos that you can customize with whatever meat you want.

The Uptown location offers outdoor seating with beautiful string lights and an excellent view of the iconic oak trees and passing streetcars.

Chilangos has a salsa bar with five to six homemade salsas that change each day.

Chilangos even serves breakfast, including huevos rancheros—two eggs on two tostadas with ranchero sauce and beans, and huevos a la Mexican, or scrambled eggs with tomatoes, onions, pepper, cream, beans, and tortillas.
Multiple Locations, chilangosnola.com
El Paso Mexican Grill
El Paso offers a daily Happy Hour as well as margarita specials on Tuesday, when you can get two margaritas for the price of one all day.

Their appetizers are a great way to start off your meal, with options such as the Sampler Platter: a chicken quesadilla, wings, a flauta, chicken fingers, and stuffed jalapeños.

El Paso celebrates Taco Tuesday by selling mini street tacos for $1.50 each, with your choice of beef, chicken, or pork.

With locations all over the city, this restaurant also offers vegetarian and seafood menus to accommodate a plethora of customers.

The lunch menu includes the El Paso's Favorite, which comes with one burrito, one beef taco, one beef enchilada, and one chalupa.
Multiple Locations, elpasomexrestaurant.com
Felipe's Mexican Taqueria
Felipe's has a reward program that offers $5 off for every $50 spent and gifts you $10 for your birthday. And they'll email you if any bonus rewards should come up.

In collaboration with Corazon Reposado, which is also a family-owned business, Felipe's released their very own limited-edition reposado tequila.

Their philosophy about food is that the ingredients should always be fresh—and you can definitely taste the freshness in their food.

This restaurant sums up its business values with the acronym ARRIBA: attentive, resourceful, respectful, interactive, busy, and accountable.

Felipe's has multiple locations, including Uptown, in the French Quarter, and in Mid-City in New Orleans, and they also have restaurants in Florida, Maryland, and Massachusetts.
Multiple locations, felipestaqueria.com
MIDDLE EASTERN
Lebanon's Café
This restaurant offers authentic Middle Eastern cuisine with a focus on customer service, meaning that you will be pleased with not only the food, but the experience.

Lebanon's creates an exciting and colorful atmosphere, with hand-painted murals and views of the streetcar on South Carrollton Avenue.

Guests come here for the kabobs, the chicken shawarma, and the rosemary lamb chops.

Lebanon's was voted Best Middle Eastern Restaurant by the readers of Where Y'at Magazine.

This restaurant offers a wide variety of hummus, including their original hummus, hummus with fried cauliflower, and Hummus Masabacha.
1500 S. Carrollton Ave., (504) 862-6200, lebanonscafe.com
Tal's Hummus
Tal's Hummus serves Israeli-inspired food: hummus, pita sandwiches, kebabs, and more, all using the freshest ingredients.

Tal's offers a pledge of hospitality to their customers, promising to treat you not like a customer, but like family.

You can get hummus any way you like it, whether it's on its own or served with ground beef kebabs, chicken, or falafel.

Tal's Hummus, because of its Uptown location, overlooks Magazine Street, notable for its New Orleans liveliness.

This restaurant creates large servings for catered events. The party platter feeds eight to 10 people and comes with hummus with a choice of five sides.
4800 Magazine St., (504 )267-7357, ordertalsonline.com
NEW ORLEANS CUISINE
Apolline
Apolline Restaurant operates under Chef Michael Shelton, who uses local ingredients to create global flavors, and General Manager Frank Phillips.

Apolline is in a renovated double shotgun cottage, creating a homey and welcoming feeling for customers.

Featured on their brunch menu are bottomless mimosas and Bloody Marys. Their Deluxe Bloody Mary comes with two shots of vodka, house-made mix, bacon, a biscuit, boiled shrimp, spicy beans, okra, olives, celery, lemon, and lime.

Apolline offers many cocktail options, such as the Peppered Pineapple, with ghost tequila, mezcal, lime and pineapple juices, black pepper syrup, and rosemary, and the "Draw Me Like One of Your French Girls," with Grey Goose Vodka, Dolin Blanc, lemon juice, rose water, strawberry shrub, and orange bitters.

Beyond just brunch, their dinner menu also has mouthwatering dishes, such as the brown butter and pecan-roasted Gulf fish with herbed grits and sauteed asparagus and topped with a brown-butter and pecan vinaigrette.
4729 Magazine St., (504) 894-8881, apollinerestaurant.com
Briquette
Briquette is located in the former Rodd Brothers Molasses Refinery from the 1800s. It gets its name from the technique of cooking fresh fish over hot stone-like "briquettes" with flavored oil.

This restaurant is popular for its iconic open kitchen, which features an 18-foot display of fish, including halibut, salmon, Louisiana redfish, branzino, and others.

Briquette was the recipient of Wine Spectator's Award of Excellence in 2020.

Their blackened redfish, a signature menu item, has grilled shrimp, fried green tomatoes, fresh arugula, and butter.

The New Orleans Catfish Platter is a must-try, and it comes with crispy Des Allemands catfish, rosemary fries, slaw, and housemade tartar sauce.
701 S. Peters St., (504) 302-7496, briquette-nola.com
Café 615 (Home of Da Wabbit)
Opened in 1948 in downtown Gretna, Café 615 was originally called Da Wabbit and featured an iconic Bugs Bunny sign that brought a local following.

Café 615 was voted "Best Restaurant, Westbank" by Where Y'at Magazine readers.

This restaurant offers large portions of authentic Creole cuisine and an extensive list of beer, wine, and cocktails—just the way we New Orleanians like it

Café 615 serves Bugs Bunny-themed cocktails, such as the Chocolate Bunny, with 360 Vodka, creme de cacao, and Hershey's Chocolate Syrup, and the Jack Wabbit Juice, with Jack Daniels, sour mix, and orange, pineapple, and cherry juices.

They offer endless options, from appetizers and salads to entrees, pasta, and sandwiches, whether you want steak, seafood, chicken, or vegetarian meals.
615 Kepler St., Gretna, (504) 365-1225, cafe615.com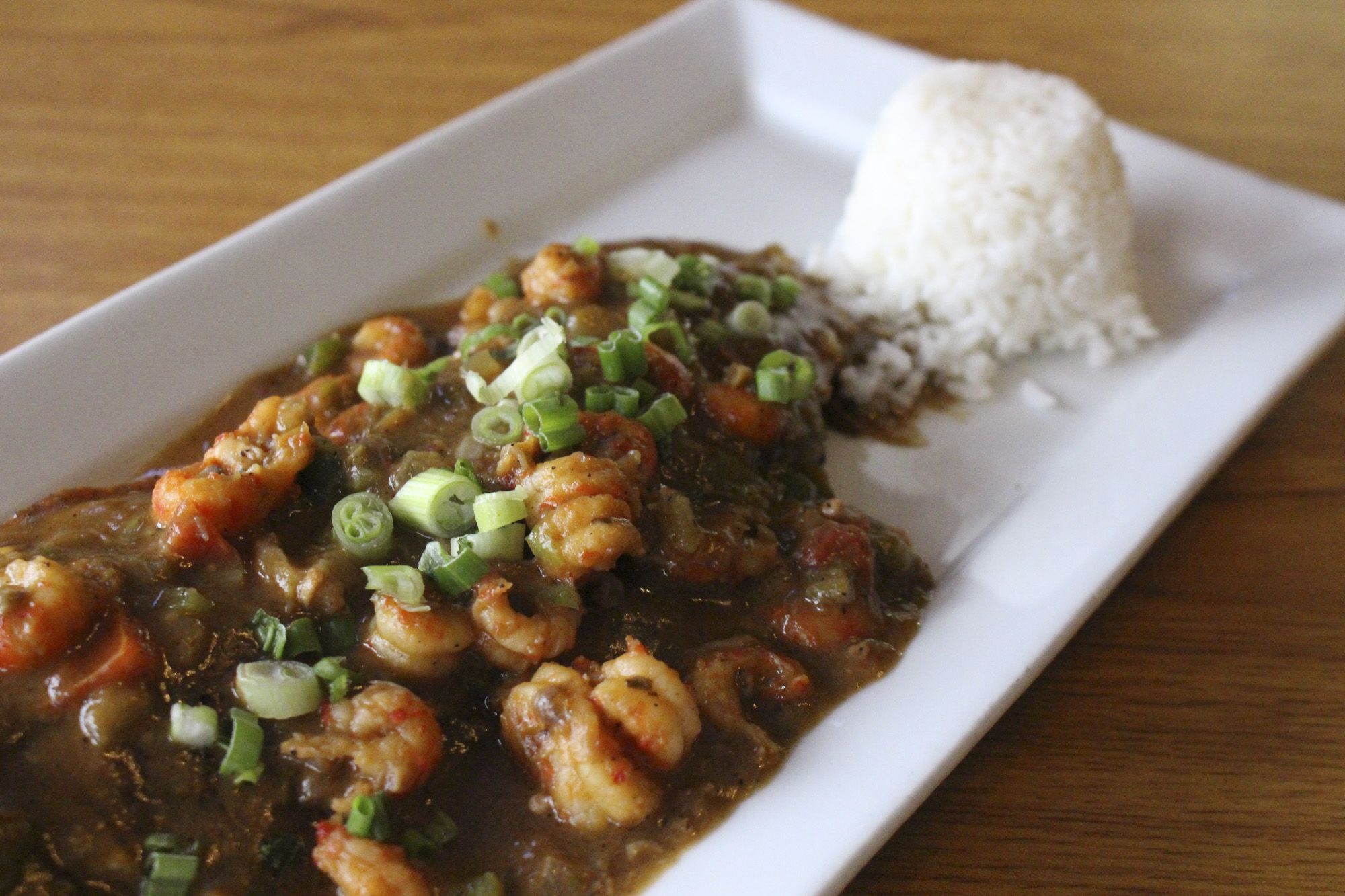 Chef Ron's Gumbo Stop
In order to ensure the best-tasting and most genuine New Orleans gumbo and other specialty dishes, Chef Ron Iafrate insists on solely local ingredients.

Chef Iafrate became infatuated with cooking when he helped his Italian mother make their old family recipes, and his love for Cajun cooking came from when he worked with chef Fred Faria in Acadia, Rhode Island.

Iafrate was the recipient of the 2010 Chef of the Year award from the American Culinary Federation, and two years later in 2012, he opened up Chef Ron's Gumbo Stop.

Chef Ron's offers a variety of gumbo, such as their classic seafood gumbo; Gumbo Monceaux, with a poached egg and topped with potato salad; and Freckled Gumbo, with fried oysters on top.

Aside from gumbo, they also serve other classic New Orleans dishes, including crawfish etouffee, jambalaya, shrimp creole, red beans and rice, and more.
2309 N. Causeway Blvd., Metairie, (504) 835-2022, gumbostop.com
The Creole Cookery
A.J. and Anna Tusa, owners of Briquette, also launched this restaurant.

The Creole Cookery is in the perfect location: a few blocks away from the beloved Mississippi River, a three-minute walk from Jackson Square, and a few blocks from both Canal and Bourbon Streets.

They offer a delicious list of appetizers, such as gator bites, hushpuppies, fried pickles, and Cajun calamari. These Southern-based appetizers will make you fall in love with New Orleans all over again.

The Creole Cookery is known for its tasty and strong Hurricane cocktails, such as the Category One made with light rum, the Category Two made with gold rum, and the Category Three made with dark rum.

The Creole Favorites section of the menu features meals such as jambalaya, shrimp creole, Creole red beans and rice, and shrimp and grits.
508 Toulouse St., (504) 524-9631, neworleanscreolecookery.com
Desire Oyster Bar
Desire Oyster Bar allows oyster-lovers to watch as experts shuck oysters that are fresh from the Gulf.

Located on Bourbon Street, this restaurant provides customers with a perfect New Orleans experience by really capturing NOLA's lively spirit.

Desire's interior is modern, giving it a contemporary and casual setting to go with the classic food that NOLA is known and loved for.

There are plenty of ways to get your oysters here. Customers can't get enough of this restaurant's Gulf oysters on the half shell, their fried oyster po-boy, and their "Peacemaker" fried shrimp and oyster po-boy.

Their crab mac and cheese and spinach and artichoke dip with fried bowtie pasta and parmesan are so good that you'll never want to leave Desire Oyster Bar.
300 Bourbon St., (504) 553-2281, sonesta.com/us/louisiana/new-orleans/royal-sonesta-new-orleans/desire-oyster-bar
Mandina's Restaurant
Mandina's was founded as a grocery store when Sebastian Mandina came to New Orleans from Palermo, Italy, in 1898.

When Mandina's two sons, Anthony and Frank, took over the grocery store, it became a pool hall and then, finally, a restaurant in 1932.

This restaurant features numerous daily specials every day. For instance, on Tuesday, you can choose from beef stew, corned beef and cabbage, and stuffed chicken breast.

Mandina's Happy Hour is Monday through Friday, from 3 p.m. until 6 p.m., featuring $1 off beer, $2 off cocktails, and $2 off wines by the glass.

Mandina's offers a wide variety of salads, from their tossed greens salad to their Italian salad garnished with anchovies to a grilled shrimp salad.
3800 Canal St., (504) 482-9179, mandinasrestaurant.com
Melba's
Melba's was founded after Hurricane Katrina at the intersection of North Claiborne and Elysian Fields Avenues, not far from the French Quarter.

Melba's pleases customers with genuine and authentic Creole flavor and a casual urban atmosphere.

This restaurant is a proud partner of The Vine Community Outreach Center, which was started by Pastor Corey Hicks to support New Orleans's troubled youth. If you'd like to donate to this charity, you can round up your bill.

They are open 24/7, so you can stop by anytime that you crave delicious po-boys, chicken wings, and classic New Orleans dishes, such as shrimp and grits and red beans and rice.

Melba's is connected to a laundromat right next door, so you can eat a plate lunch or drink a frozen daiquiri while your last load is in the dryer.
1525 Elysian Fields Ave., (504) 267-7765, melbas.com
Mother's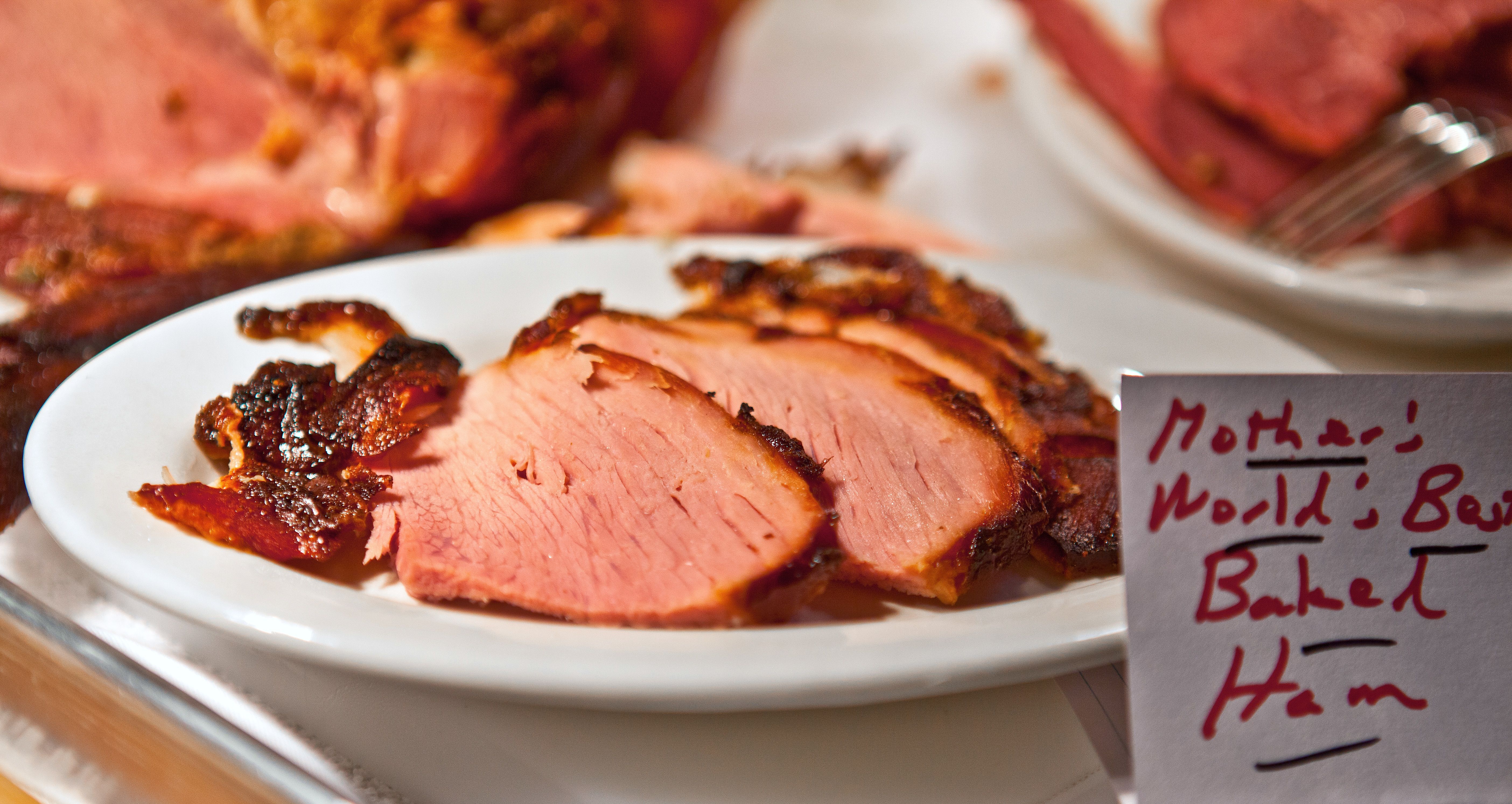 Opened in 1938 by Simon and Mary Landry, Mother's lives in Poydras Street's Restaurant Row, which is located between the waterfront and the courthouse.

Once Jerry and John Amato bought Mother's from Landry's sons Jacques and Eddie, more New Orleans-style dishes were added, but nothing was removed from the original menu.

Mother's serves breakfast all day, but the Early Bird Special, which includes scrambled eggs, smoked sausage, regular grits, a biscuit, and coffee or a small orange juice, is only served Monday through Friday, from 7 a.m. to 9 a.m.

Some of their most popular items include Mae's filé gumbo, red beans and rice, Jerry's Jambalaya, and crawfish etouffée.

Mother's offers the "World's Best Baked Ham Dinner," which comes with your choice of ham (fried, baked, or blackened) and three side dishes.
401 Poydras St., (504) 523-9656, mothersrestaurant.net
Neyow's Creole Cafe
Neyow's authentic Creole cuisine is endorsed by local Uber drivers and hotel concierges.

They offer daily specials, such as red beans and jambalaya on Mondays, and white beans, BBQ chicken, spaghetti and meatballs, and po-boys on Tuesdays.

Neyow's dishes are derived from the owners' grandmother's recipes, so the recipes for these dishes have been passed down and perfected.

They serve delicious, homemade, and New Orleans-inspired desserts, such as their homemade bread pudding with cinnamon cream sauce and their beignet sticks.

Big appetite? Neyow's features the Neyow's Extravaganza Dinner for two, which includes two cups of gumbo, two house salads, fish, shrimp, oysters, stuffed crab, stuffed shrimp, one steak, two sides, and two desserts.
3331 Bienville St., (504) 827-5474, neyows.com
Orleans Grapevine
Orleans Grapevine serves high-quality cuisine and fine wine, and they have been doing so for many years.

The Orleans Grapevine building was built by Antoine Angue in 1808, making this two-story building over 200 years old. It has kept its original dirt floors from the 19th century.

Not too hungry? If you want just a bite and a glass of wine, they offer a Petit Fare section of the menu, featuring such small plates as crab cakes, cheese boards, and New Orleans BBQ shrimp.

Their entrees will not leave you disappointed, especially the Grapevine Black Angus house filet, an eight-ounce filet that comes with your choice of crawfish demi-glaze or a cream sauce.

Desserts are made in-house and from scratch, including the French vanilla and white chocolate bread pudding, the honey goat cheese cheesecake, or the traditional Florida key lime pie. There's even a sugar-free dessert option.
720 Orleans St., (504) 523-1930, orleansgrapevine.com
Please-U Restaurant
Local Greek entrepreneurs Nick and Helen created Please-U in 1946 to serve delicious breakfast all day and traditional New Orleans dishes.

Please-U's Greek omelet, Gulf shrimp omelet, and oyster omelet are just a few of their wide range of omelets, which are all served with hash browns or grits and toast or a biscuit.

If you're feeling more like lunch, there are plenty of delicious po-boys, including a salami po-boy, double-egg po-boy, and classic shrimp po-boy, so you can't go wrong.

If you can't decide which seafood platter to get, no worries. The mixed seafood platter, served with shrimp, oysters, crab cakes, and fish, will surely satisfy.

Their pastas, like the chicken parmigiana and veal parmigiana, are another tasty and filling way to go.
1751 St. Charles Ave., (504) 525-9131, pleaseunola.com
Poppa's Seafood & Deli
Poppa's Seafood & Deli serves breakfast from 7:30 a.m. until 10 a.m., featuring breakfast po-boys, such as the ham and egg po-boy and the smoked sausage and egg po-boy, and breakfast plates.

The gumbo comes highly recommended, since this restaurant cooks the classic New Orleans staple perfectly.

Poppa's has gotten good reviews for its atmosphere, service, and portion size, in addition to the excellent feedback on the food.

This deli offers a range of fried chicken deals. There's a meal which includes six wings with fries or dirty rice; a meal with two wings and fries, salad, and toast; and a meal which comes with three chicken tenders with fries.

Not just on Mondays here, Poppa's offers red beans and rice daily, served with smoked sausage, chicken, or pork chops.
3311 N. Galvez St., (504) 947-3373, poppas-seafood-deli.edan.io
Short Stop Poboys
This restaurant offers 30 different types of po-boys in total, including roast beef, hot sausage link, Italian sausage, cheeseburger, meatball, oyster, catfish, and soft-shell crab, among many others..

If you can't decide what type of po-boy you want, Short Stop will let you mix and match and go half-and-half on several of their options, such as a half-oyster, half-catfish po-boy.

Their po-boys come in 6-inch, 9-inch, and king-size 14-inch options, and you can even get whole wheat po-boy bread.

In addition to po-boys, this restaurant also serves delicious and New Orleans-centric special extras, such as gumbo, jambalaya, stuffed crab, and stuffed artichokes.

Short Stop's menu features notable desserts, such as cheesecake, peanut butter pie, lemon meringue pie, Roman Candy, and white chocolate bread pudding.
119 Transcontinental Dr., Metairie, (504) 885-4572, shortstoppoboysno.com
Willie Mae's
In 1958, Willie Mae's moved to its current location on St. Ann Street and opened with a bar, a barbershop, and a beauty salon, which closed in the early 1970s.

Willie Mae's was the recipient of the James Beard Award for America's Classic Restaurant for the Southern Region and the Food Network and Travel Channel title of America's Best Fried Chicken.

Willie Mae's is offering holiday meals to go via their website, at either the Pythian Market location or the original St. Ann location.

The most popular meal includes three pieces of America's Best Fried Chicken—white or dark—with one side (such as butter beans, green beans, macaroni and cheese, or french fries or sweet potato fries).

Willie Mae's serves delicious desserts on the Sweet Tooth portion of the menu, which includes bread pudding, turtle cheesecake, strawberry cheesecake, and white chocolate cheesecake.
Multiple Locations, williemaesnola.com
SEAFOOD
Felix's
Felix's was opened in the 1940s with the goal of making New Orleans oyster bars crucial to the New Orleanian culture.

Felix wants you to ask your paw-paw, grandma, poppy, or auntie what restaurant they went to for oysters and says that it's a near-guarantee that the answer will be Felix's.

The oysters that Felix's uses spend no time in a warehouse; they're taken directly from oyster beds, refrigerated on the way to the restaurant, and put into the oyster bar.

Felix's provides a wide variety of oyster preparations, such as on the half-shell, chargrilled, buffalo oysters, Oysters Rockefeller, Oysters Bienville, and oysters du jour.

Felix's has multiple locations, including in the French Quarter, Mandeville, Gulfport, and Lakeview, spreading the New Orleans influence throughout the area.
Multiple Locations, felixs.com
The Galley
The Galley has served their iconic soft-shell crab and catfish filet po-boys at the New Orleans Jazz & Heritage Festival since 1977.

There's just something about the way that The Galley does their boiled crawfish, crabs, and shrimp—the boil seasoning adds a special taste.

If you want a healthier meal, The Galley doesn't slack on salads. They offer an acclaimed spinach crabmeat salad with walnuts, cranberries, and ginger dressing, as well as a Greek shrimp salad with black olives, feta cheese, and peeled boiled shrimp.

Their house specials include blackened or grilled redfish topped with shrimp and crabmeat, served with potatoes and veggies, and veal parmesan with angel hair pasta.

For something you'd jump at the chance to try, The Galley even has frog legs on their appetizer list! Other appetizers include crawfish hushpuppies, maple leaf duck strips, and cheese and crabmeat jalapeños.
2535 Metairie Rd., Metairie, (504) 832-0955, thegalleyseafood.net
Jazzy Pete's
New restaurant alert! Be sure to swing by the new location of Jazzy Pete's, Uptown on Oak Street.

Jazzy Pete's signature item is the Jazzy Pete Poboy, which comes with grilled hot sausage, American cheese, fried shrimp, pickles, greens, and Jazzy sauce, in either a large 12-inch or half-sized 7-inch variety.

Though the Jazzy Pete Poboy is their most popular, they also offer many other po-boys, stuffed with everything from a burger and bacon to soft-shell crab and fried green tomatoes to BBQ pulled pork.

Besides po-boys, Jazzy Pete's also serves other traditional New Orleans dishes, such as crawfish etouffée, red beans and rice, and BBQ shrimp pasta.

If you like pasta, they serve it in many ways, such as chicken fettuccine, seafood pasta, BBQ shrimp pasta, and smoked crab alfredo.
8201 Oak St., (504) 766-0420,
acebook.com/jazzypetesnola
Seaworthy
Seaworthy is located in a Creole cottage from 1832 and finds inspiration in the tradition of Southern hospitality, the vibrance of New Orleans and New Orleanian culture, and the Gulf waterways.

Seaworthy is open from Wednesday through Sunday, with a Happy Hour from 4 p.m. to 6 p.m., and a second, late-night Happy Hour from 10 p.m. to 11 p.m.

This restaurant touts their devotion to serving "wild-caught and sustainably harvested oysters from American waters," including the Gulf, so you know their seafood is fresh.

Seaworthy offers a deal on their mahi mahi ceviche, tuna poke, Gulf shrimp aguachile, and cobia tiradito: 1 for $11, or any 3 for $28.

They do shrimp right, with their fried Gulf shrimp, seasoned with lemon and pepper remoulade, or their rock shrimp roll, which has Louisiana shrimp, celery, and mayo french fries.
630 Carondelet St., (504) 930-3071, seaworthynola.com
Tito's Ceviche & Pisco
This restaurant's atmosphere is vibrant, with upbeat music, art scattered throughout the restaurant, and an energetic and knowledgeable staff.

Tito's Ceviche & Pisco offers the Pulpo a la Parilla, or grilled octopus with potatoes, as an appetizer, and the Pescado a lo Macho, which includes pan-seared fish, mixed seafood, and an Aji cream sauce over rice, as an entree.

If you want a little lagniappe, you can opt for one of their delectable sides, such as white rice, Peruvian beans, fried yuca, quinoa, or tostones.

A crowd favorite is the Arroz con Pato—duck confit with a beer glaze, cilantro rice, and salsa criolla.

Their Happy Hour, which goes from 3 p.m. to 6 p.m. Monday through Friday, features $1 off all beers and $6 classic pisco sours.
5015 Magazine St., (504) 267-7612, titoscevichepisco.com