African
Bennachin
1212 Royal Street | 504-522-1230 | bennachinrestaurant.com
Having opened its doors in 1992, Bennachin is bringing the flavors of Gambia and Cameroon to the Big Easy.
This restaurant first started out in Old Metairie but has since moved to the French Quarter, providing a comfortable and friendly atmosphere for both locals and tourists looking for a dish that bursts with flavor.
Some of Bennachin's most well-known specialties are the makube (a fried banana dish), nyeaturing (fish pie), and kone ni makondo (black-eyed pea stew).
This restaurant has a wide array of meat dishes, as well as plant-based dishes for vegan and vegetarian guests.
Bennachin is widely regarded for their flavorful, spicy dishes.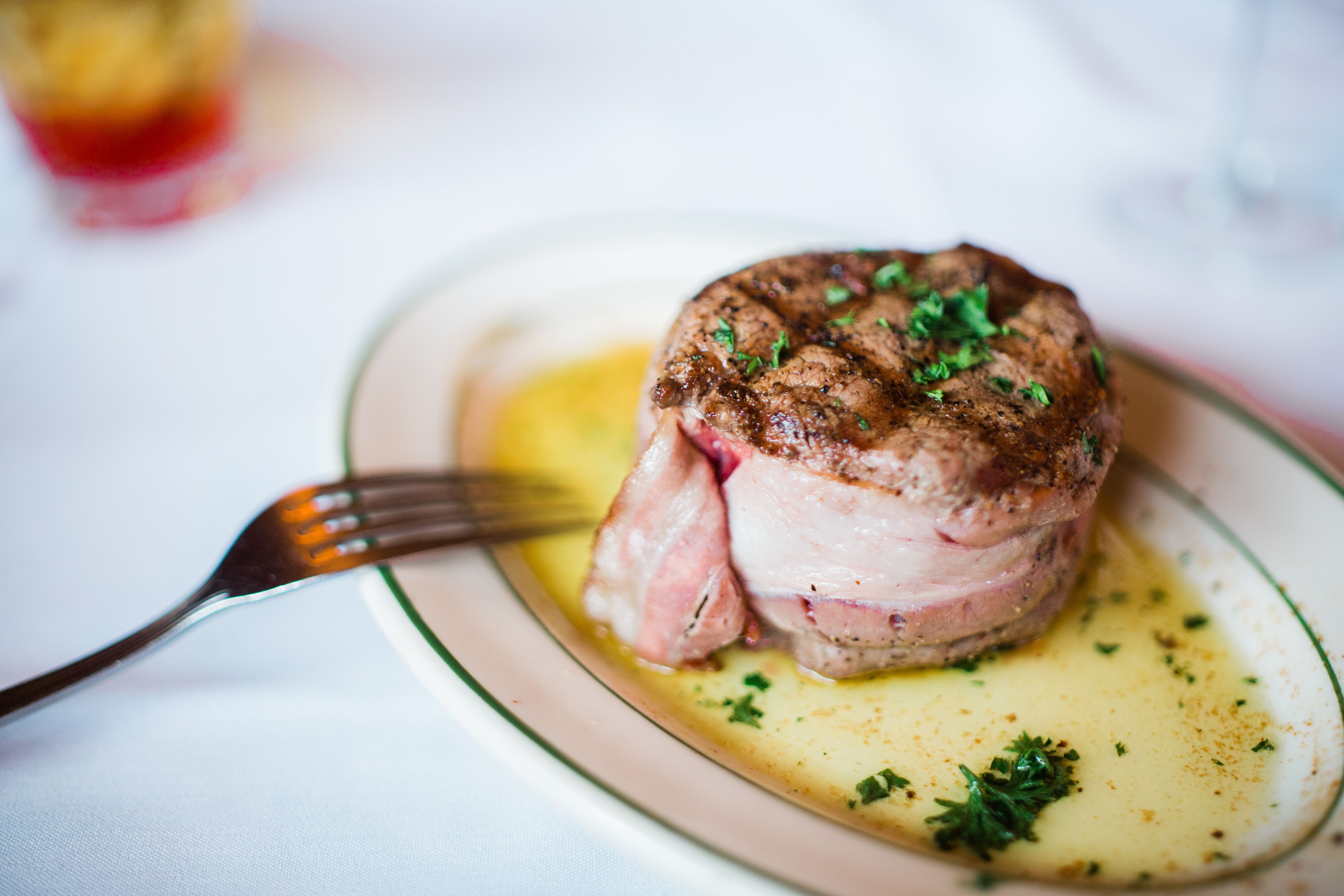 American
Audubon Clubhouse
6500 Magazine Street, (504) 212-5282 | AudubonNatureInstitute.org/clubhouse-cafe
Located within Audubon Park, the Audubon Clubhouse Cafe is open to the public. Stop by on your next stroll through the park.
The menu consists of cafe fare, from salads and soups to sandwiches and po-boys. We recommend the roast beef debris po-boy.
The Audubon Clubhouse has an extensive wine list as well as specialty cocktails such as cosmopolitans and Moscow mules.
On Saturday mornings between 10 a.m. and 2 p.m., the Audubon Clubhouse hosts weekend brunch. Enjoy breakfast classics like chicken and waffles and pancakes at this quaint cafe.
The Audubon Nature Society can cater your next event with the help of the superb staff at the Audubon Clubhouse.
Bayou Hot Wings
6221 S. Claiborne Avenue, (504) 662-9933 BayouHotWings.com
All the wings at Bayou Hot Wings are seasoned and brined for 24 hours to achieve the perfect combination of flavor and texture.
With over 14 different flavors and levels of heat, guests can feast on mild and hot wings alike. Regulars love the bayou sweet heat.
In addition to chicken wings, this wing joint has many varieties of deep-fried delicacies like fried pickles, gator bites, Gulf shrimp, and frog legs.
The chefs of Bayou Hot Wings have cooked for many celebrities, including Sean Payton and Greg Williams.
Bayou Hot Wings has you covered for your next Saints game with their tailgating menu, which features up to 400 pieces of their famous hot wings.
The Country Club
634 Louisa Street, (504) 945-0742 | TheCountryClubNewOrleans.com
The Country Club is an upscale Bywater oasis for tourists and locals alike. With a heated saltwater pool, hot tub, pool-side bar, sauna and more, The Country Club is the ultimate place to kick back and relax.
It's Happy Hour as long as it's raining.
The menu features the best of New Orleans cuisine from grilled Gulf fish to crabmeat beignets.
Every Saturday, The Country Club hosts Saturday Drag Brunch.
Guests can dine in the parlour rooms, on the verandas, or by the pool.
Cowbell
8801 Oak Street, (504) 866-4222 | Cowbell-Nola.com
Centrally located on Oak Street, Cowbell boasts a wide variety of handmade meals from the freshest ingredients.
Though Cowbell is well-known for its grass-fed beef, there are many vegetarian-friendly items on the menu including field mushroom & corn truffle tacos and the Famous Cowbell Harvest Burger.
Cowbell will soon host a dinner series that pairs delicious meals with wine and beer pairings.
Cowbell can host your next large event with a catered buffet and cocktail reception.
We recommend the famous Cowbell burger with a fried egg on top.
Crescent City Steakhouse
1001 N. Broad Street, (504) 821-3271 | CrescentCitySteaks.com
Since 1934, Crescent City SteakHouse has been serving up New Orleans-style steaks (cooked in sizzling butter) from its off-the-beaten-path location on Broad Street.
Guests can choose from six varieties of steaks, from rib-eye to sirloin.
This restaurant is known for old-school New Orleans atmosphere and decor.
Crescent City Steakhouse uses USDA Prime-aged beef that has been hand-cut and dry aged in-house.
If you still have room left, indulge in any of the dessert selections, including pies, creole cream cheesecake, and bread pudding.
Daisy Dukes
Multiple Locations | DaisyDukesRestaurant.com
Open early til late (and at some locations 24/7), this popular spot has all of your late-night breakfast cravings covered.
Daisy Dukes strives to provide genuine southern hospitality and prides itself on great customer service.
You can buy a bottomless hurricane for only $16-with a valid ID, of course.
Customers rave about the brunch burger, which includes bacon, cheese, and a fried egg on top.
Wake up in time for the Early Bird Special (6 a.m. to 8 a.m.) and get two eggs, hash browns or grits, your choice of meat, and toast for only $5.
Faubourg Bistro
Multiple locations, (504) 267-0244 | FaubourgBistro.com
This upbeat bistro prides itself on its "fresh, unique, and fun" menu.
The appetizer menu consists of any fried dish your heart desires, including mac and cheese bites, PB&J wings, and piggyback fries, smothered in bacon and barbeque pulled pork.
Entrees consist of an exciting variety of sandwiches and skillets-we recommend the pizza mac & cheese skillet.
This restaurant offers free bike deliveries to the French Quarter, Marigny, and CBD.
Faubourg Bistro's French Quarter location is conveniently situated in the back of the 700 Club, so guests can grab a bite to eat after drinks.
Gattuso's Neighborhood Restaurant
35 Huey P. Long Avenue, (504) 368-1114 | Gattusos.net
Gattuso's is the Gretna Historical District's favorite neighborhood bar and restaurant.
With a daily happy hour between 4-7 p.m., guests can enjoy a selection of discounted beverages, and with over 14 beers on draft, it shouldn't be too hard to find a favorite.
Gattuso's hosts a variety of different events, from trivia nights on Tuesdays to live music on Friday and Saturday nights.
The menu boasts a wide selection of traditional American-meets-Louisiana fare, from po-boys to muffalettas.
The outdoor patio at Gattuso's is the perfect place for large groups-and dogs are allowed.
Legacy Kitchen Steak + Chop
91 Westbank Expressway, Gretna, (504) 513-2606 | LegacyKitchen.com
Located in Gretna, Legacy Kitchen Steak and Chop is an extension of the
Legacy family.
The menu consists of decadent steaks and salads as well as burgers, sandwiches, and house specials.
Check out the weekly chalkboard for specials on wine, charbroiled oysters, and daily happy hour.
Happy Hour is daily between 2 to 6 p.m., where guests can enjoy bar snacks for a discounted price.
If you feel like treating yourself, the filet mignon is one of the most popular items.
Liberty Cheesesteaks
5041 Freret Street, (504) 875-4447 | LibertyCheesesteaks.com
Known for its Philly fare, Liberty Cheesesteaks is bringing one of America's most loved sandwiches to the Big Easy.
To get an authentic experience, order "The Wiz," a classic Philly-style cheesesteak with NY strip, Colby-Jack and-most importantly-cheese wiz on top.
For the more non-traditional customers, Liberty Cheesesteaks has other sandwiches like the classic Italian, Buffalo chicken, and meatball.
Customize your cheesesteak with the Alisha sauce (garlic mayo), JJ sauce (Sriracha mayo), or the Nora (garlic-based aioli). We recommend a generous serving of each.
Liberty has a kid's menu with chicken tenders and grilled cheese for pickier eaters, making this the perfect place to bring the whole family.
Melba's
1525 Elysian Fields Avenue, (504) 388-4035 | Melbas.com
Open 24/7, Melba's is one of New Orleans' busiest po-boy shops.
The walls are lined with TV screens that feature all of the celebrity guests who have eaten at Melba's.
The menu consists of traditional New Orleans classics like po-boys, fried chicken, and home-cooked plate dinners.
A cookbook full of Melba's recipes are available online so you can give the gift of Melba's this holiday season.
Melba's might be the only place where you can grab a bite to eat and a daiquiri-and do a quick load of laundry.
Spudly's Super Spuds
2609 Harvard Avenue, (504) 455-3250 | Spudlys.com
Spudley's has been serving "a meal in a baked potato" for over 35 years.
The menu has over 20 different meals that diners can enjoy inside of a baked potato, including the super crawfish spud and the fajita spud.
Additionally, Spudley's offers meals inside of potato skins, for guests looking for a little extra crunch.
If potatoes aren't your thing, Spudley's has a variety of salads, burgers, soups, and more.
This restaurant was started by siblings and maintains a tight-knit family of staff.
Voodoo BBQ
Multiple locations, (504) 522-4647 | VoodooBBQ.com
Voodoo BBQ opened up on Mardi Gras day in 2002 and has since been serving up a new style of barbecue­-New Orleans barbecue-complete with all of the Cajun spices that make New Orleans cuisine so unique.
All meats are dry-rubbed with Cajun, Creole, and Carribean spices and slow-smoked to perfection with oak and pecan.
All Voodoo BBQ stores are decorated with unique New Orleans-inspired touches, from murals to the wrought-iron fencing seen abundantly throughout the Big Easy.
With locations in Louisiana, Florida, and even Indiana, your out-of-state family and friends can enjoy the unique flavors of New Orleans bbq.
Don't worry: If you're not in the mood for barbecue, Voodoo still offers your favorite NOLA classics like po-boys and red beans and rice.
Willie Mae's Scotch House
2401 St. Ann Street, (504) 822-9503 | WillieMaesNola.com
Located in the historic Tremé neighborhood, Willie Mae's opened in 1957 as a bar and then later changed locations and opened up as a restaurant, in response to demand for Ms. Willie Mae's down-home Mississippi-meets-Louisiana cooking.
Today, Kerry Seaton Stewart, Willie Mae's great-granddaughter, keeps the family business alive.
Willie Mae's has received recognition from the Food Network and Travel Channel for having "America's Best Fried Chicken."
The entrees, "food for your soul," are simple and consist of fried or baked chicken and fried fish and veal, along with an assortment of familiarly Southern sides like green beans, mac and cheese. and red beans and rice.
The interior of this restaurant is casual, quaint, and perfect for taking a break from the hustle and bustle of the French Quarter.
WOW Café Doubletree
300 Canal Street, (504) 212-3250 | WowAmericanEats.com/doubletree
Established in 2001 by Paul Ballard, WOW Café is a unique, fast-casual restaurant that aims to create a family-oriented dining experience.
In the heart of Downtown New Orleans, you're walking distance to just about everything.
WOW Cafe has won awards for the best wings in New Orleans for eight years in a row.
Smother your wings in any of WOW Cafe's signature sauces to create a memorable dining experience.
Take advantage of the bar and indulge yourself in a frozen rosé.
Asian
Bao and Noodle
2266 St Claude Avenue, (504) 272-0004 | BaoandNoodle.com
Located in the Marigny, Bao and Noodle offers free delivery to the Marigny and Bywater neighborhoods.
This casual Chinese restaurant offers a variety of vegan/vegetarian friendly options like ma po tofu and mock-duck steamed bao.
Bao and Noodle is critically acclaimed for its friendly prices and delicious steamed buns.
The shop offers intimate two-seat tables with lots of open air and light-perfect for a casual date night.
Service is very fast and efficient at Bao and Noodle-especially considering it's only run by a couple of employees.
Five Happiness
3605 S Carrollton Avenue, (504) 482-3935 | FiveHappiness.com
Five Happiness has been serving great food to the Carrollton neighborhood for over 30 years.
Chef recommendations include the house baked duck, shrimp with honey-roasted pecans, and asparagus with chicken.
Five Happiness offers delivery to Uptown and Mid-City.
After Hurricane Katrina, Five Happiness underwent cosmetic renovations that incorporated sleek and refined decor with "a subtle Asian feel."
Guests love the crispy ginger shrimp.
Green Tea
3001 Napoleon Avenue, (504) 899-8005 | GreenTeaNola.com
Green Tea is a family-owned restaurant that originated in New York, but moved to New Orleans to bring authentic Chinese cuisine to a community that lacked variety in Chinese food options.
This restaurant developed the "GT Way," which lets you customize your own dish by choosing a protein, veggie, side, sauce, and whether or not you'd prefer it steamed or fried.
With meals averaging around $10, Green Tea is incredibly cost-effective for college students and frugal spenders .
This restaurant has a reputation for having some of the fastest delivery times in the city.
Portions are generously sized, so you don't have to worry about leaving hungry.
Kyoto 2
5608 Citrus Boulevard, (504) 818-0228 | facebook.com/kyoto2
Kyoto 2 is well-known for its warm and hospitable staff members.
With great prices and large rolls, customers can get the most of their money at this popular sushi restaurant.
In addition to fresh fish, Kyoto 2 has a large selection of vegetarian options, from vegetable rolls to tofu dishes.
Pair your meal with hot or cold sake.
Kyoto 2 is located near the Elmwood shopping area, making it a great place to stop after a day of holiday shopping.
Mikimoto
3301 S Carrollton Avenue, (504) 488-1881 | MikimotoSushi.com
Mikimoto has been providing New Orleans with delicious sushi for over 20 years.
The company strives to prioritize excellent and fast customer service.
With a menu consisting of a variety of sushi, udon, salads, and rice dishes, customers always leave satisfied.
Customers can choose from a list of hot and cold sake to compliment their sushi dinner. Regulars love the nigori sake.
Have Mikimoto cater your next party or event with options such as chicken teriyaki, sashimi, and fried rice.
Miyako
1403 Saint Charles Avenue, (504) 410-9997 | JapaneseBistro.com
For over 20 years, Miyako has prided itself on serving only the freshest seafood and steak in New Orleans.
Mikayo's cuisine is a combination of traditional and modern techniques.
This lively restaurant specializes in hibachi and sushi, with a huge selection of chicken, steak, tuna, shrimp, scallops, and more.
The lively energy and large accommodation space-up to 25 people in a party-make Miyako an excellent place for large get-togethers and parties.
Save room for mochi ice cream, which comes in three flavors and is widely popular among adventurous eaters.
Origami
5130 Freret Street, (504) 899-6532 | SushiNola.com
Located in the heart of Freret Street, Origami brings the authentic taste of Japan to the Big Easy. Origami's philosophy is to combine local ingredients with sustainably sourced seafood in order to expand guests' palettes.
The menu boasts a wide variety of choices for vegetarians. Favorites include the sweet potato tempura and tofu steak dinner.
Many of Origami's signature rolls pay homage to New Orleans with names like "The Big Easy Roll," the "Bye-Bye Katrina Roll," and the "Po-Boy Roll."
Save room for one of Origami's many desserts, including fried cheesecake, canana tempura, and mochi ice cream. Palace movie theater, making it a great spot before or after seeing a film.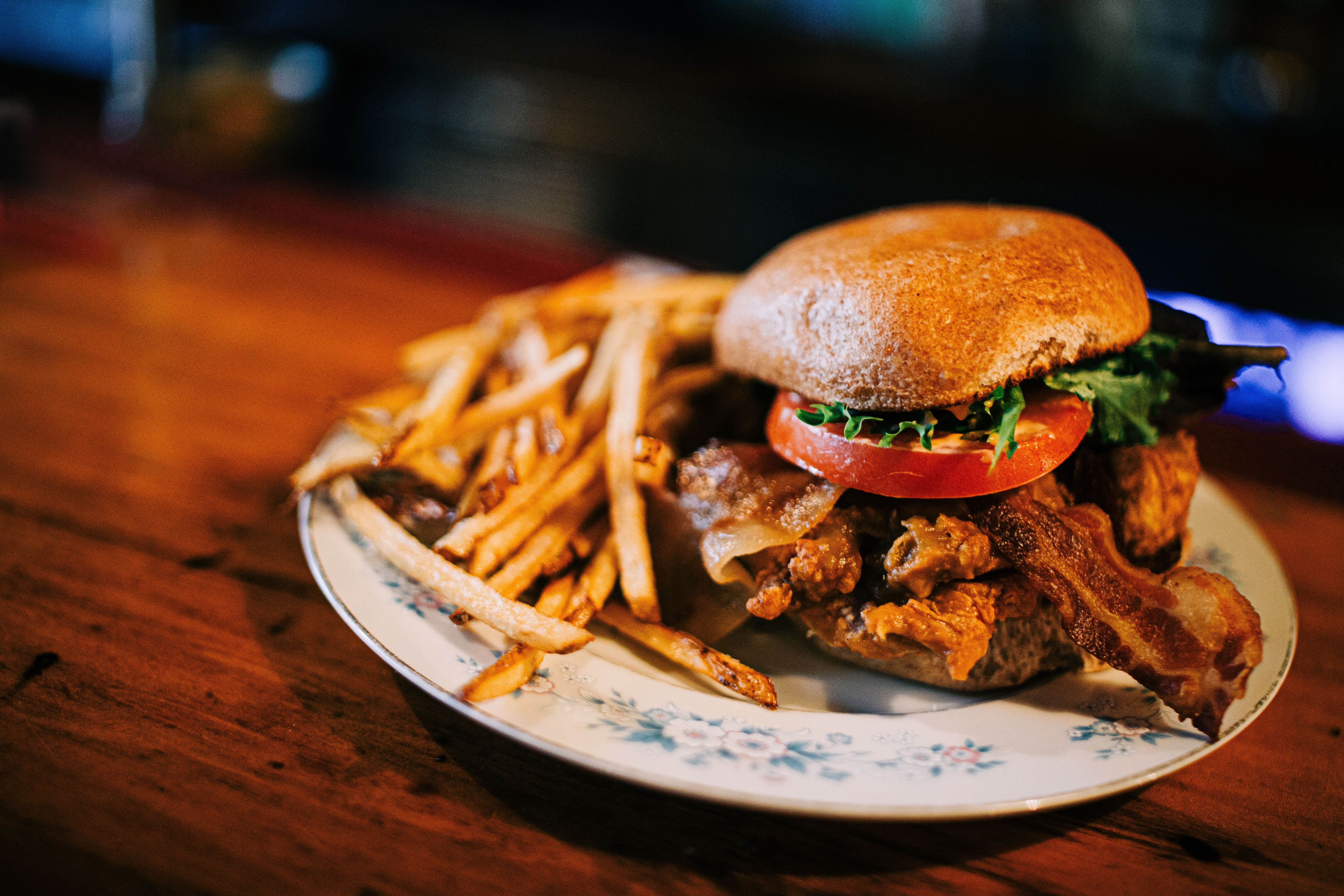 Bars with Great Food
Backspace Bar & Kitchen
139 Chartres Street, (504) 322-2245 | BackSpaceNola.com
"Located at the intersection of drinking and writing," Backspace Bar celebrates New Orleans literary icons such as William Faulkner, Tennessee Williams, Kate Chopin, and Alice Dunbar Nelson.
The cocktail menu features a variety of historically relevant beverages from the prohibition era "Mary Pickford" to the widely popular Moscow mule, which made its first appearance in 1941.
Equally witty is the food menu, which includes standard American fare with a Cajun twist. Guests love the Hemingway Cuban sandwich and Cajun poutine.
The bar and kitchen are open until 5 a.m., making Backspace Bar an excellent place to get a late night bite.
This bar is well-regarded for its warm and outgoing bartenders.
Buffa's Bar and Restaurant
1001 Esplanade Avenue, (504) 949-0038 | BuffasRestaurant.com
Buffa's hosts a weekly Jazz Brunch on Sundays. Celebrate the weekend with great food complimented by some of New Orleans' finest Jazz musicians.
Both the kitchen and bar are open 24/7, making this the perfect late night spot in the Marigny.
Buffa's has live music every night in their Back Room.
Buffa's website features a virtual tip jar, allowing webcam viewers to tip the band.
Indulge in Buffa's take on New Orleans cuisine with "The Swamp Thing," an 8 oz. burger topped with crawfish etouffee and creole mustard.
Carnaval Lounge
2227 St. Claude Avenue | carnavallounge.com
Formerly Siberia Lounge, Carnaval is a new St. Claude hotspot featuring live music every night of the week.
The kitchen, Cozinha de Carnaval, serves traditional Brazilian street food, starting at 5 p.m.
Gustavo Naar, the head chef of the kitchen at Carnaval Lounge, was born in Rio de Janeiro and combines family recipes with cooking
techniques he learned from being a New Orleans chef.
Additionally, the bar features Caipirihnas and Brazilian beers.
Check out Monday night Comic Strip, Carnaval Lounge's weekly comedy-meets-burlesque show.
Copper Vine Winepub
1001 Poydras Street, (504) 208-9535 | CopperVineWine.com
Copper Vine has their very own wine blog, written by sommelier and assistant manager Lydia Kurkoski, to keep you in the know about new additions to Copper Vine's bottle list.
This upscale winepub hosts a fully coursed dinner called the "Copper Vine Dinner Series," which pairs great meals with carefully curated spirits to provide a memorable dining experience.
Vegetarians and vegans don't have to worry about finding options-Copper Vine's menu is veg-friendly, with options ranging from the popular Impossible burger to a fig and goat cheese flatbread.
Join Copper Vine Monday through Friday 3:30 p.m. to 5:30 p.m. for Happy Hour. Specials include $5 glasses of signature red and white blends as well as half-off bottles of wine on tap.
Two words that should excite everyone-complimentary popcorn.
Fulton Alley
600 Fulton Street, (504) 208-5593 | fultonalley.com
Fulton Alley may be the city's most luxurious gaming parlour, with a variety of pool tables, bowling lanes, and a prohibition vibe that adds a layer of 1920s coolness to the night.
This bowling alley prides itself on its dedication to providing a unique experience that promotes camaraderie through gaming.
Unlike traditional bowling alleys, Fulton Alley has an upscale bar and kitchen menu that focuses on American traditional fare with a Southern twist.
Vegetarians can breathe a sigh of relief as the menu offers a range of veggie-friendly menu items like flatbreads and veggie melts.
Fulton Alley can accommodate up to 20 guests, making this the next place to host your next party, work-event, or night-out with friends.
Le Bon Temps Roule
4801 Magazine Street, (504) 895-8117 | Lbtrnola.com
Located in the heart of Uptown, Le Bon Temps Roule has been a fixture of the New Orleans music scene since the 1970s.
Well-known musicians like Anders Osborne, Kermit Ruffins, and the Soul Rebels Brass Band have graced the stage of this bar.
With events happening every night, you'll never have a dull moment. Stop by Tuesdays for Trivia Night, Monday through Friday for Happy Hour, and Thursday through Sunday for live music.
Le Bon Temps Roule recently launched Headquarters, a bar menu with a variety of indulgent bar fare from charcuterie-style sausage plates to tres fromage with decadent garlic spread and sundried tomatoes.
This bar is a must-visit for tourists and a hotspot for locals.
The Jimani
141 Chartres Street, (504) 524-0493 | TheJimani.com
This Chartres Street bar is a bustling spot for service industry workers, tourists, and natives alike.
The Jimani prides itself on having the French Quarter's strongest jello shots and cherry bombs, in addition to a wide selection of cocktails and beers.
Service industry workers get an affordable 24/7 Happy Hour deal on well drinks, wines, beers, and more.
The Jimani offers traditional bar fare-and then some. Between Chicago-style dogs, Frito pies, and over ten different types of po-boys, guests are guaranteed to leave satisfied.
With about ten big-screen TVs, The Jimani is the perfect place to catch a Saints game while enjoying a 5 for $10 beer special.
The Library New Orleans
3629 Prytania Street, (504) 510-2527 | LibraryNewOrleans.com
Turn a few heads by inviting your friends to grab a drink at the Library, a Prytania street gastropub bursting with literary puns and wit.
Happy Hour specials include $2 Martinis, $2 Manhattans, and $5 glasses of wine between 5 p.m. and 8 p.m.
Guests rave about the candied bacon. Who doesn't love four hearty strips of bacon paired with housemade pickles?
If you can't decide between a sweet or salty treat, we recommend the Monte Cristo-ham, turkey, fontina, and cheddar sandwich, deep fried and dusted with powdered sugar and berry jam.
This spot is conveniently located on the parade route, making it the perfect homebase for Mardi Gras.
Mimi's in the Marigny
2601 Royal Street, (504) 872-9868 | MimisMarigny.com
Located in the heart of Uptown, Le Bon Temps Roule has been a fixture of the New Orleans music scene since the 1970s.
Well-known musicians like Anders Osborne, Kermit Ruffins, and the Soul Rebels Brass Band have graced the stage of this bar.
With events happening every night, you'll never have a dull moment. Stop by Tuesdays for Trivia Night, Monday through Friday for Happy Hour, and Thursday through Sunday for live music.
Le Bon Temps Roule recently launched Headquarters, a bar menu with a variety of indulgent bar fare from charcuterie-style sausage plates to tres fromage with decadent garlic spread and sundried tomatoes.
This bar is a must-visit for tourists and a hotspot for locals.
Ole Saint
132 Royal Street, (504) 309-4797 | OleSaint.com
The Ole Saint features the cooking of former Saints running back Deuce McAllister.
The decor of the restaurant celebrates the essence of the city as well as McAllister's career in the Saints.
The menu consists of traditional American bar fare with a New Orleans spin. We recommend the cochon de lait fries.
Come to the Ole Saint for Happy Hour on Monday through Friday from 3 p.m. to 7pm to enjoy 2-for-1 draft beers, $5 Margaritas, and $5 house wines.
You can plan your own custom wine/beer tasting party at the Ole Saint.
Orleans Grapevine
720 Orleans Avenue, (504) 523-1930 | OrleansGrapevine.com
Originally constructed in 1808, Orleans Grapevine sits on a plot of land which was home to the first Creole restaurant in New Orleans. It has since been renovated by Pam Fortner and Earl Bernhardt, with the maintenance of its historic beauty in mind.
This historic wine bar has over 65 wines available by the glass and 375 available by bottle.
Orleans Grapevine hosts bacon happy hour, where all happy hour drinks are served with-you guessed it-bacon.
The courtyard is the perfect location to enjoy a glass of wine and charcuterie board with friends
Regulars say the cheese board is out of this world.
Rivershack Tavern
3449 River Road, (504) 834-4938 | RivershackTavern.com
Known as the "Home of the Tacky Ashtray," the Rivershack Tavern features live music that includes such musicians as Gal Holiday.
Throughout history, the Shack has been a grocery store, a bar, a liquor store, and a pharmacy before gaining recognition for its vibrant advertisements, hand-painted on the side of the building and dating back to the 1940s. The ads were found after shingles were removed from the sides of the building.
Reflecting people from all walks of life, the Rivershack Tavern features multiple "bar legs," including a golfer, a cowboy, and a shrimper.
The Rivershack Tavern's website includes a detailed history of the buildings tenants dating back to the early 20th century.
The menu includes traditional Louisiana fare, from alligator po-boys to fried green tomatoes.
Shamrock Bar and Grill
4133 S. Carrollton Avenue, (504) 301-0938 | ShamrockParty.com
At 16,000 square feet, the Shamrock Bar and Grill is the biggest neighborhood bar in New Orleans.
Shamrock features a 12 oz. choice ribeye with French fries or mashed potatoes and salad for just $13.
With 23 pool tables, four ping-pong tables, seven dart boards, air hockey, and foosball tables, there's always something to do at this festive bar.
Shamrock can accommodate parties of up to 600 people, making this an excellent spot to host your next birthday party, family reunion, or even a wedding reception for game loving couples.
Fuel up on traditional bar fare like buffalo wings and nachos.
Tracey's Irish Bar and Restaurant
2604 Magazine Street, (504) 897-5413 | TraceysNola.com
Established in 1949, Tracey's has been keeping the Irish Channel cool with their AC and frozen beer glasses for decades. When most homes did not have AC, Tracey's was a cool neighborhood oasis.
With many big screen TVs and Happy Hour specials, Tracey's is a great spot to watch the big game.
You can celebrate the most wonderful time of year (St. Patrick's Day) at Tracey's. They even have a countdown clock on their website.
Tracey's menu contains over 16 types of po-boys, from alligator sausage to the "World's Best Roast Beef."
Tracey's hosts a variety of events, including crawfish boils, bar-crawls, and sports parties, which they announce on their social media.
Cafe
Cafe 615 (Home of Da Wabbitt)
615 Kepler Street, (504) 365-1225 | Cafe615.com
Located in historic Gretna, Cafe 615 can be easily distinguished by its massive Bugs Bunny-inspired sign.
This landmark cafe opened in 1948 as a drive-in restaurant.
Cafe 615 is famous for their huge portions of classic entrees like pasta dishes, seafood, and po-boys.
The famed white beans and stewed rabbit is a must-try.
The bar is always open at Cafe 615, so come in and try a bunny-themed cocktail like the chocolate bunny or dirty bunny.
Café Amelie
912 Royal Street, (504) 412-8965 | CaféAmelie.com
Cafe Amelie is named after the royal family of Princess Alice of Monaco, who resided on Royal Street and spent much of her time in the lush courtyard where the cafe exists today.
Cafe Amelie has been regarded as one of the most authentic French Quarter cafes by The Times-Picayune, Gambit, and Zagat.
One of the most famous menu items is the jumbo crab cake-they're not lying when they say it's jumbo. If you're looking for a hearty crab cake with little filler, then this is the crab cake for you.
For those looking for something a little lighter, Cafe Amelie serves a variety of highly praised salads that can be easily made vegan or gluten-free upon request. We recommend the beet and goat cheese salad.
This quaint cafe is the perfect place for a mid-day cocktail. With a variety of handcrafted herbal-infused concoctions to choose from, you can't go wrong. Guests love the orange blossom, made with St. Germain Elderflower Liqueur, sparkling wine, and orange bitters.
Cafe Beignet
Multiple locations CafeBeignet.com
With four locations in the French Quarter alone, there is no excuse for missing out on this New Orleans staple.
Cafe Beignet serves these French doughnuts hot, crispy, and smothered in sugar-Best paired with a cafe au lait.
For those looking for a savory option, Cafe Beignet also serves a variety of New Orleans specialties, from an andouille omelette to jambalaya.
Not only known for their delicious beignets, this cafe prides itself on serving excellent chicory coffee. It is a New Orleans tradition to mix coffee and chicory to create a bold and unique flavor.
Each location offers outdoor seating allowing guests to enjoy live music, take in the sights of the Quarter, and bring along their four-legged friends.
Café Navarre.
800 Navarre Avenue, (504) 483-8828 | CafeNavarre.com
This quaint little Mid-City café is the perfect lunch spot to hit after an afternoon in City Park. Specializing in paninis, po-boys, and brunch fare, Café Navarre has the perfect menu to satisfy all of your savory cravings.
Guests at Café Navarre rave about the New Orleans classic roast beef po-boy and the "dirty bird," with grilled turkey, debris-style roast beef, gravy, and swiss cheese on a French bread po-boy roll.
Though Café Navarre is open 7 days a week, we highly recommend the weekend brunch (Saturday 7 a.m. to 3 p.m. and Sunday 7 a.m. to 2 p.m.). Brunch specials include fresh salads, creative omelettes, and-not one but three-different types of eggs Benedict.
Café Navarre's covered patio is the perfect shady spot to enjoy a mid-afternoon cocktail, such as a pineapple mimosa or refreshing Bellini.
Café Navarre is part of the Riccobono family that owns Panola St. Café and Sala.
Caffe! Caffe!
Multiple locations | CaffeCaffe.com
In 1992, owners Gerard, and Lisa Beck wanted to create a cafe that served the classic family recipes that they grew up eating, paired with inviting service that made customers feel like they were right at home.
Caffe! Caffe! has received a number of accolades and awards for their recipes, from Best Soup to Favorite Food in a Coffeehouse.
Wake up early and indulge in the homemade creamy grits topped with bacon and cheddar or a slice of pie from their huge list of pies and cakes.
Caffe! Caffe! has an entire menu section dedicated to Eat Fit Nola, which meets criteria designated by Ochsner Health System. Eating healthy is fun with options like an avocado salad topped with grilled chicken and fresh Dixieland tomatoes.
For those looking to indulge in something a little more richer than a salad, we highly recommend the creamy mac and cheese topped with crumbled bacon-a decadent twist on everyone's childhood favorite.
Carmo
527 Julia Street, (504) 875-4132 | CafeCarmo.com
Carmo offers cooking classes to teach you how to prepare dishes from sushi to ceviche.
This restaurant makes a huge effort toward sustainability with biodegradable and compostable carry-out containers, flatware, and cups.
Carmo is committed to serving sustainable and ethically sourced fish straight from the Gulf Coast.
All employees are paid an above-average living wage because Carmo realizes that creating a great restaurant starts with its employees.
Carmo is known for its macaquito banquette bread, which includes bananas, cinnamon sugar, and havarti cheese-unusual but delicious.
Compère Lapin
535 Tchoupitoulas Street, (504) 599-2119 CompèreLapin.com
Compère Lapin is inspired by traditional Carribean folk tales that follow "Compère Lapin," a mischievous rabbit starring in the stories that Chef Nina Compton read as a child growing up in St. Lucia.
Chef Nina Compton was featured on the TV show Top Chef and combines authentic Carribean cuisine with her French culinary training to create a menu unlike any other in New Orleans.
Though the menu is outstanding, Compère Lapin's ethos values who you share your meals with rather than what you're eating. Their goal is to make guests feel like they are part of the family.
Guests rave about the conche croquette and spiced pig ears.
If you go to Compère Lapin for a cocktail, sit at the bar and indulge in the copper bunny, made with Absolut, champagne, ginger, and pineapple and jalapeno tequila. As its name suggests, the cocktail comes served in a solid copper bunny-shaped carafe.
Cru by Chef Marlon Alexander
535 Franklin Avenue, (504) 266-2856 | CruNola.com
Located in the heart of the Marigny, Cru was created by Chef Marlon Alexander, known for his delectable braised short rib. This dish has been enjoyed by his private chef clientele as well as a former POTUS.
Cru is a great weekday spot to enjoy happy hour between the hours of 4 p.m. and 7 p.m. Glasses of house wine, champagne, and rose and well cocktails are only $5 a pop and pair excellently with the smoked trout dip and popcorn shrimp.
Cru hosts a variety of events, from weekly Saturday Drag Brunch and Service Industry Yoga on Wednesday afternoons to celebrate the importance of self-care in the service industry.
Order the tomahawk steak (for two) on your next date night and enjoy all of the rich flavors that this 15-day dry aged cut of certified angus beef has to offer.
Cru has a variety of rooms and patios to host your next event from bachelorette parties to baby showers. The decor is perfect for a photo op, too.
Haydel's Bake Shop
317 Magazine Street, (504) 267-3165 | HaydelBakery.com
Haydel's is a family-owned bakery that has been open for over three generations.
With seven types of king cake, ranging from German chocolate to praline pecan, your Mardi Gras needs are covered-and they're available all year round.
Haydel's has you covered during your morning commute. This shop serves amazing baked goods plus French Market coffee starting at 7 a.m. every morning.
Haydel's will reward you with a free coffee if you fill up a bucket of litter from off of the street (buckets provided), which shows their efforts to keep Magazine Street clean.
In addition to pastries and cakes available to purchase in-shop, Haydel's will make your holiday pie in time for Christmas.
Jimmy J's Café
115 Chartres Street, (504) 309-9360 | JimmyJsCafe.com
Jimmy J's is "N'awlins Funkiest Lil' Café," complete with stained glass windows and colorful decor.
This spot may be small but the portions are big. What's more, all dishes are made from scratch with fresh, locally-sourced ingredients.
The bacon bloody Mary is a must-try, having been named one of the best bloody Mary's in New Orleans by both food bloggers and locals.
Jimmy J's serves breakfast classics like omelettes and breakfast burritos with a New Orleans twist. We recommend the eggs Laffite, which showcases all of the flavors of New Orleans, from andouille to crawfish hollandaise sauce.
This restaurant is a favorite of New Orleans locals and tourists alike.
Petite Amelie
900 Royal Street, (504) 412-8065 | PetiteAmelieNola.wordpress.com
The younger sister to Café Amelie, Petite Amelie specializes in "cuisine rapide." This isn't your everyday fast food though. With a rotating menu of fine cheeses, salads, and sandwiches, guests are sure to find something indulgent.
Though Petite Amelie has some indoor seating, their menu items are perfectly suited for carryout. We recommend a picnic at Jackson Square.
This café has no shortage of treats to satisfy your sweet tooth. Favorites include the creole cream cheesecake and classic affogato, both of which pair excellently with any of Petite Amelie's liqueurs, absinthes, or Cognacs.
With such a magical ambience, it's no surprise that the courtyard at Petite Amelie can be rented out for weddings and events. Just imagine hosting your wedding reception in the same courtyard where Princess Alice of Monaco spent her afternoons daydreaming.
The menu at Petite Amelie is revolving, so be sure to check on their Facebook page for a current menu of all pastries, specials, and cocktails.
Riccobono's Panola Street Café
7801 Panola Street, (504) 314-1810 | PanolaStreetCafe.com
Next time you're in the Uptown neighborhood, fuel your day with one of Panola Street Café's breakfast plates. Whether you're looking for traditional eggs sunny-side-up or huevos rancheros, they've got you covered.
Tourists, locals, and university students flock to this university area hot spot to indulge in one of the best places in New Orleans to get a hearty, lumberjack-style breakfast.
This restaurant has an entire section dedicated to "health conscious" eats, so don't sweat it if you're not in the mood to devour a tall stack of blueberry pancakes.
With the most expensive item coming in at $13 and most items averaging around $7 a pop, diners don't have to worry about breaking the bank.
Spice up your brunch with one of many "Eye Openers," including screwdrivers, mimosas, bloody Mary's, Bellini's, and Irish coffee.
Surrey's Cafe and Juice Bar
Multiple locations, (504) 895-5757 | SurreysNola.com
If the wait is too long at one location, just hop on over to the other. Both are conveniently located on Magazine Street.
Surrey's has been featured on Guy Fieri's Diners, Drive-ins, and Dives.
Surrey's serves amazing homemade bagels and is New Orleans' oldest organic juice bar.
Vegans and vegetarians are more than welcome here, with options such as pain perdu and tofu scramble breakfast platter available all day.
This restaurant is BYOB, so feel free to bring a bottle of bubbly to your next brunch outing.
The Vintage
3121 Magazine Street, (504) 324-7144 | TheVintageNola.com
The Vintage offers an assortment of beignets from plain sugar to s'mores. Sample a variety of them with a beignet flight.
This café is open until midnight on weekends, covering all of your coffee needs. The bar is also open if you're looking for a shot much stronger than tea.
For those looking for a savory treat, the Vintage offers light provisions with a New Orleans flair. Try the crawfish queso, boudin balls, or alligator poppers.
The Vintage offers plenty of outdoor seating, perfect for sipping champagne and people watching on one of New Orleans' quaintest streets.
The French brasserie ambience makes the Vintage the perfect place for a photo op.
French
Café Degas
3127 Esplanade Avenue, (504) 945-5635 | CafeDegas.com
In 1986, Café Degas was opened by French painter Jacques Soulas and has remained one of Faubourg St. John's favorite bistros.
Offering traditional french cuisine with a touch of Creole, Café Degas' menu features delectable entrees called mises en bouche, or "mouthfuls," that are guaranteed to satisfy. Guests love the crawfish ravioli and swear that the creme brulee is unlike any other.
Stop by Happy Hour on Wednesdays and Thursdays between 3 p.m. and 6 p.m. to enjoy deals on cheese boards, fried oysters, escargot, and glasses of wine du jour.
The mostly-outdoor seating makes Café Degas one of the most romantic spots in the city to enjoy a date with a loved one.
Café Degas' menu if bursting with Eat Fit Nola certified entrees for those looking for a healthy option. We recommend les moules au fennouil (mussels steamed in white wine and fennel over fresh vegetables).
Vyoone's
412 Girod Street, (504) 518-6007 | Vyoone.com
Born into a family of Afro-Creole French ancestry, Vyoone Segue Lewis opened Vyoone's with the mission of bringing unique French classics to the Warehouse District.
Regulars swear by the lamb rack provençal.
Vyoone's has a cozy-chic outdoor patio where guests can dine during the less-humid nights in New Orleans. There are even heat lamps for those chillier evenings.
The short rib debris over grits is a must-try that can only be ordered during weekend brunch.
L'Aperitif-Happy Hour-is 3 p.m. to 6 p.m. Tuesday through Thursday and includes $5 House cocktails, $4 glasses of wine, and deals on hors d'oeuvres such as cheese plates and homemade pickles.
Italian
Andreas Italian Restaurant
3100 19th Street, (504) 834-6698 | Andreasrestaurant.com
Executive Chef Andrea Apuzzo began his culinary journey in Anacapri and pursued culinary training in Germany, Switzerland, England, and South America.
Andrea's menu focuses on a variety of Italian delicacies, from antipasti to gourmet pasta.
With an entire banquet menu dedicated to catering receptions and events, Andreas is the perfect venue for your next party.
Visit Andrea's Capri Blu Bar Monday-Friday between 4 and 7 p.m. for $5 house wine and $3 martini specials.
Additionally, Capri Blu Bar hosts live music every Friday and Saturday night between 8 p.m. and 11 p.m.
Dab's Bistro
3401 N. Hullen Street | DabsBistro.com
Dab's Bistro is Metairie's newest Italian restaurant, featuring the cuisine of Duke LoCicero of the famous Cafe Giovanni.
Dab's prides itself on its "New World Italian" cuisine, defined by familiar Louisiana flavors.
Head to Dab's for their Thanksgiving three-course menu featuring turkey, ham, duck, and all the fixings.
The Happy Hour menu also boasts small plates and flights featuring shareable versions of menu favorites.
Don't leave without trying Chef Duke's famous meatballs, and if you're extra hungry, try the delicious cheesecake for dessert.
Josephine Estelle
600 Carondelet Street, (504) 930-3070 | JosephineEstelle.com
This restaurant is named after the daughters of the award-winning chefs Andy Ticer and Michael Hudman.
All of the recipes were passed down from their grandmothers.
The cuisine features the unlikely pairing of Italian and American Southern flavors.
Josephine Estelle serves breakfast, lunch, dinner, and weekend brunch. If you go during brunch, you can't leave without trying their decadent short ribs.
During Happy Hour, guests can munch on small plates like bucatini while enjoying $5 glasses of wine ($25 for a bottle).
Mellow Mushroom on Oak Street
8227 Oak Street, (504) 345-8229 | MellowMushroom.com
Located in the heart of Leonidas on Oak Street, Mellow Mushroom is a funky-casual pizza parlour with a focus on handcrafted pizzas, pastas, and salads.
Gluten-free customers can breathe a sigh of relief as many of the pizzas can be made with a GF crust.
Visit on a Wednesday for a game of trivia.
Stop in Monday through Friday between 2 p.m. and 6 p.m. for Happy Hour, when all bar drinks and appetizers are half-off.
While Mellow Mushroom has plenty of meat options, there are also many vegetarian and vegan pizza toppings, including fresh veggies, vegan cheese, tofu, and tempeh.
Mosca's Restaurant
4137 U.S. Highway 90, Westwego, (504) 436-8950 | MoscasRestaurant.com
Mosca's was established out of the family legacy of Provino Mosca, an Italian immigrant who fell in love with New Orleans due to its culture and fresh seafood.
Like the origin story of the restaurant, Mosca's celebrates family and serves all dishes in shareable portions on family-style plates.
Those interested in recreating Mosca's most famous dishes can find recipes on their website. Dishes include shrimp Mosca, chicken cacciatore, and chicken a la grande.
Regulars recommend the chicken a la grande and oysters Mosca.
Make a reservation because this popular spot is only open for dinner and tables fill up quickly.
Pascal's Manale
1838 Napoleon Avenue, (504) 895-4877 | PascalsManale.com
A family affair from the beginning, Pascal's Manale has been thriving for a century. Since 1913, this restaurant has been visited by celebrities, politicians, locals, and tourists alike.
Whether you're looking for classic Italian cooking or New Orleans Cajun cuisine, you won't leave hungry. Pascal's has everything from pastas to gumbo.
The Oysters are a must-try. Choose between oysters Bienville or Rockefeller.
Pascal's Manale was the creator of BBQ shrimp-and boy, is it good.
Fans of this historic restaurant can buy a copy of Pascal's Manale Cookbook: A Family Tradition and recreate their favorite classics at home.
PIZZA domenica
Multiple locations | PIZZAdomenica.com
Conveniently located on the always-bustling Magazine Street, PIZZA domenica serves up gourmet pizza on its oven, shipped straight from Italy.
This casual, lively pizza restaurant prides itself on its friendly staff and connections with customers.
With locations in Mid-City and Uptown, you never have to look too far for great pizza.
Celebrate birthdays, date nights, and parties with a pizza class at
PIZZA domenica. Classes are also available for little pizza chefs between the ages of 7 and 13.
Regulars recommend the smoked brisket pizza.
Reginelli's Pizza
Multiple locations, (504) 899-1414 | Reginellis.com
Reginelli's ethos revolves around creating a casual experience for guests to enjoy great food from their neighborhood pizza place.
With eight Reginelli's locations in New Orleans alone, and additional locations in Baton Rouge and the Northshore, Louisiana natives never have to search too far to find their favorite pizza.
Try Reginelli's Detroit-style pizza, which has a rectangular shape and a deep, crispy crust.
For guests looking for a lighter option, this pizza parlour has a ton of fresh salads. We recommend the Strawberry Fields, which has a strawberry vinaigrette, candied pecans, and creamy burrata.
Reginelli's hosts weekend brunch between 10 a.m. and 2 p.m. where guests can feast on breakfast pizzas and frittatas (as well as bottomless Mimosas and Bloody Mary's for $12).
Red Gravy
125 Camp Street, (504) 561-8844 | RedGravyCafe.com
Owner Roseann Melisi Rostoker opened Red Gravy as a result of a lifetime passion of feeding (or as she claims, overfeeding) her loved ones.
A self-taught chef, Roseann partnered with her husband Lou to create her own unique spins on the Italian recipes passed down by her mother and grandmother.
The menu features a variety of sandwiches, baked goods, and brunch items with witty names and inspiration from Roseann's family and friends.
Red Gravy hosts monthly "Wine and Dine" dinners, an all-inclusive four-course meal paired with carefully curated wine selections.
All ingredients are locally sourced, from the freshest seafood and shellfish to organic eggs, beef, poultry, pork, and more.
Tavolino
141 Delaronde Street, (504) 605-3365 | facebook.com/TavolinoLounge
Tavolino is a restaurant and lounge with a focus on exceeding its guests' expectations.
While the restaurant provides a warm fine-dining experience, the lounge creates an upbeat ambiance-perfect for cocktail hour with friends or a date.
Tavolino hosts world-class bands and musicians every Friday and Saturday night.
With a menu that focuses on Nouvelle-meets-homestyle cooking, guests are sure to experience the rich flavors and decadent roux that New Orleans is known for.
Customers rave about the bone-in veal chop parmesan.
Venezia
134 N. Carrollton Avenue, (504) 488-7991 | VeneziaNewOrleans.net
Venezia has been serving old-school Italian dishes with a New Orleans flair since 1957.
This restaurant is intimate and quaint, making it an ideal spot for a romantic date.
Regulars love the homemade red sauce and Italian meatballs.
Venezia offers a build-your-own hand tossed 14-inch pizza option, where customers can choose from toppings including eggplant, salami, artichoke, and even crawfish.
Guests can expect this restaurant to be packed at night due to high demand, but luckily, Venezia accepts reservations.
Mexican
Carreta's Grill
Multiple locations | CarretasGrillRestaurant.com
Carreta's Grill has been making customers feel like part of the family since 1999.
This restaurant has locations in Harahan, Covington, Metairie, and Slidell.
With a focus on authentic Mexican cuisine, Carreta's menu is full of traditional dishes, from fajitas to tacos.
There are plenty of options for vegetarians-including plato vegetariano and the burrito vegetariano.
Between 2 p.m. and 6 p.m., enjoy a few of their delicious margaritas for only $3 each
Chilango's Bar & Grill
1506 S. Carrollton Avenue, (504) 766-9949 | https://www.facebook.com/chilangosnola
Chilango's made its start as the Taqueria Chilango Taco Truck, which served Mexican street food to thousands of construction workers, laborers, and volunteers after Hurricane Katrina.
Chilango's is located in both Kenner and Uptown, where they specialize in authentic Mexican dishes like pollo a la plancha, tacos al pastor, and chile relleno.
This restaurant hosts live events, from an annual Cinco de Mayo celebration to karaoke every Friday and Saturday night from 7 p.m. to 12 a.m.
Swing by for Taco Tuesday for $1 tacos and $3 margaritas.
Enjoy the salsa bar and test your tastebuds with a variety of flavors and spices.
NOLA Cantina
437 Esplanade Avenue, (504) 266-2848 | NolaCantina.com
Conveniently located in the Marigny, NOLA Cantina puts a modern spin on traditional taqueria fare, from tacos to margaritas.
On Sangria Saturdays, red or white sangria is just $3 until midnight.
Come check out live blues, Latin, and jazz music every Saturday and Sunday during Live Music Lunch.
Feast on half-price tacos every weekday between 4 p.m. and 7 p.m.
The outdoor patio is the perfect space to enjoy spicy margaritas with friends.
Middle Eastern
Lebanon's Café
1500 S Carrollton Avenue, (504) 862-6200 | LebanonsCafe.com
Lebanon's has earned its place as a top Middle Eastern restaurant in New Orleans.
Vegetarians and vegans can breathe a sigh of relief because of the variety of options from baba ganoush to grape leaves.
The hummus with fried cauliflower and pomegranate is one of the top rated menu items.
Lebanon's is BYOB, so bring a bottle of red wine to pair with your beef shawarma.
The laid-back atmosphere and proximity to the universities make Lebanon's the perfect place for students to grab a quick bite to eat.
Pyramids Cafe
3149 Calhoun Street, (504) 861-9602 | PyramidsCafeNewOrleans.com
Pyramids Cafe is known for serving healthy, delicious, and, most importantly, authentic Mediterranean cuisine in the Broadmoor neighborhood.
The most popular menu items include the shawarma and gyro combo plate, as well as the falafel sandwich.
Pyramid's menu has a variety of vegetarian-friendly options ranging from a hummus and falafel plate to the vegetarian classic grape leaves.
Indulge in Medditeranean dessert baklava to satisfy your sweet tooth.
Pyramids Cafe serves generous portions at a low cost, perfect for frugal spenders and college students.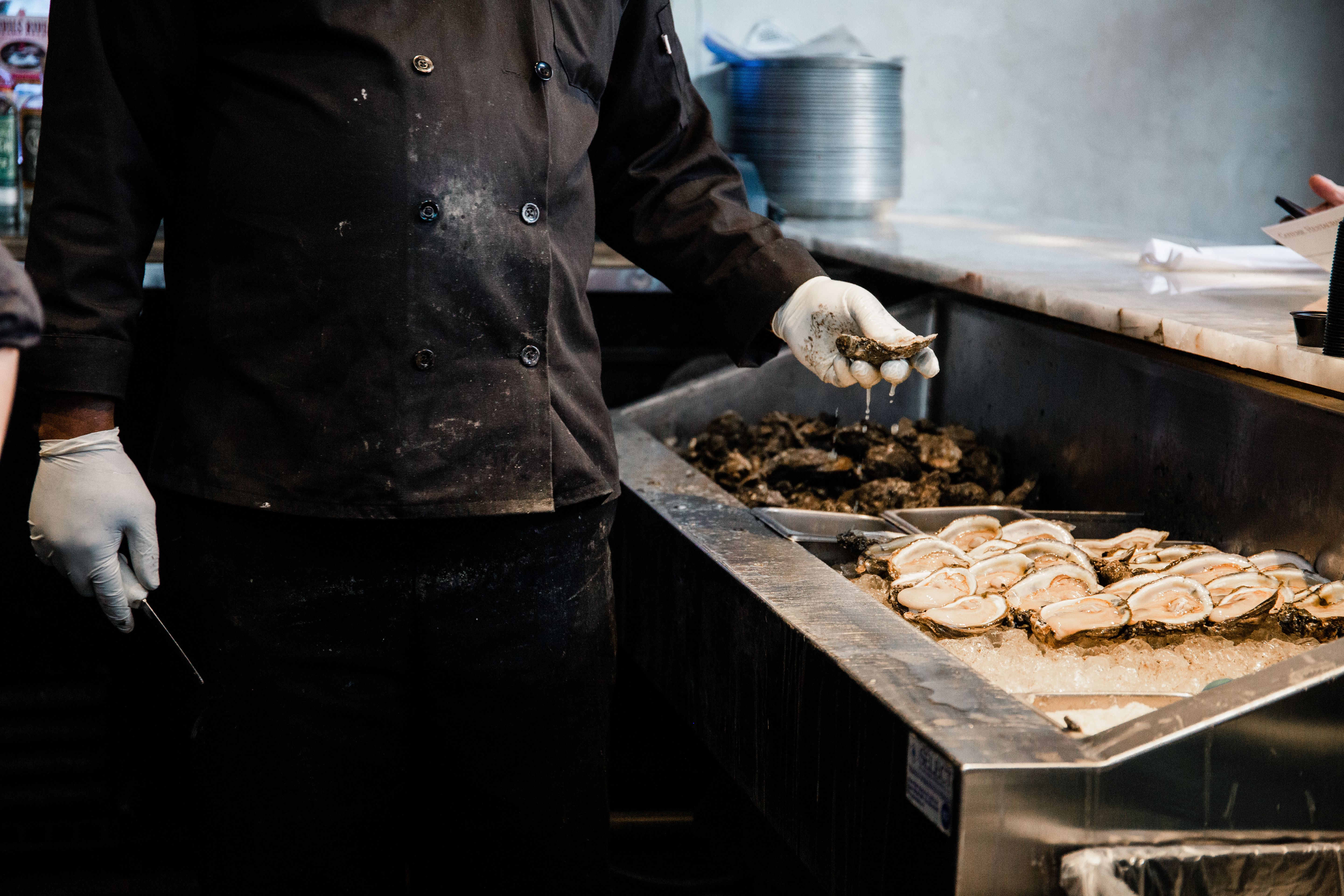 New Orleans Cuisine
Antoine's Restaurant
713 St. Louis Street, (504) 581-4422 | Antoines.com
Antoine Alcatore opened this restaurant in 1840, when he was just 18 years old. Inspired to create a fine-dining experience with French influence, Antoine found New Orleans to be the perfect city to showcase his culinary expertise.
This restaurant has withstood some of the United States' most trying times, such as the Prohibition era, World War II, and Hurricane Katrina.
Celebrity guests at Antoine's have included Pope John Paul II, Franklin Roosevelt, Bruce Willis, Bing Crosby, and more. Photos of the notable guests cover the walls of the historical establishment.
Antoine's is the birthplace of oysters Rockefeller, eggs Sardou, and pommes de terre soufflées.
Antoine's hosts a Sunday jazz brunch with a French spin on traditional brunch fare.
Chef Ron's Gumbo Stop
2309 N Causeway Blvd, (504) 835-2022 | gumbostop.com
Chef Ron's boasts a huge assortment of different gumbos, including chicken and sausage, fried shrimp, and poached egg.
If you're not a fan of gumbo, Chef Ron's has a variety of other Louisiana classics like crawfish etouffee, red beans and rice, and jambalaya.
Chef Ron Iafrate opened his Gumbo Shop in 2012 after an introduction to Cajun cooking in Acadia, RI.
Menu items are made with all locally sourced ingredients.
Chef Ron's is great for catering large events. His Creole jambalaya and dirty rice can feed up to 30 people.
The Columns Hotel
3811 St. Charles Avenue, (504) 899-9308 | TheColumns.com
The Columns Hotel, famous for its Victorian interior and St. Charles-facing patio, has been a fixture of the Garden District since its establishment in 1883.
The hotel was designed by the famous architect Thomas Sully and is the single remaining example of the Italianate houses he built in the 1800s.
The Sunday jazz brunch is a favorite among locals looking to enjoy fantastic entertainment accompanied by champagne and Cajun fare.
The menu contains a variety of Creole, Cajun, and American-traditional entrees, but the kitchen boasts about their widely-loved seafood.
Enjoy discounted cocktails and beverages seven days a week, between 5 p.m. and 7 p.m.
Coterie NOLA Restaurant & Oyster Bar
135 Decatur Street, (504) 529-8600 | CoterieNola.com
Coterie is a French Quarter restaurant and oyster bar that was opened by New Orleans locals, so you know the food is going to be delicious.
Diners can enjoy New Orleans classics such as crawfish etouffee, or try something a little more out-of-the-box such as Cajun egg rolls.
Coterie has a whole menu dedicated to oysters. Whether you like your oysters raw, Rockefeller, or deep fried and smothered in Buffalo sauce, you can't go wrong.
After you're done feasting on oysters, be sure to indulge in something from the dessert menu. The hot buttered pecan pie is too good to pass up.
Come in time for Happy Hour, Monday through Friday from 3 p.m. to 6 p.m. to enjoy discounted oysters and bar drinks.
Court of Two Sisters
613 Royal Street, (504) 522-7261 | Courtoftwosisters.com
Court of Two Sisters sits on property that has existed since 1726.
This restaurant was originally a store opened by Bertha and Emma Camors, who were born into an aristocratic Creole family. Together, they outfitted the city's finest women in Mardi Gras costumes and evening gowns.
Jazz brunch is one of the best times to enjoy this unique and historical restaurant. Enjoy traditional brunch fare, as well as New Orleans like crawfish etouffee and jambalaya, while listening to some of New Orleans finest jazz players.
Because of the large outdoor patio and spacious indoor dining rooms, Court of Two Sisters is a great venue to host large parties and receptions.
You can find recipes to all of your favorite dishes on Court of Two Sisters' website. Impress all of your friends and families with classics like barbecue shrimp and bread pudding with whiskey sauce.
Crescent City Brewhouse
527 Decatur Street, (504) 522-0571 | CrescentCityBrewhouse.com
Crescent City Brewhouse opened in 1992, the first brewery to open in the city in over 72 years.
This brewery sits on land that was part of the first recorded city construction plan, dating back to the mid 1700s.
With a variety of unique beers brewed on site from IPA's to pilsners, Crescent City Brewhouse incorporates both modern and old-world brewing techniques.
The equally impressive kitchen menu includes a variety of New Orleans favorites, such as shrimp and grits and jambalaya risotto.
This brewpub hosts art shows that feature different New Orleans artists every month.
House of Blues Restaurant & Bar
225 Decatur Street, (504) 703-4480 | HouseofBlues.com/neworleans/restaurant
Don't worry about rushing the pre-show dinner or pre-game drinks in order to catch the opener-you can eat at the venue's restaurant.
The menu consists of traditional American and Cajun fare, from flatbreads and burgers to gumbo and shrimp and grits.
Guests rave about the Voodoo shrimp, which is sautéed in Cajun spices.
The outdoor patio with a full stage and bar make the restaurant an excellent date-night spot.
Come for Happy Hour and enjoy discounted sips and snacks like gator bites or brisket nachos.
Legacy Kitchen's Craft Tavern
700 Tchoupitoulas Street, (504) 613-2350 | LegacyKitchen.com
A sibling in the Legacy Kitchen family, Craft Tavern brings modern takes on classic American-meets-New Orleans dishes.
With a daily brunch menu until 4 p.m., guests don't have to wait until the weekend to feast on their favorite breakfast classics.
Indulge in one of the many varieties of oysters that Craft Tavern offers, including charbroiled, raw, and fried oysters, caught fresh from the Gulf Coast.
Between 3p.m. and 6 p.m. daily, Craft Tavern hosts Happy Hour specials on appetizers, cocktails, and house wine and beers.
Guests rave about the fried chicken and waffles-a real southern delicacy.
Mandina's
3800 Canal Street, (504) 482-9179 | MandinasRestaurant.com
Mandina's was opened in 1932 and was run by Hilda Mandina while her husband served his country during World War II. At the time, a woman running a restaurant was unheard of.
The menu has changed very little in over 75 years and still features the classic Italian and seafood dishes that made this restaurant so popular.
Most-loved dishes include eggplant parmesan and grilled shrimp over pasta bordelaise.
Visit Mandina's Monday through Friday from 3 p.m. to 6 p.m. for $1 off beers and discounted food specials.
USA Today regarded Mandina's as a landmark New Orleans restaurant in its "Where the Locals Eat" article.
Neyow's Creole Cafe
3332 Bienville Street, (504) 827-5474 | facebook.com/neyows-creole-cafe-127614750599979
With locations in New Orleans and Houston, Neyow's is spreading classic Cajun flavor throughout the South.
The menu comes straight from the recipes passed down by the founders' grandmothers and celebrates their Creole heritage through rich flavors and spices.
The entree menu is simple yet refined, featuring on the best that New Orleans has to offer. Try the shrimp creole or fried chicken.
Neyow's serves a different special every day, so check the website to stay up-to-date on the newest menu additions.
With availability to seat large groups, Neyow's can host your next event with a prix fixe, family style, or a la carte menu.
New Orleans Creole Cookery
508 Toulouse Street, (504) 524-9632 | NewOrleansCreoleCookery.com
This French Quarter restaurant is the perfect hotspot for a romantic date on the town.
Enjoy one of many boozy beverages such as the category 5 hurricane-drink at your own risk.
With extensive dining options, you can sit at the bar or dining room or enjoy the outdoor patio.
The patio at New Orleans Creole Cookery can accommodate up to 3,000 people, so plan your next large event there.
Customers rave about the blackened redfish.
Parran's Po-Boys and Restaurant
Multiple locations, (504) 875-4620 | ParransPoboys.com
Established in 1975, Parran's has remained a local favorite for the classic po-boy sandwich.
All po-boys are served on John Gendusa Bakery's famous poor boy French bread.
The menu consists of all the po-boy fixings you could ask for as well as a selection of muffalettas, salads, Italian dishes, and seafood plates.
Vegans and vegetarians don't have to stress about finding something satisfying-Parran's has a number of veg-friendly options from the Beyond-Meat burger to vegetarian pizzas.
Customers love the seafood muffuletta.
Public Service
311 Baronne Street, (504) 962-6527 | PublicServiceNola.com
This Warehouse District bar and restaurant honors the Gulf Coast's fishermen and farmers with a menu that highlights fresh, locally sourced seafood and ingredients.
Enjoy starters like scallion hushpuppies and Louisiana blue crab dip before feasting on "supper" items like steak frites and Gulf catch etouffee.
Public Service hosts a Monday through Friday "Power Hour" between 3 p.m. and 6 p.m., when select bites and bar drinks are discounted.
Additionally, late night diners can take advantage of Happy Hour between 9 p.m. and midnight on Fridays and Saturdays.
Monday night is Industry Night at Public Service, when service industry workers receive discounted beers, wine, and burgers.
Short Stop Poboys
119 Transcontinental Drive, (504) 885-4572 | ShortStopPoboysNo.com
Short Stop Poboys has been serving Metairie since 1966.
With over 50 types of po-boys available, customers have no shortage of selection.
Dress your po-boy with mayo, creole mustard, tartar sauce, Tabasco, and more.
If you still have room left, you can indulge in peanut butter pie, cheesecake, cookies, and Roman candy.
Short Stop Poboys prides itself on above and beyond customer service, ensuring that a customer never leaves unsatisfied.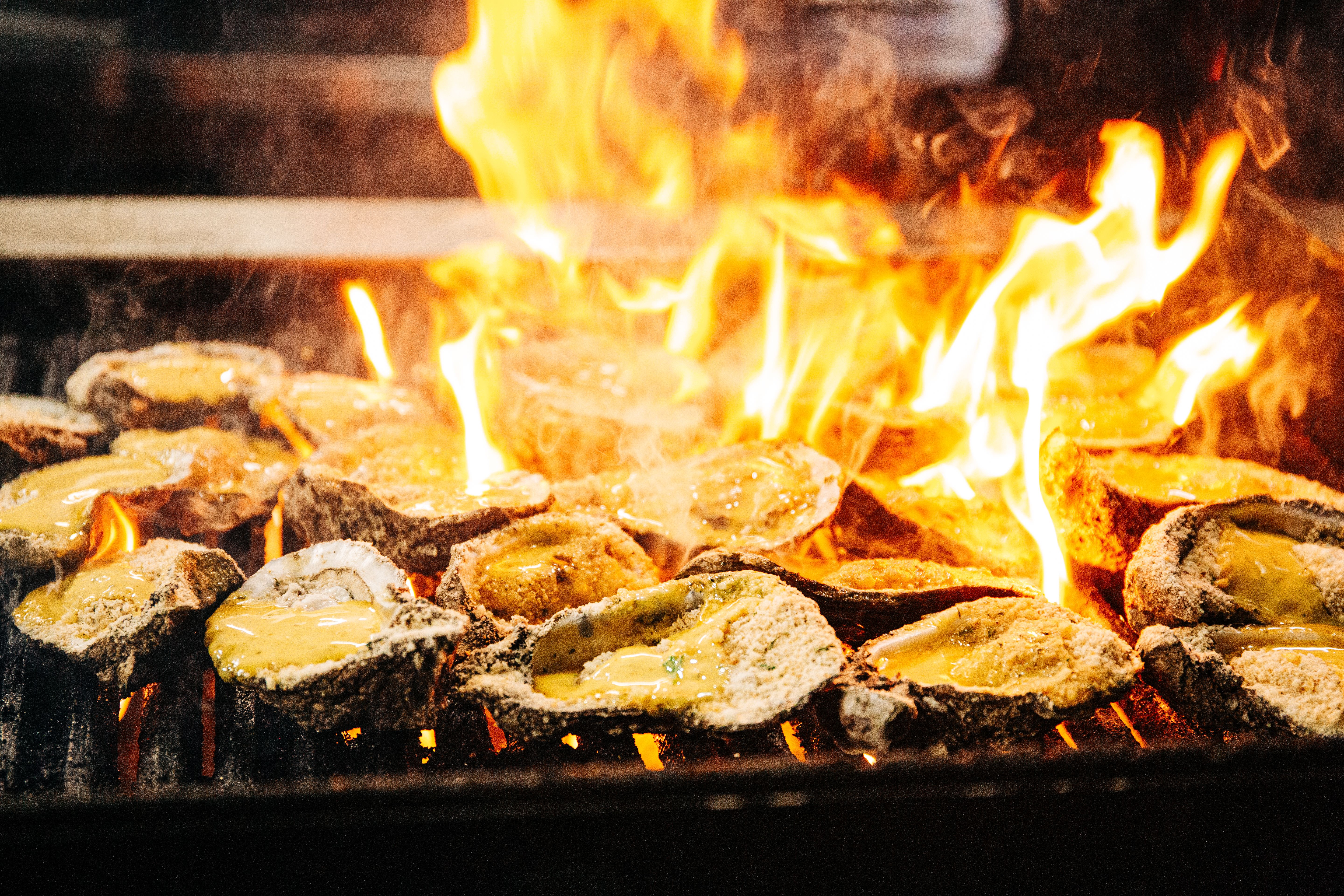 Seafood
Briquette
701 S. Peters Street, (504) 302-7496 | Briquette-Nola.com
Briquette is a contemporary-casual seafood restaurant featuring an 18-foot seafood display with halibut, bronzino, Louisiana redfish, and Faroe Island salmon.
The restaurant is called Briquette because of the way the fresh fish is cooked over red-hot briquettes.
Briquette takes pride in its fresh, coastal dishes, such as snapper Pontchartrain and Louisiana Redfish on the Half Shell.
Customers rave about the Caramelized Sea Scallops and Blackened Redfish.
Briquette can accommodate up to 240 guests, making it an excellent place to host a large event.
Felix's Restaurant & Oyster Bar
Multiple Locations, (504) 304-4125 | Felixs.com
Back in the 1940's, Felix's popularized the concept of an oyster bar that customers could belly-up to the bar and watch shuckers prepare oysters right in front of them.
With multiple locations, oyster-loving New Orleanians don't have to look too hard to find some of the best oysters in the state.
Felix's in the French Quarter offers the ultimate Mardi Gras experience through a ticketed event including full access to the upstairs balcony and open bar.
If you're not a fan of oysters, Felix's has all the traditional New Orleans fare your heart desires-crawfish etouffee, red beans and rice, and seafood gumbo.
With ample dining and balcony space, Felix's is a great venue to celebrate parties and such events as wedding receptions and more.
Landry's Seafood
620 Decatur Street, (504) 581-9825 | landrysseafood.com/location-french-quarter.asp
From the moment its doors opened in 1947, Landry's has withheld its reputation for delivering an unmatched dining experience.
The menu, featuring a variety of seafood specials, pastas and steaks, changes daily and is artfully crafted by the chefs.
Monday - Friday between 4 and 6 p.m., Landry's has Happy Hour deals including $6 cocktails, $5 select glasses of wine, $4 premium drafts, and more.
The most popular dishes are the crab cakes, bbq shrimp, and crawfish etouffee.
The menu changes to feature seasonally appropriate dishes such as fall harvest mahi and fall harvest sea bass.
Middendorf's
Multiple Locations, (985) 771-7777 | Middendorfsrestaurant.com
Middendorf's originally opened in 1934 as a cafe specializing in the legendary house special-thin fried catfish.
To this day, Middendorf's specializes in their signature fried catfish as well as a variety of other seafood dishes, from alligator to crawfish.
The seafood platter sizes are huge-perfect for sharing with another person or indulging on your own.
Middendorf's also has a great cocktail menu-customers love the sneaky tequila and salted caramel Russian.
The decor at the Slidell location is the perfect tropical getaway, complete with a sandy beach and palm trees.
Seaworthy
630 Carondelet Street | (504) 930-3071, SeaworthyNola.com
Seaworthy is known for their wild-caught and sustainably harvested oysters from the Gulf Coast, East Coast, and West Coast.
Seaworthy has a late night food menu available 11 p.m. to 1 a.m.-perfect for late-night munchies.
Come for the weekend brunch and indulge on bottomless mimosas, sangrias, and Pimm's Cup for $32.
Enjoy Southern cocktails and traditional brunch-fare on Saturday and Sundays between 11 a.m. to 3 p.m.
Regulars rave about the lobster and the blue crab rolls.
Tacklebox
817 Common Street, (504) 388-4035 | LegacyKitchen.com
Part of the Legacy Kitchen Collection, Tacklebox is an oyster bar that specializes in Southern fare, such as fried chicken dishes and po-boys.
Tacklebox is home of the $1 lunch beer between 3 p.m. and 6 p.m. Between 3 p.m. and 6 p.m. daily, guests can indulge on Happy Hour specials such as discounted bar drinks and $1 oysters and wings.
If you're not already stuffed with oysters, Tacklebox has beignet bites available all day.
Regulars at Tacklebox rave about the charbroiled oysters with garlic parmesan herb butter.
Tito's Ceviche and Pisco
5015 Magazine Street, (504) 267-7612 | TitosCevichePisco.com
Tito's is a Peruvian restaurant that takes enormous pride in using the freshest and highest quality ingredients in all of their dishes.
With a handful of different ceviche and tiradito dishes as well as seafood plates, guests are sure to find something to satisfy their seafood cravings.
Happy Hour occurs Monday through Friday between 3 p.m. and 6 p.m., and guests can feast on a number of bocaditos, or snacks, including yuca fries and papa a la Huancaina.
Tito's offers a variety of events, including wine tastings.
Where Y'at Readers voted Tito's the Best Latin American Restaurant in
the 2019 Best of the Big Easy contest.
Vegetarian
Max Well
6101 Magazine Street (504) 301-0510 | Maxwellneworleans.com
Max Well focuses on encouraging people to eat more whole foods by creating a menu that both heals and satisfies.
The menu consists of nutrient-packed salads, bowls, soups, and pressed juices to ensure that customers get their fix of plant-based power.
Every Friday night, Max Well hosts "Build Your Own Pizza Night." From 5 p.m. to close, guests can enjoy two gluten-free vegan pizzas and a side salad for only $20.
The restaurant is covered in pro-plant literature to inform customers about the benefits of a whole-food diet.
Customers rave about the Banh Mi bowl with marinated tofu and pickled veggies.