The hangover—New Orleans's great equalizer—is as personal as it is universal. Whether you are looking to bounce back from an indulgent night, bask in the lazy fog that lingers, or keep the party going, here are a few meals that are sure to aid you in your process.
Ya Ka Mein from John & Mary Food Store
In New Orleans, versions of ya ka mein are as varied as the spelling of its name, but the dish is well known to get rid of a hangover. Its blend of Creole and Asian flavors is a classic example of the understated fusion that makes New Orleans food awesome. While ya ka mein is unique to New Orleans, the concoction is akin to many global dishes known for their rejuvenating properties (think Vietnamese pho, Mexican menudo, etc.).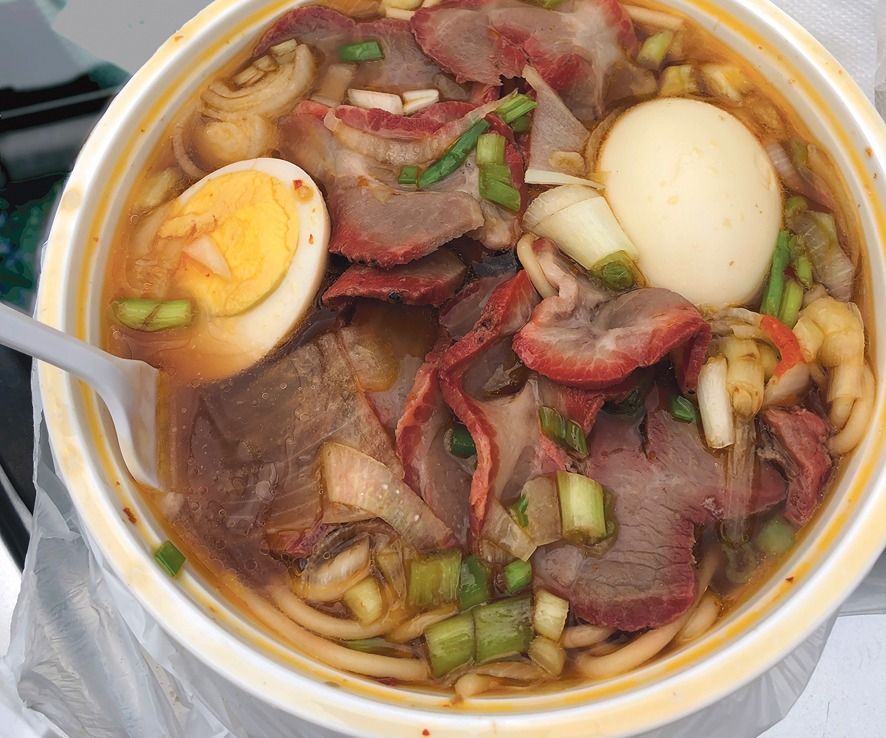 At John & Mary Food Store, owners Cuong Tran and Trang Nguyen offer a menu of typical hot plate lunch items, banh mis, and a ya ka mein recipe that they have been making for 20 years. Made with your choice of proteins, the broth is spicy and salty with a deep onion and meat flavor that comes from hours of simmering. The noodles are plump, perfect for slurping, and the egg is hard boiled to perfection. The pork is char siu style, sliced thin with that pretty red border adding a glossy pink tinge to the bowl. Crisp scallions top off a dish that is as good-looking as it is tasty.
As is often the case in New Orleans, this unassuming neighborhood shop is run by folks who take pride in serving food that is delicious, quick, and affordable. John & Mary Food Store is just a block from Bayou St. John, so, for the full package, take a quick walk and enjoy your ya ka mein waterside. As the electrolyte-rich broth and bayou breeze work their magic, your headache and questionable decisions from the night prior should gently drift downstream.
Baleada from Taqueria Las Delicias
The areas surrounding big box hardware stores are often fertile ground for authentic and inexpensive bites to eat. And while heading to Lowes might not be the first thing you want to do while hungover, Taqueria Las Delicias is worth seeking out. Parked at the corner of Florida Ave and the obscure section of Elysian Fields, under the overpass, you'll find a bright red food truck with a simple menu taped to its side. And if you can make it before 11 a.m., its version of the popular Honduran breakfast wrap, the baleada, could turn your day around.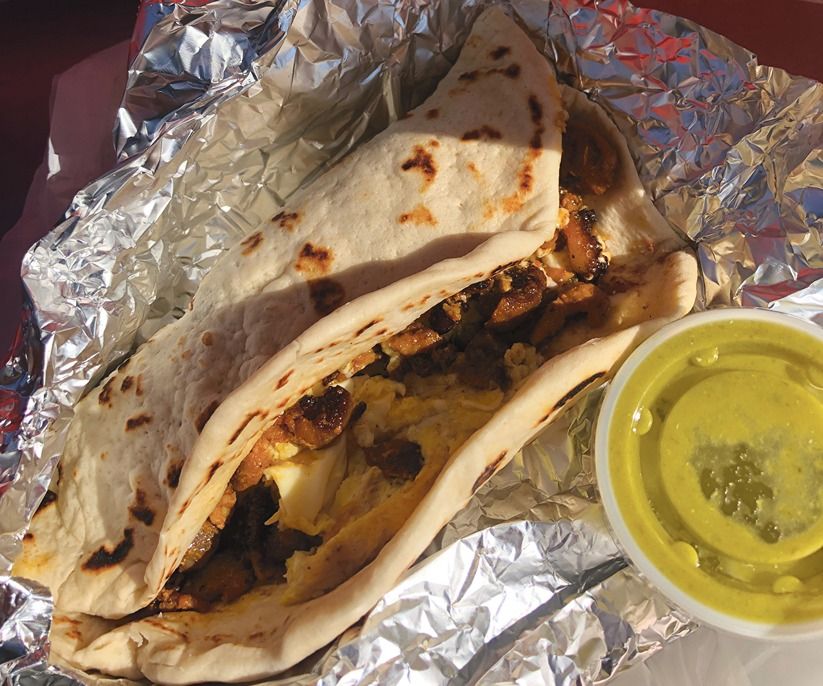 At $5, the baleada con todo is a hefty, hand-held breakfast. The main component of any baleada is the tortilla, generally made with flour and thicker than most. Here they are fluffy, almost reminiscent of a fresh pita bread, with spots of char on the exterior that lend a mild smokiness to each bite. Inside are layers of refried beans, avocado, crema, scrambled eggs, and pork. The familiar, soft and creamy components embrace the pork, which is well-marinated, packed with flavor, and seared to a crisp on the outside. An important fiery jalapeno salsa comes on the side providing a sharp tang and lingering spice that cuts through the richness of the wrap. Together, what ensues is a balance of flavors that makes for a breakfast that feels comforting and exciting at the same time.
To wash it down, their rotating menu of bebidas naturales (aka agua frescas or sweetened juices) are top-notch and come in one enormous size for optimum rehydration. As the truck's name promises, this humble Honduran breakfast is delicious enough to reignite your diminished gusto for life.
Juice from Froot Orleans
Perhaps the after-effects of some heavy handed fun have you inclined to start making some healthy decisions. Mannie King and the team at Froot Orleans on Bayou Road are here for you. When asked, "What's best on the menu for a hangover?" Mannie replied, "The whole menu. Here, there aren't vegan options—it's all vegan—and the fruit soaks up the liquor and gives your body what it needs." That's why, prior to opening this brick and mortar location last year, Froot could often be found outside nightclubs serving up vital nutrients to partiers in need.
The fresh pressed pineapple, mango, and ginger juice is a star on the extensive menu of juices, smoothies, and bowls. Frothy and as fresh as it gets, the juice is instantly invigorating. The spicy heat of the ginger is a wakeup call to the senses, and the tropical sweetness from the pineapple and mango keep you coming back to the straw. Mannie might be willing to break down the healing properties of fruit for you, but the juice speaks for itself.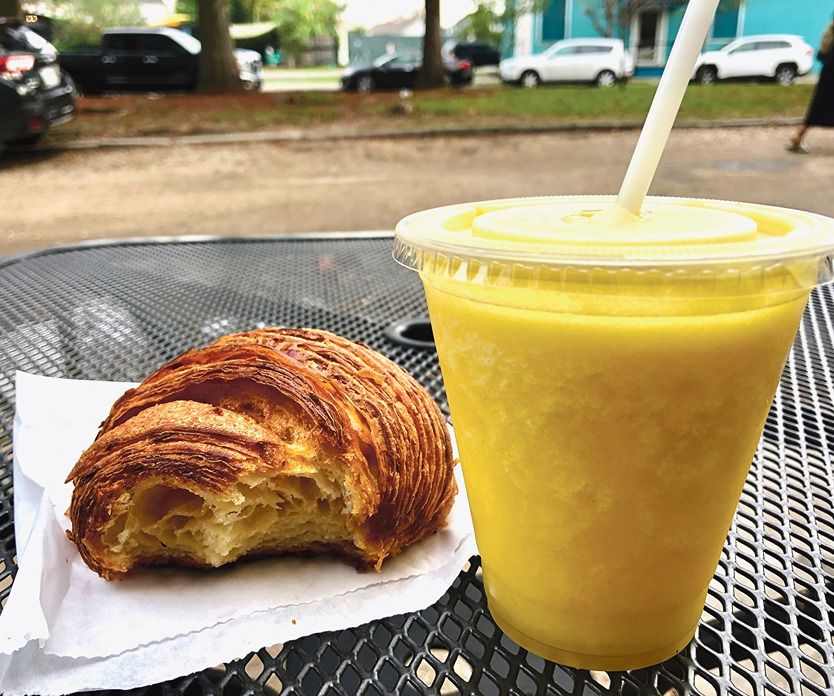 Croissant from Leo's Bread
While sipping your juice, reconnecting with the bounty of the earth, you might smell buttery goodness wafting by. That's Leo's Bread, right next door, where the carbohydrate experts in the back make some of the best croissants and flakiest pastries in town. But after last night's revelry, is this alluring scent a threat to your new health-conscious lifestyle? Or might these neighboring establishments represent the sacred balance of all things? Could the textural wonderland of a Leo's croissant be the yin to your fresh juice yang? You might just discover the meaning of life while you're working off a hangover on the oldest road in New Orleans.