The Bywater Bakery King Cake Festival, which benefits the New Orleans Musicians' Assistance Foundation's Makin' Groceries program has been rescheduled to February 6 from 11 a.m. to 6 p.m. due to COVID-19 concerns. One month after King's Day, this event will be a King Cake Block Party fundraiser and will include live performances, food, drinks, and, of course, king cakes.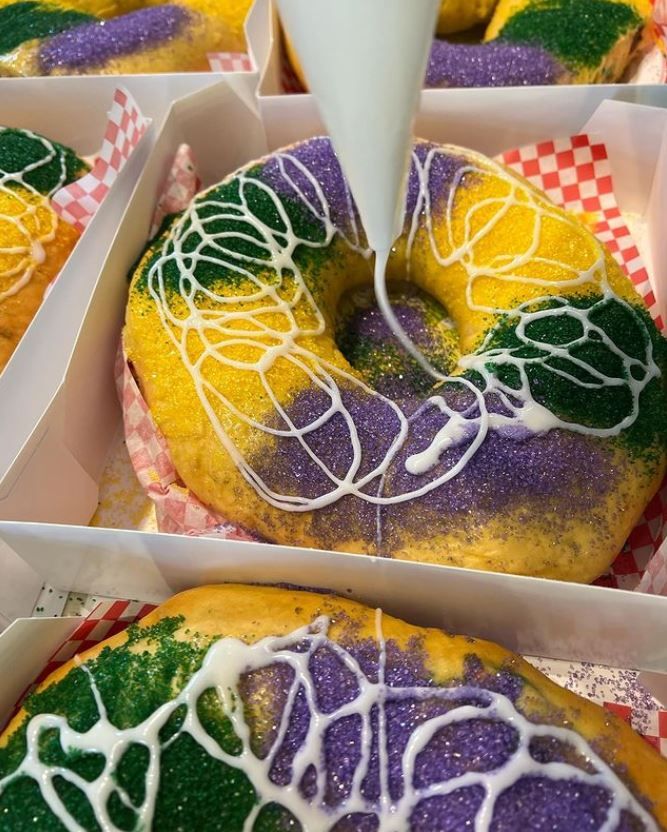 Since the beginning of the pandemic, Bywater Bakery has proudly donated fresh baked bread, as well as weekly and seasonal treats for the New Orleans Musicians' Clinic's Makin' Groceries program. Launched in 2020, Makin' Groceries provides weekly, home delivered care packages of nutritious groceries, prepared meals, community health educational materials, and lagniappe to over 100 elderly and medically vulnerable NOMC patients and their families.
The block party also wants to support community wellness and will serve as a COVID testing site, offer vaccinations and boosters, and a blood drive will be conducted.
Bywater Bakery is known for incorporating a signature twist on the classic sweets with its cutting-edge king cakes. The bakery will be offering old favorites such as Chantilly, Praline, Cheesecake, Carnival, Azul Dulce Blueberry, and last year's hit Lemon Cream. Two new flavors will be added to the roster this year. One of the flavors, Brownie Bomb, is like if a brownie and a chocolate lava cake had a baby, that's the brownie bomb, which is then stuffed inside a king cake; a chocolate lover's dream.
In a new partnership with Seven-Three Distillery, Bywater Bakery is also debuting Bywater Bourbon Cinnamon Swirl. It's a completely plant-based king cake made from a soft sweet potato dough and smeared with a cinnamon bourbon filling. Carnival wouldn't be complete without Bywater Bakery's signature savory king cakes including Crawfish au Gratin, Boudin, and Spinach and Artichoke. Their king cakes are 10 inches round and available whole or by the slice.
For the block party, there will be great live performances including Deacon John, Al "Carnival Time" Johnson, John Boutte, Herlin Riley, Sunpie Barns, Soul Brass Band, David Torkanowski, Josh Paxton Washboard Chaz, and many more special guests. This is sure to be a fun event benefiting a great cause that you won't want to miss out on!
King cakes can also be ordered online by visiting bywaterbakery.com where you can also learn more about the event.