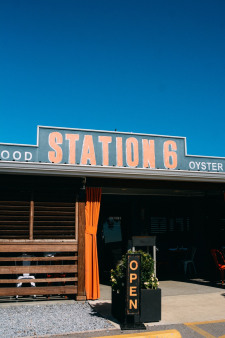 Like many businesses in the country, Station 6 made the decision to close late last month "for the safety of [their] employees, customers and the community at-large." Yesterday, chefs and owners Alison Vega-Knoll (of Vega Tapas fame) and Andrew Knoll have announced they are reopening for take-out and delivery through D'liveryNOLA. "We are so excited to be back and serving our friends and neighbors," said Alison. "In honor of what would have been the first weekend of Jazz Fest, we are serving a family meal of Crawfish Monica this weekend. Look for it on our menu."
Starting Thursday, April 23rd, Station 6 will be open Tuesdays through Saturdays from 3:00pm to 8:00pm. Customers can place their order online at station6nola.com for delivery or pick-up curbside at 105 Old Hammond Highway.
Both the take-out and delivery menu feature Station 6 favorites from their smoked fish dip and grilled salmon tacos to blackened drum with Brabant potatoes, seafood gumbo and soft shell crab … topped with crab of course! Grab some fried catfish strips for the kids, a giant family-style meal that feed 6-8 people (like this week's Crawfish Monica in honor of Jazzfest) and don't forget the bread pudding with butterscotch sauce. The the lakeside restaurant is also offering 2-for-1 beers and discounted bottles of red, white and sparkling wines.