If you're looking for a New Orleans parade that's out of this world, then don't miss out on the Intergalactic Krewe of Chewbacchus parade on January 28, 2023. Chewbacchus, which will kick off at 7 p.m., is dedicated to all things science fiction like Star Wars, Star Trek, and so much more. The theme this year is Let the Wookiee Win.
The Chewbacchus 2023 Royalty this year will be local actor Drew Rin Varick, who will be reigning as "King Drew, Grand Master Yodah to All Chewbacchanaliens, Master Magician of the Wookiee Games, Jedi Keeper of the Sacred Lightsaber, and Answer to Life, the Universe, and Everything." King Drew will be riding on the brand new royalty throne contraption debuting in the 2023 parade, "Throne of the Sacred Drunken Wookiee." It features giant Wookiee hands that come together to create a seat for the royal rider, while a golden goblet overflows with illuminated wine behind the King.

Places to Eat & Drink at Before Chewbacchus
But before the revelry starts, you're going to need a bite to eat! Here are 10 local establishments along Chewbacchus' parade route.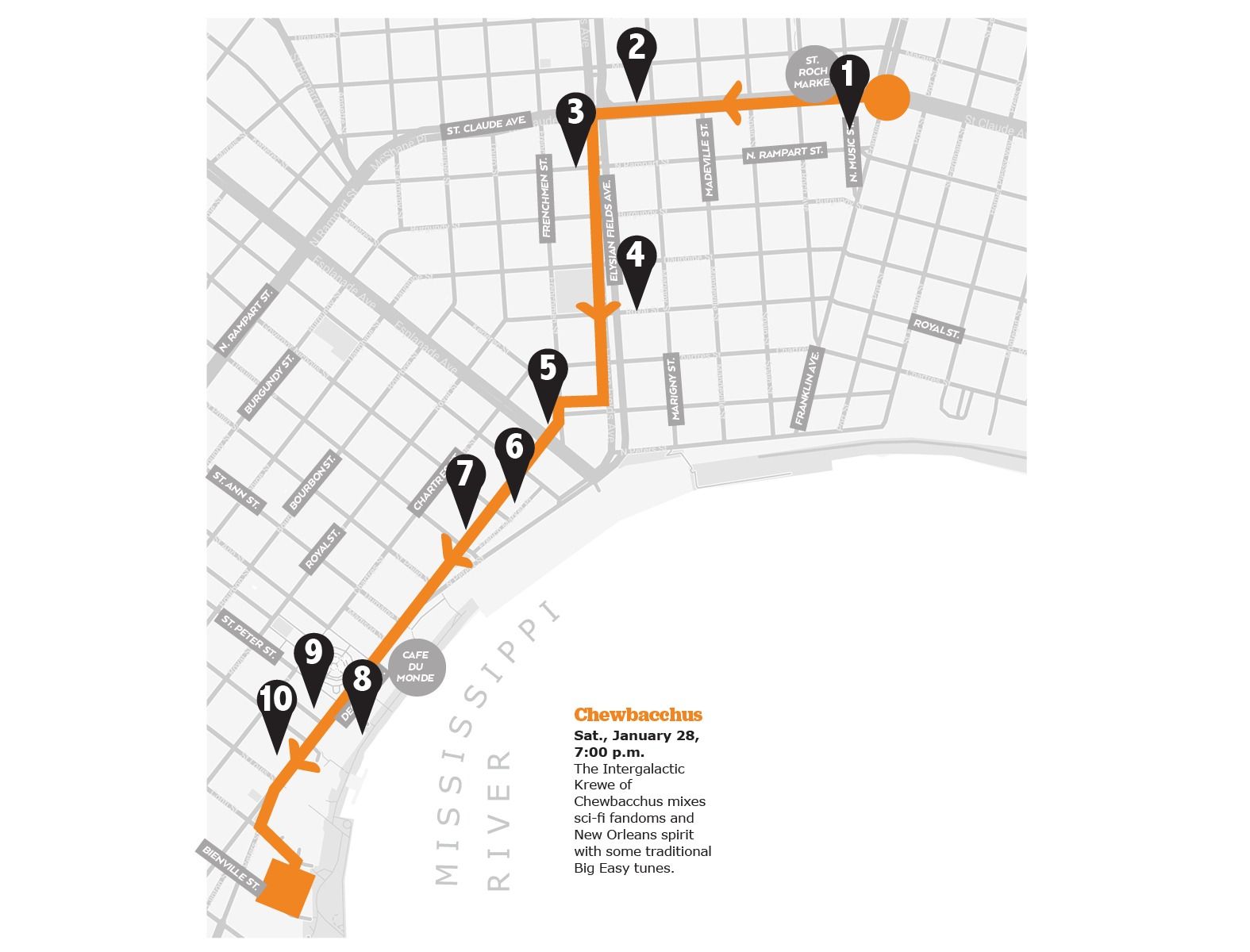 1. Morrow's
2438 St. Claude Ave., 504-827-1519, morrowsnola.com

Founded in 2018 by mother-son pair Chef Lenora Chong and Larry Morrow, Morrow's is unique in that it serves authentic Korean dishes alongside New Orleans classics.
Along with file gumbo and po-boys, you can also find bibimbap (aka a Korean rice bowl) and Korean BBQ short ribs on the menu. They even have plenty of oysters for you to enjoy! Order one or two of their signature cocktails and enjoy!
2. Siberia
2227 St. Claude Ave., 504-265-8855, siberianola.com

Siberia, formerly the Carnaval Lounge, is the perfect place to be for the Carnival season! This venue regularly has live metal, punk, and underground music performances, as well as a fully stocked bar, so this is definitely a good place to get your Chewbacchus party started.
Siberia has also hosted different food pop-ups like Better Together and The Green Room Kukhnya, it will be a surprise what will be at the venue during Chewbacchus. Have a great time at Siberia with a shot or two of vodka!
3. Mag's 940
940 Elysian Fields Ave., 504-948-1888, facebook.com/Mags940BarNOLA
Mag's 940 is an entertaining gay bar and is one of the best places to party in the entire city. The bar is known best for its fun drag shows, Southern Decadence events, underwear parties, and more.
Alcohol is in no short supply here! Along with a wide array of drinks, Mag's 940 is particularly loved for its cold and delicious daiquiris.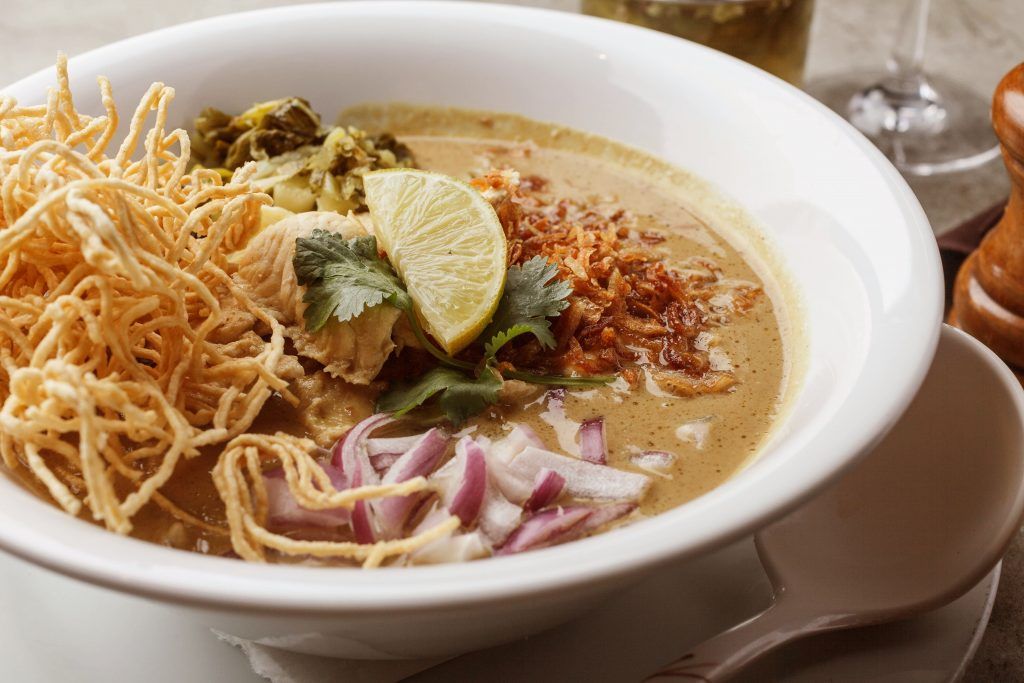 4. SukhoThai
2200 Royal St., 504-948-9309, sukhothai-nola.com/marigny
SukhoThai is an absolute must-visit for a true taste of classic Thai food in the Big Easy. There are two locations in the city, so make sure to visit the one in The Marigny in order to be close to the Chewbacchus parade.
Choose from a wide selection of Thai favorites like chicken satay, tom yum soup, papaya salad, pad thai, and much, much more. SukhoThai's cocktails are all creative and delicious like the Thai Basil Orange Martini and the Suma Sunrise with satsuma rum.
5. Checkpoint Charlie's
501 Esplanade Ave., 504-281-4847, facebook.com/people/Checkpoint-Charlies/100054358098411
Another fun bar to visit before Chewbacchus is Checkpoint Charlie's. Like any great New Orleans bar, Charlie's regularly hosts live music performances.
If you need to clean any cloths or costumes before going to the parade, the bar actually offers a laundromat that guests can take advantage of. Grab a cold beer and make some new friends at Checkpoint Charlie's.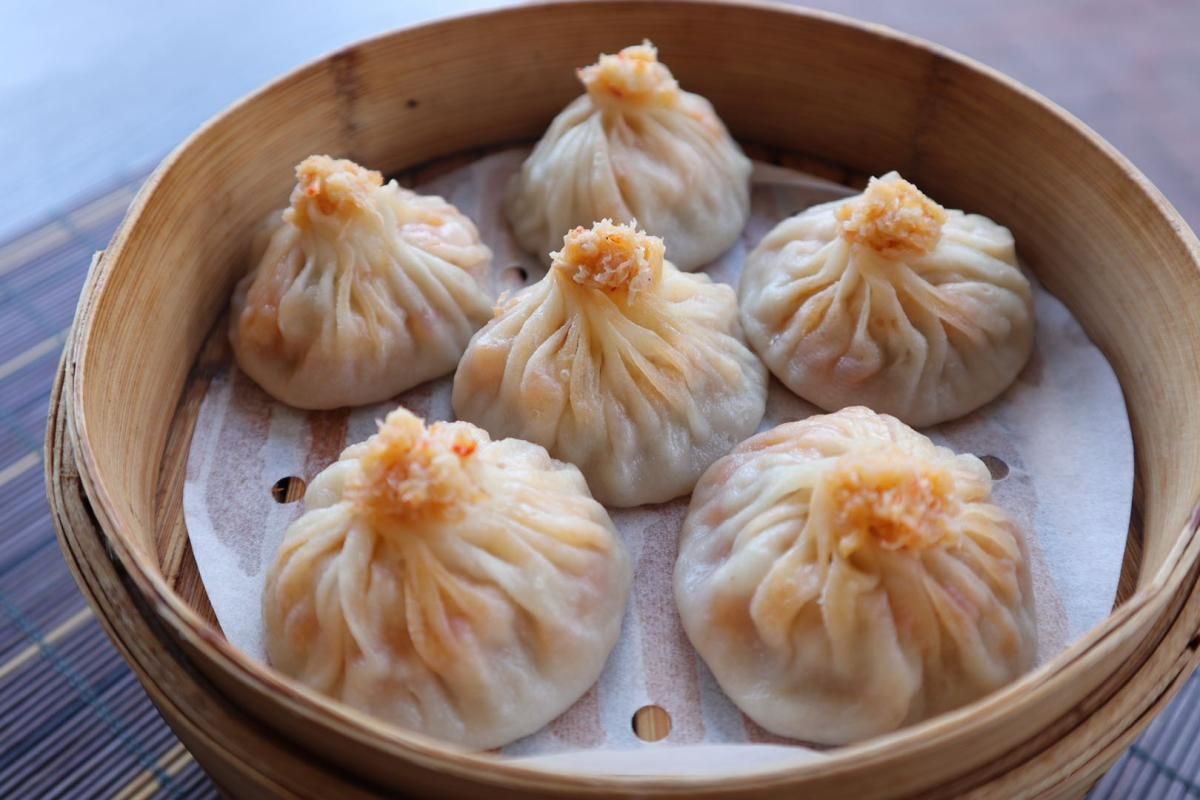 6. Dian Xin
1218 Decatur St., 504-266-2828, dianxinnola.com
If you want to try one of the best places in New Orleans for authentic Chinese cuisine, then definitely head out to Dian Xin. This quaint spot is most famous for its many different baos and dumplings stuffed with fillings like pork, chicken and kale, crawfish and crabmeat, and more.
The restaurant also does jianbing, which is a Chinese-style crepe made from flour, rice, and mung bean and coated with scrambled egg and sesame seeds. If you go to Dian Xin, make sure to come hungry!
7. Coop's Place
1109 Decatur St., 504-525-9053, coopsplace.net
Looking for a taste of true New Orleans cuisine at down home prices? If so, then Coop's Place might just be the place for you.
You find all kinds of Crescent City classics on the menu like seafood gumbo, red beans and rice, etoufee, and more. Coop's Place even does creative twists to some of its dishes like the rabbit and sausage jambalaya, as well as the Cajun pasta with shrimp, oysters, and crawfish.
8. Landry's Seafood House
620 Decatur St. Unit 1A, 504-581-9825, landrysseafood.com

If you want a true taste of the Gulf Coast, you'll have to make a stop at Landry's Seafood House. While they have locations all over the South, you'll want to stick to their Decatur Street location to catch Chewbacchus.
The restaurant's goal is to provide customers a sense of family and warmth, as well as fantastic seafood. Some of the dishes to choose from include BBQ shrimp, fried alligator, and crawfish etouffee.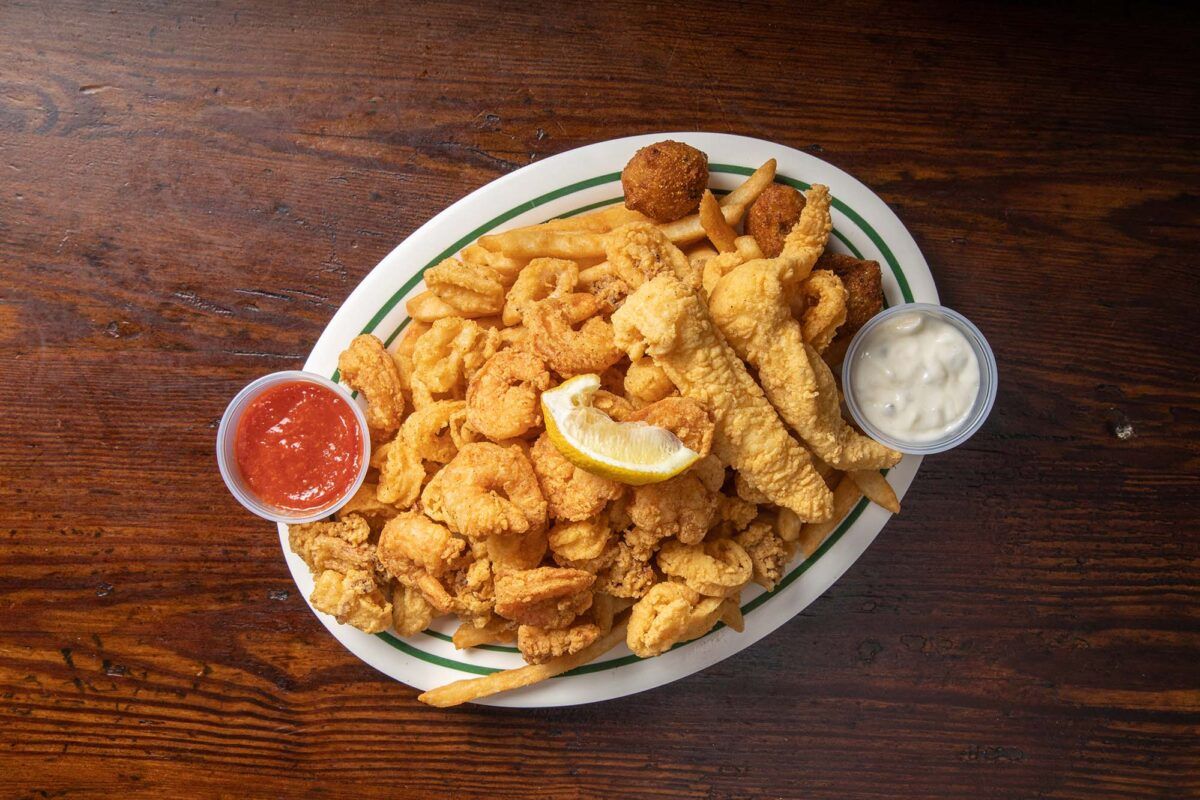 9. Cafe Maspero
601 Decatur St., 504-523-6250, cafemaspero.com

Café Maspero offers all of the classic Louisiana dishes that locals absolutely love. Make sure to try their pasta jambalaya or the red beans and rice.
Their muffaletta is particularly famous and mouthwatering. They even have $1 daiquiris and bottomless mimosas!
10. Crescent City Brewhouse
527 Decatur St., 504-522-0571, crescentcitybrewhouse.com

Not only is Crescent City Brewhouse one of NOLA's premier brewery restaurants, it also holds the distinction of being the only microbrewery in the French Quarter. If you're looking to enjoy some quality beer, then this is the place for you.
Order a beer flight and try a number of different selections like their pilsner and Weiss beer. Make sure to order one of their delicious sandwiches or from their oyster bar.
After the Parade
The Chewbacchanal, immediately following the parade (doors open at 9:00 p.m.), will take place at the Fillmore New Orleans. The Chewbacchanal is open to the public and general admission tickets are $20. There will also be a limited-space VIP option for an additional $60, that includes a private room with complimentary specialty drinks and food, along with VIP-only tables and chairs in the main room. All party goers will enjoy live music by Golden Dawn Arkestra and People Museum along with various DJs throughout the night. The Chewbacchanal will end at 1:00 a.m.