When people talk about the best kind of poboy to get, The Roast Beef PoBoy is at the top of the list for many people. The hearty, savory, rib-sticking roast beef is usually dripping with thick brown gravy with debris bits of even more roast beef. The bread is perfect for soaking up the gravy before it flows onto your hands, though it's not uncommon for the best Roast Beef PoBoys to get a little messy. There's nothing quite like it.
You may have your official favorite Roast Beef PoBoy already picked out, but these restaurants all have amazing, noteworthy Roast Beef PoBoys that you have got to eat to believe.
Where to Get Roast Beef PoBoys in New Orleans


1.

Tracey's Original Irish Channel Bar
2604 Magazine St. (504) 897-5413, traceysnola.com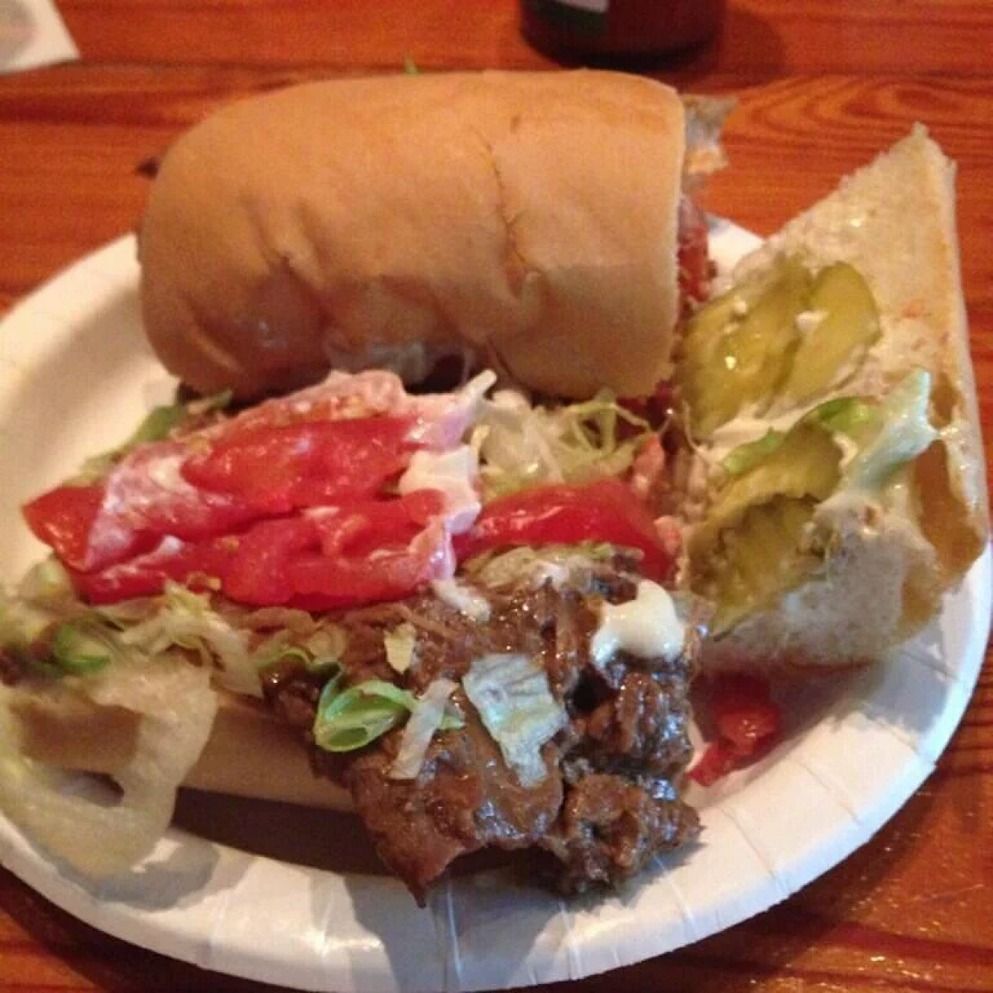 That big, stately pub on a beautiful corner of Magazine Street is the home to one of the best poboys kitchens in the entire city. At the back of Tracey's, you'll find the window to order the World's Best Roast Beef PoBoy (that's really what it's called). This sandwich is famously drenched in garlic brown gravy.
You can get that roast beef as well as ham in the Ferdi PoBoy or with shrimp in the Surf & Turf PoBoy. If you just want the gravy, but not a ton of meat, the French Fry PoBoy may be for you. It's got fries, mayo, gravy, and American cheese. Add bacon for even more fun flavor.
2. Parkway Bakery & Tavern
538 Hagan Ave. (504) 482-3047, parkwaypoorboys.com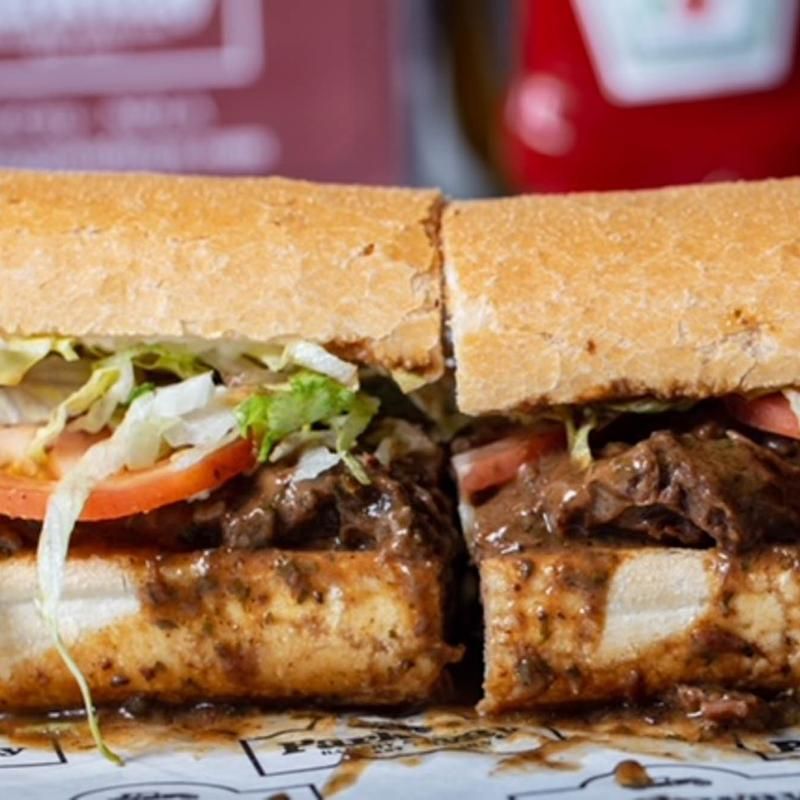 Parkway Bakery is synonymous with poboys; Parkway Bakery began serving poboys in 1929 to help feed striking union workers in the area. It wasn't the main feature of the iconic restaurant until Jay Nix purchased Parkway in 1995. Now it's one of the most renowned spots for poboys even garnering international attention.
The Specialty House-made Roast Beef With Gravy PoBoy is a winner. It features slow-roasted roast beef that is just soaked in savory brown gravy. Or try the James Brown PoBoy: slow-cooked barbecued beef, shrimp, pepper jack cheese, and hot sauce mayo.
3. Short Stop PoBoys
119 Transcontinental Dr. (504) 885-4572, shortstoppoboysno.com
Located in an unassuming suburban neighborhood, Short Stop poboy shop gets packed for lunchtime. Luckily, Short Stop opens at 10:30 a.m. to accommodate more guests, and they close at 6 p.m. on the weekdays.
You could literally get your poboy hundreds of ways because of the variety of bread types and sizes, dressings, condiments, hot sauces, and cheese. The Roast Beef PoBoy is an irresistible sandwich with debris-style juicy roast beef prepared in gravy and dripping with goodness. If you don't like it too messy, you can ask for your roast beef to come out dry or cold sliced. You may want to get it King Size (14 inches) if you have a big appetite.
4. Parasol's
2533 Constance St. (504 354-9079, facebook.com/ParasolsNOLA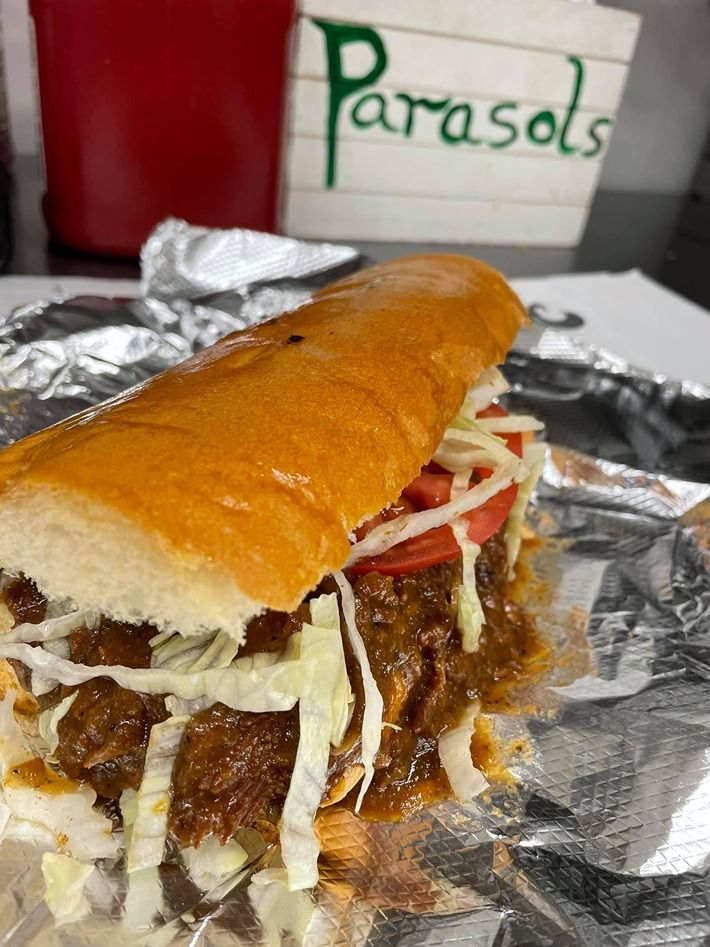 Parasol's is a regular spot to eat for Irish Channel dwellers. The menu features lots of poboys as well as baskets, sandwiches, wings, and small plates. Roast beef cravers will enjoy the traditional Roast Beef PoBoy in homemade gravy or the Debris Fries PoBoy with fries covered in roast beef debris.
As with other poboy shops, The Ferdi is an excellent blended poboy. This Ferdi has roast beef and ham, and Parasol's recommends topping that with Swiss cheese. The Gravy Cheese Fries will probably have some roast beef debris in it too, and it's a great dish to have before bar-hopping through Uptown.
5.

R & O Restaurant
216 Metairie-Hammond Hwy. (504) 831-1248, r-opizza.com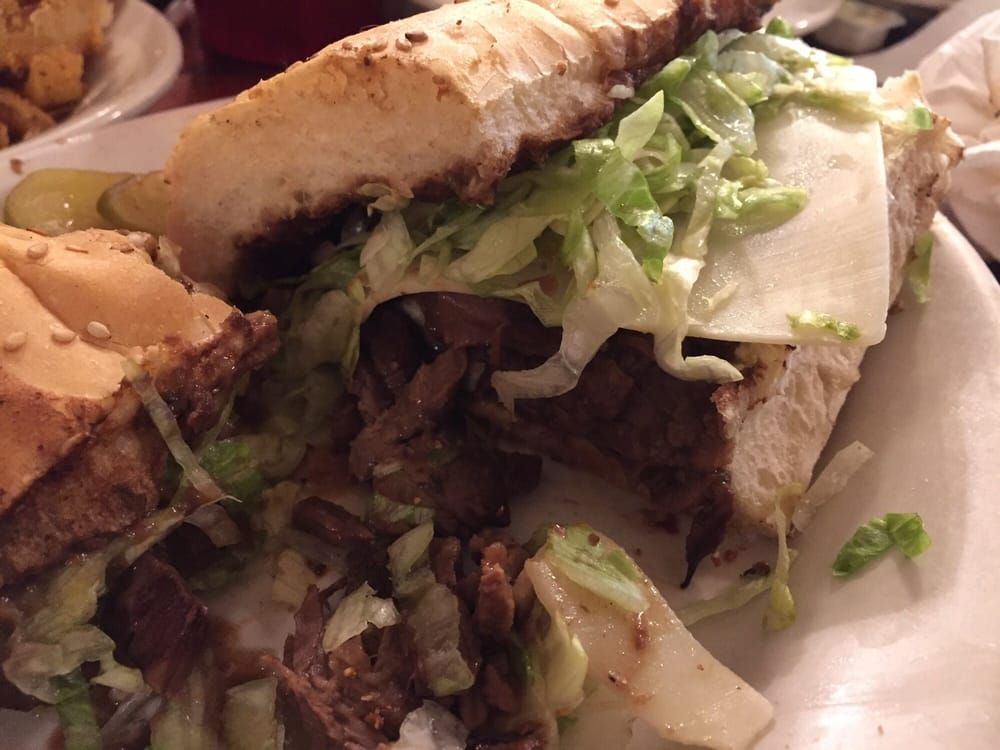 Located near the Lake Pontchartrain, R & O's is a great place for seafood dishes, Italian fare, and poboys. You're going to love the poboy offerings, and you may want to try something that you've never had before, like the Italian Combo PoBoy: meatballs, Italian sausage, and red gravy.

The R & O Special is a ham and roast beef poboy with Swiss cheese, but you can get just a traditional Roast Beef PoBoy if you prefer. The Italian Roast Beef is a hearty helping of meat topped with red gravy. This restaurant also serves a French Fry PoBoy with rich roast beef debris brown gravy.
6.

Mother's Restaurant
401 Poydras St. (504) 523-9656, mothersrestaurant.net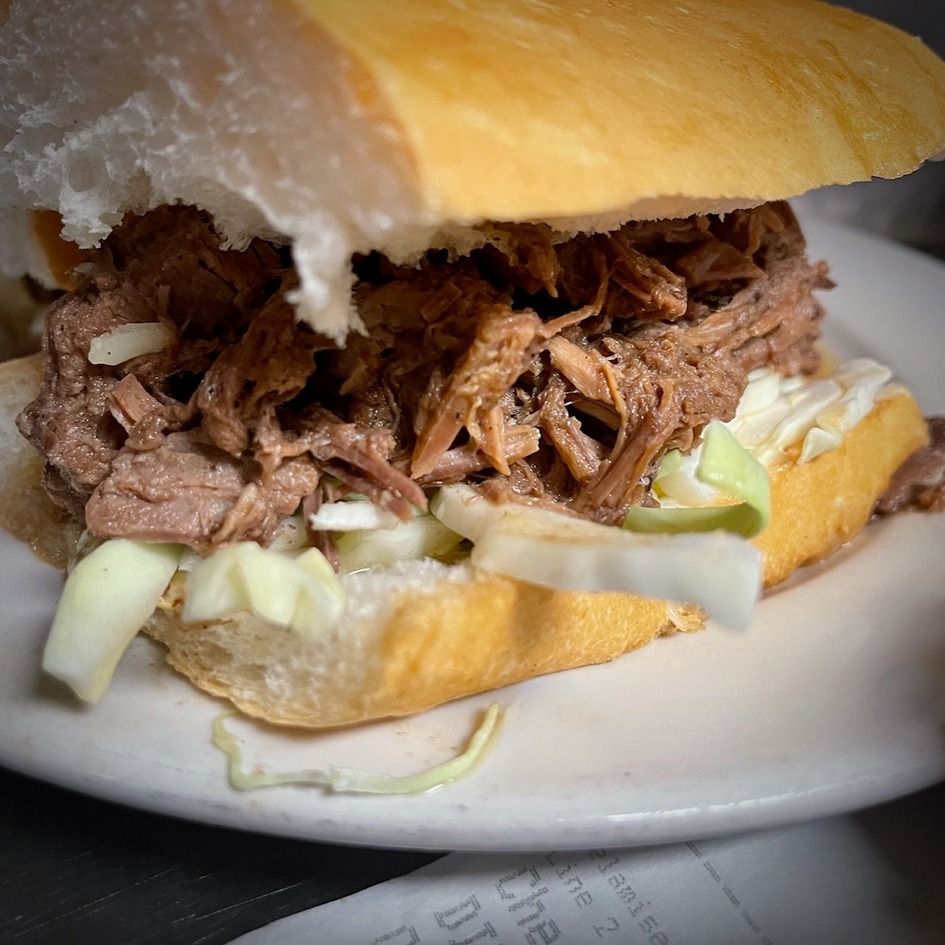 It's pretty easy to spot Mother's when you're walking or driving down Poydras Street. There's usually a long line of people waiting to get in. Mother's immense popularity is certainly due to its downhome comfort food, and the fact that breakfast dishes are served all day, every day. In fact, Mother's is open every day of the week from 7 a.m. to 10 p.m. just to serve all of those people who wait in line for them.
Mother's specializes in roast beef poboys! The Famous Ferdi Special is ham, roast beef, and original au jus debris. The John G. is all that plus turkey. You can also just get a Debris PoBoy that has little bits of roast beef debris and a whole lot of dripping au jus gravy.
7.

Domilise's PoBoy & Bar
5240 Annunciation St. (504) 899-9126, domilisespoboys.com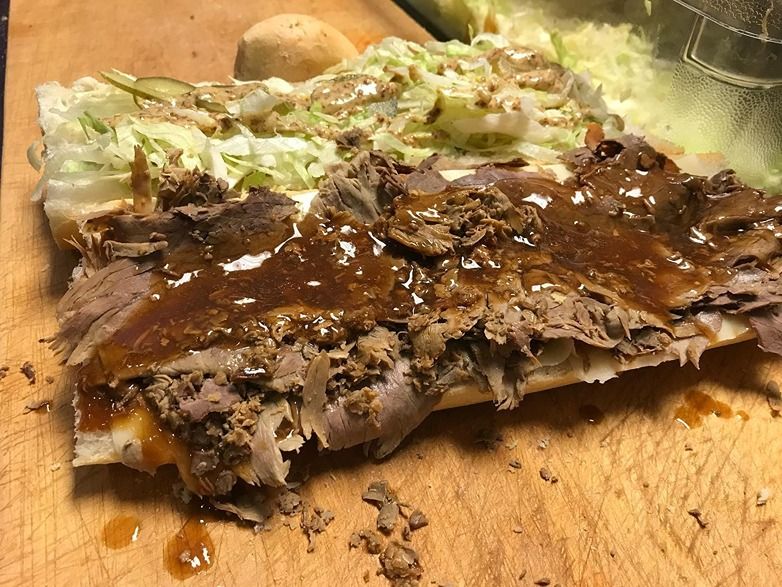 Domilise's may look like a humble, old-school eatery, but this joint stays very busy starting at 11 a.m. every day (closed Sundays). People will happily line up around the corner to order their favorite poboy, even if they can't get a spot to eat it inside. There's a reason why this sandwich shop has drawn crowds since the early 1900s; it's simply the best you can get.
Domilise's specializes in meaty poboys. The Roast Beef is heavily ordered, but the Roast Beef + Swiss is something that you've got to have at least once. The combo Roast Beef & Ham PoBoy is a great option, too, if you're looking for something different.
8.

Guy's PoBoys
5259 Magazine St. (504) 891-5025, facebook.com/guyspoboysnola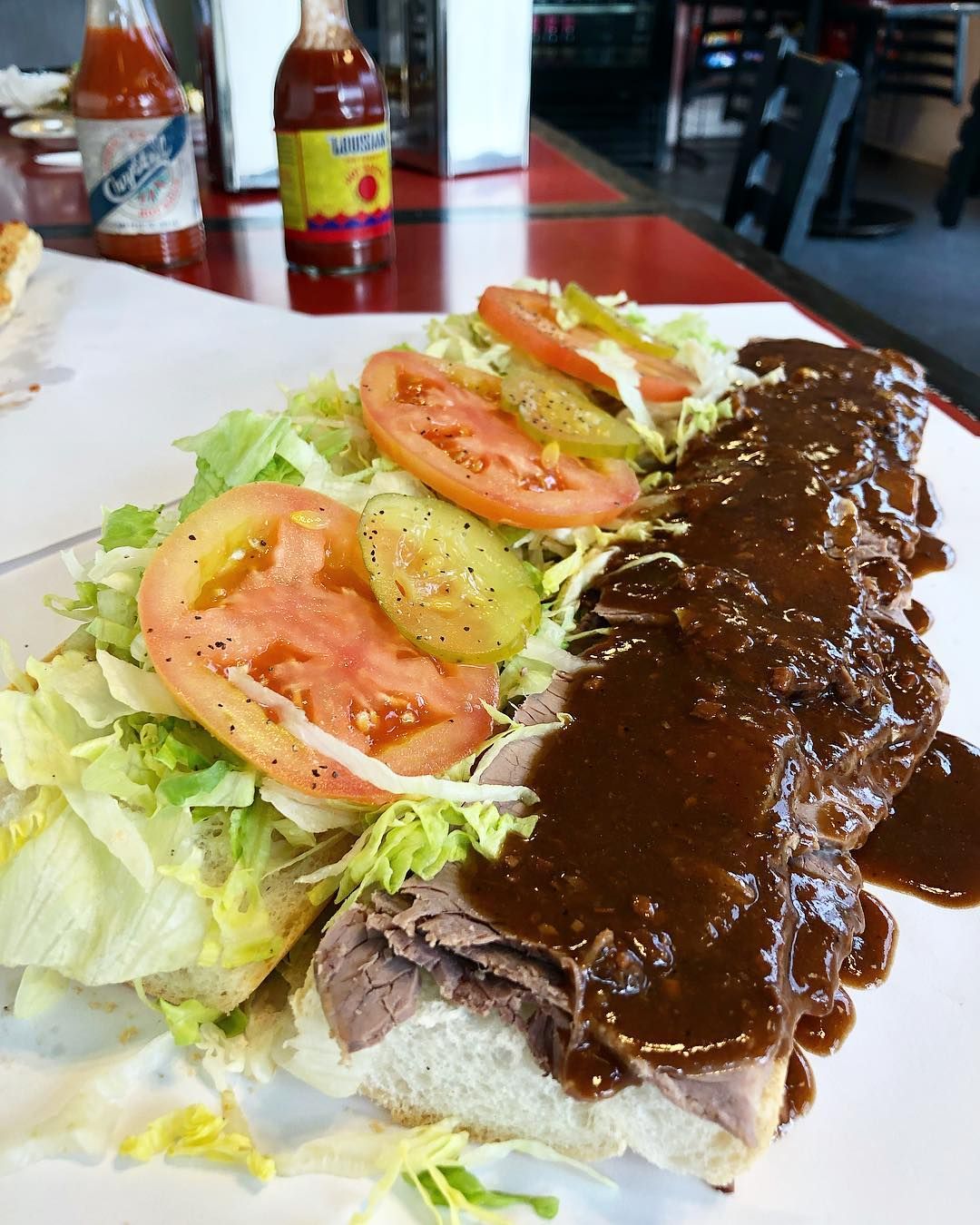 Just look for the striking blue building on the corner of Magazine and Valmont St. That's Guy's PoBoys, and they're ready to serve you from 11 a.m. to 4 p.m. every day of the week (except Sunday). Guy's is well known for traditional poboys as well as some signature items.
The Roast Beef PoBoy is one of the most ordered items. This sandwich comes out dripping with hot debris gravy and requires lots of napkins to eat. Red meat-eaters will also love the Breaded or Grilled Pork Chops PoBoy, one of the few places in the city that has it. Don't forget your side of Gravy Cheese Fries or Potato Salad side!
9.

Parran's PoBoys & Restaurant
Multiple Locations, parranspoboys.com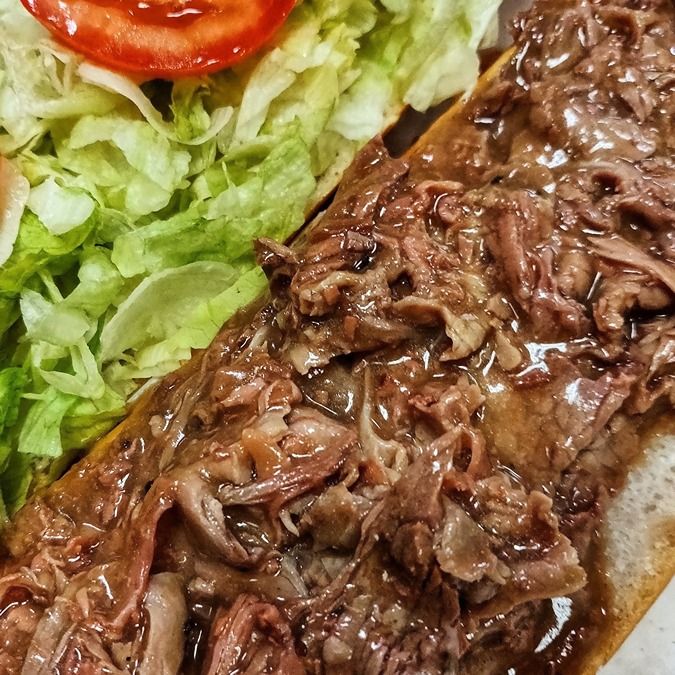 Parran's has two locations serving great poboys proudly made using Gendusa's Bakery bread. You can visit them in Kenner (2321 W. Esplanade Ave.) and Metairie (3939 Veterans Memorial Blvd.) for a stacked poboy, a charburger, or even a World Famous Original Seafood Muffuletta; the muffuletta is a masterful blend of fried shrimp, oysters, and fish with Parran's own homemade Cajun mayo.
Parran's Roast Beef PoBoy is served in "a gravy bath." The Surf & Turf has your favorite roast beef alongside fried shrimp. The other way to enjoy roast beef here is with the J & M Special: a poboy filled with ham, roast beef, and Swiss cheese.
10.

Mahoney's Original PoBoys & Seafood
Multiple Locations, mahonyspoboys.com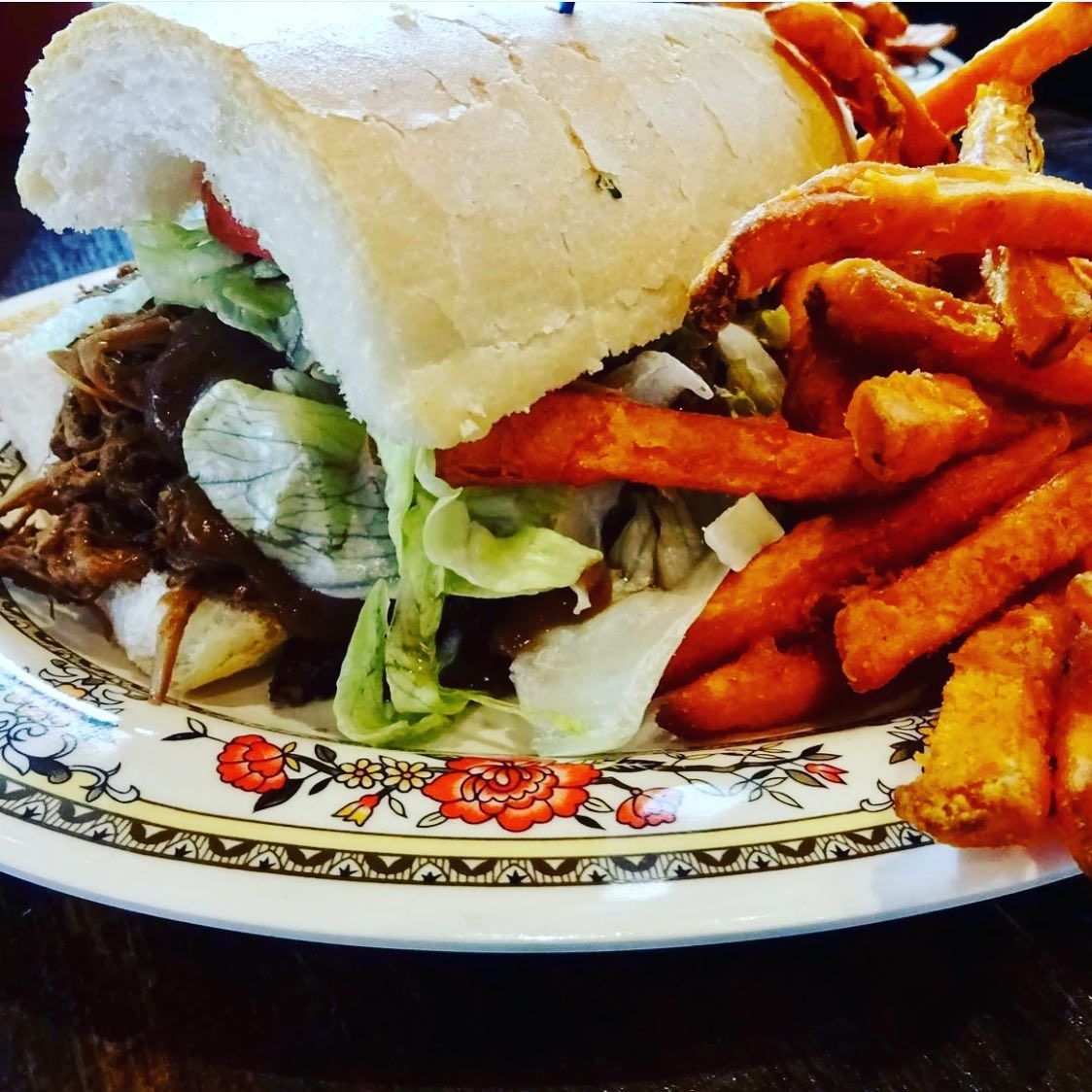 You can now get your Mahoney's fix in the French Quarter! Mahoney's still has their original Uptown location (3454 Magazine Street) and the newer Downtown location (901 Iberville Street). The first thing you'll notice about Mahoney's menu is that the poboys are separated by Dressed or Not Dressed. There are many options here, but the signature roast beef selection is easy to find.
The Angus Pot Roast Beef is angus beef knuckle braised in red wine, trinity, and garlic, then dressed with gravy. You may also be interested in the Roast Pork & Slaw: slow-roasted pork butt, Creole coleslaw, and house mustard vinaigrette.
The Best Roast Beef PoBoys in New Orleans
Great gravy, rich roast beef, crunchy bread, and delicious debris, these Roast Beef PoBoys are phenomenal. Locals love the taste of the Roast Beef PoBoys so much that their opinions have traveled around the entire world. Visitors to New Orleans want to know where to go to get the best Roast Beef PoBoy while they're here.
Did we miss the best Roast Beef PoBoy in town? Where do you like to go?