Who makes the most exceptional roast beef po-boy in New Orleans is the subject of much debate, but deciding the ultimate winner is a question only you can answer.

It's hard to believe it's been over a decade since Brett Anderson, the Times-Picayune's last official restaurant critic, surveyed nearly all the roast beef po-boys in the Greater New Orleans Area, and crowned what he believed to be "the best." But, with all due respect, what does he know? Sure, he's devoured many a po-boy in the city, but so have a lot of people.
What we tend to forget is while we like to quantify our choice as "the best," our opinion is wholly and utterly subjective. After all, it's difficult to pick the best of a sandwich with centuries-long history.
Do you prefer your roast beef po-boy on historic Gendusa's or Leidenheimer's bread, or the new favorite, Dong Phuong? Do you dream of a po-boy fully dressed or dressed down (so to speak) with nothing but gravy? Does the gravy have to ooze out between your fingers in every bite, necessitating the requisite ten-plus napkins, or do you prefer an amount that's just enough to keep the sandwich moist? Let's face it, there's an endless number of factors involved in what makes up the best roast beef po-boy for you.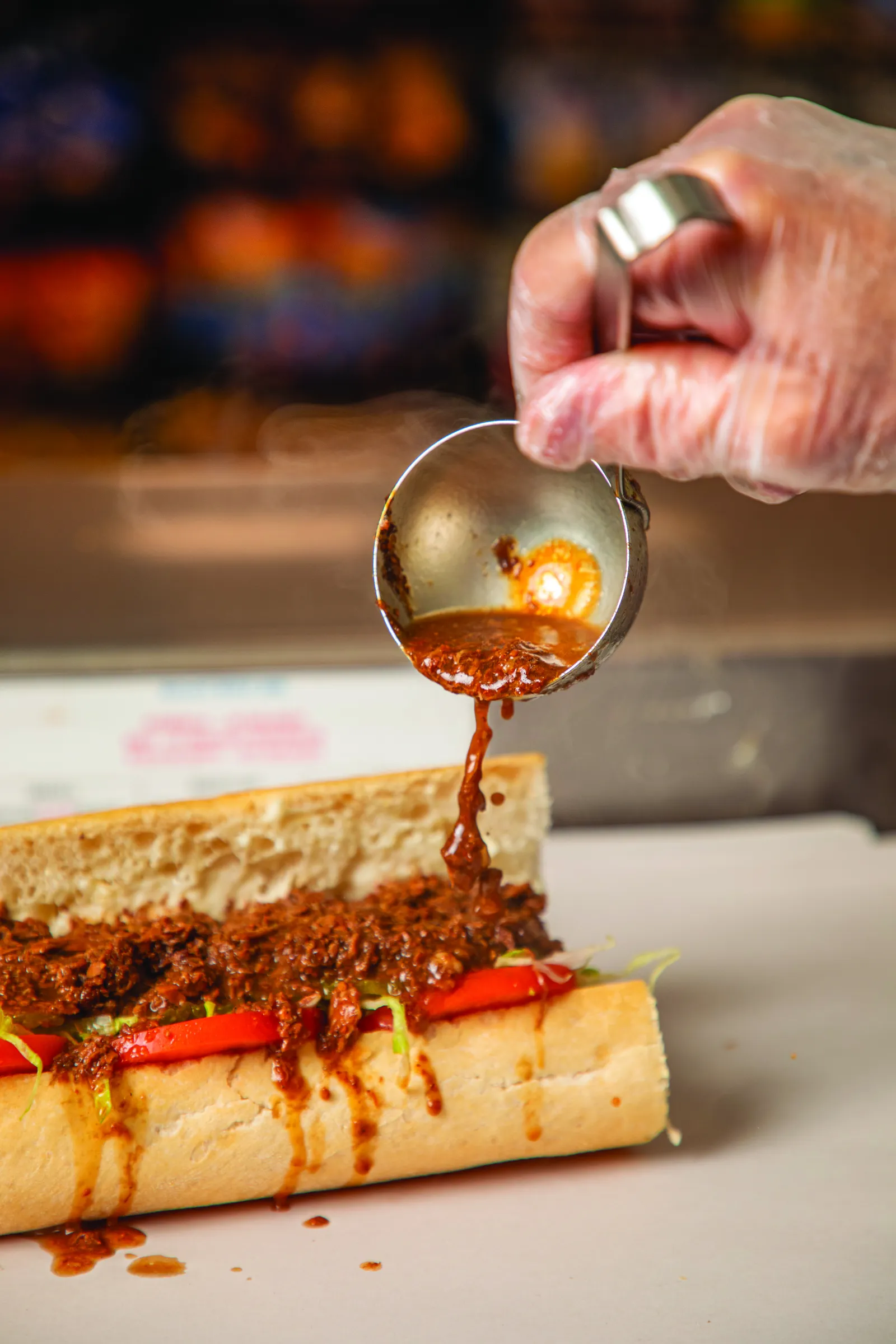 Making the Perfect Roast-Beef Po-Boy
Let's start with the bread, since we all know a po-boy isn't really a po-boy without New Orleans-style French bread. As there are only a few players, the choices are relatively slim, Leidenheimer's or Gendusa's. Many would add Dong Phuong Bakery to this short list, though purists often believe their James Beard Award-winning po-boy bread isn't a true New Orleans French loaf. Aside from where it's sourced, the bread's preparation is equally important to its flavor: seeded or unseeded, toasted or untoasted, sliced in half or hollowed out, and fully dressed or merely buttered.
Speaking of dressed (i.e. mayonnaise, tomato, shredded lettuce, pickles, butter, and occasionally sliced cheese such as Provolone), every ingredient you add to your roast beef po-boy will alter the end result. Some people like a high mayo to gravy ratio, request extra pickles, or nix the "shrettuce" all together. Others, the real carnivores, want no aberrant flavors mucking up their po-boy, relying wholly on the rich, brown gravy to keep it juicy and flavorful.
Finally, there's the heart of it all, the roast beef. Considering the oft-told origin of the po-boy, it makes sense the roast beef version would be made from one of the most inexpensive cuts of meat—the chuck roast. As the legend goes, the po-boy was invented by Benny and Clovis Martin who created a cheap, filling sandwich to feed the striking streetcar drivers back in 1929.
The soft loaves were hollowed out and filled with everything from fried oysters and shrimp, to (you guessed it) roast beef with gravy. Like any claim to fame, there are discrepancies, but at least we can all agree the po-boy is a uniquely New Orleans' sandwich created on our local French bread.
New Orleans Restaurants Perfecting the Roast Beef Po-Boy
1. Parkway Bakery
538 Hagan Ave.

(504) 482-3047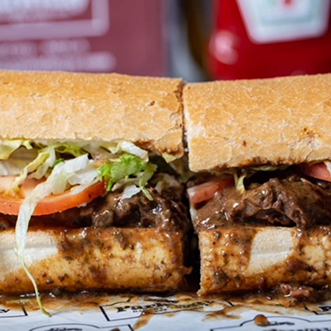 This century-old po-boy shop does everything in-house. Parkway Bakery slow-cooks the chuck roast with onions, garlic and seasonings, and create their own gravy from drippings, resulting in beef that literally falls apart. Parkway also uses the gravy and "debris," or bits of meat floating in the drippings, to top a pile of fries for their "Streetcar Po-boy," a French fry and gravy sandwich they dub as the Martin brothers' first ever po-boy.
2. Tracey's Original Irish Channel Bar
2604 Magazine St.

(504) 897-5413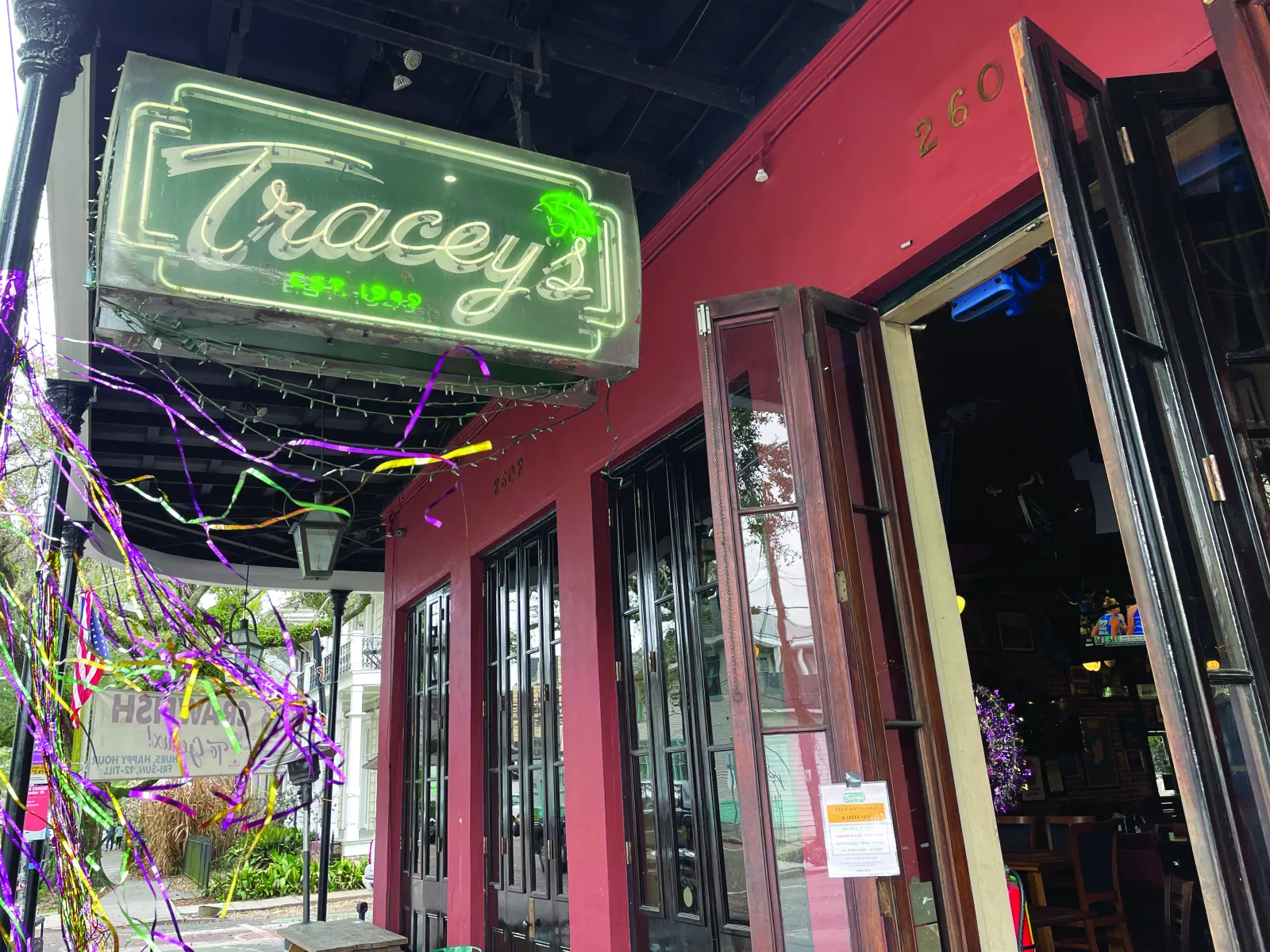 Located on Magazine, Tracey's Original Irish Channel Bar serves the roast beef debris-topped French fry po-boy. Owners Jeffrey and Jamie Carreras were once the longtime (12 years) purveyors at Parasol's, but after a bit of a kerfuffle with their landlord, they left the Constance Street building and renovated new digs on Magazine in 2010. Along with the staff, the owners also brought their signature, award-winning roast beef po-boy recipe to the new location, and though the recipe is top secret, they also slow-roast the chuck with aromatic seasonings and make their own gravy.
3. Mother's Restaurant
401 Poydras St.

(504) 523-9656

https://mothersrestaurant.net/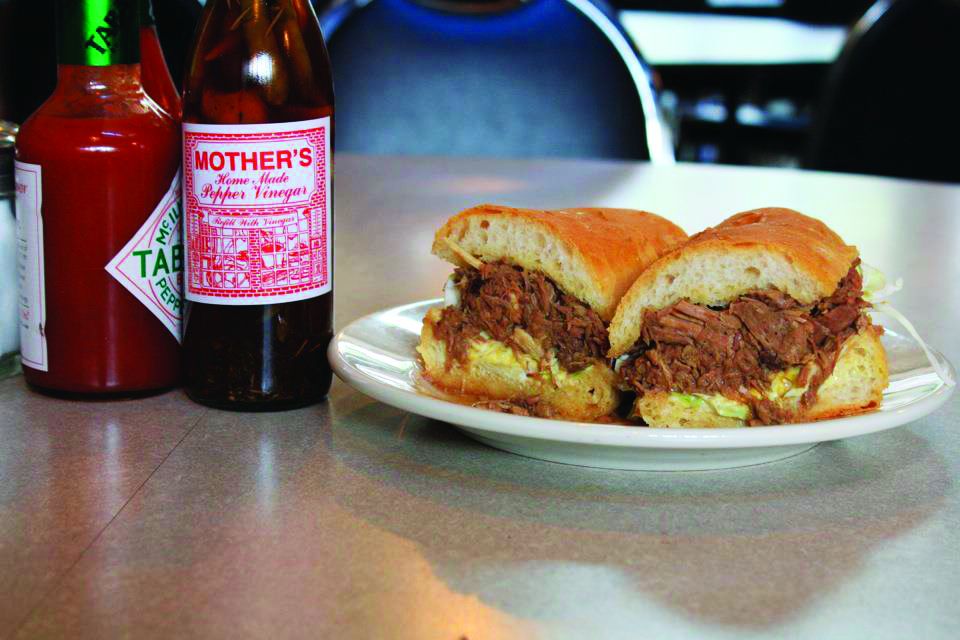 The famous roast beef "debris" sandwich creator Mother's in the Warehouse District is a po-boy worth waiting for, as the lines outside this iconic restaurant prove. Using top round, a slightly different but no less inexpensive cut, the meat at Mother's is slow-roasted with beef stock (also made in house), piled high atop Leidenheimer or Gendusa French bread, and dressed with shredded cabbage instead of lettuce, offering a crispier bite.
4. Short Stop Po-Boys
119 Transcontinental Dr.

(504) 885-4572

https://www.shortstoppoboysno.com/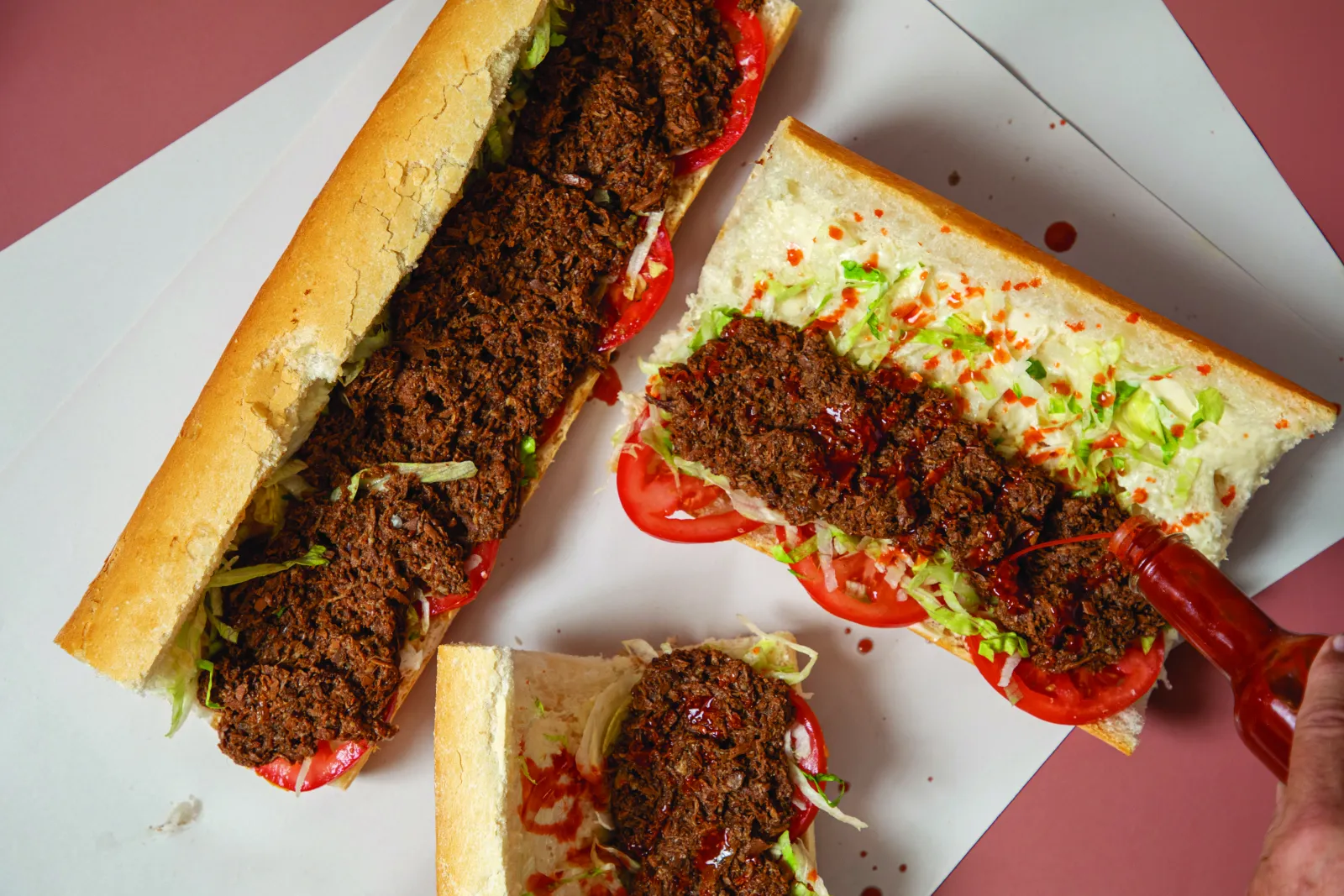 Short Stop Po-Boys in Metairie may not be as recognized as the others mentioned, but the Henrick family has been slinging roast beef in the burbs for 57 years. Done in-house, they roast their chuck for four hours and then boil the cooked beef in drippings with their own special blend of spices. In addition to Leidenheimer's loaves, this neighborhood po-boy shop will also make your roast beef on wheat French bread sourced from local grocer Dorignac's.
5. Mahoney's Po-Boys
3454 Magazine St.

(504) 899-3374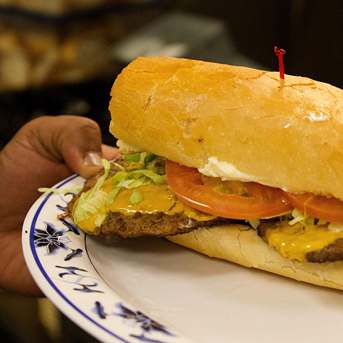 Mahony's Po-Boys, on the other hand, created quite a stir when they opened in 2008 offering a different kind of roast beef sandwich. Classically trained chef Ben Wicks made a pot roast using Angus beef braised in wine with the holy trinity. Though it may not be a "classic" New Orleans-style roast beef po-boy, it's one hell of a sandwich.
6. The Red Wagon
6611 Jefferson Hwy

(504) 737-3610

https://www.facebook.com/TheRedWagonGroceryAndDeli/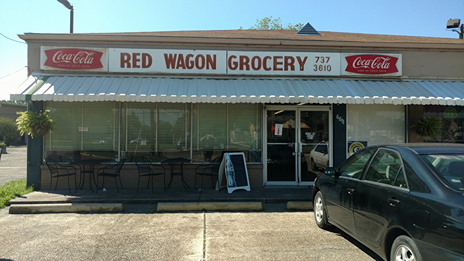 Though many po-boy shops have the space to cook a chuck roast, some spots do not. But this doesn't mean the end product is any less fabulous than their counterparts. In fact, one of the most memorable roast beef po-boys ever eaten was at a hole-in-the-wall, cafeteria-type spot in Harahan called The Red Wagon. They order their chucks already roasted but slice it up, simmer it in their own rich, brown gravy, and serve it on fresh French bread. At $10.95 for a huge, 16-inch po-boy, it's easily one of the best po-boy deals in the GNO.
Restaurants Serving the Best Roast Beef Po-Boys
What it comes down to is the right combination of flavors, textures, and a healthy dose of nostalgia. Only you know who makes the best roast beef po-boy, and in the grand scheme of things, your opinion is the only one that matters.