Though New Orleans is known for Creole food, we have always had a hankering for Italian comfort foods. And that includes pizza. Sometimes you just need to get a big, sizzling hot pizza to satiate your craving whether it be a basic pepperoni pizza or some crazy mash-up of toppings that you would never think go together. Thin and crispy, thick and chewy; all pizza is great pizza. Most of these restaurants even have multiple locations because people love pizza that much.
These New Orleans pizzerias are serving hot slices and pies baked fresh to order. Check them out the next time that pizza pie craving hits.
Where to Get Pizza in NOLA


1. Reginelli's Pizzeria
Multiple Locations, reginellis.com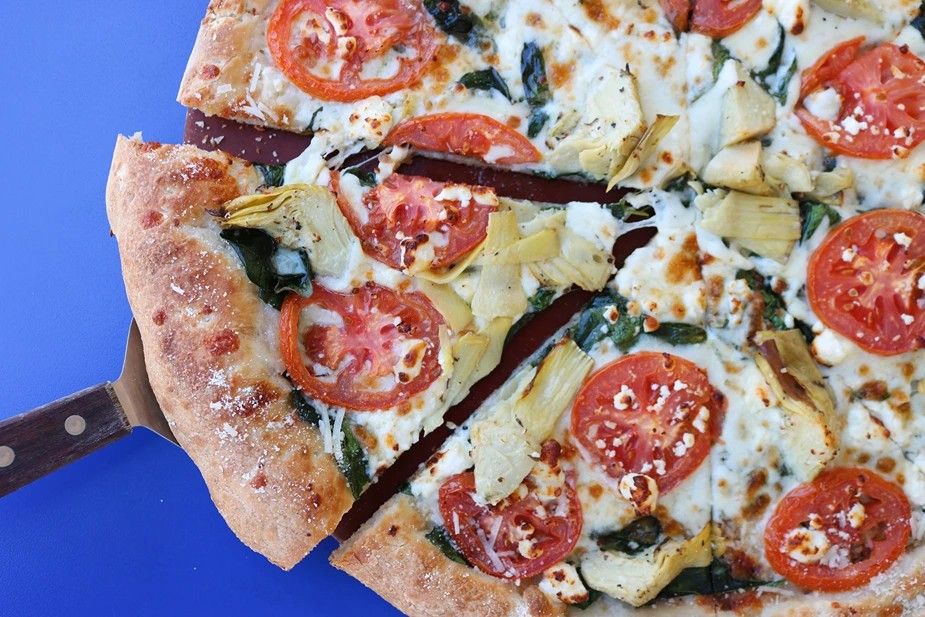 Started in 1996, Reginelli's Pizzeria has expanded to several restaurants that all serve satisfying pies. There are seven locations just in metro New Orleans not including Northshore locations. The Uptown location (5961 Magazine St.) is the original location and still remains popular. The Lakeview location (874 Harrison Ave.) is a regular spot for young families, and the CBD location (930 Poydras St.) is perfect for before big games.
Reginelli's offers traditional pizza, Detroit-style pizza, and many specialty pizzas. The Saltimbocca has garlic butter, mozzarella, marinated chicken, prosciutto, spinach, capers, and a little fresh lemon.
2. Pizza Domenica
Multiple Locations, pizzadomenica.com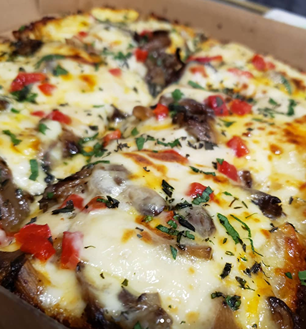 Pizza Domenica has become so popular because it appeals to both adults and children. The pizzas are sophisticated, but not unapproachable. You can visit Pizza Domenica at one of their three locations: Uptown (4933 Magazine St.), Mid-City (3200 Banks St.), and Lakeview (117 W. Harrison Ave.).
The true pizza aficionado will like the Calabrese with spicy salami, olives, capers, oregano, mozzarella, and tomato sauce or the Tutto Carne pizza with fennel sausage, salami, bacon, mozzarella, and tomato sauce. Vegetarians may prefer the White with ricotta, mozzarella, roasted garlic, oregano, and basil.
3. Pizza Delicious
617 Piety St. (504) 676-8482, pizzadelicious.com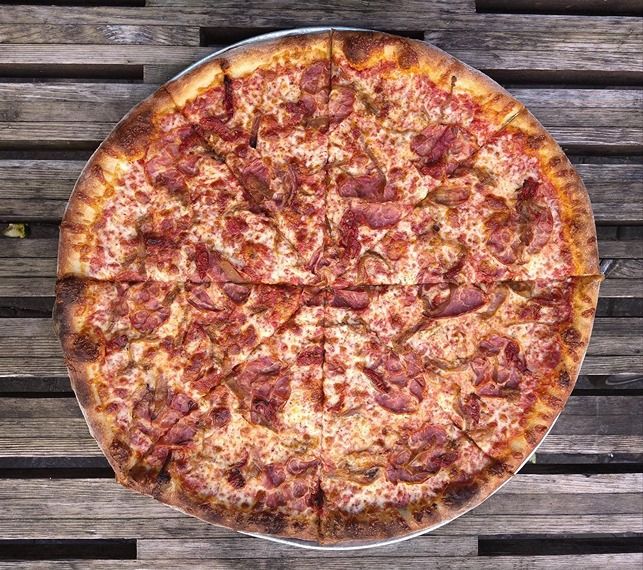 Pizza Delicious, often called Pizza D by the regulars, is a popular Bywater pizza joint for young adults, families with children, and more. You can dine-in, pick-up, get it delivered on bike, or get it delivered in many places throughout the city. The reason this pizza is so well loved is because it's simple, it's quick, and it tastes great.
The New York-style pizza can be ordered as a traditional or specialty pizza (Margherita, Hawaiian, Vegan Arugula), or you can make it your own by adding any topping you want. Don't forget to order a side of garlic knots.
4. Fat Boy's Pizza
Multiple Locations, eatfatboyspizza.com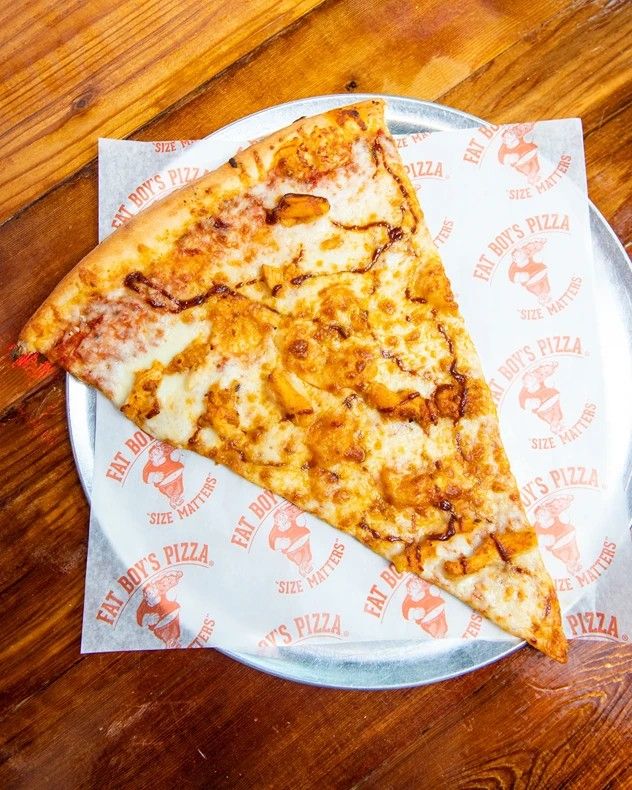 You have been warned: these slices are massive! You seriously may not even be able to finish one of them. An entire large pizza measures 30 inches across. You can visit Fat Boy's Pizza at their Old Metairie location (2565 Metairie Rd.) or the new French Quarter location (714 St. Peter St.) for a huge slice and an ice-cold beer to wash it down.
Fat Boy's Pizza likes to keep their flavors somewhat simple, yet delicious. The Trinity is a wonderful blend of garlic oil, shredded mozzarella, ricotta cheese, and grated parmesan. The Hog is a meatier pie with slow-cooked pulled pork, bacon, hog sauce, red onions, pickled jalapenos, bbq sauce, mozzarella, and cheddar.
5. Tavolino Pizza & Lounge
141 Delaronde St. (504) 605-3365, tavolinonola.com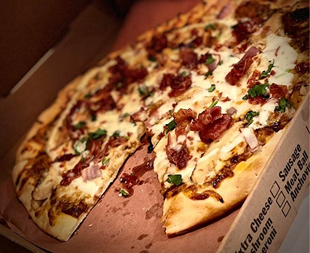 You'll have to drive over the river or take the ferry to Algiers Point to get a taste of Tavolino, and it's absolutely worth it. This restaurant serves authentic pizza with amazing combinations of toppings. Tavolino prefers a thin-crust pizza which can be swapped for a gluten-free crust.
The specialty pizzas are phenomenal. Check out the Red Hot & Blues Pizza with hot salami, gorgonzola dulce, and red onions. The Prosciutto Brie is a masterpiece with sliced prosciutto, mozzarella, brie, and arugula. For all the mushroom lovers, the Funghi has fonduta sauce, roasted mushroom, mozzarella, fontina cheese, truffle oil, and arugula.
6. Ancora Pizzeria
4508 Freret St. (504) 324-1636, ancorapizza.com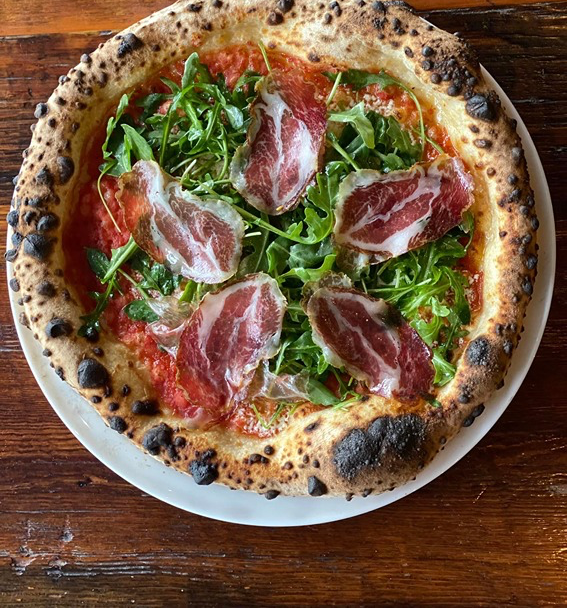 Ancora opened in 2011 just as Freret Street was starting its transformation into the hip, walkable district that we see today. The dough here is special; it does not use yeast and takes three days to make. The Neapolitan pizza oven cooks pizza in less than two minutes because it stays hot: 800 degrees!
The pizzas are traditional; you won't find pineapple, but you will find anchovies. The Enzo Diavola is a spicy pie with tomato sauce, Fior di Latte, double Neapolitan salami, and chili paste. The tomato-free Bianca has Fior di Latte, shaved green olives, capers, garlic, basil, and sweet chilis.
7. Midway Pizza
4725 Freret St. (504) 322-2815, midwaypizzanola.com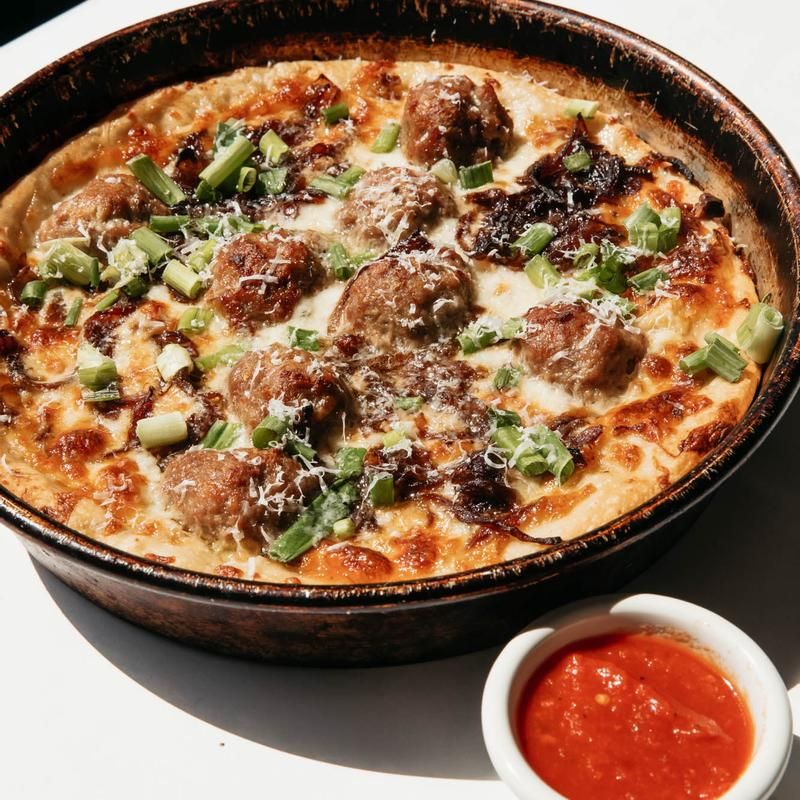 Not everyone likes a very deep-dish pizza, but I do! Midway Pizza is also on the Freret corridor, and it features thick, fluffy pizzas that you can really sink your teeth into. For those who just hate deep dish pizzas, there is an option for thin crust.
The Uptown Meatdown has all the meat and more: pepperoni, sausage, house meatballs, Chisesi Ham, and applewood bacon. The King Creole is a locals' delight with house Creole/Fredo sauce, garlic-marinated Gulf shrimp, and tomato basil relish. The Top Shelf Margarita is not a drink; this pizza has garlic, olive oil, mozzarella, plum tomatoes, basil, and parmesan.
8. NOLA Pizza Co.
3001 Tchoupitoulas St. (504) 272-0618, nolapizzaco.com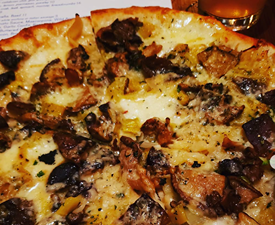 NOLA Pizza Co. is a little bit different than these other pizza restaurants. The pizza joint is located inside of NOLA Brewing Co. The pizza is made with the brewery's high-quality water and 48-hour fermented dough to create the perfect New York-style pizza. A slice or a whole pie goes great with some of the beer here.
The pizza is separated by Reds, Whites, and Sqaures. A Red pizza is the Meatballs, Peppers, and Vodka Sauce Pizza. A White pizza is the Mushrooms, Cream, and Lemon Pizza. A Square pizza is the Vodka Sauce, Pepperoni, and Basil pizza.
9. Zee's Pizzeria
3914 Baronne St. (504) 766-6056, zeespizzeria.com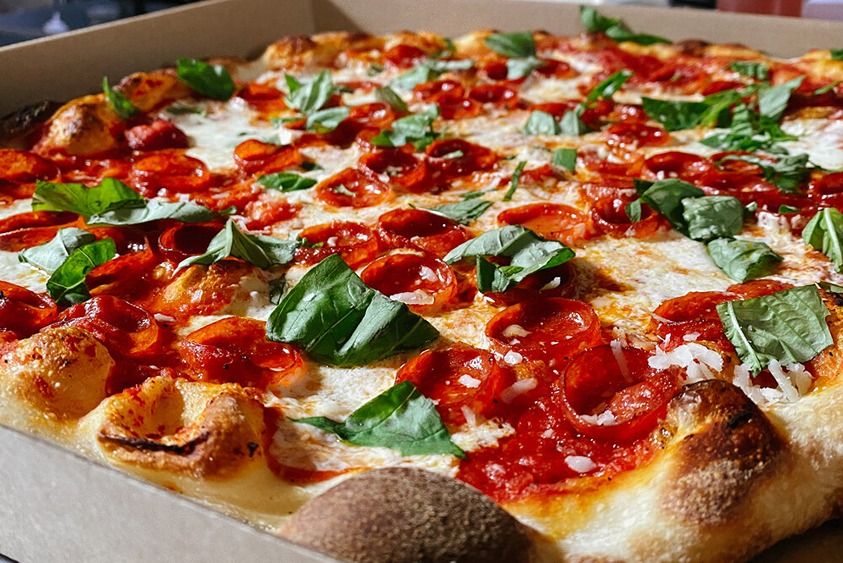 Zee's Pizzeria was born from a life-long love of making pizzas and an opportunity to do a pop-up during the pandemic. Now Zander White is a full-time pizzamaker at his brick-and-mortar restaurant in Uptown.
Be on the lookout for specials, but the standard signature pizzas are not to be forsaken. The Dylan is a simple pie with red sauce, mozzarella, onion, and sausage. The Bye Felicia is a popular pie with red sauce, mozzarella, pepperoni, ricotta, and hot honey. You are welcome to add toppings to customize your pizza; try the Calabrian Chili Emulsion.
10. New York Pizza
4418 Magazine St. (504) 891-2376, newyorkpizzanola.com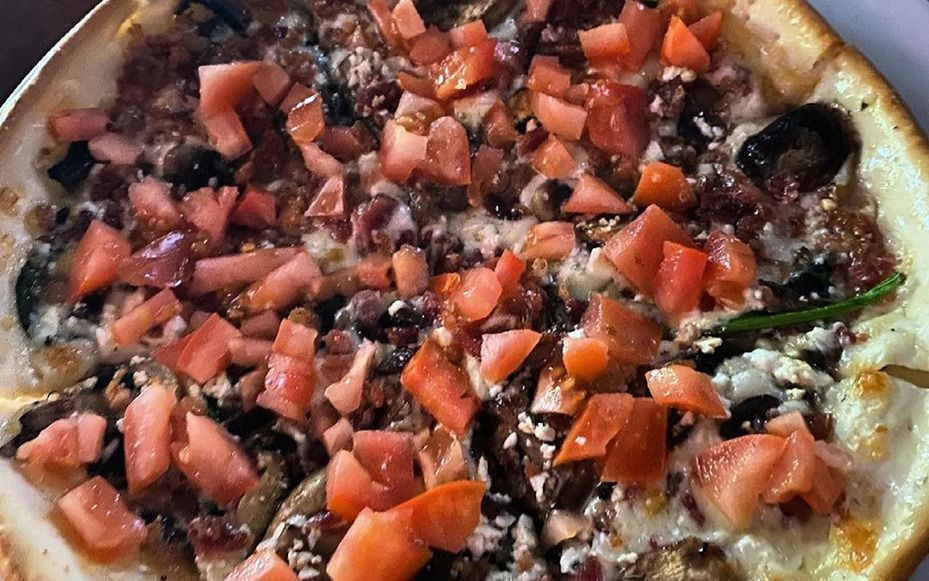 New York Pizza has been serving slices since 1980. In fact, this is the home of the Pint & Slice which is perfect when you need that pizza/beer combo to get the night started off right. If you need something a little bigger, try the specialty pizzas.
The Big Apple Pie is pepperoni, Canadian bacon, onions, mushrooms, black olives, green peppers, Italian sausage, and minced garlic. The Super Big Apple has all of that with the addition of spinach and artichokes. The Queens Pizza is an olive oil-based pizza with spinach, mozzarella, mushrooms, artichokes, and feta cheese.
The Best Pizza in New Orleans
Adding toppings to freshly-baked bread was practiced thousands of years ago, but pizza as we know and love it today was born in Naples as early as the 1500s when the tomato finally made it from the Americas to Italy. The history of pizza is long and fascinating. Pizzas may have been food for the commoners back then, but everyone enjoys pizza now.
What's your favorite pizza in New Orleans? Let us know where to get it!