New Orleans is one of the most unique cities in the U.S. All of the different New Orleans' neighborhoods are beautiful and provide a special glimpse into the city's history. In order to really experience New Orleans, one really has to do an extended stay here in one of the city's top-notch hotels and then head to the hotel bar for a real treat.

10 Best Hotel Bars in New Orleans
The Crescent City offers a wide selection of beautiful hotels to accommodate guests during their stay, and in typical NOLA fashion, many of these hotels offer an impressive drinks menu as well. Who wouldn't want to grab a tasty martini or a classic Sazerac cocktail in a beautiful setting? Check out the 10 best hotel bars in the Big Easy!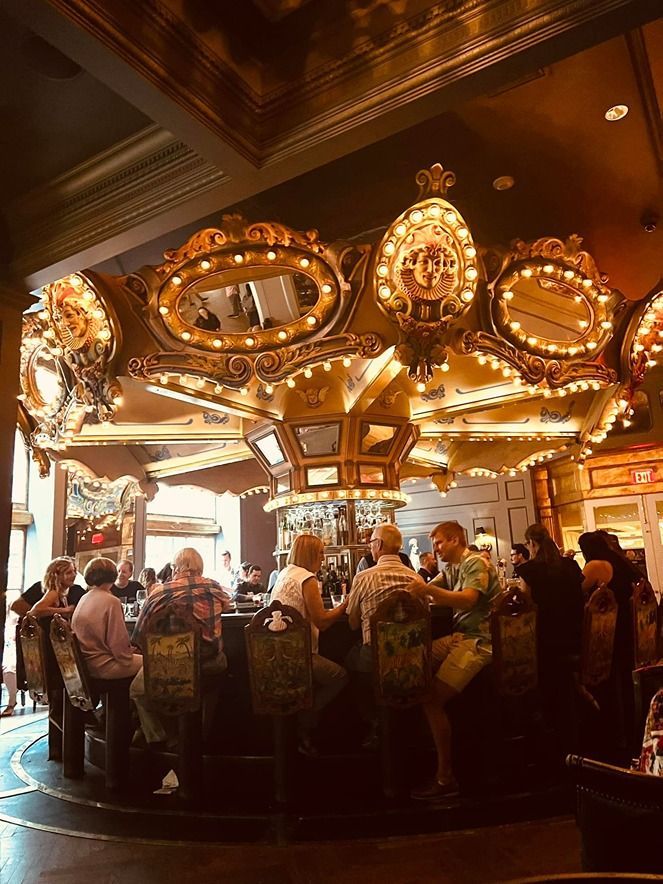 1. Carousel Bar
214 Royal St.
hotelmonteleone.com | (504) 523-3341
The historic Carousel Bar is a lovely establishment located on the first floor of the Hotel Monteleone. This traditional lounge features a spinning carousel that will transport guests to simpler times. In fact, the carousel has been spinning for over 70 years!
Order from an extensive list of cocktails and bar bites while you circle around the restaurant's carousel room. There is live entertainment Wednesday through Saturday, with appearances from a selection of classic bands and artists. Don't miss this once-in-a-lifetime experience.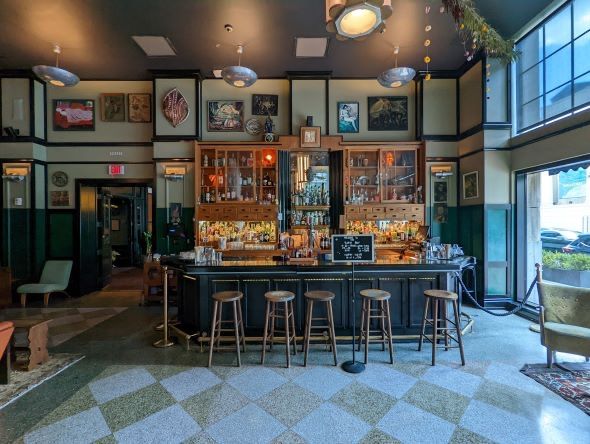 2. Lobby Bar
600 Carondelet St.

acehotel.com | (504) 900-1180
The Lobby Bar is located downtown in the swanky Ace Hotel. It boasts a series of creative cocktails, as well as exquisite wines and tempting refreshers. The bar bites menu includes fresh meat and cheese boards, modern American cuisine, and traditional Cajun favorites.
The Lobby Bar is a French deco-inspired lounge that offers world-class service for its guests. While you're visiting the Ace Hotel, check out their other bars and restaurants, including Josephine Estelle, Seaworthy, Lovage, and Alto.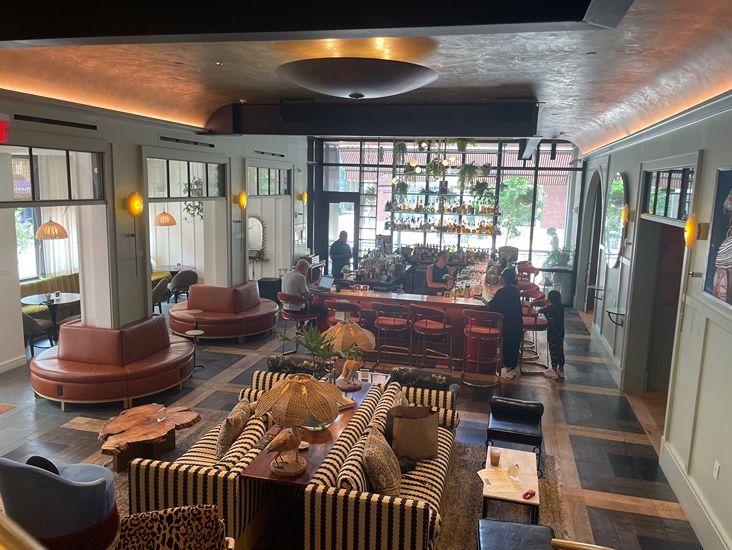 3. Commons Club
550 Baronne St.

virginhotels.com | (504) 603-8000
Located on the ground floor of the Virgin Hotel, Commons Club is a destination where "work and play intermingle." At the Commons Club, you can order from one of three menus: the Kitchen, the Bar, or the Shag Room.
The kitchen offers contemporary American creations that are completed using the freshest ingredients. The bar menu displays a long list of innovative cocktails and outstanding live entertainment. Finally, the Shag Room is a luxurious, yet private, space for groups to enjoy throughout the day and night. Visit the Commons Club downtown!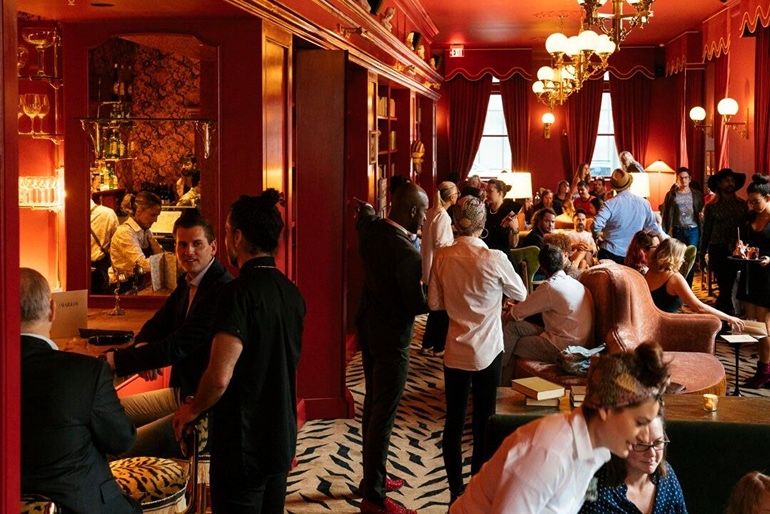 4. Bar Marilou
544 Carondelet St.

barmarilou.com | (504) 814-7711
Bar Marilou is a part of the Maison de la Luz hotel in the Warehouse District. The hotel and bar are decorated in a traditional French style with French food and drinks. You can enjoy Bar Marilou any day or night, or join from 4 p.m. to 6 p.m. for happy hour.
Bar Marilou also hosts live music and private events. Call to reserve a space for your occasion or large party. Check out @barmarilou on Instagram for the latest updates on events, live music, and more!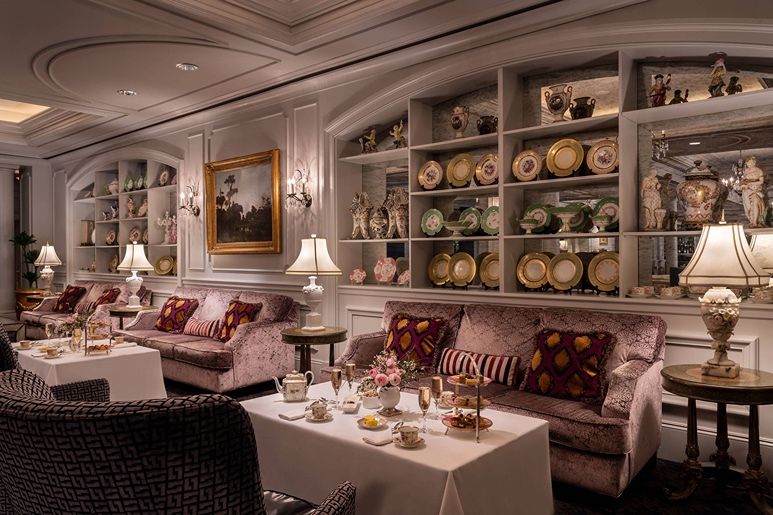 5. Davenport Lounge
921 Canal St.

ritzcarlton.com | (504) 524-1331
Named after famous jazz musician Jeremy Davenport, Davenport Lounge is an esteemed bar in the heart of the Ritz-Carlton Hotel. It has a wide range of signature cocktails, wines, and beers, as well as elegant eats for the table. Guests can enjoy live music from the hotel's resident musician Wednesday through Saturday.
Davenport Lounge also serves afternoon tea on weekends with a selection of teas, sandwiches, scones and desserts. Reach out to the Ritz-Carlton for reservations and more information.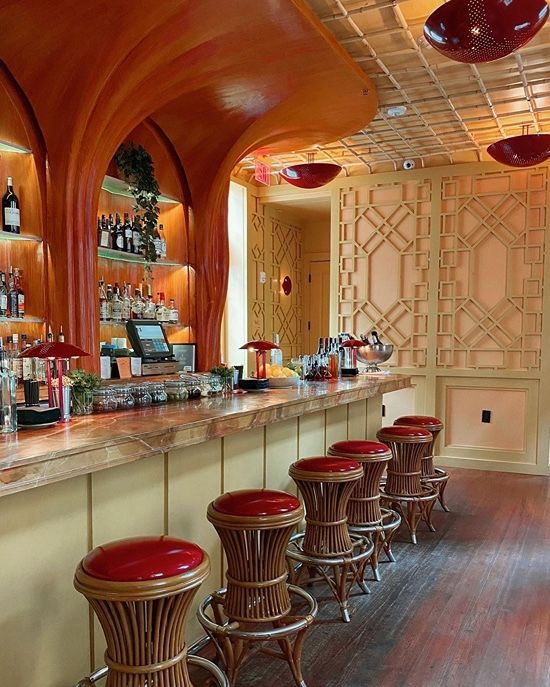 6. Elysian Bar
2317 Burgundy St.

theelysianbar.com | (504) 356-6769
The Elysian Bar is located in the heart of the Marigny at Hotel Peter and Paul. It sits inside the beautiful Saint Peter and Saint Paul Church at the corner of Burgundy and Mandeville. The bar is named after the location and blissful feeling of the classic Elysian Fields myth. It has an expansive menu selection with cocktails, classics, wines and beers.
The in-house restaurant is open for breakfast, brunch, and dinner every day. Choose between the Rectory's Courtyard and French terrace, the timeless side chapel cafe, the "jewel box" bar, several cozy parlors, a vintage and luscious atrium, or the lovingly restored private church.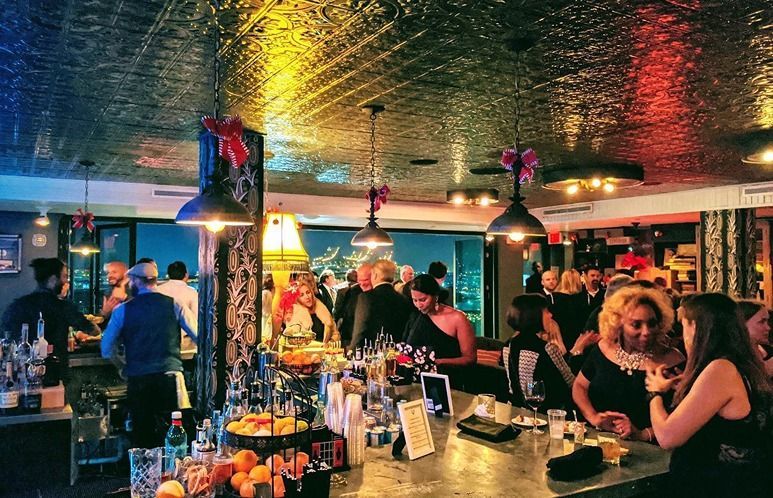 7. Hot Tin
2031 St. Charles Ave.

hottinbar.com | (504) 323-1500
Hot Tin, once a traditional penthouse, is now converted into a rooftop bar, just off of the historic St. Charles Streetcar line. It is a part of the Pontchartrain hotel in the Garden District. The rooftop reveals a charming view of downtown New Orleans and the Mississippi River. The bar opens every day at 2 p.m. and welcomes guests late into the night.
The rotating menu displays a series of seasonal specials, as well as in-house wine, beer, and cocktail experiences. You can also reserve the space for a private event or celebration. Don't miss out on stunning views and a chic atmosphere.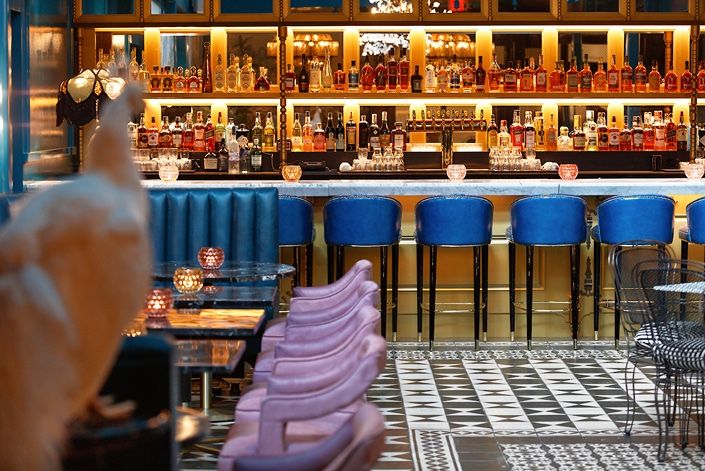 8. Peacock Room
501 Tchoupitoulas St.

peacockroomnola.com | (504) 324-3073
The Peacock Room is a fanciful New Orleans bar located within Hotel Fontenot on Tchoupitoulas Street. The atmosphere is classically Southern with bright patterns and bold strokes. The bar is best known for its handcrafted cocktails and unique menu selection.
The Peacock Room books live music and events every week, as well as "Jazz" and "Birds of a Feather" brunch every weekend. For private dining and extra-memorable experiences, tour available rooms at the Peacock Room website or call for more information.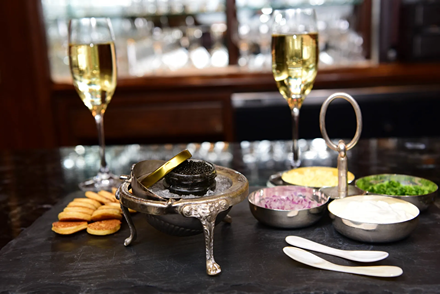 9. The Polo Club Lounge
300 Gravier St.

windsorcourthotel.com | (800) 262-2662
The Polo Club Lounge sits inside of the Windsor Court Hotel. It is modeled after a private English club with dark woods and leather furniture. The lounge's menu boasts one of the largest cognac collections in the city of New Orleans.
Come every night for live entertainment. John Royen and David Boeddinghaus play classical numbers on the piano from 6 p.m. to 10 p.m. daily, and songstress Robin Barnes performs on Friday and Saturday nights. Check out the Polo Club Lounge website for exclusive offers and packages to stay and drink.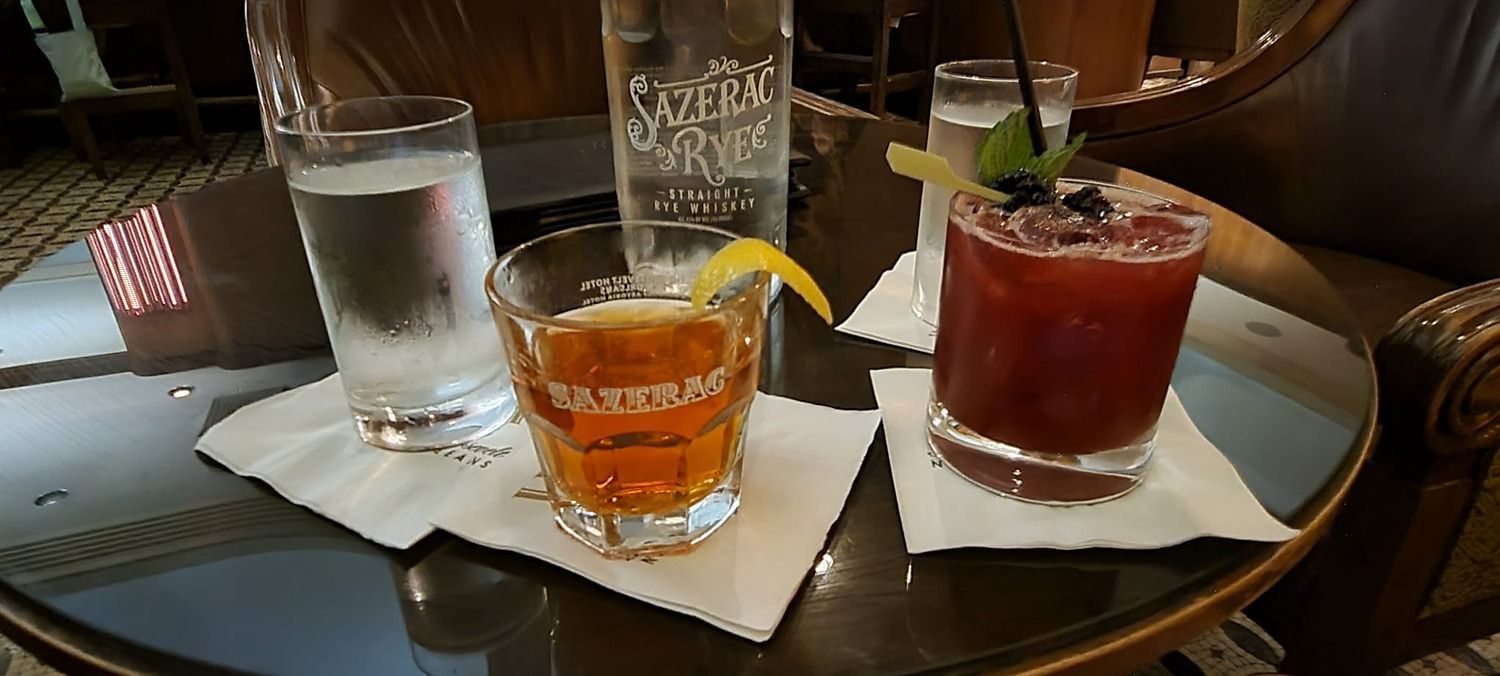 10. The Sazerac Bar
130 Roosevelt Way

localhotelsite.therooseveltneworleans.com | (504) 648-1200
Located inside the Roosevelt Hotel, The Sazerac Bar is a traditional cocktail lounge that has been enchanting guests for decades. The architecture and design of this bar are not to be missed. The bar was named after the world's very first mixed drink and continues to show off the history that its walls hold.
The Sazerac Bar is open daily until 1 a.m., allowing guests plenty of time to enjoy their cocktails and conversations. The bar also hosts special events and private parties. Don't skip this timeless destination!
Have a Cocktail at these New Orleans Hotel Bars

What better place to do your drinking than in the city that is supposedly the birthplace of cocktails? Whether it be a Sazerac or one of the many other cocktails that were created in New Orleans, you can't go wrong with any of the fabulous hotel bars that help class up the Crescent City. Get a group of friends together and try to hit as many of these bars as you can. Enjoy!