The Cocktail
Today, we know the cocktail to be a spirit mixed with other ingredients. These ingredients can include anything from bitters to juices to sodas to a blend of other spirits. Usually, the cocktail is graced with a garnish and, if done correctly, it should be aesthetically pleasing.

Originally, the cocktail only referred to a specific blend that included alcohol, bitters, sugar, and water—a drink that we know today as an "Old Fashioned." The history of the cocktail is one filled with mystery. And as we all enjoy a variety of cocktails today, it has been hard for researchers to pinpoint when and where cocktails were created. Nevertheless, one thing is for sure: New Orleans is a part of that history and has played a major role in creating some of the most popular cocktails around.
The Name
There are so many stories and theories about the origin of the name "cocktail," but none have actually been proven as the legitimate original. While locals would like to believe the story that relates to Antoine Amédée Peychaud of New Orleans, there are several other stories that tell a tale of the cocktail.
Let's start with the story of Betsy Flanagan, who was an innkeeper in the northeast during the 1770s. As the legend goes, Flanagan garnished her drinks with the feathers of a stolen Englishman's chicken during a nightcap with a few French and American soldiers residing there. As a tribute to her, the men would yell, "Vive le cocktail!" as they toasted and drank the night away. While this story presents a plausible origin, there is no proof Betsy Flanagan ever existed.
Another popular tale was published in 1956. This story speaks about English sailors who were served drinks in a Mexican tavern. The drinks were stirred with a fine, smooth, slender root of a plant. This root was called "cola de gallo," which roughly translates to cock's tail. Yet again, no verified proof.
Which brings us back to Peychaud, the French-Creole apothecary who created bitters in New Orleans. While originally creating the bitters to soothe stomach ailments, Peychaud was known to mix those bitters with brandy, serving them in an "egg-cup" known by its French name, coquetier. As the story goes, locals began to commonly refer to the drink as a "cock-tay," but when they were drunk, that "cock-tay" was slurred into "cocktail."
While the history of Antoine Amédée Peychaud is indeed true, the theory that the term cocktail originated in New Orleans actually stems from the 1930s book titled Famous New Orleans Drinks and How to Mix 'Em. The only problem with this theory is that, apparently, Peychaud didn't start mixing his bitters until the 1850s, which is likely after the term cocktail was created.
Nonetheless, Peychaud played a major role in the birthing of the modern cocktail and is famous for the "Official Cocktail of New Orleans": the Sazerac.

Our Cocktails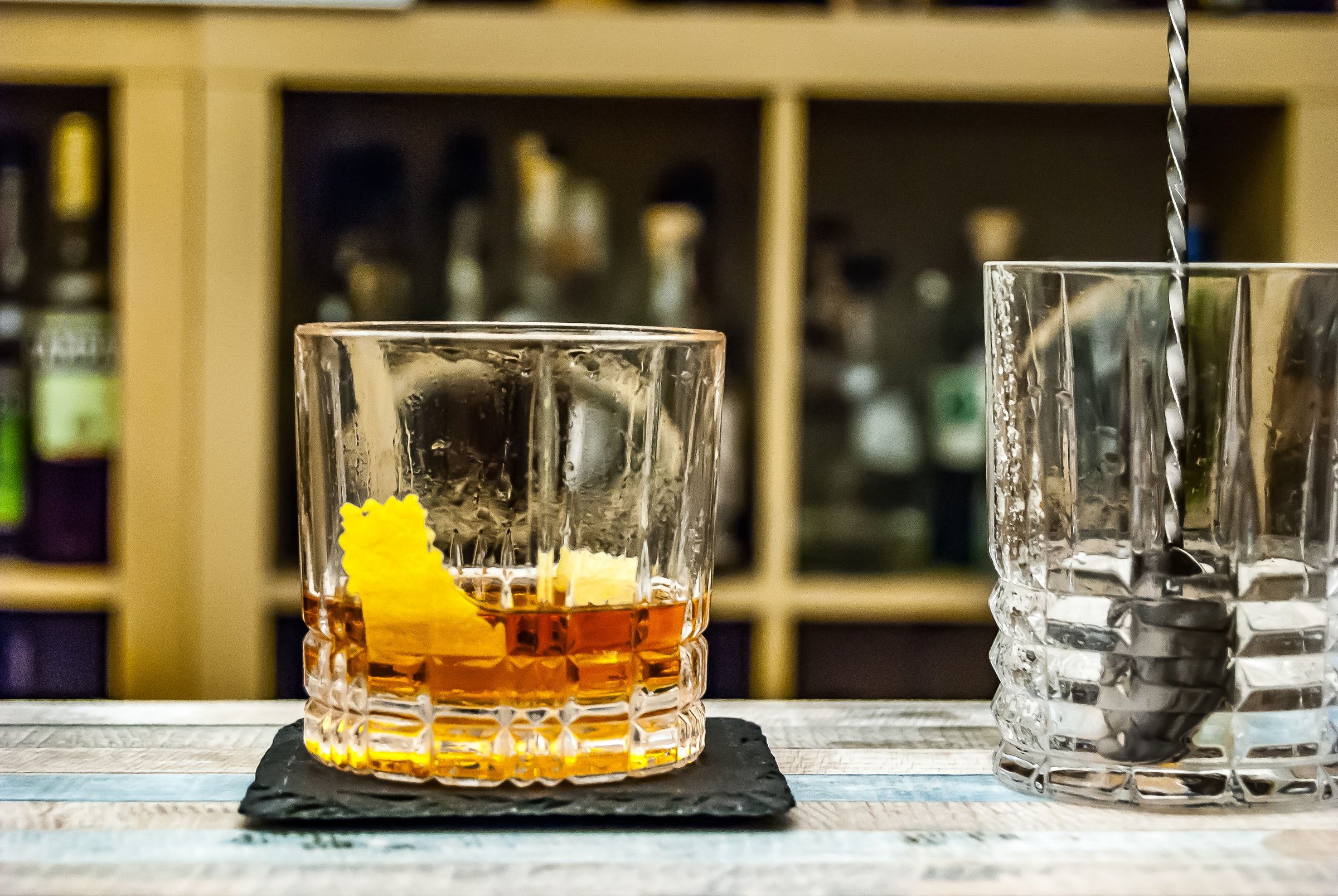 While the Sazerac is known as the official cocktail, it is surprisingly not the best-known drink in New Orleans. As visitors arrive in the Big Easy, they typically have one drink in mind, and that drink is a Hurricane cocktail from Pat O'Brien's. Named for those unpredictably strong cyclones, the drink itself was created in the 1940s and is also strong and unpredictable. While sweet in taste, the abundance of rum inside can certainly hit you like the wind force of a Category 1 hurricane.
Another favorite local beverage is the French 75. The traditional mixture of gin, champagne, lemon juice, and sugar served in a champagne flute is one of the city's more bourgeois beverages. If brown is more your style, substituting the gin for cognac is also popular.
While keeping it fancy, let's move on to the "Vieux Carré." Created in 1938, this drink is effortlessly built with part whiskey, part cognac, vermouth, and an assortment of bitters.
Another favorite is the Brandy Milk Punch. This blend of brandy, milk, sugar, and spices allegedly grew in popularity due to its medicinal purposes. But after being perfected by Brennan's Restaurant, the drink has become a local favorite.
As for the many cocktails of New Orleans, none causes as much frustration to the bartender as the Ramos Gin Fizz. Created in the 1880s, this frothy beverage mixes a dry gin with lemon juice, lime juice, orange flower water, sugar, milk, and egg whites. But all of the ingredients aren't the most frustrating part of this drink—it's the endless shaking to get that perfect fizzy, frothy look and taste.
In this city that cherishes its alcohol, there are several other cocktails that are loved by both tourists and locals. There's the Creole Bloody Mary, the Mint Julep, the English Pimm's Cup, and one cannot forget the Bourbon Street staple, the Hand Grenade. Not to mention, New Orleans is also known to have the best and strongest frozen daiquiris around.
While some of these cocktails were made in the city and others were adopted and adapted, New Orleans's relationship and history with cocktails is simply unmatched. Originally, the cocktail was known as a before-dinner drink, and it is still a connector for people to drink, enjoy, mingle, and come together. But here in New Orleans, the cocktail is that and more. It's an experience, a lifestyle, and, most importantly, although there is still a bit of mystery, it is a part of our history.