What we currently know as Middle Eastern food is cuisine that hailed from countries like Egypt, Turkey, Lebanon, Israel, Iran, Iraq, Armenia, and more. The dishes that have been cultivated over hundreds of years have been influenced by trade routes between North Africa, Europe, and Asia, leading to rich flavors from exotic spices. You will often taste spices and herbs like clove, turmeric, peppercorn, and allspice in Middle Eastern food; those spices were highly valued for the lengths they had to travel across the world to make it to your plate.
You don't have to go too far these days to find fantastic Middle Eastern food. Falafel, gyro, shawarma, Turkish coffee, and more; it can all be found right here! In New Orleans, there are several restaurants that have menus full of dishes that range from highly traditional to quite contemporary.
Where To Go For Middle Eastern Food in New Orleans


1.

Lebanon's Café
1500 S. Carrollton Ave., (504) 862-6200, lebanonscafe.com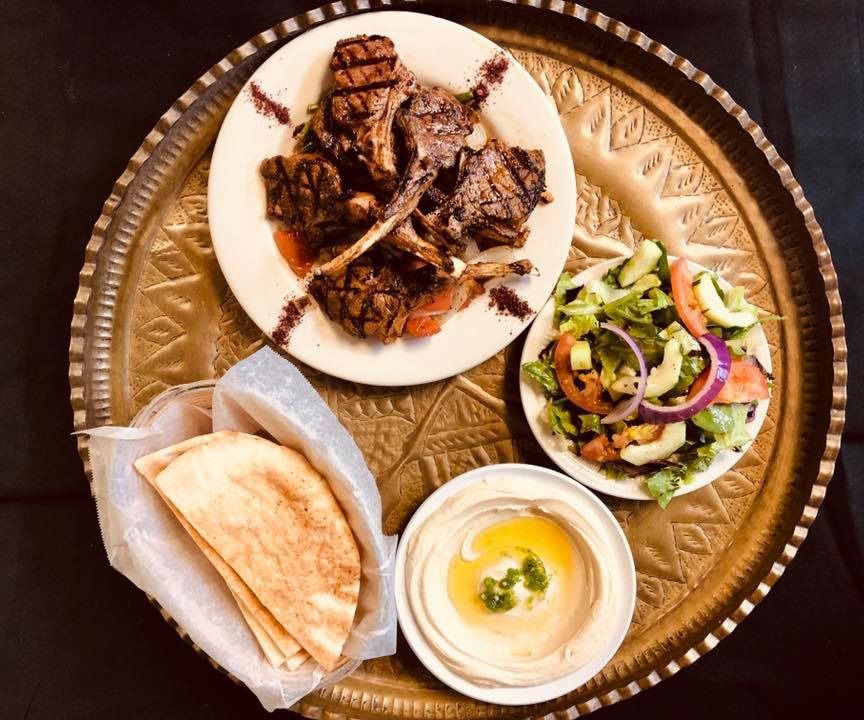 For over 20 years, Lebanon's Café has fed their customers delicious Middle Eastern fare from the corner of Carrollton Avenue and Oak Street. Lebanon's Café is especially proud of their homemade tzatziki dip, which can complement any dish with its light, herbaceous flavor.
Those who can't decide between dishes may want to get the Chef Special, which features hummus, baba ganuj, labna, tabouleh, falafel, and vegetarian grape leaves. Meat-lovers will want to look further down the menu at the large variety of kabobs and shawarma. The Beef Shawarma is slices of beef marinated in red vinegar, Worcestershire sauce, garlic, and Middle Eastern spices.
2.

Shaya
4213 Magazine St., (504) 891-4213, shayarestaurant.com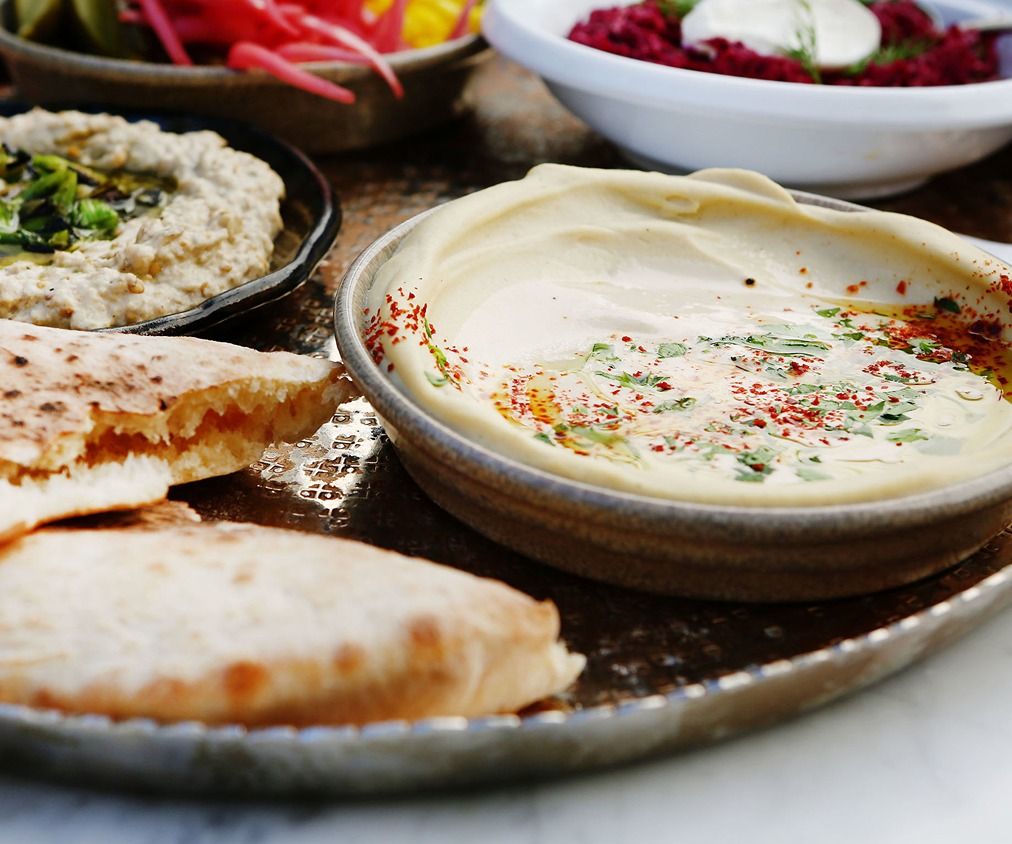 Israeli cuisine meets Southern food at Shaya, and some dishes get an extra helping of flavor when they go into the wood-fired oven. Start your meal with hummus for the table. You can select between the Cauliflower, Fried Chicken, Lamb Ragu, Tahini, or Mushroom Hummus.
The small plates are great for mid-meal snacking. The crispy halloumi, falafel, and fattoush salad are wonderful, light options. Then go for the large plates; the slow-cooked lamb with date molasses, whipped feta cheese, pecans, and tabbouleh is a crowd favorite. Or try the Gulf shrimp kebab for a totally new take on locally-sourced shrimp.
3. Saba
5757 Magazine St., 504-324-7770, eatwithsaba.com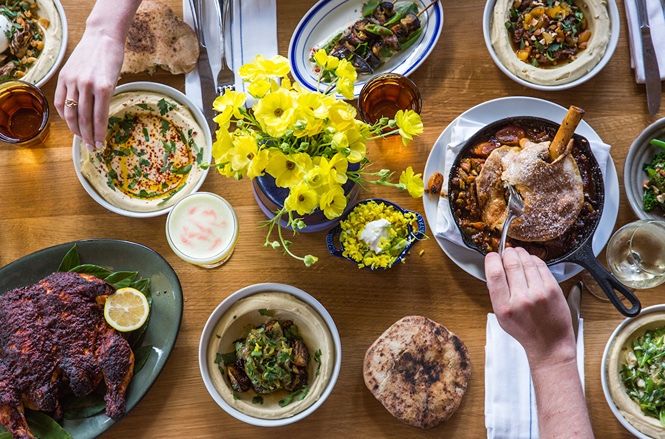 Dining at Saba, an award winning Mediterranean and Israeli restaurant, is truly an experience. From their main dining room, outdoor patio, and new lounge area, you are in for a treat when you arrive. Even the pita bread is a reason to make the trip. The hummus options range from Louisiana blue crab hummus to Brussel sprout hummus, as well as spicy lamb ragu.
The appetizers, snacks, soups, and salads are all unique and delicious. The main courses are exquisite in taste and presentation as well. Try dishes like duck breast, chicken schnitzel, lamb kofta, and foie gras at this amazing Uptown restaurant. Saba also offers an awesome weekend brunch and creatively crafted cocktails.
4.

Tal's Hummus
4800 Magazine St., (504) 267-7357, talshummus.com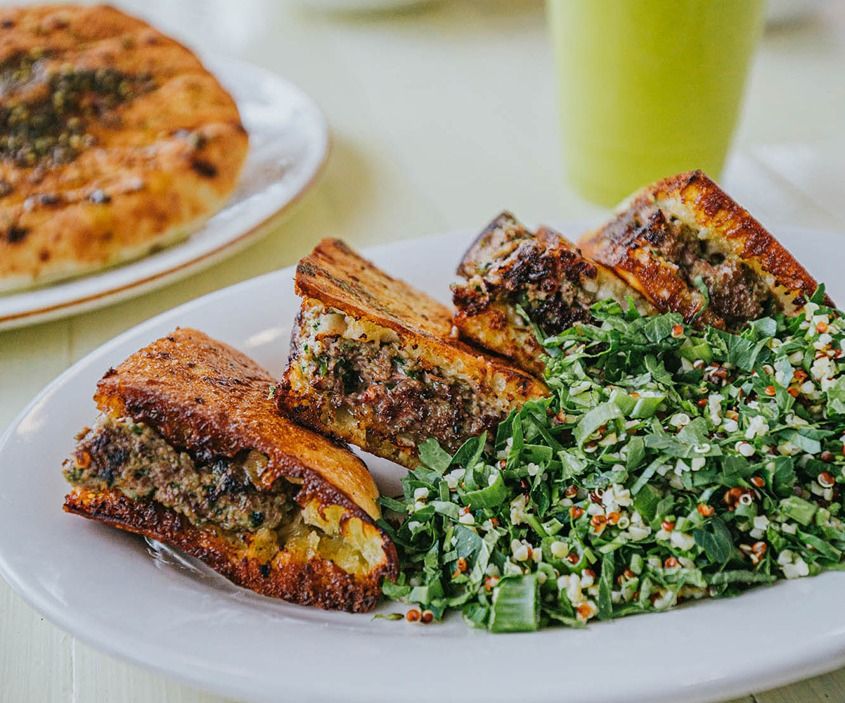 This hummus lives up to the hype! Tal's Hummus has a focus on quick service Israeli-inspired street food, which makes it great for lunch, a mid-day snack, or grabbing a filling dinner before bar-hopping through Uptown. Tal's is open daily from 11 a.m. to 10 p.m. for your convenience so that you can get that pita sandwich, kebab platter, or even a plate of Tal's Fries whenever you're hungry.
The Mixed Grill Platter is a huge helping of grilled beef kabob, Mediterranean grilled chicken, and chicken shawarma with hummus, grilled vegetables, fries, Israeli salad, pickles, and your choice of two white or wheat pita.
5.

Saj
4126 Magazine St., (504) 766-0049, sajnola.com

Saj has a small, but mighty menu of Middle Eastern/Mediterranean fare, and they have a lovely Turkish Coffee Service that you can enjoy at the end of your meal. The lunch platters are a great deal; the Gyro Lunch Platter includes a delicious gyro sandwich, hummus, saffron rice, and house salad, and Saj bread.
For dinner, you'll want to check out the mashawi wood-fire grilled plates. Vegetarians will prefer the Grilled Vegetables with the chef's selection of seasonal vegetables. The Moroccan-style petit snapper sits on chickpea tomato stew with Middle Eastern spices.
6.

Shawarma on the Go
3720 Magazine St., (504) 269-6427, shawarmaonthego.com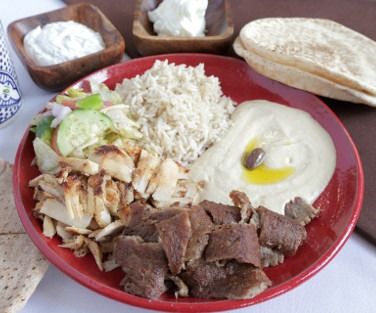 You can find Shawarma on the Go inside of the Jetgo Gas Station on Magazine Street. While the base of the dishes are Middle Eastern, there are influences from all over the globe including New Orleans flavors. The sandwiches and wraps are the most beloved menu items, and everyone can find one that they'll like.
The Gyro Philly is gyro meat, onion, bell pepper, mushrooms, provolone cheese, and homemade garlic mayo on French bread. The fried halloumi cheese wrap is stuffed with halloumi cheese, pickles, lettuce, tomatoes, onions, bell pepper, hummus, baba ganoush, cucumber, and kalamata olives.
7.

Anatolia Mediterranean Cuisine
3100 Magazine St., (504) 249-5454, anatolianeworleans.com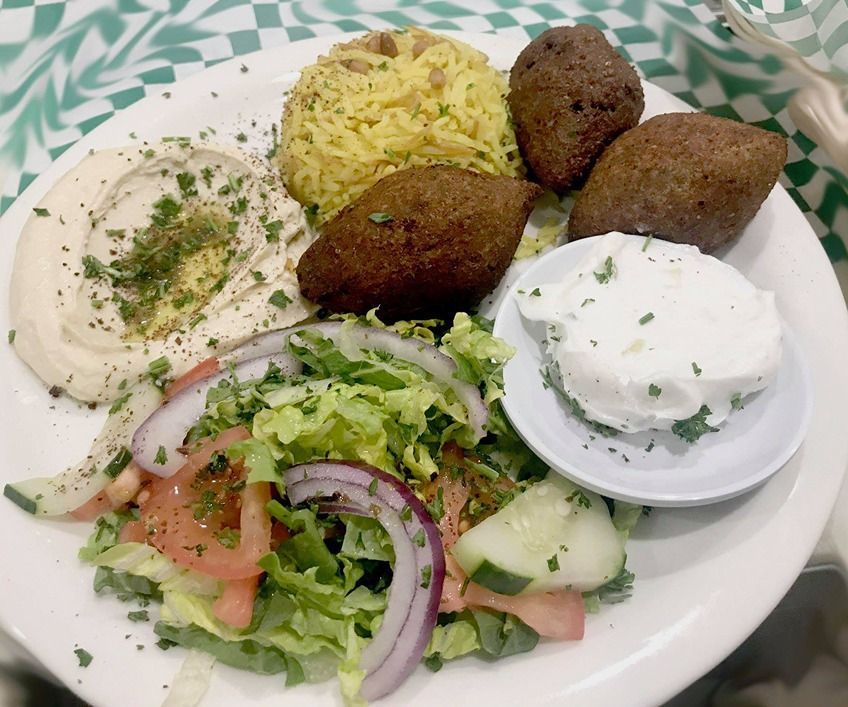 The wraps, apps, and salads are great at Anatolia, but the massive platters are unreal! All of the entrée plates are served with hummus, salad, rice or bulgur pilaf, and you simply have to choose your protein or veggies. The House Special is perfect for those who want to try a few things. This plate contain beef and lamb kufta with parsley, pine nuts, and house specialty spices.
The Veggie Plate has falafel, grape leaves, baba ghanouj, and spinach pie. Or try the Triple Plate with a combination of chicken shawarma, beef shawarma, and gyro. Save room for some baklava for dessert!
8.

Cleo's Mediterranean Cuisine
Multiple Locations, cleos-mediterranean-cuisine.business.site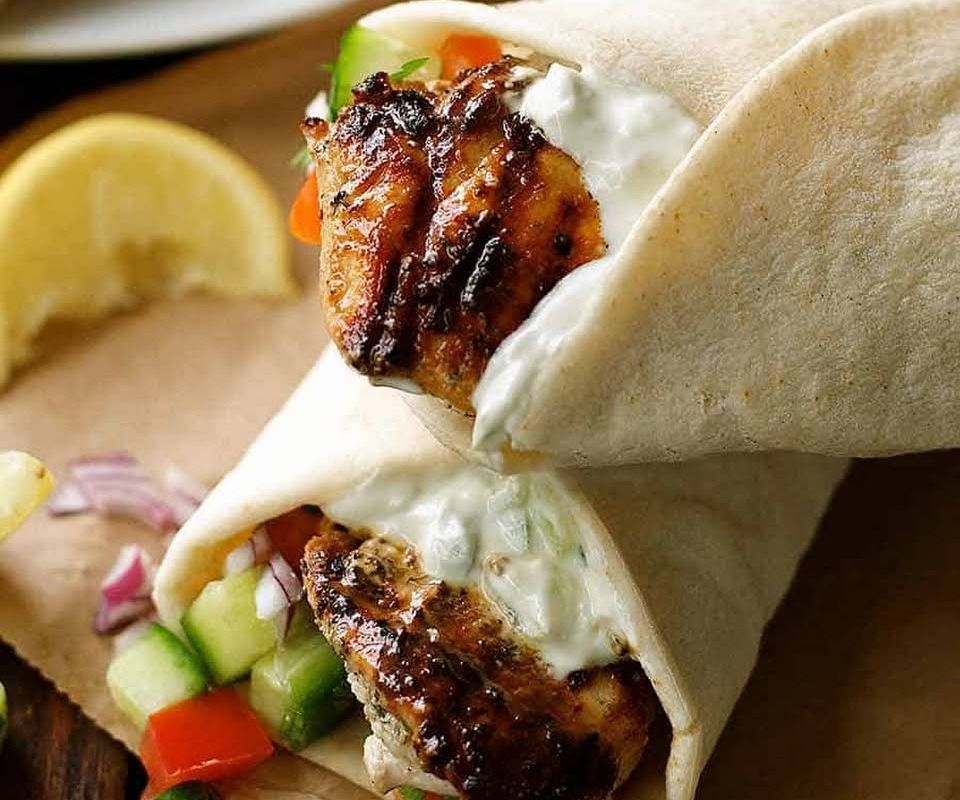 Cleo's has been around for a long time. It's a favorite with locals who love that their original location is open 24 hours, great for service industry folks and late-night revelers. The flagship location (940 Canal St.) happily serves guests around the clock. The entrée items are mostly consist of vegetarian and seafood plates.
The latest restaurant (117 Decatur St.) is a gorgeous dine-in restaurant with decadent décor and an exciting menu of vegetarian, seafood, and meat-forward entrees. Cleo's in the French Quarter is open for lunch and dinner from 11 a.m. to 10 p.m. Wednesday through Sunday.
9.

Pyramids Café
3149 Calhoun St., (504) 861-9602, neworleanspyramidscafe.com

Where Y'at Magazine crowned Pyramids Café the Best Mediterranean Restaurant in town in 2013 and 2015. It's obvious why this nearly 20-year-old restaurant is such a hit. Their authentic Mediterranean fare is tough to beat when it comes to flavor and freshness.
There are tons of options for entrees: chicken kebab, gyro plate, hummus with lamb, meat grape leaves plate, vegetarian plate, etc. The sandwiches are popular for those coming in for a quick lunch: beef shawarma sandwich, chicken kabab sandwich, eggplant sandwich, etc. The regulars will recommend getting a yogurt salad with cucumber for an appetizer.
10.

1000 Figs
3141 Ponce De Leon St., (504) 301-0848, 1000figs.com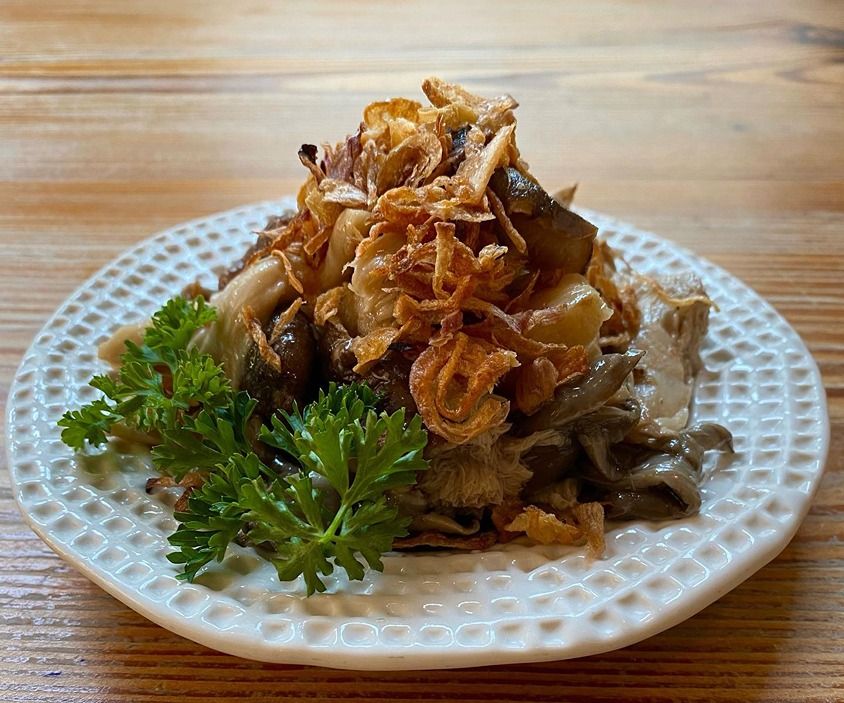 Light, refreshing, and hip are the words that best describe 1000 Fig's restaurant interior. The food may also be described using those adjectives. 1000 Figs takes inspiration from traditional Middle Eastern food, but the dishes are reimagined into something more contemporary.
The Falafel Fest is perfect for a table with at least two people. The feast has falafel, hummus, baba ghanouj, tzatziki, pickled veggies, kale and cabbage salad, seasonal vegetables, tahini, zhoug, toum, and bread. You can add chicken, brussels sprouts, charred scallion whipped feta, or even fries for a few dollars more.
The Best Middle Eastern Restaurants in NOLA
Stuffed sandwiches, richly-seasoned meats, and dips galore: these local Middle Eastern restaurants are sure to satisfy your cravings! If you would like to imbibe during dinner, it's best to check the restaurant's website to make sure that they have spirits on the menu or if they allow spirits to be brought in (possibly with a corkage fee).
Did we miss the best Middle Eastern food in New Orleans? Let us know what it is!