The traditional food of India is so rich because its history is rich. Over the course of thousands of years, dishes like curry, tandoori, and masala were created and perfected. Spices like turmeric, cardamom, and black pepper were used in this area by 3000 BCE. There are usually plenty of vegetarian options at Indian restaurants today because Hindus do not generally consume beef.
We are lucky in New Orleans to have several Indian restaurants serving very traditional to contemporary Indian food. These are considered to be the very best Indian restaurants in New Orleans to expand your culinary horizons.
Where to Get Indian Food in New Orleans
1.

Saffron NOLA
4128 Magazine St. (504) 323-2626, saffronnola.com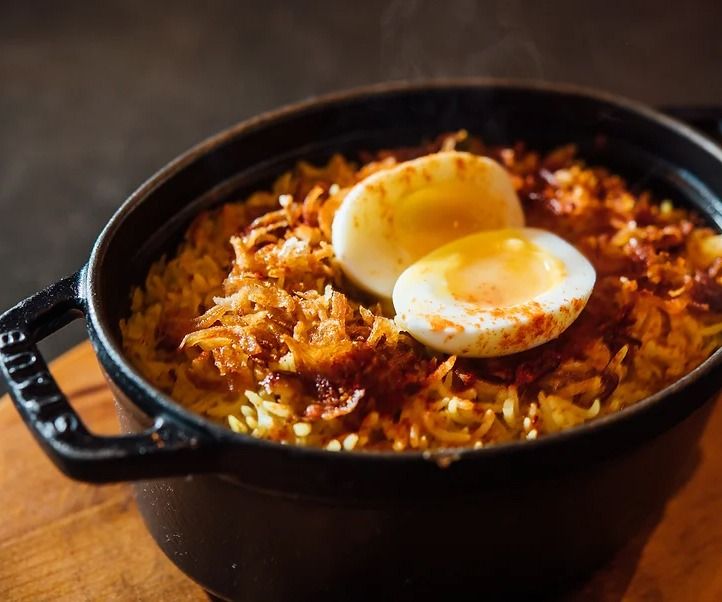 Saffron started off as a catering company then started doing pop-up restaurants around the city before finally opening a full-fledged restaurant on Magazine Street. They quickly received a nomination for Best New Restaurant by the James Beard Awards in 2016. It's easy to see why Saffron NOLA is one of the top restaurants for Indian food in town when you take a look at the dinner menu.
Start off with small plates like the Bombay Shrimp (herb and spice-crusted Gulf shrimp in remoulade) or Crab Pudha (lentil pancakes topped with lump crabmeat, date-tamarind chutney and mint chutney). Your main dish can be something flavorful and traditional like the Goat Masala, Chicken Biriyani, or Pork Vindaloo.
2.

Nirvana Indian Cuisine
Multiple Locations, nirvananola.com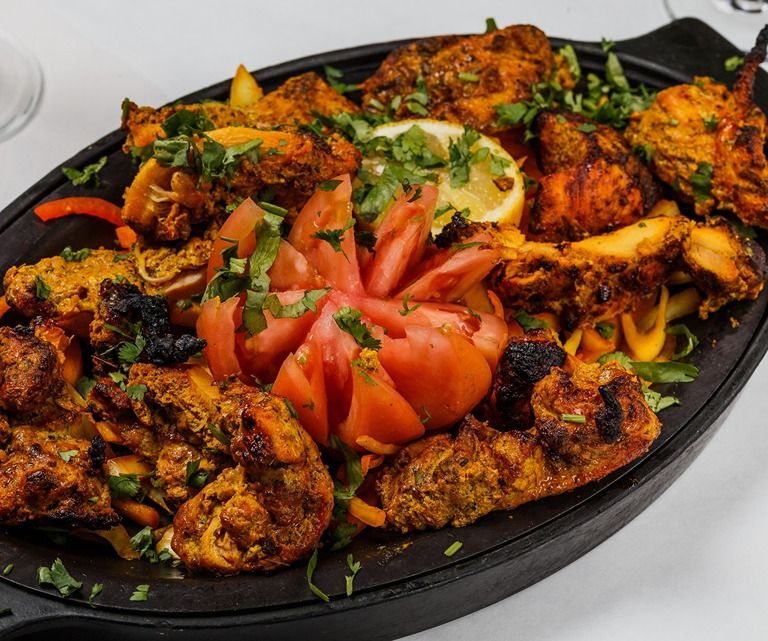 Nirvana has been serving New Orleanians excellent, authentic Indian food since 1999. This is the sister restaurant to the Keswani Family's first restaurant Taj Mahal on Metairie Road (which is on this list as well). Diners absolutely love the lunch buffet which is available from 11:30 a.m. to 2:30 p.m. Tuesday though Sunday.
When you come back for dinner, the large menu definitely has something (or several things) for everyone in your family. The Chicken Tikka Masala is a classic. The Flag of India is a big plate with butter chicken, malai kebab and creamy sauce, and saag paneer. The colors of the food represent the colors of India's flag!
3.

Mantra Indian Cuisine
3116 S I-10 Service Rd. (504) 766-8004, mantracuisine.net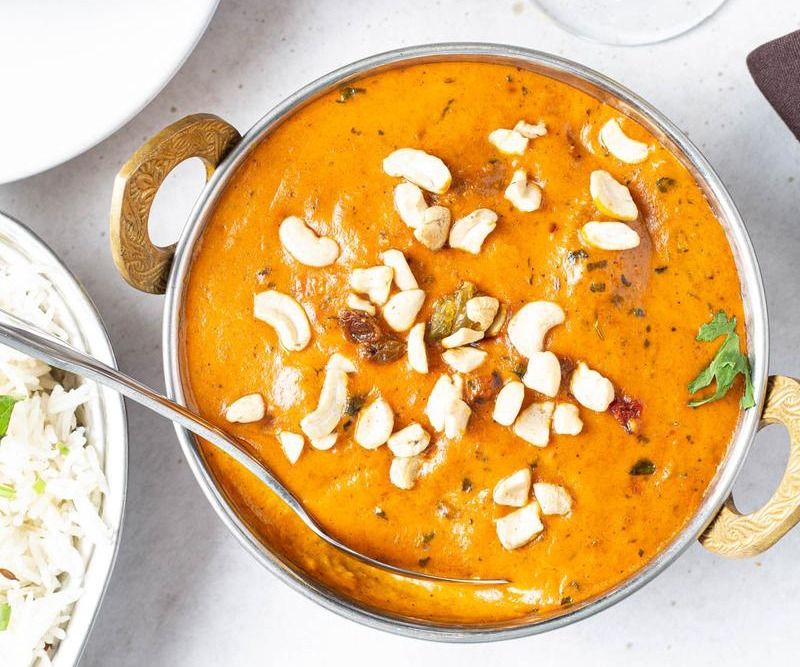 Mantra sits on the southeast corner of the intersection of Causeway Blvd. and I-10. This gem of a restaurant can be a little difficult to find at first, but it contains some of the best Indian you can find. The menu is so big that it can be intimidating, but you can start off by choosing the meat (or not) that you prefer, choosing your spice level, then going from there.
The Garlic Mushroom or Tofu Masala are great for someone who prefers vegetarian food. The Mango Chicken is an adventurous dish with mango sauce-cooked boneless chicken. The Saag Shrimp is cooked in spinach and special sauce.
4.

Aroma Indian Cuisine
401 S Claiborne Ave. (504) 766-6916, facebook.com/aromaindiancuisinenola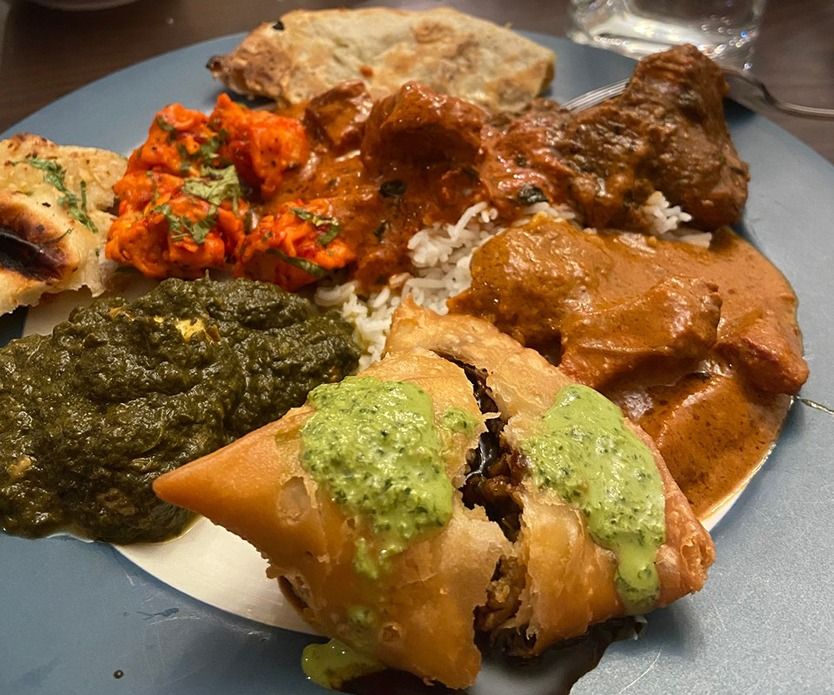 Aroma Indian is a great spot to eat if you're in the CBD/Warehouse District or even the French Quarter. You can find the quaint eatery where Gravier St. meets S. Claiborne Ave. very close to the interstate. The interior has richly dark walls lined with colorful art and lit by crystal chandeliers. As soon as you get the menu in your hand, you'll see a lot of traditional Indian dishes and a few fusion favorites.
The Chili Chicken appetizer of spicy fried chicken and bell peppers will whet your appetite. The Lamb Boti Kabab is marinated in yogurt, ginger, and garlic paste. The Chili Mushroom vegetarian entrée is stir-fired mushrooms with cabsicum and chili sauce.
5.

Plume Algiers
1113 Teche St. (504) 381-4893, plumealgiers.com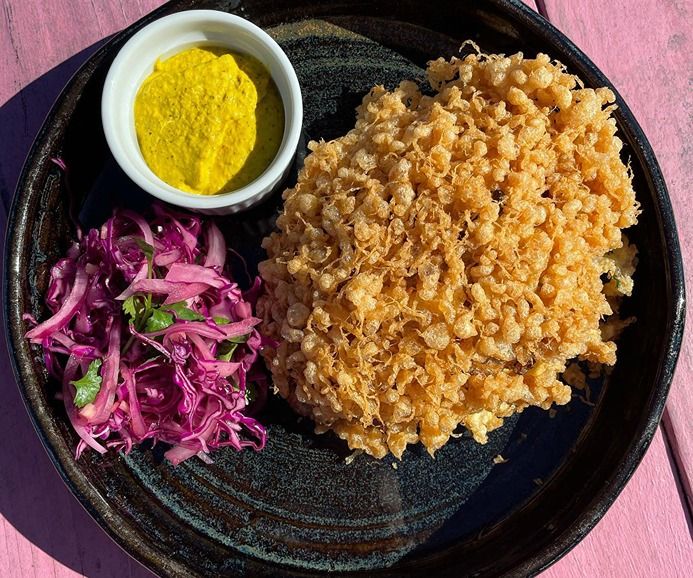 Plume specializes in innovative dishes rooted in Indian traditions, and it feels like you're dining right in Tyler Stuart and Merritt Coscia's house. That's because you are! Tyler and Merritt live in the back part of the building that houses their restaurant. The fare is truly one-of-a-kind, and the offerings can change based on what ingredients are available.
The Afghani-Style Half Chicken is tandoori chicken, cashews, and chaat with masala seasonings. The Shukto is a thick roasted vegetable soup with poppy seeds, sweet potato, bitter gourd, eggplant, and plantain. The Chili Baby Corn is great for sharing.
6.

Tava Indian Street Food
611 O'Keefe Ave. (504) 766-9612, tavanola.com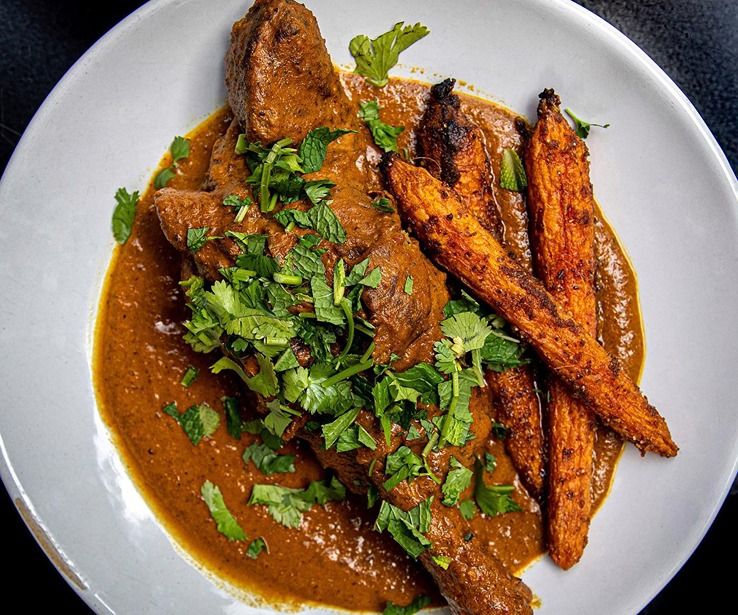 Tava is a wonderful spot for a quick, but satisfying lunch in the CBD, but it's also a fantastic dinner spot with cocktails that you will crave after your first time here. The Frozen Hurricane Imli is a frosty rum blend with orange, lime, pomegranate, and tamarind. You will not believe the taste of the Masala Old Fashioned and Curry Mule!
The Shareables include items like Tater Chaat and 65 Wings flavored with Kashmiri chili. The Kati Rolls are popular entrees. Chole Chaat is chole with imli chutney, red onion, sev, and cilantro. The Bombay Sandwich is masala potatoes, onion, tomato, mint chuntey, imli chutney, chaat masala, sev, and cilantro.
7.

Turmeric Indian Cuisine
1025 Westbank Expy. (504) 354-1422, turmericnola.com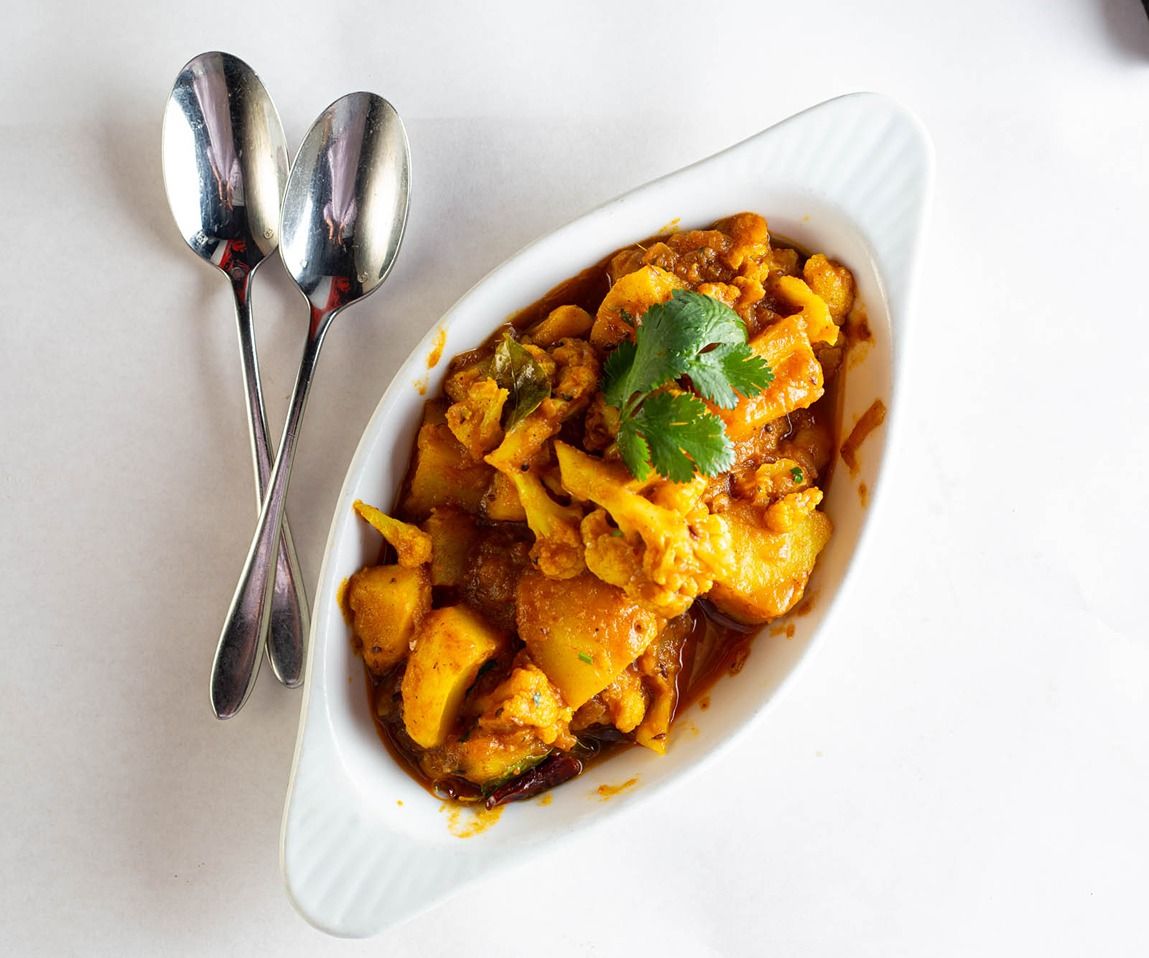 This Indian kitchen serves up flavorful and colorful fare that is inspired by food from all parts of India. Turmeric is very proud of their biryani, curry, and tandoor specialties that carnivores and herbivores can all enjoy. Chicken Tikki Masala is always requested, and the Goan Fish Curry is great for people who love their seafood.
Vegetarians will appreciate the large amount of healthy meatless options. The Bhindi Masala features okra that is sauteed with onions and tomatoes. The spicy Chili Paneer is spring onions, bell peppers, and other spices in a paneer Thai chili sauce.
8.

Silk Road Restaurant & Wine Bar
2483 Royal St. (504) 494-8307, silkroadnola.com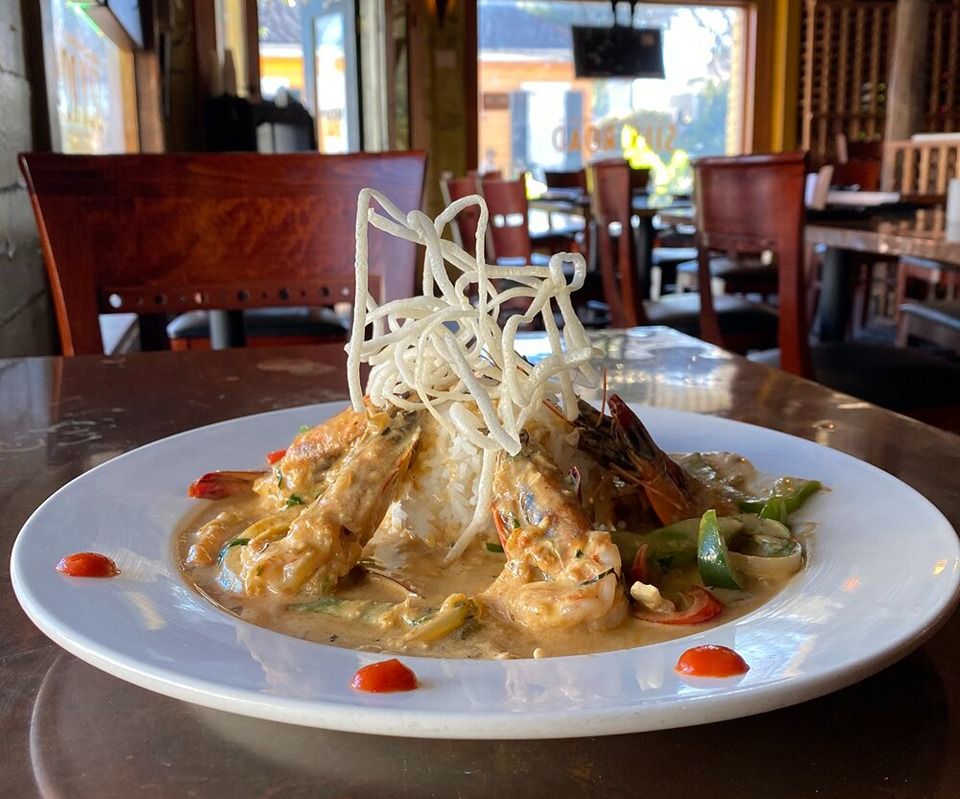 Silk Road proclaims itself to be a Wine & Cheese Bazaar. You're not going to find a menu strictly of Indian delights here; there's a wonderful mixture of Indian, Asian, and even Creole flavors. The options also range from meat-forward to vegetarian to fully vegan, and the dishes are identified as such. The Eggplant Tapenade is a great eggplant dip for vegans, and the Louisiana Crab Cake is perfect for pescatarians.
Beyond the hot curries and cool cheese plates, the Silk Road Specials are not to be missed. Try the Smoked Burger: house-smoked 6 oz patty on brioche dressed with gouda and served with masala fries.
9.

Taj Mahal Indian Cuisine
923 Metairie Rd. (504) 836-6859, tajmahalnola.com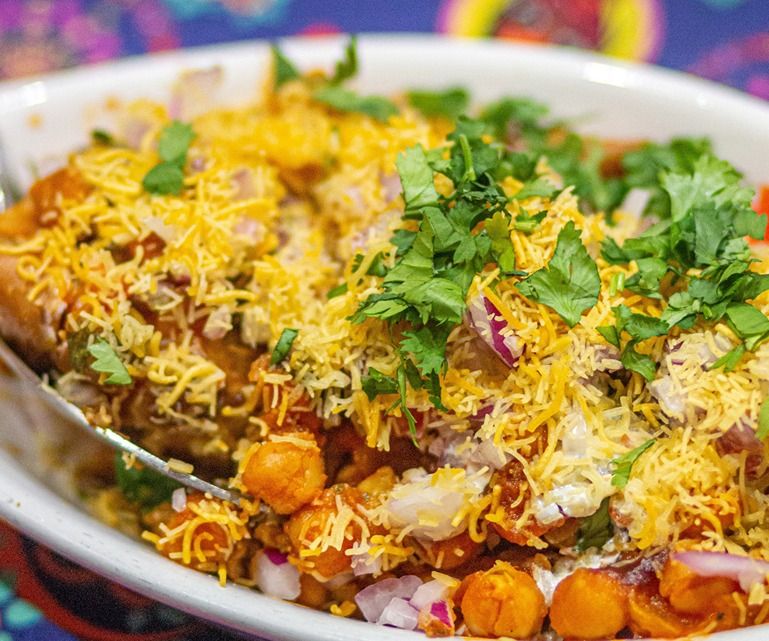 Taj Mahal is an Old Metairie institution operating since 1982. You could probably eat here once a week for a year and never have the same thing twice; that's how big the menu is. Start off with the Veggie Platter for Two with aloo tikki, samosas, papdum, and onion pakoras. Then try out one of the many large plates.
Taj Mahal is particularly proud of the South Indian Specialties. Sambar Vada is lightly-spiced lentil donuts sipped in Sambar (lentil soup). The Mysore Masala Dosai is a dish with thin rice crepes with a layer of hot chutney filled with potato and onion.
10.

Namaste NOLA
201 Baronne St. (504) 581-8227, namastenola439.com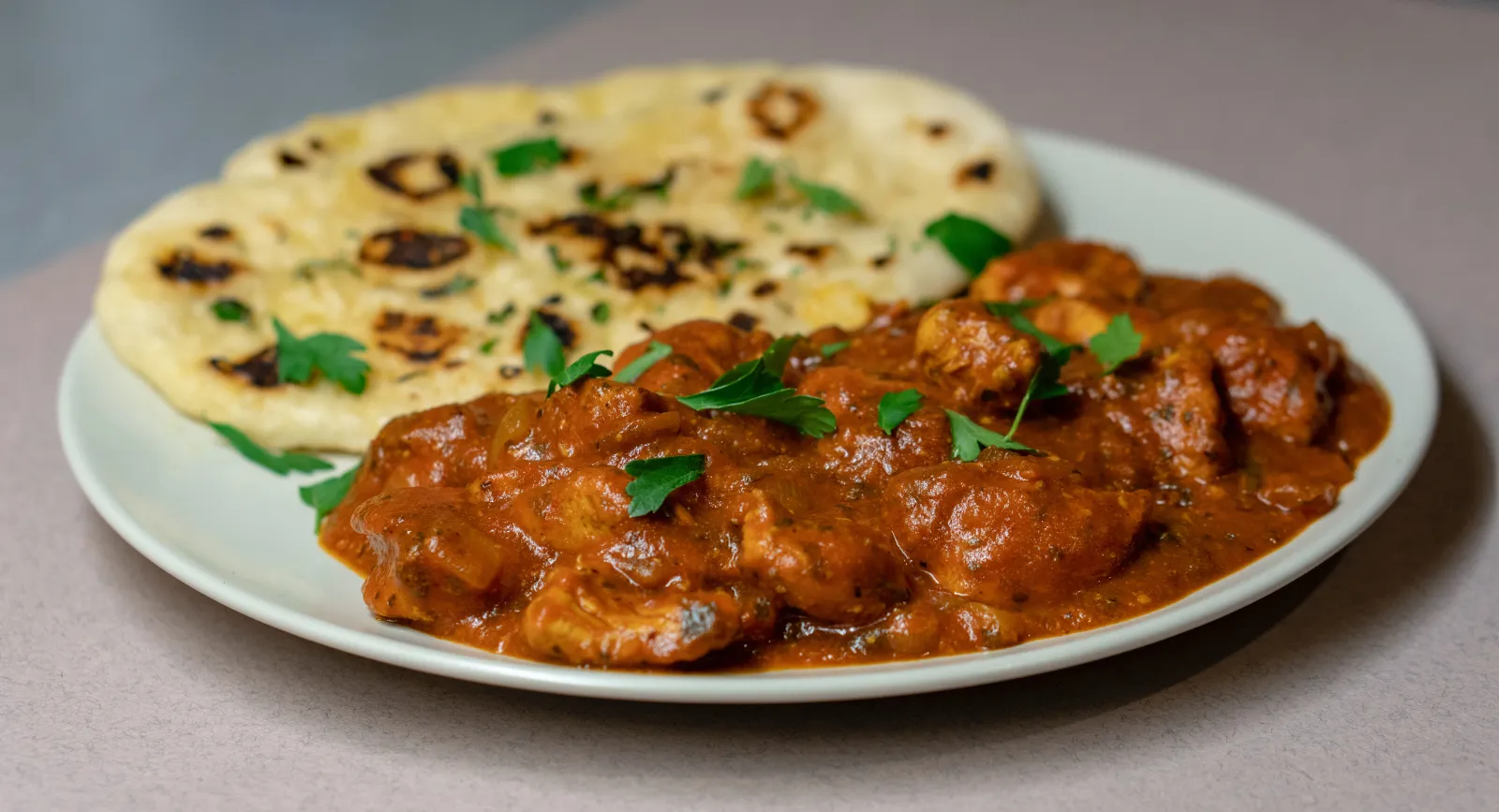 Namaste NOLA is a new player in New Orleans Indian food having opened in 2022. The food is designated as vegetarian or not so you know exactly what you're getting. The Chilli Gobi is a veggie version of the Chilli Chicken using battered and fried cauliflower instead of chicken.

The dishes here are Indian or Indo Chinese. The Paneer Butter Masala is a popular order: cubes of cottage cheese cooked in a creamy butter sauce. The Chicken Kolhapuri is chicken cooked in onion and garlic masala with a rich tomato-based sauce. Further down the menu, you'll see dishes including Chicken Fried Rice and Shrimp Schezwan Fried Rice.
The Most Authentic Indian Restaurants in NOLA
You can enjoy thousands of years of culinary exploration and history in every bite at these local Indian restaurants. Just be sure to choose your spice level carefully if the server asks you what level you want. Indian spices can be through the roof when it comes to tongue-tingling heat.
What do you think is the best Indian food in town? Let us know where to find it!