The world's largest showcase of Louisiana music is returning to New Orleans! The beloved French Quarter Fest is a favorite for many locals due its celebration of what Louisiana and the Big Easy so special: the unique music and the incredible food. So if you're planning on going to the festival this year, definitely try these 10 dishes and drinks while there. They're all absolutely delicious and will keep you energized to enjoy the fest.
Great Food to Try at French Quarter Fest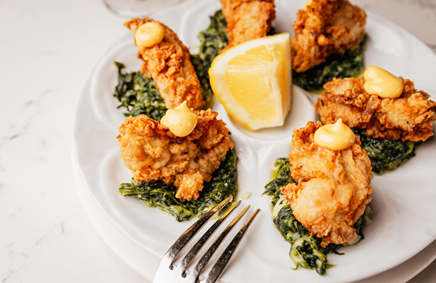 Boulevard Crispy Oysters
Boulevard American Bistro
Jackson Square
Boulevard American Bistro is a local establishment that is known best for its high-quality and wood-fired American cuisine. Originally opening in 2015 in Metairie, the restaurant has been successful enough to spread out to Elwood and Covington as well. Swing by them in Jackson Square during the fest and order the Boulevard Crispy Oysters. These tasty fried Gulf oysters come with cream spinach and crystal aioli.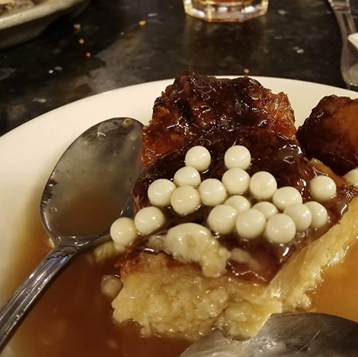 Bread Pudding & Rum Sauce
Desire Oyster Bar
Palm Lawn on the Riverfront
Desire Oyster Bar is a great place to experience Louisiana-style delicacies while in the French Quarter. The Bourbon Street bar and restaurant is situated inside the luxurious Royal Sonesta New Orleans hotel. They will be at the Palm Lawn on New Orleans' Riverfront and will be serving a real Crescent City treat. Definitely don't miss out on Desire Oyster Bar's bread pudding with a tasty whiskey sauce.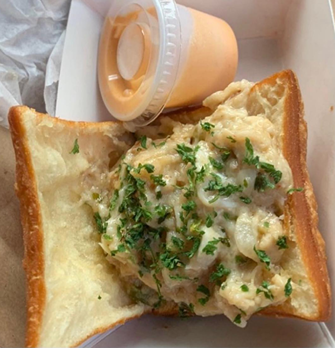 Crab Beignet
Loretta's Authentic Pralines
Kohlmeyer Lawn on the Riverfront
One of the tastiest treats to ever be associated with New Orleans is the always favorite praline. Loretta's Authentic Pralines, with locations on North Rampart Street and in the French Market, has some of the pralines that can be found in the city. While at French Quarter Fest, make sure to try the savory dish that Loretta's will be offering. The crab beignet is uniquely New Orleans and very delicious.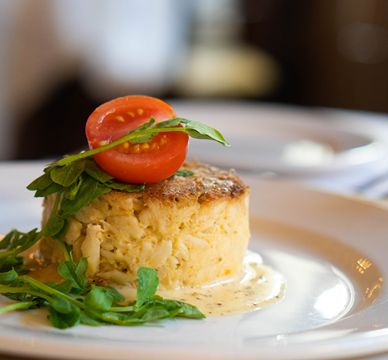 Crab Cake Slider
Broussard's Restaurant & Courtyard
Jackson Square
A true New Orleans classic, Broussard's has been providing residents marvelous French-Creole cuisine since 1920. The restaurant's French Quarter architecture is absolutely beautiful and its courtyard is perfect for brunch or relaxing with a cold cocktail. Broussard's crab cake slider is not to be missed, so make sure to visit them at Jackson Square during the fest. If you're still hungry, Broussard's will also be offering crawfish sliders and crawfish boil pickles.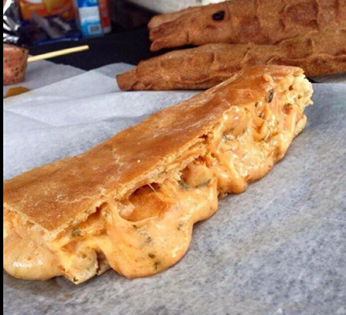 Crawfish Bread
TJ Gourmet
Palm Lawn on the Riverfront
Whenever there is a festival in New Orleans, TJ Gourmet is bound to make an appearance. This local food vendor was established in 1981 and specializes in keeping people full during festivals. TJ Gourmet will be at the Riverfront's Palm Lawn, so make sure the grab their mouthwatering crawfish bread. Crab cakes and alligator sausage kabobs will also be on offer.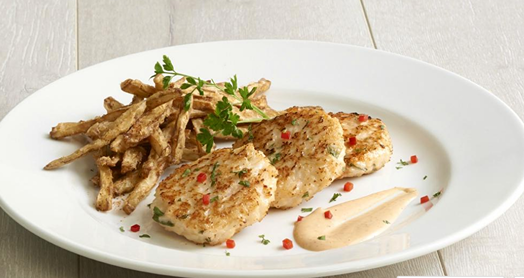 Crawfish Cakes with Lemon Butter
Landry's Seafood House
Jackson Square
New Orleanians absolutely love seafood, and Landry's Seafood House is one of the best places in NOLA to get some. The establishment can be found in the French Quarter and Lake Pontchartrain, as well as in Texas, Florida, South Carolina, and Missouri. Crawfish is a must-try while in the Big Easy, so make sure to order Landry's crawfish cakes with lemon butter while at the fest. If the heat isn't getting to you, Landry's will also be offering a shrimp and corn bisque.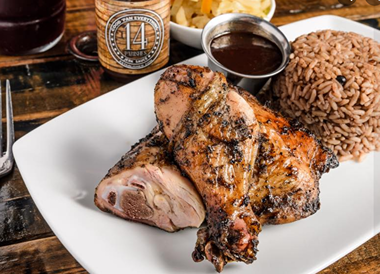 Jerk Chicken
14 Parishes
Palm Lawn on the Riverfront
New Orleans is known as the northern most Caribbean city, so it should come as no surprise that the Crescent City has plenty of establishments serving appetizing island fair. One such establishment is 14 Parishes, which is a family-run restaurant that specializes in Jamaican cuisine. A staple of Jamaica is jerk chicken and 14 Parishes will be serving plenty of it during the fest at Palm Lawn. Consider a side of fried sweet plantains to go with your chicken.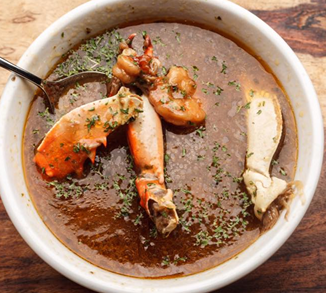 Shrimp & Grits
Koz's
Jax Lot
Hailing from Harahan, Koz's Restaurant is a family-operated joint that is well loved for its well-made NOLA dishes. Classics that are usually served at the restaurant include red beans and rice, fried chicken boxes, and lots of different sandwiches and po-boys. Definitely check Koz's out at the fest's Jax Lot and dig into their shrimp and grits. They will also be offering roast beef debris cheese fries and smoked redfish wonton.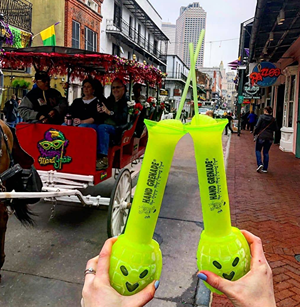 Skinny Hand Grenade
Tropical Isle
Tropical Isle Stage
If you've ever walked down Bourbon Street, then you've definitely seen people sipping on the city's most powerful drink. Tropical Isle's Hand Grenade is a Bourbon Street staple and is characterized by its sheer potency and its instantly recognizable plastic container. Tropical Isle will be handing a skinny Hand Grenade, as well as two other its other signature cocktails, at this year's French Quarter Fest. Please drink responsibly!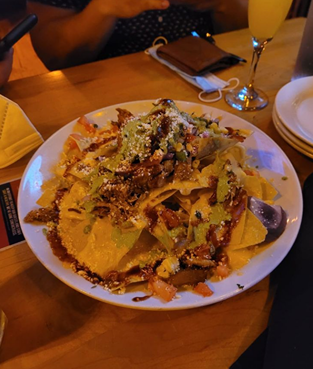 Smoked Brisket BBQ Nachos
House of Blues
Palm Lawn on the Riverfront
The House of Blues is one of the best places in the city to grab some tasty Southern food and listen to exciting live music. Found by Isaac Tigrett and Dan Aykroyd, this rock and blues-themed chain has 11 locations all across the United States. After listening to your favorite French Quarter Fest performance, head to Palm Lawn and grab the House of Blues' Smoked Brisket BBQ Nachos. This decadent dish is sure to satisfy your appetite.




French Quarter Fest's Tastiest Bites
There are so many delicious options to choose from at the French Quarter Fest. Good thing the fest is more than one day--that way you can go back and try as much as possible! Be sure to try some of our picks for a real taste of New Orleans cuisine.