Believe it or not, there was a time when crawfish was not so well loved in New Orleans. Crawfish and other Cajun foods slowly worked their way into the city's culinary scene over decades. It took a long time to convince the city folk that that these dishes from the Acadians in the countryside were actually amazing. The exiled Acadian settlers brought their food traditions to Louisiana beginning in mid 1700s, and their unique cuisine has became a worldwide sensation.
There are so many places to get great and authentic Cajun food right here in New Orleans. There's no need to head down I10 to Cajun country to get the true flavor of their food.
Where to Get Cajun Food in New Orleans
1. Copelands
Multiple Locations, https://copelandsofneworleans.com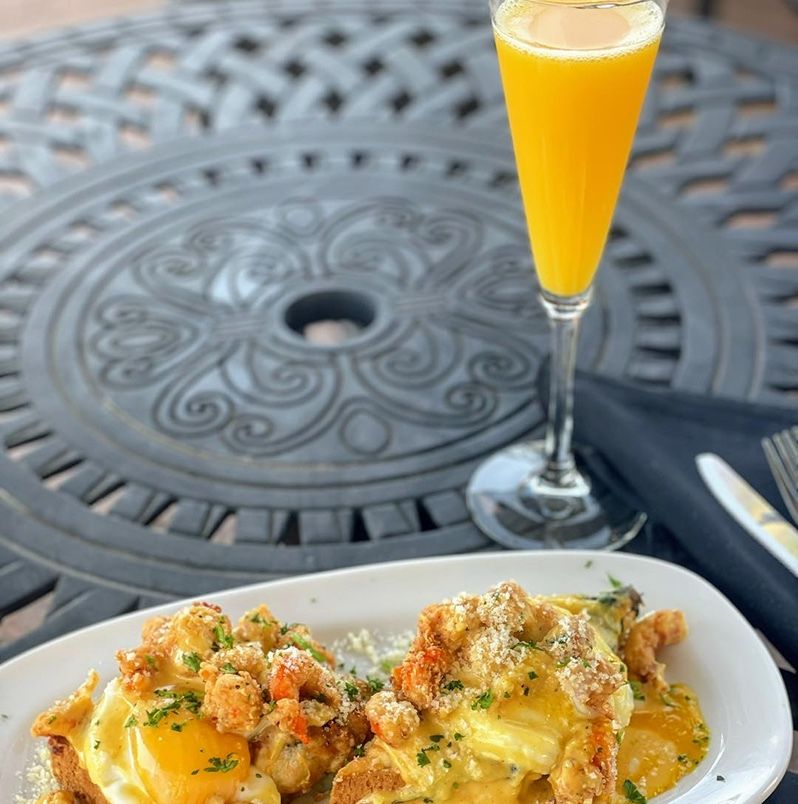 Copeland's serves up Southern classics made from scratch and delivered with lots of love. They have a long menu of New Orleans favorites such as crawfish bread, crab stuffed beignets, sautéed garlic shrimp for started. They of course also serve the classics—such as fried catfish po-boys, red beans and rice, and gumbo ya ya.
Copeland's serves up plenty of seafood as well as fried chicken options. Copeland is perfect for the whole family as they'll have something for everybody, as they have an extensive kids menu as well. Top off your meal with one of their desserts such as their killer chocolate cheesecake.
2.

Cochon
930 Tchoupitoulas St. (504) 588-2123, cochonrestaurant.com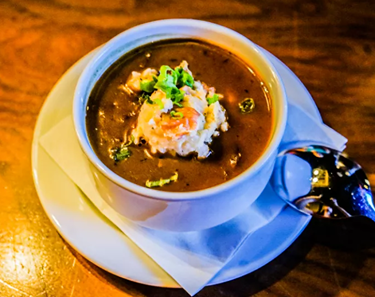 Cochon characterizes its menu as Cajun + Southern Cooking. Cochon's menu can vary depending on what the chef is able to source from local farmers and fishermen, but there is always some great contemporary Cajun fare available. The Fried Alligator With Chili Garlic Mayonnaise is an excellent appetizer.
Continue onto some Fried Boudin and a bowl of Chicken & Andouille Gumbo. When you're ready to tackle your main course, look to the Wood-Fired Gulf Fish "Fisherman's Style." The fish filet tastes so much better cooked this way, and the chef knows how to season and spice it just right.
3. Evangeline
329 Decatur St. (504) 373-4852, evangelineneworleans.com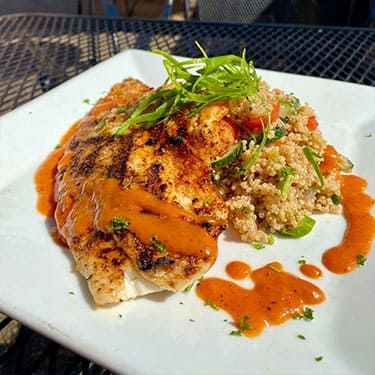 Evangeline boasts of some of the best authentic Cajun food available in the French Quarter. The menu is bursting with delicious and flavorful Cajun specialties like Acadia Crawfish & Grits, Cajun Country Gumbo, and Fried Alligator.
Many diners start off with the fried alligator, fried green tomatoes or crab cakes. All three of these dishes have quintessential Cajun flavors and are served with delicious remoulade sauce. Have the Alligator Creole for you entrée: alligator meat is simmered in stewed tomatoes with Cajun trinity and spices.
4. Mulate's
201 Julia St. (504) 522-1492, mulates.com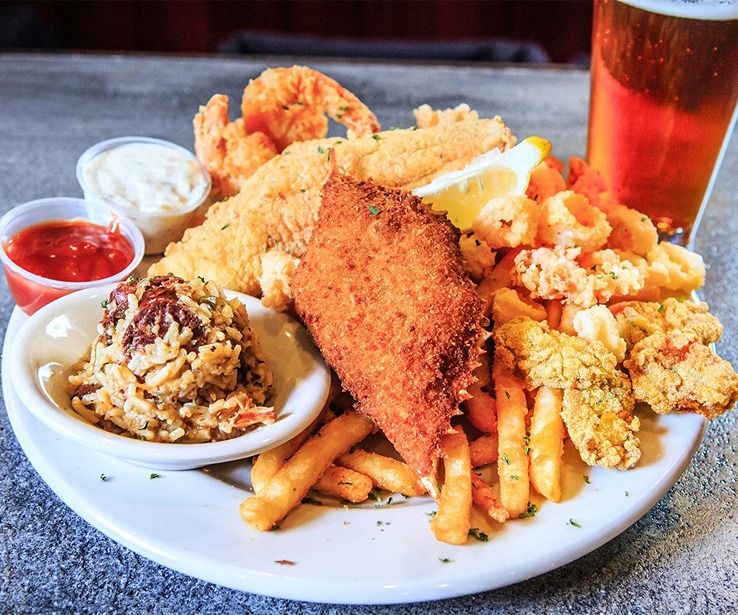 Mulate's is easy to find; just follow the Cajun music when you're in the Warehouse District, and you'll eventually come across Mulate's. Kerry Boutte likes to keep the food, drinks, and atmosphere of Mulate's authentic to his roots in Arnaudville, LA. That dedication to Cajun culture means having live bands performing nearly every night of the week.
Even though Cajun flavors reign here, there are still some more Creole-leaning dishes. The Grilled Gator & Frog Legs shareable dish comes with a side of remoulade sauce. The New Orleans-Style BBQ Shrimp & Grits is better for those who want true New Orleans flavor.
5.

Trenasse
444 St Charles Ave. (504) 680-7000, trenasse.com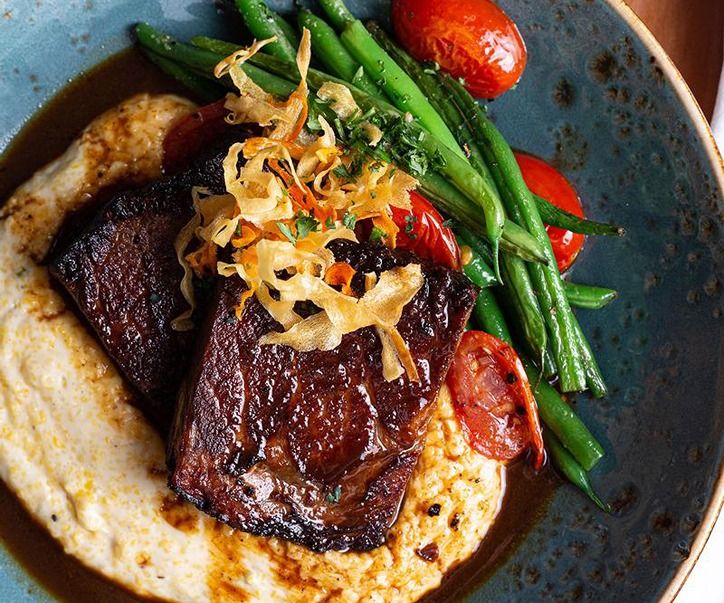 Trenasse may be surrounded by soaring grey buildings, but you'll feel like you're in the heart of Cajun country when you taste Owner/Chef Jim Richard's food. He grew up in Lafayette, LA and honed his craft at the Culinary Institute of America. Start of with a cup of Fowl Gumbo that has chicken, duck confit, and house andouille.
It may be an appetizer, but the Taste of Trenasse is a heaping plate of Louisiana Crawfish Pie, Pan-Fried Redfish Meuniere, and Shrimp and Grits. The Gulf to Table Blackened Fish is the most popular entrée. It is served with vegetable stir-fry, Brabant potatoes, and lemon leek sauce.
6.

Bobby Hebert's Cajun Cannon Restaurant & Bar
4101 Veterans Memorial Blvd. (504) 324-6841, bobbyheberts.com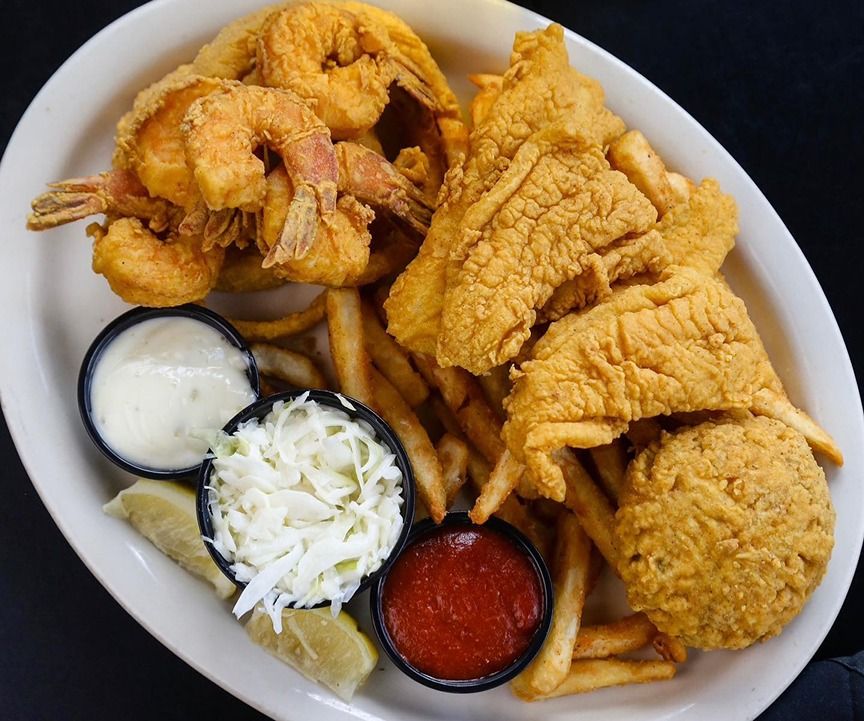 For those who don't know, Bobby Hebert was a quarterback for the New Orleans Saints, and he currently does sportscasting on 105.3 FM. His Metairie restaurant combines his love of sports with his love of Louisiana food. The Cajun Cannon Redfish is topped with crawfish mushroom cream sauce and served with mashed potatoes.
Cajun Cannon also has a "skinny" menu for lower calorie meals and a gluten-free menu in addition to the big all-day menu. Some very adventurous souls will want to tackle the Cannon Burger Challenge. Eat a 7-patty, 7-cheese, 7-topping burger in the allotted time and you won't have to pay for it!
7.

New Orleans Creole Cookery
508 Toulouse St. (504) 524-9632, neworleanscreolecookery.com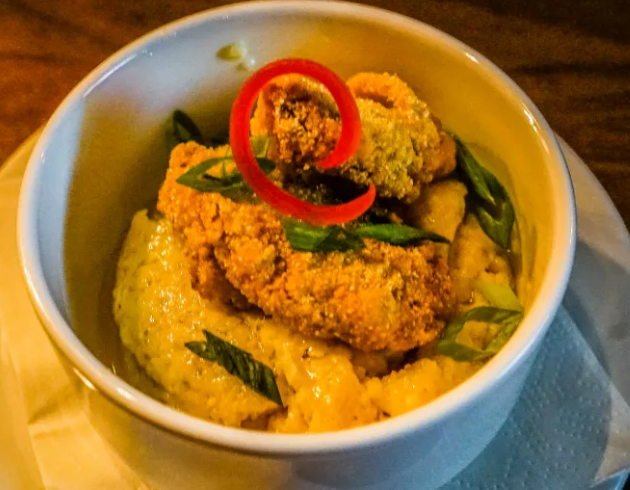 It may have Creole in the name, but this French Quarter Cookery actually has a lot of Cajun flavor. Just get some Gator Bites or Jambalaya to find that out. For the entrees, you'll see Creole and Cajun fare side by side on the menu. There's redfish available in several ways: Redfish Almondine, Redfish Courtbouillon, Redfish Pontchartrain, Pecan-Crusted Redfish, and Blackened Redfish.
If you prefer your fish fried, check out the fried seafood platters: Bayou Catfish, Louisiana Oysters, Gulf Shrimp, and more. The New Orleans Bread Pudding is a great topper to all this rich Louisiana food.
8.

Creole House Restaurant & Oyster Bar
509 Canal St. (504) 323-2109, creolehouserestaurant.com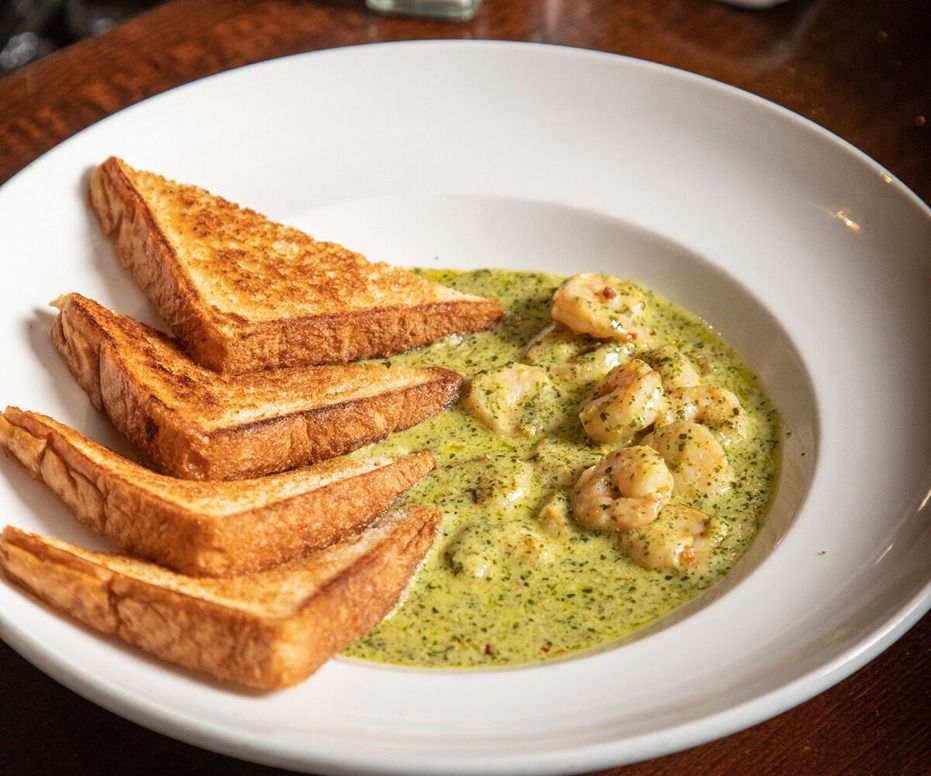 Creole House serves Creole and Cajun classics and contemporary dishes for breakfast, lunch, and dinner. Stop by in the morning for the Bayou Bowl: two eggs your way served over crawfish cakes and Cajun potatoes, topped with crawfish cream sauce and green onions. And you'll want a Blackened Bloody Mary to go with it: Absolut Peppar Vodka, ancho reyes chili liqueur, Zing Zang mix, and Tabasco.
Come back for dinner where you can continue your Cajun meal with Blackened Chicken Jambalaya, Cajun Alfredo, or Jambalaya Pasta. Those in the know get the Blackened Redfish which is powered with Cajun seasoning and served with steamed veggies.
9.

Original Pierre Maspero's
440 Chartres St. (504) 524-8990, originalpierremasperos.com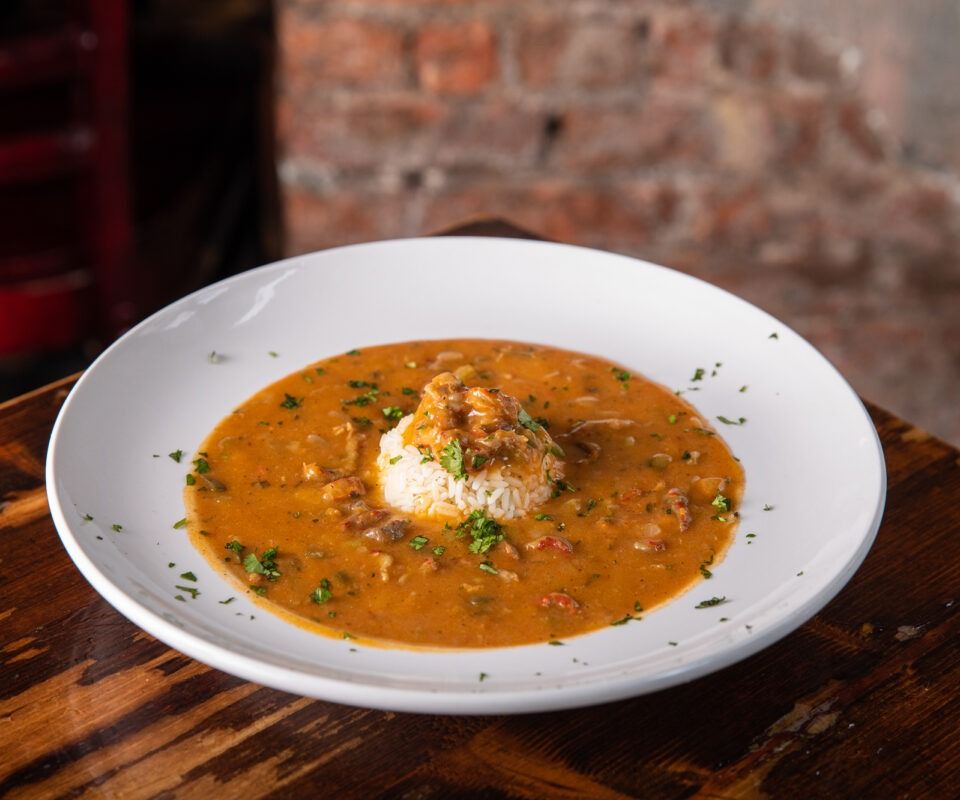 Pierre Maspero's is a great place for visitors and locals alike. The breakfast, lunch, and dinner menus are perfect to get you ready to have a great time in the French Quarter whether you're having a quick meal or having a very long one with a table full of friends.
More than just a bite, the Fried Alligator appetizer here is served in strips that can be dipped in a side of Gator Sauce. The Blackened Gulf Shrimp Alfredo Pasta is a perfect marriage of Cajun culture and Italian decadence. The Seafood Pot Pie is great for those who just can't decide because it has Gulf shrimp and blue crab inside the steaming hot pot pie.
10.

Vacherie
827 Toulouse St. (504) 207-4532, vacherierestaurant.com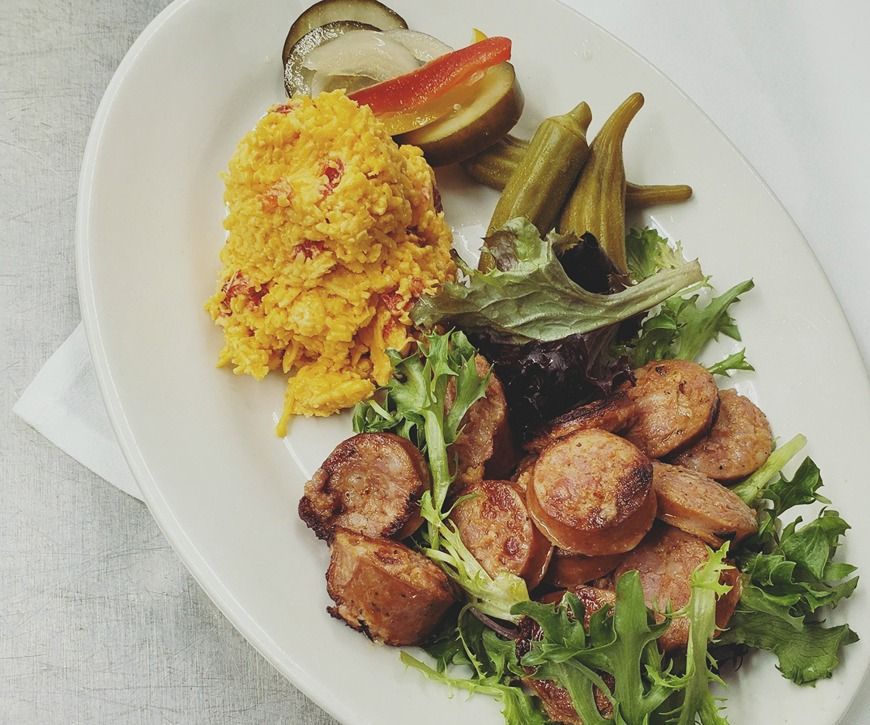 Vacherie has a little bit of everything: a big dinner menu, coffee shop selections, and happy hour specials. As far as Cajun food, you will be pleased to see items like Boudin Balls with remoulade sauce, Grilled Andouille Sausage Bites, and Chicken & Andouille Gumbo. The Vacherie Sampler comes with all of the above plus Red Beans and Rice.
If you have some time between 4 p.m. and 6 p.m., come on over for happy hour. Some of the best dishes in the house are deeply discounted. We're talking about Sliders of the Day with fries, Cajun Mac N' Cheese, Loaded Fries, and Chicken Waffle with spicy honey.
The Best Cajun Restaurants in NOLA
Cajun food is not for the faint of heart. It's spicy, it's meaty, and it's cooked until it has a thick black crust on it. There's nothing quite like it anywhere else in the world. Luckily, you don't even have the leave the city to get a mind-blowing mouthful of it.
What's your favorite traditional Cajun dish? Let us know what you think is the best!