Beignets are a staple to the New Orleans food scene and act as an intrinsic part of the city's cultural heritage. These deep-fried, pillow-soft treats are typically served with a bountiful dusting of powdered sugar and best enjoyed hot and fresh.
With so many iconic places to try beignets in New Orleans, it can be difficult to know where to start. But fear not, as this list has rounded up 10 of the city's most coveted spots to enjoy this delicious treat, each offering their own unique spin on the classic beignet recipe.

Best spots for New Orleans' Famous Beignets
1. Cafe Du Monde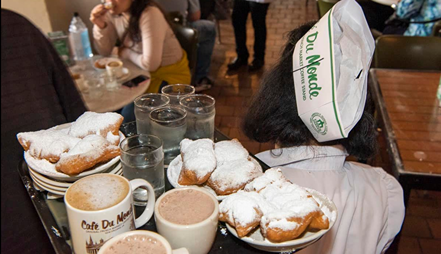 A New Orleans landmark, Cafe Du Monde has been serving beignets and coffee since the mid-19th century. This historic cafe is open 24 hours a day, 365 days a year, and is famous for its chicory coffee and freshly made beignets. With its lively atmosphere and rich history, this spot is a must-visit for anyone seeking a true taste of the city's notorious food culture.
Location: Multiple Locations
2. Cafe Beignet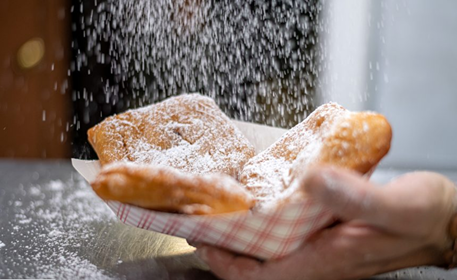 Cafe Beignet is a beloved New Orleans institution with multiple locations throughout the city, each offering its own unique charm and atmosphere. The cafe's French Quarter location is particularly noteworthy, known for its picturesque patio. Regardless of which location you chose, you can guarantee a delightful beignet experience. Expect classic beignets, made from a secret family recipe, resulting in light and airy treats that are dusted to perfection.
Location: Multiple Locations
3. NOLA Uptown Coffee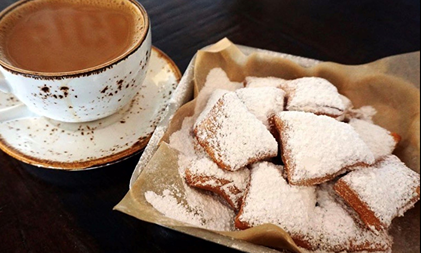 NOLA Uptown Coffee offers a one-of-a-kind beignet experience in the heart of the historic Uptown neighborhoods. The cafe's beignets are made fresh to order and feature a unique twist on the classic recipe, resulting in hot, fluffy treats that are sure to satisfy. With its cozy atmosphere and exceptional coffee, this destination is a stand-out for beignet lovers.
Location: 4141 St Charles Ave, Uptown
4. The Vintage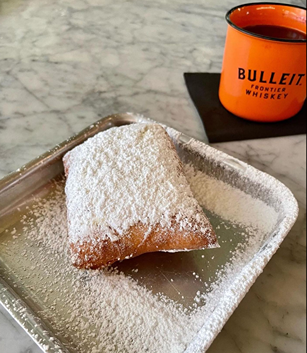 At The Vintage, the star of the show is their extraordinary take on the traditional New Orleans-style beignet. The chic spot is known for its elegant atmosphere and innovative bites. Diners can enjoy a variety of other provisions alongside their classic beignets. Served in a sophisticated atmosphere and complete with expertly crafted cocktails, this spot offers a lively experience to enjoy the timeless treat.
Location: 3121 Magazine St, Garden District
5. Stuph'd Beignets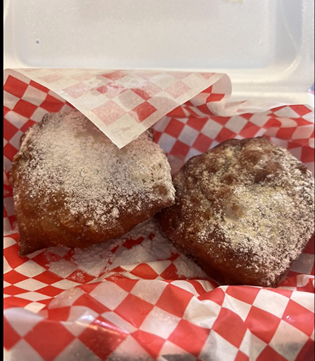 Stuph'd Beignet's menu boasts a wide range of New Orleans fare, most notably the beignet. The cafe offers a creative take on the classic treat featuring a variety of stuffed beignets, including sweet and savory options. With a host of beignets to choose from, this spot appeals to both traditional beignet lovers and those seeking something new. Enjoy one of their decadent burgers alongside a mouthwatering beignet for a true New Orleans feast.
Location: 3325 St Claude Ave, St Claude
6. Loretta's Authentic Pralines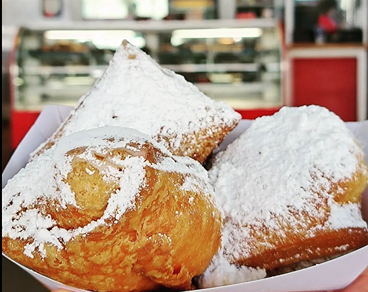 Loretta's Authentic Pralines is a family-owned confectionary most known for their handcrafted, traditional pralines. While their pralines should not be missed, their beignets are, likewise, a must-try. Fried to perfection, visitors of Loretta's can expect a beignet that will melt in their mouth with every bite. Made with only the freshest ingredients, Loretta's is a staple for anyone in New Orleans seeking the perfect beignet.
Location: Multiple Locations


7. Monty's on the Square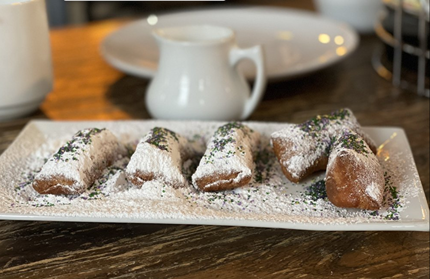 Monty's on the Square is a welcoming respite, from the bustling streets of the French Quarter, for any beignet lover. Their menu features Southern comfort foods, including their famous, piping hot beignets which patrons can enjoy on their charming outdoor patio or intimate interior of the cafe. Monty's on the Square is sure to deliver a memorable dining experience with each bite of their delectable beignets.
Location: 801 Decatur St, French Quarter
8. Streetcar Cafe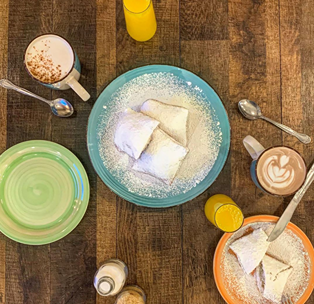 While Streetcar Cafe's convenient location in the CBD may draw diners in, its signature beignets keep people coming back. Their standout beignets are fried until golden brown and dusted with ample amounts of powdered sugar. The vibrant coffee shop's lively atmosphere is an ideal spot to enjoy a sweet snack paired with rich robust coffee.
Location: 312 St Charles Ave, Central Business District
9. Morning Call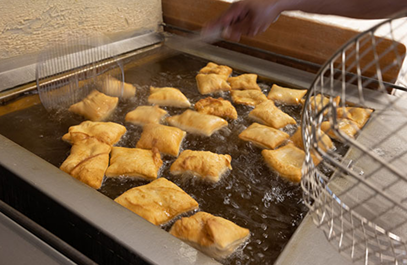 Located in the heart of City-Park, Morning Call has been serving up delicious beignets and coffee for over 140 years. This charming spot is known for its no-frills approach to making beignets, priding itself for using only the freshest dough. Morning Call's beignets are a true representation of the city's culture and heritage and are indicative of New Orleans culinary landscape.
Location: 5101 Canal Blvd, Mid-city
10. Luca Eats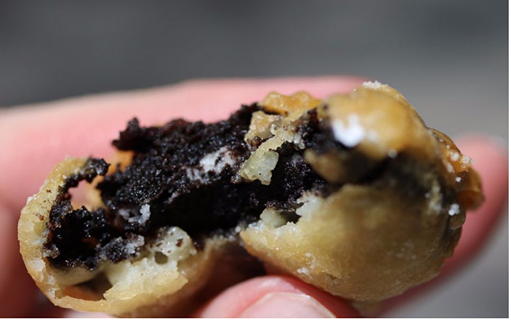 Nestled in the heart of Uptown, Luca Eats is known for its warm and inviting atmosphere that keeps diners coming back for more. Started as 'a celebration of food, family, friends, neighbors,' the cafe embodies true Southern hospitality making it the perfect spot to gather and enjoy one of their authentic beignets. Be sure to try their award winning Oreo-Beignet which was voted as the crowd favorite at New Orleans Beignet Fest in 2016.
Location: 7329 Cohn St, Uptown
Discover the Irresistible Beignets of New Orleans
There are no shortage of options when it comes to finding a beignet experience in New Orleans that is right for you. There's real New Orleans' food and there is classic symbols of the city, like beignets. From famous landmarks to hidden gems, the city has an abundance of the delicious and authentic treat for all beignet lovers.