With parades cancelled, Carnival spirit keeps finding new forms. It's most recent manifestation? Window displays in Saks Fifth Avenue at Canal Place. Like Christmas windows, the Mardi Gras window captures the essence of the season. In this case, that means blending couture with the work of local artists Tony and Tracey Mose.
During Carnival, the rules of fashion bend by 180 degrees. Casual clothes take on a theatrical level of extravagance. Feather boas storm through the streets. Bomber jackets leave sequined trails. The purple, green, and gold polos that everyone has—available everywhere from grocery stores to gift shops—look like they haven't been updated since the '80s. Yet without fail, every single year, those polos are back in style. Time is different in Carnival. Carnival is its own era with its own zeitgeist, the calendar year be darned. This is part of why the cancellation of Mardi Gras parades hits so hard. While we can still have all of the typical Carnival looks in their full extravagance in a socially distanced way, something is off. The calendar counts this year. Where we are in time is inescapable, but we're making the best of it.
It's the glamorous balls, the cancelled chance to dress to the nines, that Ryan Stanley hopes to pay homage to with the Saks Mardi Gras windows. As Visual Manager at Saks, Stanley was in a prime position to bring lavish sartorialism to this year's Carnival. "We knew we wanted to approach the fashion differently this year for Mardi Gras," Stanley said. "There are no bal masques this year, so we knew it had to be cool, ready-to-wear, and streetwear."
Stanley met his collaborative partners while at work, where he overheard Tracey talking about being an artist. "I approached her and built a relationship. Tony's art is very true to NOLA, with a modern twist. Tracey's work has great movement and brings a nice contemporary/modern approach that is fresh," Stanley said of the Moses. Indeed, Tracey and Tony are owners of ESOM ART (their name spelled backward), galleries on Royal and Magazine Streets. Installations at ESOM include their work in mixed media, acrylic painting, and plaster sculpture.
"Choosing clothing is always a great challenge when working with art," Stanley said. "With Tracey's window, the art already had a lot happening, so we wanted to keep the fashion simple." To counterbalance Tracey's large-scale gold-framed mirror (a mixed-media piece which features digital artwork transfers of butterflies and a woman) and three urban-expressionism paintings with neon embellishments, Stanley went with a gold-tone Alexander McQueen suit.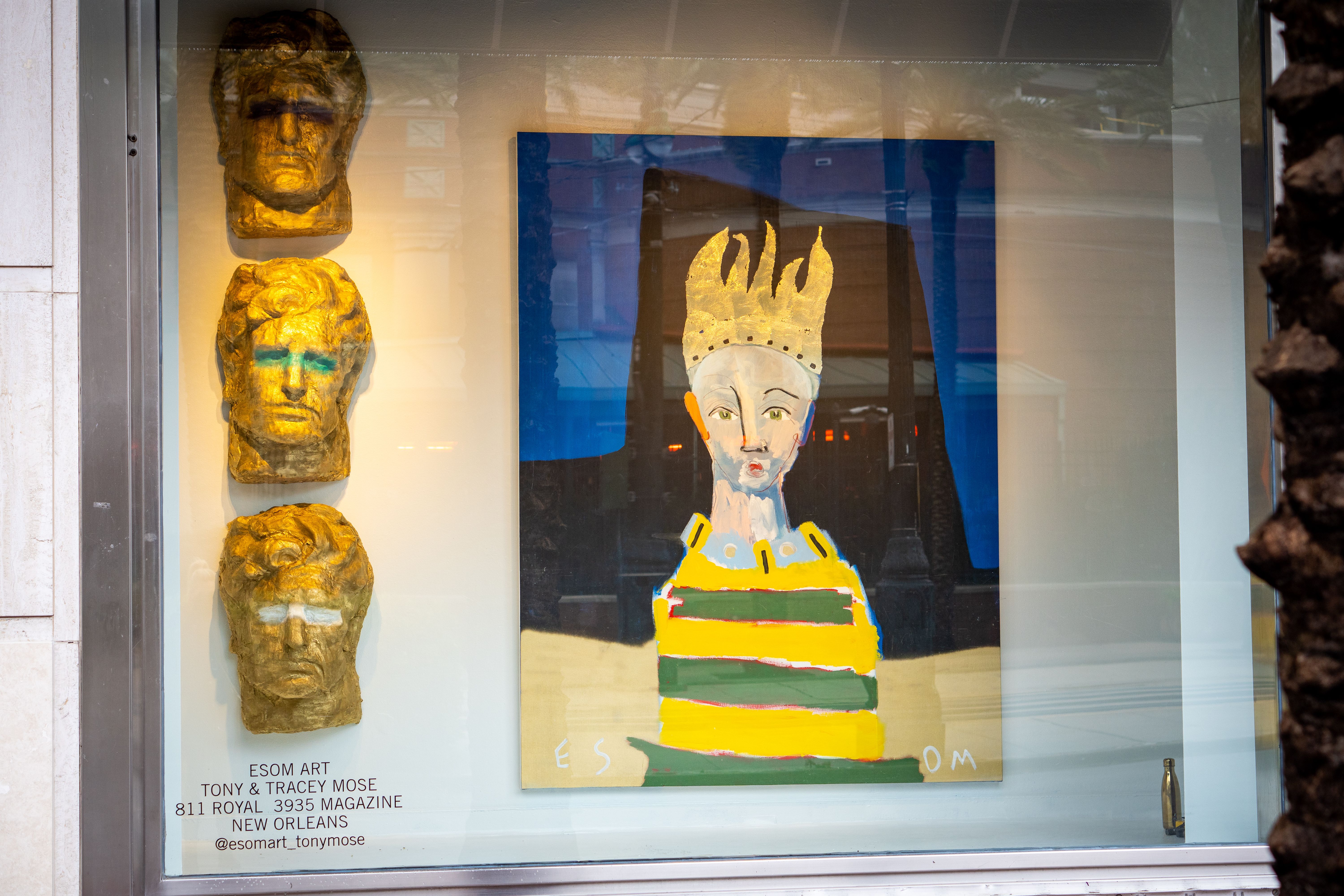 Tony's display features an acrylic painting of a man in a crown (the shirt the king is wearing looks an awful lot like the aforementioned, inescapable Mardi Gras polo) and three golden sculptures of heads. For this window, Stanley chose to continue "pulling the gold out with the pieces of art with the fashion," by infusing men's and women's styles by Versace, ABS, and Balmain into the mix.
The idea for a Mardi Gras window came naturally. "Saks is always looking to work with local artists in each market to include in their stores," Stanley explained. "And with the grassroots initiative in NOLA to keep artists working during Mardi Gras, this was the perfect opportunity."
For the Moses, having their art on display at Saks fit them like a tailored suit. "We are big believers that there is art in everything you do," Tracey says. "There is art in fashion, food, decor and more. When Tony and I were dating, we would always go shopping together before a big night out. We've always seen a relationship between art and fashion. Anyone can lead an artful life." For Tracey, the lines between art, life, and commodities are indistinguishable. No matter where you draw your own lines across those particular divides, the creativity popping up all over the place this Carnival season is testament to the importance of art in everyday life.
Saks Fifth Avenue: 301 Canal St., (504) 524-2200, saksfifthavenue.com
Esom Galleries: 811 Royal St. and 3935 Magazine St., (225) 202-6406, esomart.com